We recently surveyed some of our top customers and got some pretty interesting results. The first thing we found is that lead tracking and sales pipeline management is a challenge for more than half of the small businesses we surveyed.
51% of small businesses struggle with lead tracking and sales pipeline management.
The second thing we found is that 57% of small businesses rely on time-consuming, manual processes that hurt their productivity.
Time-consuming, manual processes hinder the success of 57% of small businesses.
When looking at the biggest challenges facing our customers, it became clear that Method had a solution right at the intersection of these two issues. Our web to lead forms!
Method:CRM's Lead Gen Form
Method's lead generation forms make it easy for small businesses to manage their leads and sales pipeline in an efficient, automated way. Here's how they work.
Method's web to lead forms help small businesses capture lead details from their website visitors 24/7 through web forms. After a lead submits a web form, Method:CRM automatically:
Records their contact details
Creates a sales opportunity
Notifies one of your sales reps
Schedules a follow-up activity
Below is an example of what our lead gen form looks like.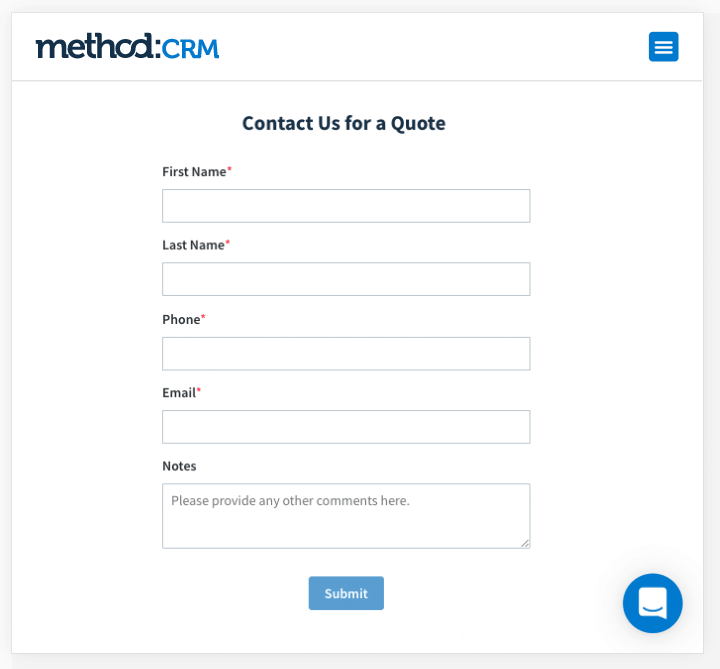 With Method's web to lead forms, you can ensure that every lead is nurtured and no potential buyers fall through the cracks. Plus, once you've converted these leads to customers, you can sync all their information over to your QuickBooks account in just a few clicks.
Our web to lead forms are also completely customizable so you can automate any workflow from customer quotes to service requests and payment collection. Whether you decide to customize yourself, or with the help of our Professional Services team, our lead gen forms are a great way to automate your sales workflows.
The Benefits of an Automated Lead Gen Form
Now that we've covered how our lead gen form works, let's review the benefits of automated web to lead forms for small businesses.
Added Convenience
A lead gen form allows incoming leads to submit requests to your business 24/7 instead of just within your regular 9-5 business hours. This way you don't miss out on potential business just because you're closed or your phone line was busy.
The immediacy of this process is especially helpful if you have competitors who are open earlier or later than you. By allowing leads to submit a request with your business right when they want to, you reduce the risk of them going to one of your competitors.
Faster Service
By empowering potential customers to submit their information online through a lead gen form, you save them from having to spend time on hold – waiting to be assisted. Instead, they simply fill out their contact details, hit submit and then wait for a sales rep to follow up with them.
Increased Efficiency
With the web to lead process now automated, your team can focus on closing deals instead of wasting time manually capturing prospect information.
Plus, for those customers that do call you for assistance, you won't have to worry about long wait times making them go with your competitors.
Wrap Up
Method's automated web forms streamline your workflows so that your leads and customers are served as quickly and efficiently as possible.
With Method's web to lead form, nothing stops leads from getting in touch with your business and your sales team is set up for success when it comes to closing deals.
---
See how automated web to lead forms can help your business grow!
Image Credit: StreetSignsForKids