Zapier CRM: Build your business instead of just running it
Say goodbye to double data entry for good by
connecting Method:CRM to Zapier.
Want to see Method in action first? Take me there →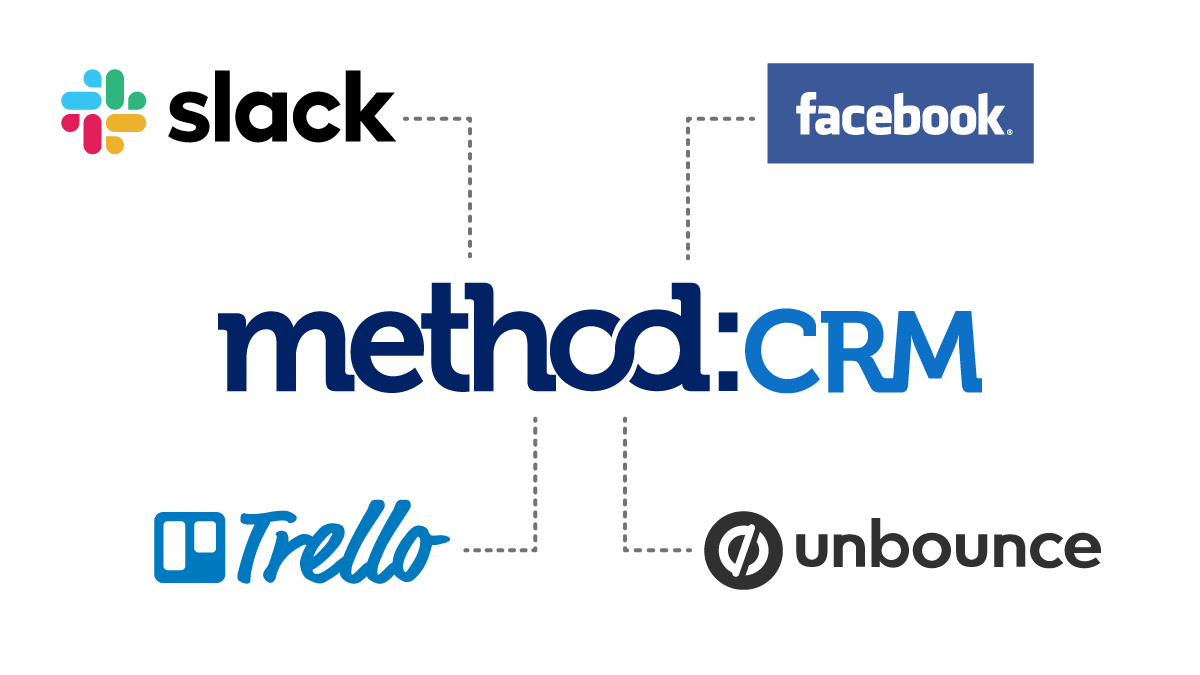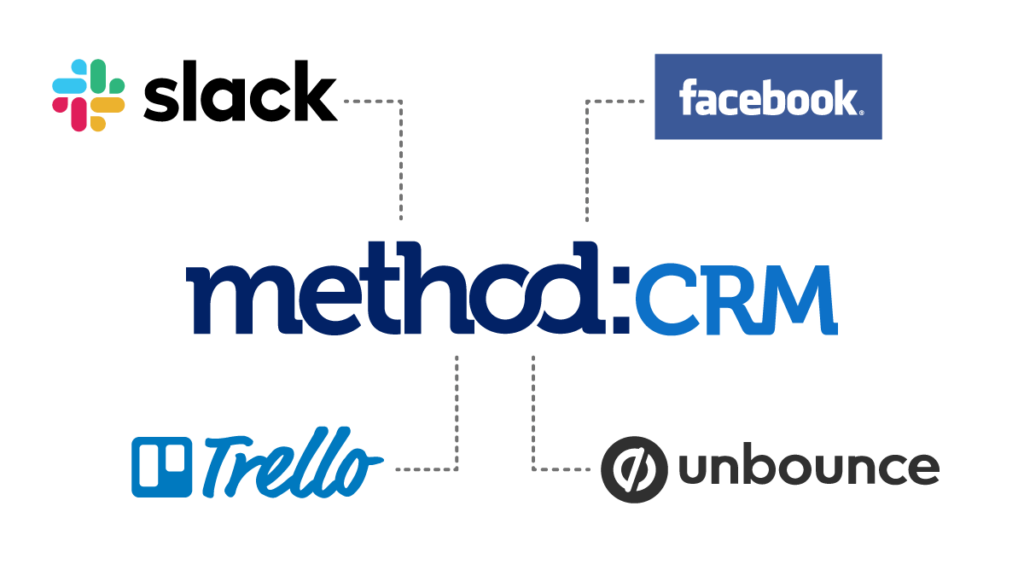 Automate your workflows end-to-end with a Zapier CRM
Imagine a world without manual data entry. By connecting Method:CRM and Zapier, this becomes your reality as Zapier pushes information from your favorite apps directly into your CRM.
As a result, you leave less room for error and gain more time for revenue-generating tasks.
Why you'll love using Method:CRM and Zapier
Optimize your workflows like never before.
Be more productive than ever before
Stop jumping between apps and spend more time growing your business. By connecting Method:CRM with Zapier, your apps are in constant contact.
With a Zapier CRM, you instantly get up-to-date information on sales, leads, customer payments, and more from within one, central tool.
Keep everyone on the same page
Eliminate confusion, reduce mistakes, and boost productivity for your team with a Zapier CRM integration. Connect Method:CRM and Zapier to let information flow throughout your organization and stop bottlenecks before they happen.
Get down to business anytime, from anywhere
Zapier lets you connect Method:CRM to your favorite software solutions so you always have access to the information you need. From monitoring a deal closing to creating estimates and invoices on the go, you never miss an opportunity to grow your business with Method:CRM.
Enjoy a 360-degree customer view
A full view of each customer's history makes customer relationship management and driving repeat business that much easier. Use Method's Zapier CRM to see your customer list's past purchases, interactions, preferences, and more in one convenient location.
All your leads in one place
Simplify your lead management process with Method:CRM and Zapier. Instantly add new leads from apps like Google Forms, Unbounce, Facebook, and Freshsales Classic to Method:CRM in real-time with the help of Zapier.
Supercharge your sales and marketing teams
Increase your sales by providing your customers with a seamless buying experience. Link ecommerce tools like WooCommerce and Shopify to Method:CRM via Zapier to make tracking and optimizing each customer's journey a piece of cake.
Enhance your customer experience
Your customers deserve and expect a level of service that's tailored to their needs. With the help of Method's Zapier CRM, you can send notes, personalized videos, gift cards, and more to your customers in a few clicks.
Drive a better bottom line
With data flowing seamlessly between your favorite tools, it's easier to gather strategic business insights and action them. From a better understanding of what makes your leads convert to ways to improve your sales process, anything is possible with Method:CRM and Zapier.
Get started for free with Method:CRM and Zapier
It's easy to reap the benefits of an integrated app ecosystem.
Here's how to get started using Method:CRM and Zapier.
Set up a Method:CRM account. You can start your free trial with no credit or contract!
Log in to your Zapier account. If you don't already have an account, you can create one for free here.
Once logged into Zapier, navigate to "My Apps" from the left sidebar.
Click on "Connect a new account" and search for Method:CRM.
Once you've completed these basic steps, it's simple to connect your favorite apps to Method:CRM using pre-built workflows called Zaps.
Create your own Method:CRM Zaps
The power of a Zapier CRM is its ability to connect the solutions you use to run your business. If you didn't see the integration you were looking for above, don't worry — you can always create your own workflow using the Zap editor.
Here's how to connect Method:CRM to the tools you use if a Zap template doesn't already exist for the integration you want.
Go to Method:CRM's Zapier integration page.
Search for the app you want to integrate with Method:CRM.
Select what event you would like to trigger the Zap.
Click the action you would like to be completed when this trigger occurs.
Please note that for Zaps with multiple steps, you will need to repeat steps 3 and 4.
The best part about building your own Zaps is that it's simple and doesn't require any coding knowledge. Plus, by connecting your other software solutions to your CRM, you can enjoy the advantages of integrated software applications such as:
Having up-to-date information across your different apps and teams
Spending less time searching for the data you need
Being more productive because you don't have to jump between apps
All of which let you focus on what matters most — growing your business.
Our favorite Method:CRM Zaps
A recap of our most powerful integrations.
Using Method:CRM and Zapier gives you access to over 3000 app integrations — which is exciting but daunting. To narrow down which integrations you should take advantage of, here's a list of our favorite Method:CRM Zaps.
Facebook Lead Ads
Use Facebook Lead Ads to simplify your social media marketing by using Zapier to automatically send prospective buyers who engage with your Facebook ads to Method:CRM as new leads. Better yet, this automation instantly schedules a follow-up activity in Method:CRM for every new Facebook Lead Ads prospect you get — making it easier to convert your Facebook followers into paying customers.
Gravity Forms
Automate your lead management process with the Method:CRM and Gravity Forms Zap template. Use this integration to effortlessly:
Send contact info from Gravity Forms to Method:CRM
Create contacts and follow-up activities for Gravity Forms leads in Method:CRM
RingCentral
Make tracking your sales outreach efforts easier than ever. Connect Method:CRM with RingCentral to instantly log the phone and text conversations you have with prospects and customers as sales activities. For tips on using this Zap, check out this article.
Outlook Calendar
While Method already offers a native Outlook CRM integration, you can instantly create Method:CRM activities for events in your Outlook Calendar, like demos and sales meetings.
Unbounce
Stop leads from slipping through the cracks by connecting Method:CRM with Unbounce via Zapier. Use this Zap to automatically add new Unbounce leads to Method:CRM, create a sales follow-up activity, and make managing your contacts simpler than ever before.
Trello
Take the work out of project management with the Method:CRM Trello Zap. This integration automatically adds your Trello cards to Method:CRM as to-do activities so you spend less time copying data and more time getting down to business.
Google Forms
Free your team members from manual data entry by using this Zap to instantly add new Google Forms leads to Method:CRM as contacts. Better yet, this Zap creates a follow-up activity for each new Google Forms lead, so you never miss out on a potential business opportunity again!
Mailchimp
Automate your CRM sales workflows to perfection by using Zapier to connect Method:CRM with your Mailchimp account. In addition to our native Mailchimp CRM integration benefits, this Zap lets you seamlessly turn Mailchimp subscribers into Method leads and add new leads as Mailchimp subscribers.
Slack
Keep everyone on the same page by using this Zap template to instantly notify your team of new Method:CRM sales opportunities in your preferred Slack channel.
Typeform
Streamline your lead management process by using Zapier to connect Method:CRM and Typeform. Use this integration to automatically add Typeform leads to Method:CRM as new contacts and create a follow-up activity for each one.
Gmail
On top of Method's native Gmail CRM integration, you can also use Zapier to seamlessly create Method:CRM activities for emails with specific labels in Gmail.
Zapier CRM integration frequently asked questions
What is a Zapier CRM and why should you use it?
Simply put, a Zapier CRM is a tool that automates tasks between apps. The best part about using a Zapier CRM integration is that there's no coding necessary. With the help of a Zapier CRM integration, you work more efficiently and gain time back to work on growing your business instead of running it.
How Zapier CRM integration works
The way the Zapier CRM integration works is that when an event happens in one app, Zapier tells the other connected app to perform an action – a function that's called a Zapier Trigger. From there, Zapier will push and pull data between your software of choice and Method:CRM to complete the task you specified for automation.
When you connect Method:CRM to Zapier – you get access to thousands of apps to elevate your CRM workflow. What's more, connecting Method:CRM to Zapier only takes a few minutes, so you can have your tools connected in no time.
How to get the most out of your Zapier CRM
Method:CRM already natively integrates with some of your favorite tools, including:
Google Calendar.
Gmail.
Outlook.
Zapier opens a new world of possibilities for integrating tools into your workflow. When you use Zapier you can easily integrate Method:CRM with other apps such as:
Google Sheets.
Google Analytics.
Freshsales Suite or Freshales Classic.
Facebook Conversions.
To get the most out of Method:CRM and Zapier, connect the apps you need to run your business and use the Zap editor for custom workflows with additional integrations.
What are the steps to a successful Zapier CRM integration
To ensure that you get the most out of Method:CRM and Zapier, start with a list of business functions you want to automate, such as email or lead generation. This gives you a better idea of potential connector opportunities that you can leverage.
From there, figure out the tools you need to improve these workflows and see if they are already built into Method. If not, check out Zapier's Method:CRM integrations and easily integrate your chosen apps into your CRM to immediately reap the benefits.