Enhance your Xero automation
Maximize your customer satisfaction with automated follow-up emails, two-way sync, and online portals.
Want to see Method in action first? Take me there →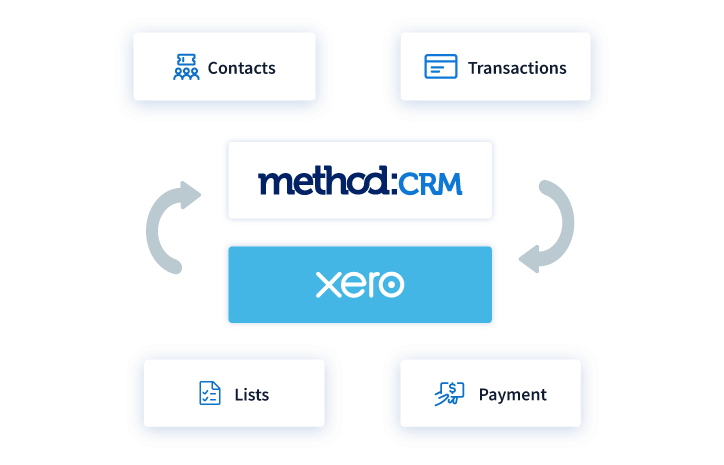 Supercharge your sales process with Xero automation
Never miss out on sales opportunities with automated workflows that ensure accuracy and speed.
Bring revenue in sooner
Give your sales team the tools to turn leads into customers with quick estimate creation in Method:CRM.

Then, relax as Method's two-way sync with Xero automatically takes care of the rest.
Close sales directly from your inbox
Increase your productivity and sales with Xero automation features like access to customer data from Gmail or Outlook, pre-scheduled nurture efforts, and adding new leads in bulk.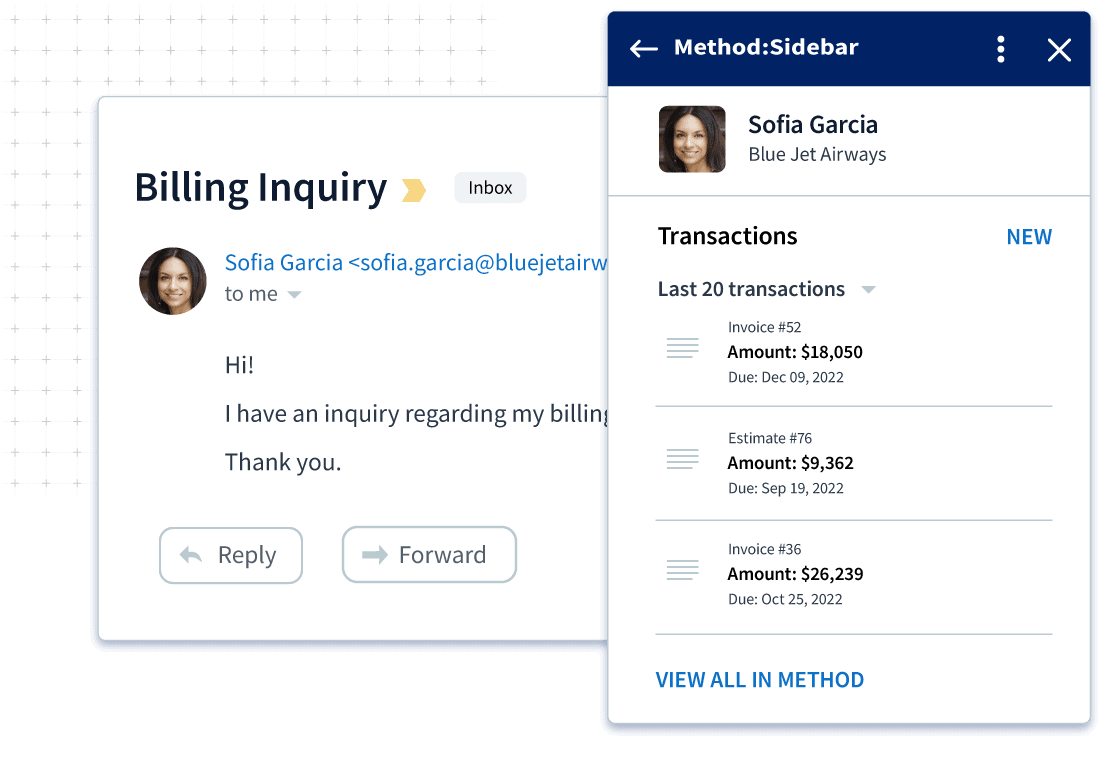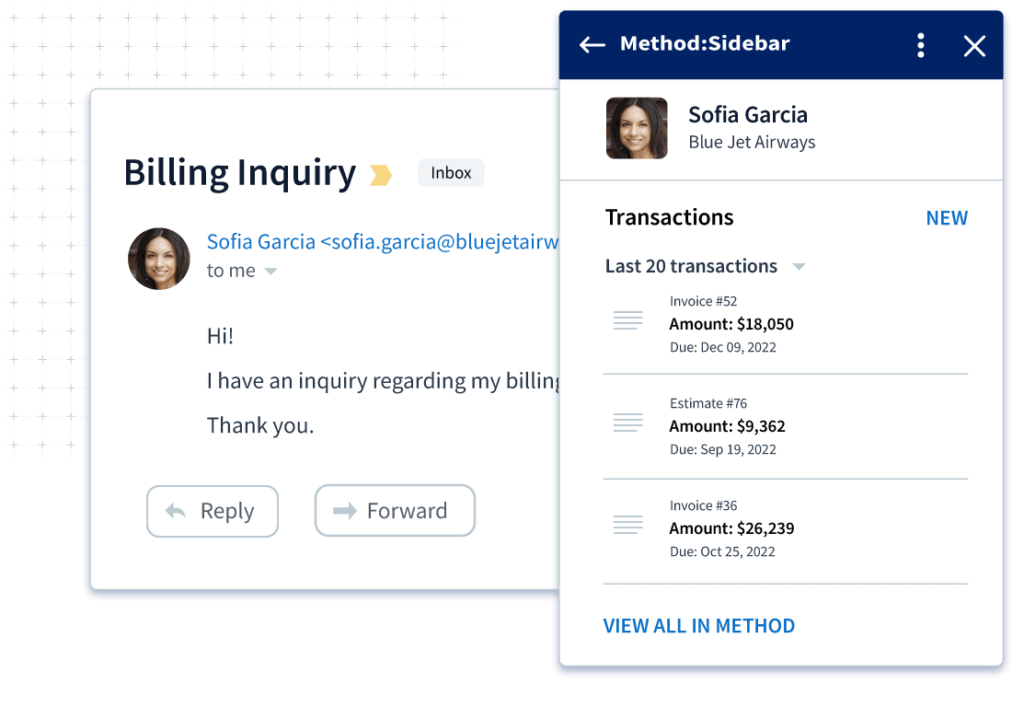 Achieve more with Xero automation
Reach your marketing and growth goals with Xero automation that covers every part of your sales process.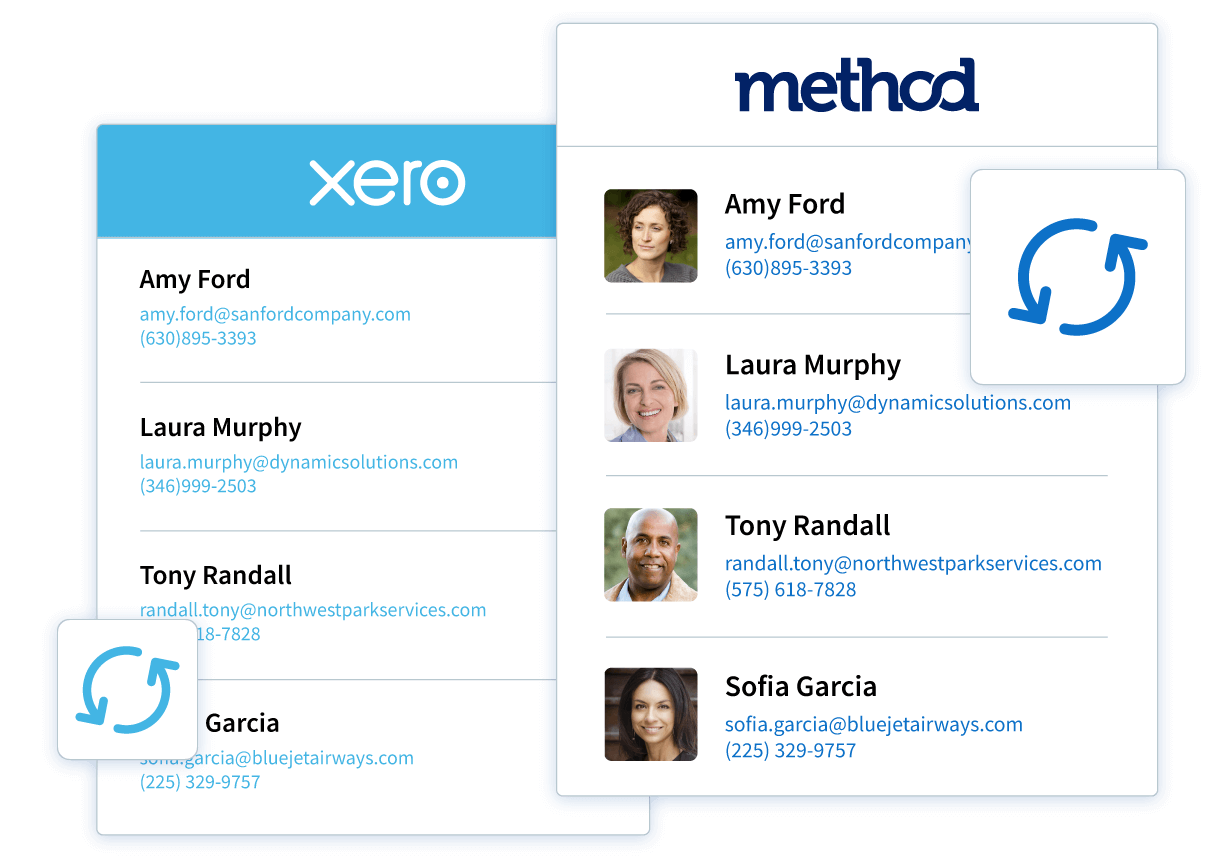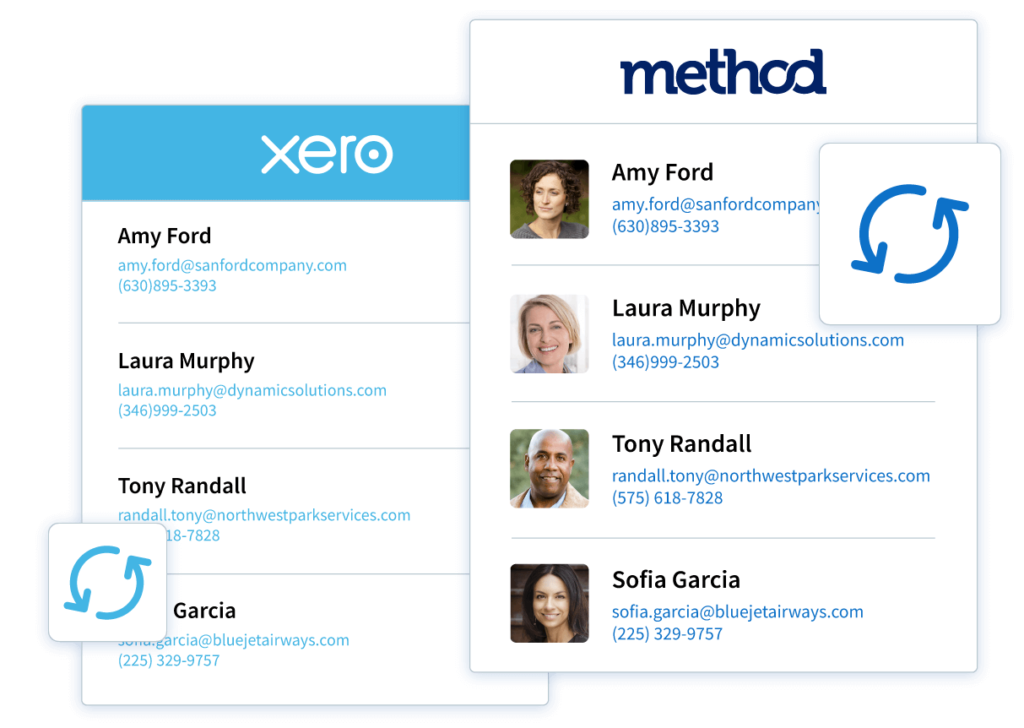 Make collaboration a breeze
Empower your sales reps to quickly find sales data, view customer interactions, create unlimited lead contracts, and make estimates for potential customers.
Eliminate double data entry and manual tasks
With Method and Xero in constant contact with each other, you never have to worry about inaccurate information or time-consuming double data entry.
Get a return on your marketing efforts
Take your email marketing strategy to the next level with Method's marketing automation apps.
Increase your repeat business
Xero automation makes it easy for your customers to interact with your products or services.
From visiting your website landing page to using online payments, Method:CRM simplifies your entire sales process.
Get a positive return on your marketing dollars
Email marketing has never been easier with Method:CRM's automation tools.

Create reusable templates, schedule email campaigns, and lock in on your target audience in a few clicks.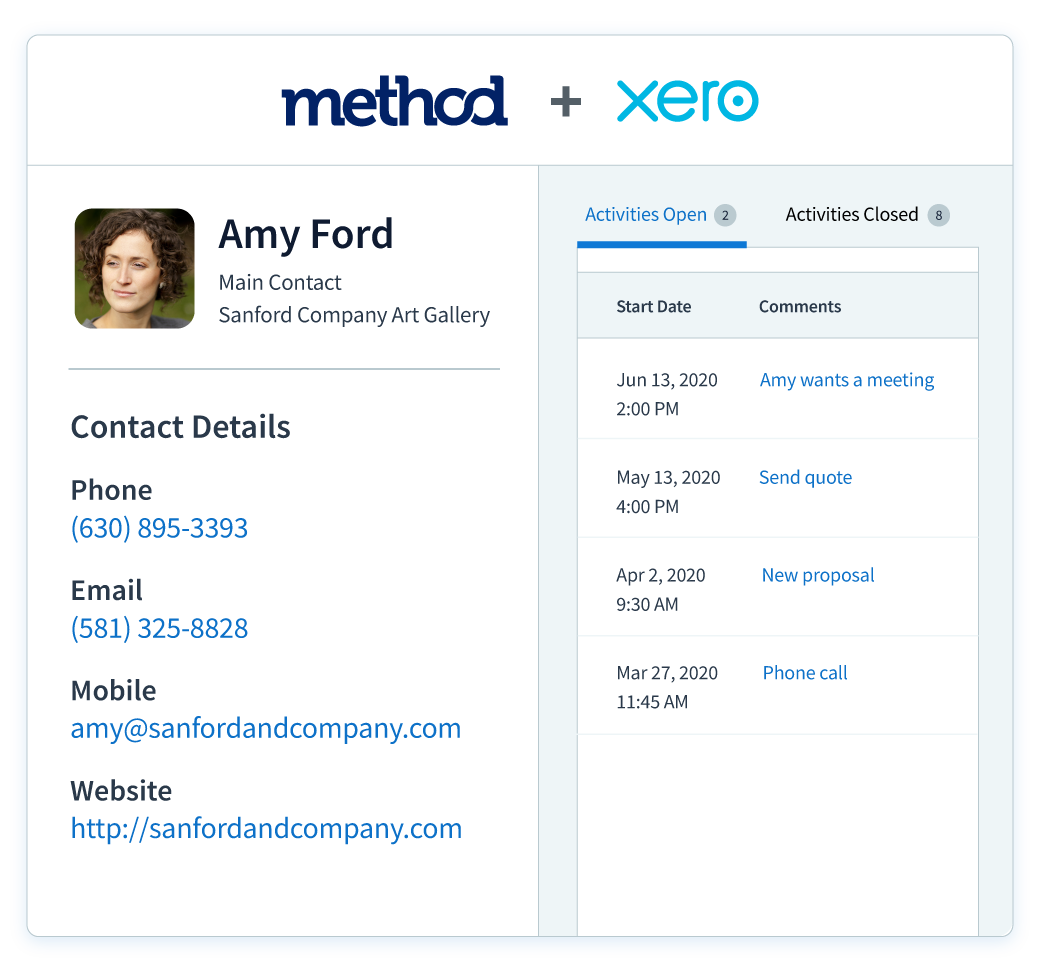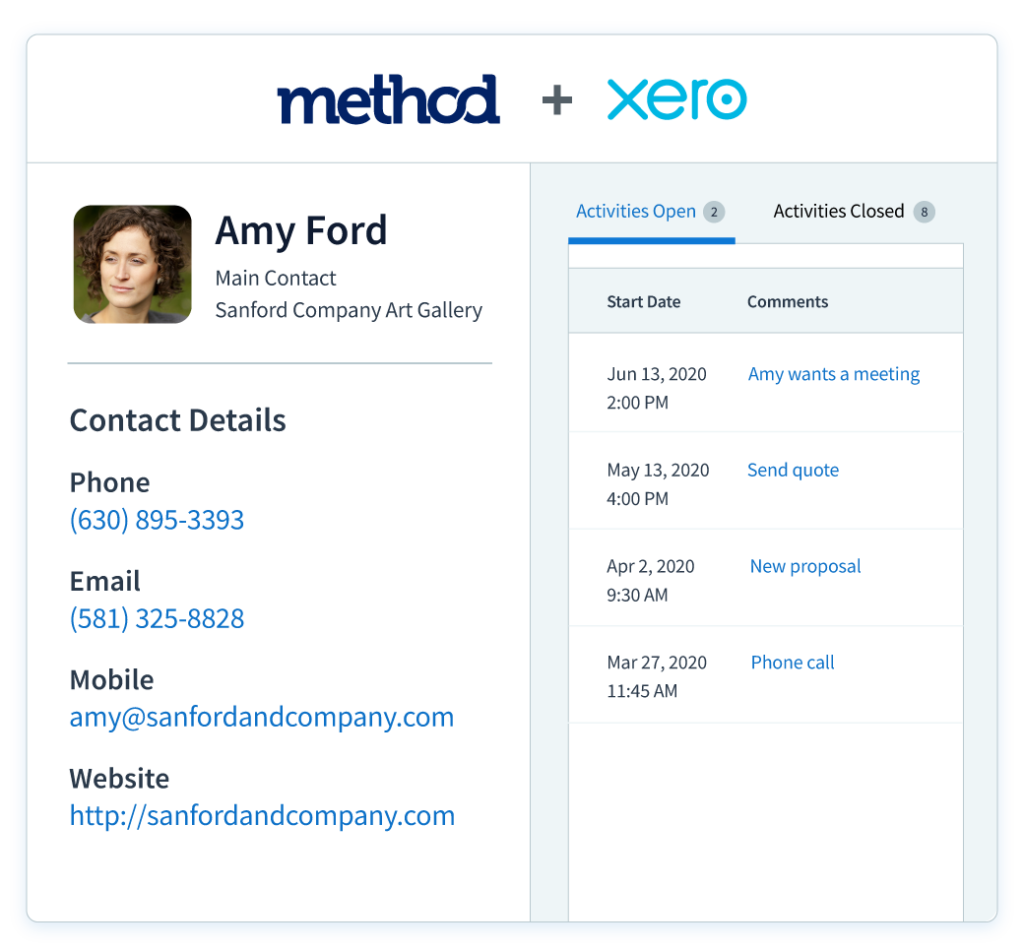 "Method has a clean beautiful interface and seems to sync well with Xero. But, it has been the support that got them this 5 star review."

Ean Murphy
"Excellent support"
"This is a wonderful app! It syncs great with Xero, all the information goes over without hesitation, no problems there. Contacts, accounting, etc. It's very user friendly, straight forward in all areas – invoicing, payments, etc. A great app to make your work life that much easier 🙂 Highly recommend."

Amy DeVries
"Excellent – Highly Recommend"
Xero automation that grows with you
Method's integration with Xero ends double data entry to save you hours each workday.
Automate your tedious tasks
Have your customer accounts, invoices, and payment history automatically sync between Xero and Method.
Personalize your CRM software to:
Automatically calculate commission payouts.
Instantly serve your customers with online portals.
Drive your business forward with data-driven insights from custom forms, reports, and charts.
Create automatic emails for your customers and leads.
Xero automation frequently asked questions
Why integrate Xero with Method:CRM?
Integrate Method:CRM with Xero to get time back each day so you can focus on growing your business. Connect Xero with Method:CRM to give your sales team access to customer documents like estimates and invoices without an accounting software seat.
How do you automate in Xero?
Automate your Xero account with Method's drag-and-drop technology to create custom workflows that keep your business moving forward.

From accepting payments to managing customers and projects, you call the shots with the Xero automation Method enables.
Create custom tools that reflect your unique business in Method and sync to Xero to have all your information stored safely in both software.
How does Method integrate with Xero?
Method's integration with Xero syncs hourly so you never have to worry about double data entry. Your Xero data is transferred to and from the hosted server using secure 256-bit SSL encryption so you can rest assured that your information is secure.
Plus, Method and Xero's sync is stronger than other CRM's that limit the information that syncs between the software.