The best Xero CRM on the market
Better how you work in Xero with Method's powerful two-way sync and flexible workflow automation.
Want to see Method in action first? Take me there →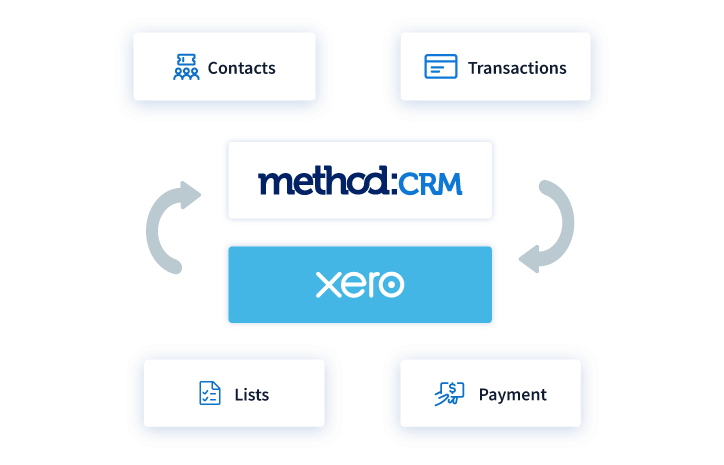 Why Method is the most powerful Xero CRM
The top option for Xero users who want to make the most out of their accounting tool.
Method's automation and customization capabilities extend Xero's potential to simplify your workflows as you grow.

With double data entry gone for good and the ability to tailor Xero to your liking, your business accounting software transforms into a complete Xero CRM system that lets your sales teams accomplish more.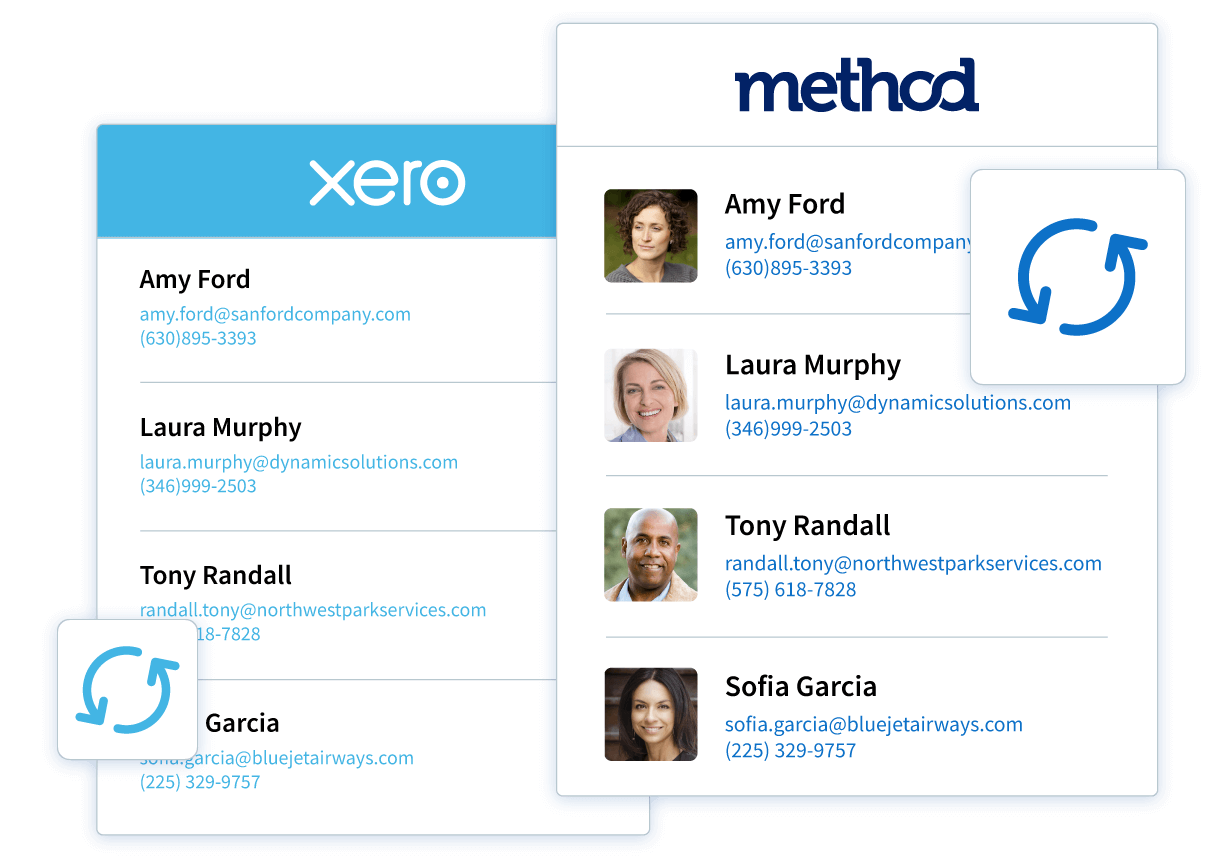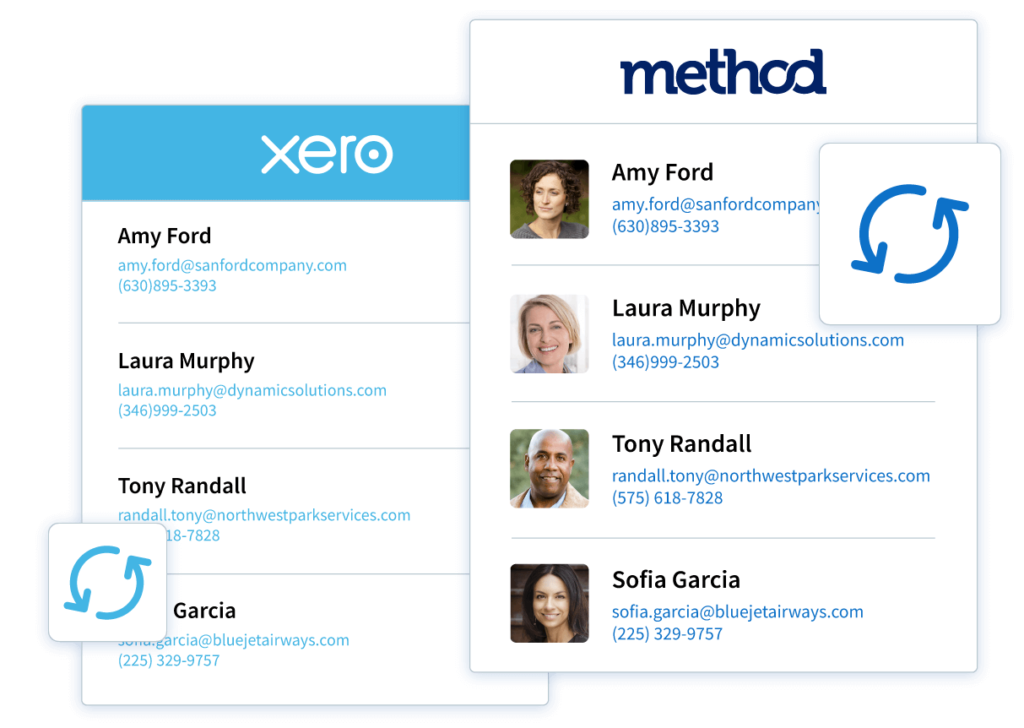 How a Xero CRM fuels your business growth
Empower your team to close deals faster.
Track your deals, automate workflows, and improve your bottom line with Method:CRM.
By extending Xero's capabilities, Method:CRM lets you keep using the solution you know and love while it scales with your needs.
Industry-leading Xero CRM integration
Spend less time verifying and more time closing with Method's two-way Xero sync.
When it comes to securely integrating with Xero, no one pushes and pulls data at the volume and frequency that we do.
From Gmail to payment gateways like Shuttle, Method:CRM is the glue that keeps your business running smoothly.
Connect teams and data points across your business with Method's best-in-class Xero sync.


"Method has a clean beautiful interface and seems to sync well with Xero. But, it has been the support that got them this 5 star review."

Ean Murphy
"Excellent support"
"This is a wonderful app! It syncs great with Xero, all the information goes over without hesitation, no problems there. Contacts, accounting, etc. It's very user friendly, straight forward in all areas – invoicing, payments, etc. A great app to make your work life that much easier 🙂 Highly recommend."

Amy DeVries
"Excellent – Highly Recommend"
Increase your sales with Method:CRM
Growth is what Method:CRM empowers you to achieve.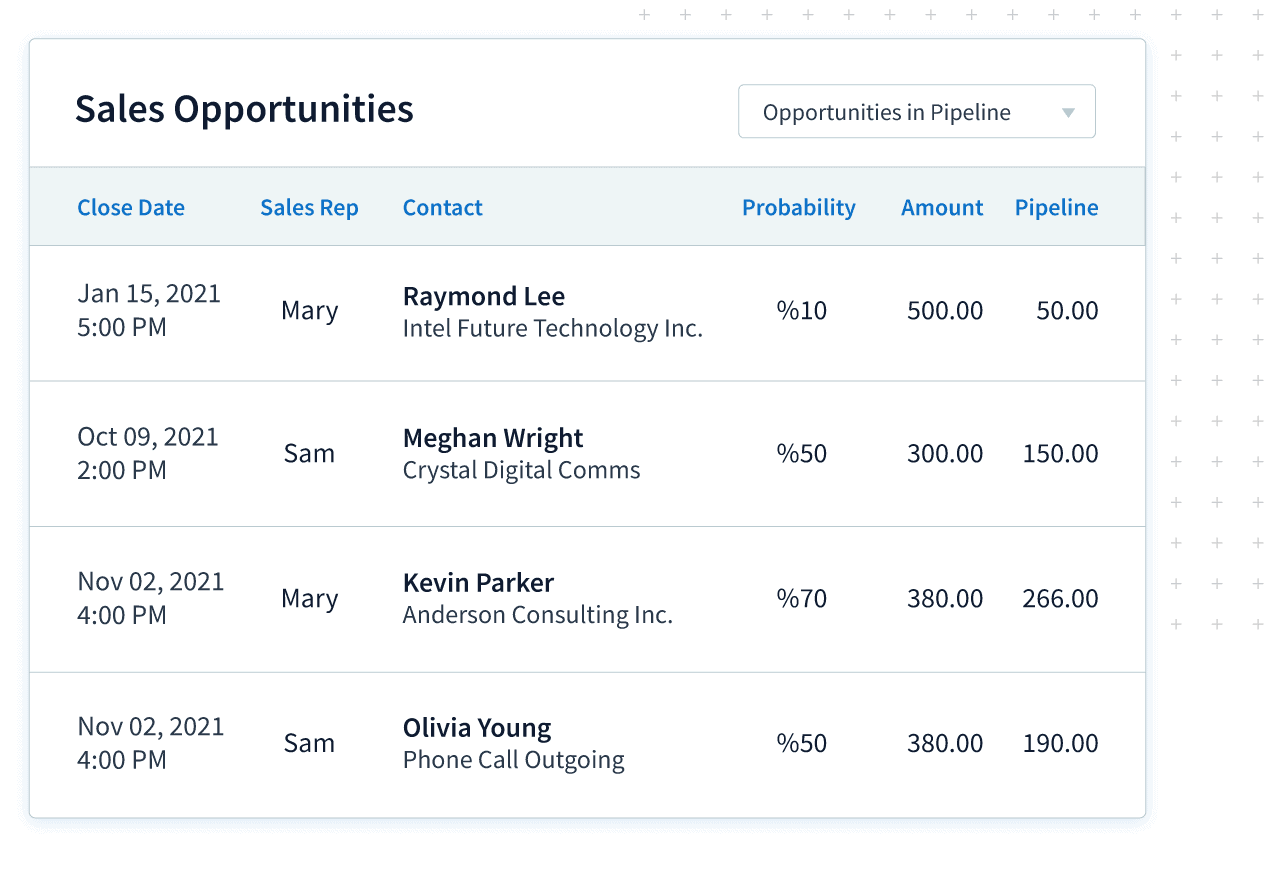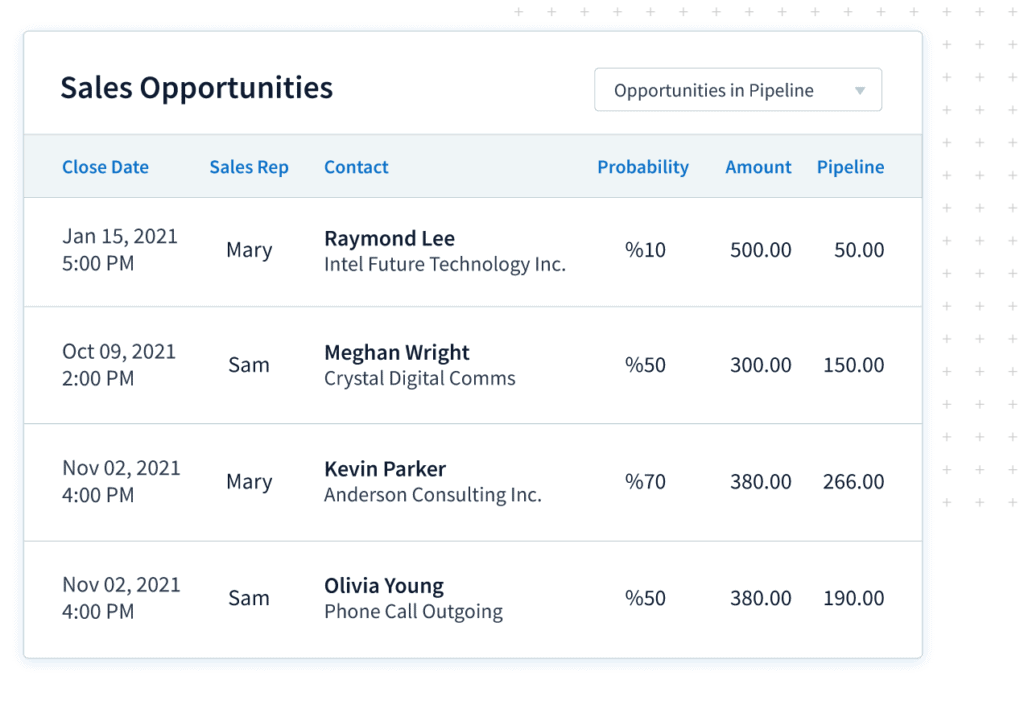 Drive each step of the sales pipeline, from lead to repeat customer, forward with seamless lead collection and activity tracking.

Method:CRM touches every aspect of your business to let you win more sales, serve your customers faster, and get paid sooner.
Works seamlessly with Xero
Automatically sync your contacts, invoice history, payments, and more.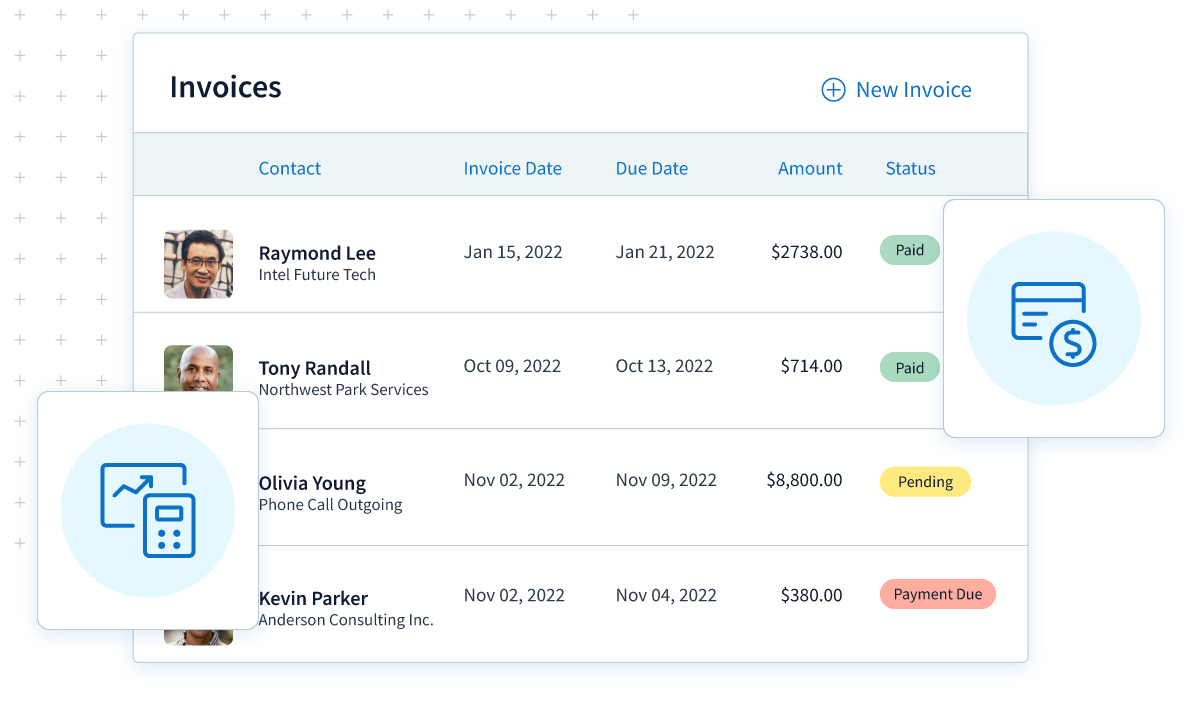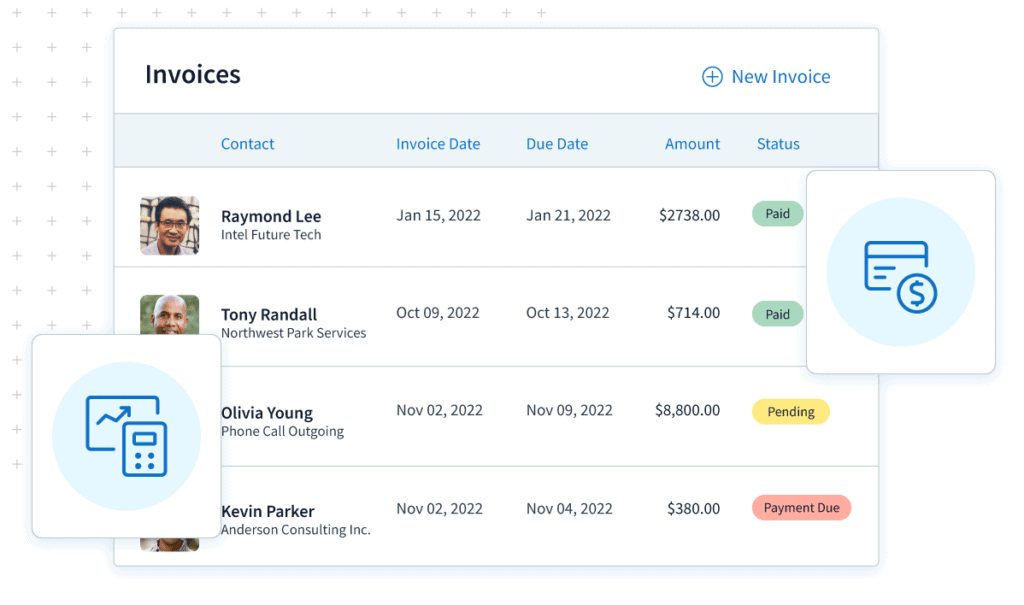 A CRM shouldn't feel like a sudden change. Instead, it should enhance the way you work to drive efficiency.
Extend Xero's capabilities to your non-accounting team members so everyone has secure access to the information they need with Method:CRM.
In return, get hours of time back, happier customers, and added efficiency.
Turn your leads into customers
Lead generation and management aren't Xero's strong suit, but Method:CRM changes that.
Prevent potential sales opportunities from slipping through the cracks by managing unlimited lead contacts in Method:CRM.

Create quotes and schedule follow-ups immediately to turn potential customers into repeat buyers.

Then once you win a sale, convert your leads into customers in Xero to keep your accounting data accurate and organized.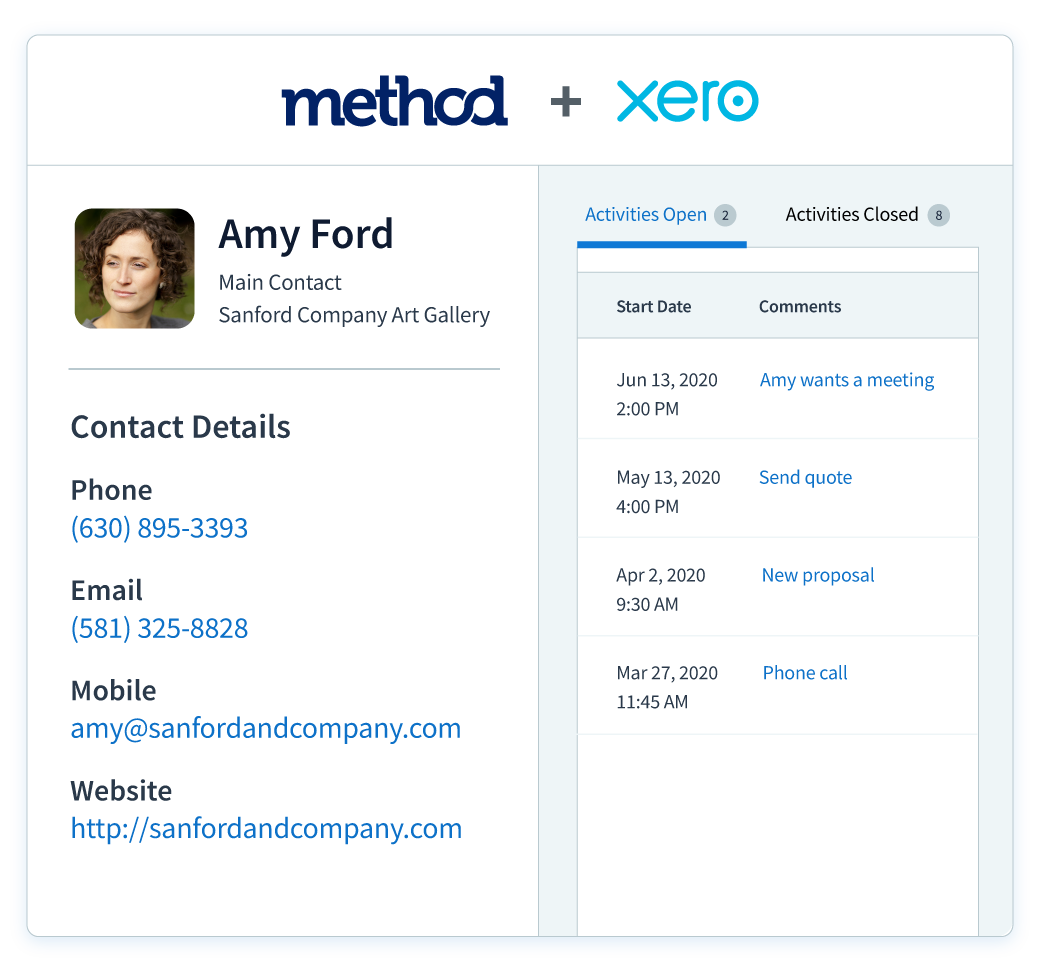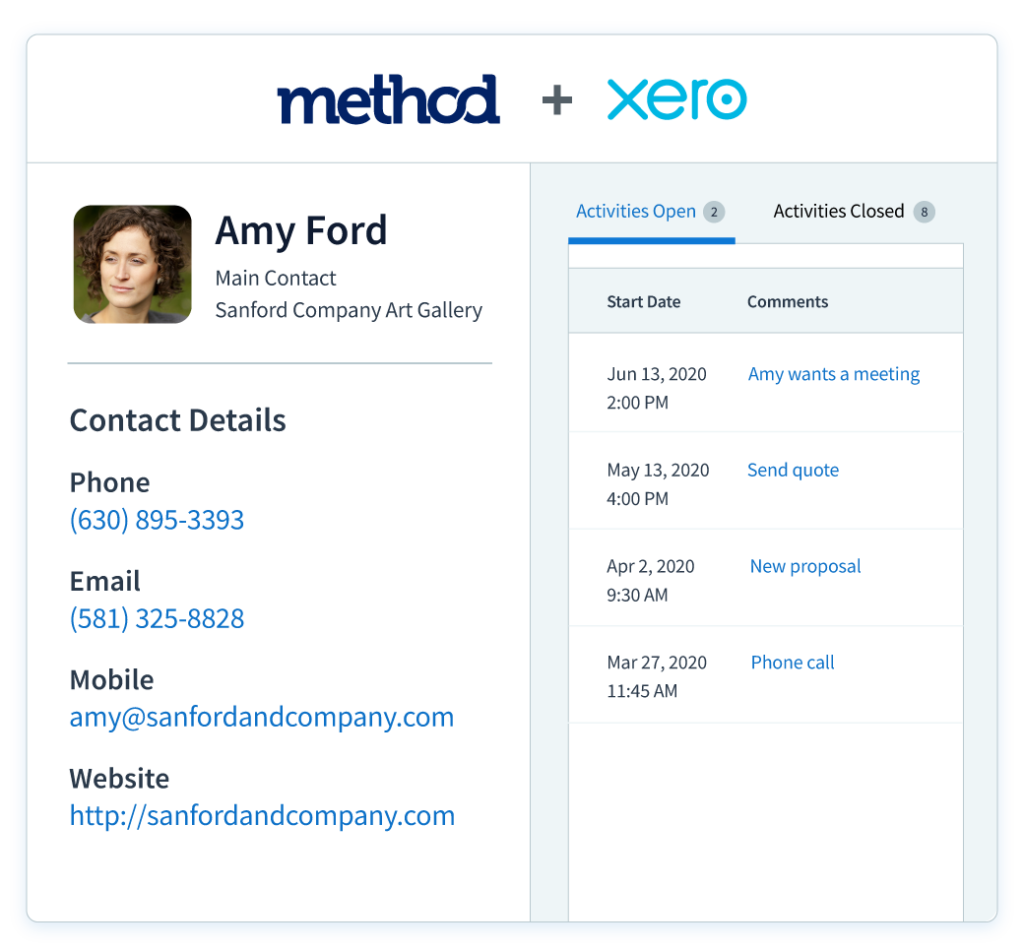 Deeply understand your customer base
Give your customers the level of service they deserve.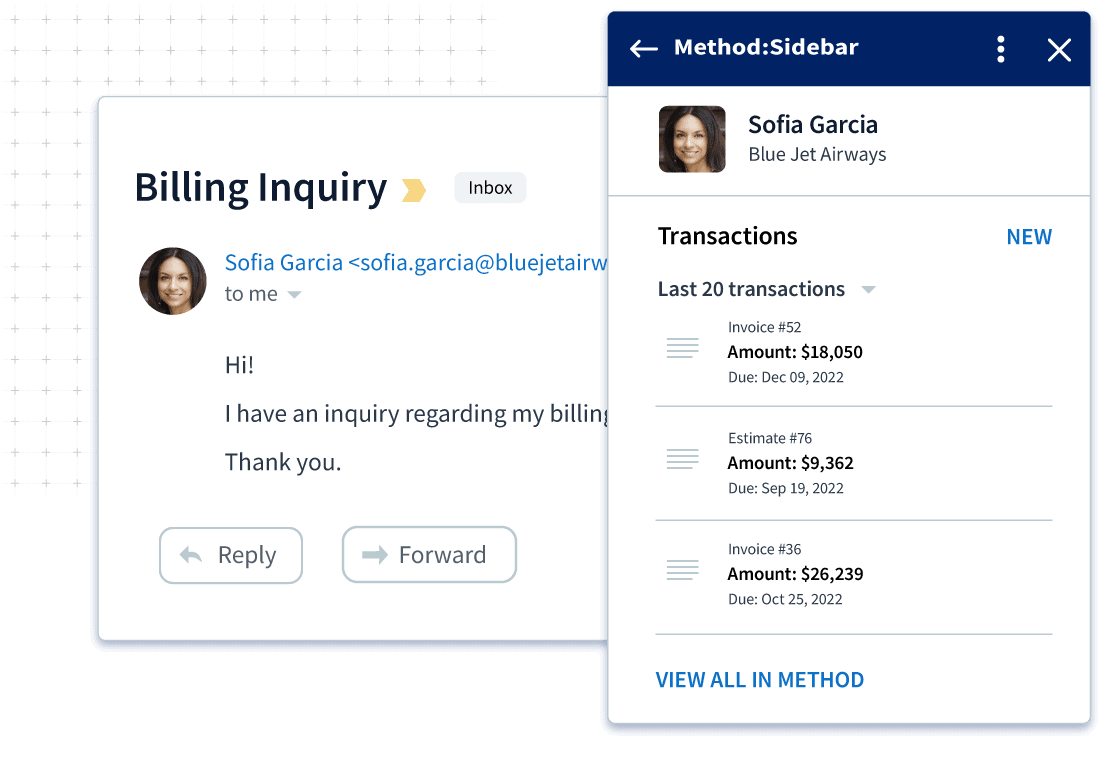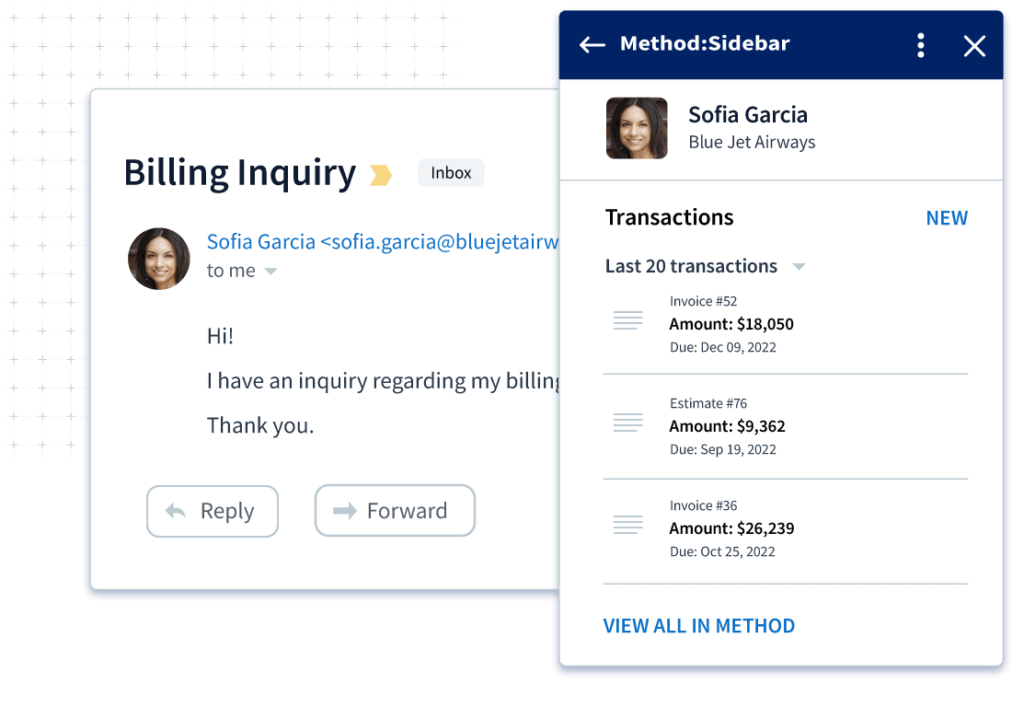 With a 360-degree view of each customer, you get a complete picture of everything from demographic details to a contact's buying habits.

From customer interactions to payment history, you have everything you need to provide top-notch customer service.
Boost your customer service with online portals
Offer a customer experience no one else can match with Method:CRM.
Accomplish more with workflow automation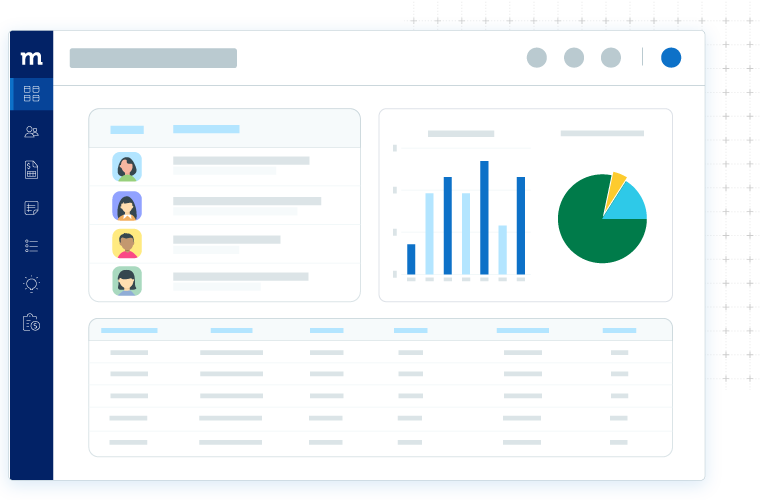 With Method, you're empowered to instantly collect the unique data you need to move deals forward.
Take it one step further by building custom apps to automate tasks your way and personalize your workflows.
Get the freedom to create a system perfectly tailored to your business with Method:CRM.
Xero CRM frequently asked questions
What is Xero used for?
Xero is online accounting software made for small business owners. It lets you to manage your finances no matter where you are.
However, a CRM takes things beyond accounting and allows you to take control of your entire business. From improving your lead interactions to leaving a lasting impression on your customers, a CRM lets you turn your business into a success story.
How to choose a CRM application
To choose a CRM, start by looking at your business processes. It's important to have a good understanding of your current workflows before introducing additional business tools. Ask yourself:
What works well?
Where is there room for improvement?
Which tools are currently working for you?
What can CRM applications do?
CRM applications can automate a variety of tasks from email outreach to lead nurture and online payments. With a Xero CRM, you can:
Win more deals thanks to activity tracking and automated follow ups.
Drive revenue with a contact database of leads, prospects, and customers waiting to be nurtured.
Keep track of sales opportunities as they progress.
Ensure that your team always has the most up-to-date information.