CRM software is a must-have tool to strengthen your sales processes and empower your team to work more efficiently.
If you're looking to push the limits of your success in a way that makes the most sense for your business, you may want to consider a personalized solution, such as a custom CRM system.
Keep reading to:
Learn why custom CRM software is the solution you've been looking for.
Discover the top 9 custom CRM systems that will ensure 2023 is your best year yet.
What is a custom CRM system?
CRM stands for customer relationship management, and it's associated with how you manage and interact with your customers.
A CRM system is the best way to manage your customers in an organized and efficient manner.
CRM software allows your sales team to:
Pull up customer information on the fly.
Map and visualize the customer journey.
Analyze the effectiveness of your sales strategies.
A CRM system with customizable features takes it one step further by providing more freedom in handling your customer relationship management.
In return, you reap several benefits for your business.
Benefits of custom CRM systems
A custom CRM system improves your business in a variety of ways. Let's look at a few of them.
A solution just for your business
One of the top reasons to seek a custom CRM solution is to have a system that works specifically for your business.
After all, your CRM should adapt to your business, not the other way around.
If you personalize your software from the beginning, you can start using it immediately instead of having to rethink your processes.
Additionally, using a customer relationship management software tailored for your business gives you an edge over your competition, who might be stuck adapting to an out-of-the-box solution.
Evolves with your success
Another benefit of a custom CRM system is that it grows with your business.
A software solution is only as good as its features. The features that might work for your small business today may not work for your business after a successful year that sees you venture into medium-sized business territory.
Investing in new software at this stage costs time and money that you could put towards other things, such as strengthening customer relationships.
A custom CRM gives you the power to change the system as your business evolves, meaning you won't have to worry about outgrowing it.
Easier to track what matters
Different businesses track different metrics. You likely want to track specific data to understand how your business is performing and develop new strategies.
Having the right analytical tool is crucial to this process.
A custom CRM system allows you to build personalized reports and pull the data you need to make constructive business decisions.
Better integrations
The most powerful CRM software allows for integrations with other business tools to create an all-in-one system from which to run your business.
The possibilities are even wider with a custom CRM solution that you can modify to integrate with additional tools more effectively.
Next, let's discuss the components every custom CRM system should include.
Components of an ideal custom CRM system
Before you choose the best custom CRM for your business, it's essential to understand the different possible components of a CRM.
While every software solution is different, there are a few general features worth paying particular attention to.
These features include:
CRM database: This is where your contacts are stored and is arguably the most critical component of a CRM system.
Marketing tools: While your CRM is mainly a sales tool, integrated marketing into your system benefits all aspects of your business.
Reporting: The best custom CRM systems provide comprehensive reporting features to track various data, from sales to lead conversion.
Automation: Without an automated CRM system, your customer relationship management won't be at peak efficiency.
Customization: Your CRM needs some level of customization to allow you to personalize it — whether it's customizable features or unlimited customization.
How we chose the best custom CRM systems
We chose the CRM systems on this list based on:
Integrations.
Pricing.
Advanced features.
Level of customization.
Most of these CRM options start at similar prices and integrate with Zapier. Therefore, you'll mainly find differences in their features and customization capabilities.
Without further ado, let's introduce our top 9 custom CRM systems.
The 9 best custom CRM systems
There are many choices out there for your next custom CRM system. Luckily, this list has narrowed them down to the top 9.
Here are the best custom CRM systems:
Method:CRM.
Apptivo.
Salesforce Sales Cloud.
Bitrix24.
NetHunt CRM.
Close.
Ontraport.
Nimble.
Nutshell.
The first custom CRM system on our list is Method:CRM.
With Method, automation is the name of the game. From sales to marketing automation, this solution drives efficiency in all areas of your business to increase productivity across your organization.
Method's best automation feature is its two-way sync with QuickBooks and Xero. When you update data in Method, it automatically registers in your accounting software and vice versa.
There's no need to worry about outgrowing Method. This customizable CRM allows you to personalize it to suit how your business is at the time. You can create custom reports that track sales trends and even implement online customer portals for improved customer service.
As a no-code platform, Method's customization is accessible enough for you to perform yourself without the help of a developer. All you need to do is click, drag, and drop. But if you need a helping hand, one of Method's customization experts is available to help.
Finally, Method integrates with tools you already use, such as Outlook and Mailchimp. If you have custom integrations in mind, you can expand the power of this custom CRM with Zapier.
Key features
Two-way QuickBooks and Xero sync.
Build custom reports with relevant data.
Personalize reports, templates, and more.
Segment contacts in a way that works best for your business.
Pros
No-code platform means no developer needed.
Top automation with two-way data sync.
Unlimited customization with experts to help.
Large number of integration possibilities.
Cons
For now, Method is only available for QuickBooks and Xero users. This custom solution is also only available in English.
Pricing
Method's pricing starts at $25 per month per user. You can also sign up for a free trial.
The following custom CRM system on the list is Apptivo.
Apptivo is cloud business management software that combines your CRM, project management, and invoicing into one platform.
This software is broken down into different apps to organize your workflows. For sales in particular, the integrated CRM allows you to create custom views, layouts, and fields to simplify your workflow.
Most changes only require you to drag and drop to create your desired features.
Key features
Kanban view for real-time task status.
Customizable integrated CRM.
Effective email sequencing options.
Pros
Drag-and-drop functionality.
Integrates with multiple other apps such as G Suite and Office 365.
Activity tracking across your organization.
Cons
While highly customizable, it can be tricky to personalize the software by yourself initially.
Pricing
Apptivo pricing starts at $10 per user per month.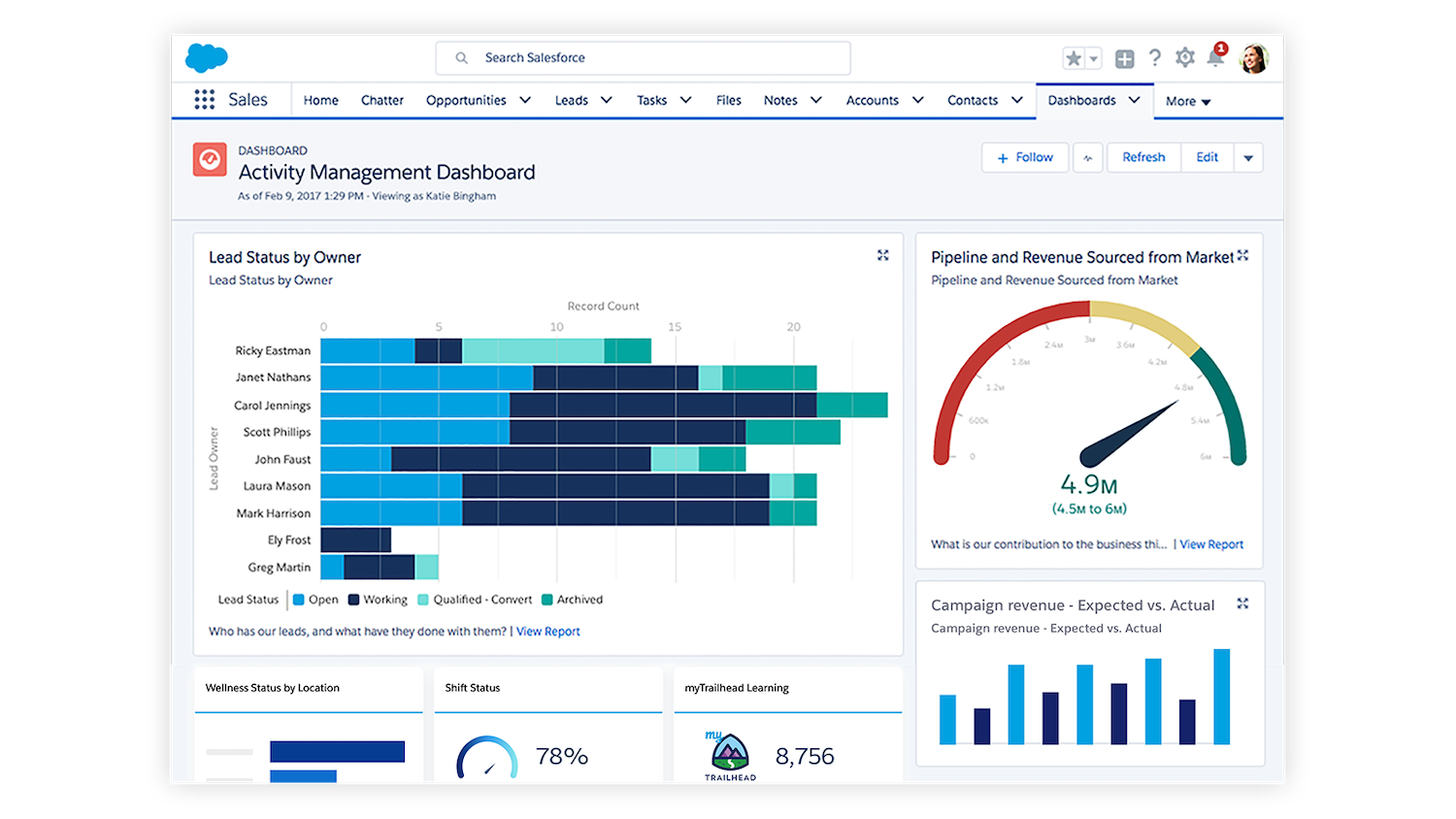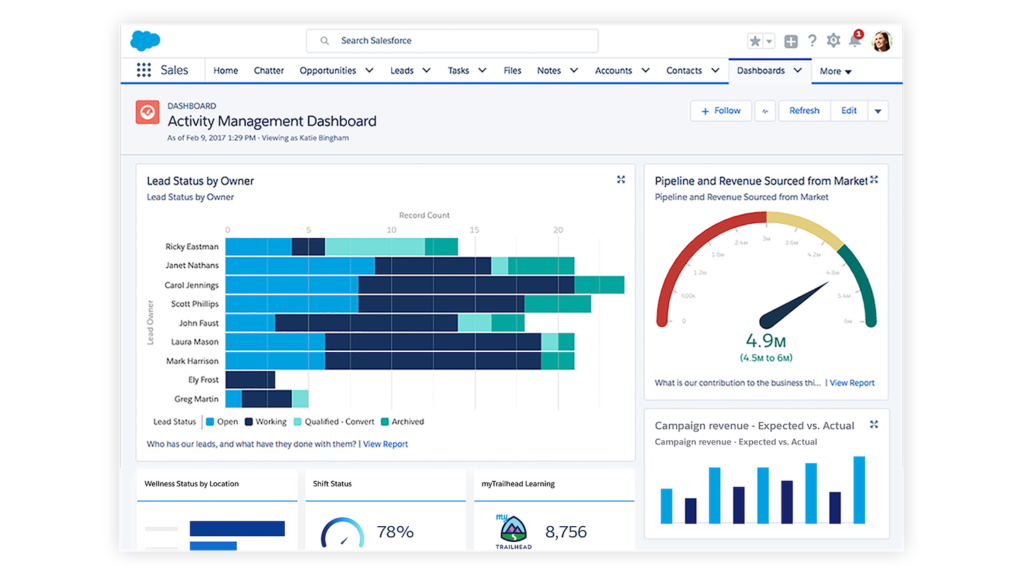 Salesforce Sales Cloud offers improved automation, data, and intelligence for your business. The customization aspect comes from the platform's AI.
Salesforce Sales Cloud is AI-powered, adapting your CRM to your business as it evolves. It optimizes outcomes with real-time data to ensure faster growth.
Other Salesforce Sales Cloud customization features include custom reporting and the ability to change the interface.
Key features
Opportunity management to close more sales.
Territory planning to distribute resources efficiently.
Visual workflow with drag-and-drop ability.
Pros
A large number of features to choose from.
AI-powered for better insights.
Increased efficiency through sales automation.
Cons
Salesforce is more expensive than other solutions and takes longer to set up, which makes it an unappealing option for small businesses.
Pricing
Salesforce Sales Cloud pricing starts at $25 per user per month for the Essential plan and can go up to $300 for the Unlimited plan.
Next on our list of the top custom CRM systems is Bitrix24.
Bitrix24 simplifies collaboration across your teams to easily share tasks and stay in the loop of what others are doing with their customizable kanban boards.
This CRM software offers plenty of other visual representations for your projects and tasks to make your workload management a breeze. They also have customizable chatbots and forms.
Key features
Lead acquisition and management.
Templates and forms to build your website.
HR automation features to manage your team.
Pros
The ability to generate leads through multiple channels.
Sales automation at your fingertips.
Customizable kanban board, chatbots, and forms.
Cons
Bitrix24's kanban structure is a little complex, so if you're looking for a more straightforward system, this may not be your best pick.
Pricing
Bitrix24 pricing starts at $46 per month for up to 5 users.
NetHunt is a CRM that merges your sales and marketing teams' workflows for a more cohesive business.
This CRM is specifically designed for Gmail and lets you manage everything from contacts to email campaigns right in your inbox.
This CRM system has a customizable dashboard that shows activities, tasks, and other functions. They also have a LinkedIn extension to create contacts while you view their profiles.
Key Features
Customizable dashboards, pop-ups, and web forms.
Gmail integration to centralize your processes.
Create contacts from LinkedIn profiles.
Pros
Add custom fields to your contact records.
Eliminates the need to toggle between separate apps.
Several ways to create contacts.
Cons
If you don't use Gmail, you may have trouble smoothly integrating this custom CRM system into your business processes.
Pricing
NetHunt pricing starts at $24 per user per month.
Next on our list of the best custom CRM systems is Close.
Close simplifies communication thanks to the built-in phone with free monthly calling credits. You can also send texts and emails right through the app.
Except for their Starter plan, all of their plans include unlimited custom fields for you to personalize this solution.
Moreover, their Smart Views feature tells your sales representatives who to call and when to follow up based on the parameters you set. This ensures you don't forget any customer or potential customer.
Key Features
Built-in phone for calls and texts.
Smart Views for updates on customer interactions.
The ability to send bulk emails or pre-made email sequences.
Pros
Send emails directly from the web app.
Add existing numbers to the web app to make outgoing calls.
Set parameters for reminders on who to contact.
Cons
Close is a relatively new platform, and its automation capabilities are limited.
Pricing
Close pricing starts at $25 per user per month.
The following custom CRM system on our list is Ontraport.
Ontraport is one of the best custom CRM systems for businesses that sell online products or services. This platform includes features that allow for cross-selling, coupon codes, and more.
Use the customizable kanban sales pipeline board to see cards for each deal and display each stage's total and weighted value.
Beyond that, Ontraport integrates with payment gateways such as PayPal and Stripe and other eCommerce apps such as Shopify.
Key Features
Customizable kanban board.
The ability to create a customized membership site.
Pre-built marketing suite.
Pros
Several eCommerce features and integrations.
Build automated campaigns to attract customers.
Drag-and-drop customization.
Cons
Ontraport's user interface is different from that of typical CRMs and takes some time to get used to.
Pricing
Ontraport pricing starts at $24 per user per month.
Nimble's primary focus is streamlining communication, which you can personalize to your liking. This makes it a good tool for maintaining and improving relationships with customers.
Nimble allows you to:
Manage messages.
Segment customers.
Create custom fields to expand lists.
Moreover, you can use the social media analytics tool to keep track of your interactions and engagement.
Key features
Several options for lead capturing.
Easy segmentation of customers and leads.
Email message syncing.
Pros
Keep track of your social networks from one place.
Easy to navigate interface.
Create custom fields for more data.
Cons
Nimble only offers a 14-day trial, while most other CRMs offer a trial.
Pricing
Nimble has one plan at $19 per user per month.
The last custom CRM system on our list is Nutshell.
Nutshell is a small business CRM with an easy-to-use interface that combines your sales and marketing tasks.
Use Nutshell's email marketing features, which include adding custom fields, editing reporting units, and restricting users.
Key features
Bulk edit feature to modify multiple records at once.
Import your leads with Excel or update data manually.
Email sequence tool for custom sales drips
Pros
Simple interface that's quick to learn.
Custom reporting for targeted insights.
Detailed dashboard provides a full view of each customer.
Cons
While you can personalize your sales and marketing workflows to an extent, Nutshell doesn't offer the same level of customization as other similar CRMs.
Pricing
Nutshell offers two pricing plans. The Starter Plan is $20 per user per month, and the Pro Plan is $42 per user per month.
Wrap up: Which custom CRM system should you use?
A custom CRM system doesn't switch up your business processes. It improves them. But this only happens when your CRM is built specifically for your business.
Luckily, you don't have to hire a developer to get personalized results.
A customizable CRM allows you to adapt your solution to your evolving business to ensure you never miss a beat.
Custom CRM system FAQs
Can I build my own custom CRM system?
Yes, you can build your own CRM, and various tools and resources are available to guide you through the process. But building your own CRM can be challenging, so you first want to assess whether it's the best decision for your business.
Is it worth building a custom CRM?
Building a custom CRM system is worthwhile if you're looking for a solution tailor-made to your business. Learning how to build a CRM system takes a lot of time and can be pretty costly. You can enlist the help of a developer to build a CRM for you. But the best option is to choose a customizable CRM.
How do I set up my own CRM?
Setting up your own CRM requires time for implementation and training for your staff. Depending on your customizable CRM solution, set up can be simple or more complex. For best results, you should choose a CRM from a company that offers excellent customer support, help with customization, or both – such as Method:CRM.
Start your free trial of Method:CRM today!
Image credit: Andrea Piacquadio via Pexels