Top 14 best roofing software companies
Improve and optimize project management with the best roofing software. Find the best software for your roofing business.
The residential roofing industry is growing, so roofing business owners must ramp up their operations to keep up with demand. Equipping your employees with the best roofing software is the top way to do that.
Keep reading for a list of the best roofing software to take your roofing business to the next level.
Find a software solution for your industry
If you're not in the roofing industry but are looking for a similar tool, don't worry. There are plenty of powerful project management software solutions available for a range of industries. Check out our other guides below:
What is roofing software?
Roofing software is a type of field service management software that empowers roofing contractors to accomplish their day-to-day tasks more efficiently.
Some key tasks that the best roofing software enhances include:
Managing your customers.
Keeping track of your workers.
Organizing your inventory.
This is possible thanks to the features that the best software solutions provide.
What core features should you look for in roofing software?
Roofing software usually comes with an abundance of features. But to choose the best roofing software, you need  to recognize which features benefit your business.
Below are some of the most common features every roofing business needs.
Customer relationship management
Most field service software solutions come with a customer management platform where you can access all your customers' data.
This feature improves customer communications as it allows businesses to answer customer queries and pull up important information in an instant.
Project scheduling
The best roofing software program streamlines the management of all your roofing projects from start to finish. For best results, choose a solution with project management tools such as:
Job scheduling platforms.
Timesheet trackers.
GPS route planning.
Estimating tools.
Accounting
The best roofing software solutions enhance your accounting workflows by:
Enabling mobile invoicing.
Allowsing automatic syncing with accounting programs such as QuickBooks or Xero.
 Offering multiple payment processing options for customers.
Inventory management
If you run a construction company, chances are that you deal with tons of equipment, materials, and tools on a daily basis.
In this case, it's important that you find a software provider with inventory options to make asset management hassle-free.
Aerial imagery and measurements
Some software providers offer measurement and estimating tools that make use of drone and satellite technology. This is a useful tool for roofing businesses, but beware that it's also an expensive feature.
Understanding pricing for roofing software
When shopping for the best roofing software, you come across several kinds of pricing options, which can get confusing. To help you out, here are some common pricing models for roofing software explained.
Per employee per month subscriptions
With this payment method, you pay extra for each additional employee you have per month.
Per user per month subscriptions
Unlike the previous pricing option, this option only allows for a limited number of users per month. Usually, this type of subscription is only meant for administrative users or back-office staff.
Some software providers also offer a field staff subscription option. Here, businesses pay a much lower monthly fee to provide each field technician with access to a mobile app.
Perpetual software licenses
The perpetual license option grants businesses total access to a software program for an indefinite time. This option is usually given to larger enterprises.
How to find the best roofing software for your business
When you're looking for the best roofing software management solution for your business, there are several factors you need to consider. Some of the top factors include:
Ease of use: It's important to choose software that's accessible to all. Consider the technical aptitude of your potential users, from your administrative staff to your roofing technicians.
Integrations: While some apps describe themselves as a one-size-fits-all solution, you will most likely continue to use some of your favorite tools. Choose a field service management solution that syncs with your apps to create an intuitive system.
Customization: The best roofing software providers offer customizations so you can personalize your new software for optimal performance.
The top 14 best roofing software companies on the market
Now that you know what to look for in the best roofing software, you're ready to explore your options. To get you started, here are the top 14 roofing software solutions to drive your business growth.
Method:Field Services
Contractor Foreman
Job Progress
YourTradebase
Builder Prime
RoofSnap
Roof Chief
Tradify
Scoro
iRoofing
Field Pulse
RooferPro
Acculynx
JobNimbus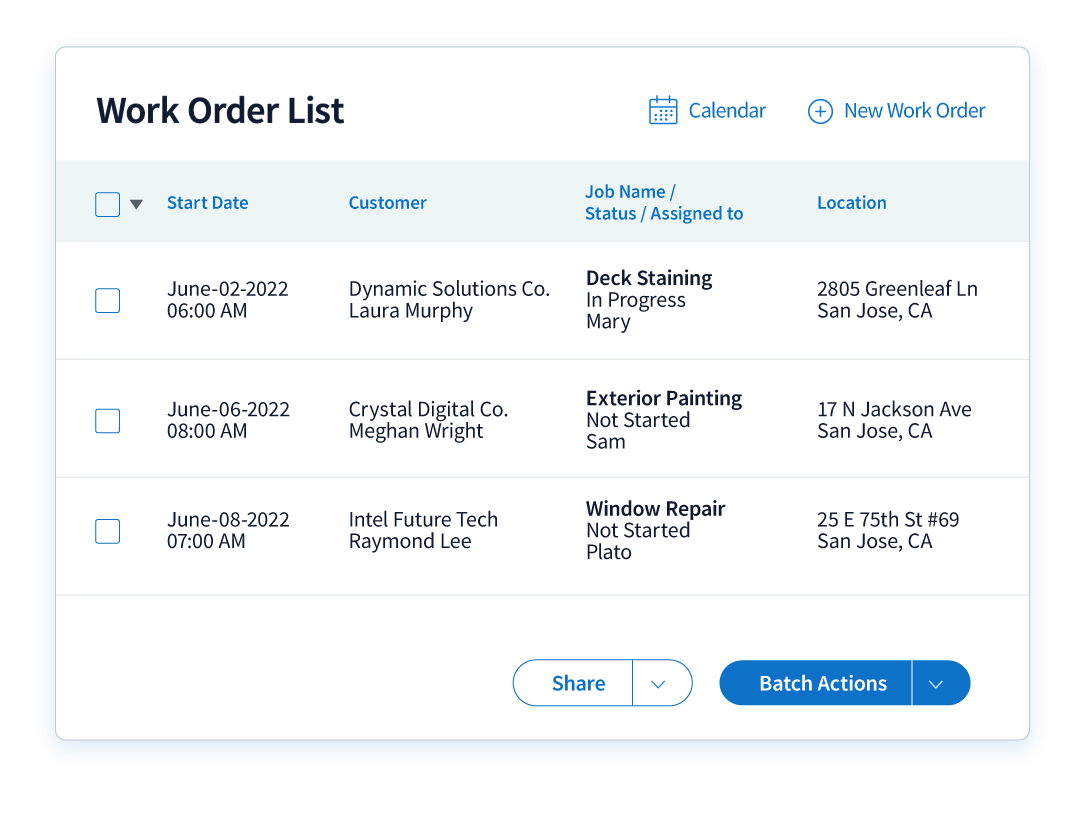 First on our list is Method:Field Services.
Method:Field Services is an all-in-one cloud-based software that has everything you need to run your roofing business smoothly. Method:Field Services allows you to build a custom CRM tailored for your every need.
Method's best feature is the two-way QuickBooks sync that eliminates manual double data entry and updates everyone on your team at the same time.
Here are some of the features that make Method:Field Services one of the best roofing software solutions:
A scheduling and dispatching platform where you can map routes to job sites, schedule work orders, and get a full view of all your roofing technicians' work schedules.
The ability to convert your estimates into work orders, then your work orders into invoices with a few clicks.
A mobile app that field workers can use to send client invoices, collect payments, and track work hours.
Plans and pricing
If you're new to Method:Field Services, you can enjoy a free trial, no credit card required. After that, the software starts at $15 per user per month.