Top 14 best roofing software companies

The residential roofing industry is growing. With the increasing demand for materials like shingles, plywood, and roofing paper, business owners must ramp up their operations.
Equipping your employees with the best software simplifies estimation and planning and ensures compliance with industry standards.
Keep reading for the best roofing software to optimize your business processes.
Find a software solution for your industry
If you're not in the roofing industry but are looking for a similar tool, don't worry. Plenty of powerful project management software solutions are available for various industries. Check out our other guides below:
What is roofing software?
Roofing software is a type of field service management software. It enables seamless project management and empowers roofing contractors to accomplish their daily tasks efficiently.
Some key tasks that the best roofing software enhances include:
Managing your customers.
Keeping track of your workers.
Organizing your inventory.
It also automates repetitive tasks, provides real-time data on essential parts like nails and sheathing, and supports accurate material calculations. This efficiency is possible thanks to the features that the best software solutions provide, which enables seamless integration with other tools and systems.
What core features should you look for in roofing software?
Roofing software usually comes with plenty of features. But to choose the best roofing software, you must determine which features benefit your business.
Below are some of the most common features every roofing business needs.
Customer relationship management
Most field service software solutions come with a customer management platform where you can access all your customers' data.
This feature improves customer communications as it lets businesses answer customer queries and instantly pull up important information.
Project scheduling
The best roofing software program streamlines communication with clients and enhances project visualization. It ensures that every detail, from the ridge to the valley, is perfectly executed.
For best results, choose a solution with project management tools such as:
Job scheduling platforms.
Timesheet trackers.
GPS route planning.
Estimating tools.
Accounting
The best roofing software solutions enhance your accounting workflows by:
Enabling mobile invoicing.
Allowing automatic sync with accounting platforms like QuickBooks or Xero.
Offering multiple payment processing options for customers.
Inventory management
If you run a construction company, chances are that you deal with tons of equipment, materials, and tools on a daily basis.
In this case, it's vital that your software provider offers inventory options to make asset management hassle-free.
Aerial imagery and measurements
Some software providers offer measurement and estimating tools that use drone and satellite technology. This is useful for roofing businesses, but beware that it's also expensive.
Roofing software guide: The benefits
Roofing software has revolutionized how roofing companies operate. It facilitates collaboration and enhances quality control processes, ensuring top-notch service delivery.
Let's explore the key benefits of integrating software into your roofing business.
Improved communication and collaboration
Roofing software provides a unified platform where team members can collaborate and communicate.
This is crucial when discussing project specifications, like the:
Type of flashing to use around a chimney.
Best roofing felt for a particular design.
Placement of features like a drip edge or cupola.
Software eliminates the need for endless email threads. Using the platform, everyone is on the same page.
With real-time notifications, your team members get immediate updates, ensuring swift responses and decision-making.
Cloud-based roofing software lets you access project details anywhere, whether in the office or on a job site. It also enables remote access and mobile functionality.
Enhanced customer satisfaction
With software, you can keep customers in the loop with real-time progress updates, fostering trust and transparency.
With all client information and project details at your fingertips, responding to client queries becomes more efficient.
Roofing software also enhances accuracy and ensures that standards are maintained across all projects, which improves customer satisfaction.
Boosted productivity
Automating repetitive tasks like scheduling and invoicing increases productivity and frees up time for critical activities.
Additionally, visibility into project timelines optimizes resource allocation and improves efficiency in allocating resources and materials.
Moreover, software provides comprehensive reporting. Access to analytics and reports helps you:
Identify bottlenecks.
Optimize workflows.
Make informed decisions.
Better organization
Roofing software facilitates data backup and recovery and allows for digital storage of all project-related documents, so that finding them is a breeze.
For instance, if you need to reference the soffit or fascia installation guidelines, or even the specifics on barge or hip placements, it's at your fingertips.
Use it to easily assign, monitor, and manage tasks so nothing slips through the cracks.
Remember to closely monitor your materials and inventory to ensure you're always well-stocked and ready for any project.
Understanding pricing for roofing software
When shopping for the best roofing software, you come across several pricing options, which can get confusing. To help you out, here are some standard pricing models for roofing software explained.
Per employee per month subscriptions
With this payment method, you pay extra for each additional employee you have per month.
Per user per month subscriptions
Unlike the previous pricing option, this option only allows for a limited number of users per month. Usually, this type of subscription is only meant for administrative users or back-office staff.
Some software providers also offer a field staff subscription option. Here, businesses pay a much lower monthly fee to provide each field technician access to a mobile app.
Perpetual software licenses
The perpetual license option grants businesses total access to a software program indefinitely. This option best caters to larger enterprises.
Roofing software guide: integrations
The power of software lies not just in its standalone features but also in its ability to integrate with other tools seamlessly.
For instance, if you were planning to install new gutters or downspouts, an integration with project management features would provide access to the necessary project documents.
This helps you:
Analyze the existing structure.
Utilize the best materials for the site.
Customize the installation process for optimal water flow.
Let's explore the types of integrations to consider along roofing software.
Integration types
Accounting software: By integrating with popular accounting tools like QuickBooks or Xero, roofing software automatically syncs financial data, reducing errors and keeping your books up-to-date.
CRM systems: Connect your roofing software with customer relationship management (CRM) systems for a unified view of customer interactions, from initial contact to project completion.
Inventory management: Integration with inventory management tools enables effective cost tracking so that you're always aware of your stock levels.
Communication platforms: Integrating with communication tools such as Slack or Microsoft Teams can enhance team collaboration, ensuring everyone stays informed and connected, whether in the office or on the field.
Calendar and scheduling: Syncing with calendar applications like Google Calendar or Outlook ensures that appointments, site visits, and deadlines are always visible and updated in real time.
Estimation and proposal software: By connecting with estimation tools, you can quickly generate accurate quotes, proposals, and contracts, making the bidding process smoother and more efficient.
How to find the best roofing software for your business
Here are some of the top factors to consider when you're looking for the best roofing software management solution:
Ease of use: It's important to choose software that's accessible to all. Consider the technical aptitude of your potential users, from your administrative staff to your roofing technicians.
Integrations: While some apps describe themselves as a one-size-fits-all solution, you will most likely continue to use some of your favorite tools. Choose a field service management solution that syncs with your apps to create an intuitive system.
Customization: The best roofing software providers offer customizations so you can personalize your new software for optimal performance. For instance, if your company specializes in skylight or dormer installations, the software should let you include custom fields for those.
The top 14 best roofing software companies on the market
Now that you know what to look for in the best roofing software, you're ready to explore your options. To get you started, here are the top 14 roofing software solutions to drive your business growth.
Method:Field Services
Contractor Foreman
Job Progress
YourTradebase
Builder Prime
RoofSnap
Roof Chief
Tradify
Scoro
iRoofing
Field Pulse
RooferPro
Acculynx
JobNimbus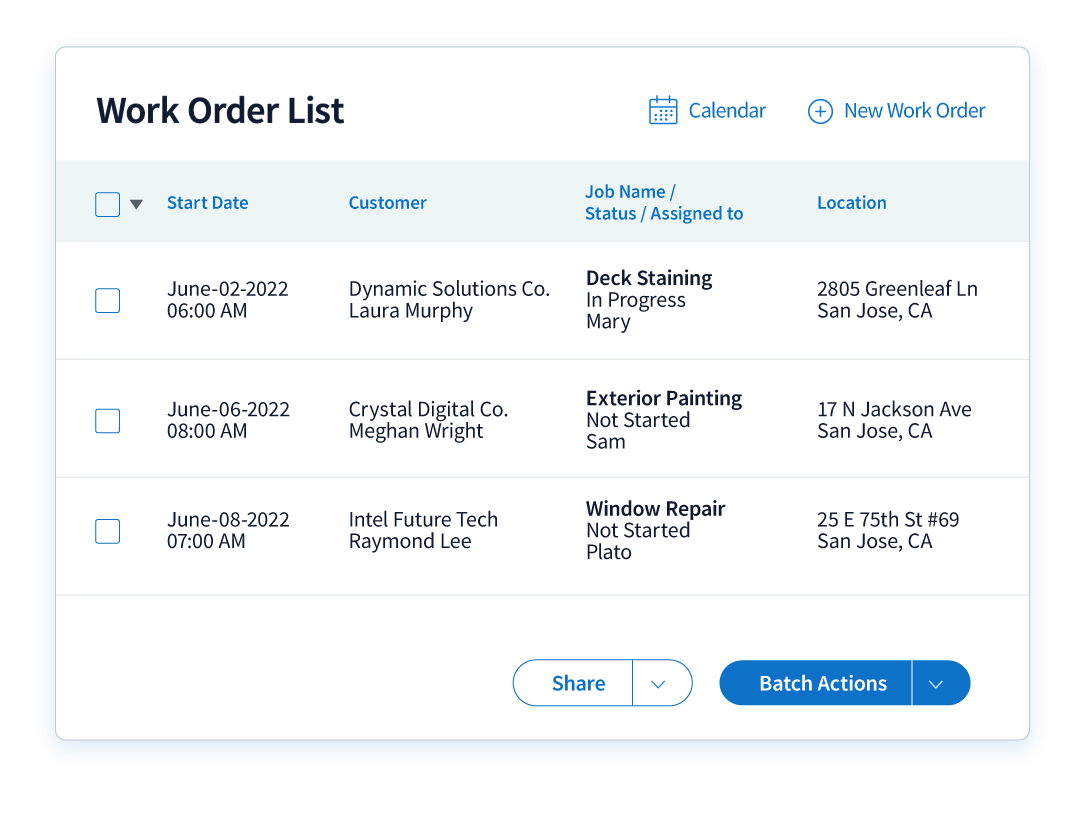 First on our list is Method:Field Services.
Method:Field Services is an all-in-one cloud-based software with everything you need to run your roofing business smoothly. Method:Field Services allows you to build a custom CRM tailored to your needs.
Method's best feature is its two-way QuickBooks sync that eliminates manual double data entry and updates everyone on your team.
Here are some other features that make Method:Field Services one of the best roofing software solutions:
A scheduling and dispatching platform where you can map routes to job sites, schedule work orders, and view all your roofing technicians' work schedules.
The ability to convert your estimates into work orders, then your work orders into invoices with a few clicks.
A mobile app for iOS and Android devices that field workers can use to send client invoices, collect payments, and track work hours.
Plans and pricing
Method:Field Services offers a free trial — no credit card required. After that, the software starts at $15 per user per month.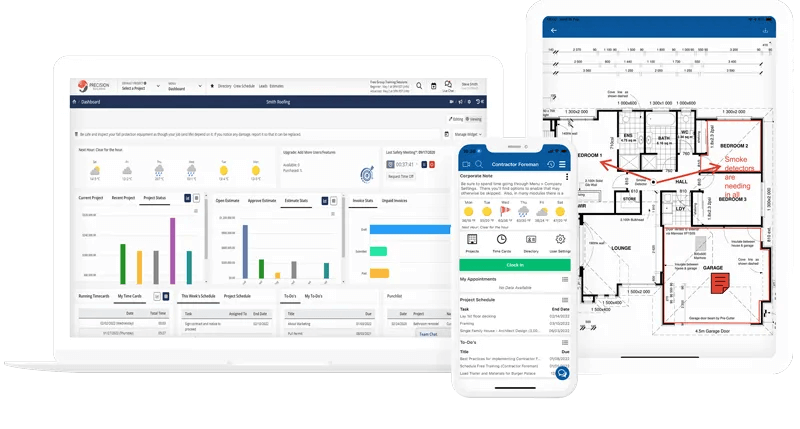 Contractor Foreman is a construction project management software available in over 75 countries.
What makes Contractor Foreman among the best roofing software options is its Safety Meetings feature, which allows app users to access over 1000 built-in safety topics. This helps field operations staff to stay OSHA-compliant on every job.
The other key features offered by Contractor Foreman include:
A document management system where users can keep daily logs of job site conditions, hours worked, and materials.
A project management dashboard where you can view all your past and upcoming appointments, customer and employee information, project snapshots, and more.
QuickBooks Online and QuickBooks Desktop integration.
Plans and pricing
Contractor Foreman offers a free trial and training session. From there, there are several pricing options:
Standard plan: $49 per month for three users.
Plus plan: $87 per month for up to 8 users.
Pro plan: $123 per month for up to 15 users.
Unlimited plan: $148 per month for unlimited users.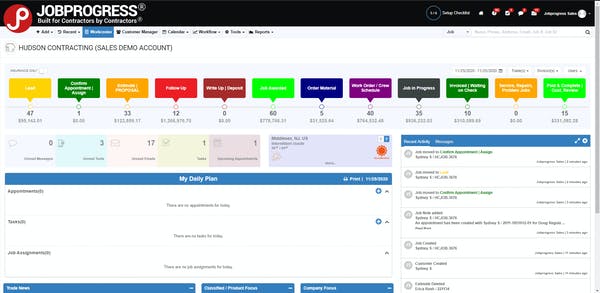 Job Progress is a cloud-based construction management solution built "for contractors by contractors".
Job Progress is the best roofing software for businesses whose staff may not be the most tech-savvy, as it's easy to use.
Here's what customers can get out of this construction software:
A customer relationship management platform to view all your customers' details and purchase history.
An intuitive mobile app to view project details, send quotes, and create invoices.
Integrations with QuickBooks, ZenDesk, and other apps.
Plans and pricing
Job Progress costs $50 per user per month. There is also a $500 one-time setup fee for new users.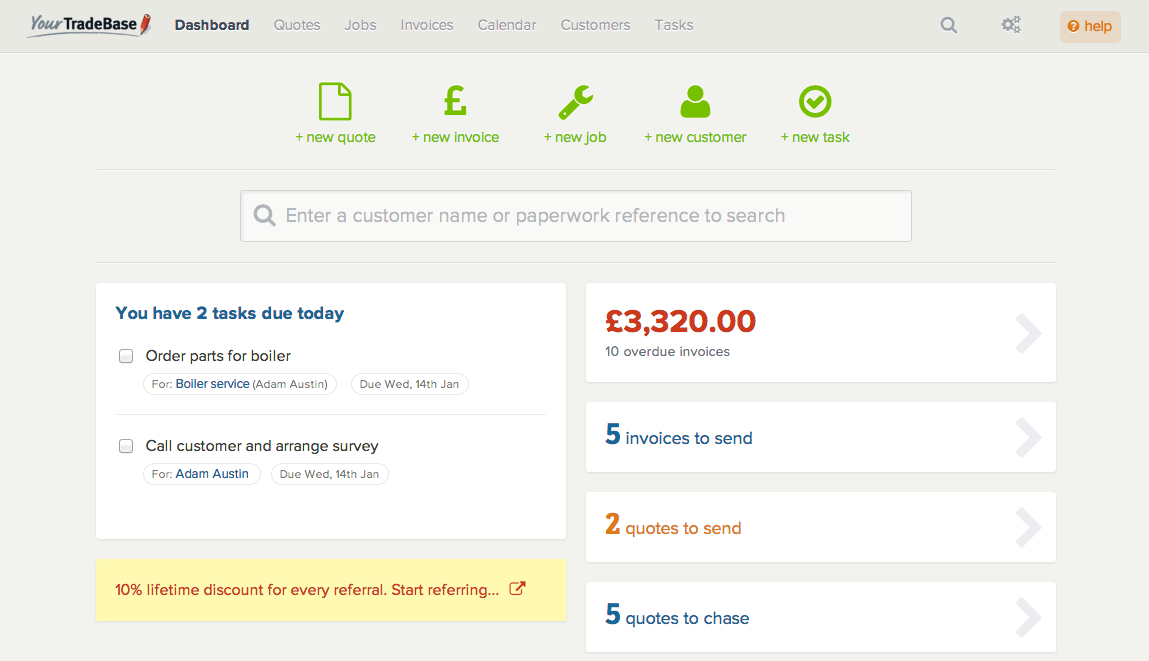 Next on our list of the best roofing software is YourTradebase.
This all-in-one job management software is made specifically for those in the trade industry, including roofers. YourTradebase's core features include:
A quoting tool that allows you to create, send, and save quotes from your mobile devices.
A job scheduling platform where you can see all your employees' schedules at a glance and send notifications to customers to confirm appointments.
An accounting system that lets you send invoices on the go and sync up all your data to Xero.
Plans and pricing
YourTradebase offers a free trial, with no credit card required. The company only offers one payment plan at $31 per user per month. You can pay monthly or annually.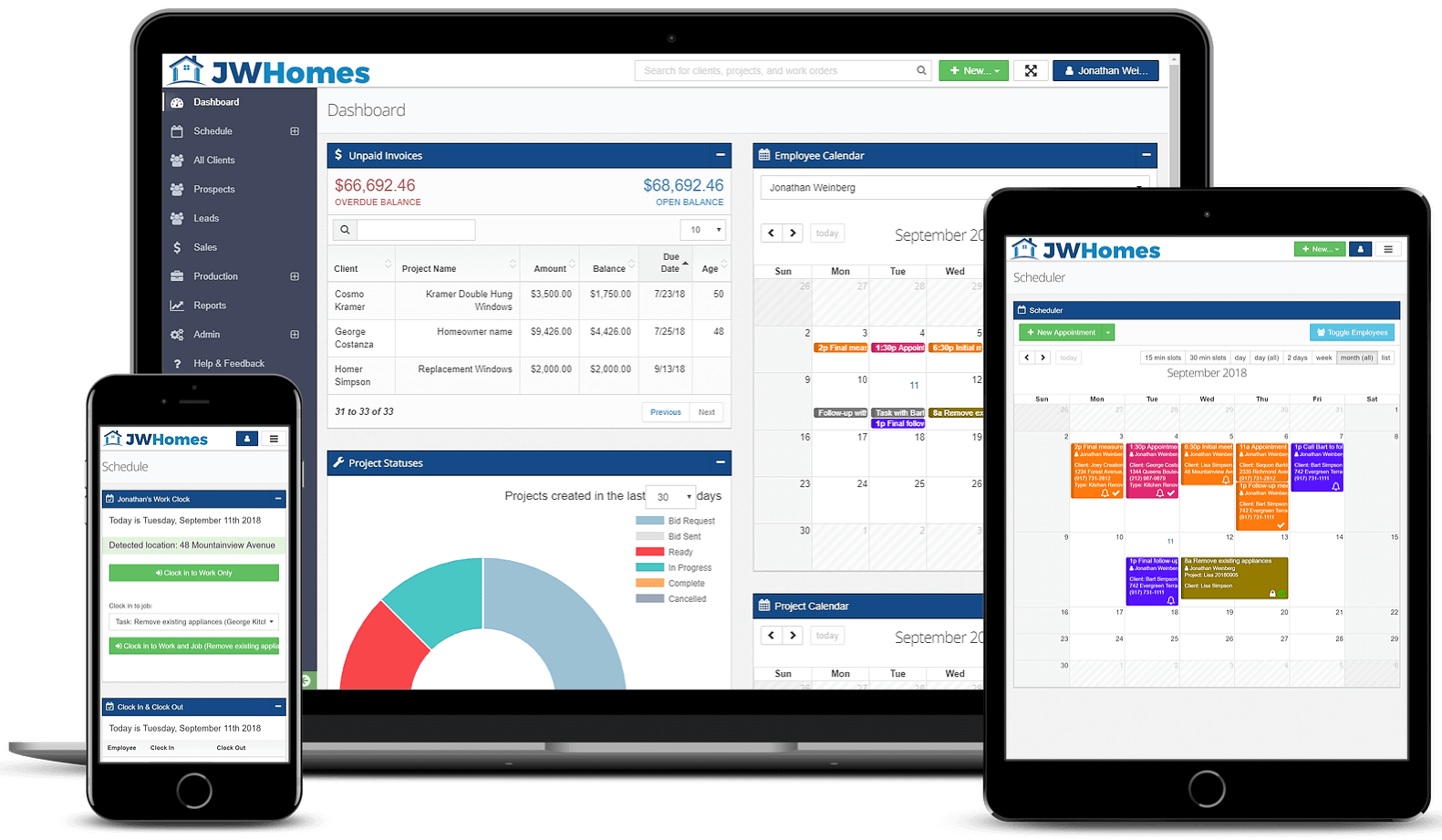 Builder Prime is an all-in-one CRM, estimating, and production management software solution for companies in the construction industry.
Builder Prime provides businesses features such as:
A client dashboard where you can track important information about your customers.
A flexible scheduler app with a simple drag-and-drop system to assign and schedule tasks.
Reports for businesses insights into closing rates, profits, revenue per lead, etc.
Plans and pricing
Builder Prime offers a 14-day free trial to new users. The Startup plan costs $99 per month, the Essentials plan is $199 per month, and the Growth plan is $299 per month. You have to request a personalized quote for the Enterprise plan.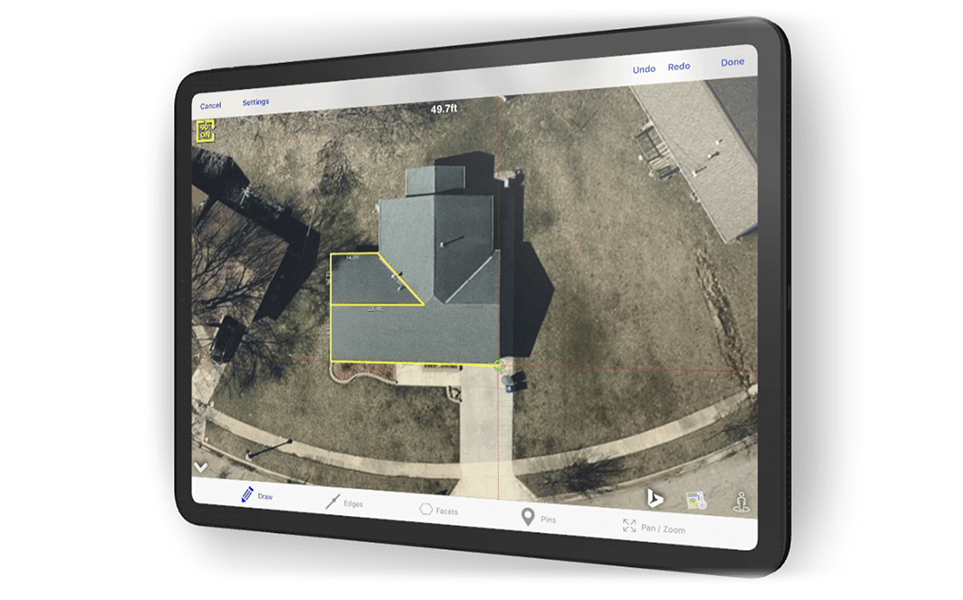 RoofSnap is a roofing estimate app made for roofers which offers two solutions.
The first is the RoofSnap measurement ordering service, which provides customers with detailed and accurate roof measurement reports using remote aerial imagery. The second is the roofing software, which is available on a subscription basis.
RoofSnap comes with the following features:
DIY measurement tools for sketching out roofing projects, including high-definition aerial imagery in the US and Canada.
An estimate builder which businesses can use to draw up quotes for their clients instantly.
Customizable templates for professional business documents such as material orders, contracts, and estimates.
Plans and pricing
RoofSnap offers a 7-day free trial to new customers. From there, the monthly subscription costs $99 per user per month.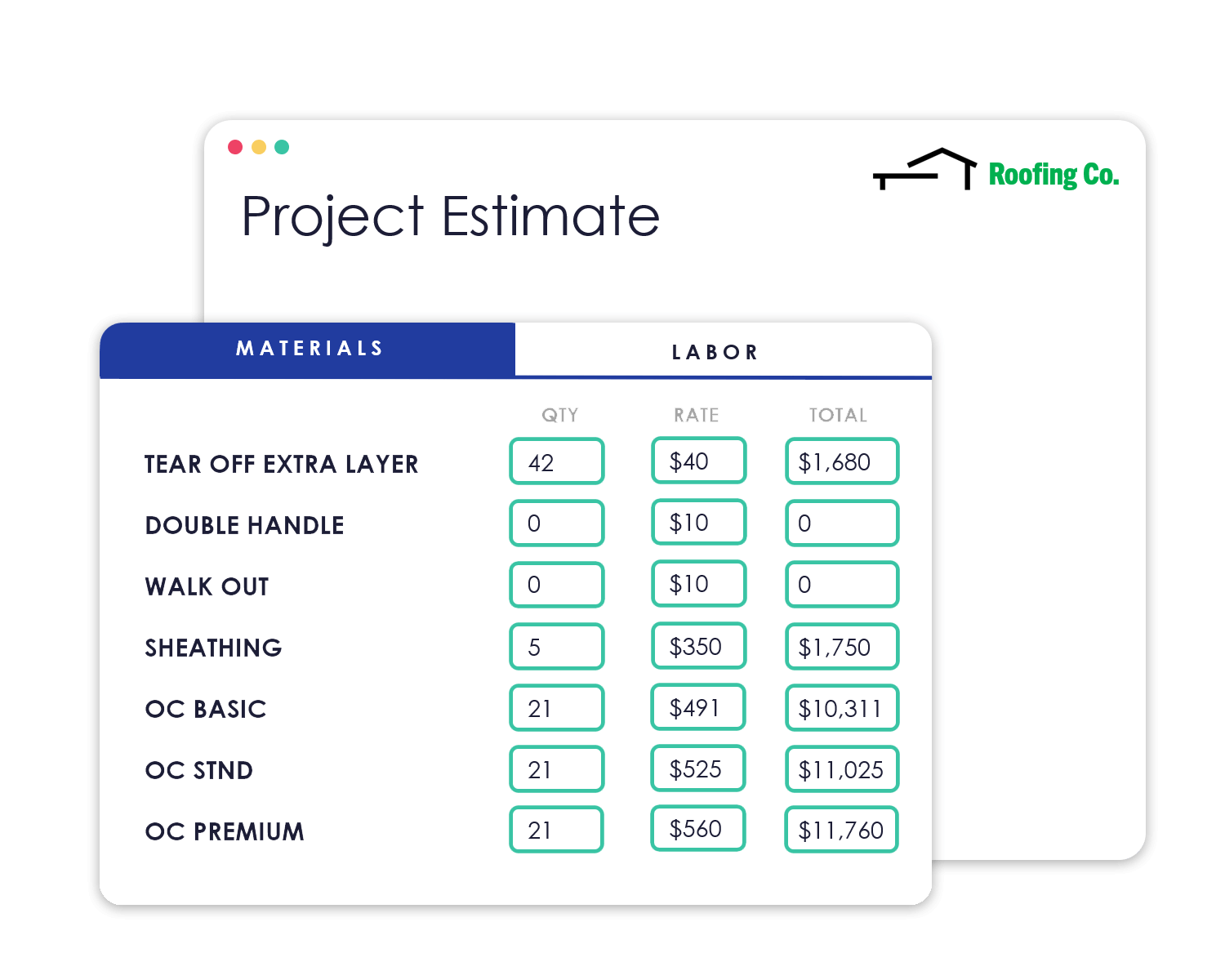 Roof Chief is a cloud-based business management app made specifically for roofers. Its customizable estimating tool makes it one of the best roofing software options for creating accurate estimates.
Here's what you can do with Roof Chief:
Create exact measurements using EagleView and turn these estimates into material orders in a flash.
Send invoices and make payment collections directly with QuickBooks.
Track important business data, from sales team performance to job pricing accuracy.
Plans and pricing
Roof Chief does not post prices on their site. You'll have to contact the software provider for a custom quote.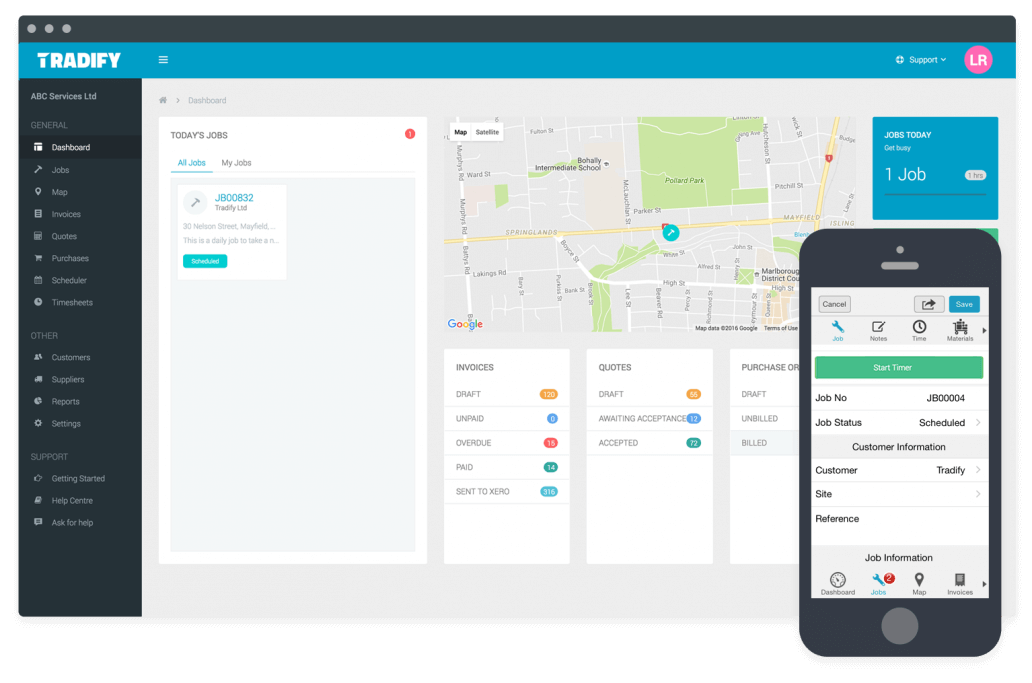 Tradify is job management software made for trades businesses. Built by a tradesperson, Tradify has all the basic tools you need to manage your roofing business more efficiently.
Here's what you can get out of Tradify:
An app that lets you view active jobs, roofing technicians' locations, job schedules, and more.
An online invoicing system for your field staff to submit invoices from their mobile devices.
A job timer for your field staff to record hours spent in the field for more accurate timesheets.
Plans and pricing
A Tradify subscription costs $29 per user per month.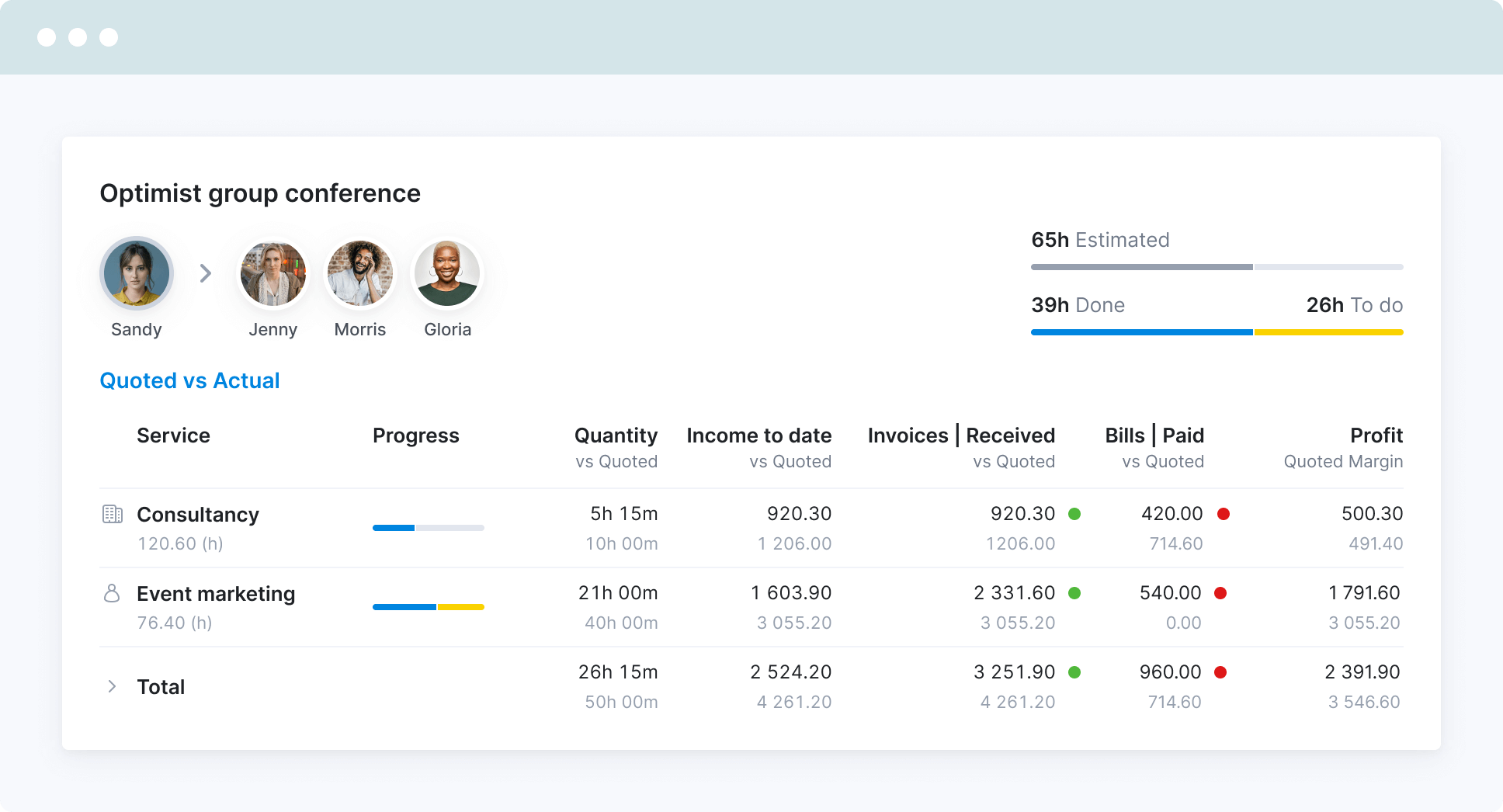 Scoro is a work management software that caters to various industries, from marketing firms to IT companies to construction subcontractors.
With Scoro, you can:
Use a real-time Gantt chart to track the progress of every task, job, and project.
Automatically turn quotes and work orders into invoices that sync to QuickBooks Online.
Monitor key performance indicators in real time.
Plans and pricing
The Essential plan costs $26 per user per month if you pay annually. The Work Hub and Sales Hub plans each cost $37 per user per month. Quotes for the Ultimate plan are available upon request.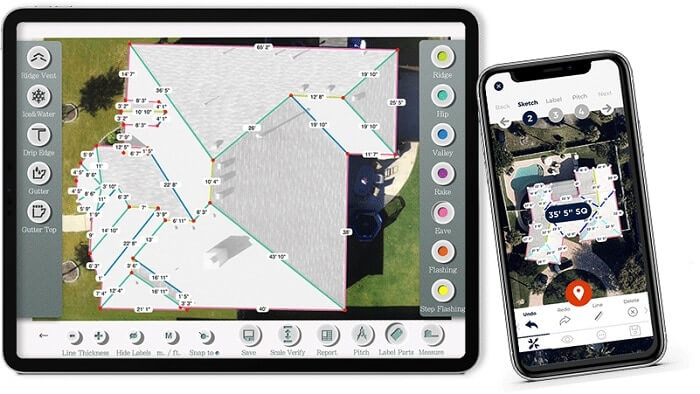 iRoofing is one of the best roofing software for measuring and estimating projects. It stands out for having the industry's sole digital catalog for major manufacturers' products. Aside from this, iRoofing allows clients to:
Use a roof simulator to create a technically accurate mock-up of the final project.
Create a custom-branded Digital Pitch Book with your logo and details to impress customers.
Order roofing materials directly from suppliers in your area.
Plans and pricing
iRoofing costs $129 per month for up to three users.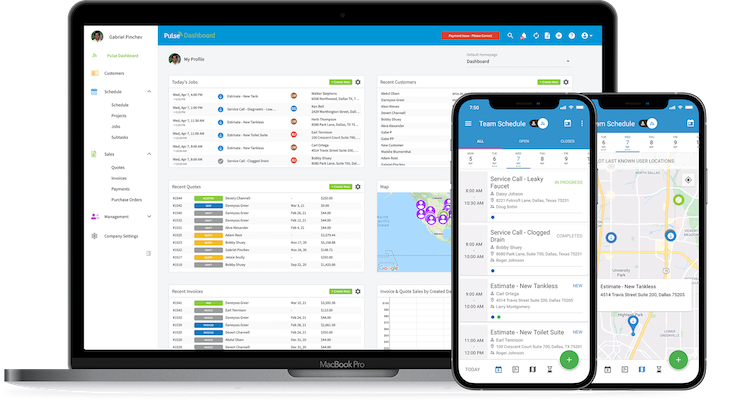 Field Pulse is an all-in-one field service management platform that caters to small and medium businesses. This makes Field Pulse one of the best roofing software solutions for those just starting out in the roofing industry.
With Field Pulse, you can make use of:
A "Good, Better, Best" feature that offers tiered product pricing options to customers on your website.
Integrations with a number of different software and apps, such as Zapier to QuickBooks.
A custom estimating tool that lets you work with pre-made templates or make your own.
Plans and pricing
Field Pulse costs $65 per month for the first user, an additional $20 per manager, and $10 per technician. Field Pulse also offers a 7-day free trial.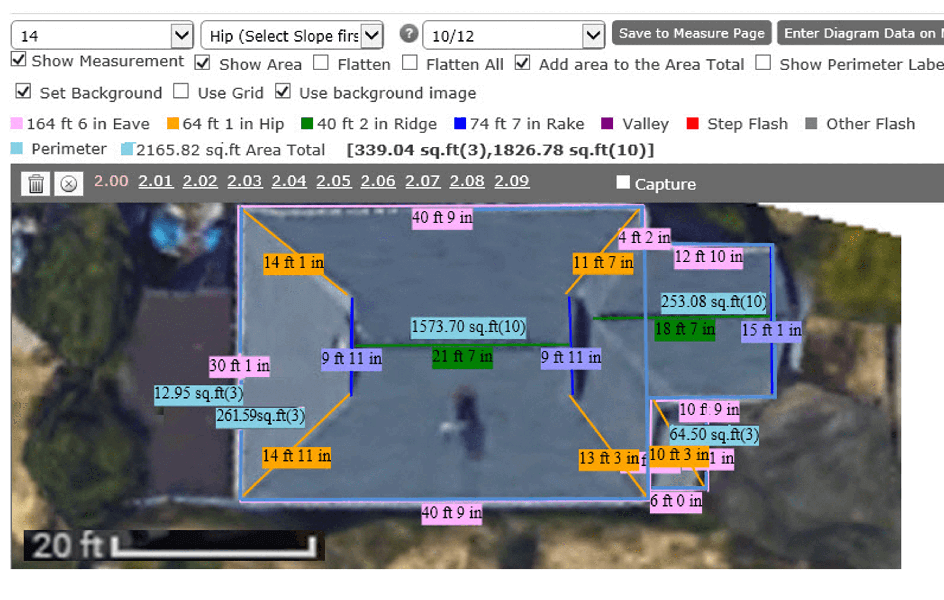 RooferPro offers roofing management software, builds websites, and provides SEO services to roofing companies.
This roofing management solution allows you to:
Keep a database of your products and materials, and set pricing for custom units and labor.
Diagram your aerial measurements using satellite imagery.
Schedule appointments and keep track of all employees' schedules in one place.
Plans and pricing
You must contact RooferPro for a custom quote or free demo.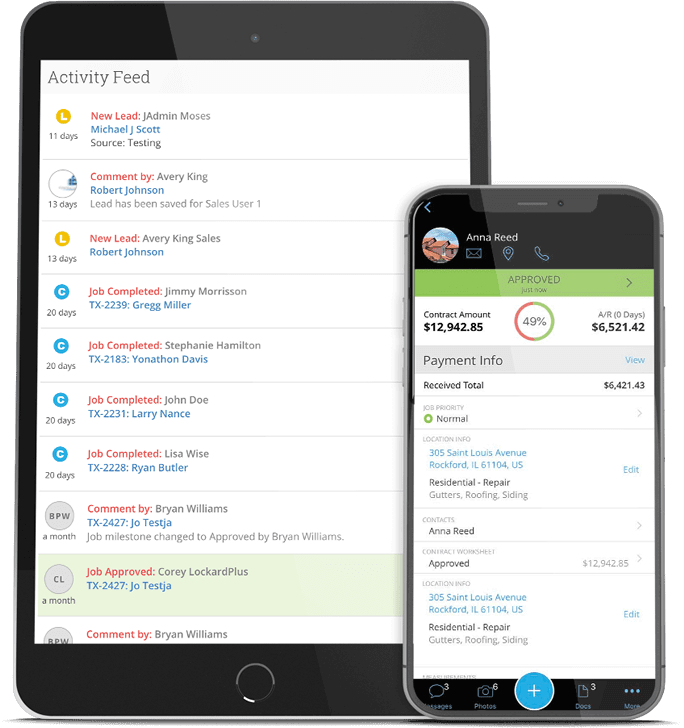 Next on our list of the best roofing software we have AccuLynx.
Acculynx is one of the most comprehensive roofing software solutions on the market thanks to its list of features, including:
A photo-sharing tool that lets crew members take photos and share them in-app.
Aerial measurements using EagleView or SkyMeasure.
Integrations with dozens of third-party software, including QuickBooks and ABC Supply's product catalog.
Plans and pricing
Acculynx offers custom pricing upon request.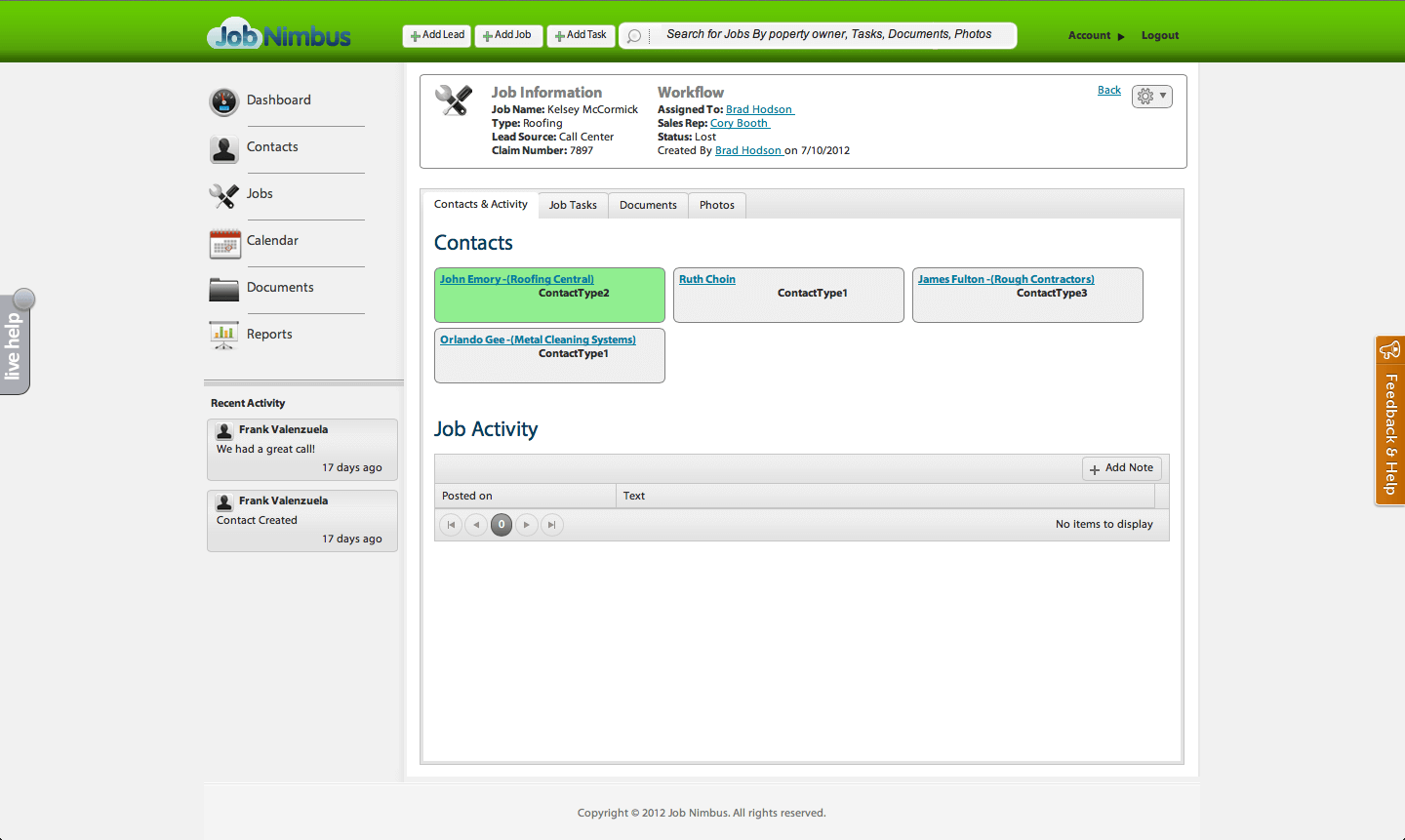 Last on our list is JobNimbus.
JobNimbus is a contractor management solution known for being easy to use and having many integrations, including QuickBooks and Google Calendar.
Among this solution's best features are:
A customizable job tracking platform.
A tool for taking and sharing photos of projects.
Customizable templates for estimates and proposals.
Plans and pricing
JobNimbus offers quotes upon request. For first-time users, JobNimbus offers a free 14-day trial.
See your sales go through the roof with the best roofing software
With the right features, the best roofing software simplifies the complicated aspects of running a roofing business by:
Providing a single database for all client information.
Allowing management to monitor field employees' job progress.
Automating the entire sales process.
Choose the right roofing software and watch your business grow!
Which roofing software is right for you?
Consider your specific needs, the size of your team, and the challenges you face when choosing the best software for your business.
Here are some steps to guide your decision:
Identify your needs: Are you looking for better project management or enhanced customer communication? Pinpointing your primary needs helps narrow down your options.
Consider your budget: There's a range of software available, from premium to more affordable options. Determine how much you're willing to invest and find software that offers the best value within your budget.
Ask for recommendations: Reach out to other professionals in the roofing industry. Their firsthand experiences can provide valuable insights.
Take advantage of trials: Thousands of software providers offer free trials. Use this opportunity to test the software's features and gauge its ease of use.
Check reviews and ratings: Online reviews can give you a sense of the software's strengths and weaknesses, reliability, and customer support quality.
Key takeaways
To stay competitive in the evolving roofing industry, you must equip yourself with the best roofing software.
These tools are designed with businesses like yours in mind, with features that range from customer relationship management to project scheduling.
Adopting the right software:
Streamlines your operations.
Enhances communication.
Elevates your customer satisfaction levels.
With the right tool at your fingertips, you're ready to optimize your operations and achieve significant growth.
FAQs
Can roofing software help with managing inventory?
Absolutely! Many roofing software solutions come with inventory management features to help you:
Track materials.
Monitor stock levels.
Send alerts when supplies are running low.
Efficient inventory management saves you money, reduces waste, and ensures you're always ready for jobs.
Is roofing software easy to use?
Most roofing software is designed with user-friendliness in mind. Developers understand that not everyone is tech-savvy, so they aim to create intuitive interfaces.
In addition, many providers offer training sessions, tutorials, and customer service to help users.
Can roofing software integrate with other systems I already use?
Yes, many roofing software solutions offer integrations with popular tools and platforms, such as:
Accounting software.
CRM systems.
Communication platforms.
Before purchasing, it's a good idea to check the software's integration capabilities to seamlessly implement into your existing workflow and app stack.
Image credit: Andrea Piacquadio via Pexels