Choosing the best pest control software solutions

Manage your pest control business with the best pest control software. Check out this list of the top pest control business software on the market.
Service management software helps you manage your customer relationships, job scheduling, and many other time-consuming aspects of pest control. With the menial, repetitive tasks taken care of, you can concentrate on competing in the fast-growing pest control industry.
To help you navigate the pest control service management software options on the market, we've put together this handy guide. Read on to find out what makes a good pest control software stand out and choose from the best pest control software solutions on sale today!
Management software solutions for every industry
Not in the pest control business? No worries. If you're looking for the best management software for other industries, you can find them here:
What does pest control software do?
Put simply, pest control software automates business processes so you can concentrate on other tasks that require your attention. Popular features include customer billing and invoicing, as well as other common business tasks such as job scheduling and dispatching.
This type of software can be modified to serve the unique needs of a certain business or industry. For example, management software made for pest control can help you track pesticide use across many common brands and keep an eye on installed pest monitoring devices.
Benefits of pest control software
Pest control software doesn't come cheap, but its features are often worth every penny. Below are just some of the benefits you can get from pest control software.
Turn your leads into customers
Getting new customers is one of the best ways to grow your business. Pest control software allows you to track and manage your leads, making it easier for you to identify and target high-value conversions. This eventually leads to a greater take home for your pest control services business and who wouldn't want that!
Easy customer management
Growing a business doesn't just mean getting new customers — you also need to make sure current customers keep coming back for more. Good pest control software can help your team address customer inquiries and concerns quickly, which:
Increases customer satisfaction.
Drives more repeat business.
Results in more referrals from your customers.
Stronger communication
Running a pest control business means you have field teams and office staff. Pest control software facilitates communication in a shared channel, so your teams are aligned at the office or in the field.
At-a-glance data insights for your whole business
Different software does different things — you might use one to handle billing, another to manage sales, and another to track leads. Pest control software merges all those tasks into one convenient dashboard.
This way, you get a 360-degree view of business operations in a matter of seconds. Better yet, your team won't have to jump between software solutions but instead can work productively on a single screen.
​​What to look for in great pest control software
There are a lot of moving parts when it comes to pest control.
You need to manage the seasonal outbreaks of pests, manage teams out in the field, and do many other small tasks. To get the pest control software that best caters to your specific business, look out for these features:
1. Tools to handle seasonal changes
Pest control is a seasonal job. Many pests hibernate or go dormant in the winter, leading to slow days in cold months. However, warm months are another case entirely—you may end up getting swamped by all the calls from customers.
The best pest control software offers strong accounting capabilities that keep track of and modify cash flow according to the seasons. Tightening your cash flow during winter months helps you survive during lean times and accounts for higher spend in the summer so you stay competitive.
2. Powerful dispatching capabilities
Much like plumbing and HVAC, pest control is an emergency service. As a result, you're expected to get the job site as fast as possible.
After a customer calls, the best pest control manages the dispatching process seamlessly by:
Highlighting the customer in need.
Empowering teams with a full understanding of the situation.
Sending out a crew ASAP.
3. Handle multiple locations
If you have multiple locations, pest control management software can help you manage them in one place. Keep track of local or regional regulations on pesticides, inventory, service, and so much more.
Automated routing is a feature that the best pest control software have and should be on your radar if you have multiple offices or sites to visit. This capability ensures your team stays productive and minimizes time spent on the road.
4. Enhanced employee scheduling
When the insects come out from hibernation, you handle multiple customer calls per day in warm months.
With such a high volume of requests, the chance that one team accidentally gets booked for two jobs at the same time increases. Which doesn't make for good business practice.
Fortunately, pest control management software automates employee scheduling to:
Avoid double-booking your exterminators.
Maximize your job completion rate.
Better serve your customers.
5. Manage tasks effectively
Pest control isn't just one thing – it's a series of small steps and tasks, including inspection, insect removal, and more.
Service management software can ensure that your field teams are thorough, providing checklists that exterminators can run through while on the job.
Before leaving a site, they can quickly glance at the list to see whether they missed anything along the way.
The best pest control software
With many pest control software options on the market, choosing the right one for your business can be difficult.
That's why we've done the legwork for you— here are the top 15 pest control software, explained in detail.
Method:Field Services
Bugbase
PestBoss
FieldWork
PestPac
Pocomos
PestaRoo
Smart Service
PestRoutes Software
Briostack
GorillaDesk
Insectram
Pest-App
HouseCall Pro
FieldMagic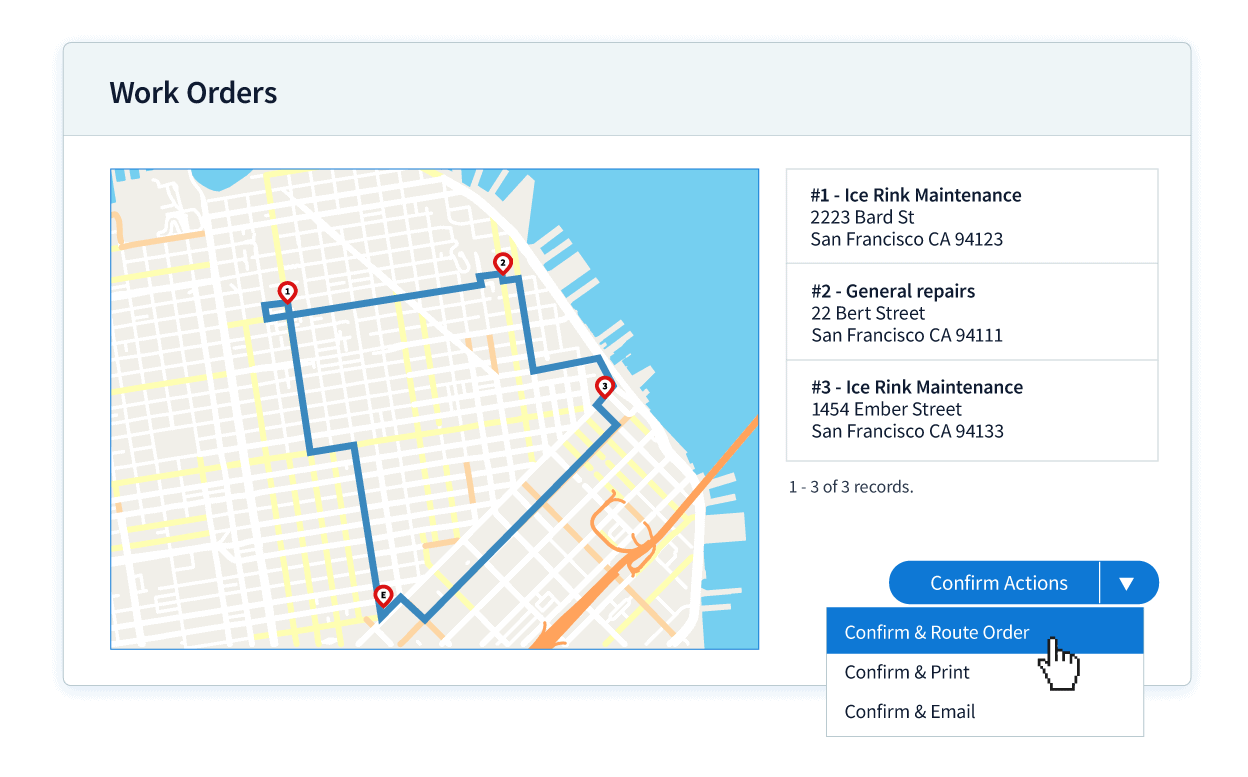 Method:Field Services is an all-in-one platform for field service management including, pest control companies. It's compatible with QuickBooks Online and Desktop, which makes your bookkeeping process a breeze.
The top reasons that it makes this list of best pest control software companies are:
Advanced dispatching tools: Plot the most efficient routes and display your crew's schedule to ensure that the right people are assigned to the right jobs.
A mobile app: Monitors job progress and communicates with customers from anywhere.
Personalized automation: Build anything in Method from job costing tools that show projected costs and revenue in one simple display to custom daily reports.
Learn what else Method:Field Services has to offer you in the video below.
Plans and pricing
Method:Field Services start at $15 per field technician per month. Sign up for a no-commitment one-month free trial to test drive the software.
Your trial includes access to all of its features, the mobile app, and all the support resources you may need.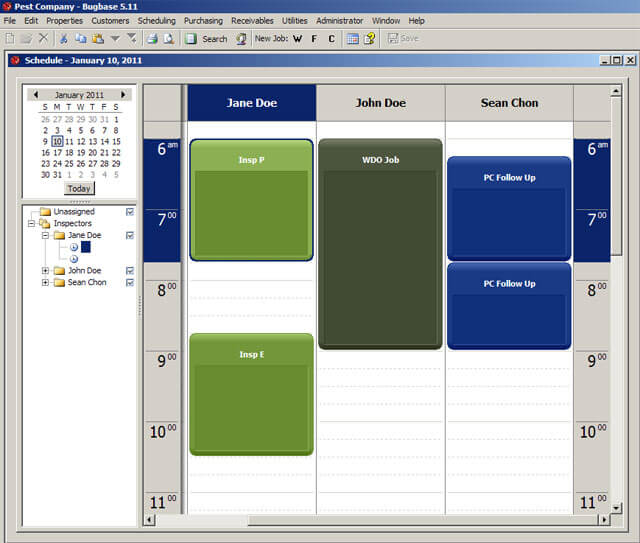 Designed especially for California-based pest control companies, Bugbase is useful for creating wood-destroying organisms (WDO) and chemical reports. Beyond this, Bugbase offers users:
Automated report-writing process to streamline paperwork.
Integrated billing and invoicing systems.
Auto scheduling for exterminator jobs.
Detailed instructional videos to help you learn the software.
Plans and pricing
Bugbase claims that its software comes at a "low monthly cost", although it doesn't publish its prices on its website. Bugbase offers a free trial for up to five users per company. The trial comes with installation assistance, customization according to your company's needs, and employee training on how to use the software.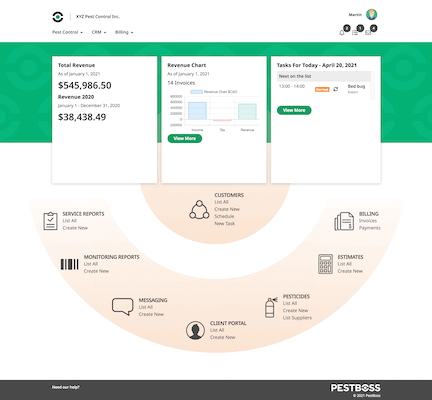 Vancouver-based PestBoss is software designed solely for extermination businesses. It helps pest control businesses grow their operations while meeting the latest standards and regulations by offering these capabilities:
Manage pesticide use and safe storage.
Process payments rapidly through credit cards or other methods.
Schedule customer appointments and manage extermination tasks.
Map and monitor extermination project sites.
Plans and pricing
PestBoss doesn't have a free trial, but it does offer a host of flexible payment plans. Its services start at $79/month for two users. You can also get a 10% discount if you get an annual subscription.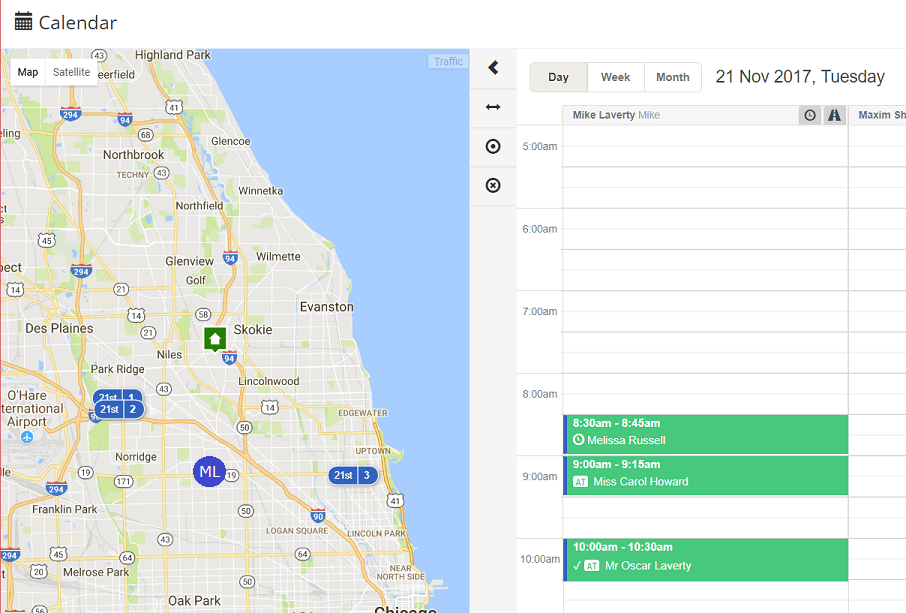 FieldWork is a CRM-focused management software for the field service industry. It boasts excellent flexibility as you can choose which tools you need. Here are a few capabilities that landed FieldWork on this list of best pest control software:
Organize tasks and paperwork with seamless calendar, notes, and scheduling integration.
Manage customers with automated appointment scheduling, invoicing, and profile building.
Streamline your billing with invoice tracking and payment processing.
Plans and pricing
FieldWork offers a free, no-commitment, two-week trial for prospective users. Once the trial ends, you can choose from four plans that range from $39 to $99 per month per user.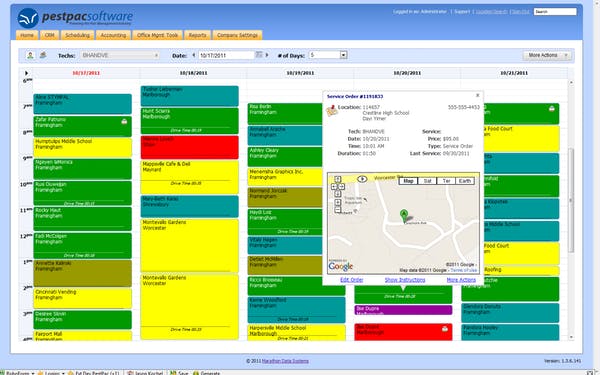 WorkWave's PestPac is a reliable pest control system that offers end-to-end support for all aspects of the pest control industry. This software records your customer's case history to help your techs do their job faster and provide better service. Here are a few advantages of using PestPac:
Get data-driven insight to refine your marketing strategies.
Streamline billing and invoicing processes to save time and money.
Track your field teams with GPS tracking.
Manage your pesticide usage with chemical tracking and inventory management solutions.
Plans and pricing
PestPac doesn't have a trial option, but you can book a demo by calling the company.
PestPac provides two versions of its software. The first is for residential exterminators, and the second is for commercial exterminators.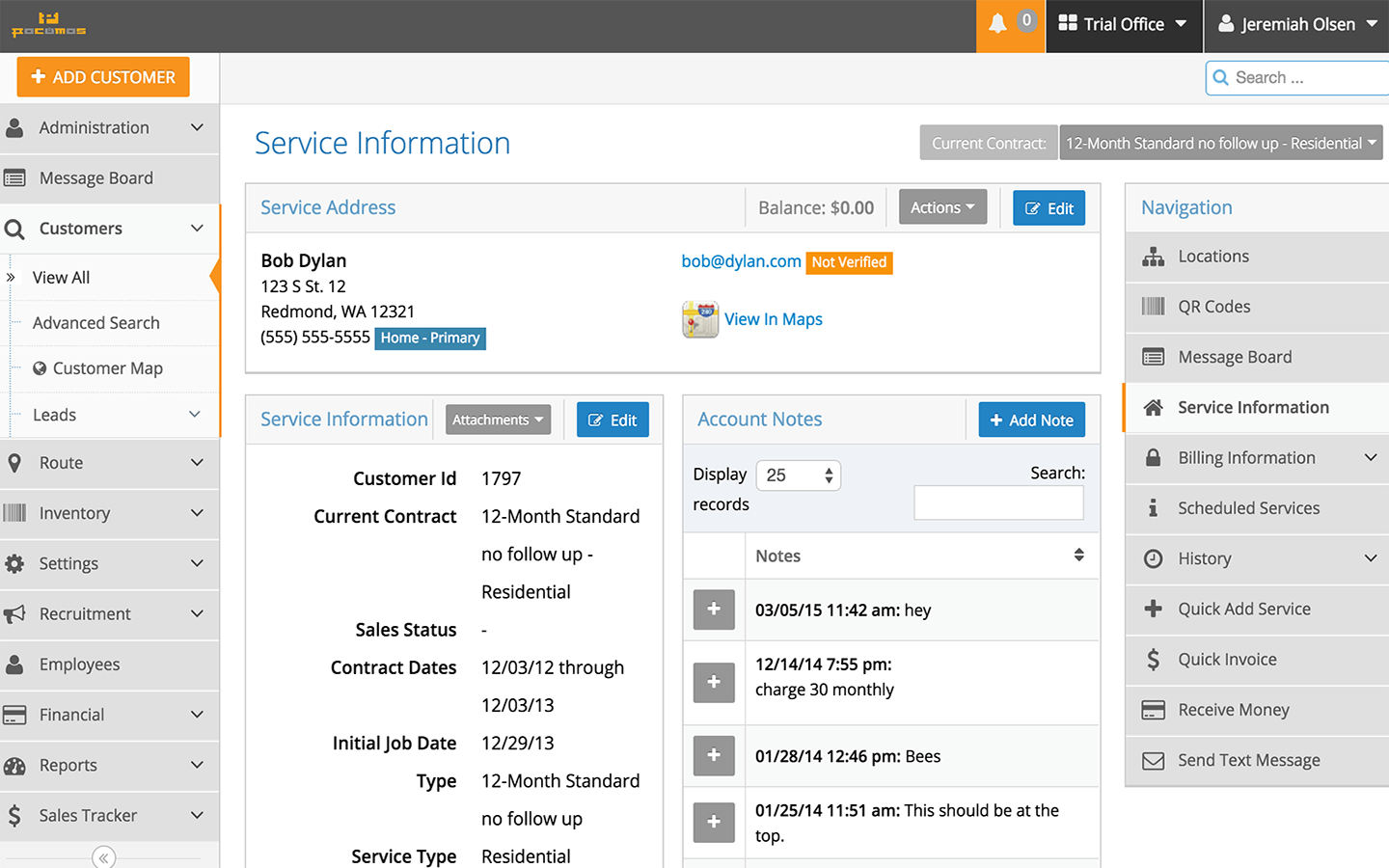 Pocomos is a flexible pest control software that you can use on any device. It's a robust platform that offers all the tools you need to manage your exterminator business, from vehicle routing to team scheduling and sales tracking. Use Pocomos to:
Create e-contracts for your clients.
Collect payments in the field.
Schedule exterminator teams in real-time.
Track sales and generate financial reports.
Plans and pricing
Unlike most companies that price plans by users, Pocomos charges you based on the number of active customers. Its Starter plan is designed to accommodate 0 to 50 customers for $49 per month.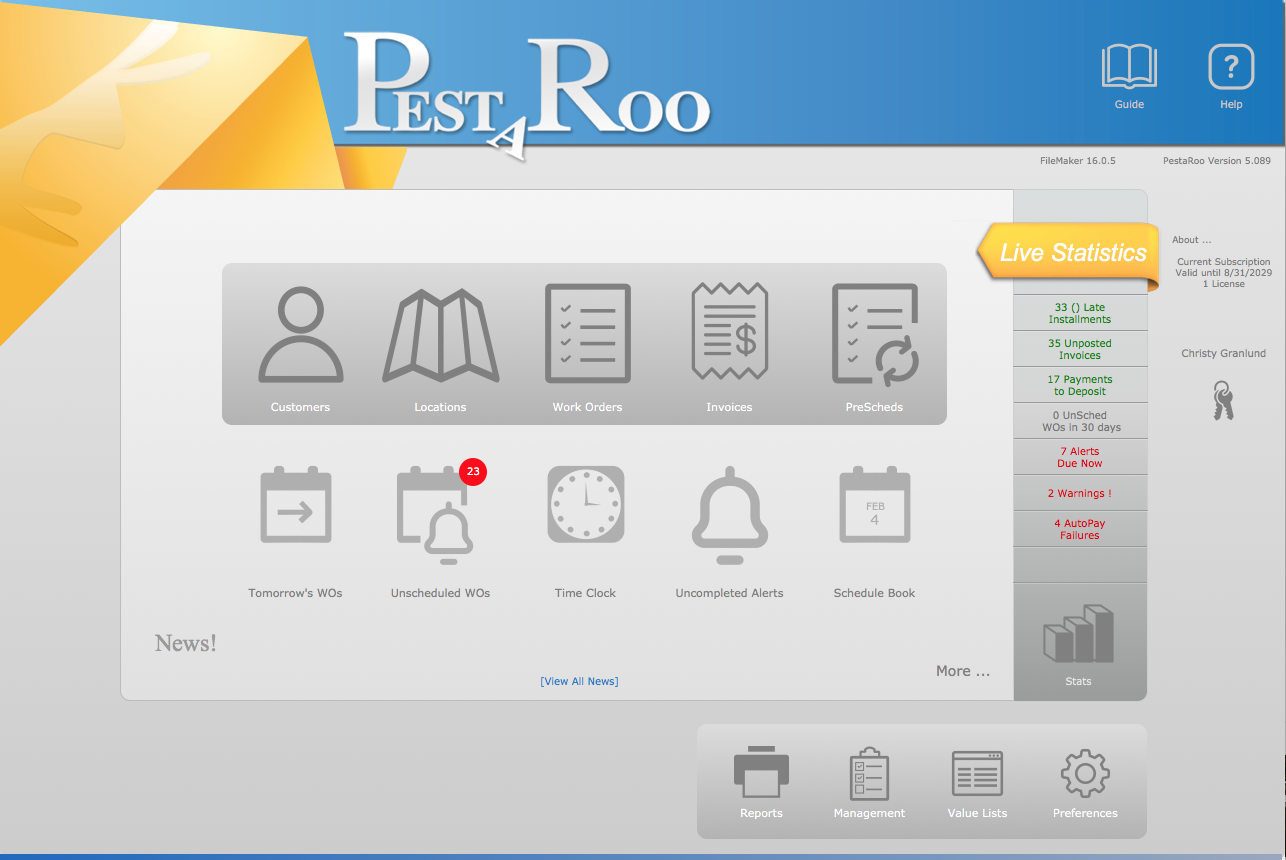 Next on this list of best pest control software companies is PestaRoo — a field service management software made with your budget in mind. No matter how many technicians you have, PestaRoo charges a flat monthly fee. Its top features include the ability to:
Schedule recurring home inspection dates.
Create work orders.
Invoice your customers automatically.
Plans and pricing
PestaRoo only offers two product plans, one for Windows and one for Mac OS. The software costs $79 per month, but you can get it for $59 per month if you subscribe to its annual plan. PestaRoo also offers a 20-day free trial to test out its features.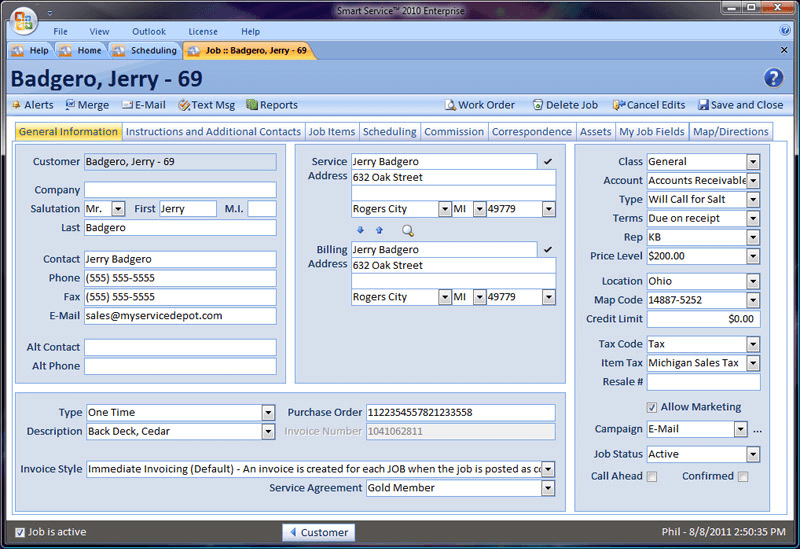 Smart Service is a QuickBooks-integrated field service management software. Its routing and scheduling tools promise to save more time for your business. Here's a preview of the features you can expect from Smart Service:
Plot the most efficient service route.
Automate dispatch orders to technicians.
Schedule pest control jobs for your team.
Plans and pricing
Smart Service provides custom pricing depending on your user count and the nature of your business. For more information, contact one of its representatives.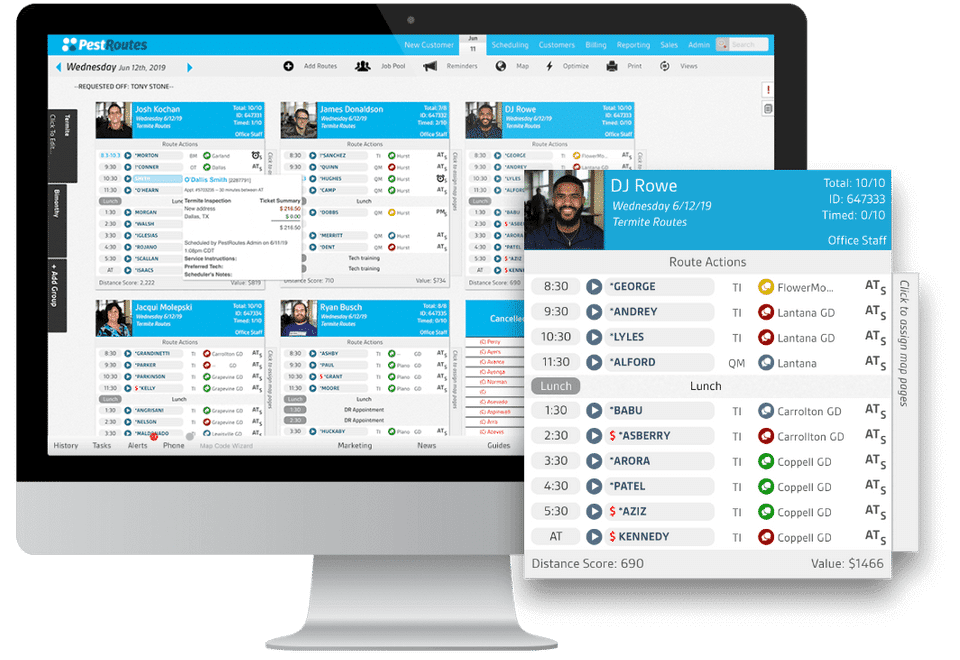 As you come to the end of this list of best pest control software, let's next look at PestRoutes. This solution is the pest control variant of FieldRoutes' software and allows you to make better decisions through real-time data dashboards and reporting. Below is a summary of PestRoutes key capabilities:
Plan the best technician routes through an intelligent routing system.
Automate appointment scheduling and reminders.
Manage your sales pipeline from start to finish.
Plans and pricing
PestRoutes offers plans based on the number of active customers you have. Plans start at $199 monthly for up to 2,000 active customers. Subsequent plans cost $100 more for every additional thousand customers.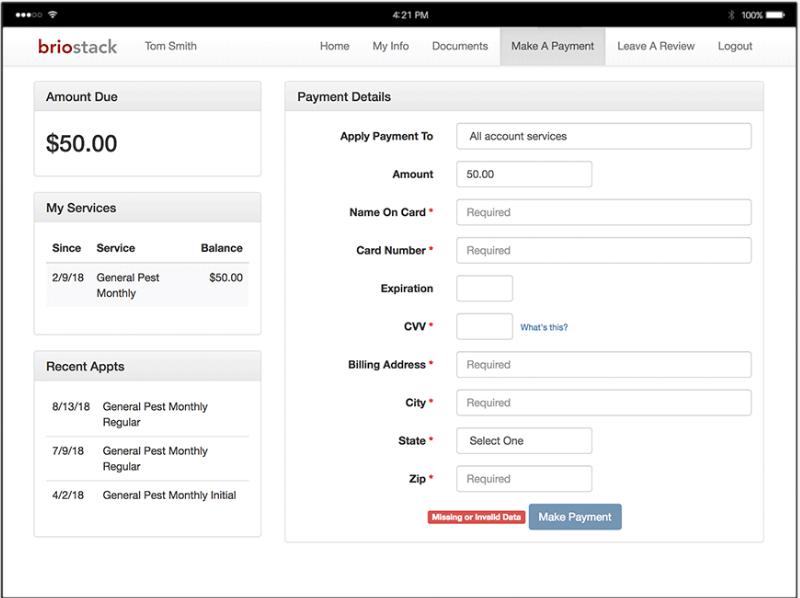 Briostack offers cloud-based management software for pest control companies. This software empowers your technicians to complete jobs and bring in new customers through its mobile app. Features to note are the ability to:
Manage multiple pest control technician teams simultaneously.
Automate billing reminders for your customers.
Streamline job reporting through real-time updates.
Plans and pricing
Briostack has a subscription-based payment model. Pricing is unfortunately not listed publicly on their website. However, those interested can contact a representative for more details.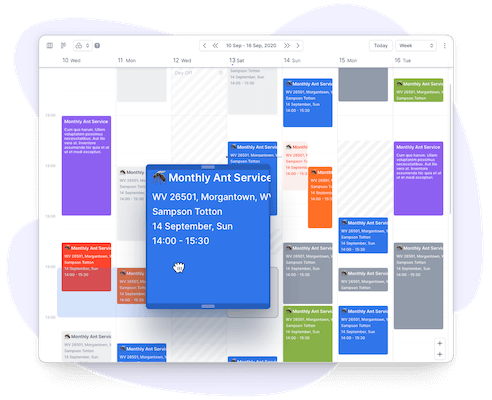 GorillaDesk is a management software for field service businesses. What puts them on this list of best pest control software options is that every plan comes with free training.
While this may seem simple, free training is crucial to getting the best value from the tools you use, and pest control software is no exception.
With this perk, you can rest assured that everyone from your exterminator to the office team is ready to take full advantage of the solutions you pay for each month.
Beyond this, GorillaDesk's notable capabilities include:
Automatic quote generation.
Scheduling appointments through an intuitive drag & drop calendar.
Material use tracking.
Inventory management.
Plans and pricing
GorillaDesk offers two plans to its customers: a basic plan ($49/month per user) and a pro plan ($99/month per user). All plans entitle you to a free, no-commitment 14-day trial.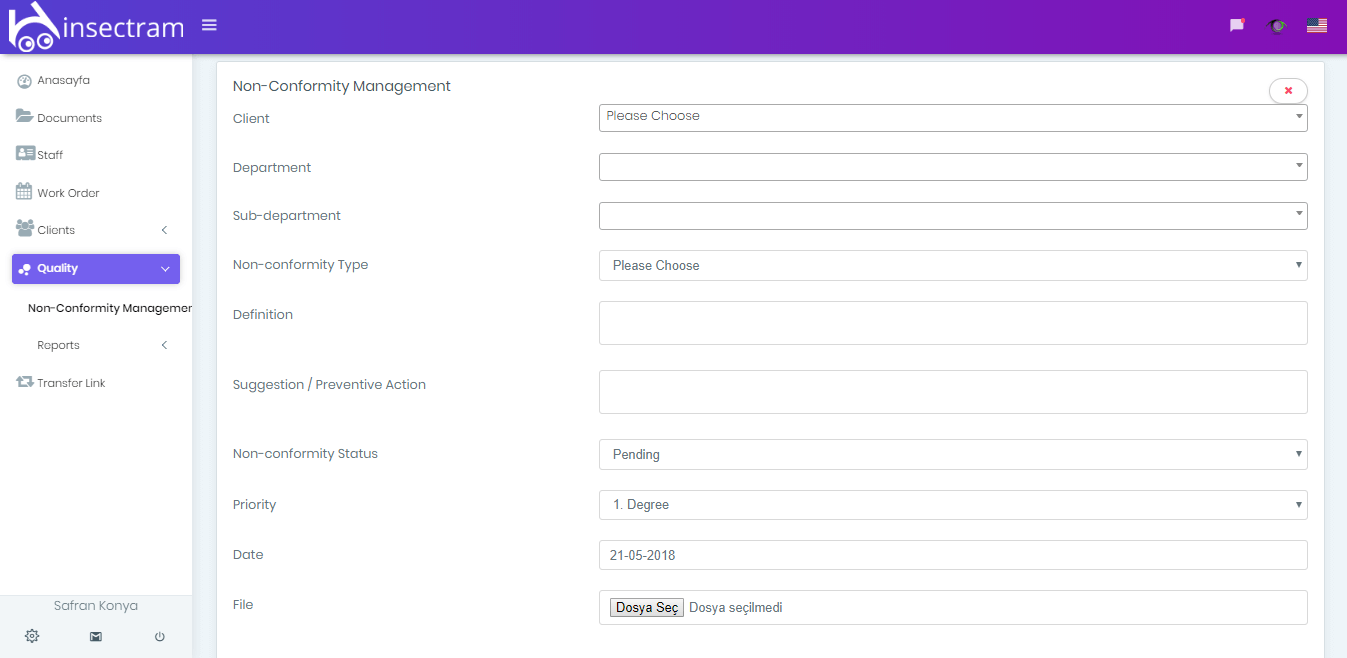 UK-based Insectram is a cloud-based field service solution with custom-built software modules, making it one of the best pest control software options on the market. Here's an example of what Insectram can do for you:
Automate reporting, track pesticide usage, and other administrative tasks.
Ensure your company complies with relevant pest control regulations.
Manage work orders, improve field service operations, and prevent time fraud.
Plans and pricing
Insectram's six pricing plans start at just £28 per month or about $40 monthly. Starting at the Standard plan at £79 (or roughly $110) per month, you can request custom modules from the developers.
Something to be cautious of with Insectram is that if your local currency isn't pounds, you'll need to factor in currency conversion fees on top of your software subscription costs.

Pest-App is a mobile-based pest control solution built by experienced exterminators. It allows field workers and office staff to schedule jobs and create on-site reports through its app. Below is a summary of its top workflows:
Automate scheduling and allow your technicians to receive jobs on the go.
Generate reports quickly and eliminate lengthy paperwork processing.
Automate invoices and block non-paying customers.
Plans and pricing
Unlike most of the software, Pest-App features a free plan, although it's limited to just one user. Its paid plans range from $10-40 a week.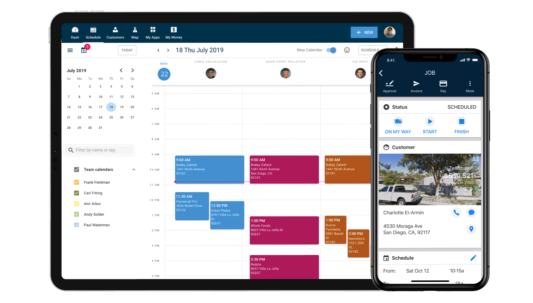 HouseCall Pro is a field service software with automated scheduling and dispatching tools. Its goal is to improve efficiency on-site and help your exterminators complete more tasks. Below is a few examples of what it can help your pest control company with:
Automate scheduling and estimate creation.
Streamline team assignment and dispatching.
Simplify the invoicing process.
Plans and pricing
HouseCall Pro's paid plans start from $65/month for one user. You can contact sales representatives for a 14-day free trial.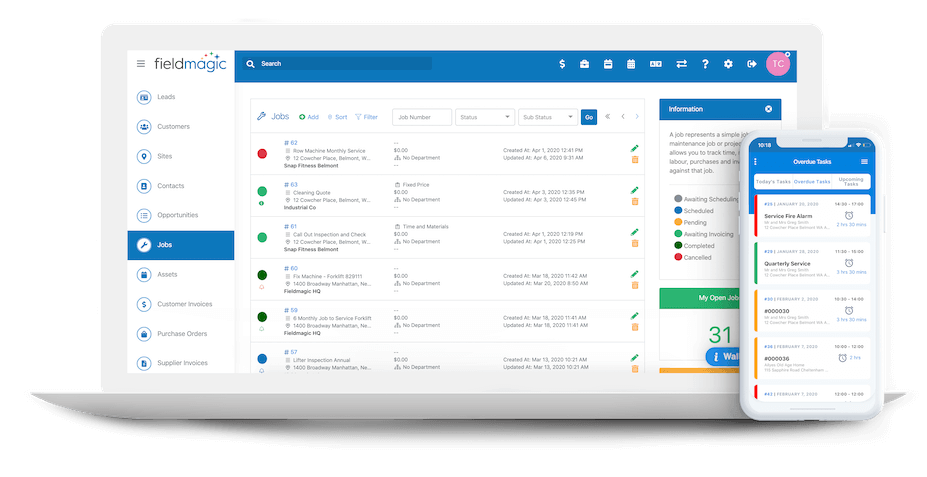 Last but not least on this list of the best pest control software companies is FieldMagic. FieldMagic is a field service business software that promises to reduce your admin tasks through digital scheduling and invoicing.
Here are a few examples of FieldMagic's capabilities:
Monitor time and material usage.
GPS tracking for your field technicians.
Allocate jobs automatically.
Plans and pricing
FieldMagic offers a free Sole Trader plan for individuals with all the basic features. Its paid plans start at $29/month per user and go up to $89/month per user.
Closing thoughts on your best pest control software options
Pest control software streamlines your business with features like automatic invoicing, mobile job tracking, and automated technician routing. However, a good service management software solution doesn't just make your day-to-day business operations easier.
Instead, you can use the time you save by automating routine and tedious tasks to develop your business to the next level!
Start your free trial of Method:Field Services today!
Image credit: Andrey Popov via Adobe Stock