Top 10 best chimney sweep software companies
Find the best software to help you run your business with our list of best chimney sweeping business software.
Chimney sweeping isn't a job that many people know about, but running a chimney sweeping business is no small task. In addition to actual chimney work, you need to deal with administrative tasks such as:
Booking appointments.
Invoicing customers.
Tracking your chimney cleaning supplies.
The best chimney sweep business software can complete these tasks for you. However, it's important to choose software that's right for your business to avoid wasting time or money.
Read on to learn more about chimney sweep software and find a list of the best software options on the market.
Management software for other trades
Not looking for the best chimney sweep business software? Find the best field management services for other trades here!
What is chimney sweep software?
In general, chimney sweep software helps your office team handle admin processes. The best software simplifies tasks such as:
Time tracking.
Document organization.
Customer relationship management.
The best chimney sweep business software saves chimney business owners valuable time that you can use to further develop your business.
Why do I need chimney sweep software?
The best chimney sweep business software improves your business from the inside out, increasing sales and resulting in higher productivity. Here are just a few ways that software skyrockets your chimney business.
Keep employees informed
Field service management software offers collaboration tools so your team can easily communicate. Most come with messenger apps, although some also allow communication through message boards.
The best chimney sweep business software includes a mobile app to simplify communication between your team and keep everyone in the know.
Send professional estimates faster
Creating fast and accurate estimates is the key to landing jobs. The sooner you send clients an estimate, the more likely you'll be chosen over your competitors.
The right software will even convert your estimates into work orders, eliminating manual data entry and allowing your team to get to the job quicker.
Organize information
Your data keeps your business moving. You risk paper damage and lost documents if you store information physically.
The best chimney sweep business software offers unified databases and dashboards that allow you to look up information with a few clicks.
Automate your business process
Admin tasks such as filing invoices and tracking material usage is time-consuming. Luckily, the best chimney sweep business software lets you do these everyday tasks faster with templates and pre-filled forms.
That way, you have more time to develop your business in ways that matter, like searching for new clients.
Handle appointments effectively
Most chimney sweep jobs are completed within an hour. However, if you handle many calls each day there's always a risk of accidentally double-booking your teams.
Field service software manages your bookings so your sweeper teams don't get bogged down or assigned to two jobs at the same time. What's more is that you gain a better system of seeing who is assigned to what job.
Now let's take a look at how to choose the best software for your chimney sweeping business.
How to choose the best chimney sweep software for your business
A chimney sweep business software solution that works for one company might not work for you. Different field service software offer different benefits, so you need to find one that fits your needs.
Some key factors you need to include in your assessment are:
Your company's size.
Your business priorities.
Your budget.
The best chimney sweep business software
With all the choices on the market, choosing the best chimney sweep business software can be challenging. Fortunately, we've got you covered.
Here are the top 10 chimney sweep software choices to enhance your chimney sweep business.
Method:Field Services
Bella Solutions
Routzy
The Sweeps App
Vonigo
simPRO
WorkWave
Smart Service
mHelpDesk
Joblogic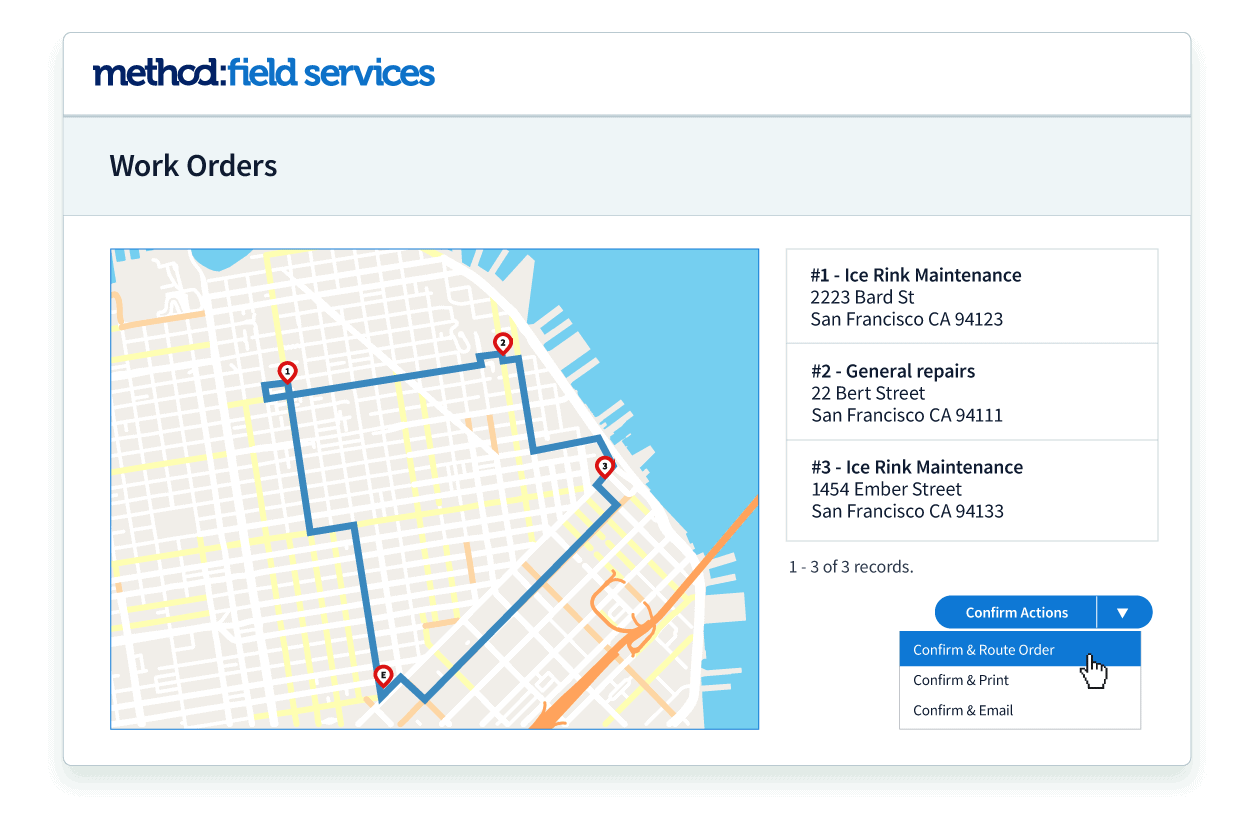 First on our list of the best chimney sweep business software solutions is Method:Field Services.
Method:Field Services is the best option for QuickBooks users thanks to the solution's two-way QuickBooks sync, eliminating double data entry. Method:Field Services also has an easy-to-use job scheduling dashboard to assign your team quicker and keep track of progress.
Method:Field Services has a host of other features to help your chimney sweep business:
Simple estimate to work order process: convert estimates into work orders in a few clicks.
Mobile app: Get work order updates and create chimney job estimates on the go.
Digital invoicing: Receive payments on the field.
For a complete look on what else Method:Field Services can do, check out this video:
Plans and pricing
Method:Field Services paid plans start at $15 per user per month. But before committing, start a free trial.