The best pool service software to level up your business

Find and compare the best pool service software to run your pool service business more efficiently and effectively.
Pool service may seem like a niche business, but it's actually a bustling industry. 2021 research shows that there are 80,529 active pool cleaning companies in the U.S., up 6.9% from last year.
As the data shows, this is a very competitive industry, so you need a competitive edge to stand out. That's where pool service software comes in. Software automates time-consuming tasks so that you can get to work quicker and more efficiently.
Read on to discover the top 11 pool service software options to level up your business.
Management software solutions for other industries
If you're looking for management software for other types of businesses, you can visit these pages:
Understanding pool service software
Pool service software is a set of digital tools that allow you to manage all the processes of your pool upkeep business with ease.
With software, you can:
Organize work orders.
Complete admin tasks.
Enhance customer service.
Since pool upkeep is a field service, most field service software can be applied to your business. However, some companies also offer dedicated pool service software with better work order management and improved customer relationship tools—features that help pool cleaners provide 5-star service to their customers.
Key features for pool service software
Different software products offer different tools and features. It's important to find the software company that fits your specific business needs.
Here are some of the features you can use to complete and streamline daily tasks.
Work order management
Most pool service management software lets you manage and track work orders through an app. This means you avoid missing work orders during a busy day in the office.
Financial management
A long billing and invoicing process means it takes more time to get paid. Pool service software allows you to automate invoice creation and send reminders to your customers so they never miss a payment.
Technician scheduling
Assigning a mobile workforce to jobs is time-consuming work. A pool service management solution automates the process to ensure you don't accidentally double-book your teams or send them on back-to-back projects on opposite sides of town.
Now that you know the features, let's look at the benefits of using software for your pool business.
The benefits of pool service software
A pool service management solution offers many advantages to modern pool professionals. Here are some of the top benefits to consider.
Increase efficiency
By automating your paperwork, you cut down on time spent on bookkeeping. With the ability to schedule jobs in seconds, your service technicians can be dispatched faster—meaning they can work on more jobs per day.
Improve inventory tracking
Automation also benefits your company's inventory management. Material tracking and automated ordering allows you to stay on top of equipment and inventory without having to check on the warehouse.
Manage finances effectively
Pool service software can automatically track invoices and payments. You can even remind your customers to pay through automated email or text messages, reducing missed payments and improving cash flow.
Speaking of cash flow, let's talk about how much pool software costs.
How much does pool service software cost?
The cost of pool service software systems varies depending on the features they offer and the pricing plan you choose. It can be as low as one or two dollars to hundreds per month.
While it may be tempting to choose the lowest-priced plans, it's a good idea to research the software packages before buying. Many useful features are only accessible in paid plans.
Fortunately, most of these software companies also offer you free trials that allow you to experience their services without a commitment.
Some of the best pool service software are…
Choosing between all the software solutions on the market can be confusing. That's why we've compiled a list of the top 11 pool service solutions for your company. Here are the best pool service software options:
Method:Field Services.
Skimmer Pro.
PoolTrac.
PoolCarePro.
HydroScribe.
RazorSync.
FieldPulse.
The Service Program.
Pool Office Manager.
Pooltrackr.
Field Complete.
First on our list is Method: Field Services.
Specifically made for field service businesses, Method enables smooth data flows thanks to its QuickBooks two-way sync.
What's more, is that Method:Field Services improves your pool service business processes through features such as:
Ability to sync invoices and payments to QuickBooks.
On-site job tracking and reporting through a mobile app.
Streamlined equipment management dashboard to keep track of your assets.
Plans and pricing
Method:Field Services offers a free free trial so you can check out its primary features. Once the trial ends, you'll be charged $15 per user per month.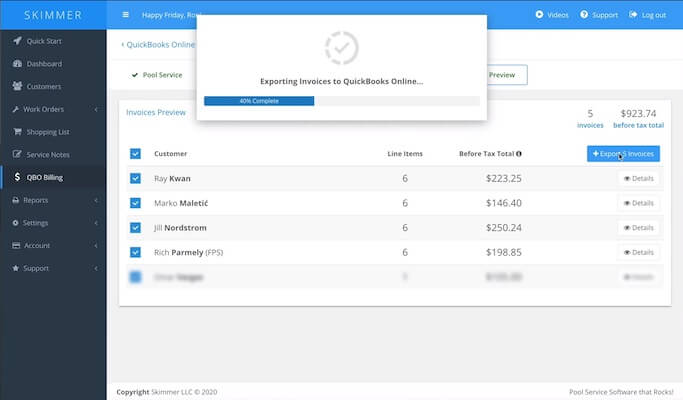 Skimmer Pro is dedicated pool service software that encourages paperless business operations through digital work order tracking and invoicing.
Here are some ways that Skimmer Pro's industry-leading features enhance your workflow:
Track homes and pools through a centralized customer database.
Optimize routes to boost your service professionals' efficiency.
Request parts or tools through the on-site reporting app.
Plans and pricing
Skimmer Pro offers a 60-day free trial with all of its primary features. Their premium plan costs 50 cents per serviced customer per month. However, there is a $29 per month minimum.

PoolTrac is pool management software with a one-stop management portal and customizable branding.
Here are some ways that PoolTrac can boost your business:
Create recurring pool maintenance appointments for your service technicians.
Track and manage work orders digitally.
Monitor cleaning chemical and equipment usage.
Plans and pricing
PoolTrac offers a Basic plan for $25 per month and a Pro plan with more features for $60 per month. You can also start off with a free trial.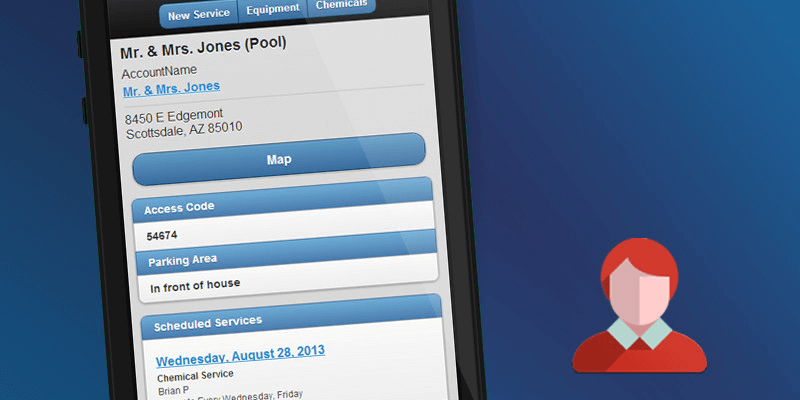 PoolCarePRO is pool service software that offers a strong set of features, including automated invoicing and digital customer profiles.
PoolCarePRO makes speeds up several tasks, including:
View all customer information through a comprehensive customer management tool.
Create invoices and monthly statements with one click.
Record your service professionals' work on the fly through the mobile app.
Plans and pricing
PoolCarePRO offers four packages, ranging from the Pro plan at $39.95 per month to the Platinum plan at $99.95 per month. You can also sign up for a no-commitment free trial to test PoolCarePRO's features.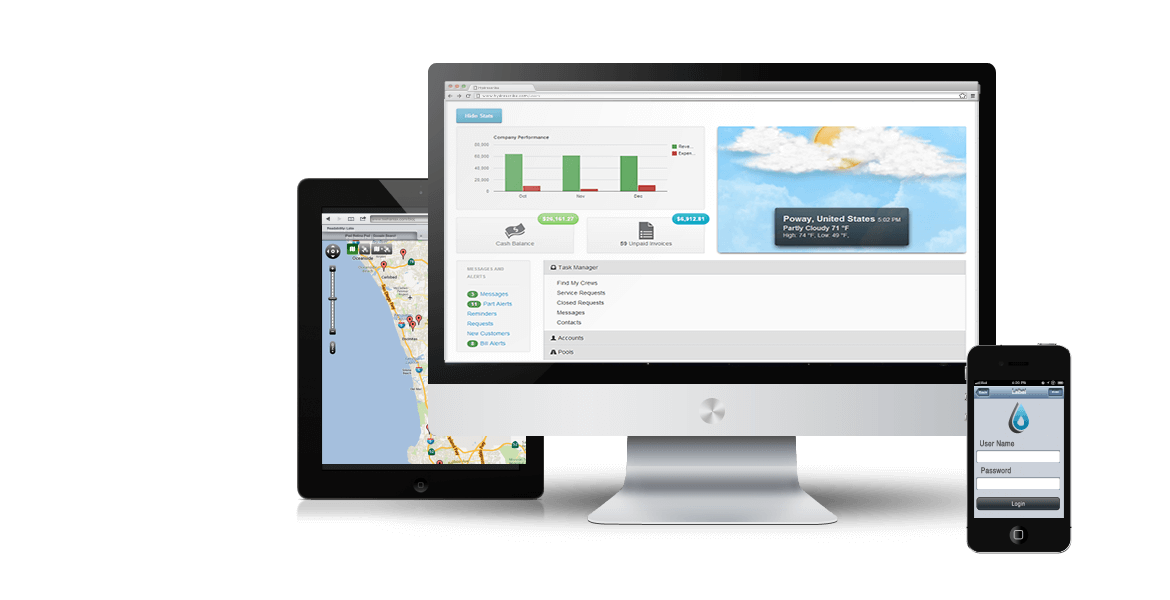 Hydroscribe increases customer satisfaction and retention through improved invoicing and customer relationship management. This solution works on computers, tablets, and phones for seamless communication.
Here's what you can do with this innovative software:
Manage equipment and material use through a unified dashboard.
Choose the best routes to maximize travel efficiency.
Simplify the billing process by automatically sending invoices to customers.
Plans and pricing
Hydroscribe's paid plan starts at $49.99 per month for a maximum of two employees. More employees and additional features come at an extra cost.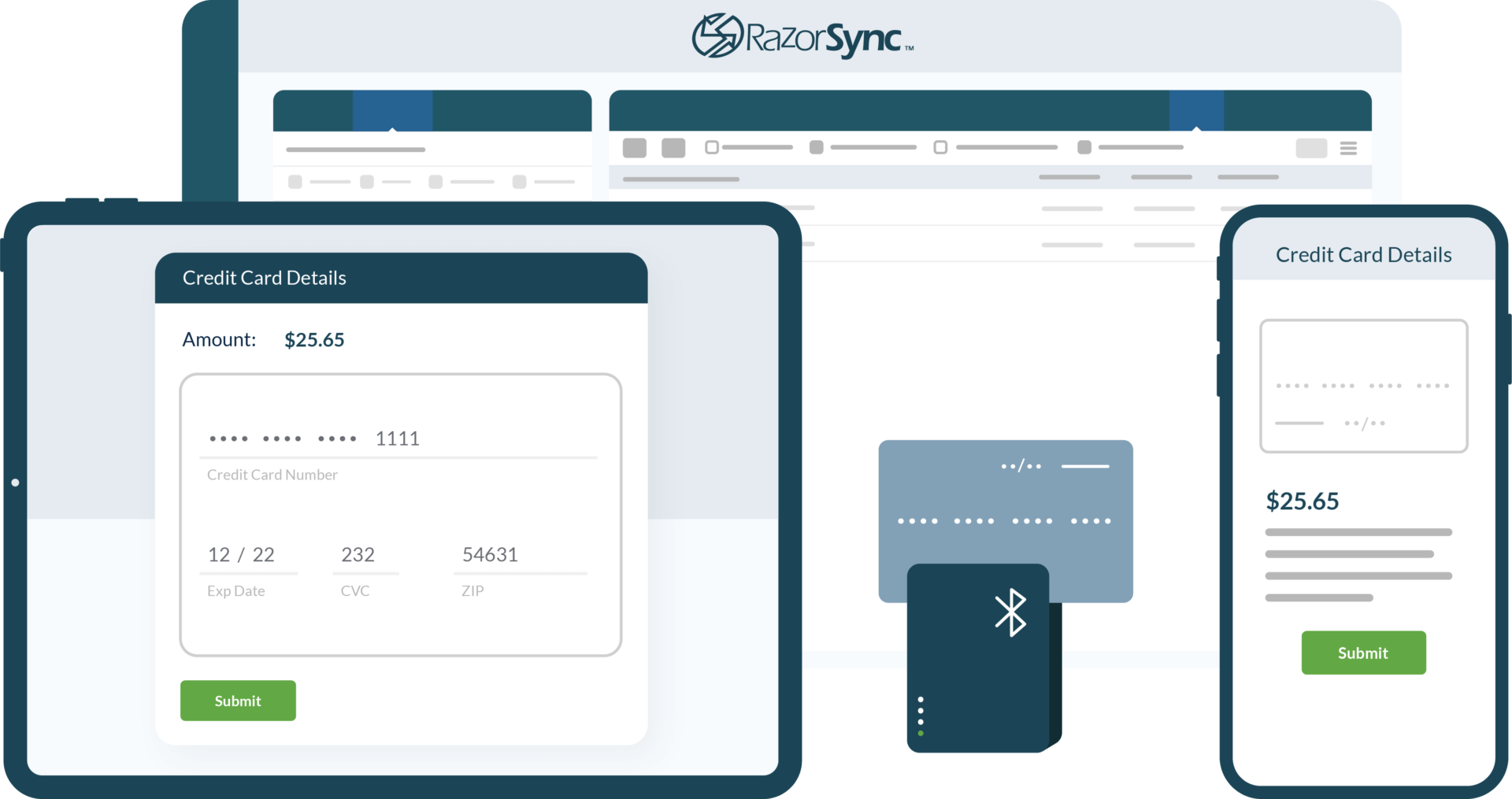 Next on our list is RazorSync.
RazorSync is field service management software that simplifies your daily activities with transparent invoicing and time tracking.
While RazorSync isn't made specifically for pool businesses, it can benefit your business by letting you:
Manage customers with a centralized platform.
Automate invoicing and provide billing support for your customers.
Track vehicles via GPS to plot out the most efficient routes.
Plans and pricing
RazorSync's pricing plans range from their $60 per month Solo plan up to their $910 per month Enterprise plan. The key differences between these plans are the number of features they have as well as the maximum number of users they allow.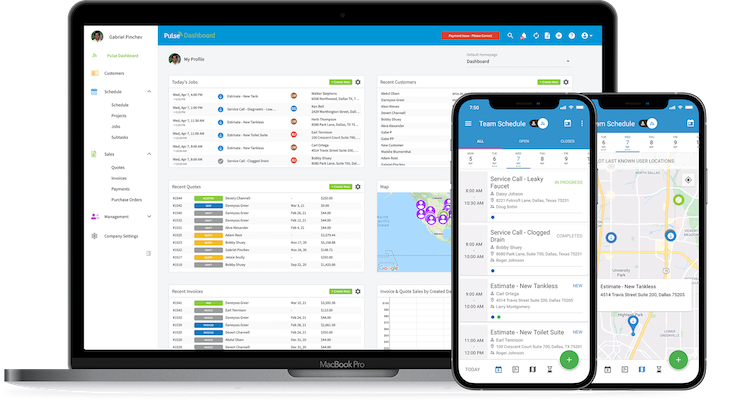 FieldPulse is field service management software that offers a reasonably-priced, easy-to-use management solution for pool service businesses.
Tools such as automated scheduling and customer management increase your efficiency and keep you organized.
FieldPulse provides key features to help boost your day-to-day operations, including:
Automate appointment scheduling to efficiently manage your service professionals.
Manage your customers from a centralized database.
Create accurate estimates quickly with contractor estimating tools.
Plans and pricing
FieldPulse only offers one premium plan at $65 per user per month. Each new user requires you to pay an additional monthly fee. You can also sign up for a no-commitment 7-day free trial.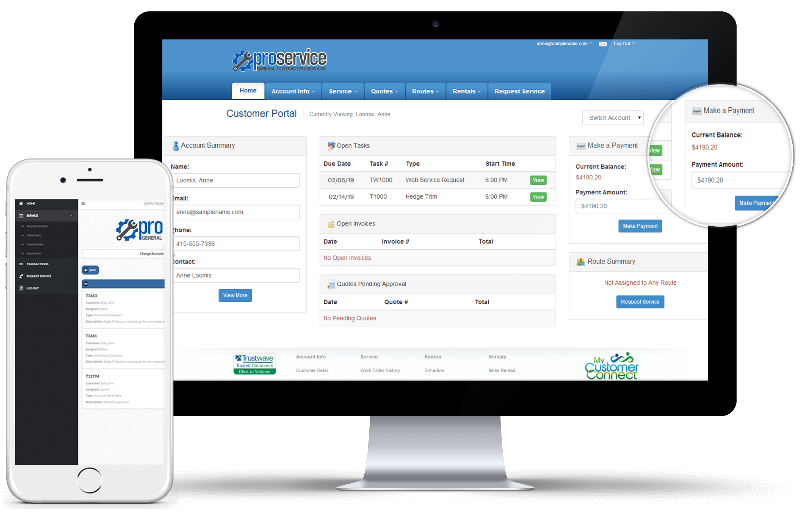 The Service Program is a field service software solution that syncs with QuickBooks and works for various industries. Its automated routing software enables you to do more jobs a day, increasing your business's productivity.
The Service Program also lets you:
Simplify appointment scheduling with intuitive calendar views.
Report jobs on the fly with a mobile application-based reporting tool.
Manage routes to optimize your teams' journeys.
Plans and pricing
The Service Program charges depending on how many users you have logged on.
Plans range from $74.95 per month per user to $319.95 per month for ten users. You also need to pay a one-time onboarding fee at the start of your subscription.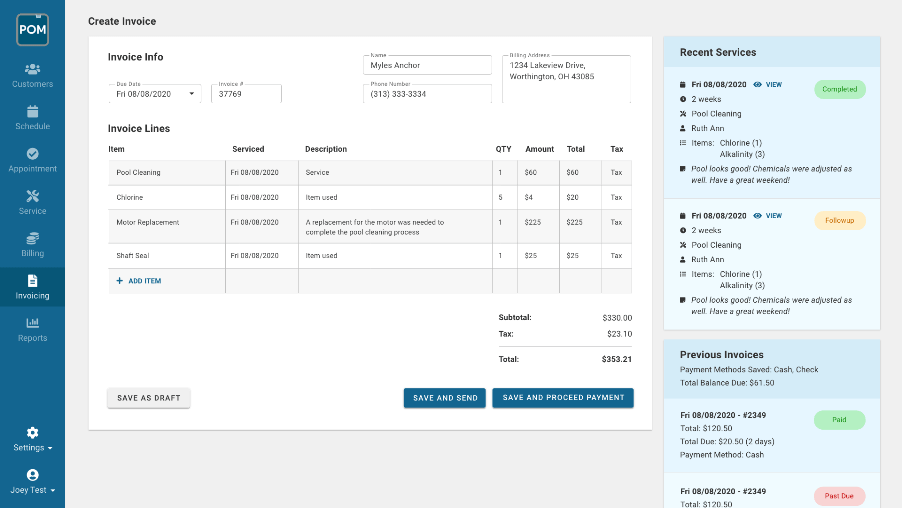 Next on our list of the best pool service software is Pool Office Manager.
Pool Office Managers automates the record keeping process so you never miss an invoice. This software also enables you to:
Increase the efficiency of your service professionals with improved route management.
Keep an eye on your job costing through inventory and equipment management dashboards.
Monitor chemical dosage in your customers' pools with a chemical calculator.
Plans and pricing
Pool Office manager comes with a free trial with access to all of its features. Premium plans start at $80 per month for the first user, with an additional $20 charge for every additional user.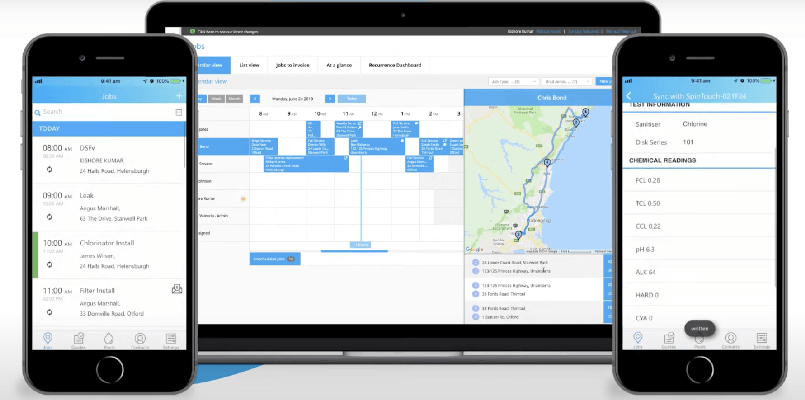 Pooltrackr is a one-stop pool service solution that manages over 800,000 pools through its system. This software is suited for both pool franchises and small businesses, and offers industry-leading features to everyone, including:
A centralized customer database.
An intuitive scheduling system that also notifies your customers that your field staff are on their way.
Customized branding—put your company name on the Pooltrackr platform.
Plans and pricing
Pooltrackr offers new users a one month free trial. Once your trial ends, you can opt for one of three plans:
Lab plan ($45 per month) if you run in-store water testing.
Field plan ($59 per month) for your pool service company.
Pro plan ($104 per month) for larger businesses that offer both services.
Last on our list is Field Complete.
Built by contractors, Field Complete is home services software with a simple interface for scheduling appointments and creating work orders.
Here's how Field Complete simplifies your service process:
Streamlines work order creation and detailing process.
Automates billing process you can access on-site.
Includes a built-in messenger to ensure centralized communication.
Plans and pricing
Field Complete is free for up to ten users. For teams of eleven or more, you'll be charged $29 per month per user.
Wrapping up
The right management software organizes the many daily tasks required in the pool service business. But the biggest benefit of management software is that it saves you time—time that can be used to skyrocket your business.
If you're ready to bring your business to the next level, start your free trial of Method:Field Services!
Image credits: Kindel Media via Pexels