How to find the best garage door software

Improve client, employee, and project management with the best garage door software. Find the best garage door software for your business.
Managing a garage door company comes with much of the same challenges as any home or field service business. When you're dealing with mobile workforces like garage door technicians, you have to think about things like avoiding scheduling conflicts, documenting invoices, and tracking employees when they're out in the field.
Thankfully, field service software exists to help home service business managers stay on top of everything from appointment scheduling, project progress, customer service, and payment processing.
If you're looking for the best garage door software companies that offer all of these benefits and more, you've come to the right place.
Management software solutions for various industries
If you're looking for the best management software for other industries, you can find them here:
What is garage door software?
Like any other field service management software, garage door software provides those in the garage door installation business with powerful tools to optimize workflow and enhance efficiency all around.
A good garage door software should act as an all-in-one solution to improve processes throughout every stage of your entire business.
Why do you need software for your garage door business?
Field service businesses like garage door companies can easily be bogged down by pen-and-paper-style management methods. Here are some of the top challenges that companies in the field service industry face:
Scheduling conflicts: Double-booking clients under the same technician can lead employees to rush their work and deliver subpar quality service—or, worse, they might not show up at all.
Job tracking errors: Timesheets and punch-out clocks aren't just old-fashioned, they're far more inaccurate than modern tracking software too. And when your employees are constantly on the go, it can be even harder to keep tabs on them the old school way.
Wastage on paper documentation: Paper documentation isn't just inefficient, it's also costly. According to Forbes, businesses in the US waste $8 billion on managing paper each year.
Inventory mismanagement: Inventory management is especially challenging for companies with tools and equipment that are spread out across various warehouses and trucks. There are always risks of stock-outs and overstocking, which can hit productivity and budget.
What to look for in garage door software
When looking for a field service management software solution, you'll want something that can address all the aforementioned issues and more. Here are eight must-have features:
Schedule and dispatch employees
Like any field service business, tracking, scheduling, and dispatching employees efficiently is central to a garage door business' success.
Tools for scheduling are an integral part of field service software. These can be synced up to multiple devices and monitored via mobile app, so you're always aware of who's doing what.
Dispatch scheduling tools and route planning can also help you plan field staff's routes more efficiently—saving your business time and money in the long run.
Schedule appointments
Appointment scheduling features reduce employee headaches by automating booking. Having a software with scheduling capabilities can also make it easier for customers to book installation and repairs jobs, shorten waiting times, and improve customer management overall.
Manage daily business operations
A good field service management application should act as an all-in-one service that makes managing daily business operations a breeze. Some apps come with checklists that can be ticked off throughout the day.
Track employee hours
Some software come with mobile apps that allow field employees to track their work hours from their own devices. This minimizes the need to manually clock in and out of the office and reduces conflicts over payroll.
Manage project progress
With real-time tracking, you don't have to be in constant communication with your field team anymore. They can just press a few buttons on their mobile devices and you get instant updates about the progress of your projects.
Track garage door work orders
As a garage door installation business, you likely offer a range of services, from installations to repairs to maintenance and replacements. A full-suite software should make tracking multiple work orders simple and intuitive.
Manage contacts
With cloud-based software, you can easily access your customers' history, contact details, and contracts on any device, whether you're at HQ or are out in the field.
Automate billing and invoicing
The best field service business software will come with integrated billing and invoicing capabilities. Features like automated payment reminders, balance tracking, online payments and credit card payments capabilities, and QuickBooks integration should make your life much easier.
Top 11 best garage door business software
Ready to optimize your garage door business? Try these 11 solutions:
Method:Field Services
Workiz
FieldOPS
simPRO
WorkWave
Less Paper
Service Fusion
Housecall Pro
Kickserv
ServiceTitan
mHelpDesk
As a complete service management solution, Method:Field Services simplifies your business operations, from scheduling and dispatching to invoicing and billing. One of the biggest draws to this feature-rich software is the ability to sync Method with all versions of QuickBooks for more efficient and organized invoicing.
Schedule jobs and access customer details and field workers' schedules through one intelligent scheduling system.
Say goodbye to manual data entry, clutter, scouring records for customer data with instant QuickBooks sync.
Give field workers the ability to map routes, pull up estimates, and record their progress as they work through the Method mobile application.
Utilize customizable job costing tools to monitor projected costs, invoices, and job progress all in one place.
Plans and pricing
Method:Field Services offers a software package starting at $15 a month per field technician. If you're still unsure about the service, you can always try a no-commitment one-month free trial! This grants you full access to the software's features, mobile app, and even client support.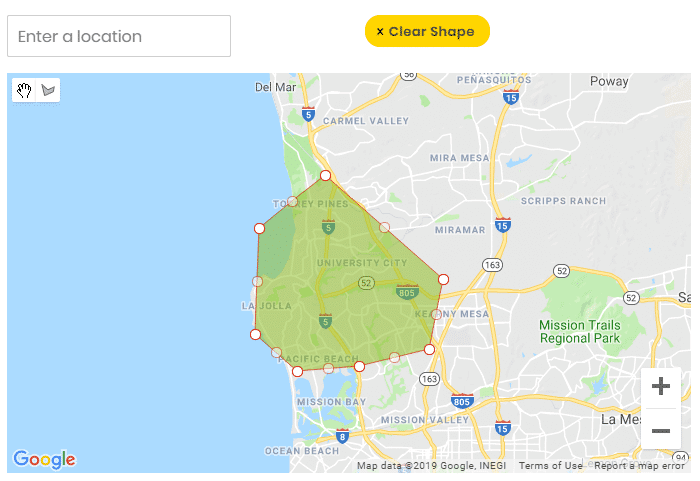 Workiz touts itself as an alternative to "antiquated business management methods". This cloud-based field service solution caters primarily to small to medium businesses in the field service industry, including carpet cleaning, HVAC, plumbing, and garage door service companies.
Schedule and dispatch field teams with ease using a color-coded, drag-and-drop calendar.
Answer all incoming calls with an integrated service phone.
Track field employees using a specialized mobile app with location tracking technology.
Track inventory in real-time.
Plans and pricing
Workiz offers a free 14-day trial. Afterward, you can choose to pay for your garage door service software in three different pricing plans: the Starter at $109/month, the Team plan at $199/month, and the Professional plan at $299/month.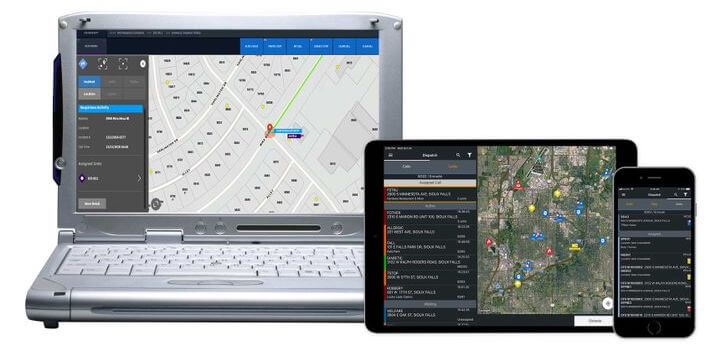 FieldOPS is an all-in-one software solution developed to boost productivity both on the field and in the office. FieldOPS distinguishes itself from other "cookie-cutter" software solutions by developing personalized support for each of its clients.
Email or text customers about work orders, invoices, plans, etc. from one simple platform.
Monitor real-time updates about work order statuses and employee schedules using the color-coded "Dboard" dispatch board.
Track stocks by quantity and location, along with items' cost and potential sales value using the inventory module.
Sync data with outside programs like FieldDesk and MapTools.
Plans and pricing
Unfortunately, FieldOPS does not offer a free trial period. For updated pricing information, you'll have to email FieldOPS.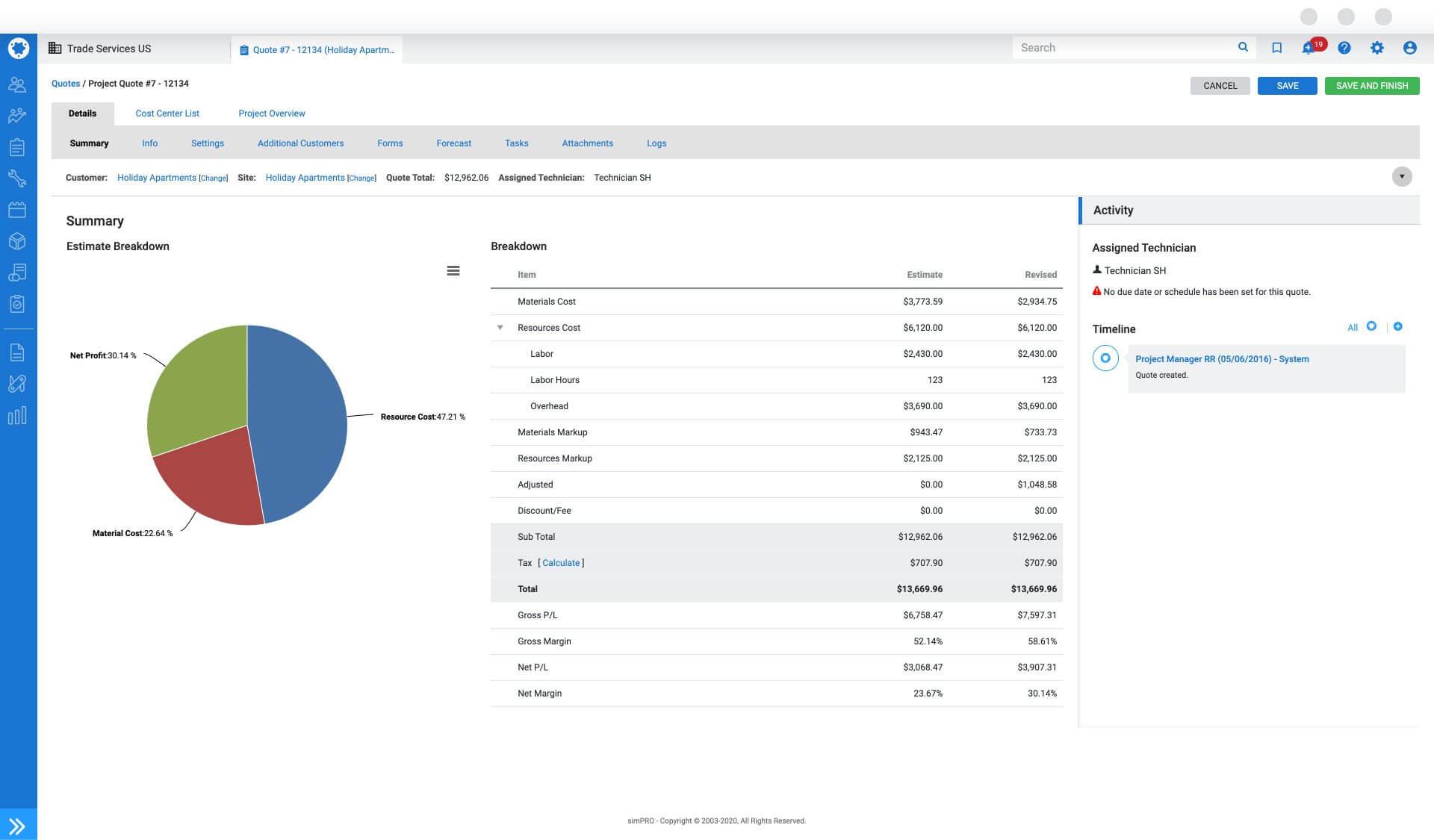 simPRO is a cloud-based field service management software that combines service, project, and maintenance management in one place. But simPRO is more than just a software provider, it offers a range of learning materials and training tools on its website.
Plan routes, map out where field staff are, and access employee schedules with simPRO's scheduling software.
Adopt progress billing for multi-stage projects.
Let customers check their transaction history and make payments on outstanding bills through a customer portal.
Seamless sync data with QuickBooks Online or Xero.
Plans and pricing
simPRO does not offer a free trial, unfortunately. Its rates are fixed at $19 for field users and $129 for office staff.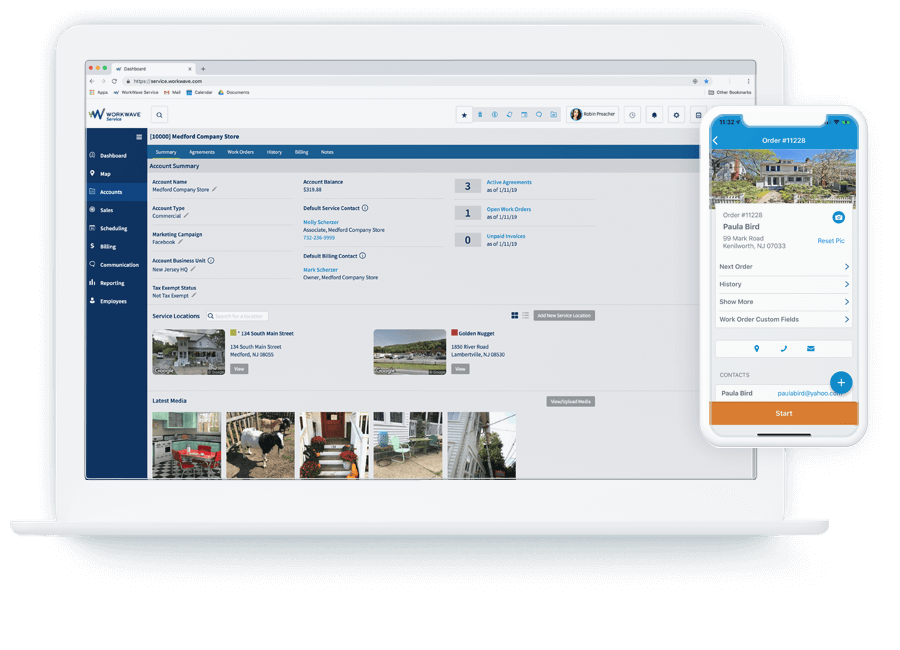 WorkWave is a company that offers a wide range of cloud-based field service and field management solutions that are tailor-fit for each industry. Some of WorkWave's products include the pest control software PestPac, the fleet management software RouteManager, and enterprise resource planning software ServMan.
For garage door companies, the best option would be the company's field service management software, WorkWave Service.
Schedule appointments, assign garage door service jobs, and dispatch field workers with a simple drag-and-drop interface.
Let technicians access customer history data and service location information through a convenient mobile.
Integrate your QuickBooks account for seamless cash flow management and invoicing.
Plans and pricing
WorkWave Service does not offer a free trial at the moment, but it does provide demos upon request.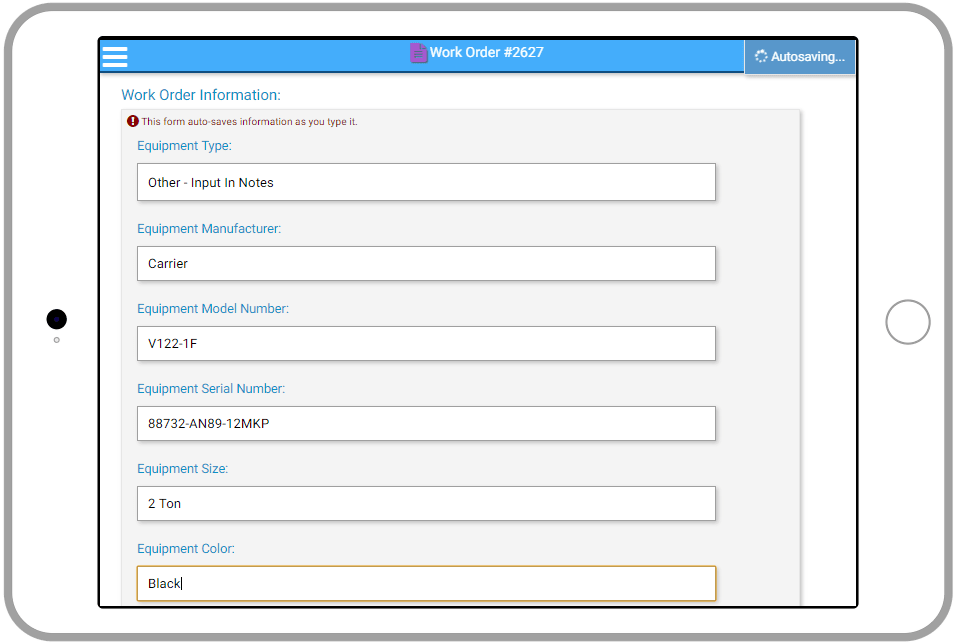 Less Paper is a field service management software that helps small businesses like garage door shops, pest control services, cleaning services, and HVAC installers use less paper in day-to-day operations.
Get a 100% custom-built field service management system made to address all your operational needs.
Access all your relevant customer, financial, inventory, and project data from any device—desktop computer, laptop, tablet, mobile phone, etc.
Easily expand your customizable field service solution as your business keeps growing.
Plans and pricing
LessPaper offers a free consultation for every new client, as well as free setup fees and free monthly development hours of up to 2 hours for small businesses and 10 hours for enterprises.
LessPaper costs $149 per month for small businesses. The cost rises to $499 per month for medium businesses and $999 per month for enterprises.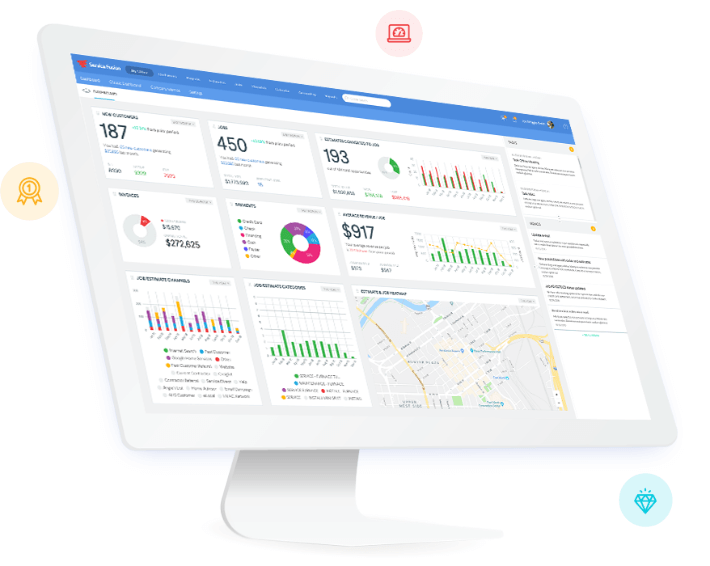 Service Fusion does exactly as its name suggests—fusing key services into one convenient and portable place. Aside from this, Service Fusion also offers a special call tracker software that utilizes AI.
Have a centralized system for all operational needs, from customer management to scheduling to payments.
Automatically track and transcribe calls, set up custom call routing and call queueing, and monitor other important metrics through ServiceCall.ai—a call tracker software that combines VoIP and AI software.
Use Service Fusion's GPS fleet tracking to keep jobs on track.
Get access to PaySimple's easy-to-use and secure payment processing platform, FusionPay.
Plans and pricing
When billed annually, the monthly price for unlimited users is:
$126 per month on the Starter plan.
$186 per month on the Plus plan.
$339 per month on the Pro plan.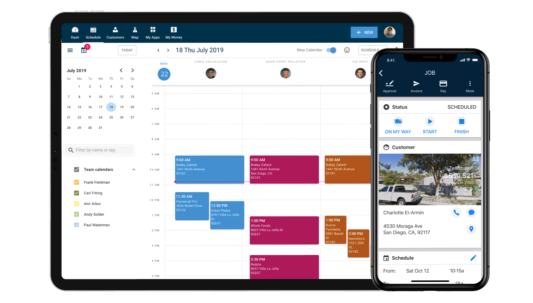 Like the other field service software on this list, Housecall Pro offers features that help with dispatching, estimating, automating invoicing, and job scheduling. Unlike most of the others on this list though, Housecall Pro provides additional help with the financial side of things, like consumer financing and Instapay integration.
Notify employees of appointments and meetings, dispatch teams, and manage job details all in one place with Housecall Pro's scheduling and dispatching program.
Allow online booking, be it through your website, Facebook page, or Instagram page.
Provide a range of financing options minus the need for excess paperwork.
Easily integrate QuickBooks Desktop & Online to your system.
Plans and pricing
Housecall Pro offers businesses a 14-day free trial. For those who opt for annual billing, the price range is as follows: $49/month for the Basic plan and $109/month for the Essentials plan. There is also a Max plan with custom pricing.
Kickserv is a service management software solution that caters to home service professionals like painters, maintenance and handymen, contractors, and garage door installers. The company has been around for over 20 years, delivering consistent service to hundreds of satisfied customers.
Collate all relevant information on job history, contact details, messages, attachments, and more in a dedicated customer management suite.
Make sure jobs are on track, no matter what stage of the project.
Enhance efficiency and productivity for your mobile workforces by providing a GPS tracking tool.
Get two-way QuickBooks and Xero syncing.
Plans and pricing
Kickserv offers a 14-day free trial — no credit card needed. Kickserv Lite starts at $47 per month, the Starter plan starts at $79 per month, the Business plan costs $159 per month, and the Premium plan is $239 per month.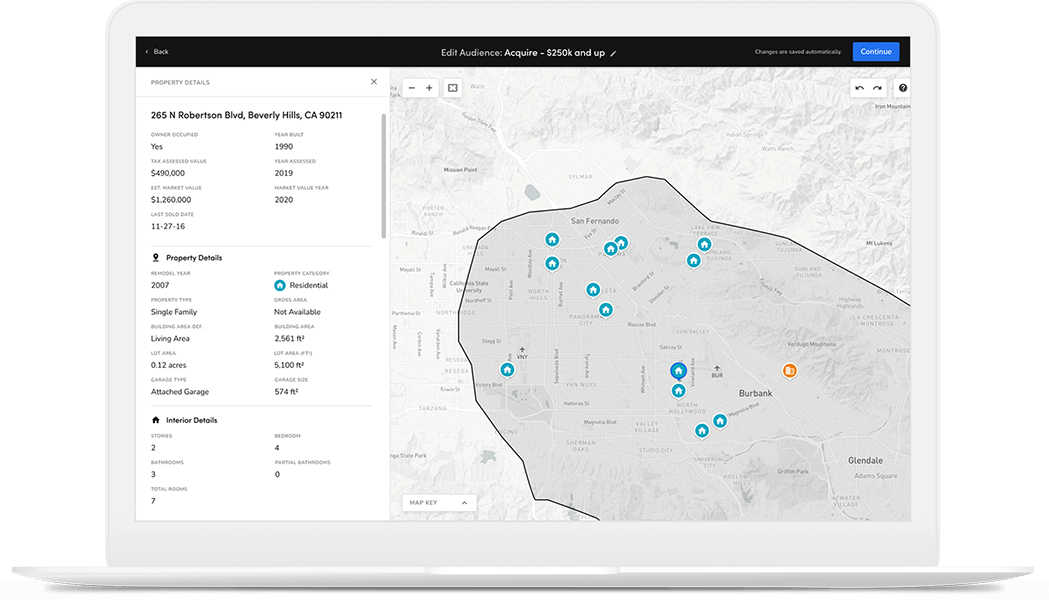 ServiceTitan touts its product as "software that does the heavy lifting". Hence, its garage door software is made to be an "all-in-one field management solution", with key features for scheduling and dispatch of field workers, on-site payment processing, inventory management, sales analysis, and more.
Maintain real-time field worker communication with an intuitive dispatch board.
Measure marketing campaign success and customer satisfaction to generate more leads over time.
Get automatic updates on customer data every time they make a call.
Get 24-hour support from a dedicated client support team.
Easily integrate your QuickBooks account.
Plans and pricing
While you won't find a link to a free trial on the website, you can request a free demo. Pricing quotes vary per plan and are only available upon inquiry.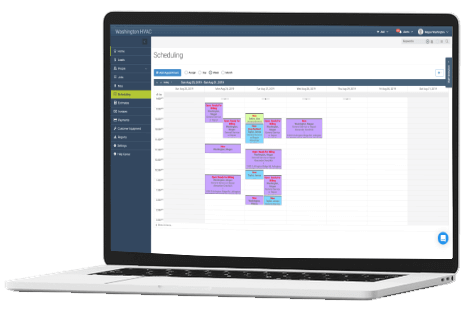 mHelpDesk is an intuitive and affordable field service management software that offers all the usual tools, from scheduling and dispatching to inventory control and invoicing. One of the big draws to mHelpDesk is that it offers free daily training to its clients, making it easier for businesses to get their teams on board.
Organize all your customer information, from contacts to service agreements to payment history, in your own "virtual file cabinet".
Eliminate manual data entry with QuickBooks integrated billing and invoicing software.
Enjoy a personalized onboarding process that helps you and your team familiarize yourselves with the product.
Seamlessly migrate all your data from your old system.
Plans and pricing
mHelpDesk offers a free demo upon request. Pricing begins at $169 per month per user.
Closing thoughts
Garage door software is a great way to take your garage door business management efforts and make them more efficient, organized, and streamlined.
Method:Field Services' intuitive design makes it simple and easy for garage door businesses to manage their customers' data and schedule jobs. And with our instant QuickBooks sync, you can rest easy knowing your invoices and payments are automatically saved. Boost productivity all around and watch your business grow with Method:Field Services.
Start your free trial of Method:Field Services today!
Image credit: Nickoa via Adobe Stock