Best software for fence businesses: Top 9 scheduling and estimator software

Find and compare the best fence software to better manage your fence business.
As we move out of the COVID-19 pandemic, home renovation projects that were once shelved are now coming to light again. What's more is that the housing market is experiencing a huge boom as the economy recovers from the pandemic. The result of these events is that those in the residential construction space are going to be busy.
As a result, now more than ever, it's important to double down on tech-based solutions—including looking for the best software for fence businesses.
In this guide, you'll learn the benefits of using the best software for fence businesses such as productivity, efficiency, and ultimately, profitability. Keep reading to learn the top nine best software for fence businesses on the market today.
Find the best management software solutions for your industry
If you're not a fencing contractor but are in the construction business, feel free to check out our other guides below. There are lists of the best field service management software for landscaping companies, plumbing service providers, pest control businesses, and more:
Your options when it comes to the best software for fence businesses
There are several different kinds of software that can be beneficial to those working in the fence industry.
Some companies promise an all-in-one best software for fence businesses that do everything from project management to invoicing, while other service providers offer more specialized services, like fence design software.
In general, fence software can be categorized into three groups.
Fence design software
Fence design software helps contractors and clients visualize the outcome of the project. Most fence design software options allow users to create 2D sketches or 3D renders of the project area and choose from a variety of fence materials, styles, and colors.
Some fence design software also come with landscaping elements.
CRM software
CRM or Customer Relationship Management is a broad term to describe any software system that—as its name suggests—helps businesses manage their relationships with their customers.
By consolidating customer data, communications, and purchasing history in one place, CRMs are one of the best software for fence businesses looking to stay on top of each of their customers' wants and needs.
Scheduling, estimating, and project management software
This type of fencing software lets you:
Calculate material and labor costs.
Schedule field workers.
Keep track of inventory.
Collect payments from one platform.
Most of the best software for fence businesses is cloud-based, meaning anyone on the team can access relevant information through their mobile devices. This means you can reduce paper documentation, save time on unnecessary meetings and calls with your workers, and see real-time updates on each job.
Best software for fence businesses: How to make the right choice
With so many different kinds of solutions out there, deciding on one can be tough. Here are three tips for choosing the right fencing software for your business.
Talk to your team
Shopping for new tools for your business is exciting, but you don't want to make the mistake of buying stuff that you don't actually need.
To avoid this, have a chat with your team about:
Your current workflow.
individual and company goals.
The things that slow down your progress.
That way, you can make a more informed decision when choosing a fencing business software.
Take a demo or a free trial
Most software providers will offer a free demo or a trial for new customers.
With a demo or a trial period, you don't just get to see whether a software can address your problems, but you also get to see whether your team gets behind the solution.
Map out your priorities
While some companies may tout their services as a "one-size-fits-all" solution, you will rarely find a software that can address all your business needs.
When evaluating the best software for fence businesses, make a list of your top priorities and be specific about the exact features that you need.
What features should you look for in fence company software?
So what potential features do the best software for fence businesses have? Here are four features that are useful to any fencing contractor.
Customer management
Good customer relationship management systems make customer management simple. From contact details to transaction history and open work orders, a true customer relationship management solution gives you the data you need to nurture customers and drive repeat business.
The features to look for in the best software for fence businesses include:
Contact management.
Conversation documentation.
Lead management.
Email integration.
Online portals.
Estimates and quotes
Fencing software can help you standardize your rates and create templates for cost estimates. With these at hand, you can present proposals to clients faster and more efficiently.
Which means more jobs, customers, and revenue for your company.
Project management
Even the most organized fencers can feel overwhelmed by the number of moving parts involved in each project. From creating project timelines and tracking field workers' schedules and locations to managing inventory — it's not as easy it looks.
Especially when you factor in accommodating last-minute requests from your field crew and customers.
The best software for fence businesses, automates many of these tasks and provides key people with real-time insights on their roles and project progress.
Invoicing and payments
Tracking financial information the old-fashioned way creates risk for miscalculations and misplaced documents.
A good fencing software automates things like invoices, work orders, and payroll. Plus, the best solutions sync up to accounting software like QuickBooks and Xero so that you waste no more time doing manual data entry.
Top 9 best software for fence businesses
Here are the nine best software for fencing businesses, along with their key features and pricing options.
Method:Field Services
STACK
JobNimbus
SkyBoss
Houzz Pro
PlanSwift
Computer Fencing System
Pro DBX
Joist
First on this list of best software for fence businesses is Method:Field Services, a field service management solution that makes scheduling jobs, dispatching teams, and invoicing in the field simpler.
A key Method:Field Services feature is its seamless two way sync with QuickBooks that makes sure your customer, sales, and accounting data is always up to date. With Method:Field Services you:
Get a 360-degree view of all your customers' data—from contact information to purchase history—in an instant.
Can whip up cost estimates, invoices, and work orders from any device.
Provide your customers with a simple and secure online payment portal—one that is synced to your QuickBooks to eliminate manual data entry.
Have an online platform where everyone involved in a project can view and update their schedules and routes in real time.
Plans and pricing
Fence businesses can take Method:Field Services for a spin for 30 days with a free trial. With this option, you get full access to the best software for fence businesses with unlimited users.
Method:Field Services offers plans tailored for office teams (starting at $44 per month) and field technicians (starting at $15 per month).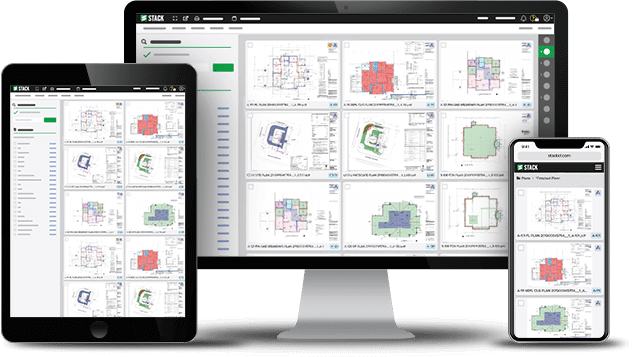 STACK is a pre-construction software made for subcontractors, general contractors, fencers, suppliers, manufacturers, and even home builders.
The cloud-based platform helps construction businesses cut costs and encourages more collaboration between teams. Some of its other benefits include:
Organizing project plans, specs, and other types of documents in one place.
Time savings during the cost estimating process with takeoff templates and tools that automate the most tedious parts of the process.
Customizing proposals to fit your business' needs and utilize templates to win bids faster.
Letting team members access all the necessary plans and documents, whether from the office, at home, or on a job site.
Plans and pricing
Stack offers a seven-day free trial period where users can create 10 takeoffs per project and up to two concurrent projects.
Stack's three paid plans consist of the Start plan at $1,999/year, the Grow plan at $4,999/year, and the Build plan, which is a custom-built plan for larger businesses.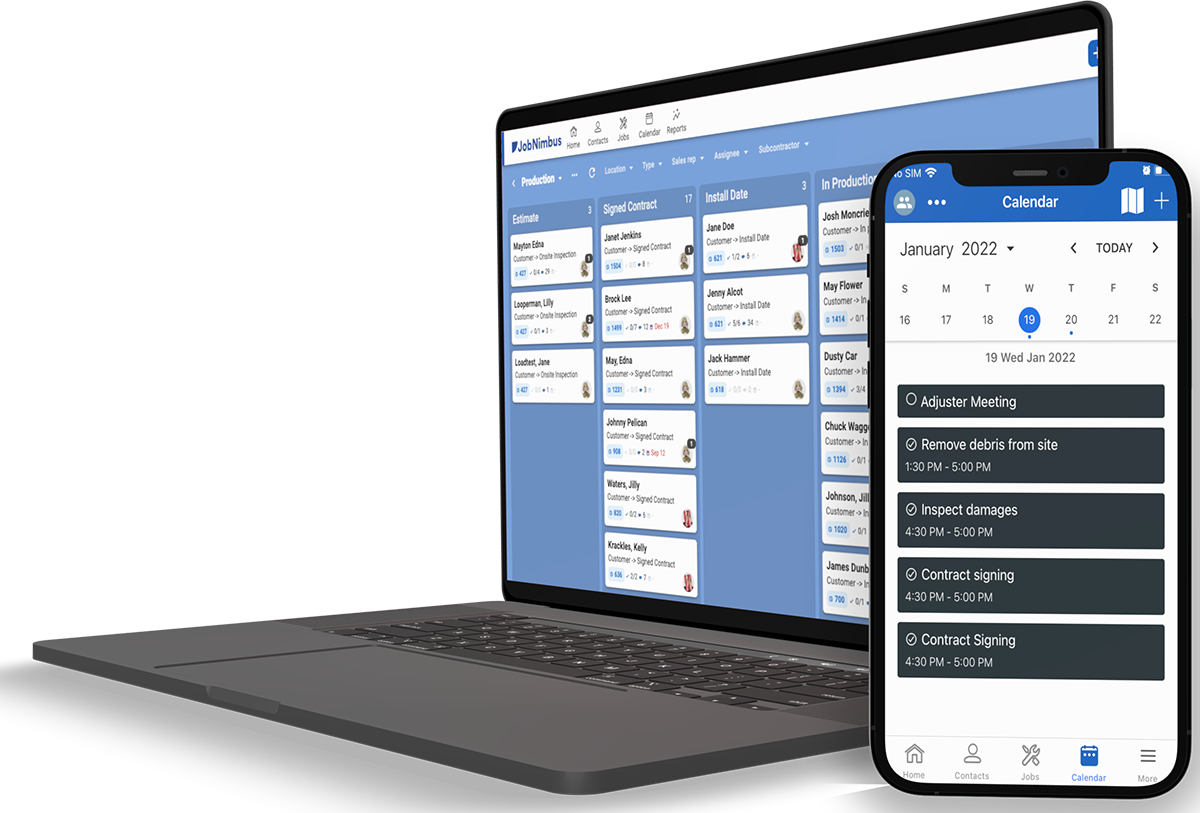 Next on this list of best software for fence businesses is JobNimbus. It is a contractor management solution that caters to a variety of home service businesses like roofing installers, landscapers, and, of course, fencing contractor companies.
One of the best things about JobNimbus is its long list of online tools integrations, from accounting software QuickBooks to sales app SalesRabbit to contractor photo app CompanyCam. With JobNimbus, you can:
Create and save templates for faster project estimation.
Track all your jobs in a customizable and intuitive platform.
Immediately send job sites and project progress images to customers and teammates.
Keep track of your field crews' schedules and locations at all times.
Plans and pricing
JobNimbus offers a 14-day free trial that doesn't need a credit card. To get full access, you must request a quote from the JobNimbus website as pricing varies based on users' needs.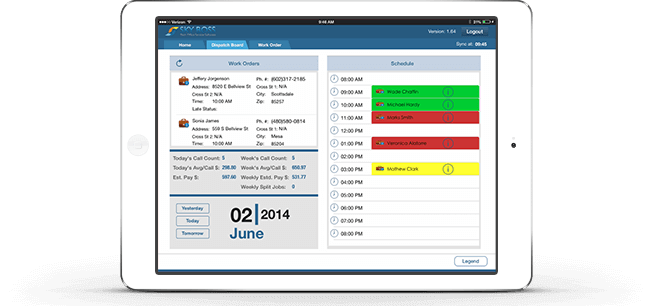 SkyBoss touts itself as one of the most affordable paperless systems on the market. The field service software also offers a money-back guarantee to its users.
Like many others on this best software for fence businesses list, SkyBoss is an "all-in-one" platform for home service contractors like plumbing service providers, HVAC installers, and fence contractor companies. It helps you:
Schedule jobs with a simple drag-and-drop calendar and map.
Send out invoices via email and collect payments through an online portal.
Keep customer data, from contact information to upcoming appointments, all in one place.
Generate business reports based on data analytics.
Plans and pricing
SkyBoss costs $149 a month per user and promises free upgrades for all paid subscribers. As it is a month-to-month service, users can cancel their subscriptions at any time.
Houzz Pro is a marketing, project, and client management software made for interior designers, general contractors, architects, and specialty contractors — like those in fencing.
Unlike most of the other best software for fence businesses options, Houzz Pro offers a marketing edge by providing users with tools to build and maintain their own websites, create targeted advertising campaigns, and more. With Houzz Pro you can:
Build templates and send off job estimates in a flash.
Stay on top of projects, customer data, and team schedules with a project management system.
Manage projects and access all relevant data through your mobile phone or tablet.
Connect with powerful outside tools like Zoom and QuickBooks Online.
Plans and pricing
Houzz Pro offers a free trial to all new users. After that, you can choose between the Starter plan at $65/month, the Essential plan at $49/month, and the Ultimate plan at $399/month.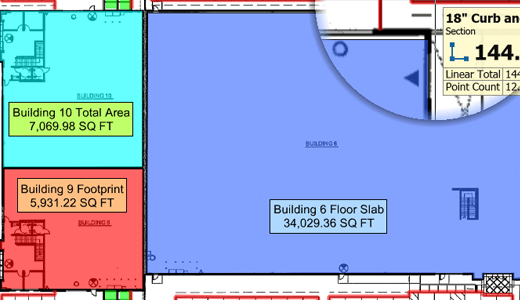 PlanSwift is a construction takeoff and estimating software that is simple, easy-to-use, and customizable for different industries and jobs. As a best software for fence businesses, you can use it to:
Generate takeoffs in an instant with a point-and-click style interface.
Create detailed and accurate estimates by dragging and dropping pre-configured assemblies and parts to your takeoff items.
Get instant calculations on materials, labor, etc.
Export estimates straight to Excel.
Plans and pricing
PlanSwift offers a risk-free 14-day trial to new customers, no credit card required. PlanSwift Professional costs $1,595 a year, including support and updates for the first year. One-on-one custom training is priced at $300.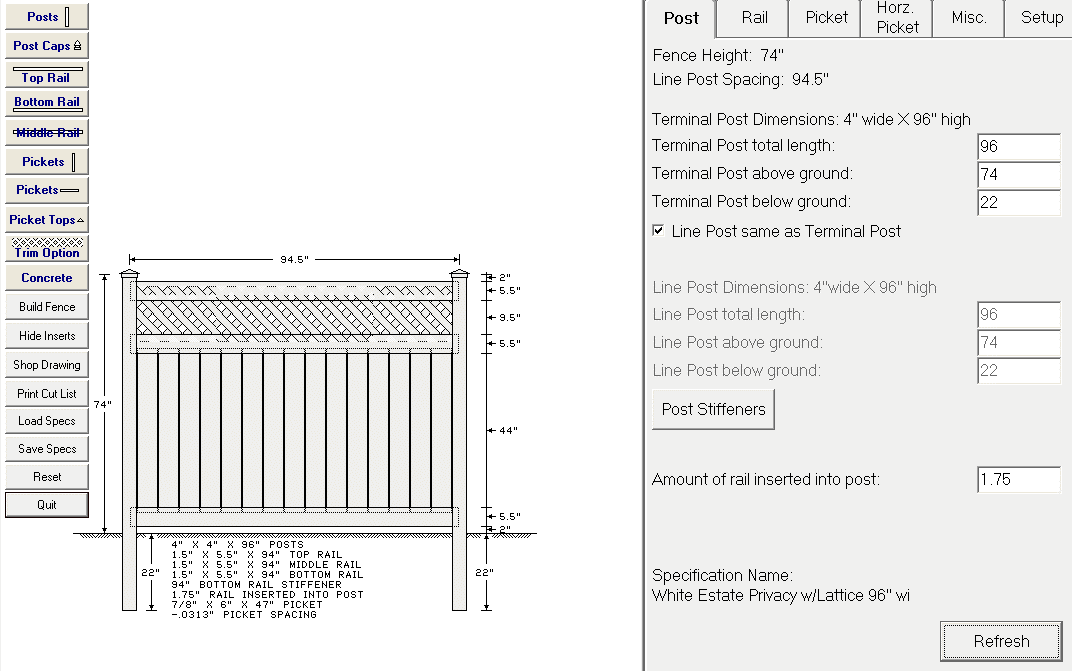 Computer Fencing System is a fencing estimation software that has been around for over 25 years. While it looks a little old-fashioned, as one of the pioneering fencing software, CFS is still a staple among established fencing companies. With this best software for fence businesses, you can:
Create scaled job layouts using QwikDraw, then build material lists, estimate costs, and create contracts by sending the sketches to the Scratch Builder app.
Connect Cash Register, a point-of-sale software that helps businesses generate invoices, make shipping reports, keep track of inventory, and more.
Build a parts catalog using a stock of 600+ fence parts images.
Plans and pricing
Computer fencing system costs $3,900 upfront. For those who want to pay via a monthly payment plan, you'll have to pay $750 down and $175/month for 24 months.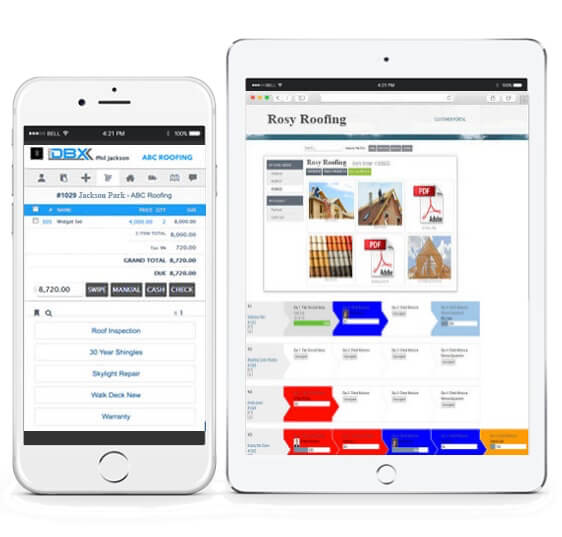 Pro DBX is a cloud-based software solution built exclusively for construction companies. Whereas other companies offer general software that works across multiple industries, Pro DBX lets you build a software package that fits their specific needs. This best software for fence businesses contender makes it possible to:
Create custom sets that sales reps can put together for faster and more efficient estimating.
Automate work order assignments and update project details in real time.
Let project managers and crew members view and send project updates, commissions, and on-site photos.
Provide customers with a customer portal to follow project progress, get updates on due dates, and see before and after photos.
Plans and pricing
The Pro DBX Express Builder plan is priced at $25 per month per user, the Professional plan costs $50 per month per user, and the Enterprise plan costs $75 per month per user.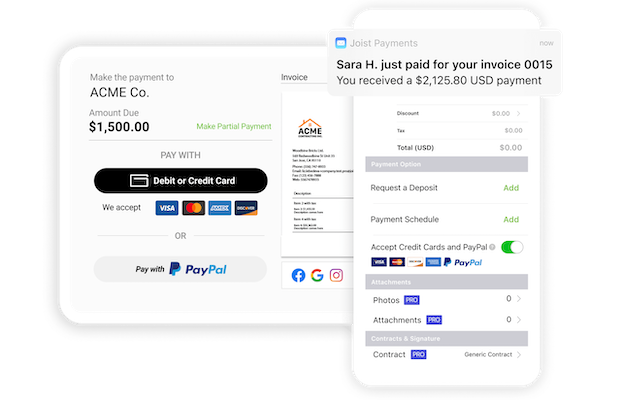 Last but not least on this best software for fence businesses list is Joist — a construction management app built for contractors.
While Joist has a web app, its mobile app is quite powerful and easy to use. This makes it a great service for on-the-go business owners who prefer to do much of their business with their phones. Use Joist to:
Create estimates on the go with the mobile estimating tool.
Send invoices, keep track of payments, and send payment reminders in just a few clicks.
Provide financing options through the company's partner lenders.
Automate bookkeeping with QuickBooks Online sync.
Plans and pricing
Joist offers a seven-day free trial for all new users. For full-time subscribers, Joist offers two plans: JoistPro at $12 per month per user and JoistPro Elite at $29 per month per user.
Closing thoughts on the best software for fence businesses
As more and more people restart their home repairs and renovation projects, you need to make sure your fencing business is equipped to handle the oncoming influx of inquiries. With a good fencing management software, you can increase your efficiency and get more customers than ever before.
Get started with the best software for fence businesses with a free trial of Method:Field Services!
Image credit: Natalia via Adobe Stock