Top 10 best residential cleaning software companies

Find the best residential cleaning software for your business. Compare features, benefits, and discover how these residential cleaning software can help.
The residential cleaning industry has experienced a major boom in the past couple of years, as more and more people opt to work from home
The future for cleaningcompanies looks bright. Experts project that the cleaning service market could be worth $40.38 billion by 2025. As Americans spend more time at work or outside, house cleaning services have proven to be a necessary, time-saving solution.
This is good news for those in the cleaning business. However, it also means that maid service businesses need to start thinking about how to run a tighter ship. More customers doesn't necessarily mean happier customers, especially if you can't handle the minutiae of daily operations.
In this guide, we look at 10 field service management software that can help cleaning service professionals operate their businesses more efficiently. Hopefully, by the end of this guide, you can identify the best residential cleaning software for your business.
Field service management software solutions for other industries
Not looking for the best residential cleaning software? We have guides to software solutions for other field service companies, from appliance repair businesses to window cleaners:
What is residential cleaning software?
Residential cleaning software is a type of field service software solution designed specifically for residential cleaning service businesses. These types of software come with powerful tools that are designed to reduce or eliminate manual processes, repetitive tasks, and complications that come with managing field employees.
What kinds of challenges do residential cleaning companies face day-to-day?
Handling mobile service pros presents its own unique challenges, especially in areas such as:
Mobile employee scheduling.
On-site invoicing and payment processing.
Inventory management.
Accurate time tracking of mobile employees' hours.
Quality control assurance.
If these are the kinds of problems you face in your own cleaning business, you could benefit greatly from maid service software.
What are the benefits of using residential cleaning software?
There are many different kinds of maid service software, each with their own unique set of benefits. But more often than not, most software for maid service providers can help you in the following ways:
Improve customer service
Most field service software comes with some type of Customer Relationship Management tool or CRM. By consolidating everything you need to know about a client in an easily accessible customer database, you can answer more queries, book appointments faster, send instant updates and ultimately, provide excellent customer service.
Minimize the risk for errors
Whether you're booking appointments, managing employee schedules, giving quotes, or calculating payroll, doing things the pen-and-paper way is more prone to errors and miscalculations. By automating basic tasks, you reduce the risk of human error.
Save hours on administrative tasks
Automating administrative tasks doesn't just minimize the risk for errors, it also speeds up processes and frees up employees' time. When that happens, you can get more done in a day and, essentially, make more money.
What features should you look for in residential cleaning software?
The best residential cleaning software equips cleaning companies with intuitive tools. Below are just some of the tools that will make running your business a piece of cake:
A customer relationship management platform for better client management. Some cleaning service software provides instant client messaging, appointment booking, and extensive customer history tracking from one centralized dashboard.
A powerful scheduling software that makes job scheduling a breeze. The most common system you'll find is the drag-and-drop calendaring tool, which enables managers to monitor cleaning crew schedules, assign new jobs, set appointment reminders, instantly communicate changes, and more.
A fleet management platform with GPS tracking to help managers locate cleaning crews' job sites, find the most efficient routes, and track cleaning and maintenance staff on the job.
Mobile applications for field staff that show important job details and customer details, provide open communication channels with office managers, allow time tracking with digital time sheets, and provide field workers with compliance checklists for quality control.
Financial management tools like estimate tools, on-site invoicing, credit card payment processing, payroll automation, and others.
The best residential cleaning software should allow integrations with common third-party programs like calendaring and accounting software. The most popular integrations are QuickBooks Desktop and QuickBooks Online integrations.
Custom branding to help your maid & cleaning service company stand out from the competition and stay top of mind with your customers.
Some of the best residential cleaning software are
No two field service companies are the same. If you want to find the best residential cleaning for your business, make sure to go over your business' goals and find the software that addresses your needs.
Here are the 10 best residential cleaning software options:
Method:Field Services.
Launch27.
ZenMaid.
Maidily.
Maid Central.
HoneyBook.
Clean Smarts.
HouseCall Pro.
WorkWave.
Connecteam.
Method:Field Services is a customizable field service solution with a range of digital tools that simplify and speed up everyday processes. Aside from cutting down time spent on annoying tasks, Method:Field Services also offers seamless accounting integrations with QuickBooks accounting software.
What makes Method:Field Services one of the best residential cleaning software out there? Check out these incredible features below:
Customer relationship management: Consolidate all important client data, work orders, and payment history in a central customer database.
Scheduling and job booking software: Access an easy-to-use scheduling and dispatching system to schedule jobs, check cleaning crews' availability, send important reminders, and more.
Mobile apps for field workers: Enable on-site job tracking, invoicing, and payment collection with a handy mobile app.
Plans and pricing
Method:Field Services offers a free free trial to new users. Once the trial ends, the software starts at $15 monthly per user.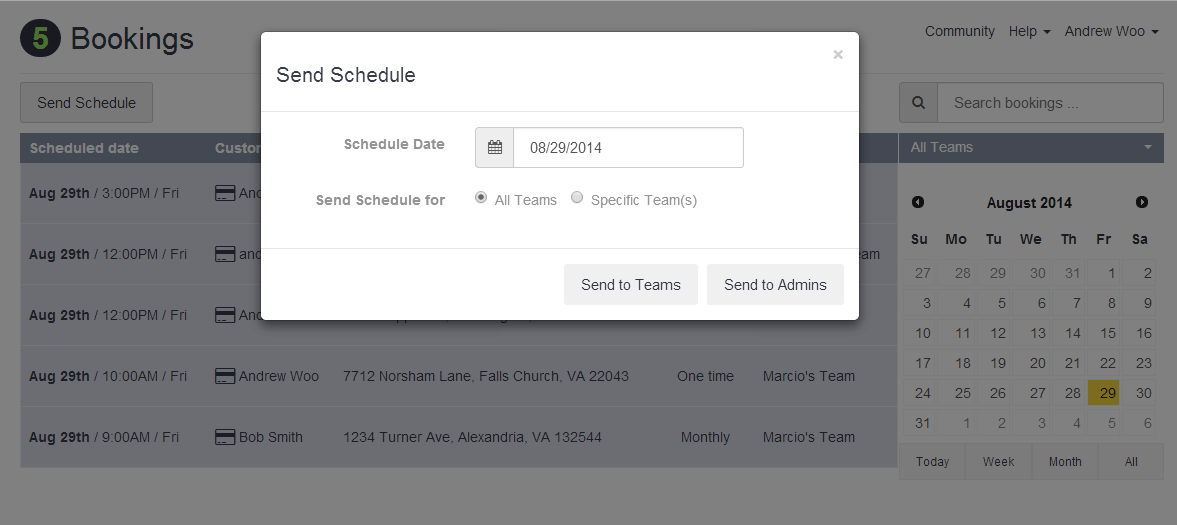 Launch27 is a maid service software that aims to lessen time spent on managing appointment bookings, scheduling jobs, and processing payments. By automating these all-important business tasks, Launch27 allows cleaning service professionals to take on more jobs.
Some of Launch27's best features include:
Online booking platform: Install a responsive online booking form on your website which customers can use to book cleaning services any time of the day.
Analytics dashboard: Cleaning business owners can monitor sales trends, conversion rates, client retention, and other important data on how the company is doing.
Seamless integrations: Sync revenue data with cloud-based accounting software like QuickBooks, process credit card payments with Stripe, and send text message notifications with Twilio.
Plans and pricing
Launch27 offers a free 14-day trial to new users. The Base plan is available at $59 monthly, the Pro plan costs $125 per month, and the Plus plan is $299 monthly.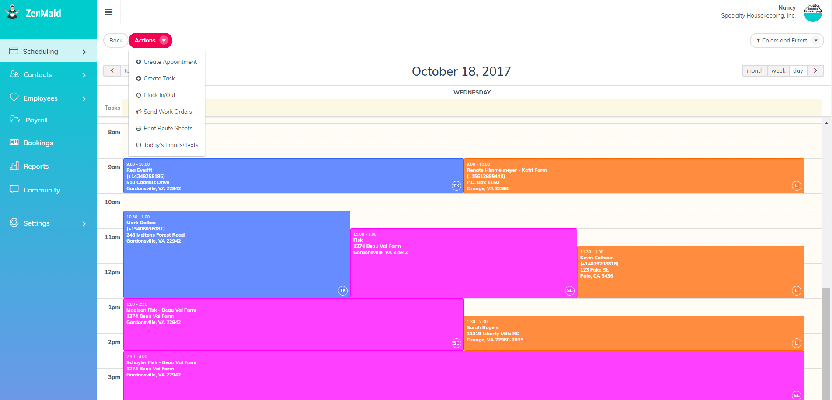 ZenMaid calls itself "the only software you need to grow your maid service". The cloud-based solution is one of the few out there that are available for free (albeit with limited capabilities) making it one of the best residential cleaning software for new businesses.
With a ZenMaid subscription, home cleaning businesses get:
An intuitive calendar and dispatch tool: Say goodbye to double-bookings and keep your staff from overworking themselves with a simple and intuitive calendar.
Work order automation: Once you finalize the details of a job, ZenMaid automatically sends the work order to your cleaners via text, email, or mobile app.
Credit card processing: Process payments through a range of credit card processing software, including Stripe, Square, Authorize.Net, and Braintree.
Plans and pricing
Pricing for this cleaning service management software solution depends on how many cleaners you have onboard your cleaning business. For businesses with up to four cleaners, ZenMaid costs $85 monthly.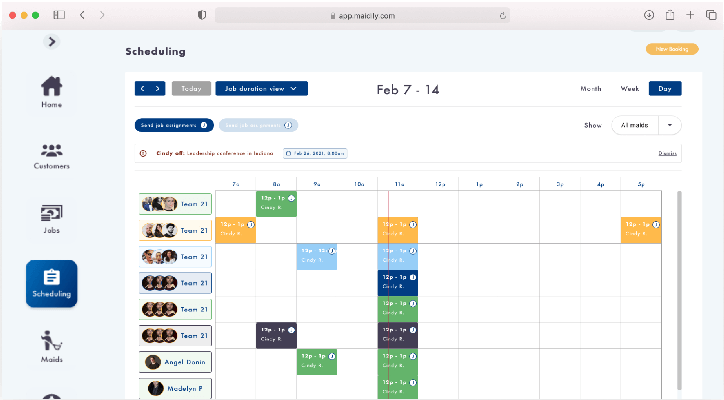 Maidily is a complete service management solution for home cleaners. The software was developed out of one maid business owner's desire for a simple software solution at affordable pricing.
Here are just some of the features you can get out of this maid service software solution:
Dynamic calendar: Easily assign cleaning crews to jobs with just one click. The scheduling system also allows users to create automatically recurring jobs.
An online booking platform: Turn website visitors into leads by putting up a custom-made online booking form on your website.
A comprehensive CRM: View everything from customers' contact information to booking history to analytics in one page.
Plans and pricing
New customers can try Maidily for free for 14 days. The Essentials plan is $25 monthly, the Power plan is $55 per month, and the Power+ plan is $95 per month. Quotes for the Enterprise plan are available upon request.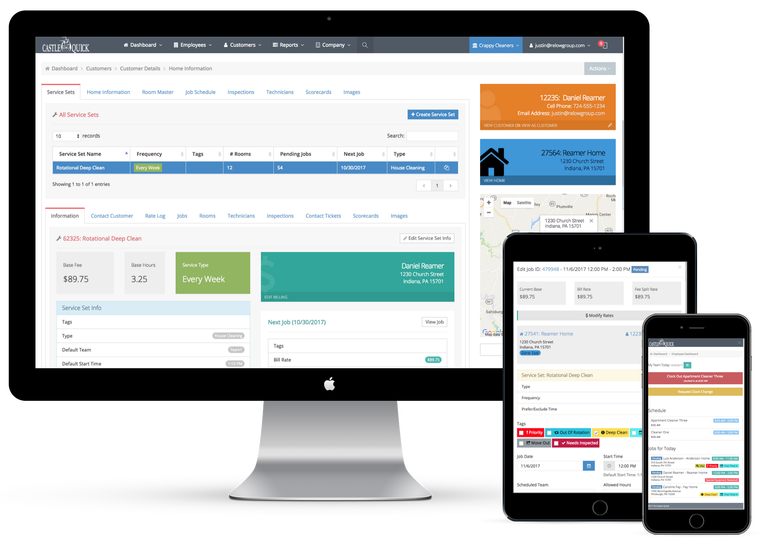 Maid Central is another all-in-one scheduling and management software for maid services owners.
One of the things that makes Maid Central stand out is its stress-free onboarding system. All you have to do is schedule a demo, set up the software with the help of their customer success team, customize the software to match your business needs, and that's it!
Here are some of the key features that Maid Central has to offer:
A branded customer portal: Empower your customers to manage their contact and payment information, view pricing and invoices, and more.
Batch billing and invoicing: Reduce time spent on manual documentation with one-click billing and seamless accounting integrations with QuickBooks Online.
Quality measuring: Maintain happy clients by requesting feedback via automatic scorecards sent straight to customers' accounts. Use this customer feedback to better train and develop your cleaning and maintenance staff.
Plans and pricing
Maid Central's enterprise-level software costs $450 per month.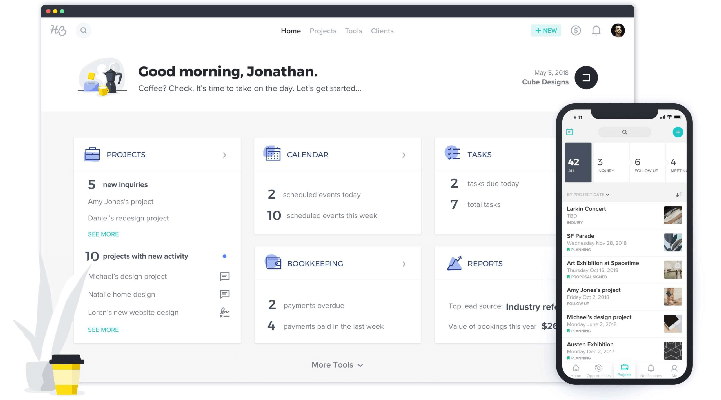 HoneyBook is a client management software made for small businesses. While not necessarily a maid & cleaning service software, HoneyBook works for all kinds of businesses.
On their site, you can make use of a free invoice generator, free contract templates, and even a business personality test.
Here's what your cleaning business can get out of the business management software:
Automated communication tools: With HoneyBook, you can automate everything from inquiry responses, booking confirmation messages, and task reminders. You can also set up automatic payment reminders for customers.
Professional financial templates: Send off invoices and contracts in a flash with customized templates.
Efficient integrations: Sync your software to third-party programs like Zoom, Zapier, and QuickBooks.
Plans and pricing
You can try this complete service management solution for seven days, free of charge. The Starter plan costs $9 per month, the Unlimited Monthly plan costs $39 per month, and the Unlimited Annual plan is $390 per year.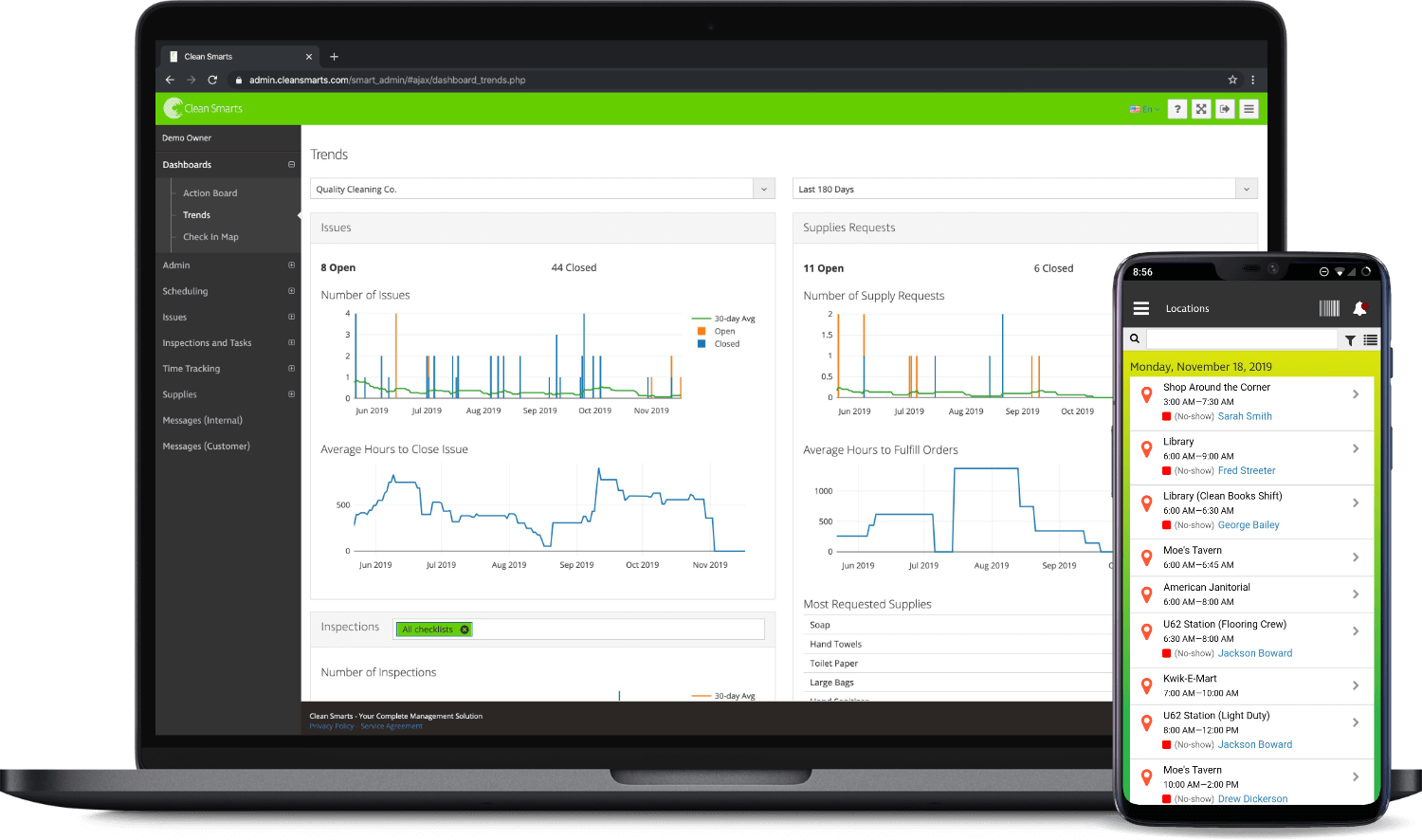 Clean Smarts is a platform for scheduling staff, communicating with clients, and streamlining day-to-day operations for residential and commercial field service businesses.
Why did Clean Smarts make our list of the best residential cleaning software? Aside from being a complete solution for field services pros in the cleaning business, Clean Smarts makes tracking metrics a breeze.
Here are other great features you can get from Clean Smarts:
Scheduling systems designed for commercial use: Unlike other online scheduling software, Clean Smarts lets you break locations down into layers and sublayers.
Health surveys for cleaning staff: Field service personnel are always at risk of contracting illnesses on the job. Make sure your employees are fit for each job with automatic health surveys before each shift.
Client communication tools: Always keep clients in the loop with issues, delays, and changes with intuitive tools for messaging and photo sharing.
Plans and pricing
Clean Smarts costs $99 per month for up to 10 users. If you have 1-20 employees, you can add more users at a rate of $5 a month per additional user.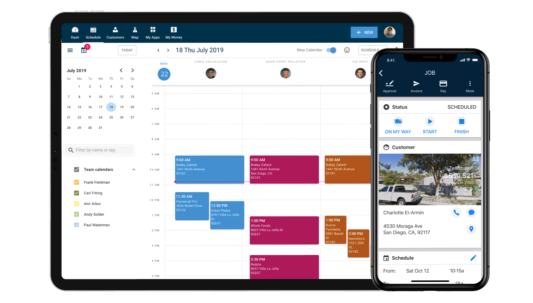 HouseCall Pro is a cloud-based field service solution that caters to a variety of industries, including HVAC, plumbing, and landscaping businesses.
This all-in-one job management software is impressive in a lot of ways. We're most excited about how HouseCall Pro can help you scale your field service business with software tools like recurring service plans and visual price books. Other features include:
A cloud-based online booking solution: Let customers book cleaning jobs online, then send custom texts and notifications automatically.
An accurate time tracking and fleet tracking system: Streamline time and fleet tracking for a more accurate payroll.
A versatile accounting platform: Easily convert invoices into estimates, accept multiple payment options from credit card to cash, and sync all your data to QuickBooks.
Plans and pricing
Housecall Pro offers a 14-day free trial. Annual pricing plans are $49 monthly for the Basic plan and $109 monthly for the Essentials plan.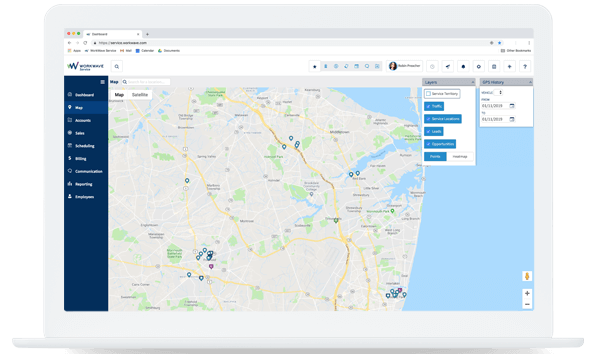 WorkWave is a software company that is known for offering specialized solutions for a number of businesses in the field service industry, from its PestPac pest control software to its WorkWave Route Manager, a route optimization software that helps delivery businesses with their fleet management operations.
Maid and janitorial service contractors can benefit from WorkWave Service, a cloud-based field service management solution. With WorkWave Service, you can:
Schedule and dispatch teams: Using a simple drag-and-drop scheduling tool, you can assign jobs to workers, dispatch teams, and send updates to cleaning crews on the move.
Enhance customer experiences with a customer management system: Keep customer contact information, service history, and account details all in one CRM.
Gain actionable insights: Get up-to-date data on your business' performance, the efficacy of your marketing efforts, your payment collections, and more.
Plans and pricing
Request a quote from the WorkWave website to get details on pricing. You can also book a free demo to get a feel of the software.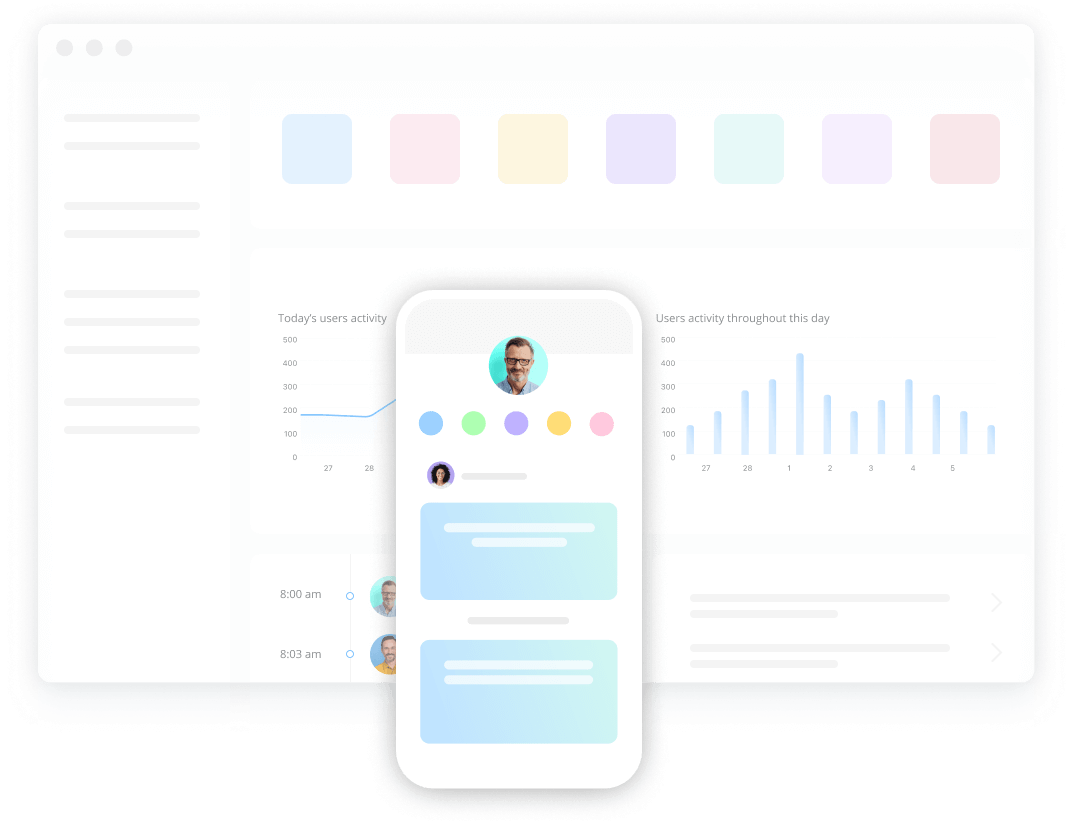 Connecteam is a cloud-based field service management app that focuses on simplifying communication both internally and externally. Here's what makes Connecteam one of the best residential cleaning software on the market:
Online checklists: Provide employees with checklists they can easily follow and that you can view real-time. Connecteam provides compliance checklists, inventory order forms, end of shift checklists, PTO requests, and more.
Time clock with geofencing: Maid service owners can keep track of cleaners' locations and working hours with these tools.
Custom training materials: Make the onboarding process easier by equipping staff with training materials and learning tools that they can access through their mobile phones.
Plans and pricing
The Connecteam Basic plan costs $39 per month, the Advanced plan costs $79 per month, and the Expert plan is $159 per month. The company offers a free 14-day trial to new users.
Let your business shine with the best residential cleaning software
When you rely on old school methods, you open your business up to the risk of committing costly mistakes. If you want to get the best residential cleaning jobs in your area, you have to equip yourself with the best residential cleaning software.
With Method:Field Services, you can guarantee your clients customer satisfaction thanks to its wide array of powerful business management tools and customizability.
Click here to begin your no-commitment trial with Method:Field Services!
Image credit: Tima Miroshnichenko via Pexels