Top 10 best restoration management software companies

Find the best restoration management software for your business. Compare features, benefits, and find the best solution for your business.
If you provide 24/7 emergency services, the best restoration management software can help make the recuperation process easier by keeping track of your progress. This guide will take you through everything you need to know about the best restoration management software on the market.
Our findings show that capital project owners are turning to the best restoration management software as a comprehensive solution. This $4-billion industry enables business owners to inform marketing decisions, track progress, and improve overall efficiency when repairing properties.
Other solutions for your service-based business
Does your business require project management solutions other than restoration management? Consider integrating these software products into your daily operations.
What is restoration management software?
Based on our firsthand experience, the best restoration management software enables business owners to assist clients affected by natural disasters or other damage. As indicated by our tests, its major benefit is that it can track resources, schedules, and assets—making it easier to stay on top of your business.
This advanced software also creates swift communications between employees and decision-makers, improves productivity, and empowers business owners to provide the best solutions possible.
Key features of restoration management programs
Our investigation demonstrated that while no two of the best restoration management software are identical, there are some key features that you can't overlook. These include:
Task management: Manage jobs, inspection reports, and related documents in a single, centralized location.
Project scheduling and mapping: Automatically schedule new and recurring projects. Arrange them according to urgency, client, and location with ease.
Calendar planning: Get a top-to-bottom view of your monthly calendar for easier scheduling. Know what to anticipate as the month progresses. Add or remove jobs according to how busy your calendar is.
Customer service: Enjoy the benefits of a complete CRM program. Organize your contacts and make communications effortless.
Invoicing and billing: Turn cost estimates into invoices, and send automatic notifications to clients to remind them to pay on time.
What should you consider when picking the best restoration management program?
Through our practical knowledge, business owners looking for the best restoration management software should consider the following:
User-friendliness: Good construction management software should be intuitively designed and have a quick learning curve. Everyday tasks like scheduling jobs and uploading invoices should be fast and efficient.
Scalability: If your current software can't keep up with fluctuating resources and new hires, you're out of luck. The best restoration management software should be able to scale up your business.
Third-party integrations: If you already have existing data and ongoing construction projects, make sure your new software integrates smoothly.
Cloud-based functionality: A cloud-based solution can solve your problem if your project management capabilities are limited. Access your schedules and communicate with your team and clients from anywhere, any time.
Future-proofing: Does the software company or product have regular updates? If you're going to be in business for a long time, your programs should be able to keep up.
Some of the best restoration management software are
Are you looking for the best restoration management software for your construction business? Here are the 11 best restoration management software options:
Method:Field Services.
PSA Restoration.
Moisture Mapper.
iRestore.
EZ Inspections.
Restoration Manager.
360e.
Xcelerate.
Job Nimbus.
DASH Restoration Business Management.
Job-Dox.
Method:Field Services is a cloud-based restoration job management software that tracks your bids, manages your documents, and centralizes client communications. Over time, we found that it's a must-have in the restoration industry if you need the following features:
Customer relationship management: Add multiple contacts per company and use the Method app to send follow-up emails regarding project details and transactions.
Work order management: Create work orders using QuickBooks and dispatch them via a centralized platform. Keep track of ongoing project details like geographical information, photos, videos, and blueprints.
Quick invoicing: Send automatic invoices directly from the Method platform or download PDFs to save for later.
Plans and pricing
Method:Field Services starts at $49 per month on an annual plan. Additional users cost $15- $49 a month depending on their license type (dispatcher or field technician).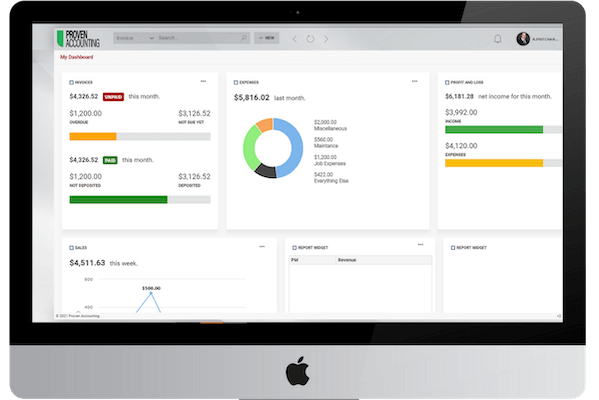 If you work with restoration contractors in the United States, PSA Restoration can eliminate job duplications, keep you connected to your field technicians 24/7, and even live stream your database. When we trialed this product, we found its best features to be:
Automated administrative tasks: Directly convert work orders into payables. Create a general ledger of financial accounts to keep track of credit card charges and bank statements.
Smart report generation: Analyze real-time data like sales, field operations, and accounting. Visualize profits and losses across every aspect of your business.
Job management: Quickly track work hours per person per week and dispatch new jobs in just 30 seconds. Create real-time budgets according to labor costs and materials.
Plans and pricing
You can get a free trial before paying for a full plan, which costs $325 monthly.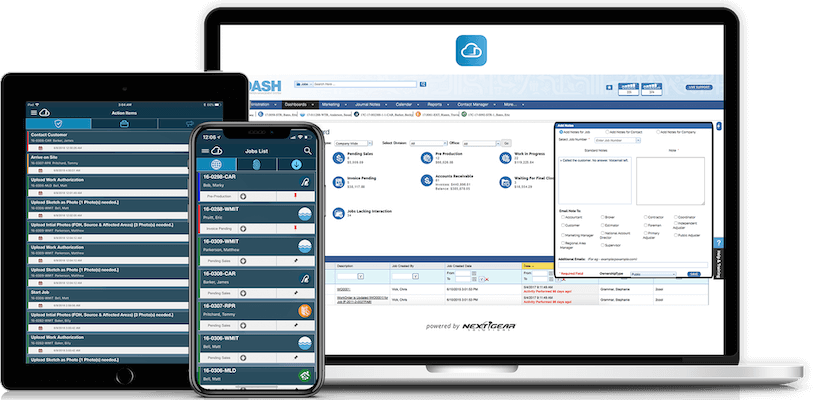 Businesses that offer restoration services will benefit from the impeccable real-time capabilities of Moisture Mapper. Through its DASH mobile app, you can do anything from creating and dispatching jobs, tracking your equipment and inventory, and seamlessly interfacing with your clients. Other features of Moisture Mapper include:
Water mitigation: View your job data and service calculations anytime using MICA. Relay information to clients and insurance companies. Provide real-time audits to insurance agents to prevent re-works.
Customer communication: Upload photos and notes for every job, and send automatic arrival notifications to clients. Quickly collect approvals for cost estimates and job orders.
Sales management: Employ a full-fledged customer referral program to generate leads and boost sales. Communicate with new commercial clients through custom CRM dashboards.
Plans and pricing
Prices are available upon request.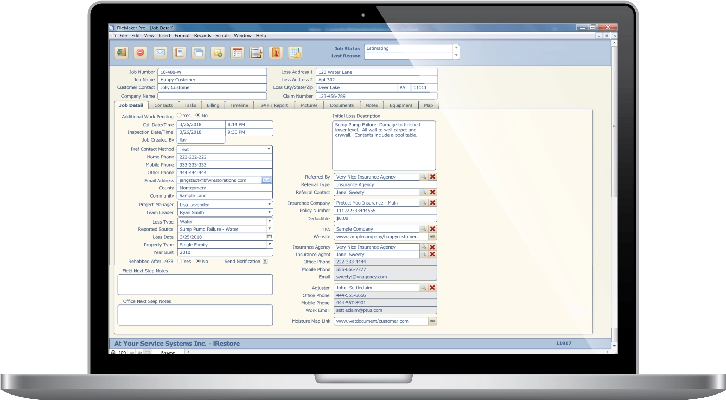 iRestore provides project management solutions, by restorers and for restorers.
We have found from using this product that it's an affordable, all-in-one tool that synchronizes job orders across multiple platforms, tracks in-use equipment, and manages your fleet. With iRestore, you also enjoy the following key features:
Project management applications: Assign jobs to subcontractors, inspectors, adjusters, and agents from a singular platform. Use templates to provide job scopes, and attach additional documents like photos, blueprints, and interactive maps.
Equipment tracking: Keep track of your hard assets, where they are being used, and by whom. Use iRestore's exclusive barcode system for swift and efficient equipment transfers.
Human resources system: Manage your staff and independent contractors with a centralized time-tracking and reporting system. Organize all employee-related documents in an easy-to-access hub.
Plans and pricing
Plans with iRestore vary according to the number of users on your team. A plan for 1 – 24 users costs $249 monthly while a plan for up to 50 users costs $249 a month. Bigger plan pricing is available upon request.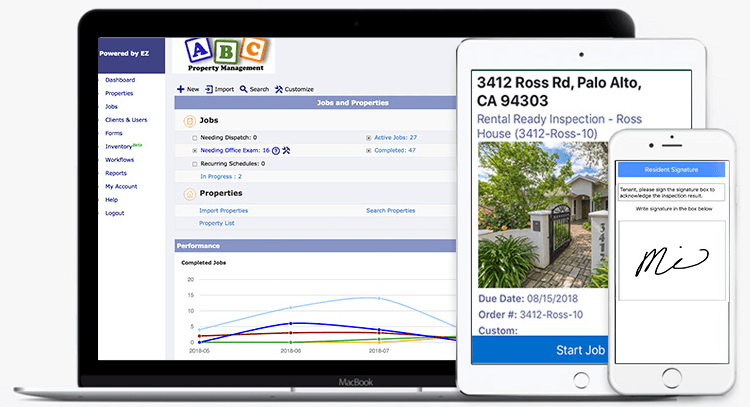 After using EZ Inspections, we found that it's a comprehensive platform that simplifies your business' most tedious manual operations. With it, you can easily craft and dispatch job orders, plus receive feedback and results through the mobile app. Other features that make your job easier include:
Preservation order management: Create custom PCR forms with automatic downloads, uploads, and dispatches. Integrate your job orders and dashboard with platforms like Five Brothers, Spectrum, Aspen Grove, Assurant, and more.
Insurance loss control: Use this claim management software to produce client inspection reports. Automatically merge valuations and diagrams to create hazard scores and pinpoint issues that need immediate resolution.
Custom solutions: Create custom forms complete with drop-down menus, checkboxes, hidden fields, and labels. Sync this data with your other software and store forms for future retrieval.
Plans and pricing
You can request paid plans according to your industry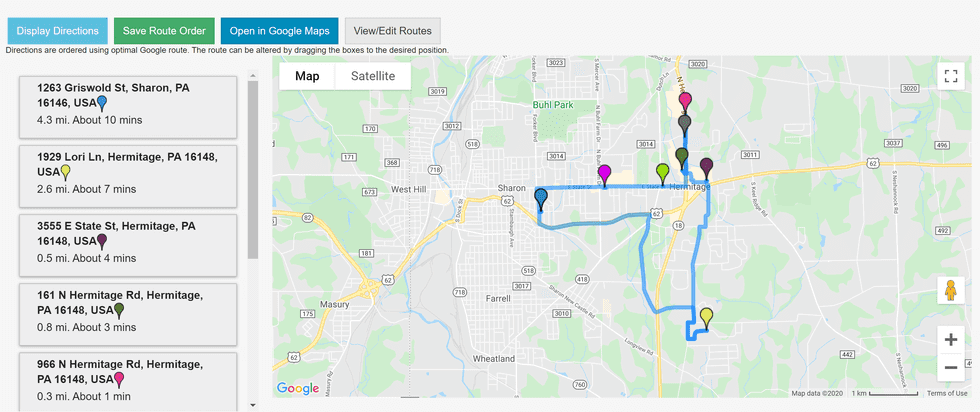 This cloud-based and mobile-friendly software comes with date and progress tracking and document management features, which helps restoration businesses take on more jobs while decreasing cycle times. Our analysis of this product revealed that, along with its at-a-glance dashboards and sales routing capabilities, Restoration Manager also boasts the following features:
Gantt scheduling: Convert Xactimate estimate assets into work orders for individual users and specialty contractors. Manually build work orders according to your needs and save templates for automatic dispatching.
Optimize sales routes: Provide turn-by-turn directions to dispatched fleets via mobile. Optimize and save the best routes.
Accounting integrations: Connect to your existing accounting software like QuickBooks, Sage, Viewpoint Vista, and more. See your estimates, actual costs, and projects all in one place.
Plans and pricing
Monthly pricing is available upon request.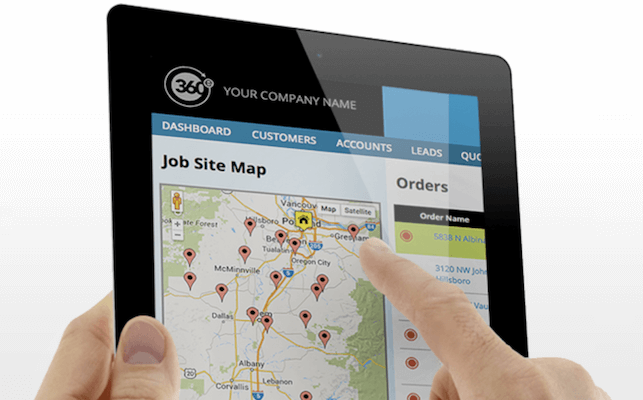 360e is a workflow management program for small and medium-sized companies that can quote, schedule, track, and bill for you. Other features include:
Fast and accurate quoting: Use the custom quote builder to build detailed estimates based on assembly groups and parts configurations. Access and edit third-party contracts, invoices, and quotes.
Robust scheduling system: Enjoy easy-to-use visual scheduling tools with color coding and multiple screen views. Assign entire work teams or weekly tasks with intuitive scheduling.
Business metrics: Assign metric displays to customer profiles and keep track of sales. Use this real-time reporting system to make better-informed business decisions.
Plans and pricing
Prices are available upon request
Through comprehensive business dashboards and real-time project updates, Xcelerate's construction management software makes it easy to keep track of your business operations. Users will enjoy the following benefits:
GPS tracking: Use GPS fencing technology to monitor technician time and determine how many hours your staff spends on any given task.
Report generation: View KPIs and analyze report data. Highlight leads and production information to forecast future sales.
Real-time updates and automated workflows: Effortlessly communicate with teams and clients, and get real-time updates on ongoing projects. Manage your account data even when you're on the go through the Xcelerate mobile app.
Plans and pricing
Professional plans cost $50 a month per user up to $650 monthly. Premium plans cost $85 per month per user up to $1,100 monthly. Enterprise plan prices are available upon request.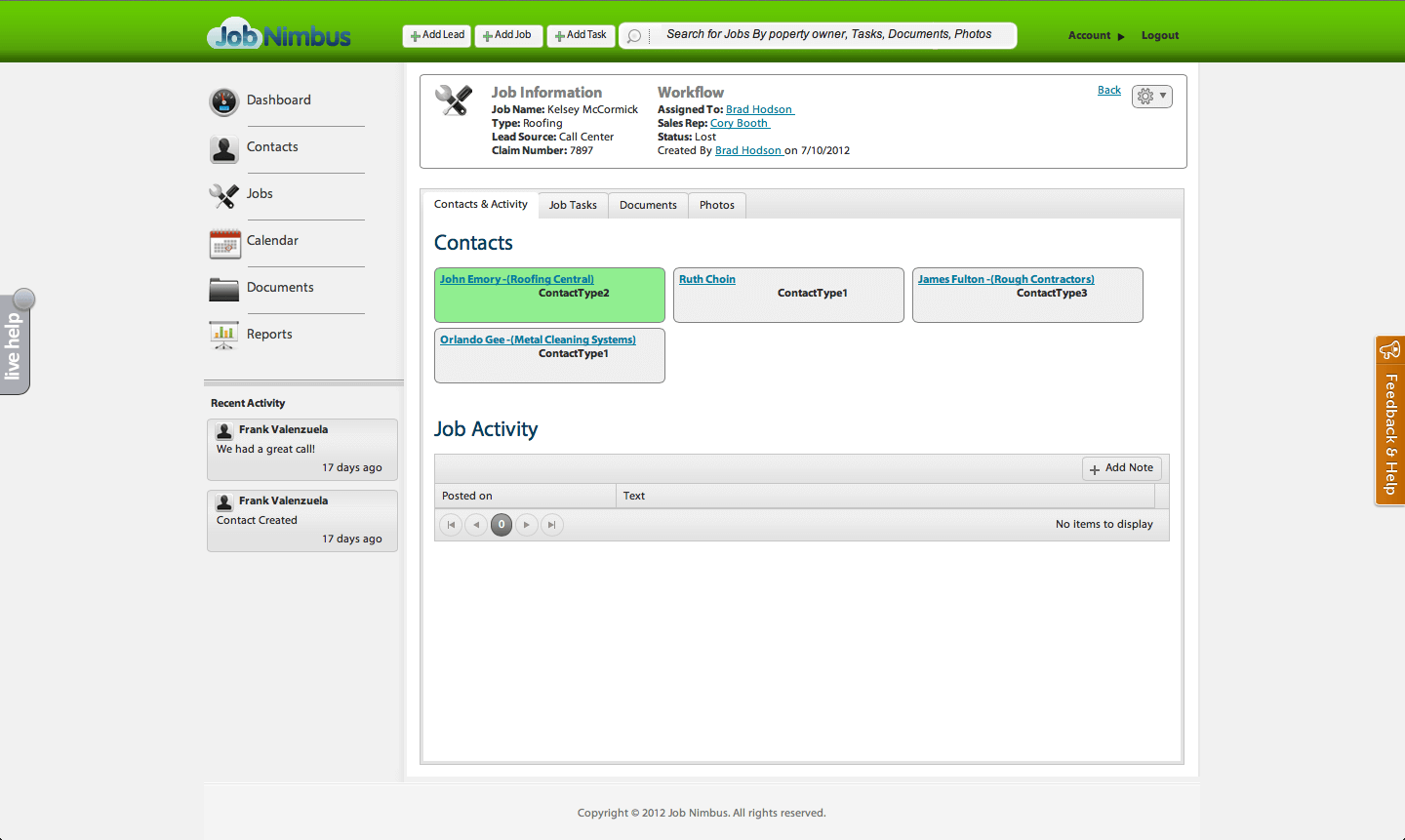 According to JobNimbus, its software helps you collect 25% more payments. Based on our observations, this award-winning software company drastically increases your profitability, thanks to these impressive features:
Customer management tools: Get an overview of your entire client history, messages, contracts, photos, and blueprints. Access client information through desktop or mobile.
Interactive work boards: Manage your restoration jobs in a single space and easily drag-and-drop tasks across Kanban boards.
Photo uploads: Restoration projects involve a lot of before and after photos. With JobNimbus, you can centralize your documentation and share media in real-time with customers.
Plans and pricing
You can request pricing according to custom packages.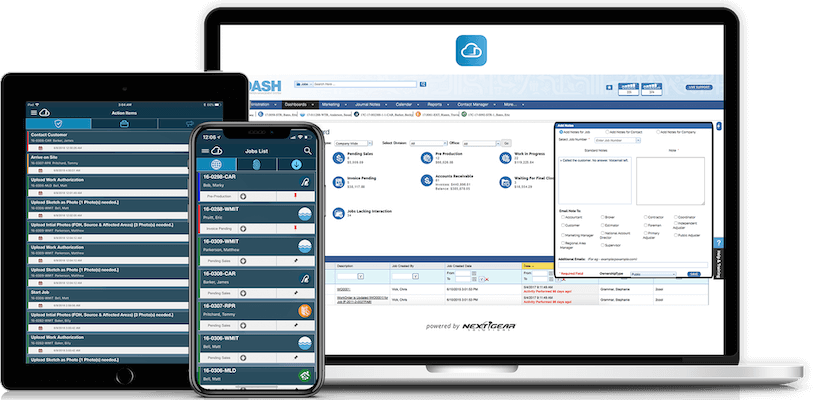 DASH is a job management software that offers paperless documentation and easy-to-use project management. Our research indicated that it's known primarily for its real-time documentation, but it also comes with the following key features:
Multi-platform tracking: Assign profiles to in-house staff and independent contractors. Use the built-in messaging app to keep all parties updated.
Compliance management: Create job audits to ensure you are complying with industry standards. Get real-time reports on your work to determine what could use improvement.
Offline functionality: Are you working in a remote area? Retain access to your dashboard and software functionality even offline.
Plans and pricing
Plan prices are available upon request.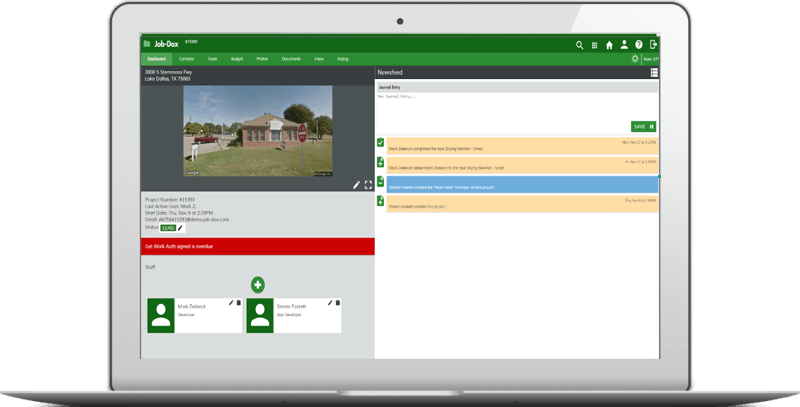 If your project management is not as organized and efficient as it could be, give Job-Dox a shot. After putting it to the test, it was clear that this project management software has everything from budget tools to programmed tasks. With it, you'll have access to the following features:
Financial tools: Create Budget Planners according to business size and auto-program tasks involving cash flow, payroll, and accounting. Track everyday expenses from a single, centralized location.
Custom modules: Create a module for almost anything, from a contacts book to a document database. Use standard templates or create your own.
User-friendly CRM system: Use Job-Dox's email and call-tracking system to make sure you're meeting your customers' needs.
Plans and pricing
Plan prices are available upon request.
Excel with the best restoration management software
Restoring residential and commercial properties is no easy feat, but the best restoration management software can make it much easier. If you need a better way to organize your construction projects and daily tasks, try Method:Field Services!
This advanced CRM software helps you save time and effort on administrative work by automating as many processes as possible. It provides comprehensive solutions for every workflow and can make your business more profitable than ever.
Start your free trial with Method:Field Services!
Image credit: Jack F via Adobe Stock