Top 16 best handyman invoice software companies
Find the best handyman invoice software to make invoicing easier and more efficient for your HVAC business.
Let's be honest: a handyman's job is to fix household problems. It's not an easy job, so it's important to ensure that your customers pay you what you're worth and on time.
With many different tasks to get done, a handyman's day gets busy, quick. However, to grow your business, you need to stay on top of your invoices. This is where the best handyman invoice software can help.
Handyman software helps you create invoices quickly and efficiently to deliver to your customer and keep your revenue flowing.
Keep reading to learn more about handyman software, and discover the best handyman invoice software that speeds up your business growth.
What is handyman software?
A handyman's job is quite unpredictable. Every day, you deal with recurring maintenance jobs, urgent repairs, and anything in between. Handyman software adds predictability and reliability to your workflow.
Handyman software is designed to:
Save time.
Improve your customer relationships.
Grow your business faster.
With so much to worry about on the job, you don't want to worry about your administrative tasks. And this is where the best handyman invoice software can help.
There are several admin tasks that you can automate with the help of the right software. For example, leveraging handyman software in your invoicing helps you get paid sooner.
By the time you're at the part of the job where you get paid, you already have the details you need to create an invoice. All you have to do is put the information together and present it clearly to your customer.
Whether you use a desktop or a mobile device, handyman software simplifies how you do your job. Let's take a look at some of the perks of using the best handyman invoice software.
Benefits of handyman software for your business
When you run a handyman company, you have a series of tasks to keep up with every day, including:
Creating and sharing estimates.
Managing work orders.
Scheduling jobs.
Tracking payments.
Handyman software not only keeps your business running smoothly but also acts as a bridge between you and your customers. Some tools even let customers request your services, which ensures that nothing is lost in communication.
Using handyman software optimizes your business performance in all aspects. You gain a better understanding of your operations and a clear sense of where your business needs to improve.
Better yet, you get more done in less time. With administrative tasks off your plate, you have time to build relationships with your customers and drive your business forward.
Will I still need to do paperwork?
The best handyman invoice software eliminates the need for paperwork. In fact, the only time you should have your hands on paper is if your customer requests a paper copy of their invoice!
Are you wondering what you should look out for when choosing handyman software? Let's find out.
Common features of handyman software
There's a variety of handyman software companies out there, which makes it difficult to choose the right one.
The best handyman invoice software companies all have a few common features, no matter which software you go with.
Keep an eye out for these features when shopping for handyman software:
The ability to convert estimates and work orders into invoices.
Time tracking for employee payroll and invoicing.
Simplified payment processing with online payment options.
A wide range of possible integrations.
Flexible invoicing with customizable templates.
Invoicing is an essential component of your business operations. After all, it is how you get paid. For this reason, it's important to select the best handyman invoice software to ensure that you get paid sooner and on time.
Not in the handyman industry? There's software that will improve your business, no matter what your trade is.
How to choose the best handyman software
The best handyman invoice software won't switch up your workflow. Instead, it:
Enhances your invoicing process.
Save you time.
Ensures accuracy.
The first step to choosing the best handyman software is to step back and look at your current business operations. Ask yourself: What are your strengths? What can be improved?
The way you answer those questions will reveal your priorities and give you an idea of what to look for in a software solution.
Depending on your business, you'll want to consider these factors when selecting a handyman software tool.
Integration
What software and platforms do you currently use? The handyman software you choose shouldn't disrupt your current workflow. Select a tool that integrates with your current tools, such as QuickBooks, Google, or Outlook.
Mobility
As a handyman company, your crew is always on the go. If your goal is to create a reliable line of communication between your field and office team, choose software with a strong mobile app for field services.
This way, everything from last-minute customer requests to schedule updates is quickly shared with your crew in the field.
Easy invoicing
Invoicing involves more than sending the bill to your customers. Your invoicing process should include the following:
A way to generate invoices as soon as the job is complete.
A means of quickly sharing the invoice with your customer.
Consistent status tracking of each invoice.
Flexible payment options to avoid delays.
As the final step in completing a job and how you get paid, this is not the time for errors. The best handyman invoice software ensures that invoicing goes smoothly and lets you track the process every step of the way.
Now that you're an expert on handyman software, it's time to choose the best one for your business.
What is an invoice?
An invoice is a bill you send your customer upon completion of a job.
At the minimum, your invoices should include:
Your company name and contact information.
Your customer's name and contact information.
The date and invoice number.
Description of services rendered.
Amount owed.
If you create estimates for your customers beforehand, you have this information ready to go. Generating invoices requires no more than a few clicks with the right software.
The best handyman invoice software
To get you started, here are the best handyman invoice software companies to improve your invoicing.
Method:Field Services
QuickBooks
Joist
RepairShopr
Kickserv
Contractor+
iTrust PRO
Scheduling Suite
Workiz
Housecall Pro
The Service Program
Eworks Manager
Less Paper
Synchroteam
Vonigo
Jobber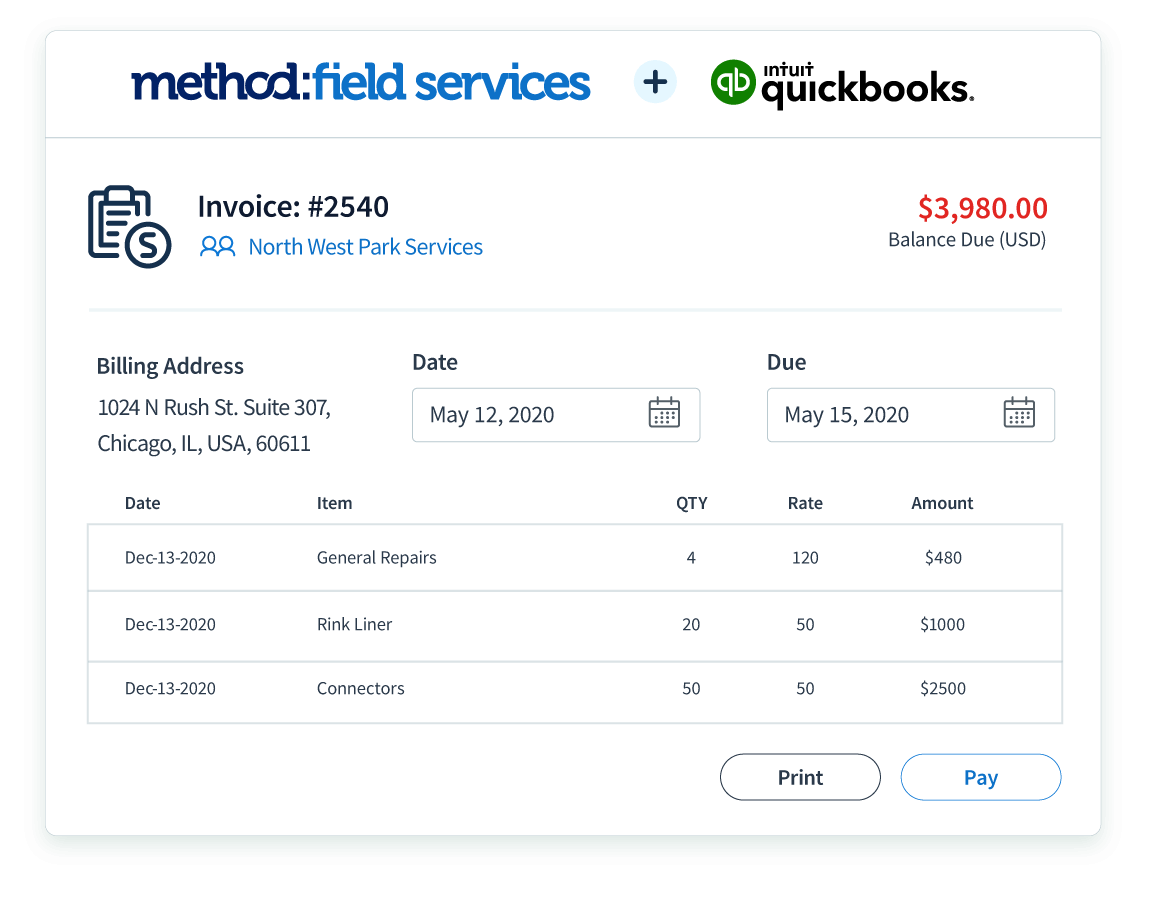 Method:Field Services is a favorite for handyman companies on QuickBooks.
Method:Field Services simplifies every aspect of your business, including invoicing. With Method, invoicing can be done on the spot, whether you're behind the desk or at your customer's house. Just take a look at its impact on day-to-day operations below!
Where Method shines is how quickly it allows you to:
Create branded invoices tailored for each customer.
Turn estimates into work orders.
Have your crew on their way to the next job.
Convert your work orders into customer-ready invoices.
But invoicing is just the tip of the iceberg. There are several other benefits of using Method:FIeld Services, including:
A mobile app that creates a reliable line of communication for your handymen and office team.
Automated routing for optimal dispatching and productivity.
Simplified scheduling with a Google Calendar integration prevents jobs from falling through the cracks.
Work order tracking to easily keep up with your orders and communicate changes as they occur.
Method:Field Services offers a free trial that doesn't require your credit card to start, meaning you can test this field service management software for yourself, risk-free.