Top 16 best handyman invoice software companies

Find the best handyman invoice software to make invoicing easier and more efficient for your HVAC business.
Let's be honest: a handyman's job is to fix household problems. It's not an easy job, so it's important to ensure that your customers pay you what you're worth and on time.
With many different tasks to get done, a handyman's day gets busy, quick. However, to grow your business, you need to stay on top of your invoices. This is where the best handyman invoice software can help.
Handyman software helps you create invoices quickly and efficiently to deliver to your customer and keep your revenue flowing.
Keep reading to learn more about handyman software, and discover the best handyman invoice software that speeds up your business growth.
What is handyman software?
A handyman's job is quite unpredictable. Every day, you deal with recurring maintenance jobs, urgent repairs, and anything in between. Handyman software adds predictability and reliability to your workflow.
Handyman software is designed to:
Save time.
Improve your customer relationships.
Grow your business faster.
With so much to worry about on the job, you don't want to worry about your administrative tasks. And this is where the best handyman invoice software can help.
There are several admin tasks that you can automate with the help of the right software. For example, leveraging handyman software in your invoicing helps you get paid sooner.
By the time you're at the part of the job where you get paid, you already have the details you need to create an invoice. All you have to do is put the information together and present it clearly to your customer.
Whether you use a desktop or a mobile device, handyman software simplifies how you do your job. Let's take a look at some of the perks of using the best handyman invoice software.
Benefits of handyman software for your business
When you run a handyman company, you have a series of tasks to keep up with every day, including:
Creating and sharing estimates.
Managing work orders.
Scheduling jobs.
Tracking payments.
Handyman software not only keeps your business running smoothly but also acts as a bridge between you and your customers. Some tools even let customers request your services, which ensures that nothing is lost in communication.
Using handyman software optimizes your business performance in all aspects. You gain a better understanding of your operations and a clear sense of where your business needs to improve.
Better yet, you get more done in less time. With administrative tasks off your plate, you have time to build relationships with your customers and drive your business forward.
Will I still need to do paperwork?
The best handyman invoice software eliminates the need for paperwork. In fact, the only time you should have your hands on paper is if your customer requests a paper copy of their invoice!
Are you wondering what you should look out for when choosing handyman software? Let's find out.
Common features of handyman software
There's a variety of handyman software companies out there, which makes it difficult to choose the right one.
The best handyman invoice software companies all have a few common features, no matter which software you go with.
Keep an eye out for these features when shopping for handyman software:
The ability to convert estimates and work orders into invoices.
Time tracking for employee payroll and invoicing.
Simplified payment processing with online payment options.
A wide range of possible integrations.
Flexible invoicing with customizable templates.
Invoicing is an essential component of your business operations. After all, it is how you get paid. For this reason, it's important to select the best handyman invoice software to ensure that you get paid sooner and on time.
Not in the handyman industry? There's software that will improve your business, no matter what your trade is.
How to choose the best handyman software
The best handyman invoice software won't switch up your workflow. Instead, it:
Enhances your invoicing process.
Save you time.
Ensures accuracy.
The first step to choosing the best handyman software is to step back and look at your current business operations. Ask yourself: What are your strengths? What can be improved?
The way you answer those questions will reveal your priorities and give you an idea of what to look for in a software solution.
Depending on your business, you'll want to consider these factors when selecting a handyman software tool.
Integration
What software and platforms do you currently use? The handyman software you choose shouldn't disrupt your current workflow. Select a tool that integrates with your current tools, such as QuickBooks, Google, or Outlook.
Mobility
As a handyman company, your crew is always on the go. If your goal is to create a reliable line of communication between your field and office team, choose software with a strong mobile app for field services.
This way, everything from last-minute customer requests to schedule updates is quickly shared with your crew in the field.
Easy invoicing
Invoicing involves more than sending the bill to your customers. Your invoicing process should include the following:
A way to generate invoices as soon as the job is complete.
A means of quickly sharing the invoice with your customer.
Consistent status tracking of each invoice.
Flexible payment options to avoid delays.
As the final step in completing a job and how you get paid, this is not the time for errors. The best handyman invoice software ensures that invoicing goes smoothly and lets you track the process every step of the way.
Now that you're an expert on handyman software, it's time to choose the best one for your business.
What is an invoice?
An invoice is a bill you send your customer upon completion of a job.
At the minimum, your invoices should include:
Your company name and contact information.
Your customer's name and contact information.
The date and invoice number.
Description of services rendered.
Amount owed.
If you create estimates for your customers beforehand, you have this information ready to go. Generating invoices requires no more than a few clicks with the right software.
The best handyman invoice software
To get you started, here are the best handyman invoice software companies to improve your invoicing.
Method:Field Services
QuickBooks
Joist
RepairShopr
Kickserv
Contractor+
iTrust PRO
Scheduling Suite
Workiz
Housecall Pro
The Service Program
Eworks Manager
Less Paper
Synchroteam
Vonigo
Jobber
Method:Field Services is a favorite for handyman companies on QuickBooks.
Method:Field Services simplifies every aspect of your business, including invoicing. With Method, invoicing can be done on the spot, whether you're behind the desk or at your customer's house. Just take a look at its impact on day-to-day operations below!
Where Method shines is how quickly it allows you to:
Create branded invoices tailored for each customer.
Turn estimates into work orders.
Have your crew on their way to the next job.
Convert your work orders into customer-ready invoices.
But invoicing is just the tip of the iceberg. There are several other benefits of using Method:FIeld Services, including:
A mobile app that creates a reliable line of communication for your handymen and office team.
Automated routing for optimal dispatching and productivity.
Simplified scheduling with a Google Calendar integration prevents jobs from falling through the cracks.
Work order tracking to easily keep up with your orders and communicate changes as they occur.
Method:Field Services offers a free trial that doesn't require your credit card to start, meaning you can test this field service management software for yourself, risk-free.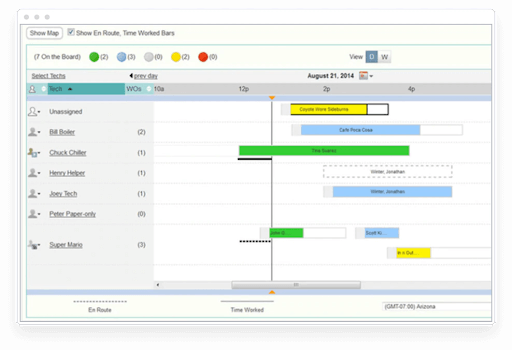 Chances are that you're familiar with QuickBooks to some degree.
QuickBooks is trusted by businesses around the world to handle their accounting needs. For many business owners, QuickBooks is the first software they use to manage their business.
QuickBooks offers field service management software that connects your teams and lets you get paid faster. Key QuickBooks features that help handyman businesses include:
Real-time updates from field crews.
Simplified job scheduling.
On-the-spot invoicing.
QuickBooks adds structure to your invoicing process with a number of different features, including:
The option to add a "Pay Now" button to your invoices.
A way to receive alerts when customers view and pay their invoices.
The ability to charge as you progress through the job.
The bad news is that because QuickBooks is an accounting-focused software, its capabilities alone may not be enough for your handyman business's needs.
The good news is that QuickBooks users can enhance their experience with other handyman software solutions, such as Method:Field Services, which enables two-way sync with QuickBooks Online, QuickBooks Desktop, and QuickBooks Enterprise.
The next handyman invoice software company we'll look at is Joist. If proper invoicing is your priority, Joist is the solution for you.
Joist's mobile invoicing tool allows you to customize your invoices to stand out amongst competitors. You can add your company logo and photos to give your customers a full view of your work.
Joist also lets you offer your customers flexible payment options that work for them. What's more, is that you can create customized payment schedules to boost your customer service.
One of Joist's unique invoicing features is that it lets your customers sign invoices on the go using the in-app signature feature. This streamlines your communication and results in you getting paid faster.
Joist's invoicing capabilities are top-notch, but their other features are limited. Other features that they offer include:
Quick estimates.
Payment tracking.
Client management.
Sync with QuickBooks Online.
If you're looking for field service management software that helps with other aspects of your handyman business, such as scheduling, Joist may not be the best solution.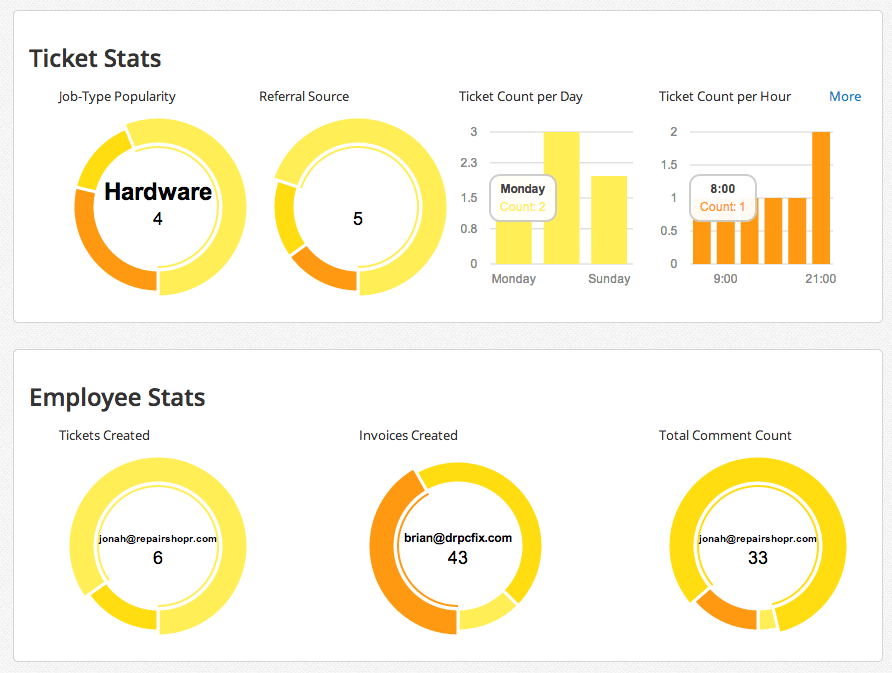 If repair is a huge part of your handyman business, you need the right repair order software to keep up with your daily tasks. In this case, RepairShopr could be the solution you're looking for.
RepairShopr offers integration between tickets, CRM, and invoicing to improve your workflow. Manage your entire business from one place, and integrate the tools you already use for a seamless workflow.
RepairShopr's features include:
QuickBooks integration.
Time clock for tracking employee hours.
Google Calendar two-way sync.
Customizable admin settings.
RepairShopr has several additional features that make invoicing easy for both you and your customers, such as:
Easy payment tracking.
Digital signatures.
An at-a-glance view of invoice status and history.
Recurring invoices.
Ability to scan line items from barcode labels and serial numbers to add invoices.
The main drawback of RepairShopr is that their solution is limited to repair shop businesses.
Although some handyman companies focus on repair services, this captures only a small part of the entire handyman industry. If this is the case for you, RepairShopr may not be the best handyman invoice software for your business.
Kickserv is one of the best handyman invoice software companies for home service professionals, which many handymen specialize in.
Kickserv makes field service management simple with a number of features, such as:
Scheduling and time tracking.
Automated status updates.
Dynamic calendar capabilities.
Kickserv allows you to send invoices to clients by email or text message and track when they receive and view it.
Kickserv also makes payment collection a breeze with its credit card payment integration. This way, you collect payment directly through the secure online portal.
As with other handyman invoicing software options, Kickserv collects signatures for estimates and invoices by emailing a request to your customer. Then, delivers the final signed document to your inbox.
Kickserv is another handyman software solution that integrates with QuickBooks, but QuickBooks Desktop users have to pay an additional $50 per month for this feature.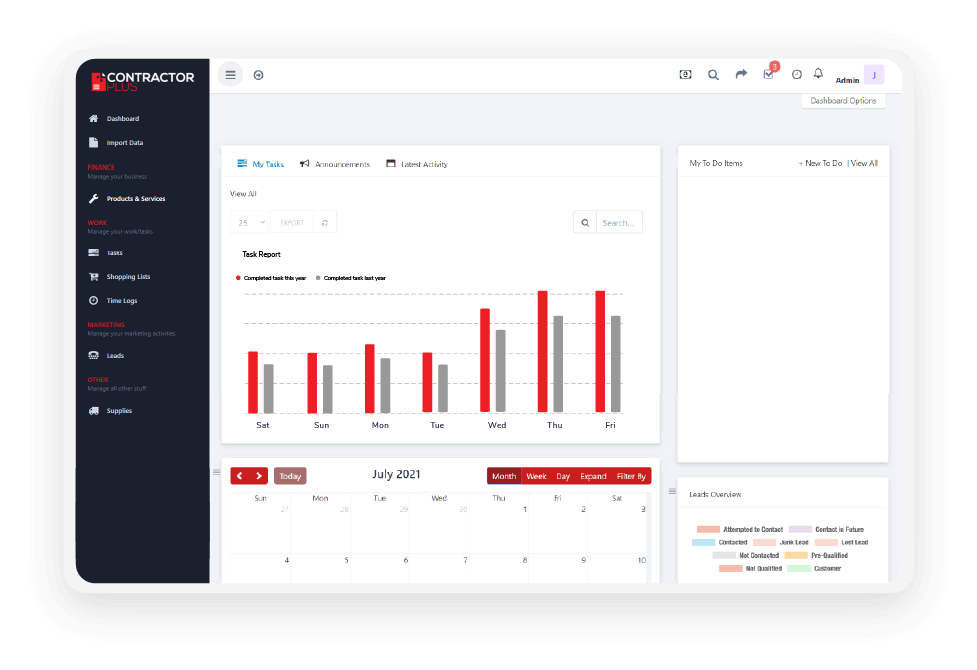 Contractor+ was built specifically for handyman companies.
The main appeal of Contractor+ is that it's a free field service software solution. This is great if you want to test out how handyman invoice software fits in your business workflow.
Despite being free, Contractor+ has many of the features you want from software for handymen, such as:
Time tracking.
Job scheduling.
Reporting.
In terms of invoicing, Contractor+ generates invoices based on the details in the approved estimate, cutting down on admin time. Once everything's confirmed, you can instantly send the invoice with the tap of a button.
Where Contractor+ shines is in their online payment options. Once your customer has their invoice, they can choose their preferred payment method amongst Contractor+'s several 3rd party payment integrations, including:
You can also customize your customer's experience from first contact to payment by personalizing your invoices with your company logo and colors.
Since Contractor+ is free, naturally, it has some limitations in its field service management capabilities. It's a great option if you're just starting out, but as your business grows, your needs may outgrow Contractor+.
iTrust PRO is a mobile app whose focus is on increasing your presence online to attract more leads. This handyman app builds a search-optimized web page for your business, then updates it based on your daily activity.
Although lead generation is iTrust PRO's main strength, this field services solution also has great features to help you manage other aspects of your handyman business, including invoicing.
iTrust PRO makes it easy to convert leads to customers and manage everything from one place. Once the job is done, send an electronic invoice directly from the app personalized with your company's logo.
iTrust PRO's additional features include:
Location-based job check-ins.
A shareable scheduling link that allows your customers to schedule services.
The option to have your customers review your work directly through the app.
Something to keep in mind is that iTrust PRO is an app primarily meant for mobile devices. So, it's important to consider that the user experience on desktop isn't optimal.
If you prefer to conduct your business on desktop, this may not be the best handyman invoice software for you.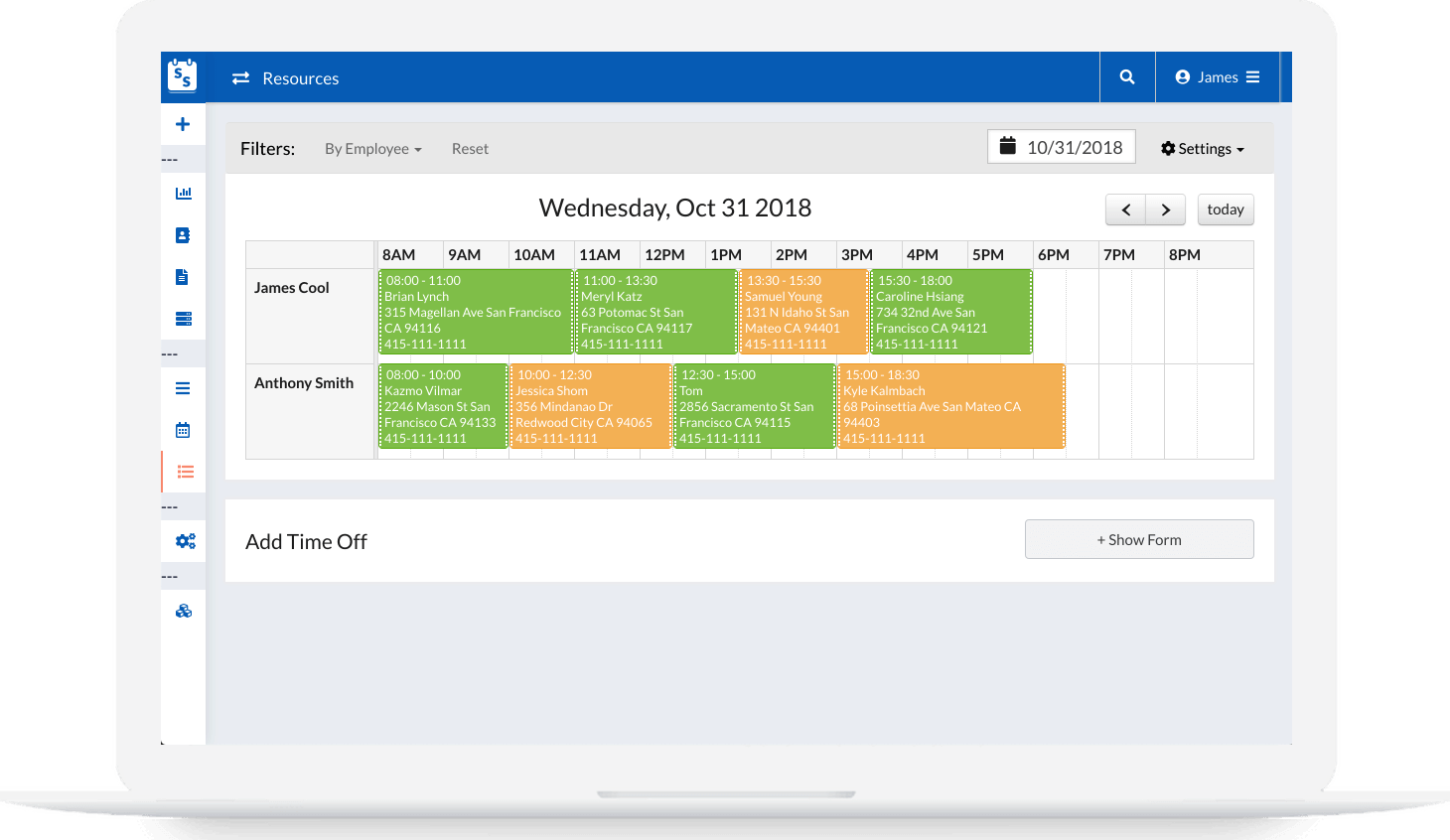 Next on our list of the best handyman invoice software is Scheduling Suite.
As their name suggests, Scheduling Suite is primarily a service scheduling software. They have a customized version of all of their software for several different industries, including handyman services.
Beyond this, Scheduling Suite's handyman software incorporates several other job management features, such as:
Secure payments.
Customer tracking.
Invoicing.
Their invoicing feature produces and tracks customer invoices, which allows you to follow the status of each customer's payments.
What's more, is that Scheduling Suite is currently free. The company claims that they will always offer a free version of their software, but plan to add additional paid features in the future.
As mentioned, Scheduling Suite's power lies in their job scheduling capabilities. If you're looking for handyman scheduling software, then Scheduling Suite is the solution for you.
However, if your main concern is improving your invoicing process, their features might not satisfy the needs of your business.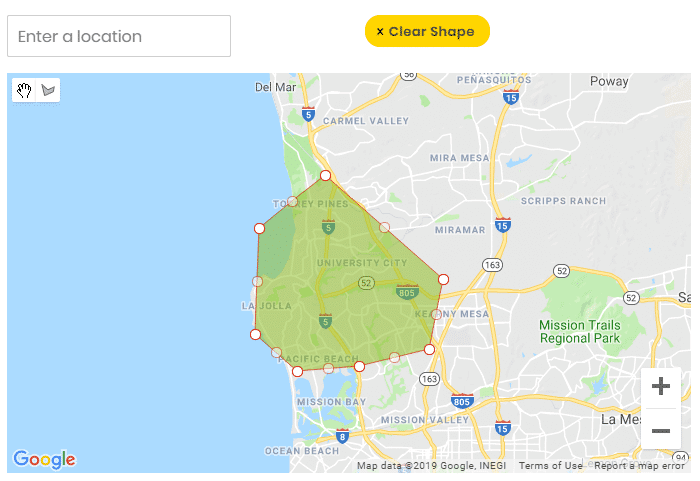 Next, we have Workiz.
Workiz is a professional estimate, scheduling, and management software meant for field service businesses. They claim that businesses who use their handyman software increase their revenue by 22%.
One of Workiz's key features is the Zoom integration. This feature allows you to give estimates over video when you're unable to make it to a customer's home.
Workiz's other features include:
A color-coded drag-and-drop calendar.
Online booking for your website, Yelp page, or Facebook page.
Ability to create custom estimates, then assign and track the job's progress.
Location tracking for your techs.
QuickBooks integration.
With Workiz, you can change your estimate to "won" then easily convert it into an invoice. However, the real advantage is their online payment option.
Workiz has its own in-house handyman pricing software called WorkizPay, making it easy to get paid in the field. You have two choices when it comes to customer payment:
Payment on the spot with card scanning.
Send customizable invoices by email or text that your customer pays online.
If you send your customer an invoice by email or text, Workiz allows you to keep track of it and quickly scan the status of all your invoices in one glance.
The one aspect of Workiz that users struggle with is that their scheduling capabilities are not as seamless as other software companies. This is something to keep in mind if you're looking for a solution that lets you create invoices from your service schedule.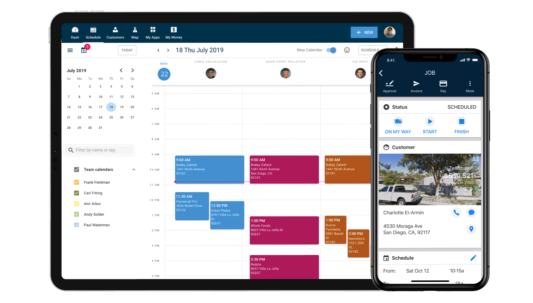 The next company on our list of best handyman invoice software is Housecall Pro.
Don't be fooled by their name—Housecall Pros isn't just for businesses that conduct residential services. This company's software is built for numerous industries, including handyman services.
Housecall Pro's key features include:
Scheduling.
Dispatching.
Online payment collection.
Improved invoicing.
Housecall Pro's handyman invoicing software lets you produce detailed invoices in just a few steps. Create accurate and professional-looking estimates, then once the job is complete, instantly convert your estimate into an invoice with just a few clicks.
This process lets you present invoices to your customers in the field. Better yet, customers can even pay you on the spot using quick online payment options.
One downside to Housecall Pro's handyman invoicing software is that they don't have customizable invoicing templates. In fact, some users claim that the included template's design is not optimal for their business's invoices.
Here's what a user had to say on Software Advice:
Cons: Well just like most apps i really don't like how you're not able to use it offline and i don' tlike how the invoice is just generic, would love if access to customize to your choice would be given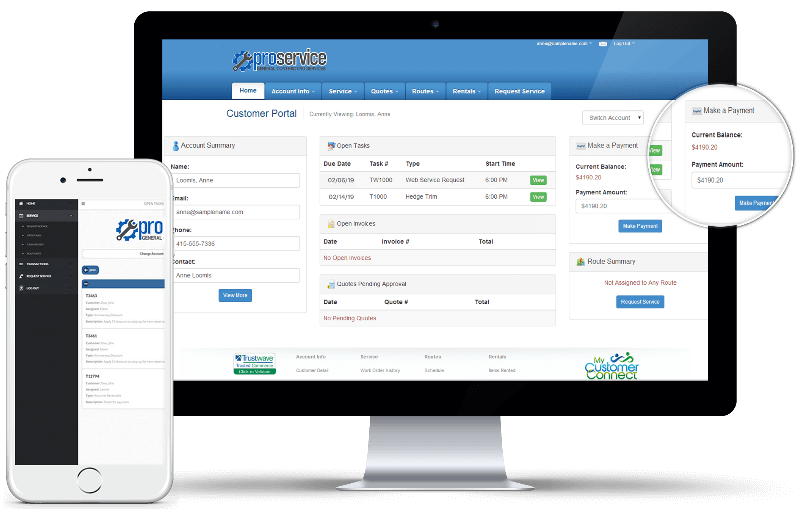 Next up, we've got The Service Program.
The Service Program is a QuickBooks add-on software for service and maintenance businesses, such as handymen.
Their software is compatible with QuickBooks Desktop and QuickBooks Online, meaning that QuickBooks users can enhance their experience with this handyman management software.
Some of the key features of The Service Program software include:
Compatibility with iPhone and Android devices.
Optimize routes by area, day, and tech.
Custom portal for quick payments.
The Service Program lets you generate invoices and quickly post them to QuickBooks, from where you can instantly print them out. Your invoicing options include:
Choose your billing frequency: by day, week, or month.
Invoice on any billing cycle and before or after the job is complete.
Bill per hour of use.
Some users have expressed concerns over The Service Program's customer service support response time. However, they offer a number of resources on their website to help you out.
Here's what a user had to say on Software Advice:
Cons: The software does have glitches like any other software. Normally glitches are resolved within the current day but sometimes small issues linger for a few days.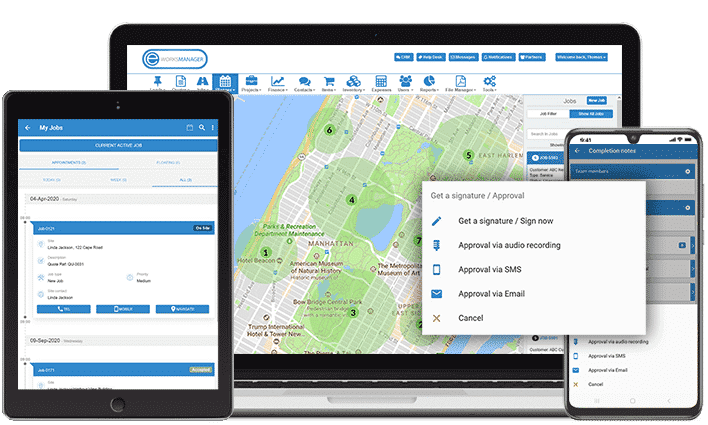 Eworks Manager is a field service management solution built for the trade service industry. They offer a 12-week onboarding process to ensure that you get up to speed quickly and get to work sooner.
With Eworks Manager, it's easy to manage leads and customers thanks to their numerous features, including:
Route planning and optimization used to automate scheduling.
Easy conversion of leads to estimates, work orders, or sales appointments.
The ability to customize estimates with your brand and logo.
Integrates with QuickBooks, Sage, and Xero.
Eworks Manager cost estimating software lets you generate estimates individually or by group to submit to your customers by email. You then have the option of converting them to work orders or straight to invoices, all in just one click.
Their full-feature invoicing component not only allows you to manage your customers but also gives you a way of managing your suppliers and banking, all from one system.
Eworks Manager takes a more general approach to their software than others in this list of best handyman invoice software. As a result, you may find that Eworks Manager lacks a few capabilities that are unique to the handyman industry.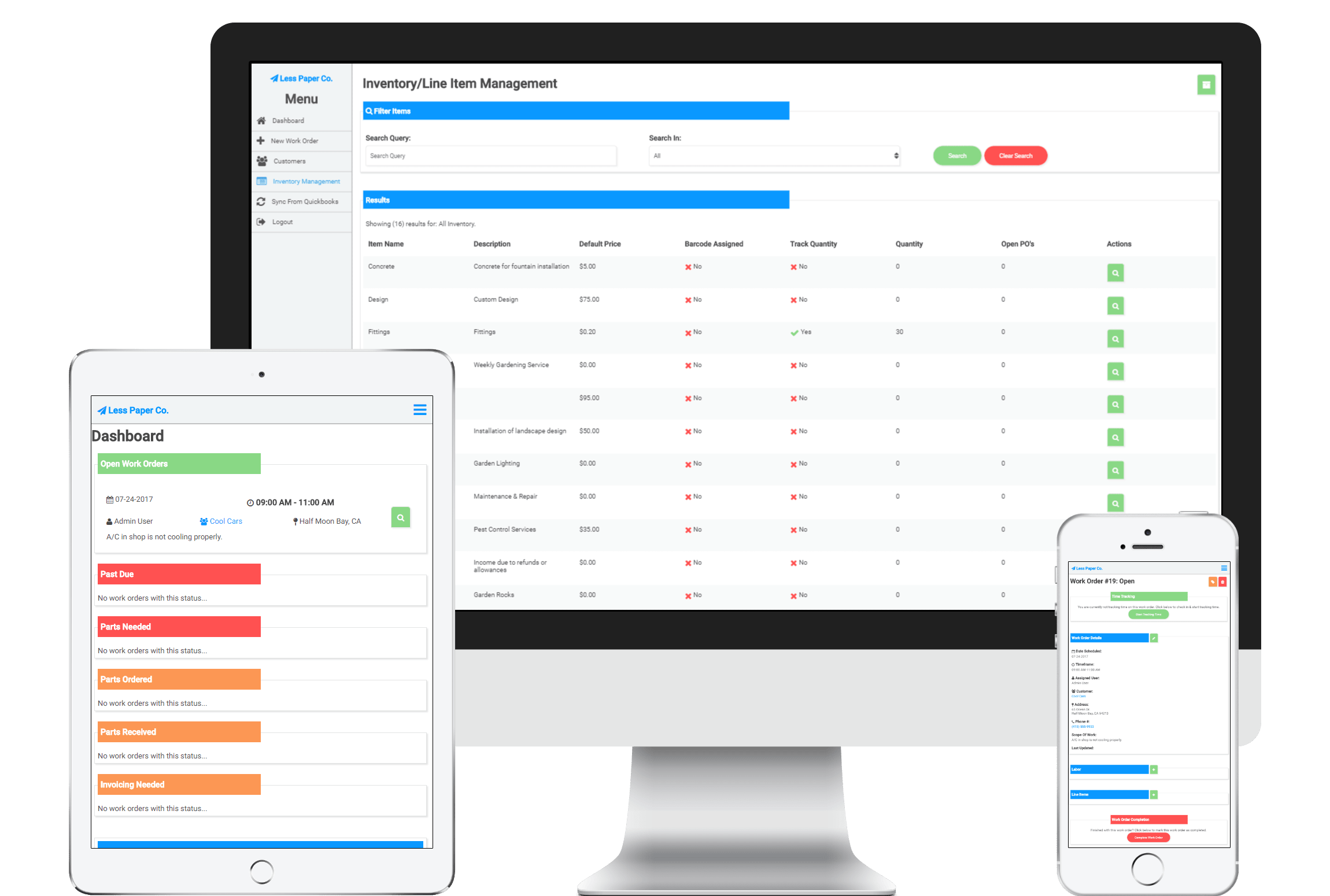 Less Paper lets you manage your business from any device to ensure that your office and field staff always have the information they need.
As a handyman, oftentimes, you work a job that requires you to order extra parts, which is one more thing to keep track of.
One of Less Paper's unique features is its inventory management integration. This allows you to view part availability plus pricing and keep track of the status of ordered parts. On top of this, Less Paper informs you when your parts arrive.
Less Paper's other features include:
View customer location through maps and Google Street View.
Automatic dispatching of emergency calls.
Integrations with Google, QuickBooks, and more.
Their invoice and billing capabilities are comparable to the best handyman invoice software options above, allowing you to turn work orders into invoices and track payment every step of the way.
Less Paper isn't industry-focused, so their software isn't specially made for handymen. Nonetheless, all of their features are customizable, so you can modify Less Paper to suit the needs of your business.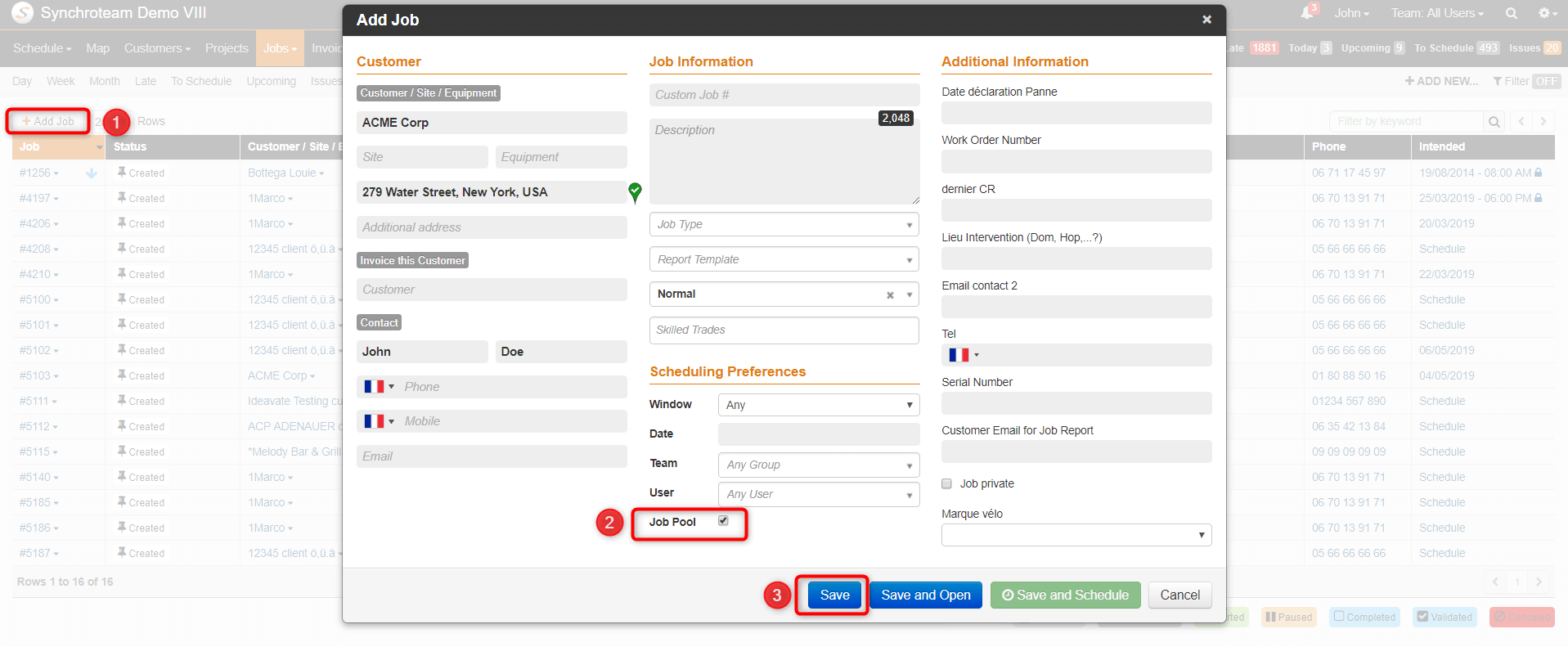 Let's talk about Synchroteam's handyman management software.
Synchroteam allows you to schedule jobs and dispatch teams efficiently. Their software makes everyday business operations simpler by :
Assigning tasks to your team as new work orders come through.
Managing inventory and order statuses.
Easier tracking with a built-in GPS tool.
Synchroteam lets you generate and send invoices in seconds. Start by using their invoicing tool to create estimates. Then, turn your estimates into invoices, which you can revise as needed.
Use Synchroteam to track your invoices and ensure that payments come through on time. Connect your invoices to your other invoicing tools, such as QuickBooks and Sage for a seamless workflow.
One thing that sets Synchroteam apart is the ability to transform field reports into invoices. Your team can report on jobs and services while they're still in the field. Once done, they can instantly convert this report into an invoice.
Although Synchroteam lets you take control of your field service management, some users claim that the mobile app's technician permissions are too limited for their business.
Here's what a user had to say on Software Advice:
Cons: Lots of small kinks I can work with, but really frustrating that you can't send a job report from the field (you can choose to automatically send them in a notification, but there's no way to automate or use the mbile version to send reports contingent on receiving payment). Technicians are so limited in their permissions which is not ideal for empowered employees or small shops. For payment options, invoices don't have an option to accept credit cards except keying them in on the backend.
This is something to keep in mind if you want your techs to be able to modify work orders in the field.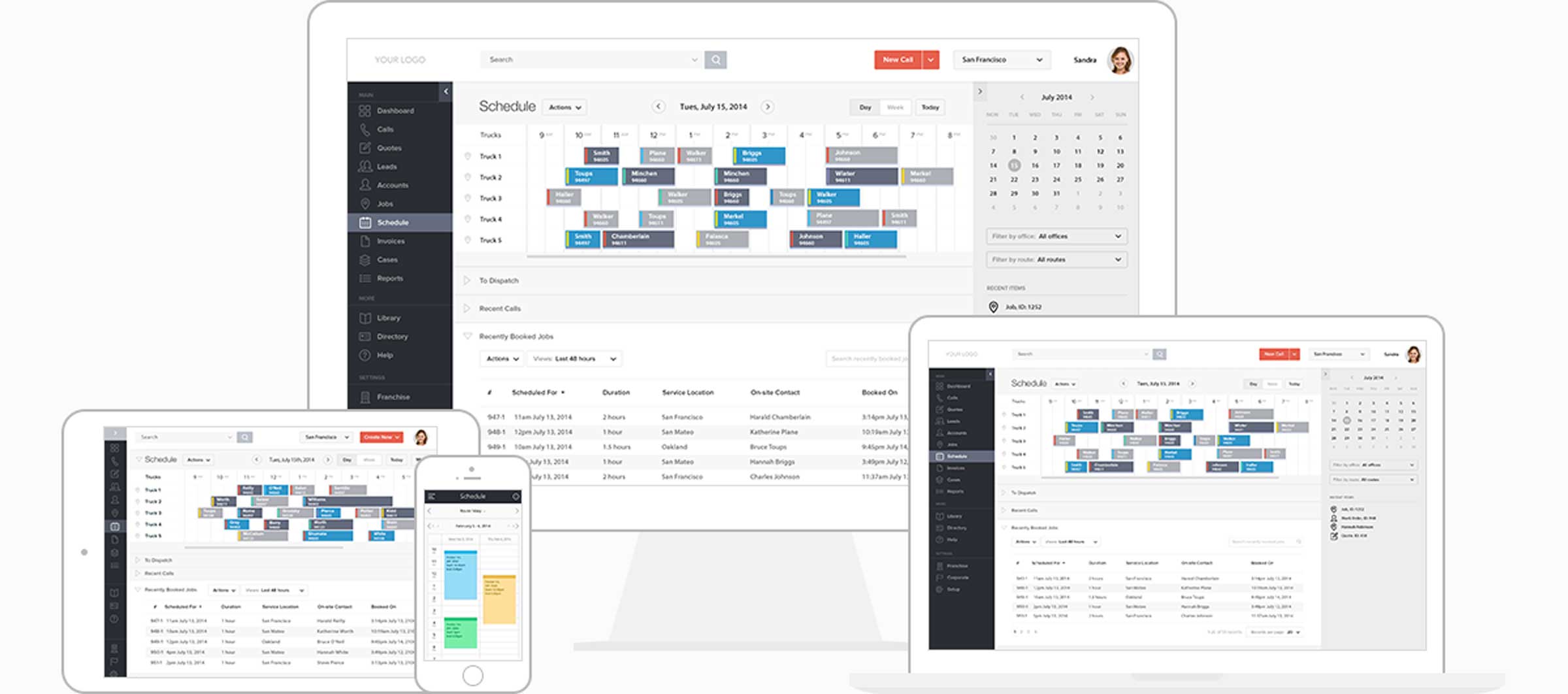 Vonigo lets you manage every aspect of your handyman business from one platform, which is why it's one of the best handyman invoice software companies.
Use Vonigo to manage several of your workflows, such as:
Service scheduling.
Online quoting.
Automated routing.
Payment collection.
Inventory management.
A key feature to point out is that Vonigo tracks inventory as you add new items to your work orders and invoices. Further, their on-screen signature features make it easy to capture customer signatures in the field.
With Vonigo, you can create branded invoices that suit your business. Convert your work orders into invoices in one smooth process, eliminating manual data entry.
Payment is also simpler with the ability to process credit card payments on-site, in the office, or online. No need to switch from your current merchant account as Vonigo's integration feature has you covered.
Some users suggest that Vonigo's capabilities are geared towards quote-based service companies, which is something to keep in mind when determining if this solution is a good fit for your handyman company.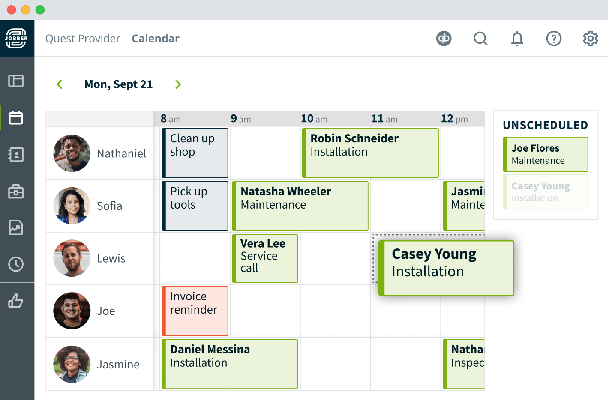 Last but not least on this list of best handyman invoice software is Jobber.
Jobber offers field service software solutions for many trades and service industries, including invoicing software.
Jobber's field services invoicing software automates your invoicing, eliminating several tedious and time-consuming steps. If business is booming and your techs complete multiple jobs a day Jobber's batch invoicing feature is worth a look.
When you complete a job, Jobber automatically generates an invoice to send to your customer. Better yet, Jobber can automatically charge your regular customers' credit cards and immediately send them a receipt.
If your customer isn't a fan of email, don't worry. Jobber can queue up invoices with envelope labels, so all you have to do is drop them off at the post office.
One of the key features of Jobber's invoicing software is the ability to automatically follow-up with customers on overdue payments. This ensures that you never lose track of your payments.
One of Jobber's weak points is their calendar, which does not allow a monthly view when using the mobile app. However, you can sync Jobber with Google Calendar to enhance the app's ability.
Image credit: Ivan Samkov via Pexels