Top 12 best junk removal business software
Looking for the perfect tool to shorten time-consuming tasks in your junk removal business? We've got you covered!
Getting rid of unwanted items is a hassle for most people, so junk removal is a booming business. However, running a successful junk removal business takes more work than picking up people's trash and recycling it. Fortunately, the best junk removal business software saves you time on tasks such as:
Inventory control.
Scheduling.
Invoicing.
In this article, you'll learn how the best junk removal software streamlines your business processes and drives your success.
The best business software for other trades
Not looking for the best junk removal business software? We've got you covered. You can find the best software solutions for other trades and industries here:
Understanding junk removal business software
Junk removal software involves digital tools that assist in various aspects of your business.
The best junk removal business software turns tasks such as creating job schedules and making invoices into one smooth workflow.
Waste management software vs junk removal business software: What's the difference?
While both trades deal with waste disposal, there are some fundamental differences between waste management software and junk removal software.
Waste management businesses remove waste materials, protect the environment, and help client companies run smoothly. Meanwhile, junk removal businesses remove unwanted objects or items that the owner doesn't want anymore.
However, most field service software works for waste management and junk removal companies because the two types of work have many things in common. For instance, both trades need software that handles invoicing and time tracking, which is one of the top features of junk removal software.
Let's take a look at other key junk removal software features.
Key features of junk removal business software
Different junk removal business software solutions offer different features. But while your needs may vary, there are a few features that the best junk removal business software options have in common.
Team scheduling and routing
Scheduling and dispatching your technician teams is time-consuming work. What's more is that if you're dealing with multiple junk removal calls per day, you might accidentally schedule clashing appointments for your teams.
Junk removal business software automatically assigns teams to job sites, ensuring that you don't double-book your junk removers.
Bookkeeping and cost control
Many junk removal software solutions offer accounting features and pre-filled forms to speed up your bookkeeping process.
Instead of printing paper invoices and sending them out to customers, you can email digital invoices and have clients pay on the spot. Some solutions even let your crew capture customer e-signatures while they're still on the site.
Customer relationship management
Happy customers are loyal customers.
The best junk removal business software stores key information about your clients, such as:
Their contact information.
Their location.
The items they're requesting to remove.
This information enables you to provide personalized service, increasing customer satisfaction. Having it all stored in one place makes providing that excellent customer service even easier.
All of these features lead to junk removal software benefiting your business in several ways.
Benefits of using junk removal software
Implementing junk software provides many advantages for your company. Here are a few examples of how the best junk removal business software transforms your business.
Expand your market
Most field service companies rely on email or phone bookings, which puts the task of responding on your shoulders. In contrast, junk software allows you to take online bookings and automatically creates jobs based on your available schedule.
While it's a simple change, many customers will appreciate the extra convenience and faster booking process. People who are too busy to call or email you for bookings may decide to book through your website or app.
Optimize team scheduling
Schedule transparency is essential to your field service business if you want to avoid overworking your team or accidentally double-booking appointments. Junk removal software lets you see each team's schedules to know who's fully booked and who can take on extra jobs.
Optimizing team scheduling also means you're less likely to run into unnecessary overtime, reducing your hourly labor cost and potentially increasing your profit margin.
Track work progress in real-time
The best junk removal business software solutions have real-time GPS tracking that lets you see where your teams are throughout the job, from junk collection to waste disposal. This allows you to schedule them to new junk removal jobs that are close to their current location.
What's more is that a solution with time tracking features allows you to monitor your team's time on the job and gives them the power to submit their hours for simpler invoicing and payroll.
Considerations before buying the best junk removal business software
Implementing any kind of business management software is a commitment. To ensure you get the most out of your chosen software, you consider these factors.
Your company's needs
When choosing the best junk removal business software, your company's needs should be your priority. Think about your junk removal business's pain points and choose the software that addresses them.
You must also consider whether you're planning to scale your business. If you want to expand your company in the future, find software that grows with you.
What your customer expects
While your customers won't experience most of the benefits directly, they're also affected by your software.
In addition to finding software that improves your customer management, if your customer base expects online booking or on-site payments, look for software that caters to those needs.
Post-purchase support
The best junk removal business software isn't a one-and-done deal. Choose a software company with great after-sales services that won't leave you high and dry if you encounter problems with your software.
This support can include:
Onboarding and tutorials.
Customization.
24/7 support.
Compliance with regulations
Junk removal businesses must comply with local environmental regulations to ensure safe trash removal. This usually involves some tedious paperwork.
If filing the necessary documents takes up a chunk of your time, consider getting junk removal software that guarantees comprehensive compliance with relevant regulations.
Now that you know all about junk removal software, it's time to choose the best one for your business.
The best junk removal business software
Choosing the perfect software solution is a challenge when many options are available. To help you out, here's a list of the best junk removal business software solutions.
Method:Field Services
Wastebits
Trash Flow
Haul-IT
WasteWORKS
Routeware
Waste Logics
Webaspx
Workiz
FieldAware
Fieldd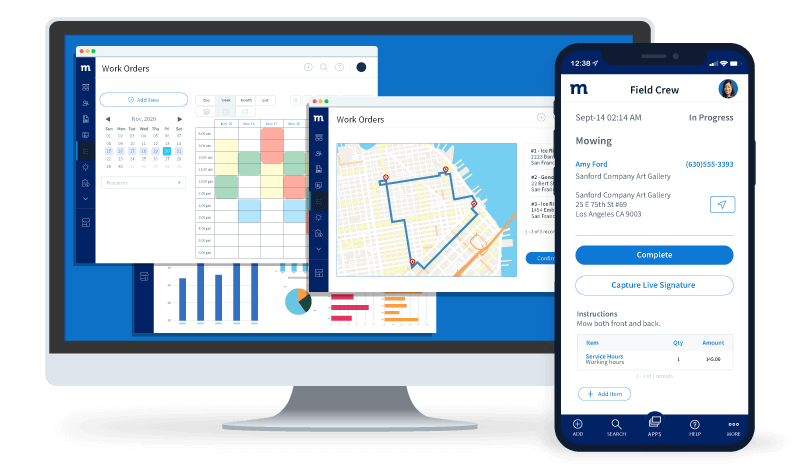 To kick off our list, we have Method:Field Services.
Method:Field Services enables you to provide better service with powerful customer relationship management (CRM) tools. The solution's two-way QuickBooks sync prevents double data entry and ensures your crew stays up to date with job changes.
Here are some of Method:Field Services' other key features:
Customer management: Record your customer's address and junk removal history to provide customized service and turn one-time bookings into loyal customers, all from one place.
Seamless ispatching: Create work orders in a few clicks and dispatch your teams as quickly as possible with real-time scheduling.
Work order to invoice flow: When the job's done, convert work orders into invoices for quick payments.
Check out the video below to learn more about this amazing software and see why it's the perfect solution for you:
Plans and pricing
Method:Field Services starts at $15 per user per month. You can get started by booking a no-commitment free trial.