Top 13 best locksmith software companies

Looking for the right tool to run your locksmith business? Check out our list of the best locksmith software.
For those in the locksmithing business, you can expect more business than ever in the coming years thanks to:
Fewer people pursuing trade careers.
A booming housing and remodeling market
With higher demand and a shortage of locksmiths, there's only one way for your locksmith company to succeed: with the best locksmith software on the market.
As such, more and more home service and trade contractors are investing in technology to streamline business operations and ramp up productivity. A field service management software solution, for example, can automate and speed up a wide range of processes, from scheduling jobs to inventory management.
In this guide, you'll explore the 13 best locksmith software available today. By the end of this list, you'll be able to find the right field service management app for your business.
Software solutions for other field service industries
Not in the locksmith services industry? Whether you manage a small cleaning services business or own a line of plumbing companies, there is a solution for you. Check out these links to find the best platforms for everything from residential to commercial service businesses.
What is locksmith software?
Locksmith software is field service management software with features designed specifically for the locksmith industry. The best locksmith software solutions automate daily tasks, minimize scheduling conflicts, reduce logistical issues, and enhance productivity for locksmith businesses.
What are the benefits of using locksmith software?
The best locksmith software changes how you do business — empowering you and your employees to work faster and smarter. Especially if you choose a cloud-based field service management app.
Here are the improvements you can expect to bring to your business with the best locksmith software:
Provide excellent customer service: A dedicated customer database makes for faster transactions, fewer errors, and more personalized customer service all around.
Better logistical coordination: Managing a mobile workforce can be tough, especially when keeping track of employee schedules, monitoring job progress, and communicating last-minute changes. This can be made easier with a mobile app for field workers. These solutions often come with fleet tracking systems, financial management tools, and similar features.
Minimize double data entry: Many field service software seamlessly integrates with accounting software like QuickBooks Online. This saves your accounting department from hours spent doing manual data entry and minimizes the risk of human error.
Boost productivity: Antiquated business management methods can eat up hours of your day and result in thousands of dollars in losses. The best locksmith software shaves hours off admin time, helps you win more clients, and boosts your sales by automating daily tasks and digitizing the bulk of your paperwork.
Ensure data security: Don't let sensitive information on key codes and code cards get into the wrong hands. Some fleet management software, especially those made specifically for locksmith businesses, have features to maintain the privacy and security of a business' customers.
What are the common features of the best locksmith software?
Managing a locksmith business means staying on top of a lot of moving parts. The best locksmith software can help you do this by providing standard features like:
Customer management tools to keep track of all relevant customer details like contact information, service history, and record of payments in one central customer database.
A calendar and field service dispatch software lets companies with technicians keep track of field employees, schedule jobs, communicate with field staff, and send real-time updates to everyone involved.
Field service management accounting software. Some software solutions let users send invoices from their mobile devices, sync all relevant forms to QuickBooks and other accounting software, and provide mobile payment portals to customers.
GPS tracking and route optimization tools help workers plan the fastest route and give office managers a way to track technician movement.
An inventory management tool for keeping stock of all tools, equipment, key blanks, etc.
The best locksmith software provides you with a key management system. This is a tool for locksmiths access to key and lock manufacturers and other relevant suppliers.
Choosing the best field service management software for your locksmith business
When shopping for any business management solution, it helps to identify your pain points. That way, you can narrow down your options to software solutions that address your specific needs.
Here are some questions you can ask yourself when shopping for the best locksmith software:
What are the main causes of employee headaches? What processes can be made better by digital tools?
Is customer management an issue? Do we get negative reviews and feedback on our customer service?
Do we lose jobs and clients to double-bookings and scheduling conflicts? Is our way of manually tracking field techs' schedules slowing us down? Do we need more intuitive tools for scheduling?
Do we spend too much time on data entry? Do we waste time and money on paper documentation and data entry errors?
Do we often have discrepancies in inventory records and stocks?
Do our customers complain about or request different payment methods, like bank transfers or credit card payments?
Some of the best locksmith software are
Now that you know what to look for and how to choose a locksmith software, it's time to find the key that will unlock your business' potential. 13 of the best locksmith software options:
Method:Field Services.
Tradify.
Jobber.
FieldPulse.
ServiceM8.
ServiceTitan.
GeoNext.
SendWork.
Service Management Entreprise.
OctopusPro.
WorkWave Service.
Fieldd.
Quickbase.
Method:Field Services is a cloud-based field service management solution that "goes where you go". The customizable field service solution simplifIes your business operations, helps you respond to your customers sooner, and complete jobs more efficiently.
What makes Method:Field Services the best locksmith software on the market is the following digital tools:
Route planning, on-site tracking, job estimation, and payment collection from anywhere, any time with a mobile app.
Seamless and automatic QuickBooks sync eliminates clutter, manual data entry, and clerical errors.
A flexible platform with unlimited personalization that lets you build a custom solution tailor-made for your business' needs.
Plans and pricing
This complete platform costs $15 per month per user. Plus, Method:Field Services offers a free trial if you can't commit just yet.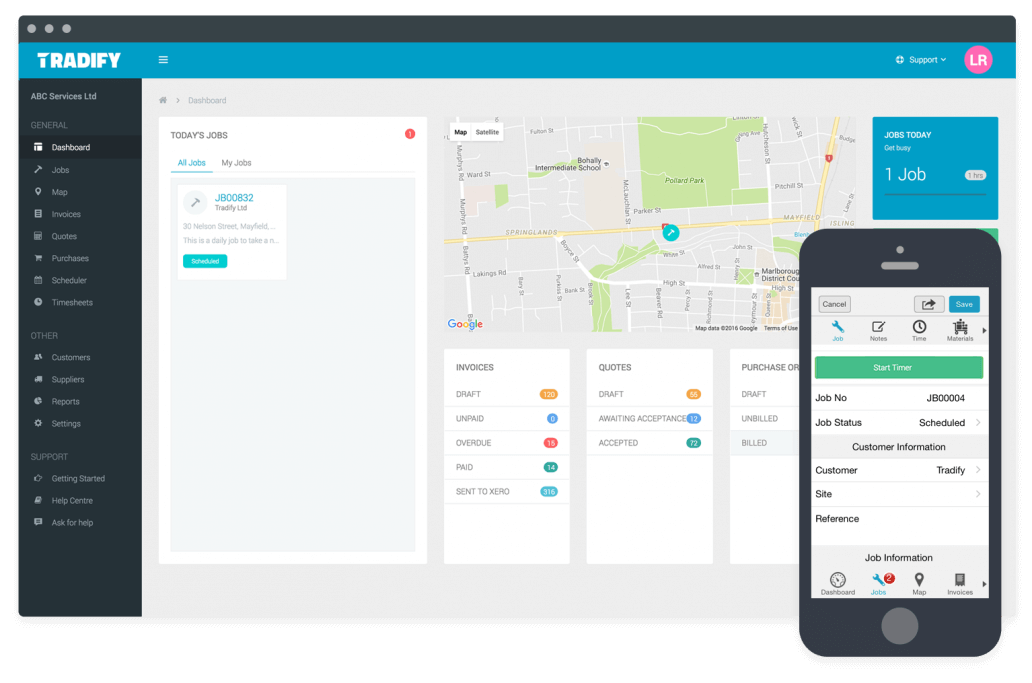 Tradify is an all-in-one job management software made specifically for trade service contractors such as electricians, plumbers, HVAC technicians, cleaning services providers, and landscapers. It's no surprise, then, that they offer one of the best locksmith software as well.
With Tradify, you can:
Use an intelligent scheduling and dispatching platform to gain real-time insights on employee schedules, job statuses, locations in the field, etc.
Create and send invoices from your phone, automate payment follow-up emails, and allow online payments.
Track employee hours digitally and eliminate physical timesheets.
Plans and pricing
A subscription to this all-in-one job management software costs $29 per month per user. While the company does not have free trials posted on the website, it does offer a free 45-minute demo to anyone who requests it.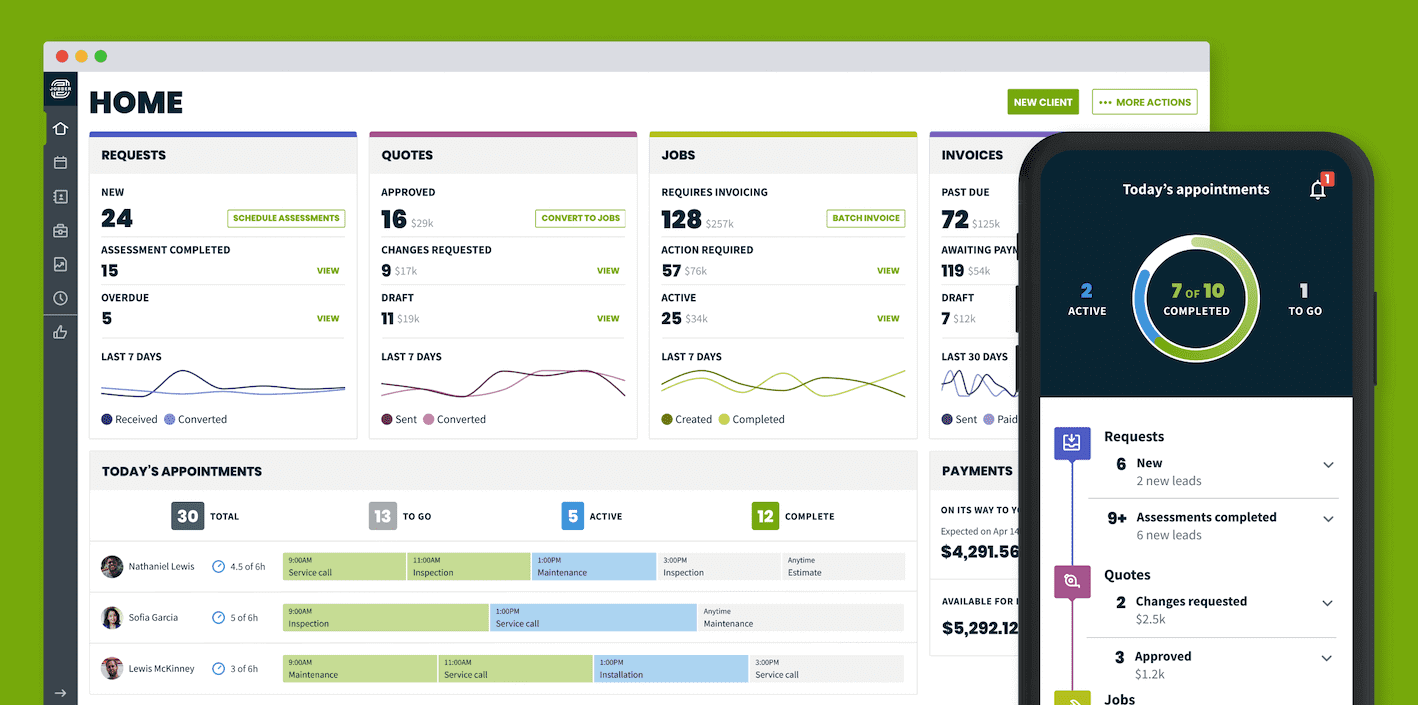 Jobber is a robust field service management software that helps businesses offer more value to their customers. The software makes each part of the customer experience more intuitive and convenient through:
Online booking via your website or Facebook page.
Automated follow-up emails or text messages, appointment reminders, and booking request notifications.
Email and postcard marketing tools powered by Mailchimp.
Plans and pricing
Jobber offers three plans:
The Core plan at $29 per month for 1 user.
The Connect plan at $99 per month for up to 7 users.
The Grow plan at $199 per month for up to 30 users.
Jobber offers a full-access 14-day free trial period.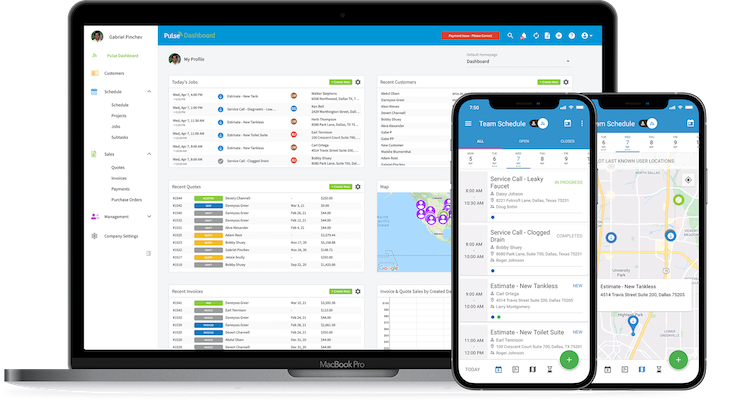 FieldPulse is a leading all-in-one software solution that aims to "take the paper out of work." FieldPulse serves over 50 industries and caters mainly to small businesses.
Aside from the standard customer relationship management and service business estimating software, FieldPulse offers the following features:
Online booking to allow customers to schedule jobs on your business Facebook page and website.
A "Good, Better, Best" feature displays tiered product pricing options to customers.
Integrations with third-party apps like Square, Zapier, NiceJob, and QuickBooks.
Plans and pricing
FieldPulse's complete service management solution costs $65 per month for the first user. It costs an additional $20 per month per manager and an additional $10 per month per service technician. The best locksmith software solution provider also offers a 7-day free trial.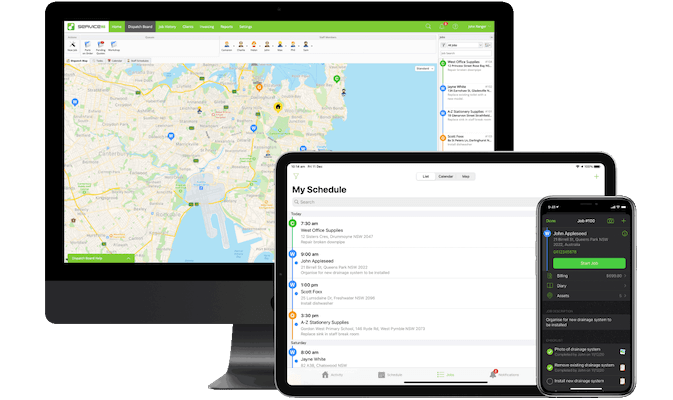 Another cloud-based field service software platform that caters to small businesses, ServiceM8 provides a range of solutions from job management to dispatching and accounting.
After a quick and simple setup, locksmith businesses can enjoy the following features:
A mobile app for field technicians that records job notes, takes and shares photos and videos, and creates checklists to ensure consistent and professional service.
Real-time tracking for customers. Using GPS technology, this best locksmith software provides customers with your technicians' ETA and a link to a live map/location.
On-site invoicing, signature, payment processing, and payment collection.
Plans and pricing
ServiceM8 is one of the most affordable software solutions on our list of the best locksmith software. The Lite plan starts at just $9 per month for unlimited staff, while the Starter plan costs $29 per month, the Growing plan costs $79 per month, and the Premium plan costs $149 per month. Service M8 also offers a free 14-day trial.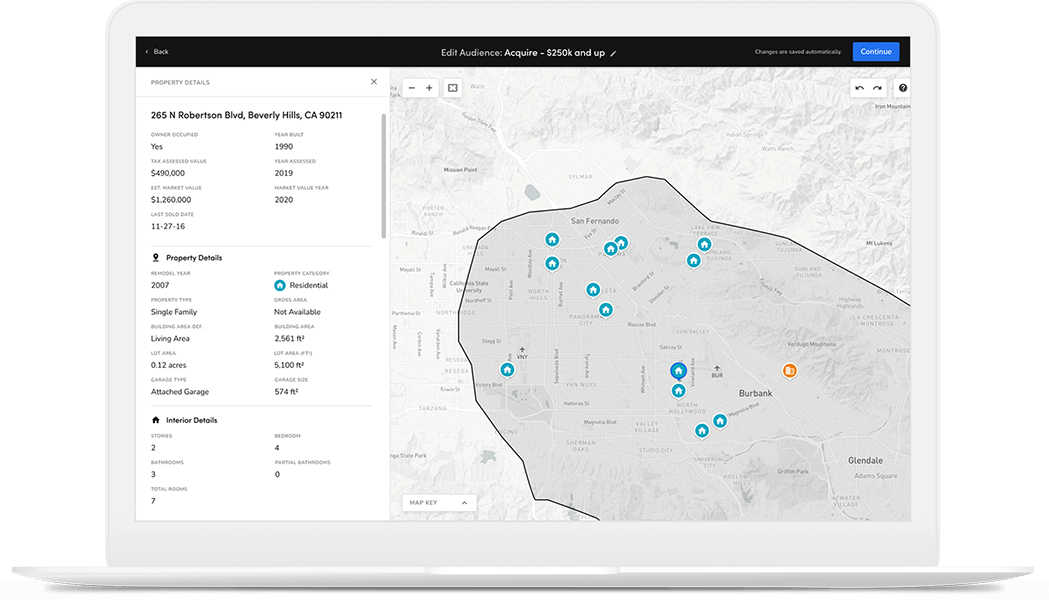 ServiceTitan is another top-rated, all-in-one business solution for trade contractors. While it doesn't have specific software for locksmith companies, its service and replacement software has plenty of features that locksmith businesses can benefit from, including:
A marketing scorecard where you can create and monitor marketing campaigns.
An automatic timesheet tracking for more accurate employee payroll.
Seamless integration with Sage Intacct accounting software.
Plans and pricing
The software company does not provide rates online. Interested parties can request a free demo through the website.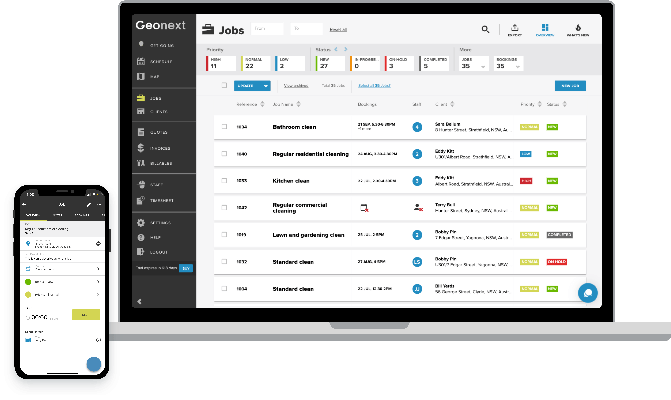 GeoNext is a powerful job management software that aims to save businesses up to 14 hours a week in admin work. Aside from key features like job tracking capabilities, tools for scheduling and dispatching, customer management, and accounting software, GeoNext also allows customers to:
Add site logs and notes for each project. This paperless solution keeps field and office staff on the same page.
Collect photos and signatures from clients and share them among app users.
Use billing and invoicing integrations with accounting software like Xero, Myob, or QuickBooks.
Plans and pricing
The Starter plan costs $15 per month per user, while the Unlimited plan costs $25 per month per user. For those who can't commit to just yet, GeoNext offers a 14-day free trial.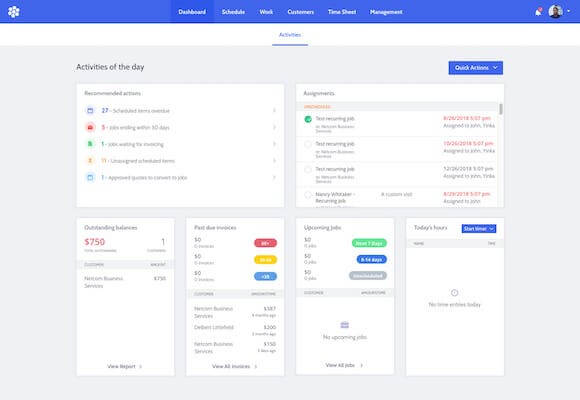 SendWork is one of the best locksmith software for contractors with independent or small to medium-sized businesses. This all-in-one software solution provides much of the same primary features as the others on this list, along with:
The Provider App that allows mobile workforces to manage every aspect of their business, from operations to customer relations, from their phones. A plus is that this mobile software allows real-time field worker communication.
Credit card processing features and mobile payment capabilities from a range of providers like Venmo, Cash App, Zelle, Paypal, ACH, and more.
Automatic lead generation that hooks you up to new clients in your area.
Plans and pricing
SendWork offers four pricing plans including:
The Independent Contractor plan for $19.99 per month.
Contractor Business Pro 10 for $39.99 per month.
Contractor Business Pro 20 for $139.99 per month.
Contractor Business Pro 50 for $339.99 per month.
The first two plans come with a 14-day free trial.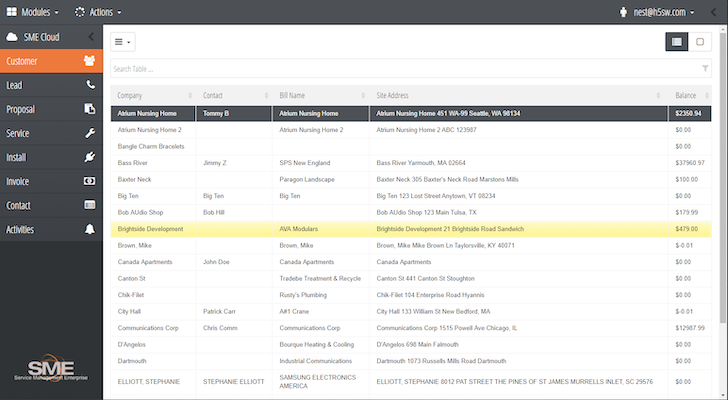 High 5 Software SME is the creator of Service Management Enterprise (SME), a software designed precisely for trade businesses. SME's seven modules include sales, customer management, service and installation, receivables, inventory, assets, and help desk.
Some key features of this best locksmith software option include:
Sales automation keeps track of each stage of the sales process, from contact management to sales forecasting.
A just-in-time inventory control system that eliminates waste and overstocking.
A customer equipment management system lets you find equipment based on its serial number or item number and build work orders for said equipment.
Plans and pricing
Pricing is available upon request.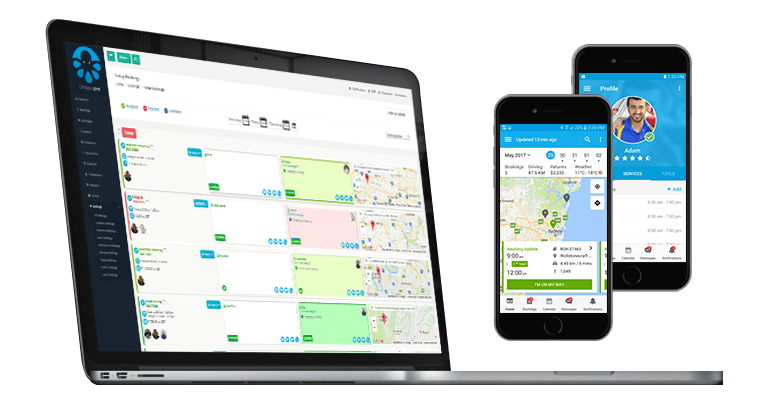 Compared to other service management software solutions, OctopusPro stands out because it caters to a wide range of businesses across various industries, from trades and services to education, entertainment, and transportation.
Locksmith service professionals can use the customizable software to:
Keep and share photos, PDFs, and other essential documents with a secure and easily accessible cloud-based solution.
Let customers book appointments online through a simple platform.
Create invoices on-site for faster, pain-free transactions.
Plans and pricing
The Starter plan costs $29 per month, while the Establish plan costs $50 per month per admin and $5 per month per field worker. Pricing for the Corporate plan depends on your staff size and is available upon request.
You can start a 14-day free trial to try this best locksmith software out.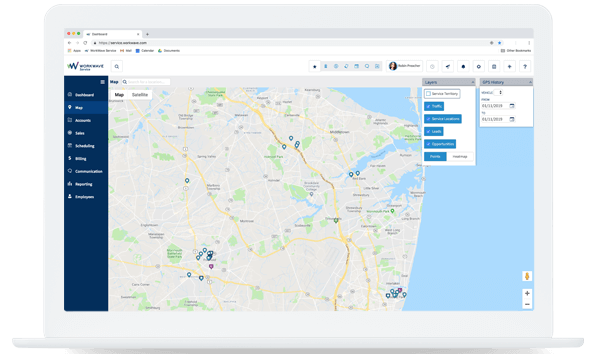 WorkWave is a CRM and field service management software that maintains several products under its name, including PestPac and a fleet management platform called RouteManager.
If you're looking for locksmith dispatch software, go for WorkWave Service. Its key features include:
Customer management software for storing customer details, service history tracking, payment history monitoring, and more to help commercial field service businesses deliver fantastic customer service.
You can use business reviews and service reviews platforms to request reviews and surveys from customers. This helps you identify pain points in service, boost credibility, and gain 5-star service reviews from customers.
A comprehensive business tool that automates reports and graphs for monitoring business performance.
Plans and pricing
WorkWave Service provides free demos upon request.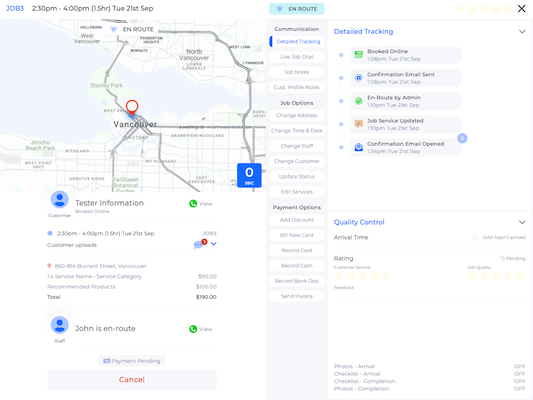 Fieldd automates customer management, scheduling and dispatching, accounting, and more like any cloud-based field service management solution.
Fieldd's biggest edge over the competition is its customization and branding potential, making it among the best locksmith software out there. With the Fieldd management tool, your business can:
Use the online booking portal for online payments, messaging, and live job tracking.
Create custom-built software that's branded just for your business. You can customize features like automatic payment reminders, email templates, and customer feedback forms to your liking.
Collect payments on site with a point of sale solution on your field workers' phones. You can also bill customers, send invoices, and insert promo codes while out in the field.
Plans and pricing
Fieldd's Start plan costs $49 per month for 120 jobs. Beyond this, it's $99 per month for 200 jobs, $249 per month for 500 jobs, and $499 per month for 1200 jobs. Fieldd also offers a 7-day free trial.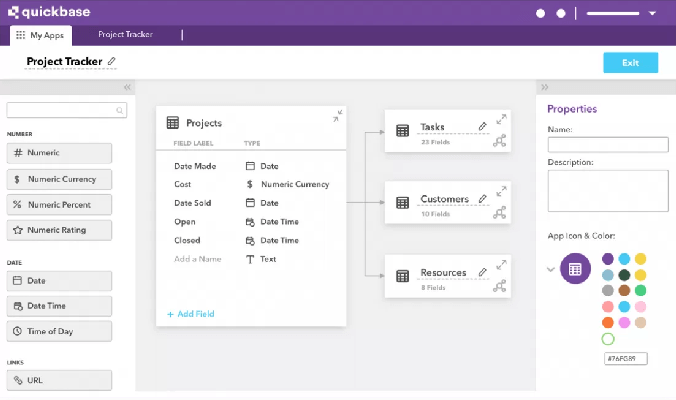 Quickbase is not just a field service management software. It also serves as a management tool for a broad range of industries like healthcare, legal, manufacturing, real estate, and government.
Quickbase for Field Services is a complete toolkit made to help service professionals manage day-to-day tasks, whether they're out in the field or the office. Field service pros will enjoy the following intuitive solutions:
An inventory management solution that monitors inventory in real time.
Secure photo and document storage to ensure that safety and quality protocols are followed.
A mobile app for service professionals and office staff which can provide job details, updates, incident reports, and other important data on ongoing field activities.
Plans and pricing
The Quickbase Team plan starts at $600 per month, while the Business plan starts at $2,000 per month.
Unlock your full potential with the best locksmith software today
Locksmithing is one of the oldest professions in the field service industry. But that doesn't mean your business has to be stuck in the past — especially as more business owners rely on powerful tools to improve productivity and sales.
Don't get left behind; find the best field service software company for your business!
Method:Field Service is a complete service management solution that comes with powerful tools for managing business operations for your entire locksmith business. It allows for real-time syncing with QuickBooks so that you and your team are always on the same page no matter what. Thousands of companies trust Method:Field Services as a complete solution to all their administrative needs.
Get the best locksmith software today with a free trial of Method:Field Services!
Image credit: Maria Ziegler via Unsplash