Top 10 best plumbing software companies

Manage your plumbing business with the best plumbing software. Check out this list of the top plumbing business software on the market.
Modern plumbing management software takes care of the time-consuming tasks in your company's daily operations, such as scheduling appointments and bookkeeping. With the repetitive tasks out of the way, you can focus on expanding your plumbing business.
But with all the options on the market, finding the right plumbing software is a challenge. Fortunately, you'll find your top options in this guide. Read on to find out how to pick the best plumbing software on the market!
Field service management software for other trade businesses
Looking to get field service management software for other trade businesses? We've got you covered. Find our other top software lists right here!
How does plumbing software help you?
In general, plumbing software is an integrated solution that handles various aspects of your plumbing business. Depending on the plumbing software you choose, it can assist in tasks, such as:
Creating invoices.
Recording customer data.
Scheduling job.
The main goal of plumbing software is to save time and money. By spending less energy and labor on repetitive administration tasks, you can concentrate on the real money-making work.
Must-have features in the best plumbing software
While different field service software solutions offer different features, there are some essential features every plumbing software needs to have.
Work order management and scheduling
The best plumbing software lets you breeze through work order creation and plumbing team assignments. Work order management features allow you to create jobs and assign them to your team with a few clicks.
Customer relationship management
Happy clients are more likely to come back for more business, making customer relationship management essential. The best plumbing software does more than record customer details like phone numbers and addresses. It also empowers your sales teams to drive repeat business through personalized and fast customer service.
Digital invoicing
The best plumbing software ensures you get paid in a flash. Digital invoicing systems allow your team to charge customers and receive payments before leaving the job site.
Who benefits most from plumbing software?
The best plumbing software benefits every aspect of your business. Because of the boom in housing construction, the demand for plumbers is increasing.
Plumbing software with the right features saves you time that you can use to find new customers and look for ways to expand your plumbing service.
Benefits of plumbing software for service businesses
While installing a complete field service management system is a major commitment, it also provides benefits that make the effort worthwhile. Here are some key benefits you'll get with field service software.
Eliminate scheduling issues
Job scheduling and time tracking are the most important tasks for field service companies. However, they're also the easiest to get wrong. If you accidentally double-book your plumbers, you'll have to cancel one job, and that could be disastrous to your customer satisfaction.
The best plumbing software solution avoids this by automatically scheduling available teams for plumbing projects.
Track your assets
The inventory management features in plumbing software allow you to track your business assets. You always know where your tools and vehicles are without having to physically check their storage locations.
Centralize communication between business units
Most field service software solutions provide a comprehensive platform for team communication. Instead of shuffling between multiple messaging apps for field and office staff, your plumbing services team can use a single app for all job-related messages.
Organize important documents
Another key benefit of the best plumbing software is digital document storage.
Instead of tedious and time-consuming paper processes, you'll have a convenient database you can search through with just a few clicks.
Centralize your management dashboards
The best plumbing service software suite gives you one dashboard for your entire company. A unified dashboard declutters your day-to-day management activities, which allows you to spend more time working instead of jumping between software apps.
Work from anywhere
Many plumbing service software options offer mobile apps. These apps give your plumbing company the flexibility to receive job notifications and updates from anywhere.
The best plumbing software options today
With literally dozens of plumbing software offered on the market today, it's a challenge to pick the right one. Fortunately, we've got you covered—here are the best plumbing software choices to improve your day-to-day operations.
Method:Field Services
Buildops
FastPIPE
Plans and pricing
FieldEZ
WorkWave Servman
Service Fusion
ServiceTitan
HouseCall Pro
FieldEdge
simPRO
Method:Field Services is an all-in-one field service management solution, and is the best plumbing software for QuickBooks users. Method supports QuickBooks Online and QuickBooks Desktop integrations so you can breeze through bookkeeping.
Here are some of Method:Field Services other top features:
Advanced dispatching tools: Plot the most efficient routes and display your crew's schedule to ensure lightning-fast response times.
All-in-one employee app: Send work orders and get updates from anywhere.
Automatic invoicing: Generate invoices from pre-filled templates and get paid on the spot.
Learn what else Method:Field Services can do for you in the award-winning video below.
Plans and pricing
Method:Field Services start at $15 per user per month. To test out its features, sign up for a one-month free trial.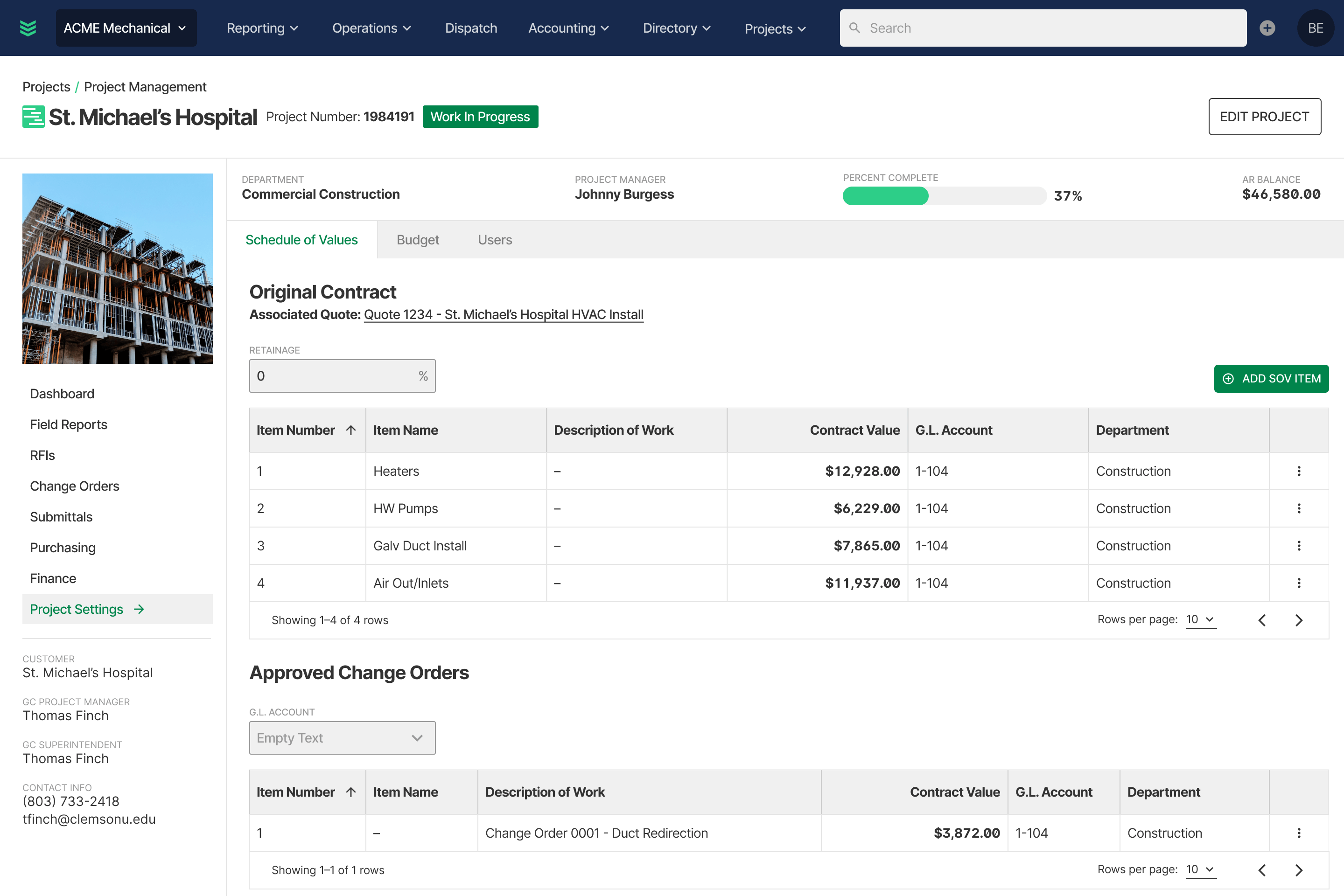 Buildops is an all-in-one solution for field service organizations with a range of CRM tools to manage your customers better. Here is a quick look at its catalog of features:
Automatic scheduler: Assign the right plumbers to every job and ensure their schedules don't clash.
Paperless invoicing and digital price book: Facilitate easier and faster payment processing, benefitting your cash flow and your customers.
Mobile quote dashboard: Send and approve customer quotes from anywhere.
Plans and pricing
BuildOps does not list prices on their website. However, you can book a free demo by contacting the company.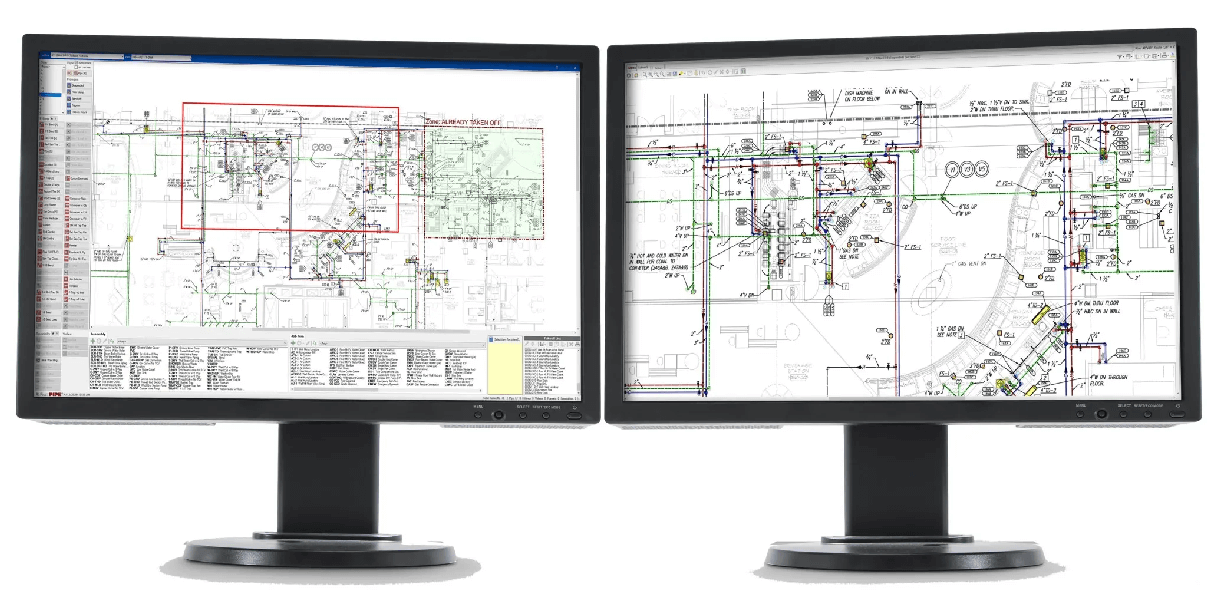 Next on our list is FastPIPE.
If you're looking for software that lets you create job estimates in a flash, FastPIPE is the best plumbing software choice for you. Its range of key features include:
Digital material and labor reports: Break down job details like material costs and labor hours within seconds.
Customizable estimate templates: Create job estimates quicker with custom templates.
Spreadsheet integration: Export your estimates into Microsoft Excel for your customer's convenience.
Plans and pricing
FastPIPE allows plumbing businesses to lease the software or purchase it outright. A full purchase costs $4,995 while a lease costs $225 per month.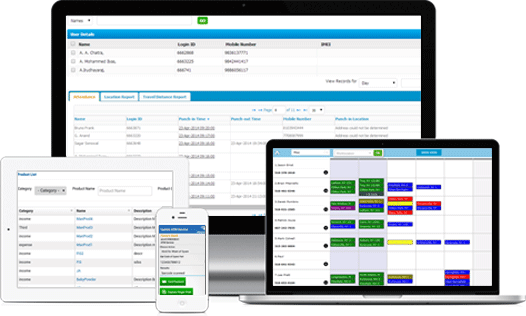 FieldEZ supercharges your efficiency with automatic appointment scheduling and detailed custom reporting templates. This software solution also offers:
Mobile invoicing: Create an invoice and get paid as soon as the job finishes.
Accounting software integrations: Connect FieldEZ with QuickBooks to prevent double data entry.
Customer portal: Let your customers check job progress on their own through a self-service website.
Plans and pricing
FieldEZ has two packages tailor-made for small-to-medium businesses and large enterprises. However, they don't provide pricing information for either plan—you have to contact the company for more information.
Image credit: FieldEZ.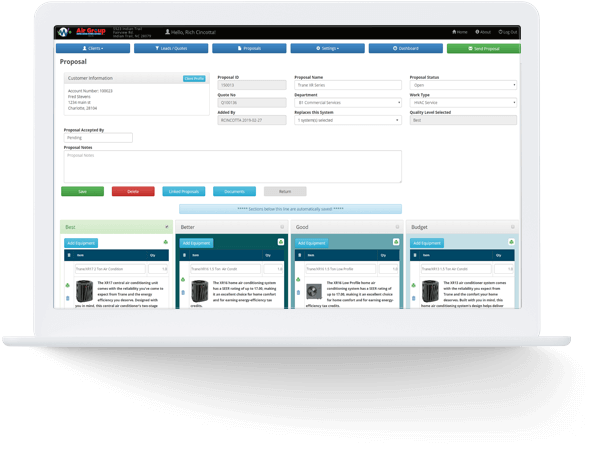 ServMan is mobile-capable field service enterprise software that grows your business with advanced reporting tools.
ServMan's top features include:
Capacity-based scheduling: Assign your technicians to service requests according to their workloads, avoiding clashing appointments.
Real-time inventory management: Minimize resource waste with a digital materials dashboard.
Digital accounting platform: Track your company's finances and ensure nothing falls through the cracks.
Plans and pricing
ServMan's website does not list any pricing information. However, you can book a free demo for a taste of the software's features.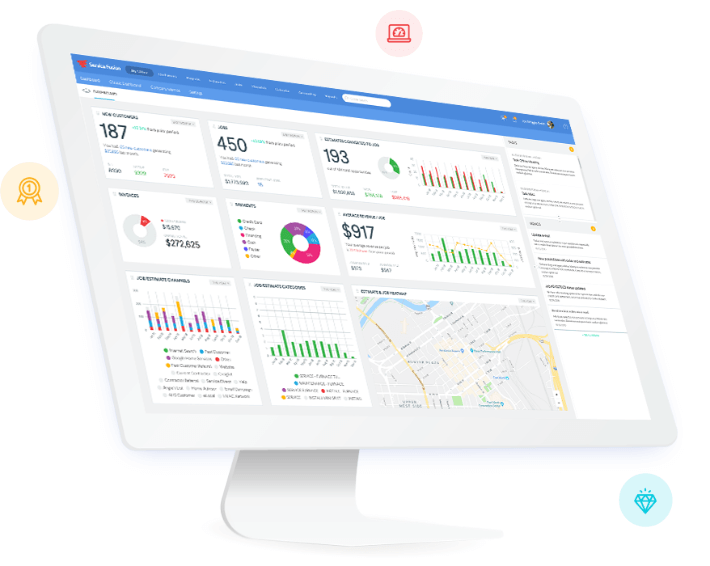 Next on our list of the best plumbing software is Service Fusion.
Service Fusion provides field management solutions accessible from anywhere. It comes with several features, such as:
Fleet and technician tracking: Track your service contractors in real-time and plot the best routes.
Unified accounting and payment solution: Spend less time jumping between multiple accounting software thanks to a unified dashboard.
Plumbing mobile app for field technicians: Allow your field staff to receive job updates on the fly.
Plans and pricing
Service Fusion's paid plans start at $149 per month for unlimited users. Service Fusion also provides a free demo for a tester of its features.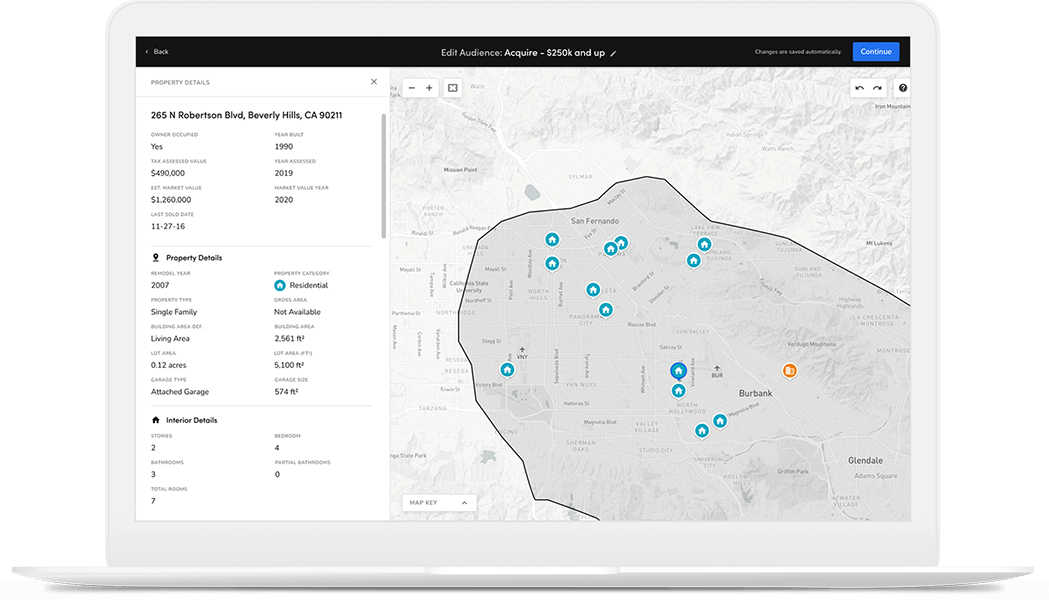 ServiceTitan improves your decision making process by providing the most up-to-date data on demand. In addition to its strong reporting features, it also offers:
Intelligent plumbing dispatch software: Create and modify job details within a few clicks to keep your service contractors productive.
GPS tracking for technicians: Give customers a real-time update on your technician's arrival times.
Marketing campaign tracking: See which of your marketing campaigns are getting you plumbing jobs.
Plans and pricing
ServiceTitan doesn't publish pricing information on their website. However, service businesses can book a personalized demo.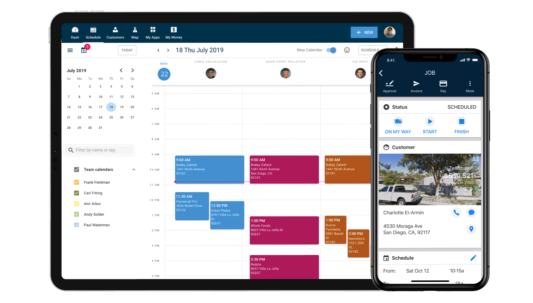 Next, we have HouseCall Pro.
If you're looking to improve your technician scheduling, HouseCall Pro is the best plumbing software for the task.
HouseCall Pro can also grow your business with features such as:
In-app team chat: Centralize communication between your field and office staff with one unified chat app.
Automatic estimate tool: Create job estimates and get your offer accepted in a flash.
Online booking portal: Allow your customers to book plumbing contractors quickly.
Plans and pricing
HouseCall Pro's starter pricing plan costs $65 per user per month. You can also book a free trial by contacting the company.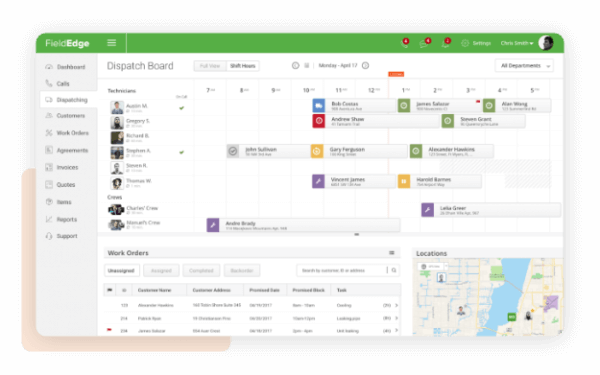 FieldEdge claims to save you over 20 hours per week with its easy-to-use dispatching and scheduling tools.
The solution offers other useful features such as:
Performance dashboard: Get an on-demand overview of your business performance to assist in decision-making.
On-site invoicing software: Email or print invoices to get paid as soon as the job is done.
Mobile customer management tool: Keep important customer details like their address and order history to provide personalized service.
Plans and pricing
FieldEdge doesn't list price information on its website, but you can book a personalized demo.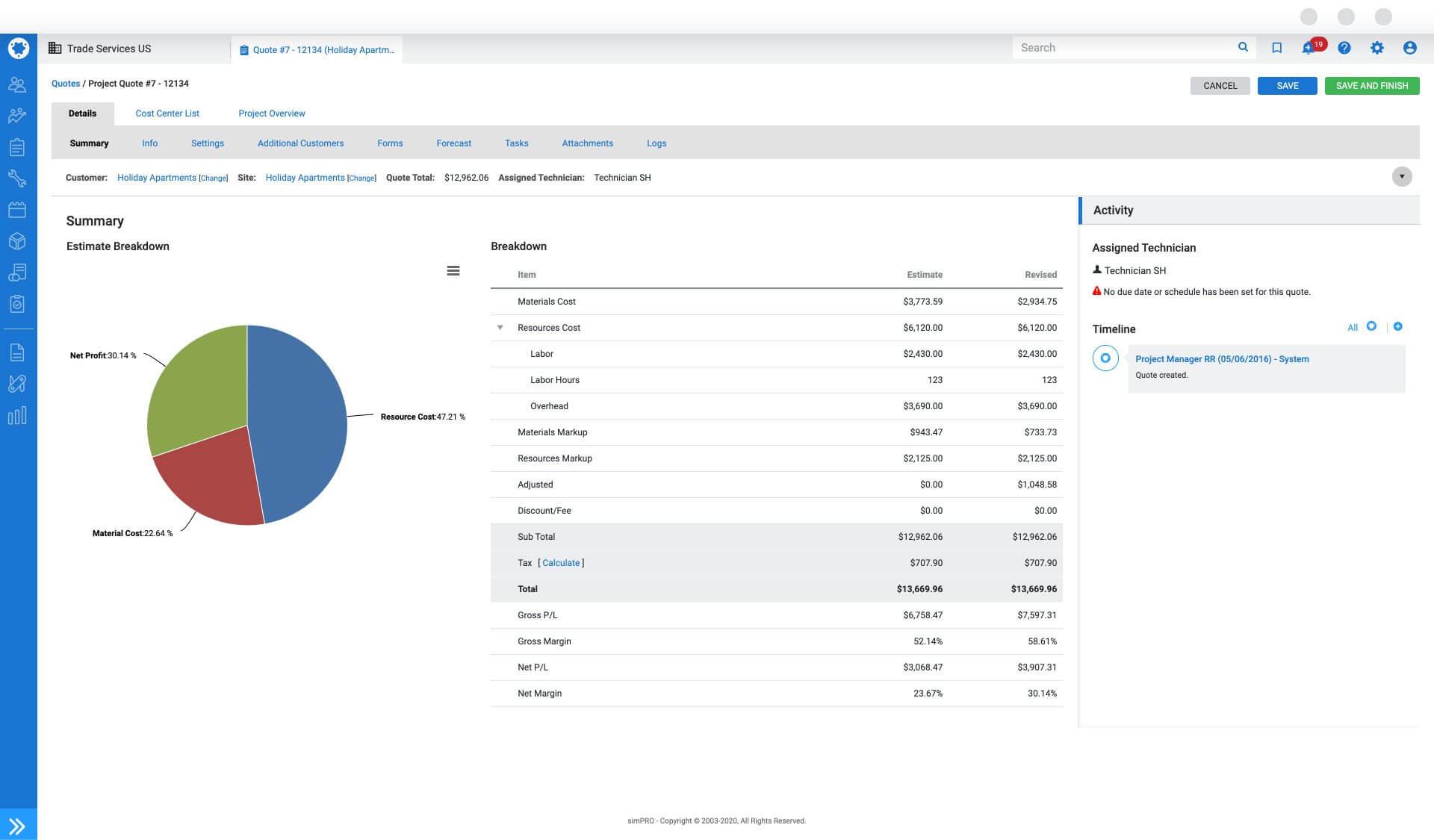 Last on our list of the best plumbing software is simPRO.
simPRO provides field service pros with an end-to-end service management solution with digital estimating and automatic scheduling features.
This software solution also provides several other tools, including:
Digital inventory management: Run an inventory count without going to the warehouse.
Accounting integration: Eliminate double entry to save time on your bookkeeping.
Mobile application: Manage jobs and send out work orders from anywhere.
Plans and pricing
simPRO does not publish pricing online. You can schedule a consultation with the company's representative for more information.
The best plumbing software: Closing thoughts
In addition to cutting down on admin tasks, the best plumbing software allows you to expand your business by improving customer relationships and freeing up your teams for more jobs.
To get the most out of any plumbing service software, make sure your software choice can fulfill all your business needs!
Image credit: Benjamin White via Pexels