Top 11 best software for painting contractors

Looking for the perfect tool to run your painting business? Check out our list of the best painting contractor software and find the one that best suits your needs!
As a painting contractor, you're expected to do more than just paint. You need to handle appointments, take care of finances, and do other administration tasks. This can be time-consuming and take valuable resources away from the real money-making work.
Fortunately, painting contractor software can assist you with routine tasks. By leaving the tedium to the best software for painting contractors, you give your team more time to pursue new clients and improve your service.
Not sure which of the many software on the market you should get? As per our expertise, we've compiled a list of the best software for painting contractors today!
Management software for other trades
Not looking for painting contractor software? Check out our list of the best software for other businesses:
What is painting contractor software?
Painting contractor software has a set of powerful tools that assists you in your day-to-day operations. As indicated by our tests, like most field service management software, it can schedule appointments, track your painters on the field, store customer data, and do many more essential tasks. Drawing from our experience, you can potentially save a lot of time and money by letting the software handle your more tedious business processes.
However, the most important benefit of painting contractor software is its ability to develop your business. With the suite of reporting tools part of the best software for painting contractors, you can make data-driven decisions and stand out in the growing painting industry.
Must-have features of the best software for painting contractors
Different painting contractor software offers different features for your business. Our findings show that these are six essential features any good painting contractor software should have:
Integration with processes and programs
The best software for painting contractors bridges various elements of your business, unifying your scheduling, appointment booking, and accounting processes into one single dashboard for easier access. Some are also compatible with popular accounting software like QuickBooks Online.
Job costing and invoicing tools
Job costing and invoicing are integral parts of any field service business. Based on our firsthand experience, you can quickly provide estimates and issue invoices, you can secure clients faster and get paid sooner. Our findings show that many painting contractor software options generate job estimates and invoices from templates, cutting down on the time you spend creating documents.
Vendor and subcontractor management
Contractors typically don't work alone—you likely have a network of vendors, suppliers, and other subcontractors that you collaborate with on projects.
Many field service management solutions come with a vendor and subcontractor dashboard to connect you with your suppliers. As indicated by our tests, from the dashboard, you can get up-to-date pricing information, store invoices, and manage the scope of work.
Painting project management dashboards
A painting contractor's work has a lot of moving parts. It helps to have a project management tool to monitor your team's work—most painting contractor software come with these features. You should be able to create tasks, assign them to the right contractor, and stay up-to-date on project progress.
Scheduling tools
Managing your painter team's schedule is another integral part of the painting business. The best software for painting contractors automatically assigns the best teams to jobs. With everyone's schedule in one easily accessible place, you can avoid double-booking your teams and missing client appointments.
Mobile apps
Painting contractors are on the field most of the time, which is why it's important to use software that has an integrated mobile app. Field workers will be able to receive and update work orders on the go, invoice on the spot, and upload proof of job completion.
Choosing the best software for painting contractors
There are dozens of painting contractor software on offer, which makes it hard to choose the right one for your business. When deciding between software, keep these four key factors in mind:
Identify your company's needs
Our research indicates that the best software for painting contractors should be the one that solves your most pressing problems. That being said, the first thing you should do is think about what your painting company needs—from there, it should be easier to identify field service software that addresses those needs. For instance, if your company struggles with bookkeeping, you may need to find software with a robust accounting platform or integrations.
Factor in future growth
Software that suits your company today may not be as useful once your company grows larger. Factor in your growth plan so you can pick scalable software that grows alongside your company.
Try before you buy
You likely won't find the best software for painting contractors on the first try. Based on our observations, fortunately, many software companies offer free trials or demos so you can try out their features before buying. This will give you hands-on experience with the program.
Prioritize post-purchase support
Implementing painting contractor software is a major commitment, and not just financially—you need to spend time and effort to reap its benefits. Since you'll be using the software for the long run, you need to find a software company that will be there for you whenever a problem arises. Look for software companies with excellent customer service and that are easy to contact.
Some of the best software for painting contractors are
It can be difficult to sort through all the field service management choices on the market. We've done the legwork for you and put together a list.
As per our expertise, here are the 11 best software for painting contractors options:
Method:Field Services.
Paint Scout.
DoTimely.
Workiz.
Knowify.
PlanSwift.
Job Nimbus.
BuilderPrime.
mHelpDesk.
FieldCircus.
FieldPulse.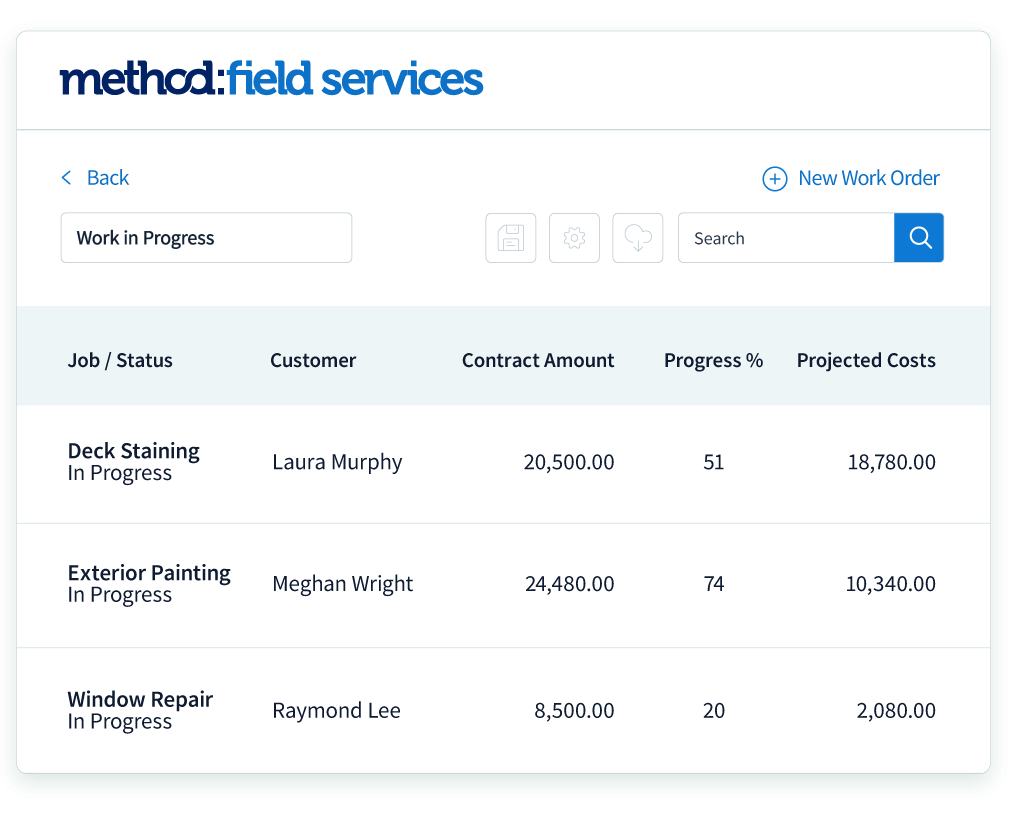 Method:Field Services is an all-in-one platform for field service companies that promises, among other things, to eliminate double data entry through QuickBooks Online and Desktop integration. In addition to its robust bookkeeping abilities, Method:Field Services also offers key features like:
Advanced dispatching tools: Assign the right people to the right jobs and plot the best routes to save on travel costs.
A mobile app: Keep an eye on your team's job progress and send updates from anywhere.
Automatic estimating and invoicing tool: Secure more jobs and get paid faster by allowing your technicians to create estimates and invoices in the field.
Learn what else Method:Field Services has to offer you in the video below.
Plans and pricing
Method:Field Services starts at $15 per month per field technician. You can also book a no-commitment one-month free trial. This trial includes all of its features, access to its mobile app, and full customer support.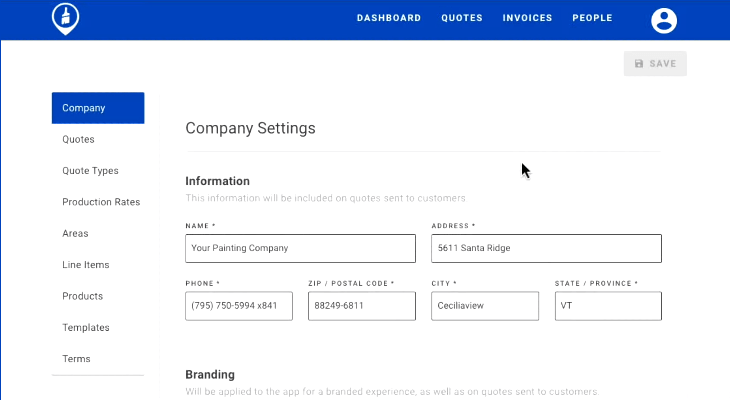 Paint Scout takes you ahead of the competition through better and more accurate estimates. Our team discovered through using this product that it's custom-made for painting contractors—you can estimate how much a job would cost by paint volume or work hours. Here are other features that Paint Scout offers:
User-friendly work order tool: Send work orders out in a snap.
Instant invoice creation: Create invoices instantly and get them digitally signed by customers, ensuring prompt payments.
Sales tracking dashboard: Monitor key sales statistics in real time, like your job closing rate and average revenue per job.
Plans and pricing
Paint Scout offers a two-week free trial with all of its basic features. Its base subscription plan costs $59 per month per user and is renewed annually.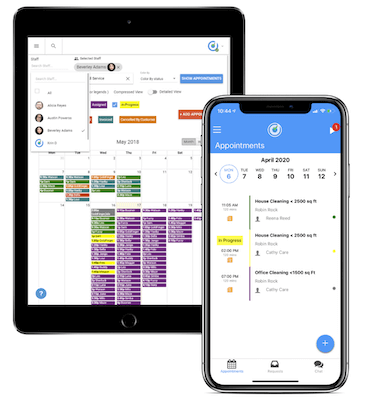 As its name implies, DoTimely's greatest asset is its time management tools. As indicated by our tests, you can create one-time and recurring appointments through a simple drag-and-drop interface, and allow clients to reschedule directly through a customer portal.
After trying out this product, we found that other useful features offered by DoTimely include:
Automatic invoicing tool: Create invoices in bulk and send them to clients in just a few clicks.
Accounting software integration: Integrate your financial data from QuickBooks or Xero to save time on accounting processes and data entry.
A mobile app: Get real-time job updates and documentation from your field teams in a flash.
Plans and pricing
DoTimely's free Essentials plan gives you access to its basic features. The Pro subscription plan costs $15 monthly plus $10 per additional user.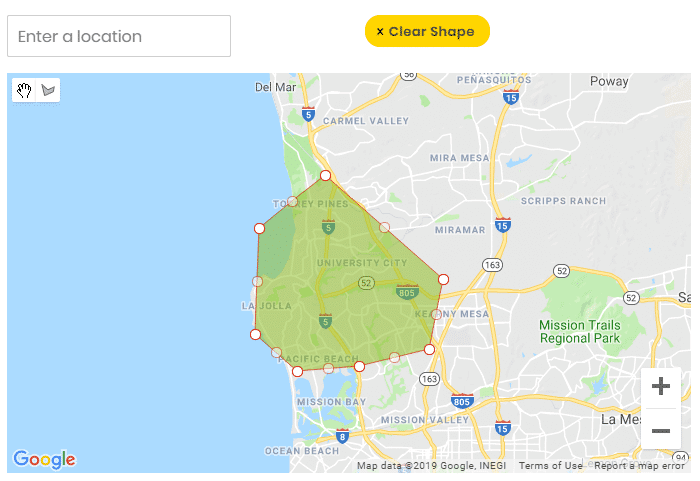 Field service management software Workiz promises a 22% revenue increase just by improving your response times. In addition to its powerful and easy-to-learn drag-and-drop scheduling tool, our investigation demonstrated that Workiz also comes with these features:
Real-time technician tracking: Keep a close eye on your painting contractors and assign the most efficient routes through a GPS-enabled map.
Automated customer notifications: Update your clients with automatic text and email notifications.
Painting estimate tool: Create estimates and convert them into invoices quickly.
Plans and pricing
Workiz's premium pricing starts at $65 per month for two users. All of its paid plans are renewed annually and come with a two-week free trial.
Knowify provides an all-in-one cloud platform made for painting contractors, no matter the size of the company. Our research indicates that its powerful invoicing and estimating tools can land you more jobs and get you paid faster. Moreover, it also provides advanced features such as:
Powerful scheduling tool: Access your jobs and deadlines through a user-friendly interface.
Real-time reporting dashboard: Create detailed and accurate reports to help you make better decisions.
Robust project management tools: Use Gantt charts to track dependencies in multi-stage jobs.
Plans and pricing
Knowify offers a no-commitment 14-day free trial. Its base subscription plan costs $86 per month for up to 50 active jobs.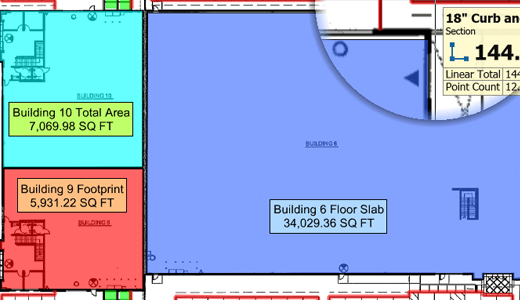 With its suite of takeoff features, PlanSwift makes it easy to start your jobs ASAP. After putting it to the test, we found that its estimating tool is its biggest sell—you can calculate the cost of any painting job within minutes and win over prospective customers. PlanSwift also offers these robust features:
Excel integration: Instantly export calculations into an Excel sheet that's ready to share with customers and stakeholders.
Material calculation tool: Get an accurate count of your material costs using a simple drag-and-drop interface.
Labor cost measurement: Stop guessing how much your manpower will cost—get accurate calculations instantly!
Plans and pricing
You can purchase PlanSwift at a one-time fee of $1595. Annual updates cost an extra $300 per year.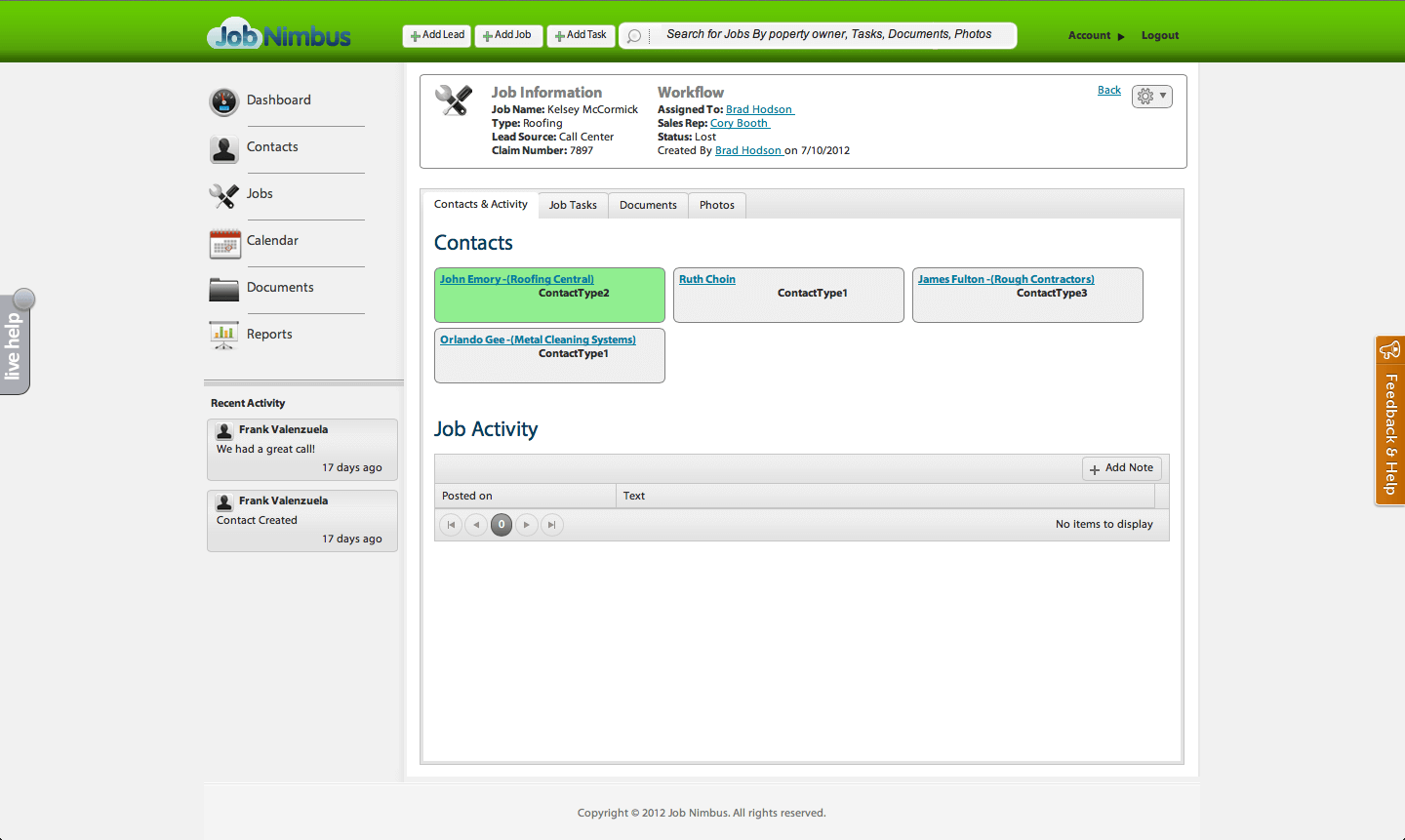 Field service management software JobNimbus increases your team's job capacity and productivity with its scheduling tools. Our analysis of this product revealed that you can fill out idle slots while still making sure your teams aren't double-booked or overworked. JobNimbus also offers:
QuickBooks integration: Centralize your bookkeeping to prevent double data entry.
Reporting dashboard: Get the most up-to-date reports on revenue, sales, and other essential information.
Quick estimating tools: Win more jobs and boost your closing rate by providing quick and accurate invoices.
Plans and pricing
JobNimbus offers custom pricing based on your company's size and needs. Contact a sales representative for more details.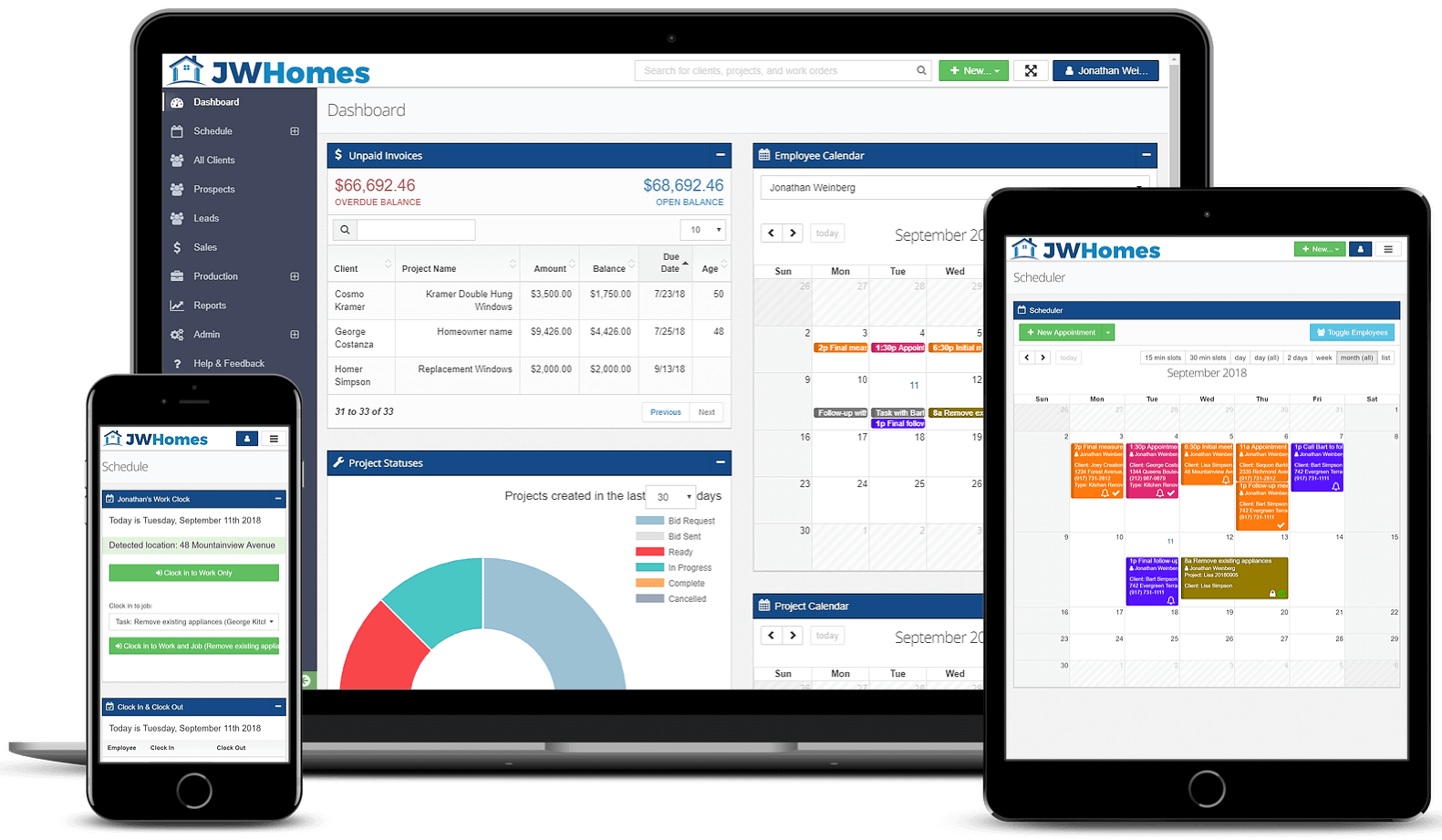 Our findings show that field service software BuilderPrime focuses on customer relationship management (CRM), allowing you to turn potential customers into paying clients and drive repeat business while improving customer satisfaction.
However, strong CRM capabilities aren't all this software offers. We have found from using this product that BuilderPrime also boasts the following key features:
Robust scheduling tool: Assign, reschedule, and notify your field and sales teams about upcoming work with a few clicks.
Electronic document creating and signing: Create professional-looking forms and get them signed anywhere—even on your mobile phone!
Detailed reporting dashboard: Make better decisions with important insights on past job performance.
Plans and pricing
Try BuilderPrime free for 14 days, no credit card required. The paid subscription plan starts at $99 per month, billed annually.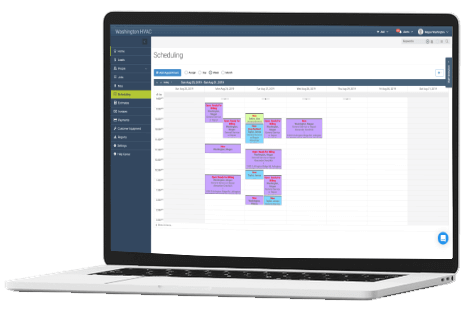 Our research indicates that this software for contractors saves you time on tedious tasks like job scheduling and time tracking. Not only does mHelpDesk help you breeze through tasks, but it also offers features such as:
On-the-spot invoicing: Create invoices on the fly—wherever, whenever—to ensure prompt payment.
Automated reminders: Send personalized text and email reminders to notify customers and employees of upcoming appointments.
Data migration: Migrate from your old software to mHelpDesk seamlessly.
Plans and pricing
mHelpDesk provides custom pricing upon request. You can also book a free demo first.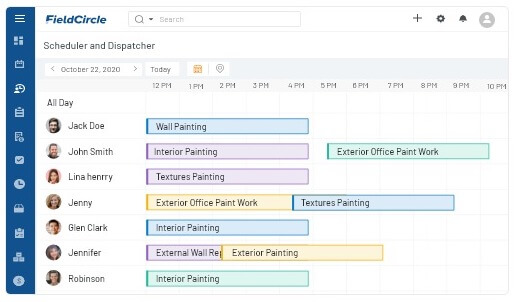 FieldCircle shifts your focus away from time-consuming admin tasks and lets you concentrate on money-making work through its robust scheduling tools. As indicated by our tests, this software has plenty of useful features for paint contractors:
Estimating tools: Create professional-looking forms and invoices based on templates.
Real-time data dashboard: Access revenue, material usage, and other key data to assist decision-making.
Mobile job reporting: Get real-time updates from the field sent right to your dashboard.
Plans and pricing
Field Circle's subscription plan starts at $10 monthly per user. This comes with a free personalized onboarding and a 21-day free trial.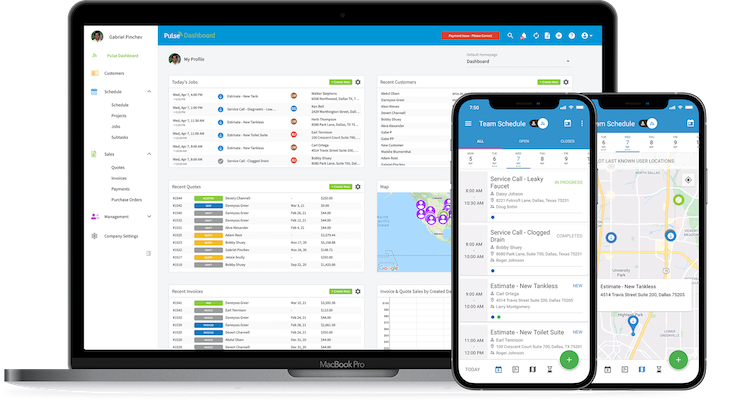 FieldPulse saves time by handling admin tasks, such as updating inventory logs and managing invoices. After conducting experiments with it, it also boasts many features designed specifically for small-to-medium painting contractors, such as:
Mobile team management software: Assign painting contracts and update work orders from anywhere.
Customer relationship database: Record customer preferences and past sales.
Painting estimate tool: Use pre-filled templates to create estimates quickly.
Plans and pricing
FieldPulse has a single plan that starts at $65 monthly. Each additional technician account costs $10 per month, while additional manager accounts cost $20 monthly.
Closing thoughts on the best software for painting contractors
Painting contractor software saves you a lot of time that's usually spent on admin tasks, like invoicing and scheduling. Fortunately, the best software for painting contractors makes your daily operations a breeze. The time you save allows you to concentrate on pursuing more clients and expanding your painting business!
Start your free trial of Method:Field Services today!
Image credit: Andy Dean via Adobe Stock