Top 11 best installation scheduling software for businesses and contractors

Looking for the right scheduling tool to run your business? Check out our list of the best installation scheduling software.
Most businesses depend on printed employee schedules or spreadsheets to help keep track of their time. However, as your business grows, you'll have more crew, equipment, and appointments to schedule, which takes a lot of effort to keep track of.
Here's where installation scheduling solutions come in. The best installation scheduling software can automate appointments and crew assignments, simplifying your resource management.
But with all the options for best installation scheduling software on the market today, it can be hard to choose the right one. Read on to find out which installation scheduling software can best cater to your needs!
Management software solutions for various industries
We have guides to the best management software for other industries. You can find them here:
Understanding installation scheduling software
Installation scheduling software offers you support in scheduling your labor, resources, and equipment. You can create tasks, then match them to the right teams. But that's not all this type of software can do—you can also manage employees, facilitate payments, communicate with customers, and more.
Top features of the best installation scheduling software
With dozens of options on the market, choosing the right scheduling software can be challenging. Over time, we found that in order to find the best installation scheduling software option for you, you have to look out for these five must-have software features:
Scheduling and dispatching
Our investigation demonstrated that good scheduling software does more than just manage your team's shifts. Instead, it's an effective way to assign jobs, plan routes, and update schedules as needed.
It helps you manage your crew's daily workload too since you can create a job, match it to a client, and instantly send all the relevant details to your field team.
On top of this, the best installation scheduling software gives you a way to track job progress through GPS tracking.
This allows your team to find the best route so they get to your clients faster. You can also automate text notifications to customers so that they get informed when your team is on its way.
Project and job management
We determined thr with project and job management features, scheduling software keeps complete records of all the clients you've worked with and the jobs you've done for them. This makes many tedious job and project records-keeping processes much simpler.
Because you don't have to sift through mountains of paperwork just to check job and client details, you'll supercharge your response times. In turn, responding to clients faster helps you to close on leads before your competitors.
Never miss a beat with task breakdowns
In projects with many moving parts, it's important to know the details. The best installation scheduling software gives you an overview of all the tasks that make up a project.
More than that, software displays task dependencies and allows you to sort them by importance and priority.
Quotes and estimates
When you run multiple projects with different clients at once, keeping track of your quotes and estimates can be a nightmare.
The best installation scheduling software allows you to create quotes faster by automating your quoting process. Moreover, automated quote reminders notify clients when it's time to approve them, increasing your job closing percentage.
Plus, using scheduling software makes things easier for your customers too.
Our findings show that many scheduling software solutions offer your customers the chance to request changes and approve quotes through a dedicated online portal. This way, all the feedback can be organized in one spot and better yet, your customers can be taken care of outside of your business hours with the instant self-service portals offer.
Billing and invoicing
With the best installation scheduling software, you don't have to spend a lot of time creating invoices. Our research indicates that most of these software allow you to automate the invoicing process and even get paid in the field! Plus, if the client can't pay immediately, you can send them automatic email reminders to make sure they pay on time.
Many scheduling software solutions also offer integration with accounting software suites like QuickBooks that can further streamline your bookkeeping process.
Benefits of using the best installation scheduling software
Adopting new scheduling software is a major commitment but it's worth it. Below are the top benefits you reap with scheduling software.
Improve your time tracking
Time tracking is one of the biggest benefits of scheduling software. The ability to track how many hours an employee spends on a specific task helps you in many ways. For instance, you'll immediately notice if a task takes too long to complete, allowing you to review work procedures and come up with more efficient processes.
Scheduling software also shows you which of your employees are absent or late, which can help you manage employee attendance. You can even manage overtime to ensure that your employees are properly compensated and all relevant labor regulations are followed.
Avoid scheduling conflicts
Through our practical knowledge, without proper schedule tracking, it's easy to accidentally double-book your employees or equipment. Scheduling systems can prevent these costly errors by tracking which teams and equipment are assigned where.
The best installation scheduling software can even recommend the teams and equipment that aren't currently assigned to a project. This prevents you from working employees beyond their contracted hours and guarantees well-rested, happy workers on site.
Manage your employees
Drawing from our experience, good scheduling software helps you identify each employee's skills and qualifications. This, in turn, allows you to assign the best employee to do a certain task, ensuring your jobs are done properly and quickly.
Even if the best employee for a certain task is occupied, you can still look up your team's competencies and find out who is the next-best qualified for the job.
The records in your scheduling software also help you plot out your team's career development. Comprehensive data from time-tracking features help you see who are the most efficient and who are underperforming. This helps you plan for promotions or extra training for the employees that need and deserve them.
Streamline communications
Ineffective communication is a common problem in many companies. Our research indicates that despite being used as a primary form of communication in 95% of companies, only 20% of sent emails are opened.
Fortunately, the best installation scheduling software can facilitate communication between your teams, often through a dedicated chat, forum, or other collaboration platforms.
As per our expertise, another benefit of having a unified communication and scheduling platform is that all the information is contained in one place. If you use multiple communication channels, information is bound to slip through the cracks when you need it the most.
Lower project costs
In most projects, the saying "time is money" is literal. The same is true for installation as unnecessary overtime can add up and inflate your project expenses.
Based on our firsthand experience, scheduling software keeps your costs down by ensuring your team finishes work on time while also keeping you on budget.
Promote transparency and accountability
The best installation scheduling software allows you to see your team's schedule. This allows you to pinpoint how much of your team's time is used to actually do work. Since you only need to pay for productive work hours, you can promote accountability and transparency with all of your workers.
Drawing from our experience, this transparency is also good for your clients. Most installation scheduling software can generate reports on the fly, so you always have something to show them at a moment's notice.
Transparency also leads to accountability. Instead of pointing fingers and blaming each other when something goes wrong, you can get to the bottom of the issue and learn from it.
Best installation scheduling software for your business and contractors
As different companies offer very different scheduling software solutions, it's important to do your research and find the best one for you. Here are 11 of the best options on offer today:
Method:Field Services
When I Work
ReachOut Suite
Smart Service
Calendly
Wrike
FieldWire
Merinio
Setmore
7shifts
ClockShark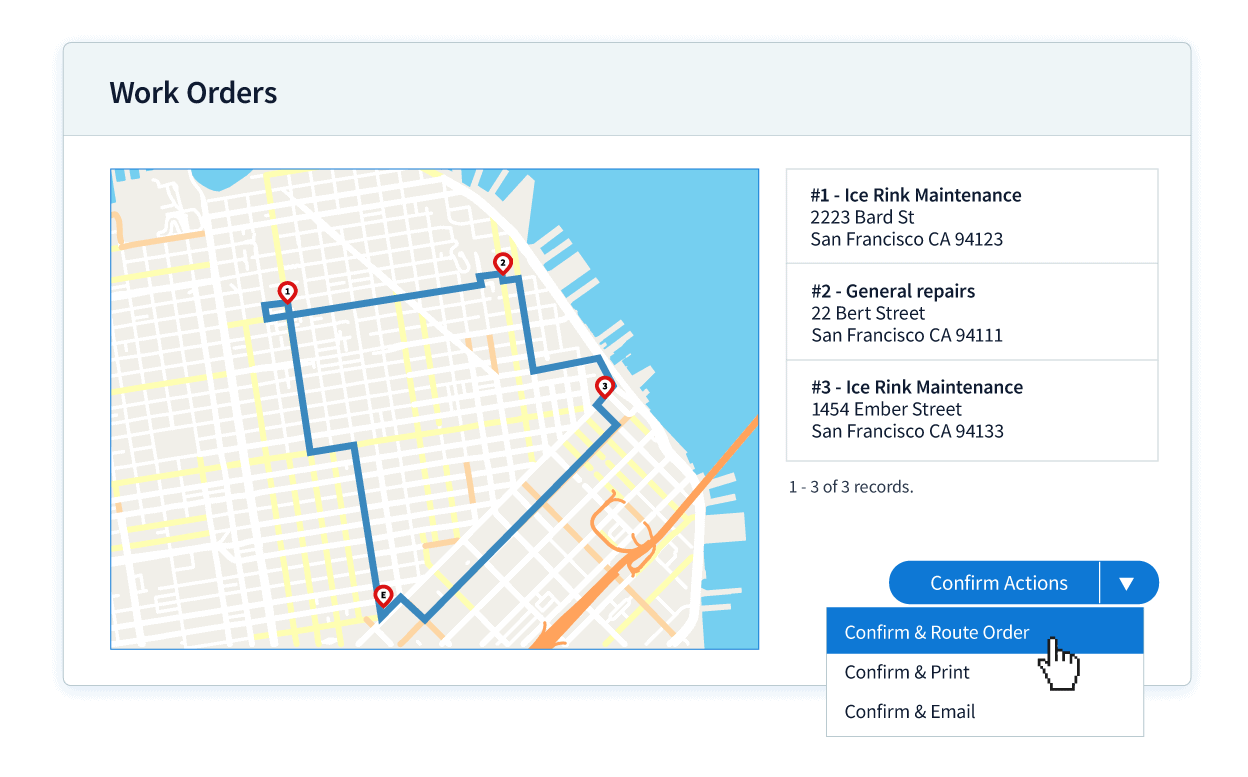 Method:Field Services is a field service scheduling software that simplifies your processes from top to bottom. As the best installation scheduling software, it lets you cut down on admin work and focus on growing your business instead.
Here are some of the features the software offers:
Time tracking that syncs instantly to QuickBooks Online and Desktop.
Easy conversion of estimates to work orders and invoices.
Communication with field teams on the go through a mobile app.
Efficient job routing in just a few clicks.
Beyond this, you can customize Method:Field Services to:
See the status of all your vehicles and other necessary equipment through the asset management dashboard.
Track your job's expenses and spending with a job costing tracker.
Project your revenue to maximize profits.
Plans and pricing
If you're eager to test drive one of the best installation scheduling software, take advantage of Method:Field Services', 30 day free trial. This trial gives you all the features offered by the paid product, like its mobile app and support resources.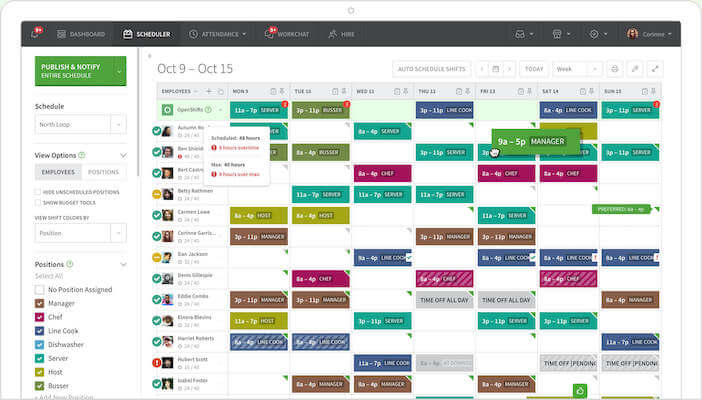 When I Work is an employee scheduling app that helps you manage shifts and assign tasks automatically.
Our team discovered through using this product that its user-friendly interface has a lightning-fast learning curve that lets you get back to the work that matters within minutes.
The software is designed with mobile devices in mind, which makes it the perfect choice for a business with multiple locations or workers on the go. In addition to its mobile capabilities, When I Work has a host of other useful features such as:
Centralizing communication through team group chats.
Minimize time spent on creating schedules for your team with an auto-scheduling feature.
A self-scheduling tool that lets you pick and swap shifts when needed.
Time tracking tools to avoid overtime work.
Plans and pricing
When I Work offers two paid plans:
Small Business: Priced at $2/month per user for companies with under 100 employees.
Enterprise: Available for larger businesses with custom pricing.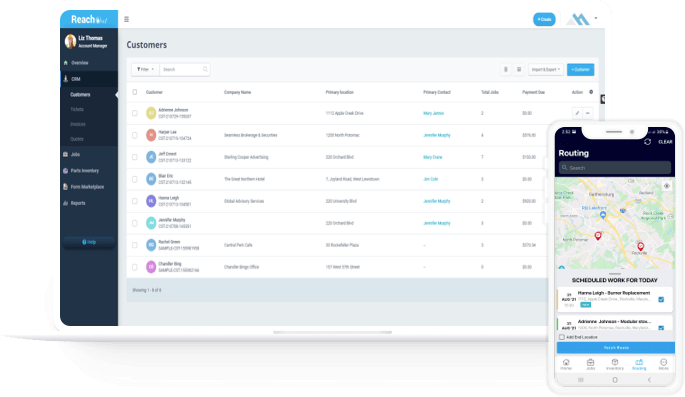 Next on this list of best installation scheduling software is ReachOut — a scheduling software suite designed to streamline your field service business. It includes many features like work order creation and audits.
It also promises business owners real-time visibility of team activities through a unified admin dashboard. The end objective of ReachOut is to help you serve more customers and efficiently manage your teams.
We determined through our tests that, with this best installation scheduling software contender, you can:
Visualize your team's workloads to see who is free to take on more jobs.
Break a larger job into smaller subtasks and assign them to individual team members.
Compile your customer data in a centralized database, making admin work simpler.
Save on time and fuel expenses by plotting the most efficient routes for field teams.
Plans and pricing
ReachOut's Standard plan starts at $90 per month for three users. You also get the first month free if you subscribe to a monthly plan. If you run a large business, contact a representative to discuss its custom Enterprise plan.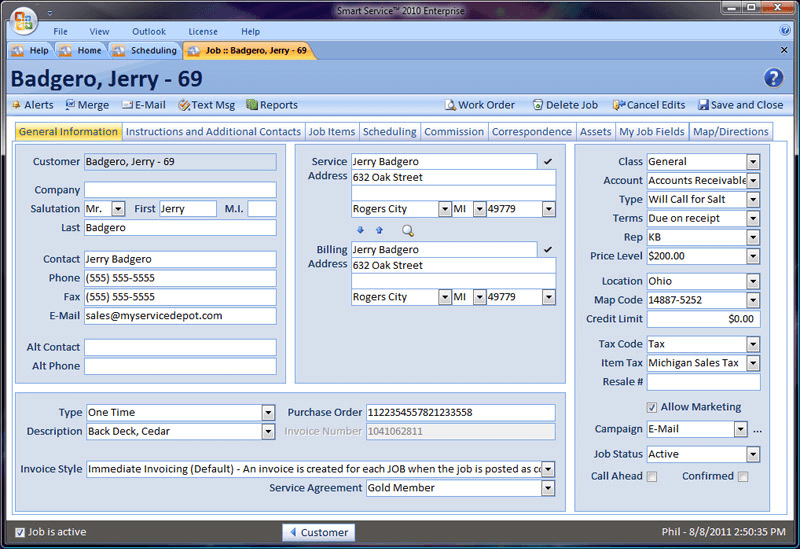 Smart Service is a field service software that integrates with the accounting software suite QuickBooks. Its QuickBooks integration eliminates double data entry and gives you more time to do the money-making work.
However, after using Smart Service, we found that it can do more than that. Here are just a few of the things that this best installation scheduling software option can do for you:
Handle your job scheduling through a simple interface that syncs with QuickBooks.
Automatically create and send invoices.
Track and monitor your team's whereabouts and check on their job progress.
Allow your employees to clock in from the field and manage their work hours.
Plans and pricing
Smart Service only offers a customized subscription plan to companies. Use the pricing calculator on the website to estimate the price of the service. You can also book a demo to see how Smart Service can help your company.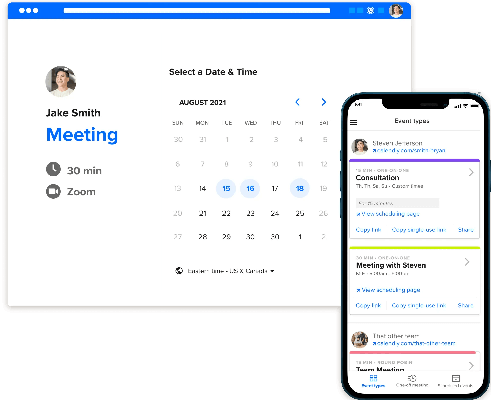 While it may not be geared specifically toward installation scheduling, Calendly has many features that could be useful in managing your business. This software promises to cut down on back-and-forth emails through its easy-to-use scheduling tools.
Our analysis of this product revealed that Calendly offers these key features:
Receive payments through established gateways like Stripe and PayPal.
Automate reminders through text and email to all your meeting invitees.
Schedule appointments easily based on participants' availability.
Integrate with apps like Zoom and Slack.
Plans and pricing
Calendly offers a basic free plan that everyone can use. If you're looking to take advantage of its advanced features, there is a Premium plan at $8 per month per user and a Pro plan at $12 per month per user.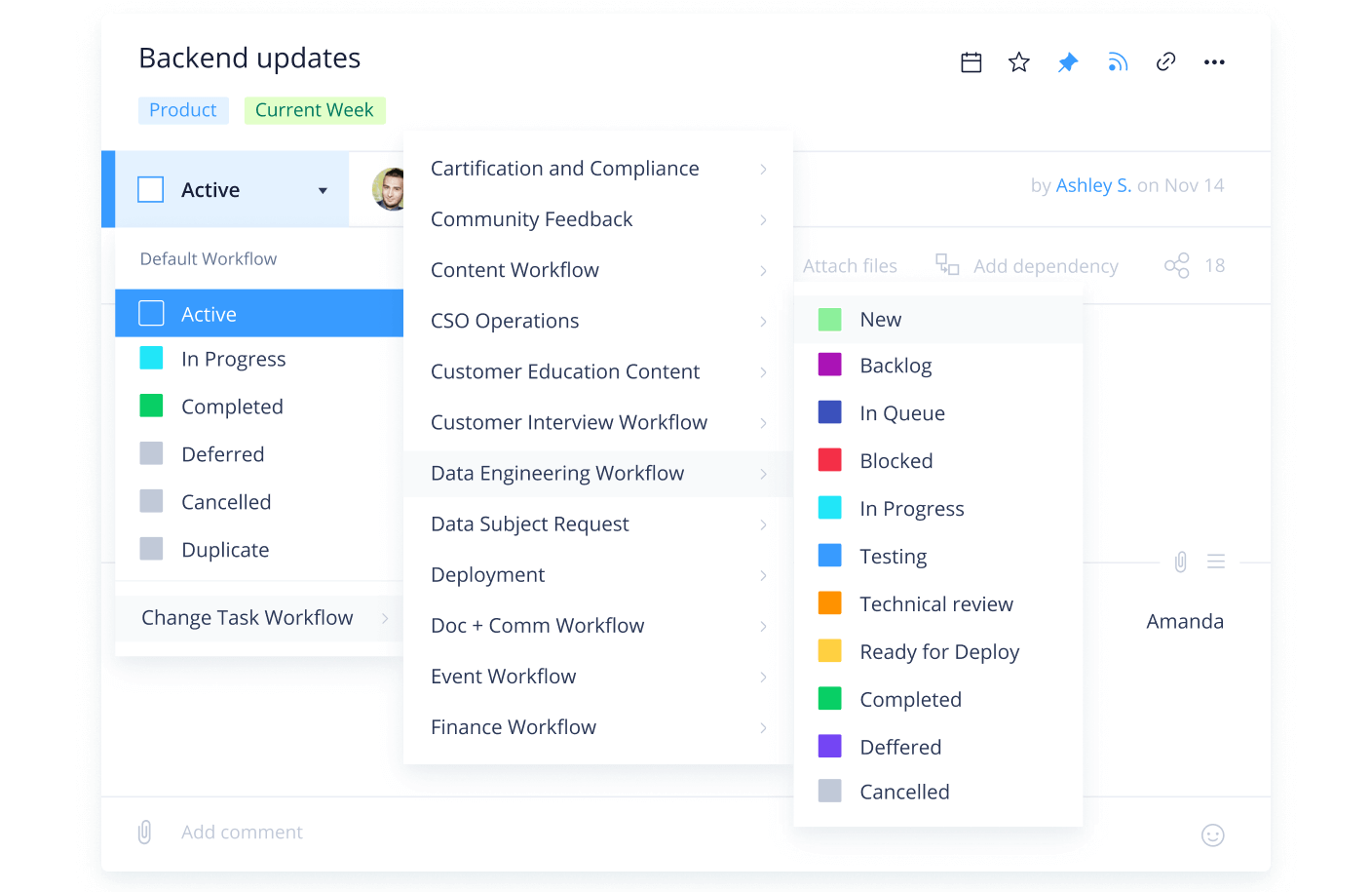 Project management software Wrike delivers real-time collaboration through its document commenting features. This software boasts the ability to customize its dashboards and workflows according to your business needs.
Based on our observations, Wrike's versatility and customizability are complemented by other features including the ability to:
Track your team's productivity and workflows with Gantt charts and Kanban boards.
Customize request forms to ensure all requests are filed with complete information.
Automate time tracking to ensure your employees don't go into overtime.
Align due dates with shared team calendars.
Plans and pricing
Wrike's basic package is free and provides beginner teams a way to manage their schedules.
If you're looking for more advanced features, its Professional plan costs $9.80/month per user and the Business plan costs $24.80/month per user. If you need to perform especially complex work with Wrike, it aoffers Enterprise and Pinnacle plans with custom pricing.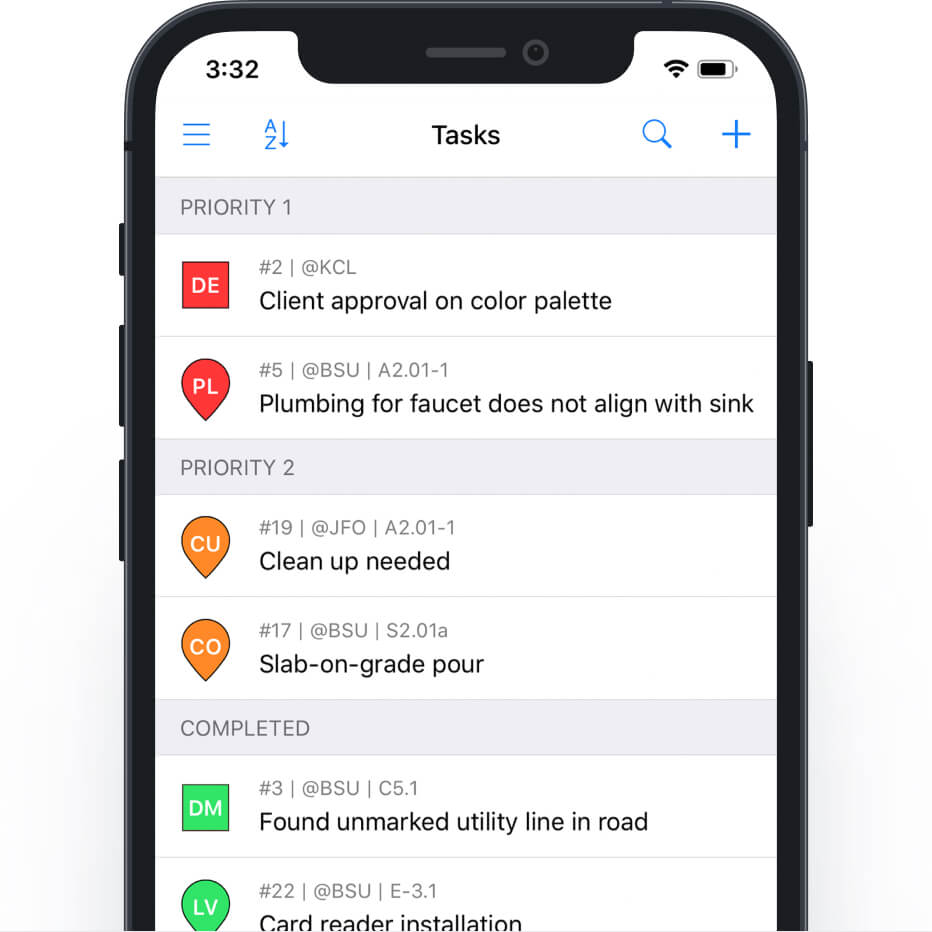 The next best installation scheduling software on this list is FieldWire — a job site management tool made for construction projects. It helps foremen and project managers collaborate through features like messenger and online task tracking. After trying out this product, we found these to be its most prominent features:
Store all communications in one place through a unified messaging app.
Monitor job completion, make notes, and report on-site issues through the mobile task tracker.
Digitize request and payment forms.
Prioritize important tasks through intuitive scheduling tools.
Plans and pricing
FieldWire's Basic plan is free for up to five users. If you're looking to scale up, it has several packages ranging from the Pro plan at $29 per month per user to the Premier plan at $89 per month per user.
Merinio is a schedule management software that helps you through the entire workforce management process with tools like labor forecasting and automatic scheduling. This software allows you to:
Simplify the scheduling process through automation and an easily accessible smartphone app.
Avoid overstaffing and unnecessary overtime with employee attendance tracking.
Improve internal communications with unified communication tools.
Allow employees to request time off.
Plans and pricing
As a best installation scheduling software option, Merinio offers a free version. Its paid plans start at $3 per month per user.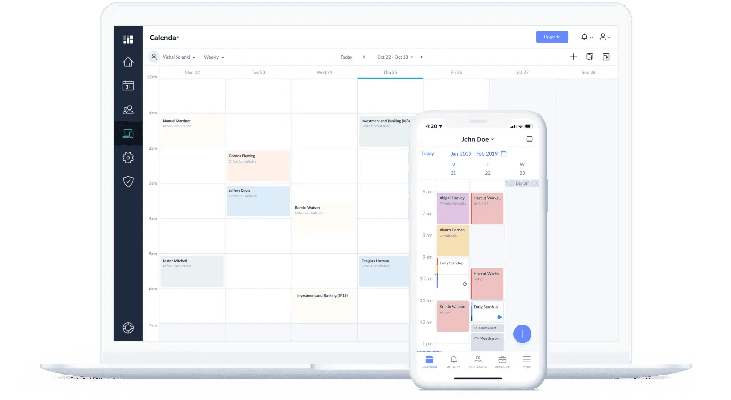 Setmore prides itself on being a free scheduling software that allows you to do many things. It simplifies your business processes through automatic message reminders, invoicing, and many other features.
Here are some of the robust features that sets this best installation software away from the rest:
Automate meeting and event reminders through email or text.
Set recurring appointments without hassle.
Access Setmore on iOS, Android, Windows, and Mac devices.
Unify your digital calendars through a calendar sync feature.
Plans and pricing
Setmore offers a free plan with most of its key features. You can also access its advanced features through a Premium plan ($9/month for up to two users) or a Pro plan ($5/month per user for a minimum of three users).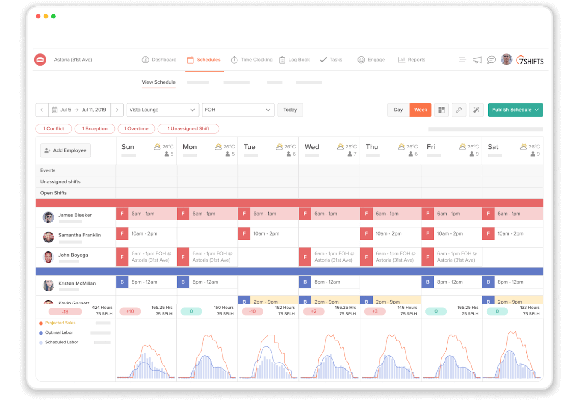 While 7shifts is built primarily for restaurants, it may seem like an interesting choice for this best installation scheduling software list. However, you can still use its team communication and task management platform to manage your installation business.
When we trialed this product, we found some of the overlapping features that you can use from 7shifts:
Centralize team communication and easily make team-wide announcements.
Automate scheduling and shift assignments.
Track time to simplify the payroll process and prevent overstaffing.
Report jobs with maximum transparency through a task management checklist.
Plans and pricing
7shifts offers a 14-day no-commitment free trial, as well as a free Comp plan limited to single locations with up to ten employees. For more advanced features, you can opt for its premium plans, ranging from $19.99 per month per location to $76.99 per month per location.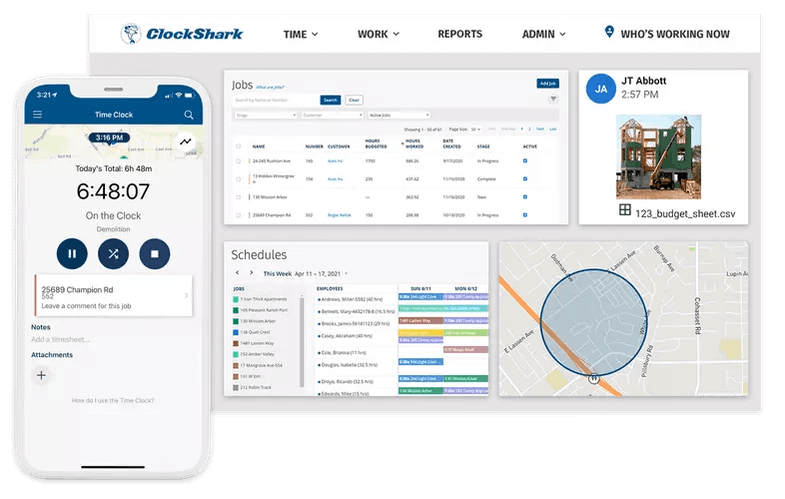 Last (but not least) on this list of best installation scheduling software is ClockShark — a solution purpose-made for field service and construction businesses.
Its automated job management and scheduling tools promise to help you finish all your work quickly and accurately. After putting it to the test, here are several ways that ClockShark can help you achieve those goals:
Ensure you only spend money on equipment and labor you need through its job costing tool.
Simplify job management and minimize the time you need to prepare work assignments.
Automate quoting and invoicing to help you close on jobs and get paid faster.
Integrate with business apps like QuickBooks to streamline admin work.
Plans and pricing
ClockShark's plans start with the $3 per month per user Basic plan.
If you're looking for more advanced features, its Standard plan comes at $6 per month per user while its Pro plan will set you back $8 per month per user.
All of these packages come with a 14-day free trial and the first two months are free if you choose an annual payment plan.
Closing thoughts on the best installation scheduling software
Installation scheduling is a complicated balancing act—you need to make sure jobs are done on time without going over budget.
The best installation scheduling software helps you reduce the time spent scheduling your teams with its automation features. As per our expertise, by automating your team assignments, you'll prevent double-booking teams and avoid unneeded overtime, ensuring your project stays on budget.
Kickstart your best installation scheduling software search with a 30-day free trial of Method:Field Services!
Image credit: Los Muertos Crew via Pexels