Top 12 best construction management software companies

Improve and optimize client, employee, and project management with the best construction management software. Find the best software for your construction business.
Construction managers must prioritize the project owner's interests. This involves overseeing everything from the pre-planning phase to the close-out. After putting it to the test, this is where finding the best construction management software will help.
Based on our firsthand experience, managers need a range of construction management tools to nail each job and make clients happy. The good news is that there are a ton of construction management software solutions that provide the tools you need. The trick is finding the right one for your business.
Keep reading to discover the best software solutions to enhance your construction business.
Find a field management solution for your industry
Not in the construction business? There are several cloud-based software solutions for other types of trades and field service providers. Find the best ones in your industry below:
What is construction management software?
Construction project management software is a solution for managing jobs in residential and commercial construction.
Construction managers have multiple responsibilities, including:
Project and cost management.
Time management.
Quality control.
Contract administration.
Safety and regulatory compliance.
As per our expertise, the best construction management software solutions benefit your construction business by simplifying the way you accomplish these tasks. With this kind of software, you can
Automate processes.
Enhance efficiency with tools that let you collaborate easier.
Analyze key metrics that inform future decisions.
How do you manage a construction project?
Managing a construction project is complex. It involves multiple elements from planning to execution. Here are some of the important steps you should follow:

1. Define the project scope: Your first step is to define the project's goals, deliverables, tasks, costs, and deadlines. You can include this information in your project charter.
2. Detailed planning: Next, you need to create a detailed project plan. This includes timelines, resources, budget, and potential risks. Define milestones to keep track of project progression.
3. Assembling a team: Identify and assemble your project team. This can include onsite labor, project managers, subcontractors, engineers, architects, and more.
4. Executing the plan: With planning complete, it's time to start the real work. Make sure you properly manage personnel and resources while keeping an eye on the project's timeline and budget.
5. Monitoring: Use your project management and reporting tools to monitor job progress. Be prepared to adjust your plan as necessary, addressing any issues that arise.
6. Closing out: Project reviews are an essential part of completing a job. They involve making sure all the requirements on contract have been met. You should also take the time to reflect on successes and areas for improvement.
Keep in mind that every project is unique, and you may need to adapt these steps to fit your project needs.
Construction management software is the best way to manage your complex processes, from automating invoicing to providing real-time data and analytics.
How does construction management software work?
Now you know what construction management software is, but do you know how it works? Put simply, it's all about integration and streamlining. From planning to completion, the software acts as a master control, coordinating all your moving parts.
Construction management software steps in to ensure everything runs smoothly for you, whether it's:
Let's dive deeper to understand the individual gears within this powerful engine.
What are the common features of construction management software?
Drawing from experience, no two construction project management solutions are the same, which is why you have to know what your business needs are before you start shopping for the right one.
However, there are a few essential features to look out for no matter what solution you choose. These features include:
A single platform for managing customer information.
A centralized dashboard that streamlines project planning and scheduling.
Estimating and bidding tools.
Accounting software integrations.
Employee time-tracking software where field workers can submit timesheets from their mobile devices.
Our findings show that these features benefit your construction business in several ways. Let's take a look at what they are.
What are the key benefits of using construction management software?
Our investigation demonstrated that some of the top risks that have a large impact on a construction project are:
Poor project management techniques.
Lack of coordination.
Inaccurate cost estimates.
Choosing the best construction management software solution for your business facilitates risk management and mitigation. Here are some other top benefits your construction business gains.
Improve document management
A cloud-based construction management software lets construction managers store all relevant documents in one place; it also manages construction documents and files effectively. A strong document management tool also facilitates easier sharing while it tracks and monitors project progress in real-time. This ensures that everyone involved is on track at all times.
Manage costs
The best construction management software comes with several financial management features, from forecasting tools to real-time syncing with accounting software. This enables accurate budgeting and cost estimation.
With these financial tools, you also ensure that projects stay within their budgets and that your customers stay happy.
Eliminate manual processes
While the world continues to go digital, the construction industry is still slow to adapt.
Completing tasks with pen and paper is slow and increases the risk that construction companies make errors. Software provides a centralized platform for project management where construction managers can rely on technology for more accurate paperwork.
Enhance efficiency
Our research indicates that administrative tasks take up about 40% of employees' time.
With a good project management solution, construction managers free up that time to spend on more productive activities, such as winning more jobs. Time is money, and a good software system saves you both, as it enhances productivity and project success rates.
Let's dive into how to choose the best construction management software for your business' success.
Market trends in construction management software
The construction management software industry is experiencing a dynamic shift, driven by advancements in technology.
With the power of the cloud, businesses can access their project data from anywhere. This also eliminates the need for maintaining in-house servers and lets you enjoy seamless online updates.
With more mobility and real-time data access, web-based solutions are helping businesses become more efficient.
Additionally, the no-code movement is reshaping the construction management software industry. With no-code platforms, businesses can customize their software with ease. They don't have to write a single line of code. 
This type of software allows even non-technical users to adapt it to their unique needs, leading to more efficiency. It also empowers businesses to quickly adjust their workflows as requirements change.
Integration is another growing trend as construction projects involve many aspects, from cost and time management to safety and quality control.
Good modern software seamlessly integrates with your other business tools. For example, you can send emails from your management software without having to enter your email application.
Data is easily shared between integrated systems, reducing manual data entry and ensuring consistency across all platforms.
Let's look at some factors to consider when choosing the best construction management software for your business.
Factors to consider when shopping for the best construction management software
Just as a well-designed logo communicates a company's values at a glance, a well-implemented construction management software showcases your project's progress, financial status, and resource allocation. So, choosing the right software is crucial.
When looking for the best construction management software, you need to consider these four factors.
Your business needs. Ask yourself the following questions: What areas are you lagging in? What are your pain points? Which departments will benefit from automation?
Your budget. There's free construction management software and solutions that cost thousands of dollars. The software solutions with lots of bells and whistles cost more than simpler programs. Find a company that allocates resources optimally for construction projects.
Your growth plans. If you plan to expand your company in the future, you want to use a software solution that can grow with you. Find a provider that offers software that you can customize to accommodate more tools later on.
Your employees' technical abilities. Not everyone has the same level of tech-savviness. Make sure to find a software solution that is easy to learn, even for the most tech-averse employee.
With all this new construction management software knowledge, you're ready to choose the best one for your business.
The top 12 best construction management software for your business
Now that you know what to look for in the right construction management tool, it's time to narrow down your options. Here are the 12 best construction management software solutions available today:
Method:Field Services
Inspectivity
VisiLean
ProCore
Sage 100 Contractor
FieldWire
Buildertrend
Float
STACK
123worx
PlanGrid
PENTA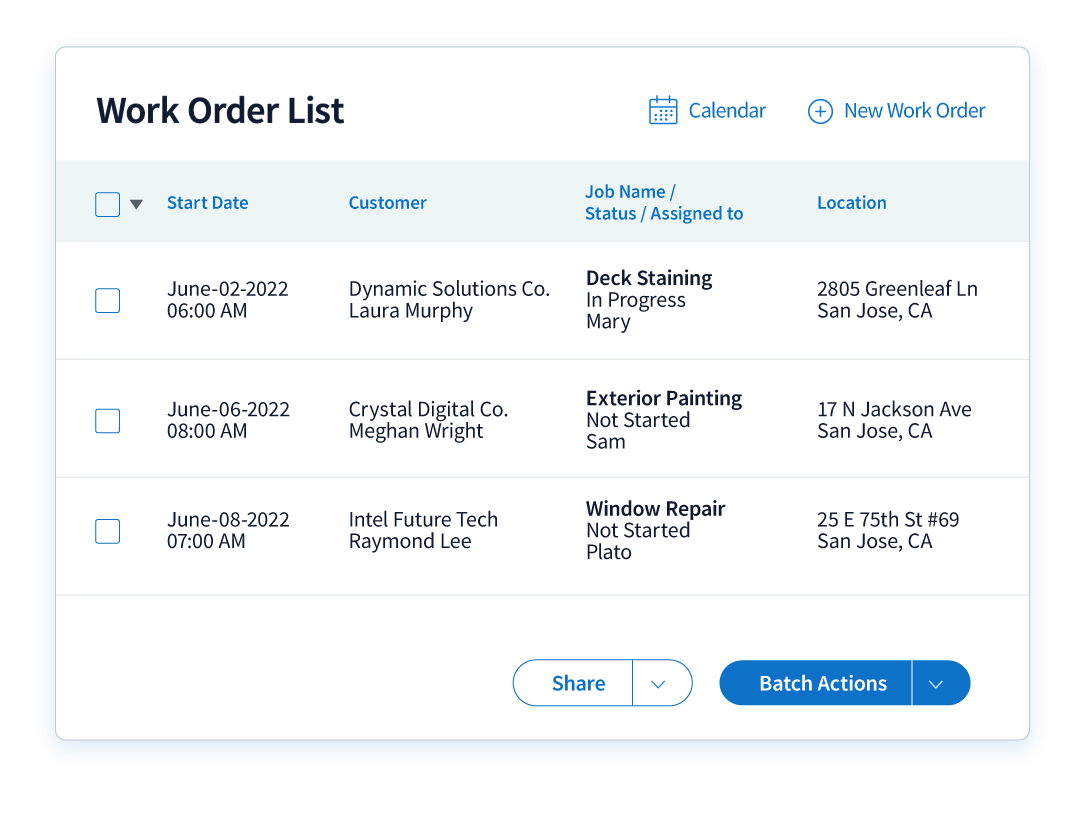 Starting off our list of the best construction management software is Method:Field Services.
After putting it to the test, Method:Field Services is the best solution for QuickBooks users in several industries, from plumbers to construction managers. Method's two-way sync means that your entire team always has the most up-to-date information.
As an all-in-one project and resource management solution, Method:Field Services comes with an array of features, including:
The ability to convert estimates into invoices in a few clicks.
A 360-degree view of your customers.
A mobile app to receive real-time updates from your crew.
Custom reporting which analyzes project data for insights and improvements.
Plans and pricing
This cloud-based solution costs $15 per user per month. Method:Field Services also offers a free trial.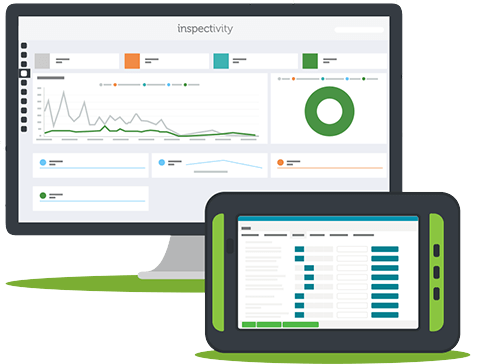 Next, we have Inspectivity.
Inspectivity is a cloud-based platform that digitally transforms your inspection process. This engineering inspection and asset management solution is most popular among businesses in the energy, mining, and engineering fields.
After using Inspectivity, we have found that you can:
Access a range of templates for inspection forms and checklists.
Perform offline field inspections using a mobile app that allows for photo and video sharing.
Plans and pricing
Quotes are available upon request.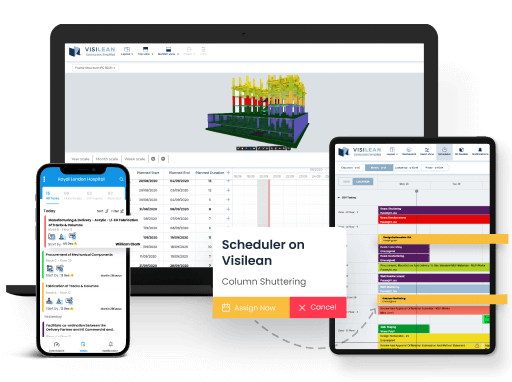 Next on our list of the best construction management software products is VisiLean.
What makes VisiLean stand out is that it's one of the first construction management software solutions to offer Lean-BIM integration so that you can visualize your models on the platform.
When we trialed this product, we learned that VisiLean:
Generates comprehensive reports on project performance, including delayed tasks, percent planned complete, and DPR.
Integrates tasks with the Building Information Model to create live 4D visualizations.
Plans and pricing
VisiLean offers a free trial for 30 days. After that, you can consult with the provider for a custom quote based on your business' needs.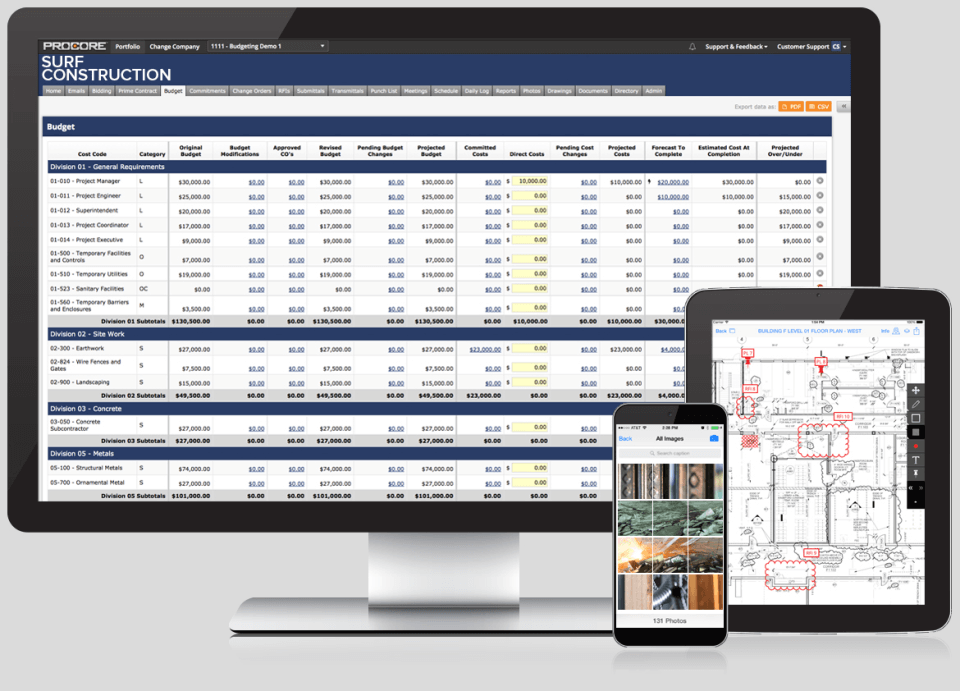 Procore is one of the best construction management software solutions that coordinates activities among team members and stakeholders. Procore drives for complete visibility of every aspect of a project by letting you track most processes, tasks, and documents through the platform.
Here's what you can do with Procore:
Keep accurate data in one centralized location to communicate better and minimize disputes on schedules, job costs, assets, etc.
Identify patterns and trends with customized reports from Procore Analytics.
Plans and pricing
Quotes and demo opportunities are available upon request.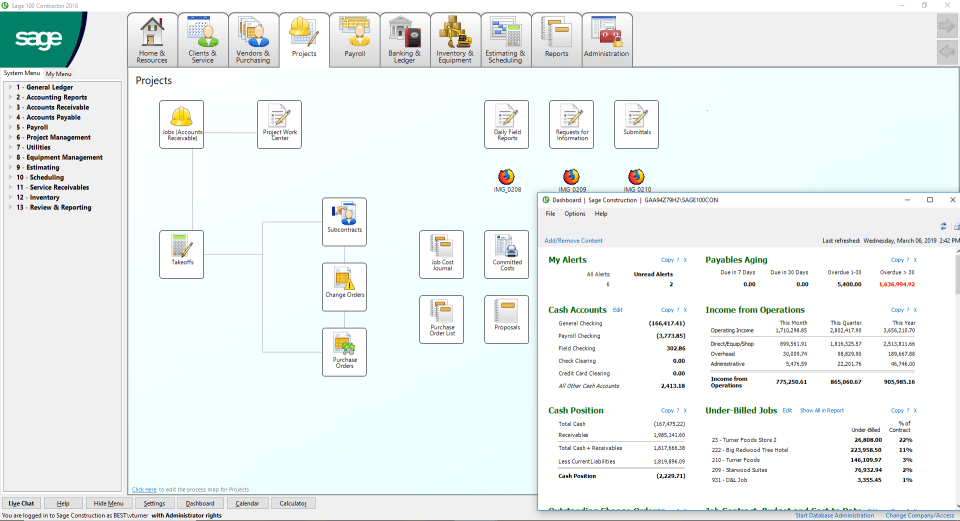 Sage 100 Contractor is a project management solution provider that caters specifically to small to mid-sized contracting businesses.
We have found from using this product that it's an easy-to-use, integrated solution that enables contractors to take complete control of their businesses.
Sage 100 Contractor offers several features, such as:
A project work center where managers can track every detail of their project.
Integration with ToolOps, a flexible construction resource management software that helps you keep track of tools, equipment, materials, and consumables.
Plans and pricing
Pricing for Sage 100 Contractor is available upon request.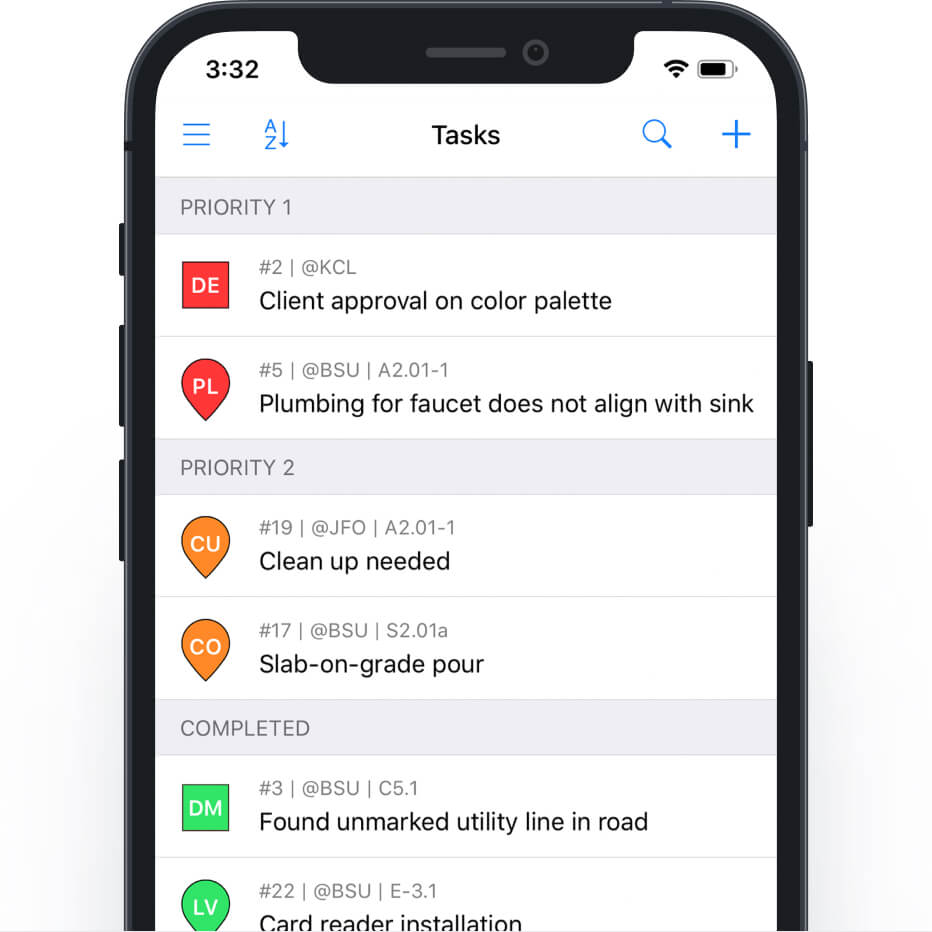 Next on our list of the best construction management software is FieldWire.
FieldWire is an all-in-one jobsite management solution and risk management tool that increases transparency and optimizes construction processes for increased efficiency.
It does this by providing project managers with key features to simplify their workload, including:
A cloud-based jobsite coordination platform that gives construction teams real-time access to all related documents and photos.
Standardized inspection checklists and templates, as well as punch list apps to speed up the closeout process.
Plans and pricing
FieldWire offers a free trial for small teams of up to five users. From there, there are three pricing options:
Pro plan: $29 per month.
Business plan: $49 per month.
Premier plan: $89 per month.
BuilderTrend is one of the best construction management software as it provides you with the necessary tools to handle every part of the process, such as:
Your pre-sales process.
Project management
Customer management.
Our analysis of this product revealed that its strongest features are:
A CRM that comes with a client portal for project tracking.
A scheduling tool that serves as the backbone of the platform. It allows CMs to make schedule changes on the go and alert all parties involved in real time.
Plans and pricing
The Buildertrend Core plan costs $99 per month, while the Pro plan costs $299 per month.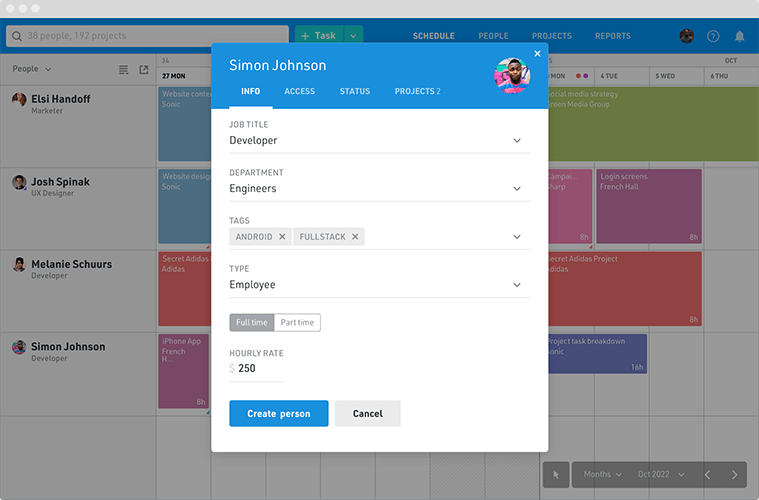 Float is a resource management platform made for various business sizes and industries, from consultancies to architecture firms.
Float is one of the best construction management software solutions because it integrates with other systems for seamless data exchange. From QuickBooks to Slack integrations, Float saves you the hassle of switching between platforms.
In terms of its project management capabilities, Float:
Assigns tasks and responsibilities to team members in a matter of seconds, who can then make changes in just a few clicks.
Creates detailed project timelines and delegates tasks to certain teams or members.
Updates project statuses and milestones.
Plans and pricing
Float's Resource Planning software costs $6 per user per month. If you add the Time Tracking feature, you pay a total of $10 per user per month.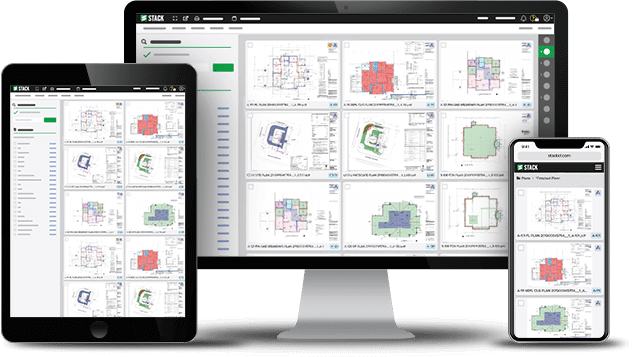 STACK is a cloud-based construction software that automates repetitive tasks and workflows. It enables construction managers to complete takeoffs and estimate faster and more accurately than the old-school, pen-and-paper system.
After trying out this product, we found out that it lets construction managers:
Save hours using powerful automation tools like AutoCount, takeoff templates, and pre-built materials.
Create detailed, professional cost estimates and proposals, complete with branding.
Plans and pricing
This construction project management software has two pricing tiers: $1999 per year for single estimators and $4,999 per year for pre-construction teams. A free trial is available for a limited number of projects.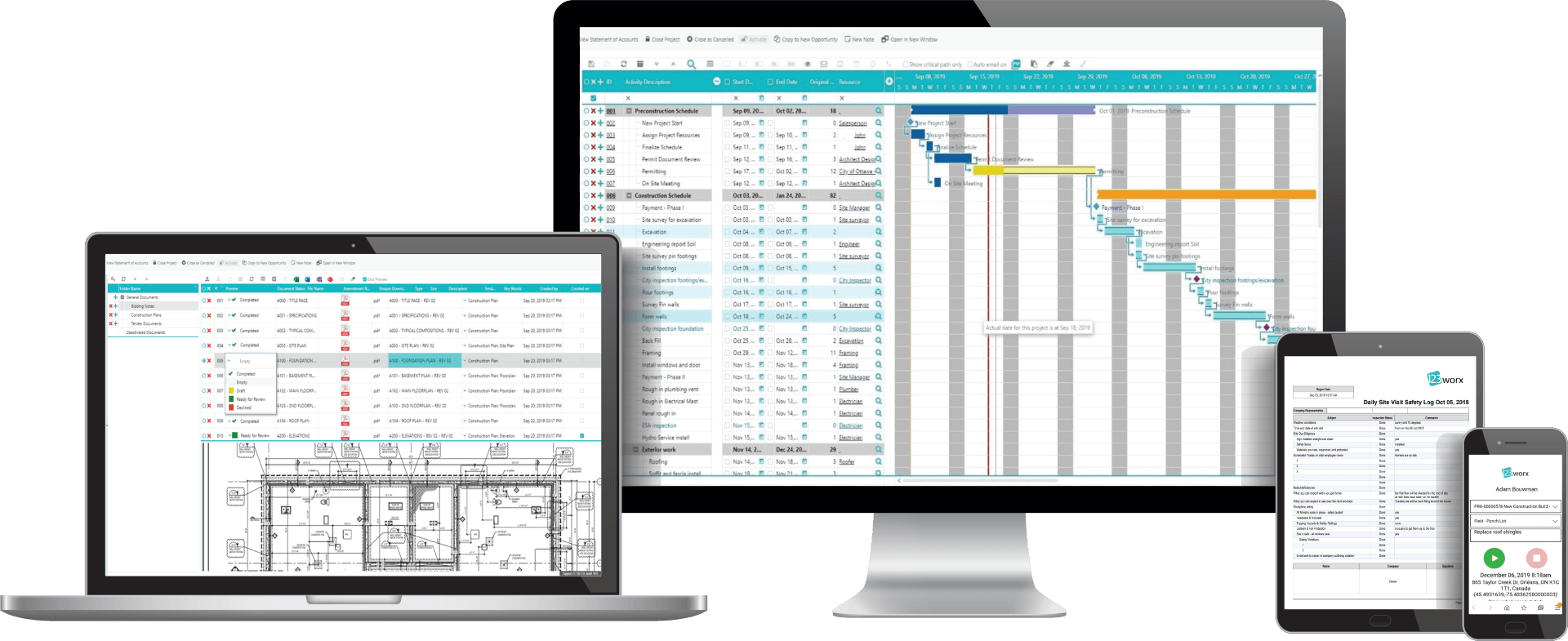 Next on our list of the best construction management software companies is 123worx.
123worx is a cloud-based construction management solution that provides construction managers with project management tools to manage complex construction projects efficiently.
Here are some of 123worx's key features:
Job estimation templates and a powerful scheduling tool for efficient project management.
Document collaboration tools.
Integrations with platforms like Office 365, which enhances collaboration and communication among project stakeholders.
Plans and pricing
Pricing is available upon request.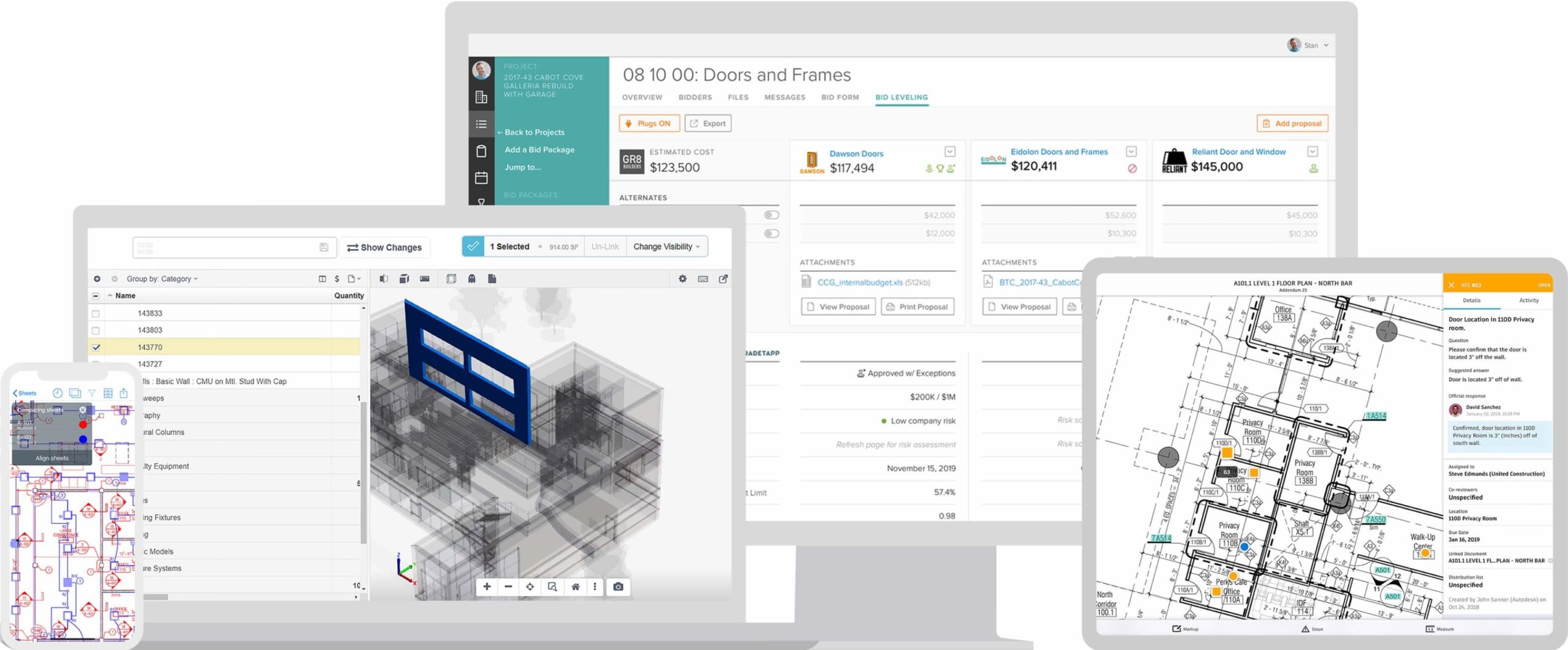 PlanGrid, now known as Autodesk Build, is a software made for builders that facilitates efficient construction project management.
As one of the best construction management software solutions on the market, Autodesk Build provides a range of tools for:
Project management.
Quality management.
Safety management.
Cost control.
We determined through our tests that these are this solution's best features:
A central dashboard for managing design that improves safety and quality control in construction projects.
Cost forecasting tools that deliver the most accurate and up-to-date results.
Plans and pricing
A custom quote and demo are available upon request.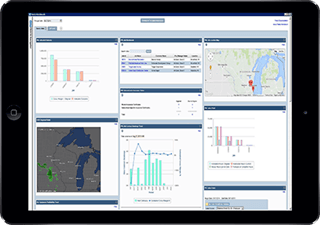 PENTA construction management software is an all-in-one tool for four key areas of every construction job:
Project management.
Construction accounting.
Service management.
Equipment management.
PENTA works for several specialties within the construction industry, from industrial contractors to electrical contractors.
PENTA's key features include:
Comprehensive analyses on the costs of former projects and accurate forecasts for future builds.
A customer portal, where customers can access their service history, billing details, and other key information.
Plans and pricing
Contact PENTA for a custom quote.
How Much Does Construction Project Management Software Cost?
Construction project management software comes in all shapes and sizes, and so do their costs. There is no one-size-fits-all solution and each provider sets its own price.
To give you an idea, the average cost per user per month is $16.88. That being said, the cost varies greatly depending on factors such as:
The size of your business.
The complexity of your projects.
The specific features you need.
When choosing a software, functionality should be the driving force behind your decision. As the number of features grows, so will your costs.
Also, keep in mind that the true cost of software includes not just the price of the software itself, but also the cost of implementation, training, and any required hardware.
It's also important to mention that many providers offer custom quotes, so you'll need to reach out directly to get an accurate price based on your needs.
Key Takeaways
Through our practical knowledge, for success, construction managers must keep track of every aspect of a project. Considering how the industry has only gotten faster, construction companies need the best construction management software to support operations and stay on top of everything.
The right construction management software gives you the power to monitor and manage each project's moving parts from one centralized platform, simplifying your workflow and leaving more time to grow your business.
FAQs
What are the 4 types of management in construction?
The four types of management in construction include:
Project management: This involves the planning, coordination, and execution of a construction project from start to finish.
Cost management: This deals with budgeting, cost forecasting, and cost control.
Time management: This covers aspects like project scheduling, tracking, and adjustments to ensure projects are completed on time.
Quality management: This ensures compliance with regulations and standards and that the project follows design specifications. Focusing on quality assurance and control promotes customer satisfaction.
What is BIM in construction?
BIM, or Building Information Modeling, involves creating digital representations of physical and functional characteristics of a building.
BIM provides a 3D model-based process that gives architectural designers, engineering, and construction (AEC) professionals the tools to plan and construct buildings and infrastructure.
How can construction management software improve my construction project's efficiency?
Construction management software improves your project's efficiency in the following ways:
Automation: It automates manual tasks, reducing errors and saving time.
Collaboration: It provides a single platform for communication and document sharing.
Real-time tracking: It lets you track your project's progress in real time, helping you make quick adjustments.
Data analysis: It offers powerful data analysis tools, so you can make informed decisions to improve performance and reduce costs.
Image credits: Mikael Blomkvist via Pexels