Top 9 best mechanical contractor software companies

Improve and optimize client, employee, and project management with the best mechanical contractor software. Find best software for mechanical contractors.
While mechanical contracting has a positive job outlook over the next decade, there are currently only 880 contractors in the United States. That means a lot of potential customers—and a lot of hard work to manage your day-to-day operations.
If you're on the market for the top mechanical contractor software, this guide is for you. You'll learn about the benefits of a service management software solution plus our picks for the top solutions on the market today.
Best software solutions for commercial service and trade businesses
Looking for something different? These other software solutions can help your business thrive:
What is mechanical contractor software?
The top mechanical contractor software optimize daily operations for service contractors in the plumbing, air conditioning, manufacturing, and electrical industry. These powerful tools automate tasks, simplify projects, and create manageable, adaptable workflows.
The benefits of using a mechanical contractor program
The best solutions helps trade businesses:
Manage your workforce: Get real-time field management updates on available staff and assign jobs in half the time. Easily determine when you need additional support through real-time field worker communication.
Improve sales: By automating simple tasks, you can focus on more profitable activities like generating leads and increasing sales.
Centralize your entire operation: Manage your workflow from a single, unified resource center. Review your tasks at a glance using Kanban boards or Gantt charts.
Gather data: Reduce paper costs by digitizing your documents and communications. Get advanced reports on materials, labor, financials, and output. Use this data to make better decisions, improve efficiency, and save on costs.
Organize invoices and billing: Create high-accuracy estimates based on industry pricing and turn quotes into billable documents. Save time with automatic payment reminders.
Enhance customer communication: Communicate with clients and encourage team collaboration even outside of the office. Use unique communication tools such as in-app messaging and text notifications to improve overall customer satisfaction.
Manage assets: Keep track of your assets through advanced inventory management. Avoid double entry and other inaccuracies, as well as trace ongoing maintenance for out-of-use equipment.
Some of the top mechanical contractor software are
Start your search with our choices for the top mechanical contractor software on offer.
Here are the 9 top mechanical contractor software options:
Method:Field Services.
eSub.
Procore.
Penta.
ServiceTrade.
FieldEdge.
mHelpDesk.
Field Aware.
Service Fusion.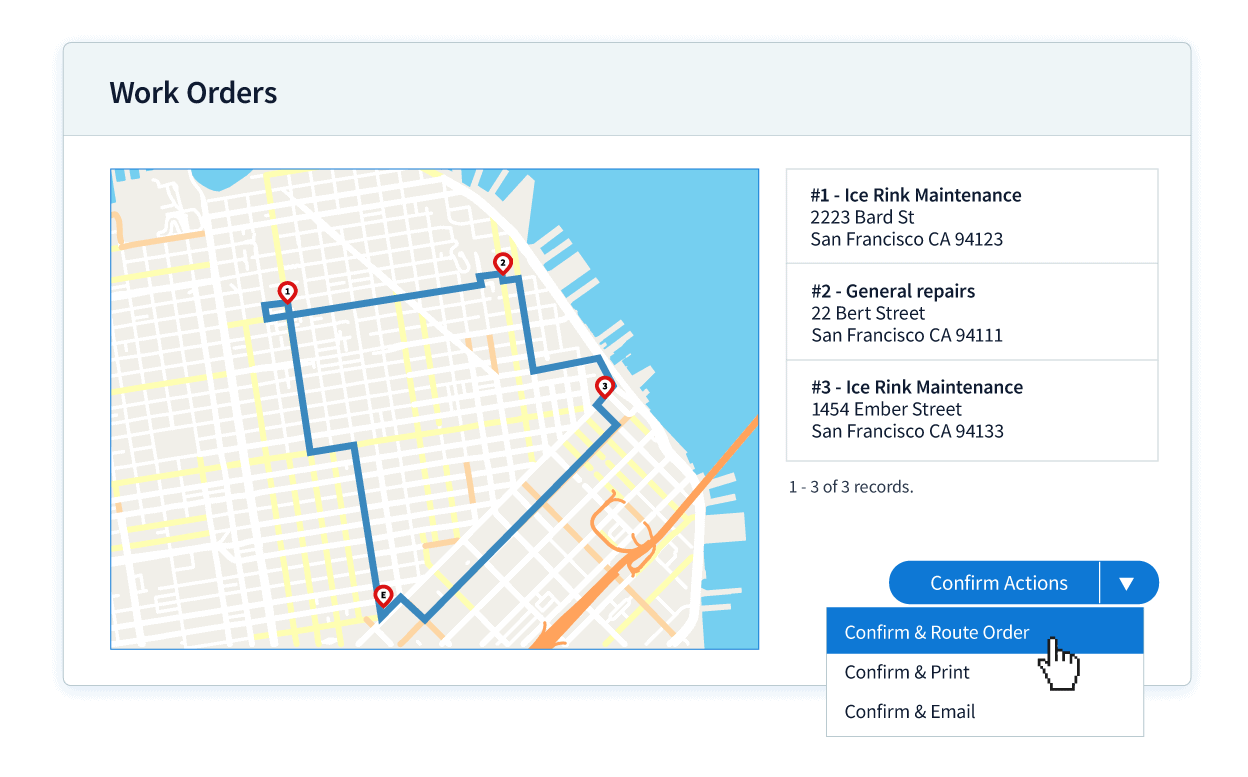 Method:Field Services is a CRM platform that simplifies customer communications, provides more accurate estimating, and optimizes real-time field management. This award-winning job management software solution boasts the following features:
QuickBooks CRM: The two-way, real-time QuickBooks sync regularly updates customer information, invoices, and payments for easy tracking. Access and share your accounting information through interconnected devices.
Work order management: Use QuickBooks data to create and dispatch work orders. Automatically convert these work orders into invoices after the job is complete and enjoy significant time savings on the payments collection process.
Optimized routing: Minimize travel time using Method's flexible routing features.
Plans and pricing
Method:Field Services starts at $15 per month per field technician. Take advantage of their free trial to end your quest for a project management solution.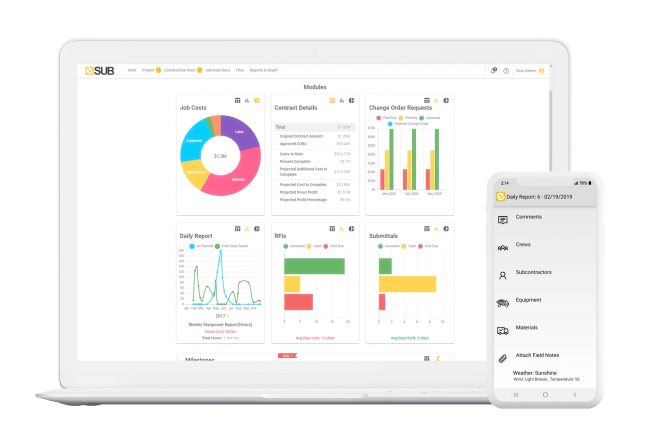 eSub is a field service management software built specifically for subcontractors. It provides user-friendly mobile management solutions through the following key features:
Field Works Mobile App: eSub is best known for its mobile application, which allows users to access all project information from one location. You can use it with multiple smart devices.
Daily reports: Automatically create detailed daily logs using eSub modules that reflect job statuses, equipment in use, client requests, maintenance checklists, and more.
Custom RFI templates: Use custom forms to make requests for information (RFI) that comply with general contractor standards. Automatically convert field notes and get your RFIs approved in minutes.
Plans and pricing
Pricing information is available upon inquiry.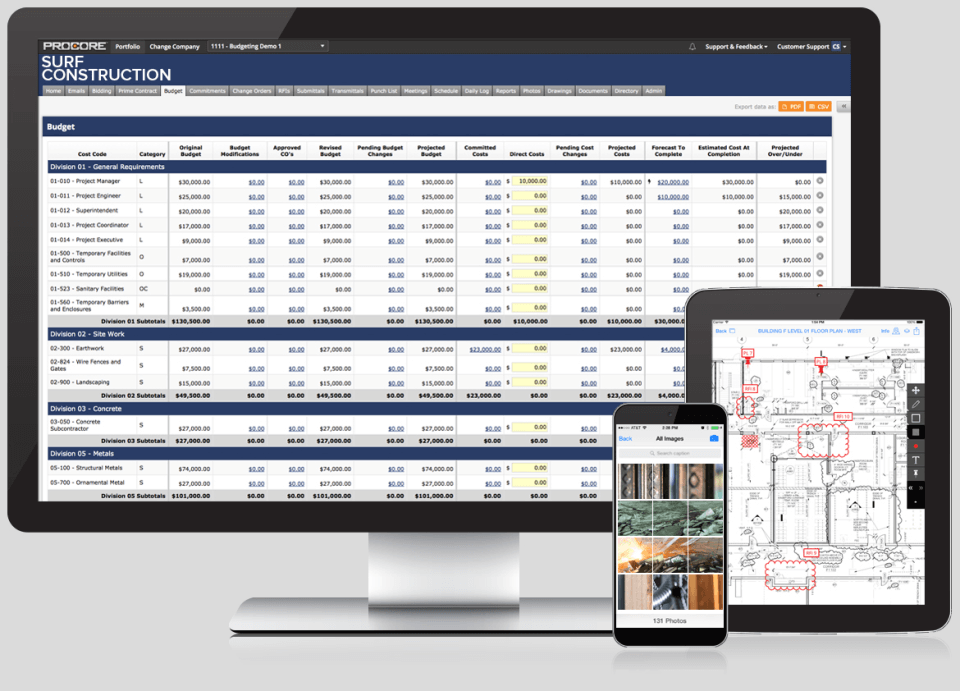 With over 300 integrations, Procore has to be one of the best all-in-one HVAC business management software for any service business. It seamlessly integrates with other field service software like Bluebeam, Microsoft Project, Smartsheets, and more. You can also enjoy features like:
Powerful scheduling software: Track ongoing projects in detail using timecards. Get a comprehensive glance at your working month with Primavera and MS Project integrations.
Field productivity: Track any out-of-scope work using Procore Daywork Sheets. Monitor labor costs and make change requests whenever necessary.
Invoice management: Use subcontractor invoicing features to speed up payments. Designate invoice contacts and send automated courtesy reminders.
Plans and pricing
A basic plan costs $375 a month, while more advanced financial management features cost $549 per month.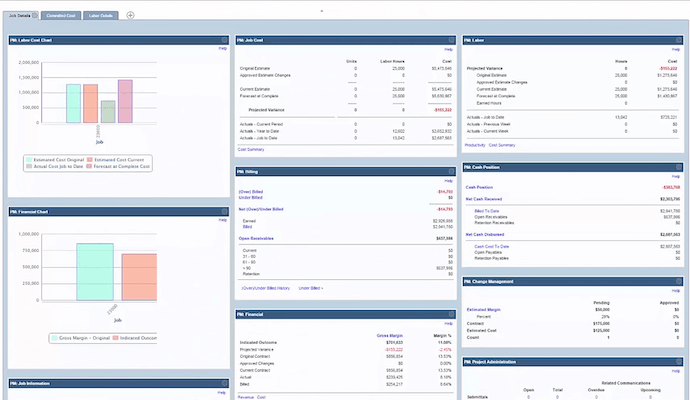 Penta is an award-winning software for electrical contractors in the service, engineering, or construction industry. For an affordable price, you can manage your schedules, HVAC workflow, finances, and overall business growth. Plus, you can enjoy additional features like:
Construction accounting: Take full financial control over each construction project through automatic meeting minutes, daily reports, and forecasting.
Inventory management: Track warehouse inventory and purchase order receipts to determine what needs replenishing or repair. Use Penta's audit controls to track any variances and transfers.
Mobile software solution: Assign mobile solutions according to your staff. For instance, provide access to work package managers to your crew foremen and EMC apps to your field workers.
Plans and pricing
Pricing information is available upon inquiry.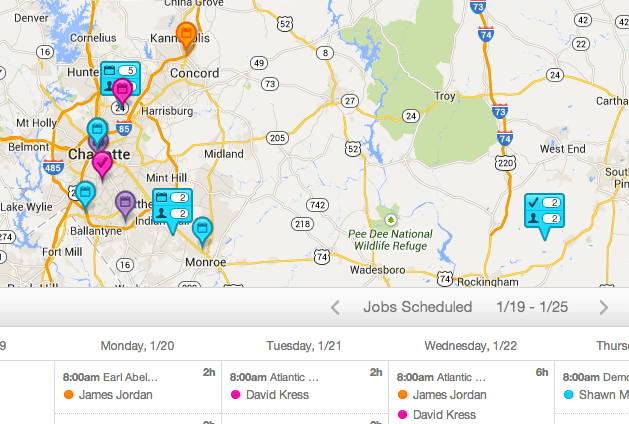 ServiceTrade is a cloud-based mobile workforce software solution designed specifically for contractors. It promises at least a 23% increase in service revenue with features like:
Scheduling and dispatching: Use map-based advanced job reporting to create efficient routes and improve productivity. Easily adjust schedules and tasks with a user-friendly drag-and-drop interface.
Mobile employee portal: Allow technicians to access appointments from their mobile device. Enjoy unlimited photo uploads, video recordings, and digital documents.
Client portal: Self-service portals enable customers to track ongoing projects. You can also access comprehensive customer history, job summaries, and user reviews.
Plans and pricing
A Select plan costs $79 month per technician, while a Premium plan costs $119 a month per technician. Enterprise plans cost $159 per month per technician.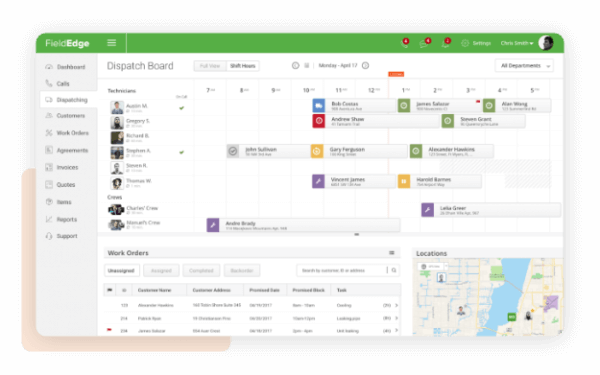 FieldEdge is a field service software that empowers service companies to complete jobs faster and more affordably. Many users in the construction industry have claimed to save over 20 hours a week and spent 50% less on accounting, thanks to these features:
Advanced accounting software: Integrate your existing system with Quickbooks and watch your finances reflect in real-time. Keep track of important paperwork, including accurate estimates and invoices.
Flat rate database: Set flat rates according to the scope of your work with FieldEdge Flat Rate Mobile. Use these generic price estimate systems and current labor rates to make more informed decisions about your pricing.
Simple payment processing: Accept in-field payments with the FieldEdge mobile card reader. Process payments on QuickBooks as soon as they come in.
Plans and pricing
Pricing information is available upon inquiry.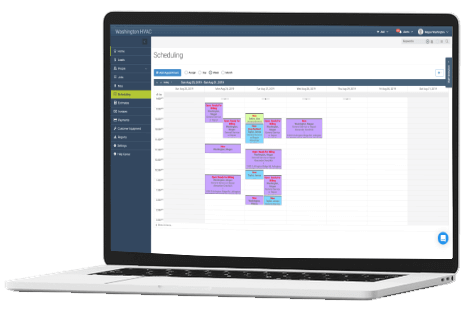 Does your mechanical contracting business need help keeping up with competitors? Then mHelpDesk is the service software solution for you. This all-in-one HVAC business management software program increases productivity with the following features:
Lead management (CRM): Achieve historical win rates by automating customer communications and bidding on more leads through a built-in marketplace.
Gated workflows: Track all types of jobs from start to finish with adaptable workflow stages and labor tables. Improve job completion rates by automatically filing work orders and replicating recurring tasks.
Accurate item cost databases: Save money on materials and parts with accurate actual costs and low-inventory level notifications.
Plans and pricing
Pricing information is available upon inquiry.
If your office operations are lagging behind, a comprehensive software platform might be the solution you need. Field Aware is a vertical market software that expedites tedious and time-consuming tasks using essential tools such as:
Real-time field worker communication: Get real-time updates from field workers and keep an eye on your inventory in use through asset tracking.
Detailed business reporting: Use twelve standard job reporting templates to visualize data and insights. Aggregate all kinds of data like performance and revenue.
Complete inventory control: Plug revenue leakage by keeping track of internal and customer assets. Stay updated regarding equipment under ongoing maintenance and dispatch jobs according to material availability.
Plans and pricing
Prices start at $70 a month per user.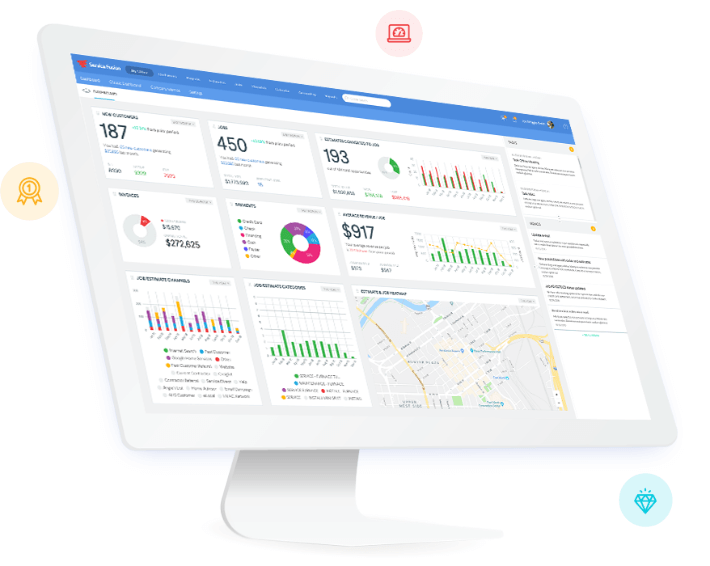 Is your entire team behind on completion times? Are you struggling to keep projects on track? If so, Service Fusion can speed up your operations, consolidate your tasks, and make your job as a successful business owner much easier. Just check out these features:
Superior estimating capabilities: Use pre-populated product and service line items to create hyper-fast estimates. Convert these estimates into job orders at a fair price.
Lightning-fast work order entry: View all active jobs from a single dispatch grid. Use drag-and-drop features to schedule work orders in seconds.
Document drive: Upload and share documents like project blueprints and customer history with staff and clients.
Plans and pricing
Starter plans cost $125 monthly, while Plus and Pro plans cost $186 a month and $339 per month, respectively.
Improve team collaboration and customer satisfaction with the top mechanical contractor software
If you want to thrust your service business into success with the right HVAC software, you've come to the right place! Method:Field Service provides unbeatable construction takeoff software options that track project profitability, track employees, create an adaptable workflow, and improve your bottom line. It's the top mechanical contractor software you'll find on the market!
Click here to get a free trial with Method:Field Service!
Image credit: ThisIsEngineering via Unsplash