Top 12 best carpet cleaning software companies
Find the best tools for your carpet cleaning business with this extensive list of best carpet cleaning service software.
Most homeowners and real estate professionals outsource carpet cleaning services to maintain their carpets, rugs, and upholstery in good condition. This explains why the carpet cleaning industry is booming.
That being said, many carpet cleaning businesses struggle to stand out among the competition. These days that means offering options such as:
Going above and beyond customer expectations.
Offering personalized service.
Allowing bookings and queries across different channels (i.e., your website, Facebook page, text messaging).
78% of small business owners say that cleaning business software solutions are the key to increasing productivity, efficiency, and ultimately, revenue.
In this guide, you'll find 12 of the best carpet cleaning software solutions to skyrocket your business' success.
Field service management solutions for other industries
If you need software options for other field service businesses, check out our other guides below:
What is carpet cleaning software?
Carpet cleaning business software is a tool that simplifies your everyday tasks to increase efficiency and save you time.
The carpet cleaning industry generates an average of $5 billion in revenue each year.  With so much money to be made, spending too much time on admin means you miss out on opportunities. Luckily, field service businesses are no longer bogged down by outdated business management practices such as manual data entry and paper-based invoices.
Whether you own a small carpet cleaning business or run a carpet cleaning enterprise, there's a cloud-based field service management solution that fits your business needs. The best carpet cleaning software improves your business by:
Eliminates annoying and time-consuming paper processes.
Increasing efficiency.
Boosting sales.
But that's just the beginning. Let's check out the other benefits of carpet cleaning software.
What are the benefits of carpet cleaning software?
Carpet cleaning software transforms your business by:
Automating daily tasks.
Providing an easy-to-access database.
Enhancing communication between employees.
The best carpet cleaning software goes above and beyond to improve all aspects of your business. Here are some of the top benefits of carpet cleaning business software.
Improve customer service
It's a fast-paced world, and customers want fast, seamless, and personalized service from start to finish.
Creating a simple and convenient customer experience encourages repeat customers and boosts customer loyalty.
Choose carpet cleaning software with a customer relationship management (CRM) solution so you can keep all your customer information in one place and access the data whenever, wherever.
The best carpet cleaning software solutions also send automated and personalized responses to customer queries, reminders, and follow-up messages.
Reduce logistical issues
One of the biggest issues for businesses with several employees is scheduling conflicts. Thankfully, the best carpet cleaning software solutions minimize these conflicts.
Job scheduling systems reduce double bookings and back-to-back jobs with clear calendar views. Most cloud-based field service solutions also allow employees to make and see schedule updates in real-time, reducing miscommunications.
Get more work done
Carpet cleaning service software provides an all-in-one solution for administrative processes and day-to-day operations. Using software that automates your most menial tasks leaves more room for more important things.
This is possible thanks to features such as:
Inventory management platforms.
Instant syncing with accounting software.
Inventory management tools.
There are several other features to look out for in the right carpet cleaning software solution.
What features can you find in the best carpet cleaning software?
Whether you own a residential or commercial carpet cleaning business, you can benefit from using software in your business operations. The key is to find a solution with the right features for your workflows.
Here are some of the top features you'll find in the best carpet cleaning software options.
Customer management features keep track of your customers' data and provide the tools for a positive customer experience.
Single dashboard for dispatching teams to job sites and receiving real-time updates from your workers.
A financial management app that gives your field staff billing & invoicing capabilities on the road and integrates with your accounting software.
An inventory management system with real-time sync and equipment tracking capabilities.
Before adding carpet cleaning software to your business processes, you must make sure you know how to choose the right one.
How to choose the best carpet cleaning software for your business?
There are many field service management software solutions out there. So you might be wondering: How do you narrow down your options to find the best carpet cleaning software for your business?
Your first step is to request a demo from each company you're interested in so that you can see exactly how it works. During the demo, keep the following factors in mind:
User-friendliness: A powerful platform is useless if the people on your team can't wrap their heads around using it. Make sure your software of choice comes with intuitive tools and a user-friendly interface that even non-tech savvy folks can adapt to.
Security: Always ask your prospective software provider how they intend on keeping your customers' data safe. Ask about the security systems they use and what their protocols are in the event of a breach.
Customizations: Is the software customizable, or is it more of a "one-size-fits-all" solution? Even if you get a solution that is considered the best carpet cleaning software by other companies, it wouldn't matter if it can't address your business' needs.
Integrations: Most carpet cleaning companies use apps and software solutions for different tasks, from QuickBooks to Google Calendar. Make sure the software you choose can support the integrations you need.
Ready to choose the best carpet cleaning software for your business? Keep reading to get a head start.
Top 12 best carpet cleaning software solutions
Now that you know what to look for when shopping for the best carpet cleaning software, it's time to narrow down your options. Below, you'll find 12 industry-leading cleaning service software providers.
Method:Field Services
CleanGuru
Janitorial Manager
Clean Calculator
Workwave Service
CleanMaint
Vonigo
Kickserv
CleanTelligent
Zenbooker
ServiceTitan
Less Paper Co.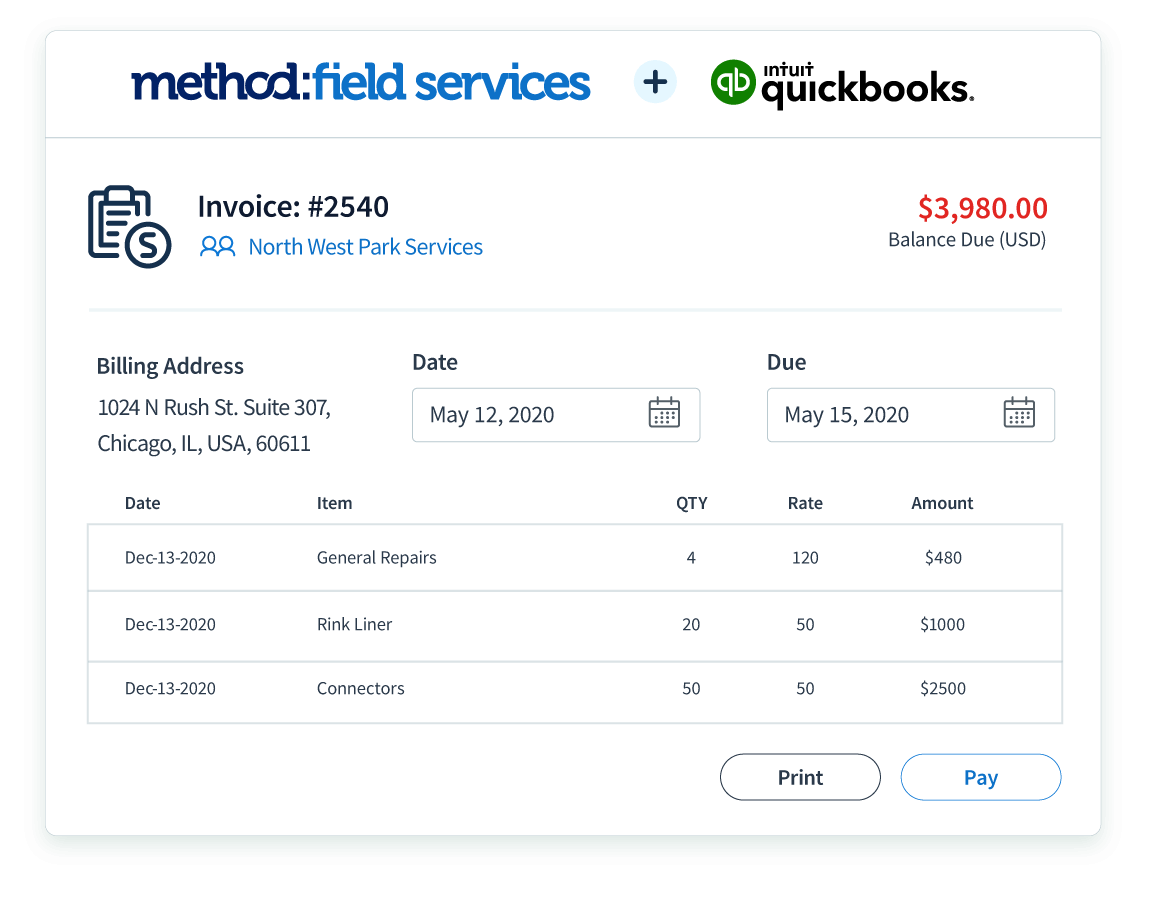 First on our list of the best carpet cleaning software solutions is Method:Field Services.
Method:Field Services is a cloud-based field service management software that simplifies all aspects of your carpet cleaning business, from customer management to job tracking and payment collection. The two-way QuickBooks sync ensures that information flows quickly and your team always stays up-to-date.
Method:Field Services's top features include:
Convert work orders into invoices with a few clicks.
Customization options to tailor-fit the solution to your business needs.
Optimized routing for increased efficiency.
A mobile app for real-time insights.
Plans and pricing
Method:Field Services offers a free trial for first-time users. After that, pricing starts at $25 per user per month.