Top 10 best commercial cleaning software companies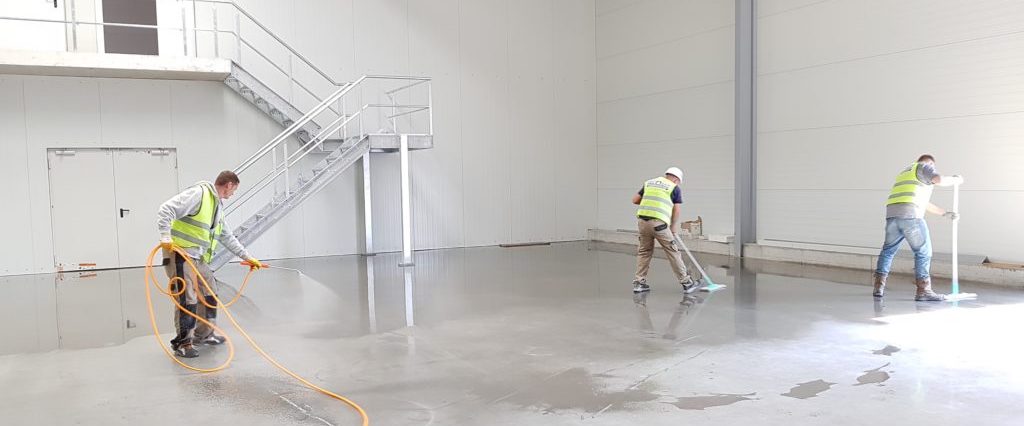 Manage your commercial cleaning business effectively and find the best commercial cleaning software for you.
Commercial cleaning and maid services involve much more than sweeping and vacuuming—there's a lot of administration work to be done. Luckily, the best commercial cleaning software handles admin tasks for you, so you have more time to concentrate on the real money-making work.
Thinking about getting commercial cleaning software? Read on to find out the best commercial cleaning software choices on the market today!
Management software for various industries
Not in the cleaning service business or looking for software for your other commercial field service businesses? Check out our list of other software below!
Understanding commercial cleaning software
Commercial cleaning software assists with the back-office processes of your commercial cleaning business. With these software solutions, you can complete tasks, such as:
Schedule cleaner teams.
Invoice customers.
Manage finances.
The ability to complete these tasks quicker allows cleaning business owners to get more done. But there are a number of other benefits to commercial cleaning software. Let's explore a few of them.
Benefits of commercial cleaning software
The right cleaning business software solution provides multiple benefits for your business. To give you an idea, here are some of the top benefits of choosing the best commercial cleaning software for your business.
Improve access to customer information
With traditional data storage, you spend hours looking for a file you need or worse, end up losing important information forever because of paper damage.
Digitizing your client information in a customer relationship management (CRM) database allows you to pull important customer data within seconds and ensure that information is always up-to-date.
Complete admin tasks sooner
Another way that the best commercial cleaning software saves you time is with pre-filled accounting templates and automated workflows. This eliminates the need to create each new form from scratch, and speeds up the admin process.
Saving time on paperwork means you have more time for revenue generating tasks, including:
Improving your cleaning services.
Satisfy existing clients.
Generating new leads.
Track your cleaners
The best commercial cleaning software comes with on-site job reporting and task tracking tools, so you can stay on top of your workforce even if you're not on-site.
Better yet, seek a solution with a mobile app that allows your cleaning crew to check in while they're on the job, ensuring that you always stay in the loop.
Let's talk about the other features you should look for in business cleaning software.
Key features of the best commercial cleaning software
There are several cleaning service software on the market, and they each have features catering to different needs.
Below are some key features that your software company should provide.
Client tracking
Customers may ask your cleaning team to use specific cleaning products or pay extra attention to a certain room.
The best commercial cleaning software keeps track of special client requests so you don't have to repeatedly verify with your customers or notify your service contractors.
Payroll management
Your field employees are the backbone of your cleaning company. So making sure that they're happy is key to improving employee retention and efficiency.
Commercial cleaning software ensures your payment processing goes as smoothly as possible, so that your workers are always paid accurately and on time. This, in turn, makes for happier workers!
Schedule optimization
If your cleaning company serves multiple locations, scheduling can be a nightmare.
The best commercial cleaning software includes schedule automation features to create schedules that ensure your clients are served equally well.
Still on the fence on what commercial cleaning software can do for your business? Check out the answers to a couple common questions.
Can commercial cleaning software help your business?
Yes, commercial cleaning software does help your business! The main benefits come from automating your workflows.
When you automate your daily operations, you have more time, energy, and money for things that really matter. Instead of spending hours compiling reports and booking appointments, you can use that time to look for new clients or expand your business.
Is it easy to adopt commercial cleaning software?
Adopting new technology always comes with some initial challenges. But the best commercial cleaning software solutions minimize the learning curve by offering onboarding and tutorials to get you up to speed sooner.
Once your software is properly implemented and your staff get used to the controls, there are plenty of benefits for you to reap.
Now that you know everything there is to know about commercial cleaning software, you're ready to choose the best one.
Our best commercial cleaning software picks
Finding the right commercial cleaning software on your own takes time and patience. Fortunately, we've done the legwork for you.
Here are 10 of the best commercial cleaning software solutions for you to choose from.
Method:Field Services
CleanGuru
Swept
AI Field Management
Clean Smarts
Connecteam
Clean Plan
Urbest
Service Fusion
Service Autopilot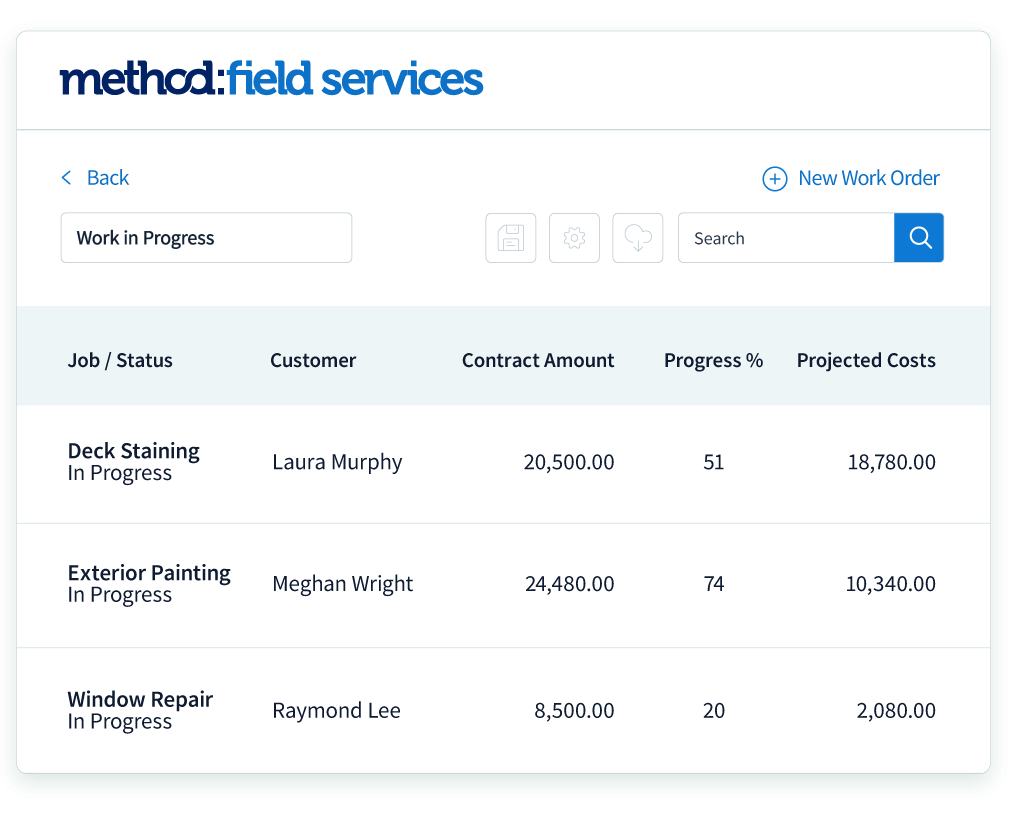 Method:Field Services is a full field service software package with a CRM, cost estimate automation, and several other useful tools. The QuickBooks two-way sync allows you to update information in real time.
One of Method:Field Services' top features is its mobile application, which allows teams to receive work orders and record job progress from anywhere.
Here are some key features that make Method:Field Services one of best commercial cleaning software:
Comprehensive sales dashboard: Customize your sales approach to attract more customers.
Integration with QuickBooks Online and Desktop: Prevent double data entry and save time on admin work with seamless accounting software integration.
Team management dashboard: Assign the best workers to jobs and avoid appointment clashes.
For a better look at what Method:Field Services offers, watch the video below.
Plans and pricing
Method:Field Services paid plans start at only $15 per user per month. Still on the fence? Book a no-commitment free trial!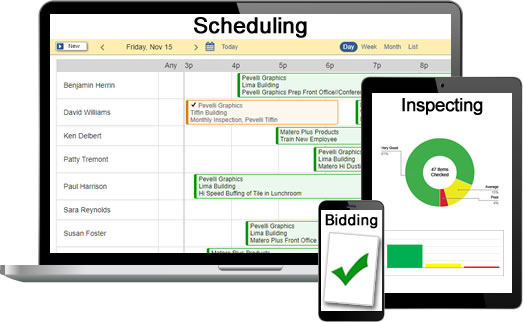 CleanGuru is an all-in-one cleaning software solution. Its key features include:
A cloud-based bidding system to create proposals quickly.
An automated invoicing tool.
A convenient inspection checklist tool.
Here are some of the benefits you get if you choose CleanGuru:
Capture leads and keep track of your existing customers with a centralized dashboard for CRM.
Schedule customer appointments easily through filterable availability calendars.
Connect your cleaning staff and supervisors through a one-click call feature.
Plans and pricing
CleanGuru's plans range from $49per month to $119per month. You can also book a free trial.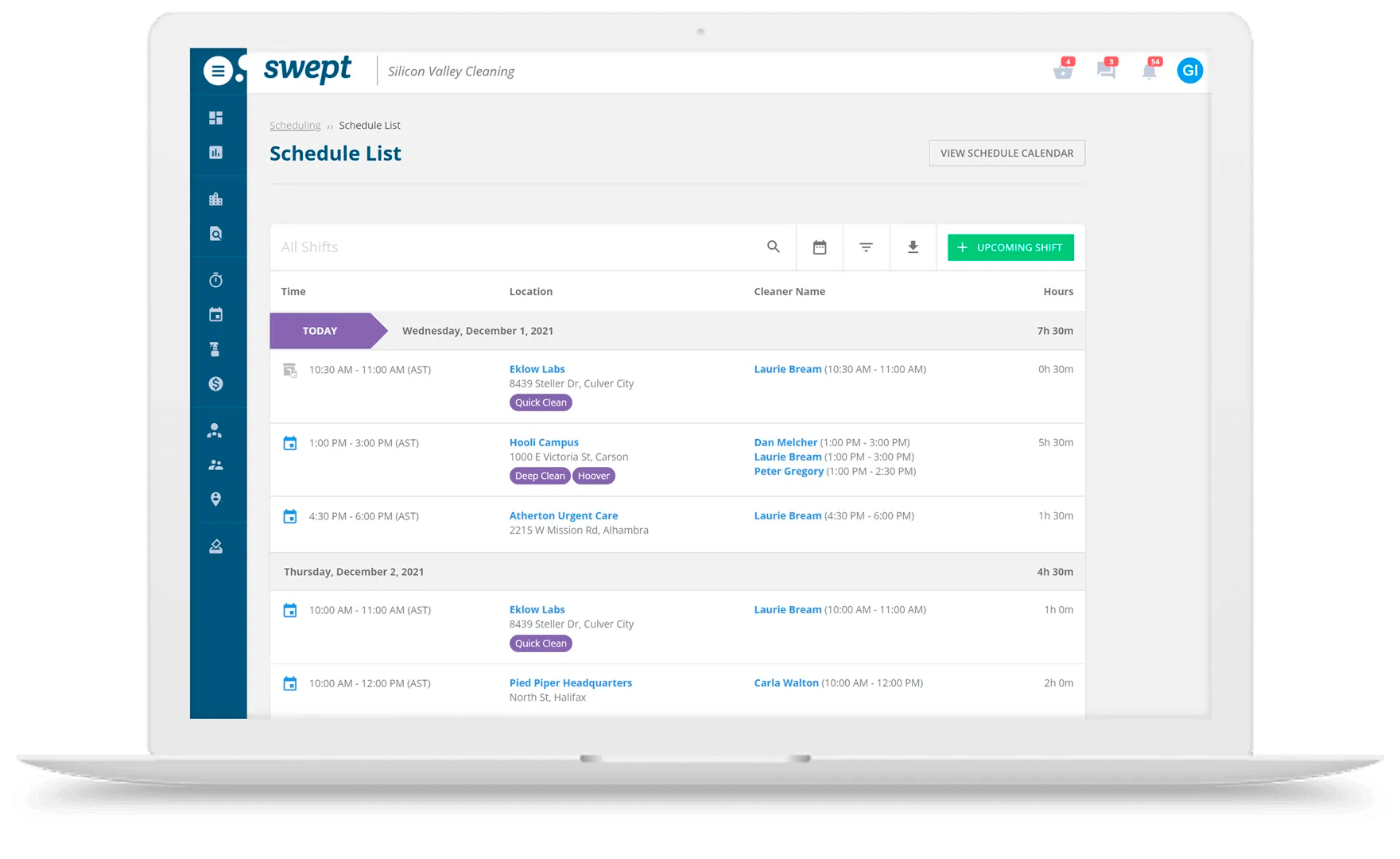 Next on the list of the best commercial cleaning software is Swept.
Swept is janitorial software that provides 24/7 updates on your clients and cleaners. From your mobile device, you can keep a close eye on your field staff and ensure they don't miss any important tasks.
With Swept, you can:
Centralize cleaner, manager, and client communication with location-based instant messaging.
Track your cleaners' happiness with a mood reporting tool.
Manage your cleaning supplies with a real-time supply tracking app.
Plans and pricing
Swept offers custom pricing plans that start at $150 per month. The company also has a $50 per month Swept Lite plan for smaller commercial cleaning companies.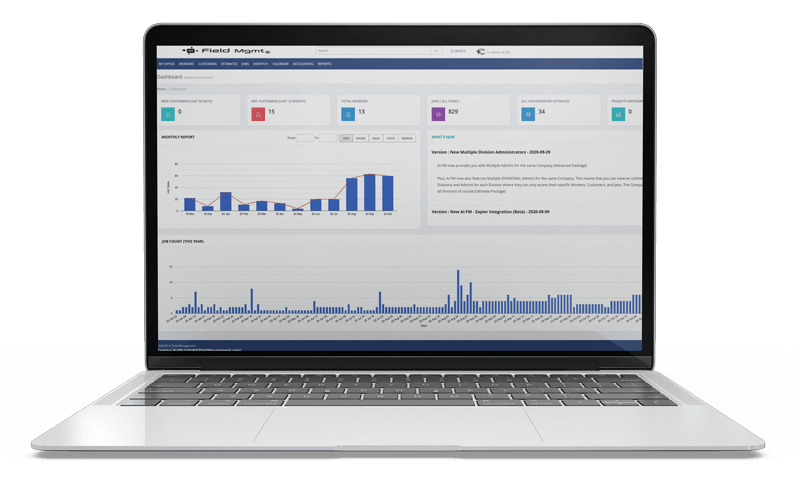 AI Field Management (AI-FM) is a field service management software solution that leverages artificial intelligence. That means the more you use this software, the more its AI will make relevant suggestions on how to improve your business.
In addition to its smart learning capabilities, AI-FM also helps commercial cleaning companies in the following ways:
Integrate your back-office processes with QuickBooks Online & Desktop.
Scale inventory management as your business grows.
Calculate overtime accurately through a robust time tracking system.
Plans and pricing
AI-FM offers a freemium plan with most of its primary features for one user. Its most affordable premium package costs $9.99 per user per month.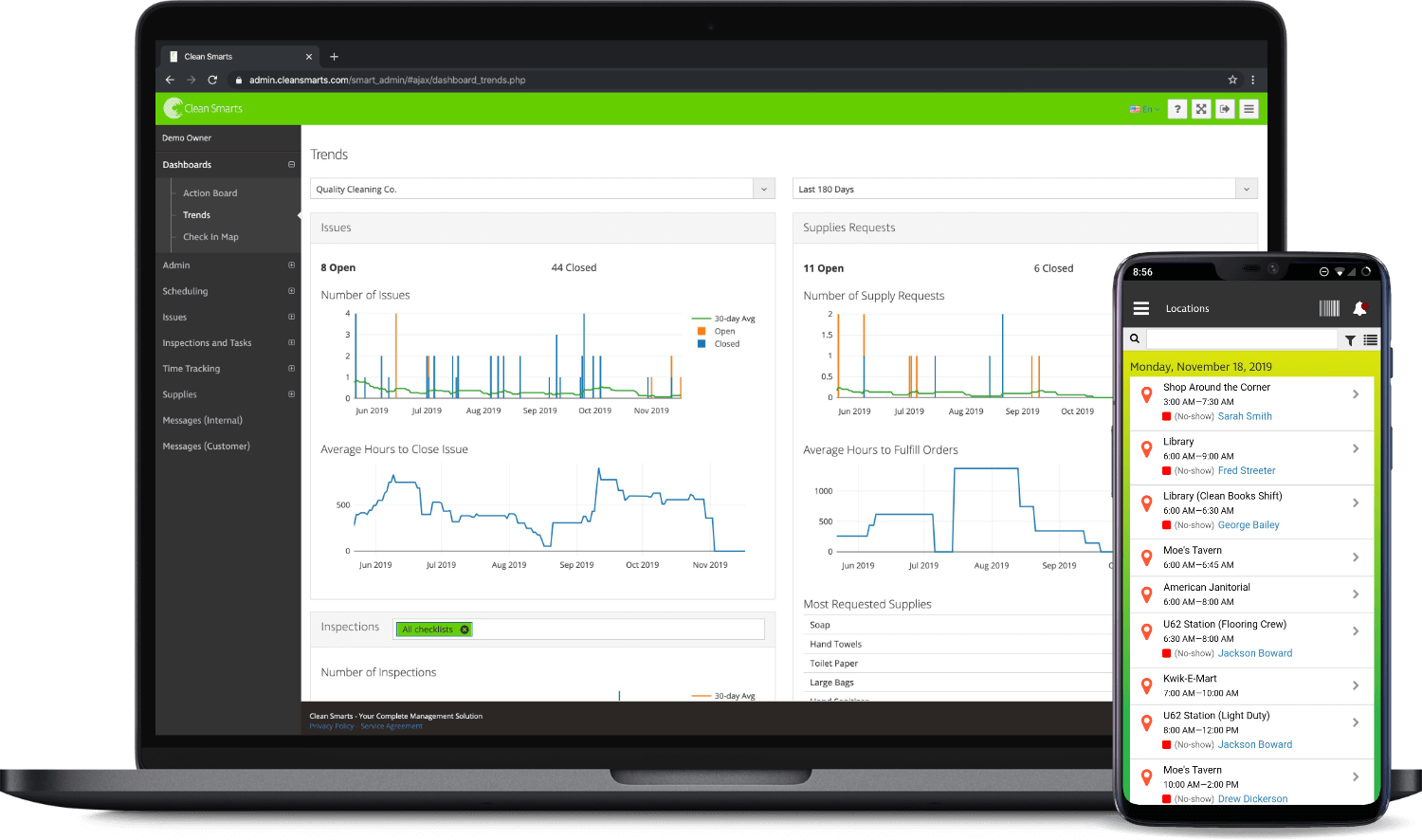 Next, we have Clean Smarts.
Clean Smarts' most important feature is its tracking tools, through which you can monitor tasks, manage supplies, and control quality with real-time updates.
Clean Smarts also enables you to:
Schedule and assign individual cleaning teams to different parts of a building.
Track problems that pop up during jobs with an issue tracker.
Build consumer trust with detailed reports.
Plans and pricing
Clean Smarts costs $99 per month for ten users. Each additional user costs an extra $5 per month.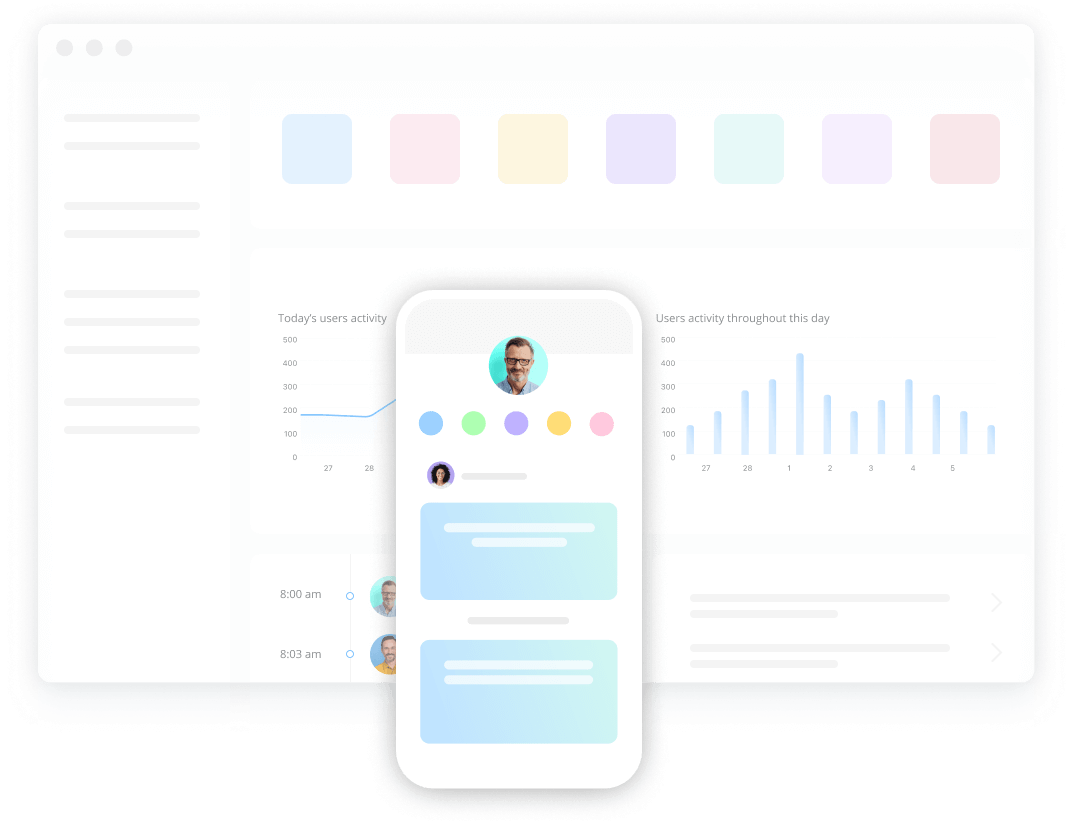 Connecteam is a communication-focused field service business solution. It primarily offers tools like surveys, chat apps, and newsletters.
Its features allow you to:
Monitor your cleaners through a mobile time tracking feature.
Cut down on admin time with self-service time-off requests.
Facilitate on-the-job training through an employee education platform.
Plans and pricing
Connecteam has a free plan with some basic features. If you need a wider range of tools, paid plans start at $47 per month.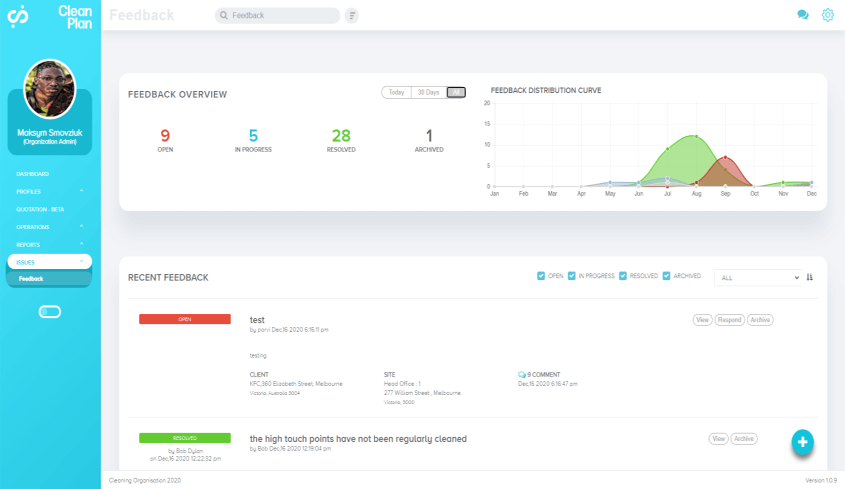 Next on our list of the best commercial cleaning software is CleanPlan.
CleanPlan deals with your day-to-day operations so your team can focus on cleaning. This software schedules jobs automatically so you don't spend time dealing with tedious administrative tasks.
CleanPlan's wide array of features enables you to:
Provide detailed inspection reports for customers.
Record important details and customer requests to ensure nothing is missed.
Automate workflows so all your cleaners need to do is clean.
Plans and pricing
Unfortunately, CleanPlan doesn't publicly post any pricing information on its site. You need to call the company for pricing details.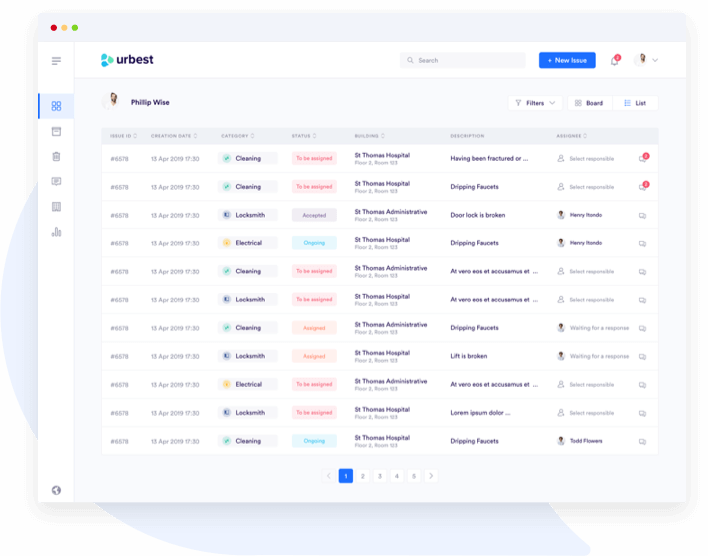 Urbest is one of the best commercial cleaning software solutions as it reduces ambiguity and miscommunication in field service business operations thanks to its collaborative worksheets.
In addition to bridging communications between you, stakeholders, and clients, Urbest provides tools to:
Track your cleaners' work progress and monitor their performance.
Control work costs with intuitive time tracking tools.
Approve invoices automatically.
Plans and pricing
Urbest doesn't list any price information on its website. However, you can book a demo that comes with a trial.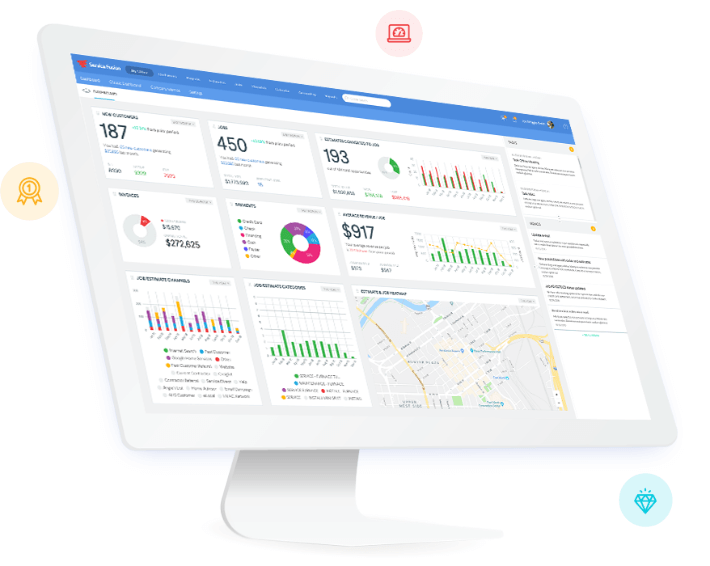 Service Fusion offers powerful tools like customer management databases and online invoicing for the field service industry, including cleaning businesses.
Here's a quick look at its key features:
Schedule cleaners at a moment's notice through an intuitive user interface.
Charge customers on the field with mobile invoicing tools.
Keep clients updated with digital appointment notifications.
Plans and pricing
Service Fusion offers "small business pricing" with a basic package that costs $149 per month. You also get free setup and personalized training with all plans.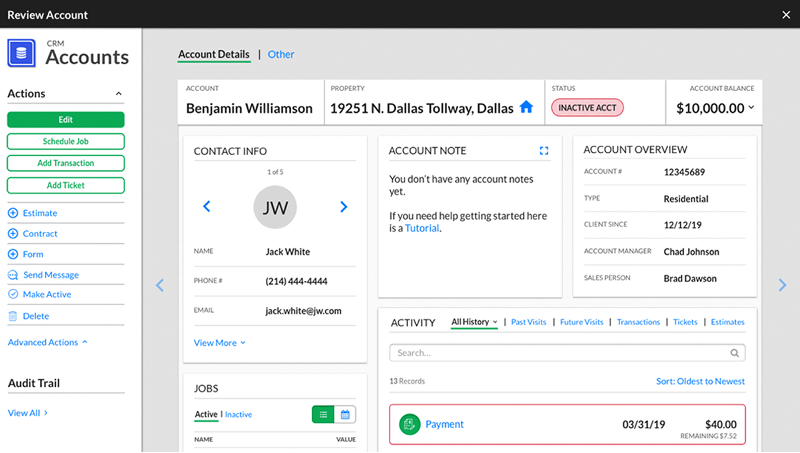 Last on our list of the best commercial cleaning software is Service Autopilot.
True to its name, Service Autopilot puts your business on autopilot by automating online payment collection and admin tasks. It can also help you:
Plot cleaning staff routes automatically with a fleet tracking tool.
Centralize client information.
Create detailed reports from real-time data updates.
Plans and pricing
Service Autopilot's plans start at $47 per month. If you're a first-time user, you need to pay a $97 sign-up fee.
Closing thoughts on the best commercial cleaning software
The best commercial cleaning software saves you time by automating admin work and client invoicing. However, it does more than just make your days easier.
You can use the time saved by commercial cleaning software on more meaningful tasks that grow your business, such as:
Searching for more clients.
Improving your business.
Boosting sales.
Image credit: BECOSAN via Pexels