Top 10 best commercial cleaning software companies
Manage your commercial cleaning business effectively and find the best commercial cleaning software for you.
Commercial cleaning and maid services involve much more than sweeping and vacuuming—there's a lot of administration work to be done. Luckily, the best commercial cleaning software handles admin tasks for you, so you have more time to concentrate on the real money-making work.
Thinking about getting commercial cleaning software? Read on to find out the best commercial cleaning software choices on the market today!
Management software for various industries
Not in the cleaning service business or looking for software for your other commercial field service businesses? Check out our list of other software below!
Understanding commercial cleaning software
Commercial cleaning software assists with the back-office processes of your commercial cleaning business. With these software solutions, you can complete tasks, such as:
Schedule cleaner teams.
Invoice customers.
Manage finances.
The ability to complete these tasks quicker allows cleaning business owners to get more done. But there are a number of other benefits to commercial cleaning software. Let's explore a few of them.
Benefits of commercial cleaning software
The right cleaning business software solution provides multiple benefits for your business. To give you an idea, here are some of the top benefits of choosing the best commercial cleaning software for your business.
Improve access to customer information
With traditional data storage, you spend hours looking for a file you need or worse, end up losing important information forever because of paper damage.
Digitizing your client information in a customer relationship management (CRM) database allows you to pull important customer data within seconds and ensure that information is always up-to-date.
Complete admin tasks sooner
Another way that the best commercial cleaning software saves you time is with pre-filled accounting templates and automated workflows. This eliminates the need to create each new form from scratch, and speeds up the admin process.
Saving time on paperwork means you have more time for revenue generating tasks, including:
Improving your cleaning services.
Satisfy existing clients.
Generating new leads.
Track your cleaners
The best commercial cleaning software comes with on-site job reporting and task tracking tools, so you can stay on top of your workforce even if you're not on-site.
Better yet, seek a solution with a mobile app that allows your cleaning crew to check in while they're on the job, ensuring that you always stay in the loop.
Let's talk about the other features you should look for in business cleaning software.
Key features of the best commercial cleaning software
There are several cleaning service software on the market, and they each have features catering to different needs.
Below are some key features that your software company should provide.
Client tracking
Customers may ask your cleaning team to use specific cleaning products or pay extra attention to a certain room.
The best commercial cleaning software keeps track of special client requests so you don't have to repeatedly verify with your customers or notify your service contractors.
Payroll management
Your field employees are the backbone of your cleaning company. So making sure that they're happy is key to improving employee retention and efficiency.
Commercial cleaning software ensures your payment processing goes as smoothly as possible, so that your workers are always paid accurately and on time. This, in turn, makes for happier workers!
Schedule optimization
If your cleaning company serves multiple locations, scheduling can be a nightmare.
The best commercial cleaning software includes schedule automation features to create schedules that ensure your clients are served equally well.
Still on the fence on what commercial cleaning software can do for your business? Check out the answers to a couple common questions.
Can commercial cleaning software help your business?
Yes, commercial cleaning software does help your business! The main benefits come from automating your workflows.
When you automate your daily operations, you have more time, energy, and money for things that really matter. Instead of spending hours compiling reports and booking appointments, you can use that time to look for new clients or expand your business.
Is it easy to adopt commercial cleaning software?
Adopting new technology always comes with some initial challenges. But the best commercial cleaning software solutions minimize the learning curve by offering onboarding and tutorials to get you up to speed sooner.
Once your software is properly implemented and your staff get used to the controls, there are plenty of benefits for you to reap.
Now that you know everything there is to know about commercial cleaning software, you're ready to choose the best one.
Our best commercial cleaning software picks
Finding the right commercial cleaning software on your own takes time and patience. Fortunately, we've done the legwork for you.
Here are 10 of the best commercial cleaning software solutions for you to choose from.
Method:Field Services
CleanGuru
Swept
AI Field Management
Clean Smarts
Connecteam
Clean Plan
Urbest
Service Fusion
Service Autopilot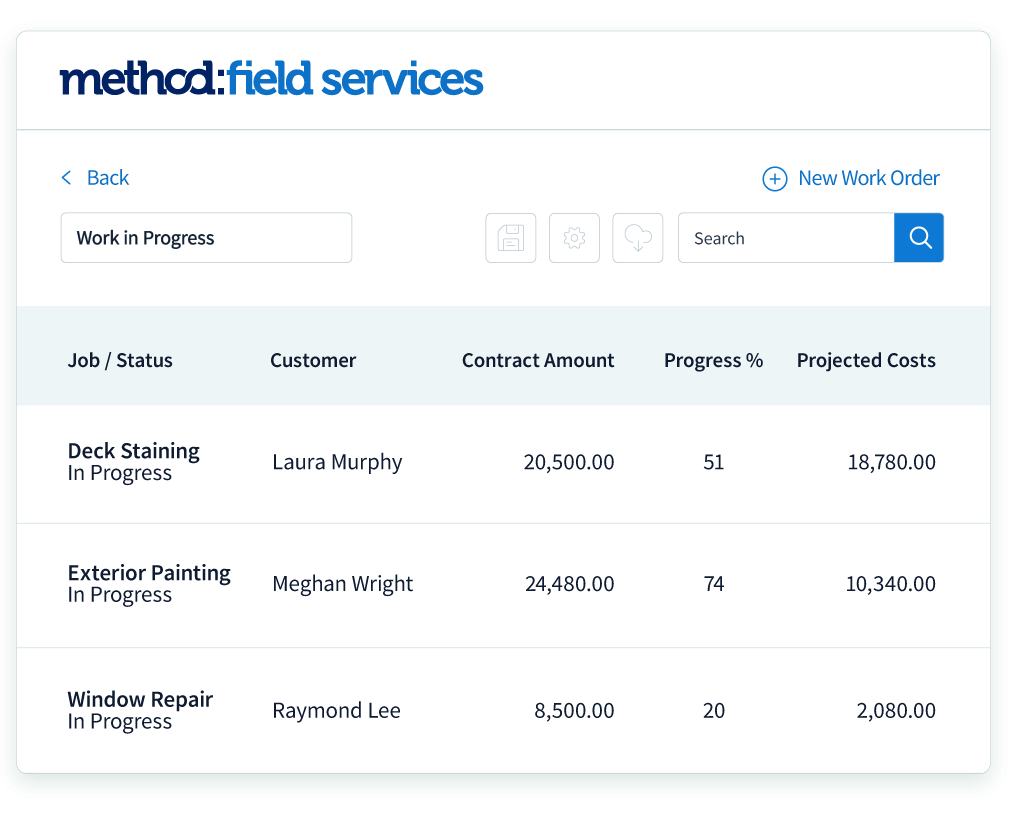 Method:Field Services is a full field service software package with a CRM, cost estimate automation, and several other useful tools. The QuickBooks two-way sync allows you to update information in real time.
One of Method:Field Services' top features is its mobile application, which allows teams to receive work orders and record job progress from anywhere.
Here are some key features that make Method:Field Services one of best commercial cleaning software:
Comprehensive sales dashboard: Customize your sales approach to attract more customers.
Integration with QuickBooks Online and Desktop: Prevent double data entry and save time on admin work with seamless accounting software integration.
Team management dashboard: Assign the best workers to jobs and avoid appointment clashes.
For a better look at what Method:Field Services offers, watch the video below.
Plans and pricing
Method:Field Services paid plans start at only $15 per user per month. Still on the fence? Book a no-commitment free trial!