Top 12 best janitorial software companies
Find the best software to help you run your entire business with our list of best janitorial business software.
The pandemic has caused people to expect a greater level of cleanliness in commercial establishments. For janitorial service providers, this is a double-edged sword. While the need for more frequent cleaning brings more business, it also means that janitorial businesses need to find a way to work more efficiently.
The best janitorial software solutions drive efficiency by boosting productivity and reducing errors, allowing janitorial businesses to juggle more customers at a time.
In this guide,  you'll discover 12 field service management software solutions for your janitorial business.
Other top software solutions for different field service industries
Not in the cleaning industry? We have guides for the best field service software across various industries, from pest control to elevator services. Check out some of our operational software guides below:
What is janitorial software?
Janitorial software solutions are programs designed to streamline janitorial service business tasks, such as:
Administrative tasks.
Customer management.
Accounting.
The best solutions gets these tasks done more efficiently by simplifying the process, thanks to the numerous features that they have.
What are the common features of janitorial software?
The best janitorial software solutions have features that take work off the plates of your team so that they focus on the job at hand. Here are some of the key features to look out for!
Customer relationship management (CRM) software:
A key feature found in most field service management software, CRMs put your customer data in one easily accessible place. Within a single platform, your business can respond to customer queries, book appointments, and perform other actions for customer satisfaction.
Job scheduling and dispatching
Managing field employees' schedules can be challenging without the right tools. The best software allows managers to schedule jobs, get notified of changes, and even track janitors' locations, all in real time.
Financial management
If you're in the field service business, you know what a pain financials can be. From sending quotes to collecting payments, it's tough to keep up with the tasks that keep the jobs flowing
A good solution empowers field staff with billing & invoicing capabilities on- the -go while syncing data seamlessly to a cloud-based accounting solution.
Let's look at the factors to consider before choosing the right software for your business.
Factors to consider when choosing the best janitorial software
While many products are marketed as a "one-size-fits-all" solution, not all of them will work for your business. When looking for the best option, consider the following factors to find the best solution for your business.
Ease of use
When choosing software, keep your employees' technical aptitude in mind. If your workers aren't the most tech-savvy folks, purchasing overly complicated business software would just be a waste of money. The best solutions for companies with less-than-techie employees are intuitive, simple, and easy to learn.
Integrations
While some software companies claim to be an all-in-one software solution, you most likely need more than one solution to handle all your business operations. Make sure that the software you choose can be synced to the other programs you use.
Flexibility
If you're growing your business, you need to choose a solution that evolves with you. As the industry is expected to keep growing, janitorial businesses are also expected to transform. Make sure your operational software is customizable to fit your needs as you grow.
Top 12 best janitorial software solutions for your business
Now that you know how to look for the best software for your business, you can start narrowing down your options. To get you started, here's a list of today's industry-leading cleaning service software.
Method:Field Services
CleanGuru
Swept
Janitorial Manager
CleanTelligent
CleanMaint
ServiceWorks
Service Fusion
Lighthouse.io
Clean Smarts
Pancomp
mHelpDesk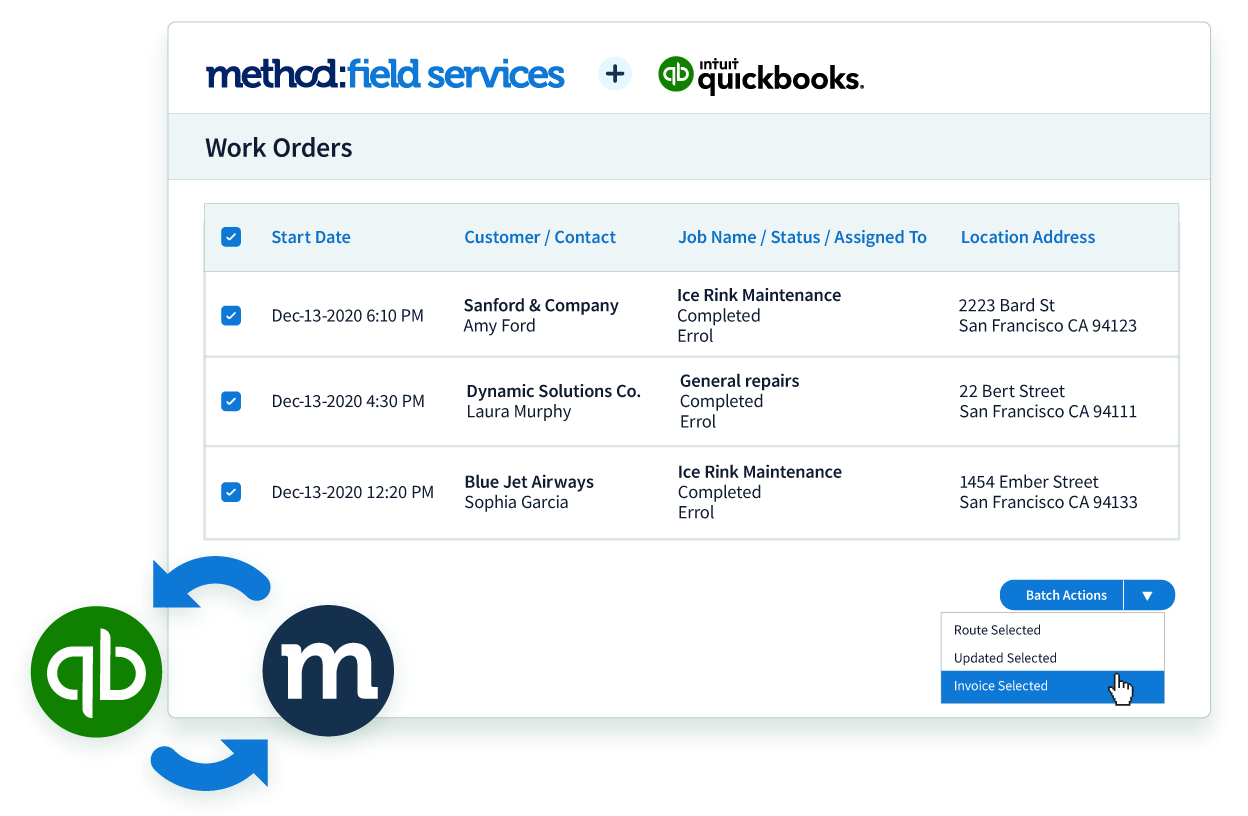 To kick things off, we have Method:Field Services.
Method:Field Services is a cloud-based field service solution that offers the fastest and most reliable data flow with QuickBooks Online and QuickBooks Desktop, thanks to the solution's two-way sync.
With Method:Field Services, field service pros can create job estimates, present quotes, send invoices, and receive payments from the office and the job site.
Method:Field Services' other features include:
Customization for a more efficient workflow.
One central dashboard to monitor all your cleaning technicians' schedules, locations, and working hours.
An inventory management tool to keep track of all your equipment, materials, and trucks.
Plans and pricing
Method:Field Services offers a free free trial to new users. Once the trial ends, it costs $15 per user per month.