Top 12 best janitorial software companies

Find the best software to help you run your entire business with our list of best janitorial business software.
The pandemic has caused people to expect a greater level of cleanliness in commercial establishments. For janitorial service providers, this is a double-edged sword. While the need for more frequent cleaning brings more business, it also means that janitorial businesses need to find a way to work more efficiently.
The best janitorial software solutions drive efficiency by boosting productivity and reducing errors, allowing janitorial businesses to juggle more customers at a time.
In this guide, you'll discover 12 field service management software solutions for your janitorial business.
Other top software solutions for different field service industries
Not in the cleaning industry? We have guides for the best field service software across various industries, from pest control to elevator services. Check out some of our operational software guides below:
What is janitorial software?
Janitorial software solutions are programs designed to streamline janitorial service business tasks, such as:
Administrative tasks.
Customer management.
Accounting.
The best solutions gets these tasks done more efficiently by simplifying the process, thanks to the numerous features that they have.
What are the common features of janitorial software?
The best janitorial software solutions have features that take work off the plates of your team so that they focus on the job at hand. Here are some of the key features to look out for!
Customer relationship management (CRM) software:
A key feature found in most field service management software, CRMs put your customer data in one easily accessible place. Within a single platform, your business can respond to customer queries, book appointments, and perform other actions for customer satisfaction.
Job scheduling and dispatching
Managing field employees' schedules can be challenging without the right tools. The best software allows managers to schedule jobs, get notified of changes, and even track janitors' locations, all in real time.
Financial management
If you're in the field service business, you know what a pain financials can be. From sending quotes to collecting payments, it's tough to keep up with the tasks that keep the jobs flowing
A good solution empowers field staff with billing & invoicing capabilities on- the -go while syncing data seamlessly to a cloud-based accounting solution.
Let's look at the factors to consider before choosing the right software for your business.
Factors to consider when choosing the best janitorial software
While many products are marketed as a "one-size-fits-all" solution, not all of them will work for your business. When looking for the best option, consider the following factors to find the best solution for your business.
Ease of use
When choosing software, keep your employees' technical aptitude in mind. If your workers aren't the most tech-savvy folks, purchasing overly complicated business software would just be a waste of money. The best solutions for companies with less-than-techie employees are intuitive, simple, and easy to learn.
Integrations
While some software companies claim to be an all-in-one software solution, you most likely need more than one solution to handle all your business operations. Make sure that the software you choose can be synced to the other programs you use.
Flexibility
If you're growing your business, you need to choose a solution that evolves with you. As the industry is expected to keep growing, janitorial businesses are also expected to transform. Make sure your operational software is customizable to fit your needs as you grow.
Top 12 best janitorial software solutions for your business
Now that you know how to look for the best software for your business, you can start narrowing down your options. To get you started, here's a list of today's industry-leading cleaning service software.
Method:Field Services
CleanGuru
Swept
Janitorial Manager
CleanTelligent
CleanMaint
ServiceWorks
Service Fusion
Lighthouse.io
Clean Smarts
Pancomp
mHelpDesk
To kick things off, we have Method:Field Services.
Method:Field Services is a cloud-based field service solution that offers the fastest and most reliable data flow with QuickBooks Online and QuickBooks Desktop, thanks to the solution's two-way sync.
With Method:Field Services, field service pros can create job estimates, present quotes, send invoices, and receive payments from the office and the job site.
Method:Field Services' other features include:
Customization for a more efficient workflow.
One central dashboard to monitor all your cleaning technicians' schedules, locations, and working hours.
An inventory management tool to keep track of all your equipment, materials, and trucks.
Plans and pricing
Method:Field Services offers a free free trial to new users. Once the trial ends, it costs $15 per user per month.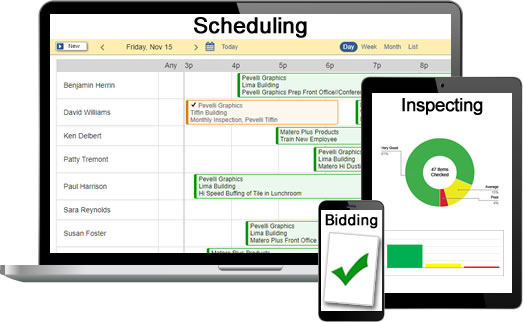 CleanGuru is one of the more popular janitorial software solutions in the market, for good reason. There are two products under the CleanGuru name:
CleanBid: a janitorial and maid service bidding software.
CleanQ: an app that simplifies the quality control inspection process.
With a CleanGuru subscription, you gain access to features, such as:
A mobile time tracking and GPS tool to monitor cleaning technicians' locations in real time and accurately track hours worked on sites.
A drag-and-drop scheduling tool to create schedules, assign work orders, track job progress, and communicate changes to teams.
A client management platform to access relevant customer data such as contact information to payment history.
Plans and pricing
Clean Guru's Bidding prices are:
Basic plan: $49 per month.
Deluxe plan: $69 per month.
Max plan: $89 per month
Max Plus plan: $119 for the Max Plus plan.
The Inspecting app costs $59 per month.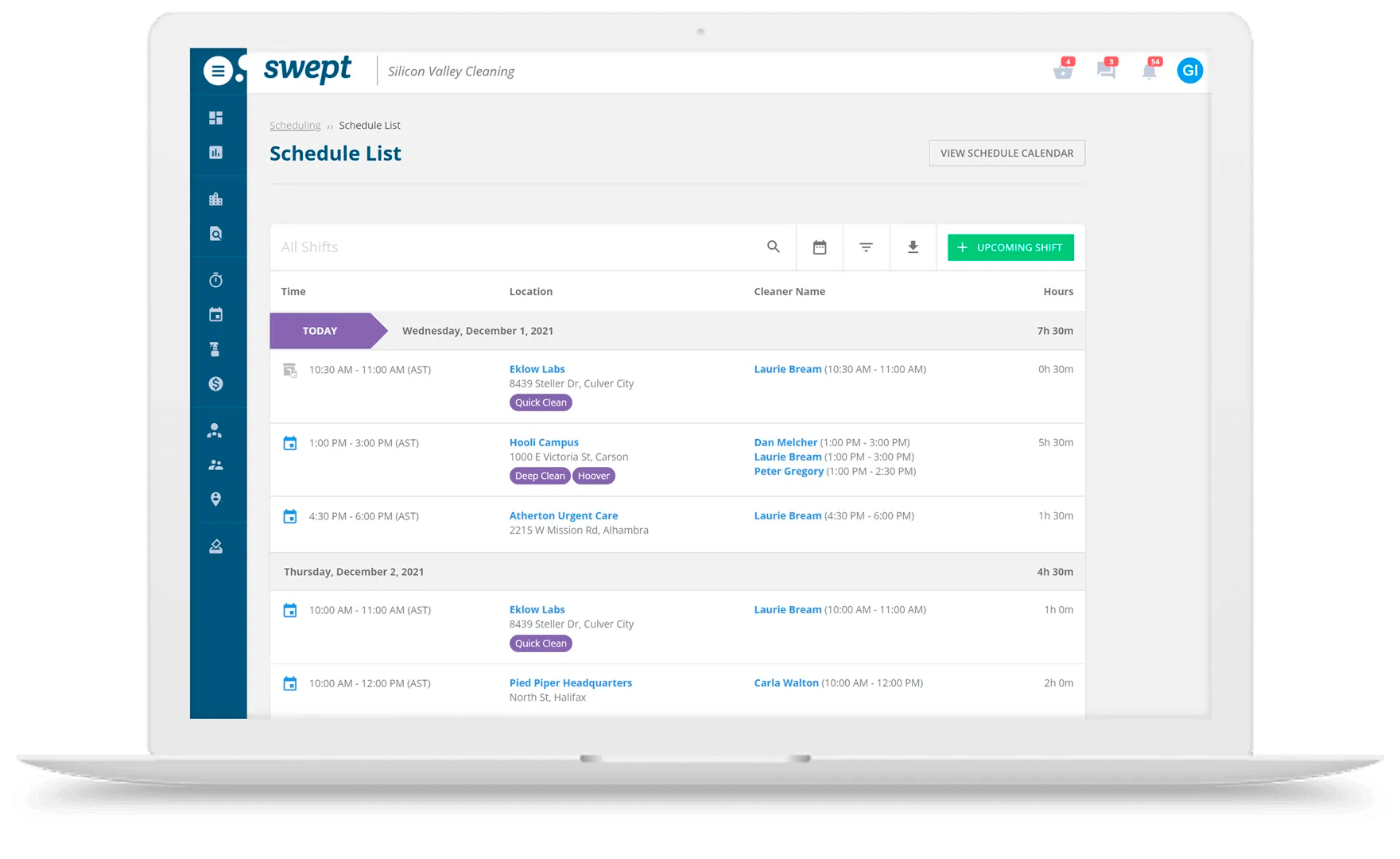 Swept is an all-in-one platform made exclusively for janitorial businesses. The smart service software makes it easy to keep track of your operations 24/7, with real-time updates available via mobile app.
With Swept, you can:
Create detailed checklists for cleaning staff to follow, complete with pictures and instructions.
Communicate effectively with cleaning staff, even when English isn't their native language. Swept can translate messages, reports, and other important information in over 100 languages.
Get a pulse on how employees feel about daily operations with mood reporting and problem reporting capabilities.
Plans and pricing
A Swept subscription starts at $150 per month.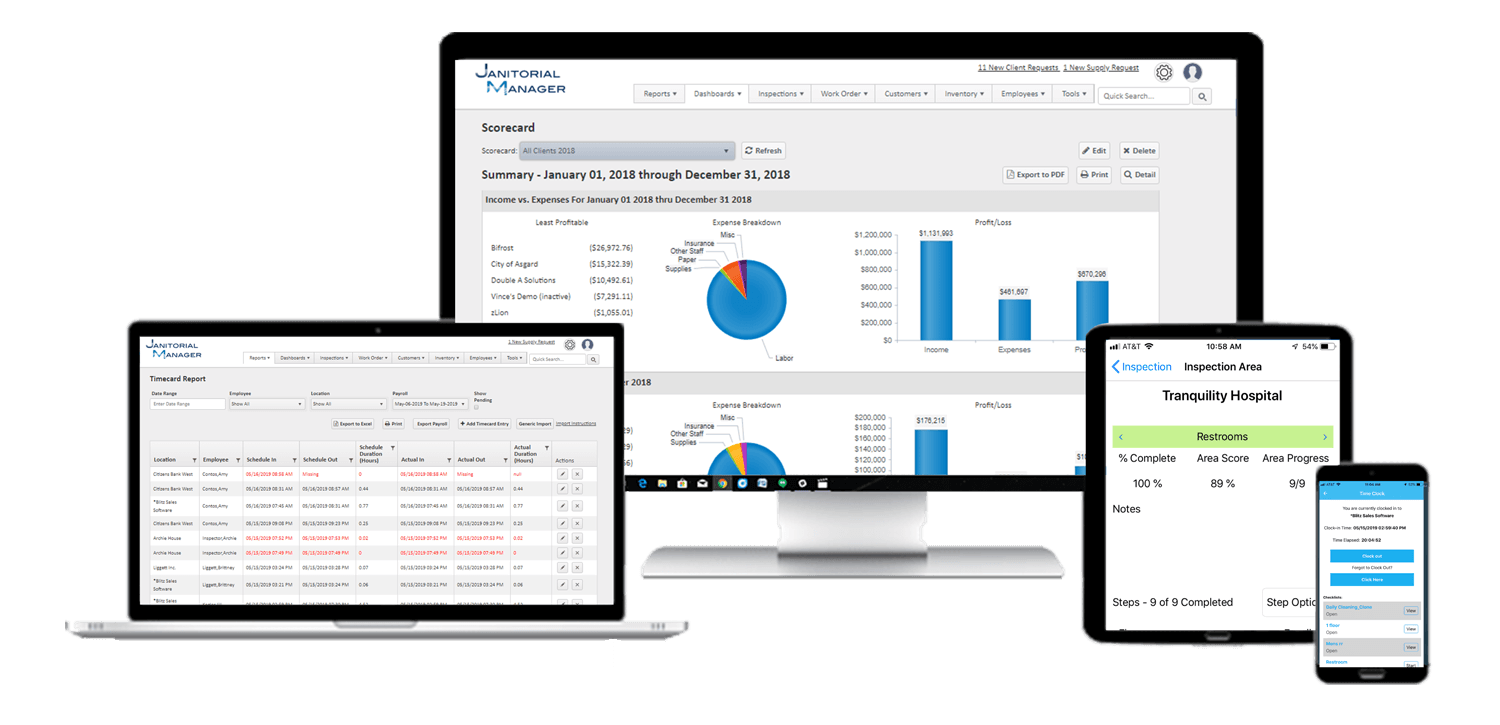 Next on our list is Janitorial Manager.
This cloud-based field service management solution is made by janitors for janitors. Janitorial Manager allows you to provide excellent customer service and boost employee retention.
Here's how Janitorial Manager can assist with your day-to-day operations:
Office managers can easily communicate with and monitor cleaning crews through the JM Connect mobile app while they work.
The JM Inspections mobile app gives on-site inspectors tools such as inspection templates, routine inspection scheduling, image sharing, reporting, and more.
The Scan4Clean QR code feature lets cleaning team members access customized cleaning lists while allowing clients to track which areas have been cleaned and when.
Plans and pricing
A personalized pricing proposal is available upon request.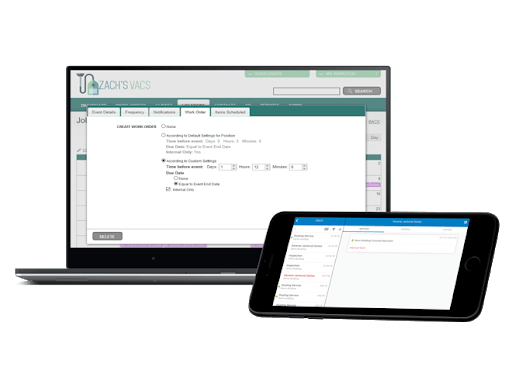 With a reputation that dates back to the 1990s, CleanTelligent is a tried and tested solution for janitorial companies.
As a fully customizable software, CleanTelligent stands as a great solution for growing companies.
Here are three reasons field service professionals trust CleanTelligent:
With the CleanTelligent mobile app, you can improve communications between office staff and on-site cleaning crews.
The software comes with anonymous cleaning satisfaction surveys sent out to customers to get insights on cleaning crew performance.
The program also comes with business intelligence software to identify trends, pain points, and key metrics.
Plans and pricing
CleanTelligent is priced at $17 per license per month.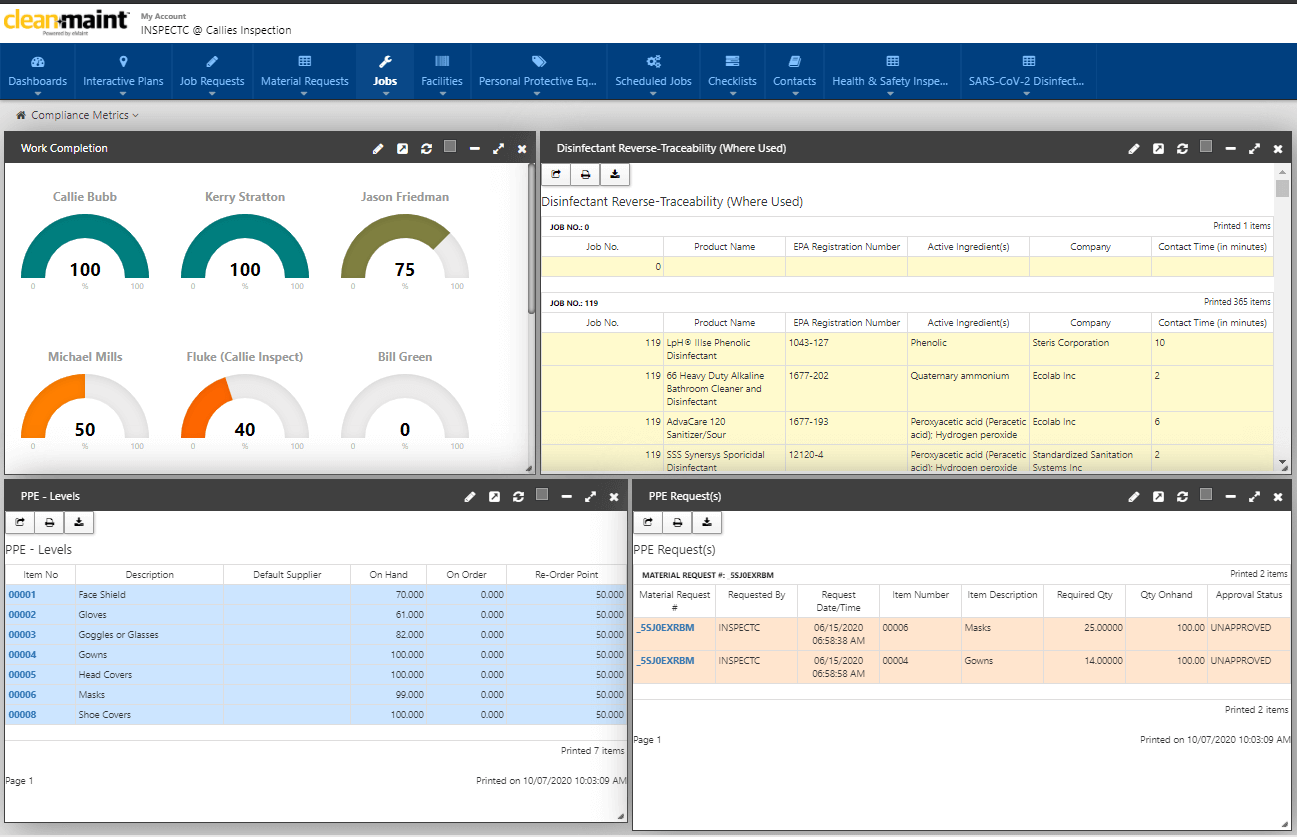 Next, we have CleanMaint.
This software is powered by eMaint, a computerized maintenance management software known for excellent customer support.
With CleanMaint, you can:
Map work orders into physical zones for better tracking.
Keep track of inventory levels, suppliers, vendors, and orders in one accessible platform.
Instantly craft business reports and turn them into sharable PDFs, text documents, or graphs.
Plans and pricing
CleanMaint is available in three pricing plans:
Base plan: $33 per user per month.
Premium plan: $85 per user per month.
Enterprise plan: $120 per user per month.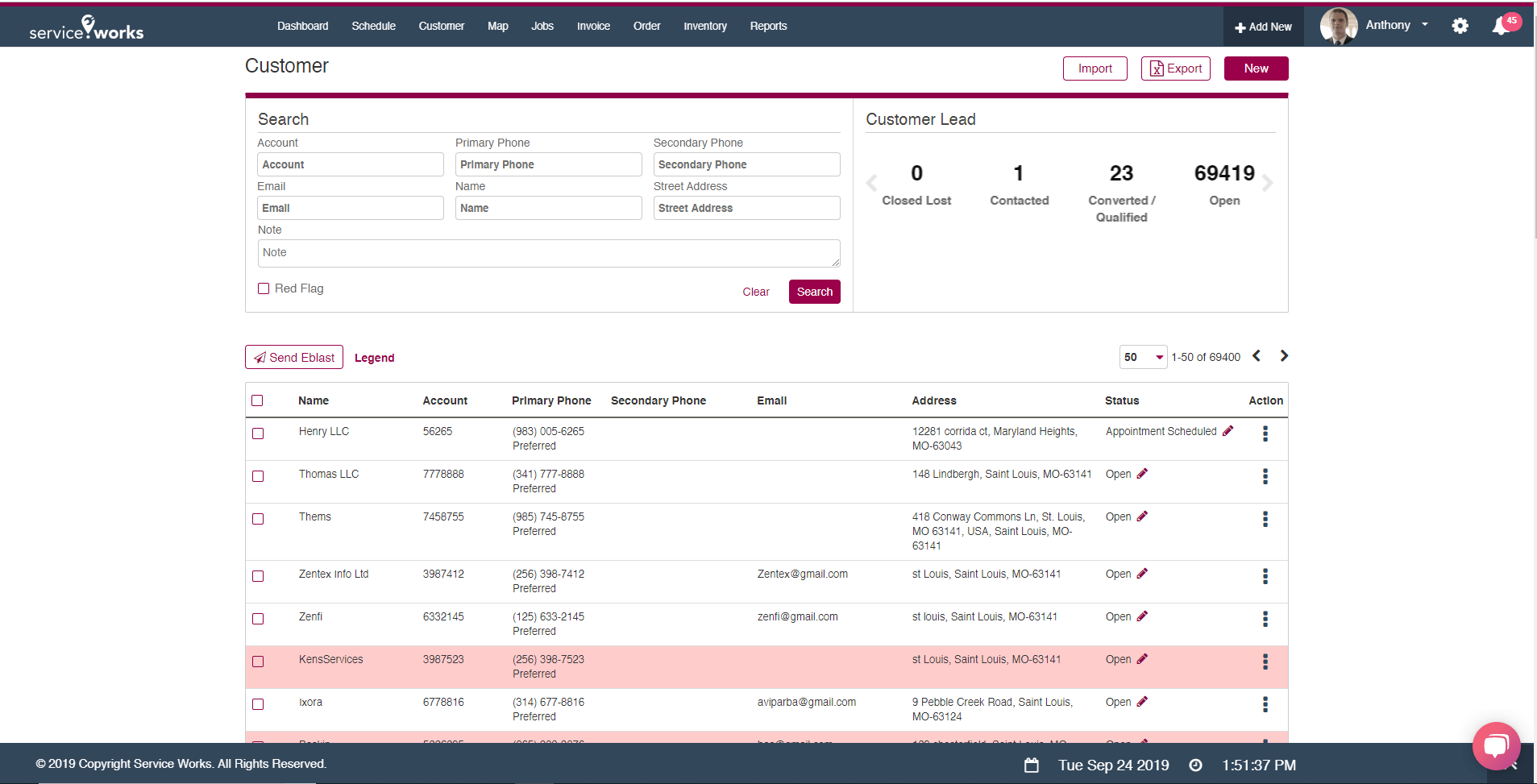 ServiceWorks is an all-in-one field service management software that caters to small and medium-sized cleaning service companies.
With easy onboarding and instructor-led training lessons, ServiceWorks is a great solution for new businessesHere are some of the key features you enjoy with ServiceWorks:
A branded customer portal to let clients view their schedules, make payments, and more.
Route optimization tools that save your cleaning crews time and energy in the field.
Integrations with QuickBooks Online and QuickBooks Desktop for easy and seamless invoicing and payment documentation.
Plans and pricing
ServiceWorks offers a 14-day free trial, no credit card required. From there, your plan options are:
Start plan: Starts at $29 per month for unlimited users.
Plus plan: $119 per month.
Ultimate plan: $319 per month.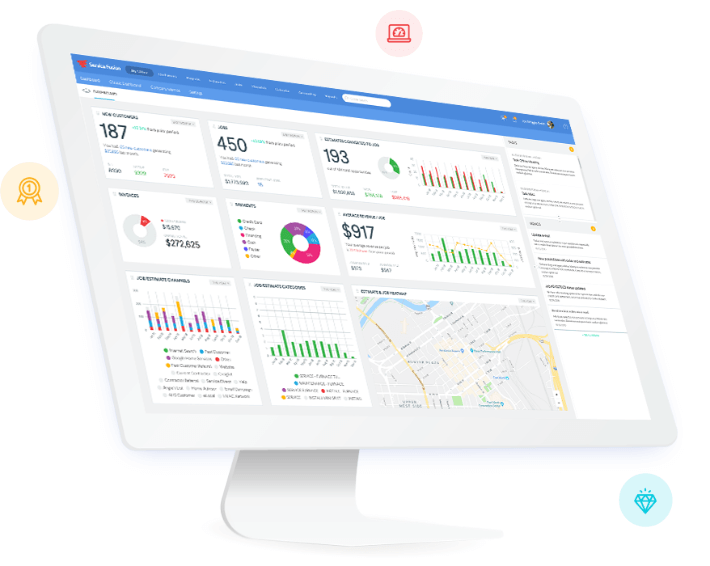 Service Fusion is another all-in-one field service management software with great features that's affordable for small businesses. Service Fusion requires no setup fees or contracts to get started.
With Service Fusion, field service pros enjoy the following features:
An intuitive drag-and-drop dispatching grid to schedule jobs, monitor cleaning crews' appointments and keep everything on track.
ServiceCall.ai call tracker software that automatically tracks and transcribes calls. This key feature also allows custom call routing and queueing.
An all-in-one payment processing platform that allows for online and on-site payments.
Plans and pricing
The Starter plan costs $125 per month for unlimited users, while the Plus plan costs $186 per month for unlimited users. The Pro plan costs $339 per month for unlimited users.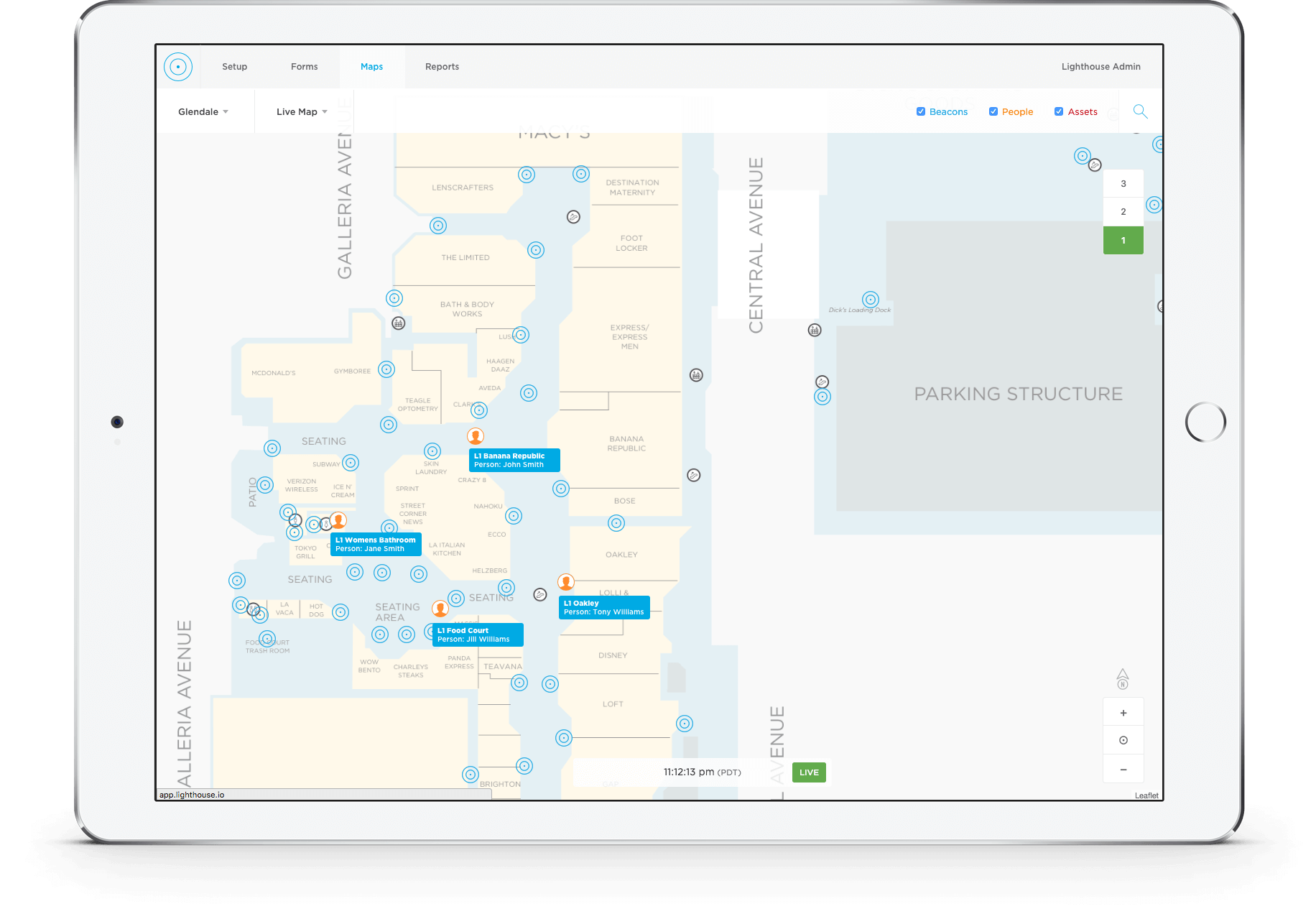 Lighthouse is a mobile workforce management software solution for cleaning and security service contractors. Made by the people behind WorkWave Service, Lighthouse is a reliable tool for handling daily processes.
Here are some of the best features of Lighthouse:
Ongoing location tracking that uses flexible technology options like GPS, geo-fences, and near-field communication to track cleaners' locations and hours worked on the field.
A "Command Center" for monitoring all ongoing activities, as well as incidents, missed rotations, and completed tasks.
Mobile audit and inspection forms for better quality control.
Plans and pricing
Quotes are available upon request.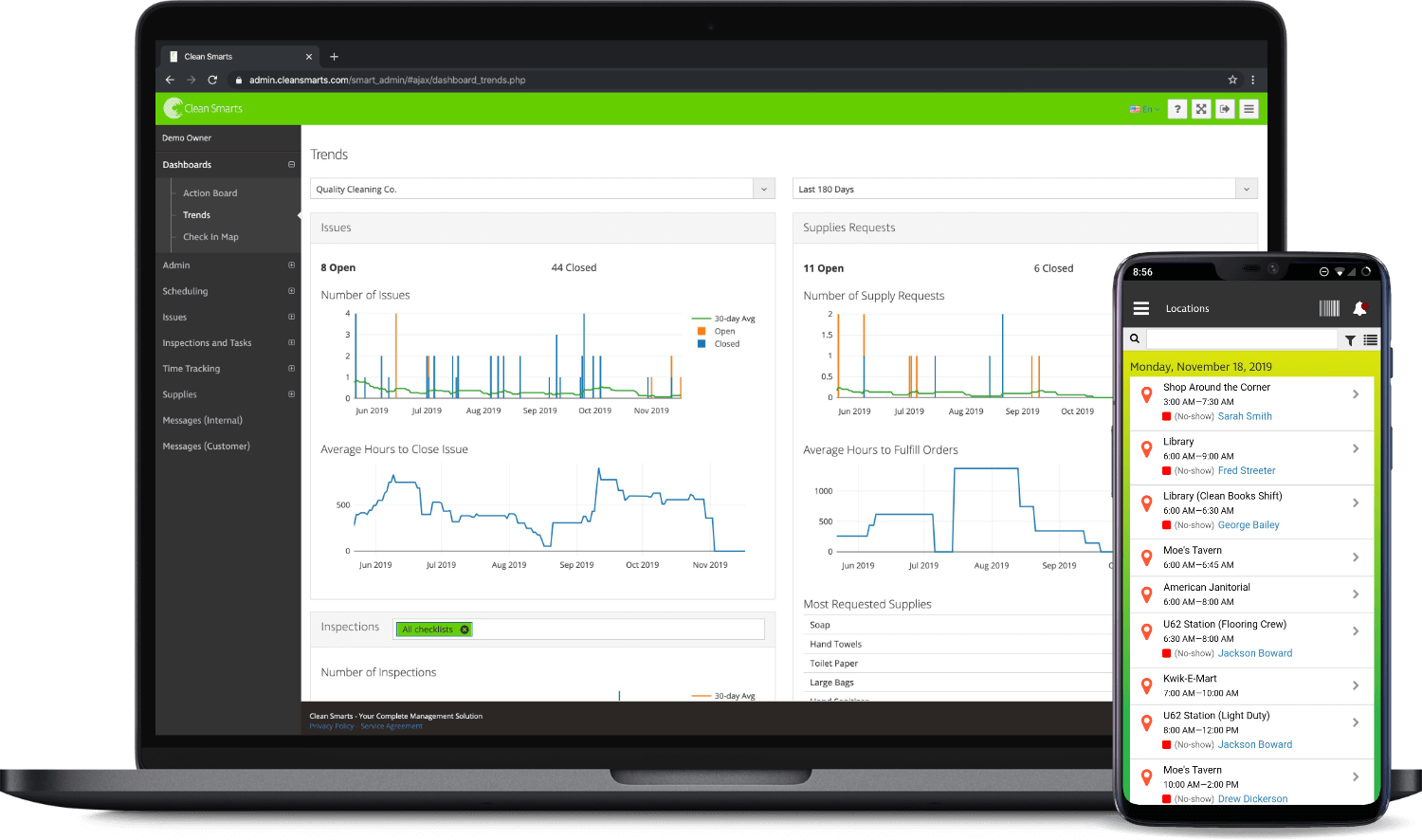 Clean Smarts is a janitorial service software made for growing cleaning businesses. The software allows businesses to track several key metrics, including labor, supplies, and customer reports.
You can enjoy the following features from Clean Smarts:
An employee time tracking system that lets field workers clock in via an app, landline phone, text, or barcode scanning. This reduces the need for physical time tracking via time card punching.
Health surveys that cleaning crews can fill out before each shift to minimize possible exposure risks.
A supply management system that lets managers set reorder levels for different service locations.
Plans and pricing
Clean Smarts is available at $99 per month for up to 10 users. Businesses must pay an additional $5 per additional user per month.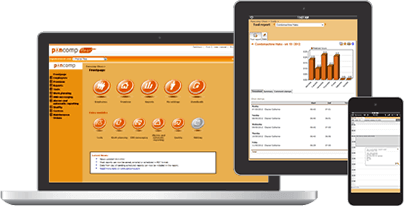 Next, we have Pancomp.
Pancomp provides several tools for cleaning service pros, such as time and attendance software and employee management solutions.
With Pancomp Clean, your janitorial businesses can:
Boost customer satisfaction and provide a seamless customer experience with fully integrated quality checks and service reports.
Easily communicate shift changes, extra work requests, and job site issues with a simple mobile app.
Streamline the payroll process and minimize errors from manual data entry with a payroll timesheet system.
Plans and pricing
Pricing for this field service management software solution is available upon request.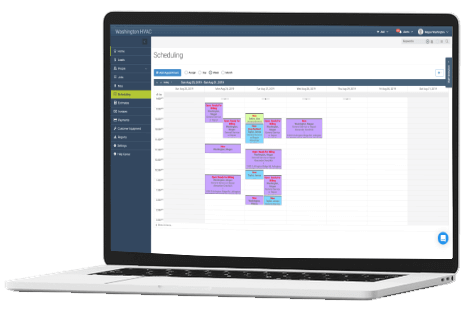 Last on our list is mHelpDesk.
mHelpDesk is an all-in-one field service management software that has everything you need from an industry-leading cleaning service software.
mHelpDesk offers free daily training to their clients, which is what makes the program one of the best solutions for teams with less-than-tech-adept employees.
Here's what you can do with mHelpDesk:
Keep important customer information organized in an easily accessible "virtual filing cabinet".
Manage your financial operations with ease with the QuickBooks Online and QuickBooks Desktop-integrated billing and invoicing tool.
Schedule recurring jobs and automate customer reminders. This frees up your to-do list while also eliminating the risk of missed jobs.
Plans and pricing
Subscription to the complete platform costs $169 per user per month. mHelpDesk also offers a free demo upon request.
Sweep your customers off their feet with the best janitorial software
The demand for thorough, 5-star service from janitorial service providers continues to grow. With this in mind, cleaning service pros need to keep up with the competition to meet customer expectations.
If you're looking for the best janitorial software to sweep your customers off their feet, you have several options. Take your time choosing the right software to empower your team and improve your bottom line.
Image credits: Summer Summer via Unsplash