Top 12 best flooring service software for contractors and businesses

Flooring service software is critical for contractors and businesses. Find the best flooring software with Method:Field Services.
If you're a flooring contractor, you know that it's a tough job. A lot of work goes into installing flooring, but even more work goes into operating a successful flooring business. And this is where the best flooring business software comes in handy.
You can use it for your flooring business to keep up with the many moving parts, including:
Employee and contractor costs.
Inventory and material costs.
Estimates and invoices.
Payments.
As per our expertise, flooring service software lets you control every aspect of your business from one place, so you don't have to worry about anything slipping through the cracks or losing revenue.
In this article, you'll explore everything you need to know about flooring software and get a list of the best flooring business software solutions to boost your revenue growth.
Top software solutions for other industries
Looking for software in an industry outside of flooring? Check out these guides for insights on other industries.
What is flooring service software?
Flooring software is for businesses whose main offerings are flooring services. The goal of using such software is to centralize your data and automate your everyday tasks.
Although general software solutions improve your overall business operations, our investigation demonstrated that it's best for flooring contractors to use software made with the flooring industry in mind.
For example, some of the best flooring business software considers unique aspects of the flooring industry, such as material takeoffs and square footage, to make estimating jobs easier.
Flooring software streamlines several elements of your business, including:
Calculating job costs (labor, materials, etc.).
Ordering and managing materials.
Creating bids or estimates.
Enabling online payment.
We determined through our tests that flooring software:
Organizes your business.
Gets more jobs done.
Fuels revenue growth.
But that's just the beginning. Let's walk through the benefits of flooring software for your business.
Benefits of a flooring service software
Now that you know what flooring software is, you're probably asking yourself: What can it do for my business?
To help you out, here are some of the top benefits of using flooring software in your business operations.
Boost your efficiency
Drawing from our experience, the best flooring business software increases productivity by minimizing your time on tedious and repetitive tasks. This includes simple tasks like sending invoices and following up on payment.
What's more is that the right software boosts the efficiency of your team, with features such as:
Optimized service scheduling.
The ability to accept payment on the field.
A mobile app for a clear line of communication.
Increase your accuracy
Every time you waste materials or overshoot labor hours, that's money going down the drain. Flooring service software increases the accuracy with which you estimate each job, saving you time and money.
Gain a 360-degree view of your business
There are many moving parts in your flooring business, and it's hard to keep track of them all. Flooring service software is an all-in-one solution that gives you an at-a-glance view of the information you need, from customer history to invoice status.
So what should you look for in the best flooring business software? Let's find out.
What to look for in the best flooring business software
A software solution can have all of the best features, but through our practical knowledge, it's useless if it doesn't seamlessly integrate into your business process.
When looking for the best flooring business software, ask yourself these questions:
What are your business's strengths?
What parts of your business do you want to improve?
Which tools do you already use?
Are you looking for business software or floor planning software?
The way you answer these questions will determine the best flooring software for your business.
Common features of flooring business software
Although no two software solutions are alike, our research indicates that there are some common features to look for when choosing the best flooring business software. They are:
A cloud-based product that you can access from anywhere.
Potential project management tools.
An efficient way to create estimates and invoices.
Integrations with other tools you already use.
Options for online payment.
A way to manage your leads, customers, and other contacts.
With these features, you'll spend less time doing manual work and set your business up for optimal growth.
How your business can use flooring software
As a flooring business owner, you and your team have a long list of tasks to complete each day. Some of these tasks include:
Reviewing incoming leads' information.
Creating estimates for new customers.
Scheduling and dispatching workers to jobs.
Collecting payment.
Following up with unpaid invoices.
This list leaves very little time for keeping up with industry trends and coming up with new ways to generate more revenue.
However, imagine completing all of these tasks from one centralized place? Even better, imagine completing these tasks in half the time it usually takes.
As indicated by our tests, there are several ways that flooring software automates your everyday tasks:
Gather all of your customer information in one place.
Assign jobs easier with calendar views.
Create custom estimates and quickly convert them into invoices.
Track time for simpler invoicing and payroll.
This is all possible with the right flooring software. Let's check out some of the best flooring business software to help you accomplish more.
Some of the best flooring business software are
Here's the best flooring business software to keep you organized and get the job done, quicker:
Method:Field Services.
Stack.
TurboBid Estimating.
BuilderTREND.
FloorSoft.
Buildxact.
ConstructionOnline.
Contractor Foreman.
JobNimbus.
Measure Square.
QFloors.
Computers for Flooring.
First on our list of the best flooring business software is Method:Field Services.
As per our expertise, Method:Field Services is a great choice for flooring businesses on QuickBooks that are looking to automate key workflows and improve efficiency.
Flooring contractors can take advantage of Method's range of features to:
Create work orders with a few clicks.
Convert estimates into work orders and invoices.
Sync with QuickBooks to eliminate double data entry.
Collect payments online.
Benefit from integrations with apps such as Google Calendar for optimal scheduling.
Method's mobile app empowers your field crew, with features, such as:
Automated routing for the most efficient route.
Ability to update work orders and record job progress.
Time tracking with immediate sync of time entries to QuickBooks.
Method:Field Services can be further customized to suit the needs of your flooring business, thanks to their no-code platform.
Method:Field Services offers a free trial, so you can test how well this best flooring business software option works for your business.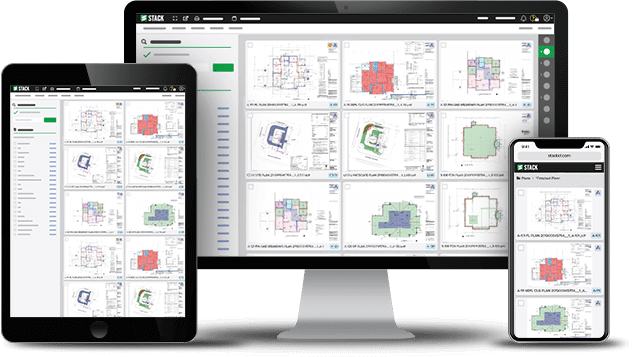 Next on our list of the best flooring business software is Stack.
Stack gives you control of all aspects of your business. This software solution is known for being one the top construction takeoff software options. Their software allows you to create flooring takeoffs and estimates in just a few clicks.
Based on our firsthand experience, when completing a flooring job, measurements are important. You have to worry about the surface area of the space and make sure the measurements are accurate. Stack speeds up this process to deliver accurate estimates to your customers sooner.
After trying out this product, one element that sets Stack apart as a best floor business software is its pre-build flooring database. This allows you to create your own custom assemblies and easily add them to your estimates.
Some of Stack's other features include:
A library of flooring supplies and the ability to add your own.
The ability to add crews to your estimates as you measure.
The chance to customize your estimates with your company brand.
Stack is great for flooring businesses that primarily participate in bids, but for those who work directly with homeowners, Stack estimating software may not have the capabilities they need.
All in all, Stack lacks some of the key features to automate your other key flooring tasks, such as scheduling.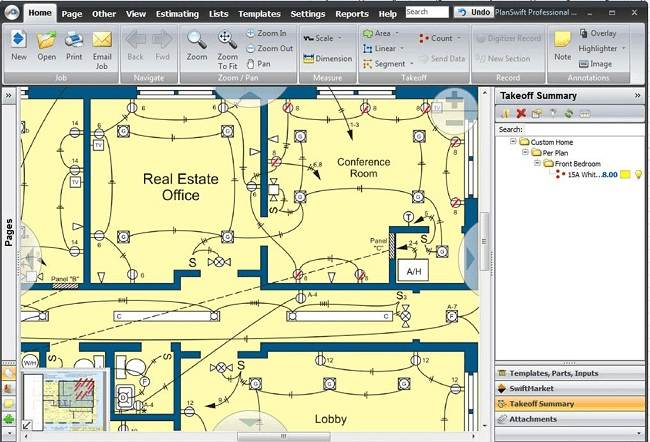 The next best flooring business software contender is TurboBid Estimating. As their name suggests, TurboBid's power lies in the software's estimating capabilities.
Although TurboBid has specific offerings for plumbing and electrical contractors, their software works great for other construction industries as well, such as the flooring industry.
When you first get started, TurboBid uses a wizard format that walks you through the steps of creating an estimate.
After conducting experiments with it, we can confirm that this platform allows you to break down all parts of your estimate, from labor costs to materials.
TurboBid's estimates ensure that you include both direct and indirect costs of your project. This information makes it easier to determine exact costs. TurboBid's thorough estimating process is to create a detailed bid package.
Other TurboBid features include:
Automated reports.
Material database maintenance.
The ability to generate takeoffs on a room-by-room basis.
Two different overhead costs calculators.
TurboBid is another software company that focuses on creating bids and not estimates, which isn't ideal for every flooring business as their customers are mainly homeowners.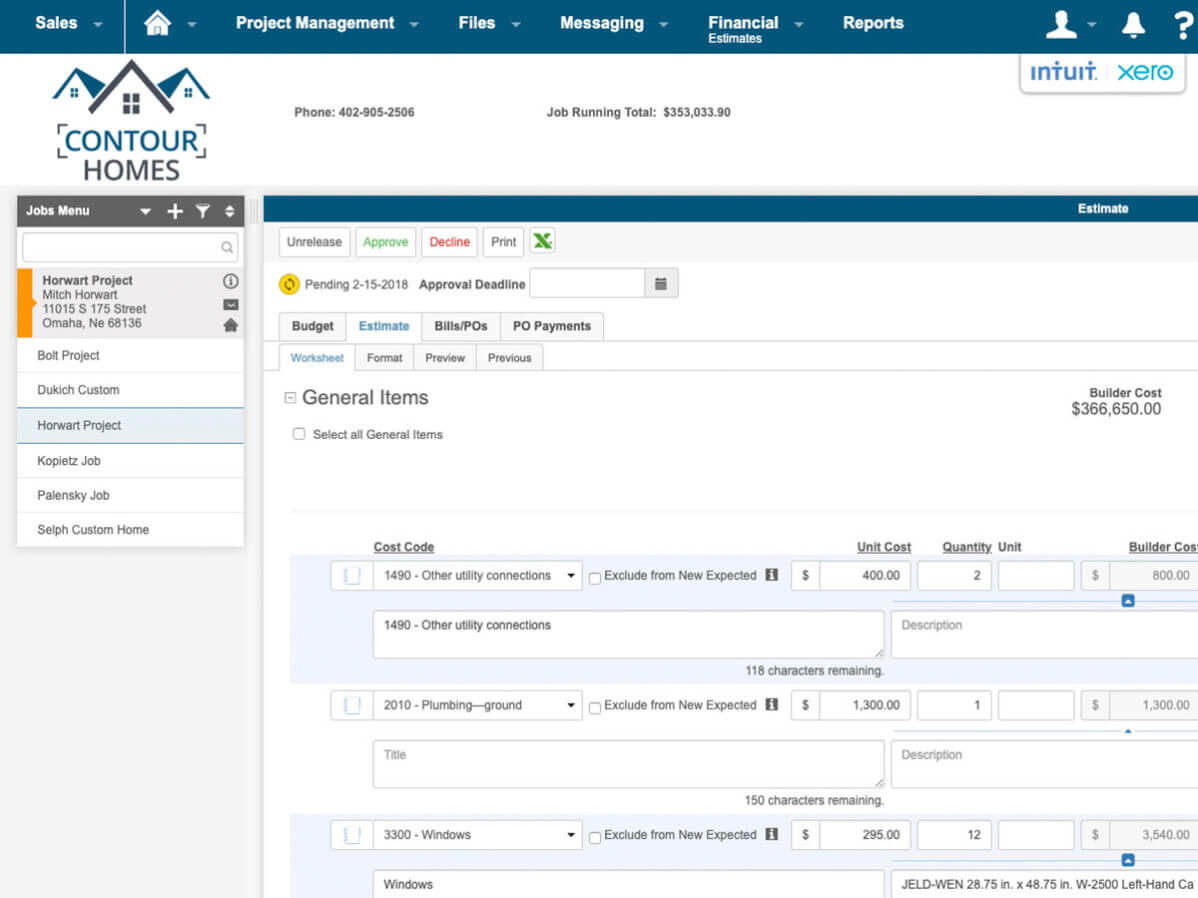 Our team discovered through using this product that BuilderTREND is a robust flooring service software for contractors.
Their project management software lets you complete tasks like:
Record job progress.
Store an unlimited number of files.
Share updates with your team.
BuilderTREND's scheduling allows you to account for delays and easily reschedule tasks as not to interrupt your workflow.
Your crew can easily fill out logs and share updates with the mobile app. You can also grant them access to all of the information they need to complete the job, cutting down on communication delays.
Use BuilderTREND to manage all of your workflows, such as.
Estimates and proposals.
Leads and customers.
Email marketing.
Invoice creation.
Payment processing.
Better yet, integrations such as Gmail, QuickBooks, and Xerox expand the power of BuilderTREND and make it easy to add to your overall business processes.
BuilderTRENDS's product has helped small construction companies improve their productivity, but some users claim that the software company's customer service isn't the easiest to get ahold of.
FloorSoft's software is specifically designed for flooring contractors, making it one of the best flooring business software options.
FloorSoft's main product, FloorWizard, is a "turn-key" solution that eliminates the need for a developer or programmer. Not only is FloorWizard great for your business operation, but its floor planning software enables you to take accurate measurements with the tools you love.
FloorWizard's easy-to-use interface allows you to create accurate estimates, taking into account different types of flooring, labor, and materials needed to complete the job.
Our findings show that FloorWizard is easy to use for job management, as it lets you:
Track jobs through every phase.
Schedule measurement and installation appointments.
Email documents directly.
Manage your leads and customers.
FloorSoft has several other software solutions and manufacturing systems to choose from. However, this software company lacks some key capabilities for flooring businesses, such as payment processing.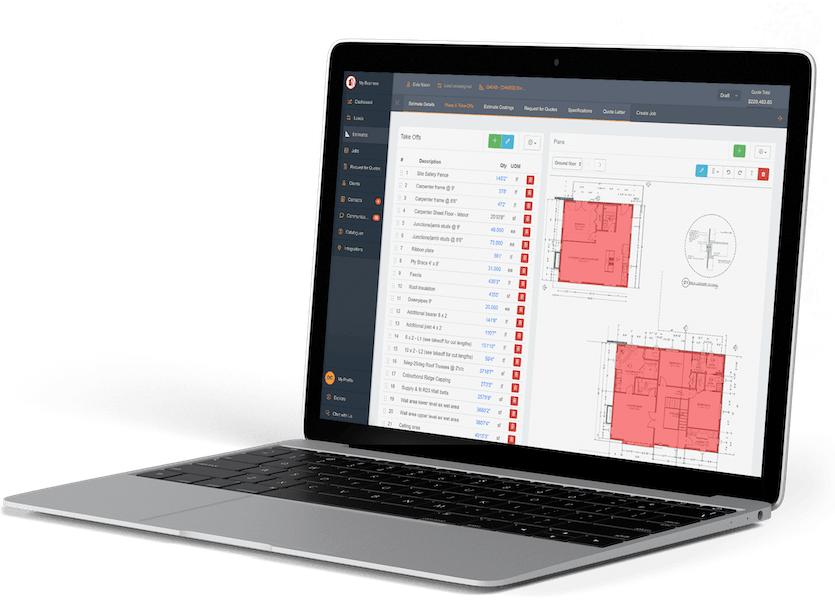 Next on our list of the best flooring business software companies is Buildxact.
Buildxact is a cloud-based product that allows you to access your business's information from anywhere. View schedules and assign jobs on your end — making sure that your office and field teams are always on the same page.
This software company specializes in estimating and construction management and improves several workflows, such as:
Material takeoffs.
Quoting.
Cost tracking.
Accounting.
Buildxact is meant for small businesses that focus on residential work, making it a great option for flooring contractors.
When we trialed this product, we learned that its advanced takeoff functionality lets you measure and build takeoffs in just a few clicks, with the item costs automatically linked to the takeoff.
Although Buildxact's capabilities are enough for most flooring businesses, some users say that the software company has a few bugs to fix with their product, which is something to keep in mind.
Here's what one user had to say on Software Advice:
Cons: With some of the roll out of new features, we had some minor hiccups with an old quote being accepted and not all the fields running across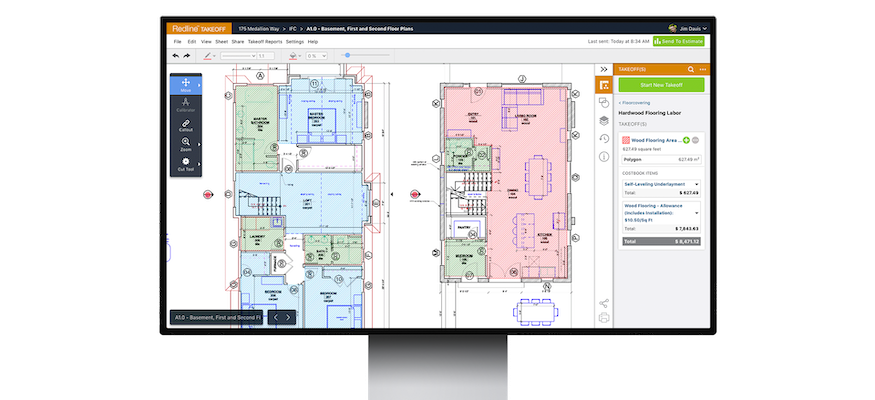 Next on our list of the best flooring business software is ConstructionOnline.
ConstructionOnline is construction software whose goal is to connect your field crew to your office staff. Using the chat message function, your crew can update your office team in real-time through text or photos.
We determined through our tests that ConstructionOnline has several other functions to improve how you execute your daily tasks, including:
Redline Planform: Lets you manage jobs by pinning tasks and other project elements to your project plan. Everything you pin is visible to the rest of your team.
Truvision Business Intelligence and Reporting: Turns your financial data into insights in real-time.
Photostream: A platform in which your crew uploads progress photos.
What's more, is that ConstructionOnline has many of the capabilities flooring businesses need, such as:
Estimating.
Scheduling.
App integrations.
Beyond the ability to customize themes and background images, ConstructionOnline's customizing capabilities are limited. This means that you may experience difficulty adapting this software to your business.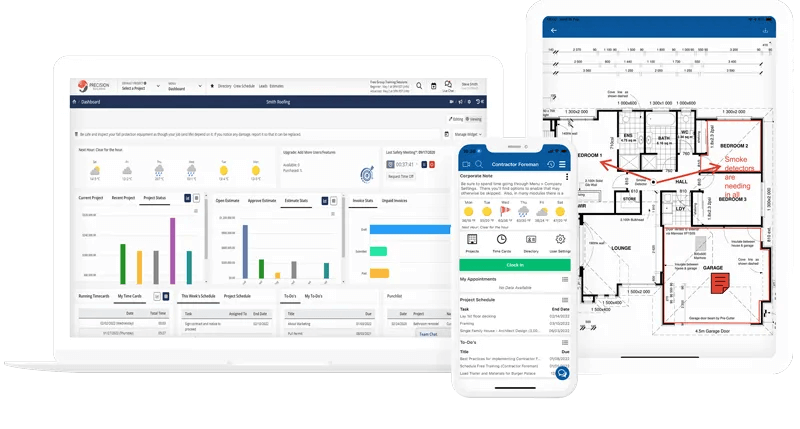 Next up is Contractor Foreman.
After putting it to the test, Contractor Foreman's dashboard features easy and concise navigation for an at-a-glance view of every aspect of your business.
From there, you'll find everything you need to know about your customers in the client portal, where you can receive payments and share documents such as:
Estimates.
Invoices.
Schedules.
With Contractor Foreman, not only can you automatically convert estimates and change orders into invoices, but the QuickBooks sync also eliminates double data entry. This ensures that information is up to date throughout your business.
Other key features of this best flooring business software include:
Add an unlimited number of employees.
Capture signatures on work orders.
Track inspections by date, permit number, or status.
Contact management.
Despite Contractor Foreman's claim that the software features an instant setup and is easy to use, some users have expressed the contrary, stating that it takes longer to master than other similar platforms.
Here's what one Contractor Foreman shared on Software Advice:
Cons: The length of time that it will take us to master the system. I wish we could become much more proficient within a few weeks, but I think it's going to take us much longer to be using all of the features properly.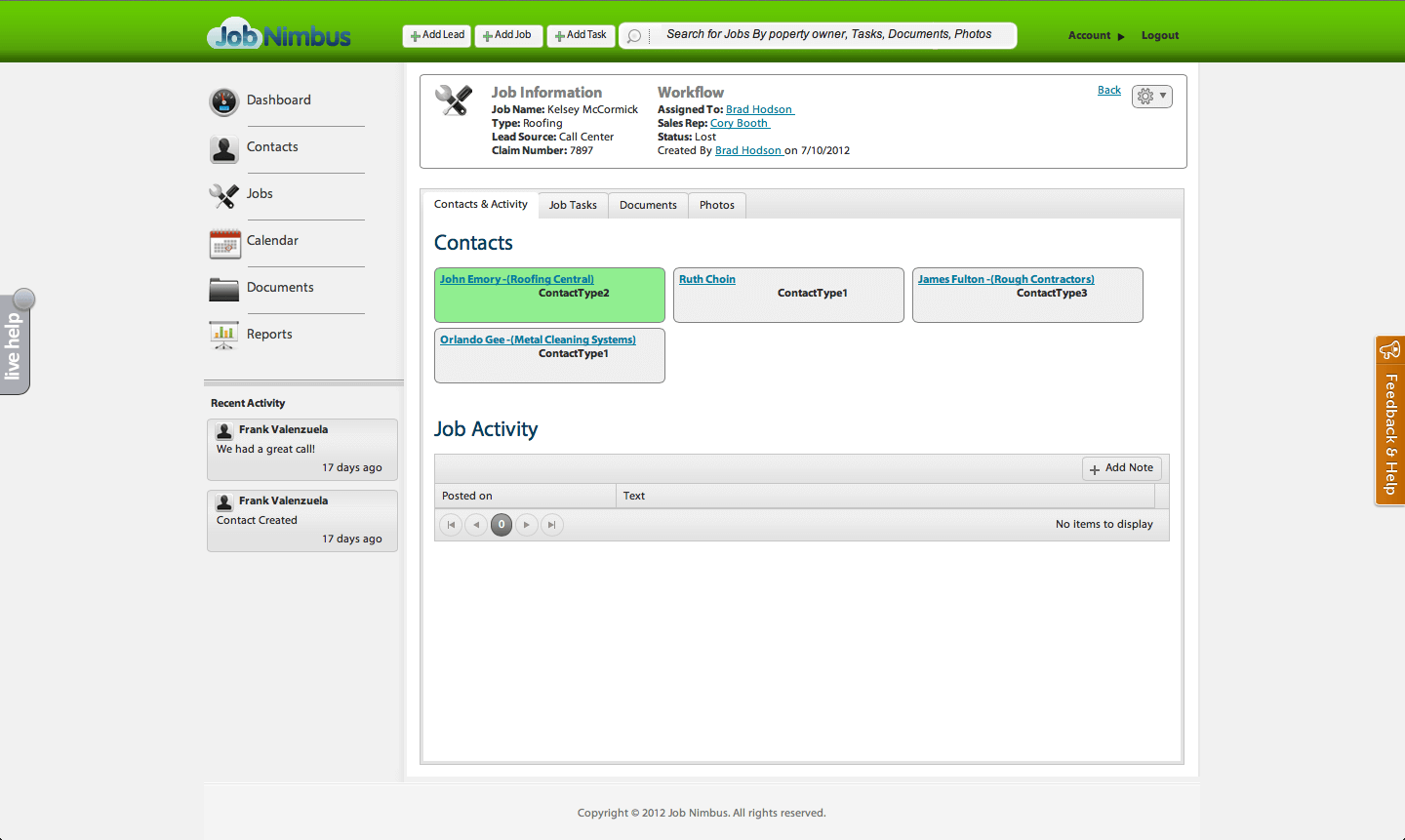 JobNimbus is a CRM made primarily with construction, roofing, and solar businesses in mind. However, it also features software specifically for flooring contractors.
JobNimbus has the features that flooring contractors need from project management software, including calendar sharing and time tracking.
After trying out this product, we found that JobNimbus lets you manage your jobs using interactive boards your whole team can access. These boards allow you to see everyone's job capacity and make the best decisions when new jobs come in.
Easily drag and drop tasks and assign them to your crew members so that they can get started right away. This way, each team member has visibility into the business.
Interactive boards aren't the only way JobNimbus keeps you organized. The software's other key features include:
Integrations with QuickBooks, Google Calendar, and more.
Creating estimates anywhere with the mobile app.
Taking and uploading photos from the mobile app.
Tracking lead sources for better marketing spend.
Beware that JobNimbus's mobile app does not have all of the features that the desktop version carries.
Even though your field crew may not need access to the same features as your office staff, make sure that the features JobNimbus's mobile app offers are enough for your team when evaluating your best flooring business software options.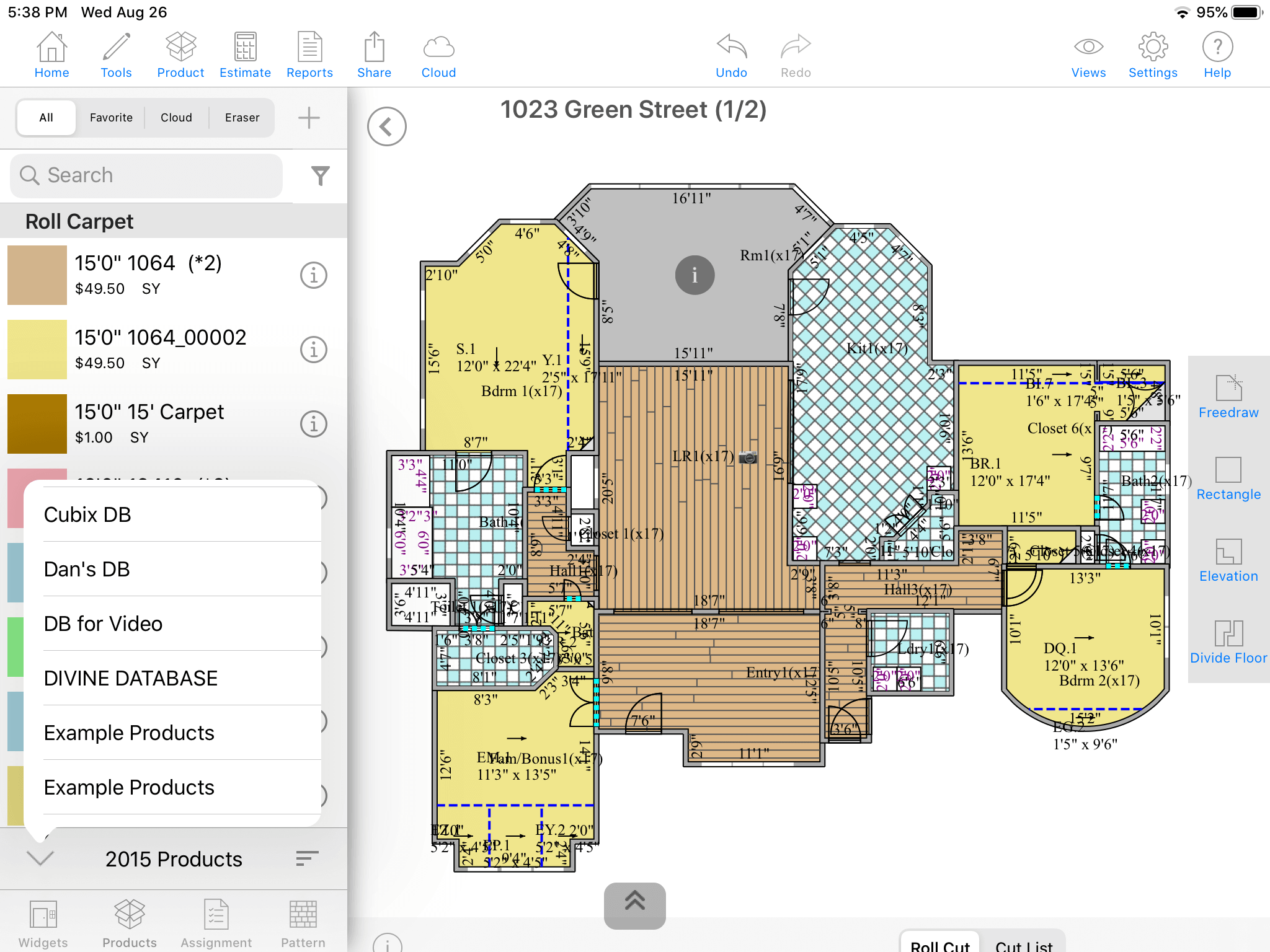 Measuring is one of the most important parts of a flooring contractor's job, and you have to have the right tools to do it. That's why Measure Square is one of the best flooring business software for flooring contractors.
Measure Square offers a suite of measuring software to create accurate cost estimates for bid packages or residential projects. The result is less waste and higher revenue retention for your business.
Our findings show that Measure Square is also a great construction takeoff estimating option for flooring contractors that deal with commercial flooring as the software can handle large projects with complex layouts.
The mobile app is great for residential projects, where you can measure on-site with a laser meter and immediately provide your customer with a quote. Another option is to use the 3D design tool to present detailed floor plans in your bids.
Despite the tool's 3D takeoff technology, some users say that Measure Square's product database has limited flooring options, which is something to consider if you're primarily looking for a floor planning tool.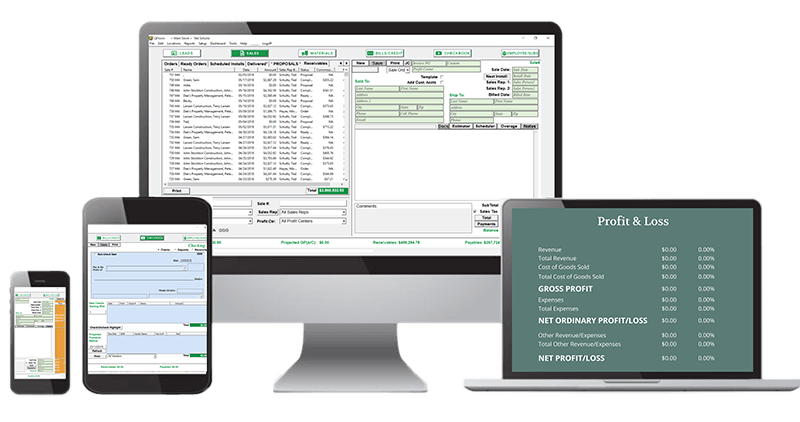 QFloors is another best flooring business software option that is specifically made for flooring contractors.
What makes QFloors unique is that their software program is customized to different specialties within the flooring industry, including:
Residential.
Commercial.
Multi-family.
Within each specialty, you can customize the product further to suit the needs of your business, especially if flooring services aren't your business's only offering.
After using QFloors, we learned that it has an intuitive design, with only six main screens to learn in order to fully understand the tool. And if you do have trouble, they also offer one year of unlimited free training for everyone on your team.
The product itself comes with a number of features that streamline everyday tasks, including:
Management and inventory reporting.
Vendor and customer invoicing.
Purchase order management.
Inventory integration and tracking.
The main limitation with QFloors is its integrations. QFloors does have some integrations, such as DocuSign and ZohoAssit, but it doesn't integrate with other key platforms such as QuickBooks and Google Suites.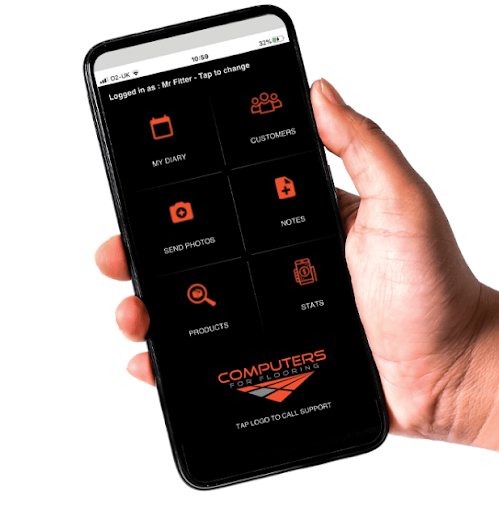 The last company on our list of the best flooring business software is Computers for Flooring.
Computers for Flooring is a software company with multiple products. They offer software for flooring professionals and retailers to streamline your process from customer's first contact to flooring installation.
For flooring contractors on the go, Computer for Flooring has the CarMan Companion App. With this app, your whole team can access the information they need, and you have control over the access each team member gets.
Using a feature called the "diary," your field crew can fill in the details of the jobs they are working on. With high-level access, you access the job details of each of your staff's diaries to determine their workload.
We have found from using this product that CarMan Companion App lets you execute multiple other tasks, such as:
Capture customer signatures.
Track your team's arrival and departure times.
Upload attachments to add to your customers' information.
What's more is that since they're a UK-based company, be aware that you'll be charged in pounds, meaning you'll have to add currency conversion to your total costs.
Image credit: Skitterphoto via Pexels