Finding the best property maintenance software solution

Looking for the right management software to run your property? Check out our list of the best property maintenance software.
Managing a rental property isn't an easy job. On any given day, you need to juggle tasks such as:
Tracking leases.
Logging maintenance requests.
Approving new rent applications.
In fact, our research indicates that over 45% of property managers are looking for a way to improve their efficiency! That's where property maintenance software comes in.
Choosing the right software automates your rental management process and gives you more time to focus on more important tasks.
Read on to learn what property maintenance software can do for you and discover the best options for your business.
Management software solutions for other industries
Not looking for property management software? Check out the best management software for other industries:
Who is property maintenance software designed for?
As per our expertise, property maintenance software, also known as property management software, is a tool used by property managers and owners to efficiently complete tasks, such as:
Track leases.
Log in maintenance requests.
Collect rent from your tenants.
Property management software offers features for every kind of property owner. Here are some examples of how different property managers can take advantage of software:
Family property managers: Family property owners use software to track tenants and automate their accounting.
Enterprise-level managers: Commercial enterprises that manage a large number of properties fall under this category. They use property management software to keep an eye on commercial buildings with a lot of tenants without having to check on each of them individually.
Niche-segment managers: These are people who use property management software for specific purposes, such as vacation rental property bookings.
Based on our firsthand experience, no matter what type of property manager you are, property management software can benefit your business in multiple ways.
Benefits of the best property maintenance software
Choosing maintenance software isn't easy because many of them offer different features and come at different price points. But regardless of the software, our investigation demonstrated that there are a few things that all of the best property maintenance software should be able to do:
Property maintenance software helps your business from every angle. With the right software, you gain:
Stronger communication with your tenants.
Better insights into your business.
A closer look at your revenue.
Here's how software transforms your property management business.
Grow your property management business
With over 300,000 property companies in the U.S., there's stiff competition in the property business.
Drawing from our experience, if your company stays stagnant, then you may end up getting left in the dust. That's why the most important benefit of property maintenance software is its ability to grow your company.
This is best done by automating tasks like tenant screenings and lease management, leaving you with more time to market and make improvements to your property.
Make renting convenient for tenants
Property maintenance software benefits both you and your tenants.
The best software includes online portals that allow your tenants to make rent payments anytime. You can also make building-wide announcements through this portal instead of notifying tenants one by one.
Keep an eye on your finances
Over time, we found that manual accounting takes a lot of time and is prone to mistakes. With good property management software you can automatically develop rental reports and dashboards to assist you in decision-making.
As a property owner, automating part of your management process can also drive costs down. Our findings show that most property owners pay 8-10% of their rent revenue to their property manager—so using software instead of hiring a manager will translate to significant savings.
These benefits are thanks to the many features that property management software solutions have. Let's take a closer look at the best features.
Top features of property maintenance software
Choosing the best property management software can be tough. The software your competition uses may not be the right choice for your business.
To help you out, here are four key features to look for in a property management software solution.
Property accounting
The accounting tools offered by property maintenance software keeps track of your finances. Most solutions offer ledgers and financial forecasting features and make reporting easier through dashboards.
Lease management and tracking
We determined through our tests that this is a must-have property management software feature. Tenant and lease tracking ensures all of the essential data about your residents and lease agreements are in one, easily accessible place, from which you can quickly view:
Tenant's payment history.
Important lease dates.
Tenant contact information.
Building maintenance
A building maintenance dashboard allows you to keep track of all relevant requests, such as:
Pest control appointment.
Structural examinations.
Scheduled fire alarm tests.
Better yet, this feature also lets you assign maintenance workers to tenant requests, meaning that tenant issues can get resolved quicker.
Online portal
Through our practical knowledge, a dedicated tenant portal enables tenants to communicate with you at any time.
Through the portal, your tenants can:
Pay rent.
Lodge maintenance requests.
Access their lease documents.
Ask questions.
Wondering how much these features will cost you? Let's find out.
How much does a property maintenance software cost?
The element of software that holds many businesses back is the price. But how much can you expect to pay for property maintenance software?
The short answer is that it depends on the software company's pricing model and the plan you choose. But there are a few common pricing models that most software follow.
Pay per unit
Our research indicates that this is the most common pricing model for property maintenance software. How much you pay depends on the number of units you have. This ranges from as low as $15 per month for ten units to thousands of dollars for larger property management companies.
This pricing model is sometimes combined with tiered pricing, especially if the company offers multiple software plans.
Tiered pricing
With tiered pricing, the general rule of thumb is that the more features it has, the more expensive the software is. Some companies offer free basic plans in addition to their paid plans.
Pay per transaction
Some property maintenance software only charges you once a transaction is made. You'll spend less when you have few tenants, but expect to pay much more if your properties are full. This is the least common pricing model.
Now that you're a property management software expert, it's time to choose the best one for your business.
Some of the best property maintenance software are
There are several property maintenance software options out there, which makes it difficult to choose the right one. Don't worry, we've got you covered.
As indicated by our tests, these are the 12 best property maintenance software solutions:
Method:Field Services.
AppFolio.
Buildium.
TenantCloud.
MaintainX.
Netfacilities.
PropertyWare.
eMaint.
FMX.
UpKeep.
MaxPanda.
Flix.
First on our list is Method:Field Services.
Method:Field Services offers an all-in-one property management solution. Specifically designed for field service businesses using QuickBooks, Method is an excellent option to manage your property rental business thanks to its ability to streamline maintenance requests and create invoices.
With Method:Field Services, you can:
Centralize your rent payment records through their QuickBooks two-way sync.
Manage property maintenance teams through a job tracking tool.
Send automated payment reminders by phone or email.
Plans and pricing
Method:Field Services offers a no-commitment free trial. Once the trial ends, this software costs $15 per month per user.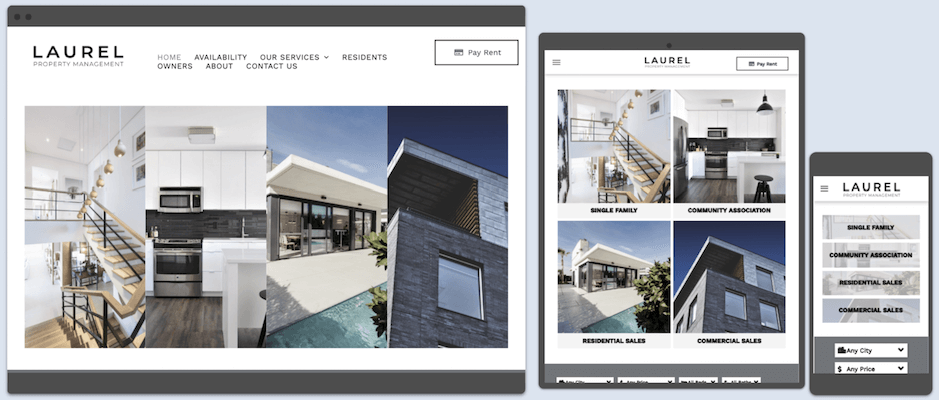 AppFolio's goal is to help property managers scale up their businesses.
After using AppFolio, we have found that it provides online communication portals and automated accounting assistance for all types of rental properties. Some of AppFolio's capabilities include:
Streamline tenant communications through a resident portal.
Make better financial decisions with machine-driven accounting and real-time reporting.
Entice potential tenants with virtual show units.
Plans and pricing
AppFolio property management software divides customers based on their property type:
Residential renters: AppFolio's Core plan costs $1.40 per unit per month, while its Plus plan charges $3 per unit per month.
Commercial property owners: The commercial Core plan costs $1.50 per unit per month, while the Plus plan costs $3 per unit per month.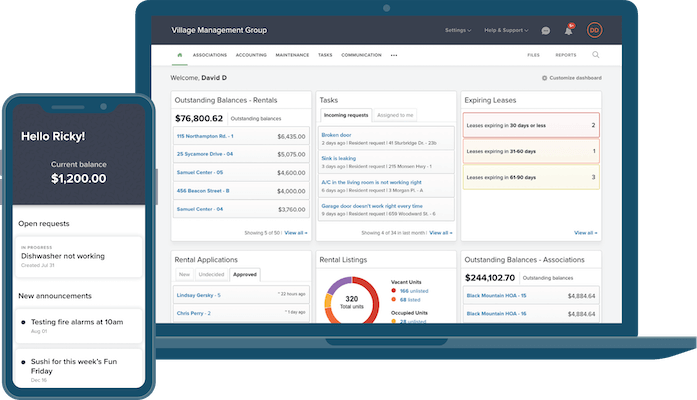 Next on our list of the best property maintenance software is Buildium.
Buildium is a property management software solution that aims to do more than manage properties. In addition to its tenant management features, Buildim also offers the tools you need to successfully run a homeowners' association.
Here's what Buildium empowers you to do:
Simplify rent collection with automated online payments.
Manage tenant maintenance requests through resident portals.
Handle rental applications and manage your property listings through a unified dashboard.
Plans and pricing
Buildium offers a free 14-day trial that doesn't require any credit card information. Once your trial ends, you can choose between their Essential ($50 per month), Growth ($160 per month), and Premium ($460 per month) plans.
Unlike many other property software companies, Buildium offers a fixed monthly price for its product.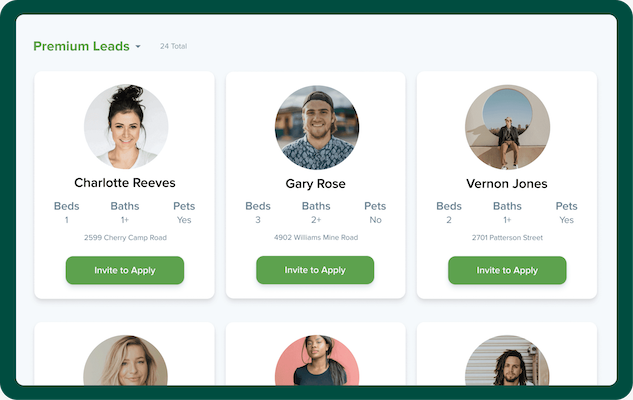 TenantCloud is a tenant-focused property maintenance software that offers automated rent accounting and mobile app capabilities.
With TenantCloud, you can:
Syndicate rental listings to advertise your vacant unit with just one click.
Accept only trustworthy renters with detailed background checking tools.
Keep track of your tenant's payment history and collect rent online.
Plans and pricing
TenantCloud offers a free plan with all of their basic functions available.
If you're looking to take advantage of TenantCloud's more advanced features, they offer a $15 per month Starter plan, a $50 per month Growth plan, and a custom-price Business plan.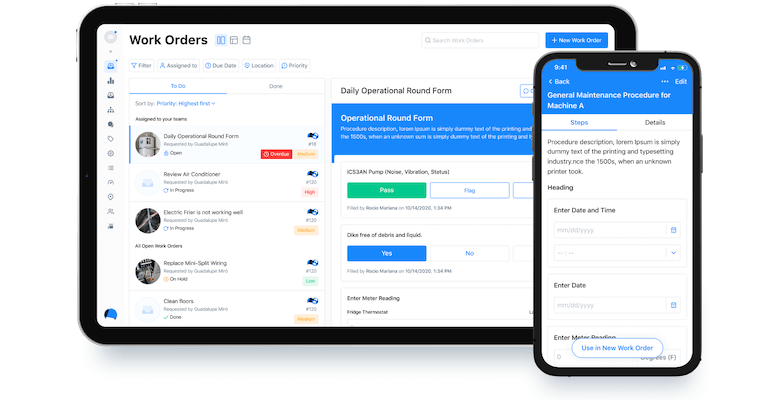 MaintainX streamlines your daily maintenance tasks by digitizing paper-based processes.
This software wasn't created with property maintenance specifically in mind, but it does offer key features for property managers, such as:
Centralized communication and a chat platform.
Checklists to organize building maintenance.
Automated work order scheduling for recurring building maintenance tasks.
Plans and pricing
MaintainX's basic plan is free. But if you're planning to scale up, you can choose from their Essential plan ($10 per month), Premium plan ($39 per month), or custom-price Enterprise plan.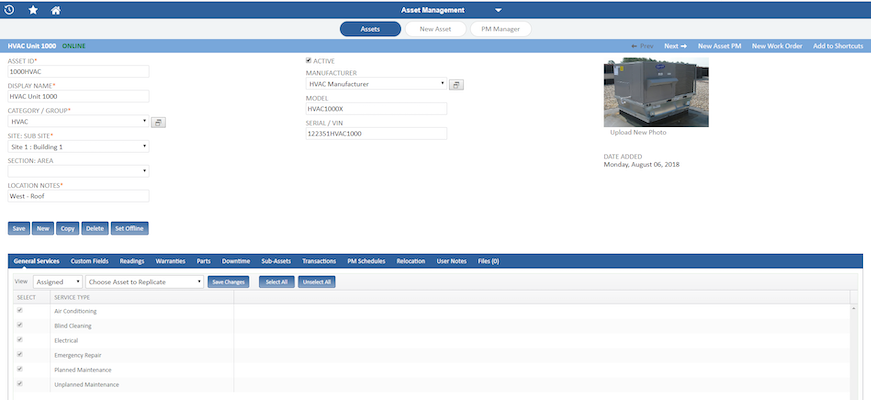 Next on our list is NETfacilities.
NETfacilities is a versatile cloud-based facility management platform.
After conducting experiments with it, we learned NETfacilities has the ability to maximize your occupancy and increase your operating income by automating many of your daily property management tasks.
Some of the key features that NETfacilities offer include:
Tenant portal to track maintenance requests.
Preventive maintenance scheduler.
Vendor management tool.
Plans and pricing
NETfacilities offer a feature-based pricing model, where each feature you choose will add $45 to your monthly cost.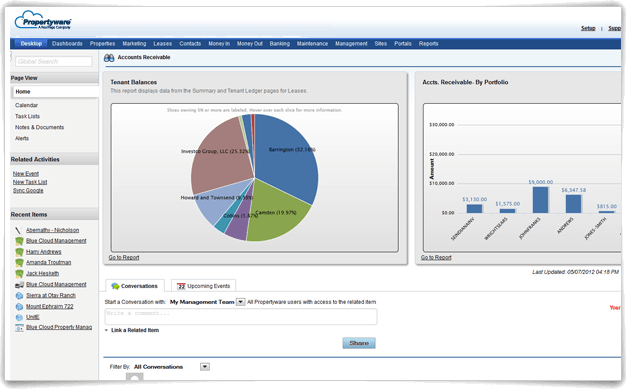 Propertyware was made with single-family home property managers in mind. It has a customized and scalable software solution with features such as:
AI-assisted tenant screening process for a complete profile of prospective tenants.
24/7 tenant portal to maintain clear communication.
Online lease signing to speed up rental applications .
Plans and pricing
Propertyware offers a low monthly cost, starting at $1 per month per unit for their Basic package with a $250 minimum. They also offer a no-commitment, limited access free trial.

eMaint is a facilities management software solution that simplifies property maintenance with robust scheduling features.
While it's not specifically a property management solution, after putting it to the test, we found that eMaint lets property managers complete tasks quicker, such as:
Schedule preventive maintenance.
Get a comprehensive view of your property through visualization features.
Manage maintenance requests with automated work order handling.
Plans and pricing
eMaint offers three main packages:
Team package valued at $33 per month per user.
Professional package at $85 per month per user.
Enterprise package at $120 per month per user.
eMaint also offers a free trial.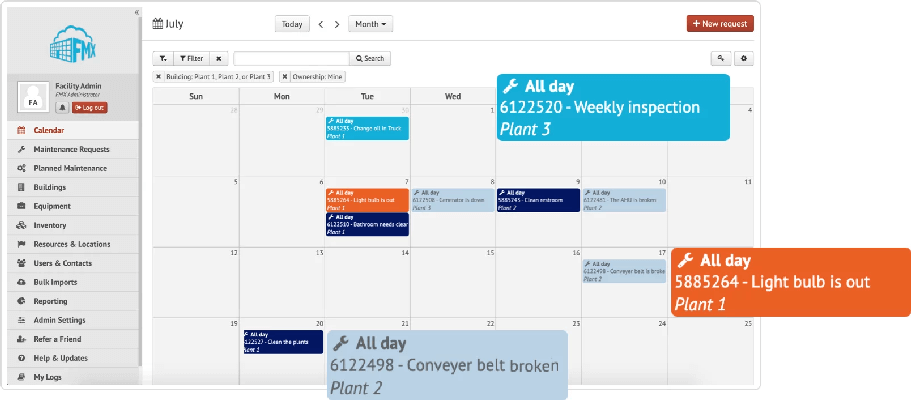 Property maintenance software FMX is built to optimize and streamline your daily management processes through automated work order management.
Schedule recurring maintenance to prevent unforeseen property issues.
Manage facility bookings for meeting rooms and other kinds of building amenities.
Log tenant repair requests with work order automation.
Plans and pricing
FMX offers a basic Essentials plan at no cost, while its paid plans start at $35/month per user. You can also apply for a 14-day trial of its Premium package for a taste of its advanced features.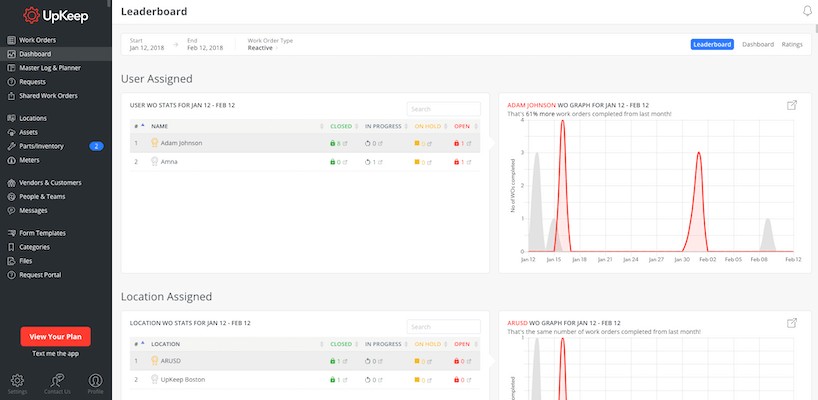 Next on our list of the best property maintenance software is UpKeep.
UpKeep empowers your team to run operations efficiently through automated work order management. When it comes to managing rental properties, UpKeep allows you to:
Streamline tenant maintenance and repair requests.
Manage maintenance teams with organized checklists.
Schedule recurring maintenance to prevent issues.
Plans and pricing
UpKeep offers a free Community plan with all of their basic features. If you need their premium features, the paid plans start at $45 per month per user.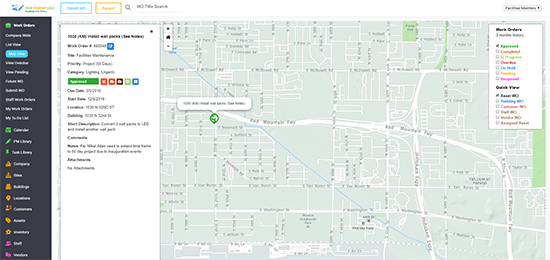 Maxpanda is a property maintenance software solution that improves your efficiency by making it easier to log and keep track of maintenance requests.
Its cloud-based services coordinate maintenance for multiple properties across the country. When we trialed this product, we discovered that MaxPanda's key capabilities include:
Schedule preventive maintenance to reduce unexpected incidents.
Web-based work order management tools to assist maintenance teams.
Tenant request portal to manage bookings.
Plans and pricing
Maxpanda offers numerous software plans, ranging from their $99 per month Starter plan to its $999 per month Enterprise plan. They also offer a 7-day free trial.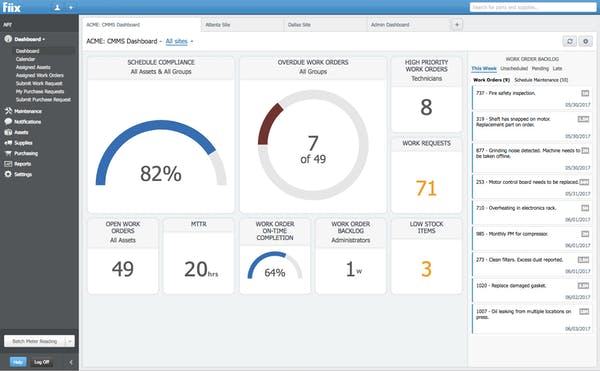 Last on our list is Fiix.
Fiix is a maintenance team software that automates time-consuming tasks, like work order creation and inventory management.
After trying out this product, we learned that there are are several ways that Fiix simplifies managing your rentals:
Keep track of your assets and equipment with parts and supplies management.
Manage maintenance teams from anywhere with the mobile app.
Make financial decisions easier through automated reporting features.
Plans and pricing
Fiix offers a free version on desktop and mobile. If you're looking for more features, its Basic plan is priced at $45 per month per user, while its Professional package costs $75 per month per user.
Wrap up: Property management is easier with software
Property maintenance is a job that always requires your attention. Fortunately, property management software can make your day-to-day rental operations easier by automating various admin and billing tasks.
In addition to reducing your workload, you can use the time you save on those routine tasks to develop your portfolio of properties and grow your business.
Start your no-commitment trial of Method:Field Services today!
Image credit: F via Adobe Stock