For a manufacturing business to stay ahead of the curve and ensure peak productivity and customer satisfaction, you must constantly update its processes. This means you must always look for improvement opportunities.
The best way to do this is through digitization and adopting specialized software for manufacturing businesses.
There is a multitude of software solutions out there. Each one improves business operations and makes the company more efficient.
But how do you know which one to choose for your business?
In this guide, you'll go over what manufacturing software is, what to look for, and list some of the top software available for manufacturing companies.
What is manufacturing software?
Manufacturing software is a digital program that helps companies manage and automate their manufacturing processes.
These operations could include production planning, inventory management, project management, sales management, resource allocation, and shop floor management.
On top of automation, software for manufacturing can integrate the processes into a single system. This allows for comprehensive, real-time visibility of operations.
Best software for manufacturing companies
There are many factors that companies need to consider when choosing software for manufacturing.
It depends on the size and type of manufacturing company. But it also depends on what processes need automation, what aspects need managing, and more.
While the best software for manufacturers will differ depending on the company, there are some types of software that manufacturers commonly use.
These types of software include:
Enterprise Resource Planning (ERP).
Manufacturing Execution Systems (MES).
Quality Management Systems (QMS).
Material Requirements Planning (MRP).
Supply Chain Management (SCM).
Bill of Materials (BoM).
Inventory management.
Contact management.
Production planning.
SKU management.
Advantages of manufacturing software
The manufacturing industry faces many challenges. For example, globalization and outsourcing pressure manufacturers to cut costs and stay competitive.
There's also the pressure from customers to deliver quality products that are sustainable, ethical, and environmentally friendly.
Though these are difficult challenges to overcome, incorporating software for manufacturing into your business could provide some key advantages.
Such advantages include:
Expedited production processes.
Minimized unplanned downtime.
Increased product quality.
Easy, multiple-location production monitoring.
Reduced waste.
Key features of manufacturing software
Comparing software for manufacturing requires understanding its functionality and how it can improve manufacturing operations.
Let's look at a few different types of software and what they could provide.
Material requirements planning (MRP)
An MRP is an integrated inventory and supply management system.
You can use it to predict when and how much raw materials you need. This allows for the most efficient production plan according to consumer demand.
Its functions include:
Labor and material costing.
Order processing.
Automated quoting.
Resource scheduling.
Manufacturing execution system (MES)
An MES uses real-time data to monitor and control complex manufacturing systems. Its goal is to maximize production efficiency.
Some functions include:
Labor tracking.
Equipment utilization.
Work-in-progress reporting.
Manufacturing accounting
Manufacturing accounting software manages a company's financial records focusing on production costs and revenue.
It includes traditional accounting functions, such as:
General ledger.
Inventory.
Payroll.
Accounts receivable.
Accounts payable.
Additional functions may include support for purchases, sales, and change orders.
How we selected the best software for manufacturing companies
The best software for a manufacturing company depends on the company's objectives and existing protocols.
Manufacturing companies each have unique processes and operations, so there are specific criteria to look out for when choosing the top manufacturing software available.
Among those criteria are:
Scalability: If the software can't grow with the business, it could end up disrupting processes throughout the supply chain, causing expensive delays.
Ease-of-use: User-friendly software in manufacturing means that anyone can use it without too much training and reduces time spent navigating it, both of which could be costly.
Features: Some essential features in software for manufacturing include inventory management, shop floor control, good integration, business reporting, and MRP.
Pricing: The right software for a manufacturing business will balance its offers and pricing well.
You also may choose software for manufacturing that's either cloud-based or on-premise.
Cloud-based software only needs an internet connection and devices to access the platform. This means that the company doesn't need to invest in its IT infrastructure, making it a more cost-effective solution.
However, as it requires an internet connection, it's dependent on the availability of stable internet coverage.
On-premise software requires an internal IT infrastructure with servers to operate it. This means that the company has complete control and can personalize it as needed, even without a steady internet connection.
However, it requires a significant up-front investment. Also, server crashes could take days to fix, which can be costly and time-consuming.
Best software for manufacturing in 2023
Method is a customer relationship management (CRM) platform rated as a top-performing software for manufacturing companies.
Designed to help businesses take full advantage of customer and sales data, Method allows for a detailed customer history view.
You can also create email campaigns, payments, invoices, receipts, and estimates. With Method, you can empower your customers to make payments securely through the platform.
Features
Lead generation and management.
Reporting and forecasting.
Sales pipeline management.
Workflow automation.
Pros
Seamless integration with QuickBooks and Xero.
Responsive and effective support team.
No-code, fully customizable solution.
Connect from anywhere with the mobile app.
Cons
Slight learning curve.
Takes some time to implement.
Pricing
Method:CRM offers a free trial with unlimited features and users — no credit card required.
There are three pricing plans:
Contact Management: $25 per user per month.
CRM Pro: $44 per user per month.
CRM Enterprise: $74 per user per month.
You can also mix and match plans, so you only pay for the features you need.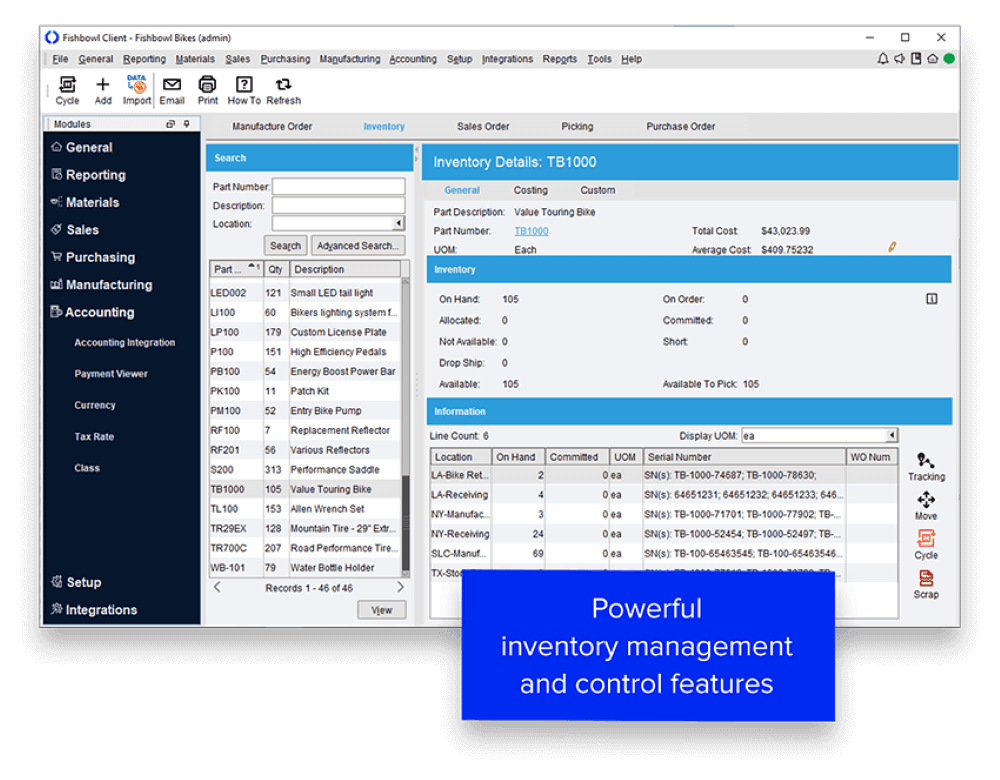 Fishbowl is a highly-ranked warehouse and manufacturing inventory management software. It helps businesses reduce steps in the manufacturing process to increase productivity.
Businesses can access real-time inventory updates, which helps simplify processes, improve efficiency, and lower costs.
Features
Optimized inventory and work order management.
Inventory requirement predictions based on sales trends.
Material requirements and job shop floor planning.
Integration with Salesforce, QuickBooks, Shopify, and more.
Pros
Scalable with your business.
Easy to navigate and use.
Cons
Limited reporting capabilities.
Slow customer support.
Pricing
Fishbowl software starts at $4,395, which grants you permanent access with unlimited users. They also offer a free demo.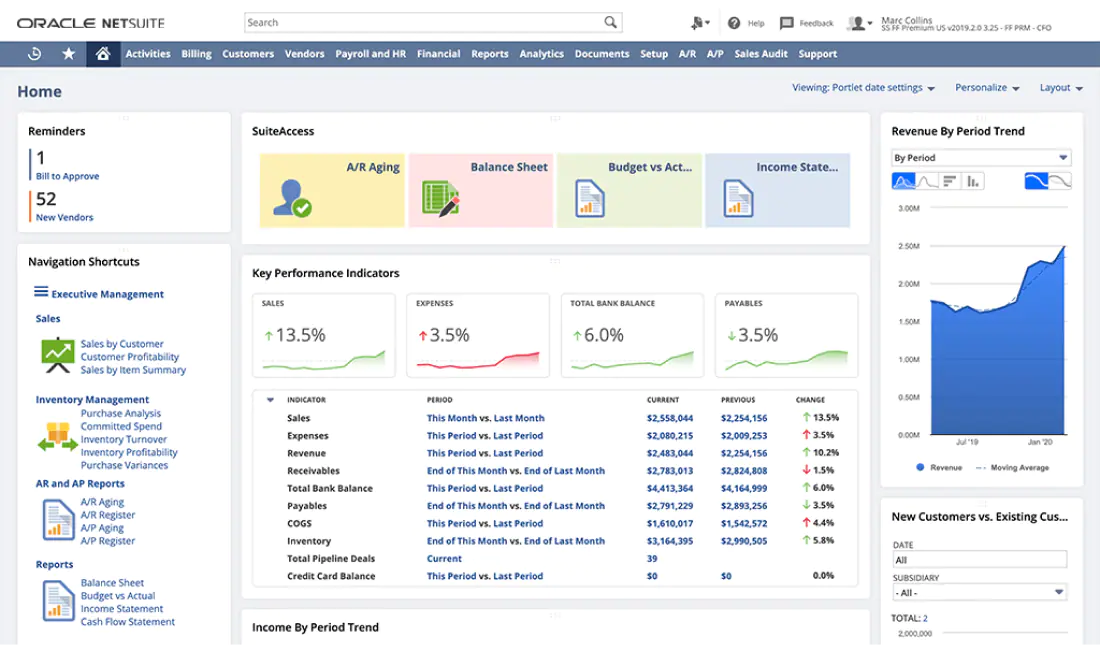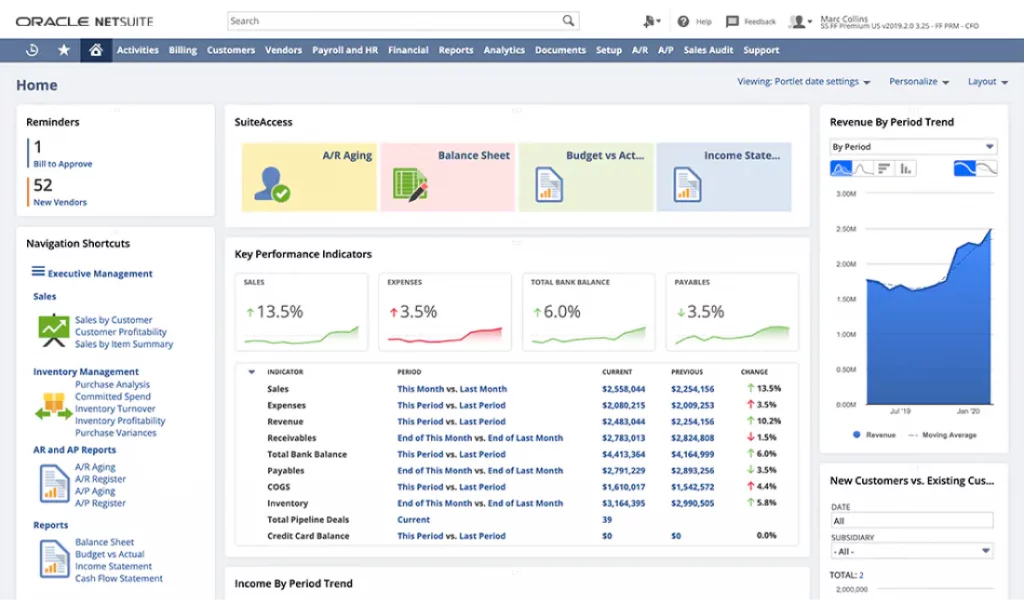 NetSuite is a cloud ERP software for manufacturing. It helps businesses coordinate, control, and manage all aspects of manufacturing operations on a single platform.
Features
Intelligent Order Management tool.
Centralized view of inventory over all locations.
Procurement and job shop floor control.
Advanced lead tracking capabilities.
Pros
Multiple customization options.
Detailed reporting.
Implementation training program.
Cons
Challenging third-party integrations.
Unoptimized advanced reports.
Too costly for small businesses.
Pricing
NetSuite starts at $99/month per user, plus a $999 monthly licensing fee.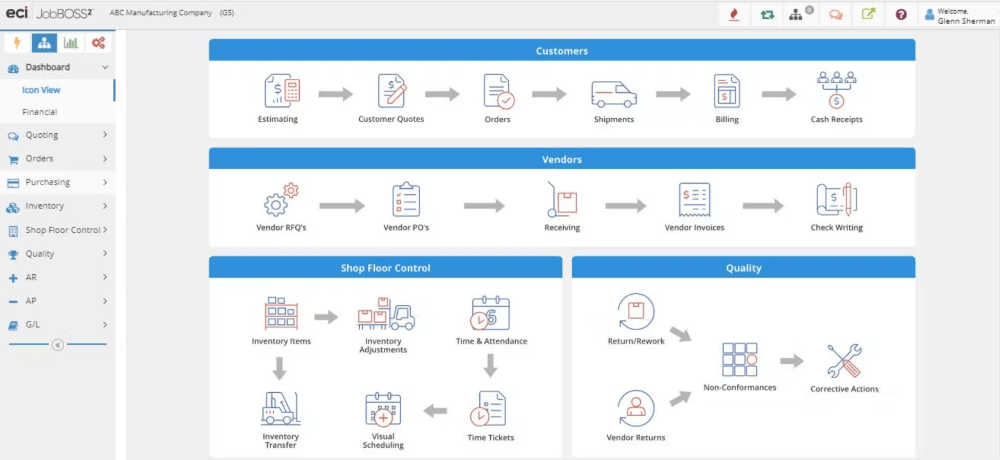 JobBOSS² combines industry-leading E2 SHOP and JobBOSS to create their job shop business management solution.
Designed for make-to-order manufacturers and job shops, JobBOSS² provides scalability, visibility, and key insights into your shop floor.
Features
Quote and order processing.
Inventory, material, and shop floor control.
Cost analysis and bill of material (BoM) importing.
Pros
Free server maintenance.
Data collection through tablet apps.
Optimized production planning.
Cons
Report customization and improvement costs extra.
Personalization of the homepage requires third-party software.
The time clock feature is prone to bugs.
Pricing
JobBOSS² starts at $95/month per user with a 1-year agreement or $70/month per user for 3 years.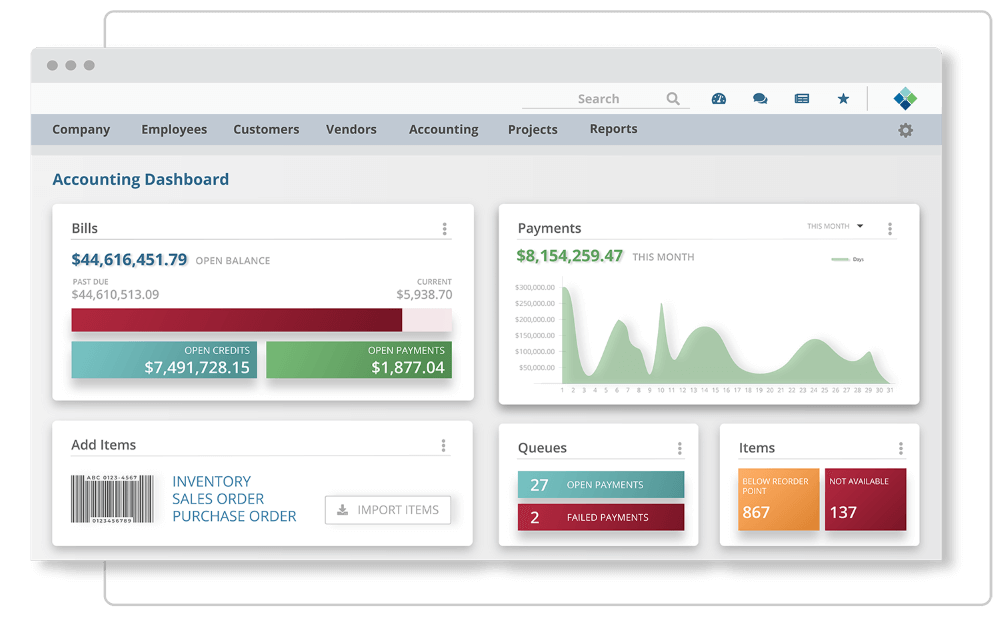 Striven is a cloud-based business management ERP platform that focuses on improving critical business processes.
The software has fully integrated CRM, accounting, project management, inventory, and human resources.
Features
Comprehensive cloud accounting.
Lead tracking and instant reporting.
Project management with customer collaboration.
Productivity dashboard with custom reporting.
Pros
Excellent customer service
Easy upload and data entry.
Solid third-party integrations.
Cons
Occasionally crashes due to bugs.
Multitude of functionalities makes it complex.
Pricing
Striven starts at $20/month per user (for up to 20 users), plus $99 for monthly hosting. It also offers a free trial.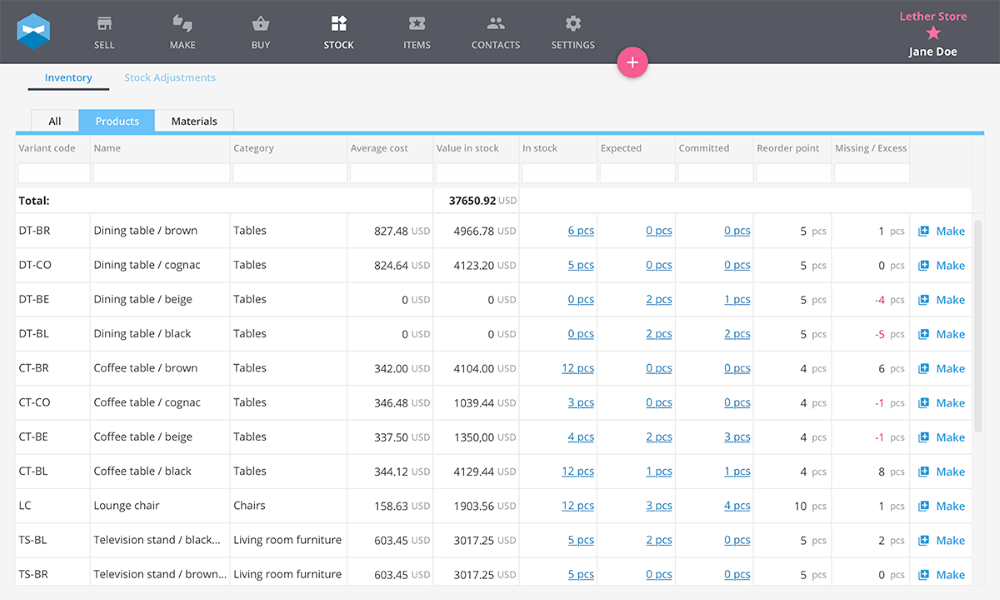 Katana is a cloud-based MRP manufacturing solution made for small businesses. It offers modules for production planning and inventory, order, and purchase management.
Companies can also get real-time insights with its Shop Floor App, which can track manufacturing costs based on production operations.
Features
Production planning and scheduling.
Inventory management with real-time inventory control.
Sales order management on a centralized dashboard.
Integration with Shopify, QuickBooks, Xero, and more.
Pros
User-friendly, intuitive platform.
Simplifies tracking materials and reordering.
Cons
Missing key features, such as shipping supply tracking.
May become costly for smaller businesses.
Pricing
Katana starts at $99/month for one full-access user, billed annually. Additional full-access users cost $29/month. Katana also offers a free trial.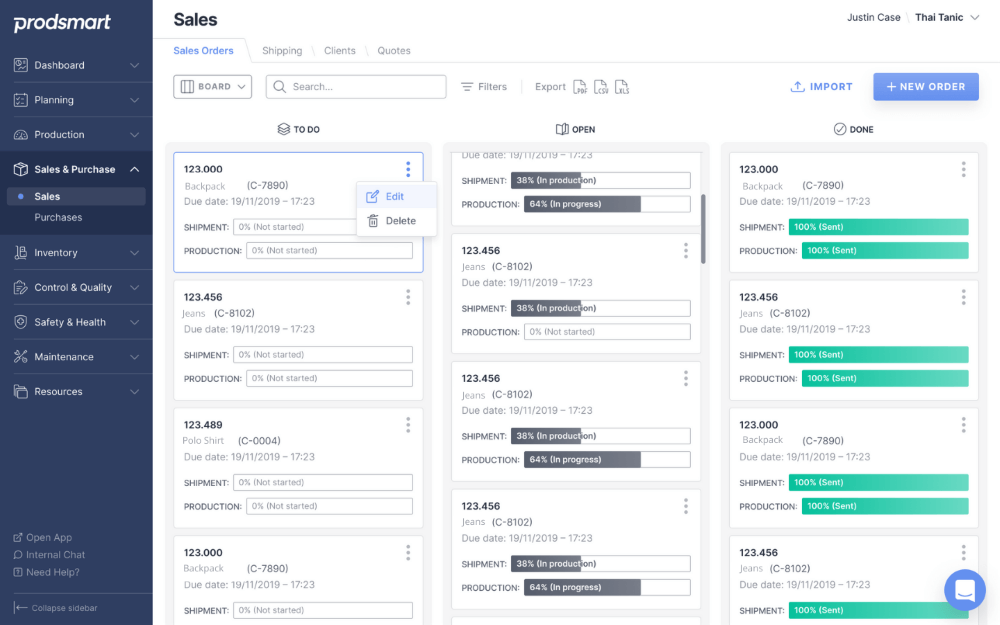 Prodsmart is an MES created specifically for fabricators and manufacturers. This user-friendly software for manufacturing tracks and manages the entire production process, from sales to shipping.
Prodsmart lets manufacturers monitor production progress, identify bottlenecks, predict machine downtime, and minimize waste.
Features
Performance tracking and workflow visualization.
Dashboard with real-time data.
Effective scheduling for inventory management and MRP.
Pros
Helpful and efficient customer support.
Easy, simplified deployment.
Budget-friendly, comprehensive solution.
Cons
Stability and offline support issues.
Limited diagnostic data on production.
Pricing
Prodsmart starts at $9,925/year with unlimited users and devices included. It also offers a free trial.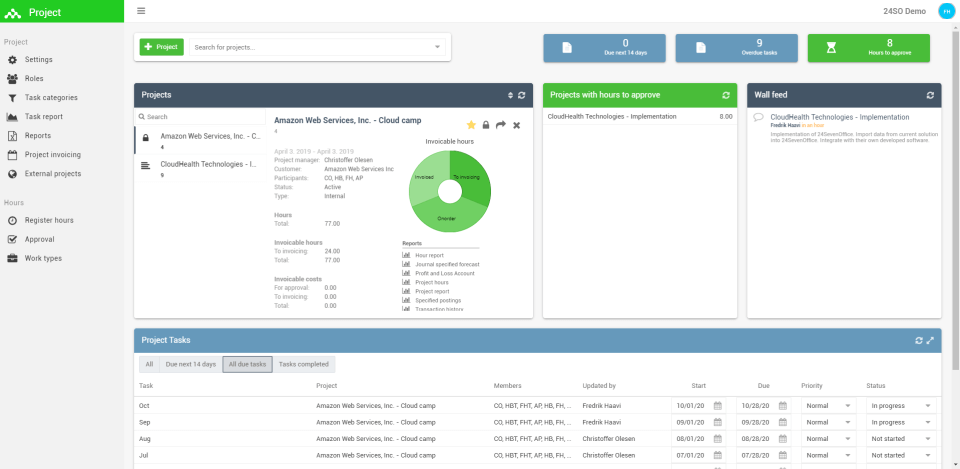 24SevenOffice is a cloud-based software created to help SMBs digitally monitor critical operations and use the data to make strategic decisions that increase profit.
Businesses can use real-time data to monitor and track materials, production orders, and quality control.
Features
Warehouse management.
Engineering and product lifecycle management.
Accounting, financial, and project management.
Pros
Comprehensive overview of customers and suppliers.
Cost-effective module-based approach.
Cons
Lack of supply chain management features.
Challenging user interface and implementation.
Pricing
24SevenOffice starts at $85/month per user for access to all modules.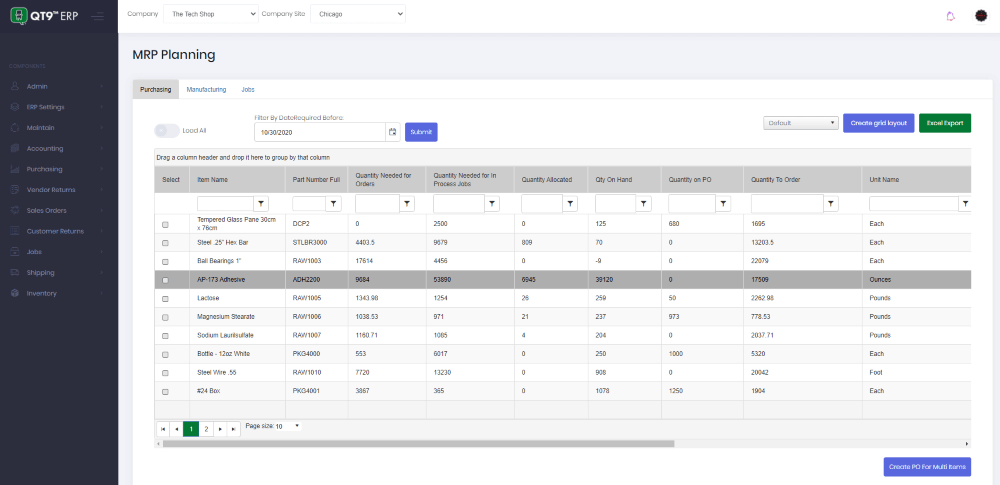 QT9 ERP is a manufacturing platform created to help businesses manage their accounting, sales, purchases, inventory, production, and more. It automates critical processes like invoicing, quoting, resource allocation, shipping, and manufacturing.
Its dashboard gives managers real-time insights into details on supplier performance, items purchased, and manufactured goods.
Features
Alerts and notifications for raw materials and finished goods.
Detailed reporting, statistics, and analytics.
Quality management and customized reporting.
Sage50, QuickBooks, and QMS integrations.
Pros
User-friendly, personalized grids.
BoM revision control.
Cons
Lacks customization for modules.
No advanced search or reporting capabilities.
Pricing
QT9 ERP starts at $25/month per user for basic features. It also offers a free trial.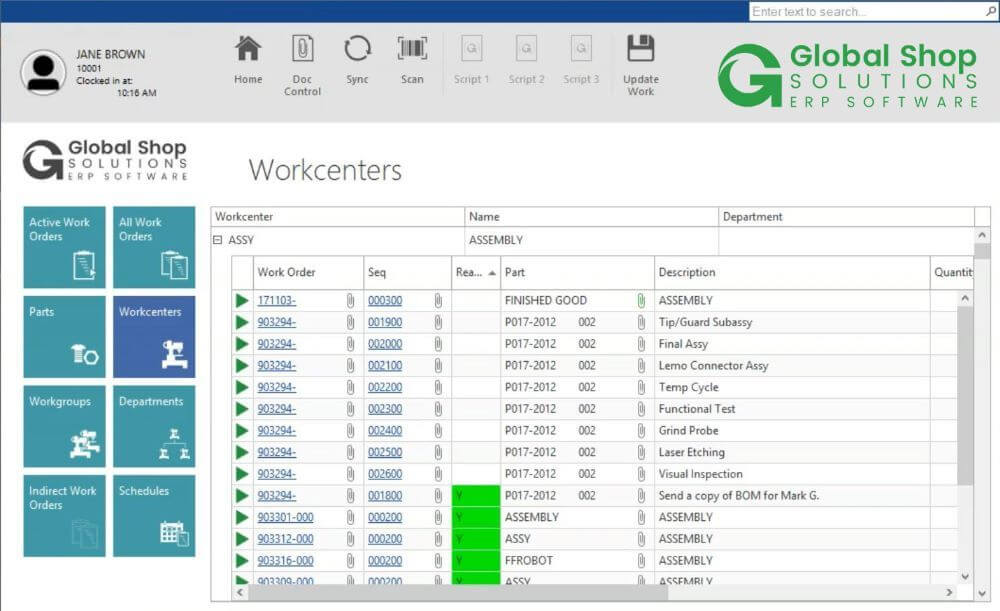 Global Shop Solutions' manufacturing software was designed to help businesses manage their operations on one centralized platform. It incorporates inventory management, supply chain management, accounting, CRM, scheduling, job costing, and more modules.
The system also includes a company messaging function so users can quickly communicate with customers and employees.
Features
Shop management with a real-time overview.
Master scheduling dashboard and customizable reporting.
Inventory management and accounting.
Pros
Many modules and add-ons included out of the box.
Flexible, detailed software with extensive functionality.
Quick, responsive customer support.
Cons
Can run into issues after upgrades
Steep learning curve and complex implementation.
Pricing
Contact Global Shop Solutions directly for accurate pricing information. It offers a demo for all its products.
Which manufacturing software is best for you?
The best manufacturing software depends on the size of your company, how many users you want to add, and which operational improvements are needed.
If you're a large manufacturing company, robust software for manufacturing like Global Shop Solutions, Fishbowl, and NetSuite is worth considering.
If you're an SMB with fewer employees, budget-friendly software that improves critical aspects of operations will help you grow faster.
The manufacturing software you choose should ultimately increase productivity, streamline or automate production, increase revenue, and improve customer satisfaction.
Method:CRM helps SMBs with everything from automation of workflows to full utilization of customer and sales data. Its two-way sync with QuickBooks and Xero makes accounting and financials easy.
With Method, you will improve productivity and increase customer satisfaction, ensuring that competitive edge that'll help your business grow and prosper.
Software for Manufacturing FAQs
Which software is best for manufacturing?
The best software for manufacturing business depends on what areas the company needs to improve. There are multiple types of software, each made to tackle different aspects of operations. The most popular include ERP, CMMS, and computer-aided manufacturing.
What is manufacturing process software?
A manufacturing process software is a system that manufacturers use to manage raw materials and produce products.
What is ERP in manufacturing?
Manufacturing ERP is software that helps manage all aspects of manufacturing operations and processes on a centralized platform. Large-scale manufacturing companies typically use ERP software, as it can give manufacturers real-time visibility of shop floor operations and optimize inventory management and accuracy.
Start your free trial of Method:CRM today!
Image credits: Firmbee via Pexels