As a contractor, you know it can be a struggle to stay organized and make informed financial decisions, all while finding the time to run your business.
And that's where QuickBooks Online comes in as a great resource for contractors. From small handymen companies to large commercial projects, the software has a range of intuitive features to make your business run efficiently.
This article details how to use QuickBooks for general contractors, its limitations, and ultimately if QuickBooks Online is a good solution for contractors.
Can you use QuickBooks Online for construction?
If you're in the construction business, you know how specific your work processes need to be. With the amount of attention and detail you need to dedicate to each process, you may wonder, "Is QuickBooks online good for contractors?".
The answer is yes.
QuickBooks Online is the accounting software that's recommended for construction companies, because it allows you to simplify your workflows with features such as job costing, scheduling and invoicing.
With QuickBooks Online, you have the flexibility to choose between four different subscriptions: Simple Start, Essentials, Plus and Advanced.
As long as you have a secure login and internet connection, you can access QuickBooks from anywhere. Plus, you'll never have to back up your file.
The cloud-based software integrates seamlessly with your construction management software, so choosing QuickBooks for general contractors is ideal.
Start your free 30-day QuickBooks Online trial and get 30% off your subscription during your first year.
How to use QuickBooks for general contractors
Now that you've answered the question "Is QuickBooks Online good for contractors?", let's get more specific.
In this section, you'll see how to use QuickBooks for general contractors.
Job costing
Every construction contractor knows how critical job costing is to determine profitability. That's why many choose to use QuickBooks for general contractors.
Several features in QuickBooks allow you to keep track of labor costs, time and expenses for efficient job costing, including:
Dashboards and reports to see if your revenue exceeds your costs.
Automatic updates when you connect with QuickBooks Payroll and Time to see profitability insights.
Visual charts to show where profit is trending in projects.
Cost-tracking calculator to check if you're on budget.
Job scheduling
One of your challenges as a contractor is staying organized with the endless dates, times, and clients.
But using QuickBooks for general contractors helps. You can also take things to the next level with the QuickBooks Time job scheduling software.
With the app, set multiple schedules on the go for your team to stay on track at all times.
Jobs can be created in minutes and then assigned to employees. Alerts then notify employees of new jobs or schedule changes in real-time.
Repeating last week's schedule? No fuss, just drag and drop schedules from previous schedules to finish your tasks in seconds.
So going back to the question of is QuickBooks Online good for general contractors? The answer is it's perfect for crews on the move.
You can even see GPS points for clocked-in employees when you open the Who's Working windows.
The best part? Store everything in the cloud and track insights about hours worked and estimated for future job costing.
Billing and invoicing
One of the biggest struggles of a general contractor is getting paid on time. Every contractor has at least one horror story about getting paid six months after completing a job.
Or even worse — not at all!
By using QuickBooks for general contractors, you won't run into that problem as the software creates your invoices and quotes.
The best part is that the professional look of the invoices that make your business look good and impresses potential customers.
Here's a simple breakdown of how you can create an invoice in QuickBooks Online:
To start, select +New and click on Invoice in the drop-down menu.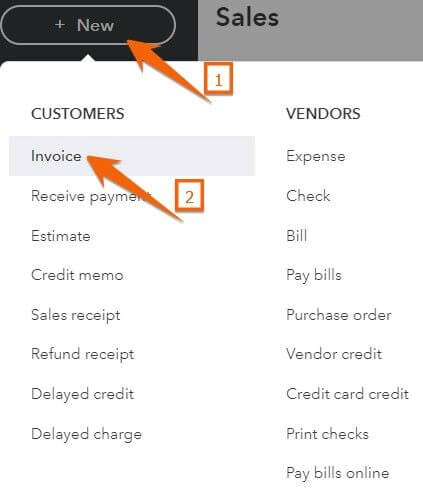 You'll see an invoice form with contact information for your company. Make changes as needed.
Next, click Add customer from the drop-down menu and select your customer if you've already saved their information previously. Otherwise, input the correct information for a new customer.
Add notes and attachments, customize the design or font until you're ready to send your invoice!
That's it! Now you know how to easily create invoices for your customers to get paid faster.
QuickBooks Contractor Edition is best for
There is no shortage when it comes to software for the construction industry, and you may wonder which one fits you the best.
QuickBooks Contractor Edition is a special version of QuickBooks tailored for the construction industry. However, the software is limited to computers on which the software is installed.
Its capabilities account for the cost of large jobs. It's best for contractors:
With several crews.
On a smaller budget as QuickBooks Contractor Edition has the same inventory functionality as QuickBooks Premier's base edition. So, unused materials from a job site can be reused on the next job, rather than ordering unnecessary materials.
QuickBooks Contractor Edition pricing
A QuickBooks Enterprise annual subscription is a total of $380.00 billed monthly with the ability to customize your package for additional features here.
Limitations of QuickBooks Online for construction
While the answer to is QuickBooks Online good for contractors is still a yes, it isn't without its shortfalls. Here are some limitations when considering QuickBooks Online for construction:
Lacks construction and business-specific features, unlike the Contractor Edition on QuickBooks Desktop.
You cannot allocate indirect costs to jobs automatically.
Projects can only belong to a customer or sub-customer, rather than a sub-project.
Reports such as job costs by vendor are not available in QuickBooks Online.
Maintaining and adding features is expensive.
Simplify your construction workflows with Method:CRM
As today's business environment becomes increasingly complex, construction companies are focusing on customer retention. A CRM (customer relationship management) manages your customers and how they interact with your business.
An effective CRM solution simplifies your construction workflows. And it's even better if your CRM integrates with QuickBooks to manage transactions and construction project progress in one place.
Method:CRM streamlines every part of the building process, from tracking bids to managing documents. Below is a preview of its benefits.
Its two-way QuickBooks sync allows you to create estimates on the fly, convert it to a work order and issue an invoice in either program without needing to re-enter data. The data automatically reflects in your QuickBooks account.
Syncing with QuickBooks also allows your customers to pay invoices online without needing to rekey this data into QuickBooks.
Instead of cluttering your accounting data in QuickBooks with leads, you can manage your information in Method:CRM. Then, have leads sync to your accounting software when they become customers.
Method:CRM also makes it easy to access client history anytime. You get a centralized view of past interactions, project details and QuickBooks transactions. This makes it easy to maintain a shared list of bids to deliver exceptional service to customers.
Bottom line: Is QuickBooks Online good for contractors?
So, when considering which accounting software to go for, you need to know:Is QuickBooks Online good for contractors? And the answer is yes!
QuickBooks for general contractors is a great choice if you need help tracking your expenses, invoices and payments.
With the ability to generate quick reports and create custom invoices easily, it's clear why QuickBooks Online is ideal for busy contractors.
The software doesn't come without its limitations though. For example, its reporting capabilities are limited and you can't allocate indirect costs to jobs automatically. If these features are important to you, you'll need to find an alternative.
When pairing QuickBooks Online with a powerful solution such as Method:CRM, you enhance the power of your accounting tool. This combo automates your workflow and takes your construction business to the next level.
QuickBooks Online for contractors FAQs
Does QuickBooks Online have a contractor edition?
QuickBooks Online does not have a contractor edition but QuickBooks Desktop does. The QuickBooks for general contractors version on desktop provides you with tools to track job costs, monitor profitability, and complete accurate tax filing.
It also allows you to easily process payroll, generate invoices, and manage customer accounts.
What is the best software for general contracting business?
QuickBooks Online is one of the best accounting software programs for general contractors.
When comparing QuickBooks to other options such as Xero, you'll find they both provide powerful features such as job costing, progress billing and inventory management.
However, QuickBooks offers distinct advantages such as the ability to customize reports easily.
So is QuickBooks Online good for general contractors? The answer is yes! However, if you want a version of QuickBooks that's especially for contractors, go with QuickBooks Contractor Edition on Desktop instead.
Either way, research all your options and consider your business needs before making a decision.
Can I use QuickBooks as an independent contractor?
If you're considering QuickBooks for general contractors, then QuickBooks Online is a great choice. It allows you to easily track expenses and access your data on income. Additionally, it provides support for payroll, job costing, invoicing, payments and more.
So, is QuickBooks Online good for contractors? Absolutely!
However, it does come with some limitations. For example, you won't be able to add new custom fields or reports unless you upgrade to pricier versions of the software.
Also, if you have multiple locations or manage a large number of contractors, then QuickBooks Online may not be the best option as it only supports one location/user at a time.
Watch our demo to get started with Method:CRM!
Image credit: Shutter B via Adobe