There's no doubt that the construction industry is competitive. In fact, it's the reason so many companies are willing to pay a hefty price for the best construction leads.
While this approach can be effective in the short term, it's not the best if you want to grow your business sustainably. So today, we look at the top 5 ways you can get more construction leads and convert them into lifelong customers. 
5 ways to get more construction leads
1. Align sales and marketing
When it comes to getting more construction leads, sales and marketing need to work together by sharing all the customer insights they have.
Whether that's the feedback they got from conversations with prospects on the phone or customer engagements on social media, this information is critical to building your ideal customer profile (ICP). 
For those of you new to what an ICP is, it's simply a profile that represents the traits that your best customers share. The value of an ICP is that it helps you understand what type of buyers:
Shop most frequently with your business
Are the cheapest to convert into customers
Generate the most revenue for you
Are the most profitable to acquire
Stay with you the longest
Your ICP will guide your lead generation strategy and will help you know which construction leads are worth investing your time into closing.
2. Use online lead generation forms
When it comes to getting free construction leads, your website is a great place to start as visitors already have some interest in your services. To capitalize on this interest, you'll want to make the most of online lead gen forms.
Embedded directly onto your website, visitors who are interested in your services can share their contact information with you and request that you follow up with them. Below is an example of what these forms look like.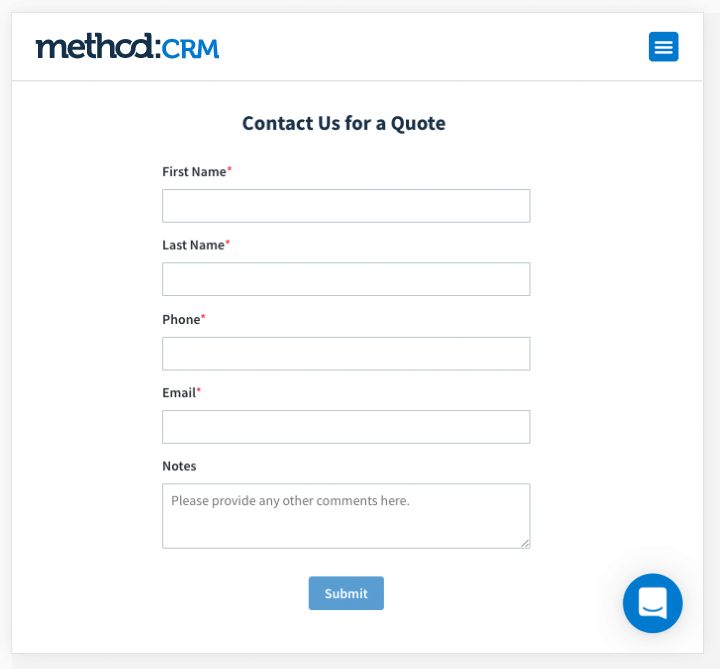 With the help of a lead gen form, collecting construction leads is easier than ever before. 
3. Automate your sales workflows
The key to building a successful sales process from lead to repeat and everything in between is automation. By automating your workflows from sales outreach to the follow-up process, you can ensure that every one of your construction leads is well-nurtured and is brought down the sales funnel.
On top of this, sales workflow automation allows you to put time back into your sales rep's day as they no longer have to perform tedious tasks like manually creating estimates or managing spreadsheets. Instead, they can use this time to complete more revenue-generating activities like building industry relationships and taking meetings with hot leads. 
4. Leverage the power of referrals
A simple but effective way to get more construction leads is to turn to your existing customers.
To start, you should think about the customers who you've left the most satisfied and ask them if they know anyone looking for general contractors or construction services. This tactic is a great way to stay top of mind and drum up leads for your construction business.
To sweeten the ask for referrals, you can offer these customers a discounted rate on their next project with you or a chance to win a prize like tickets to a concert or sports event. To generate more construction leads you can even launch social media and email campaigns around the give away to create excitement about your brand. 
5. Share your success stories on social media
A great way to get more construction leads is to showcase some of your best projects on social media. This will not only get your brand out there but will help build trust with your social media followers about the quality of your work. To get started, you can post before and after photos of your work to highlight the impact of your services and open your audience's minds to the art of the possible with your company.
Recap: How to get and close more construction leads
Have sales and marketing work together to find construction leads that match your ICP. 
Use lead gen forms on your website to capitalize on online interest.
Automate your sales workflows wherever possible.
Find new construction projects by asking for customer referrals.
Build your social media presence by sharing examples of your high-quality work. 
Download our free ebook to learn how to make your sales process more effective.
Image credit: Chris Liverani via Unsplash