As a house cleaner, you need to be thorough to ensure that no part of your client's house is left dirty. A house cleaning checklist keeps your cleaning process organized and ensures that your team completes all cleaning tasks.
If you're looking to organize your house cleaning process, we've got you covered. Read on for a comprehensive guide on house cleaning checklists!
Preparing your professional house cleaner business
Professional house cleaning is an entirely different ballgame than cleaning your own house. Clients pay you to be thorough, which means you need to give them your best effort. Here are three important cleaning tips to follow as professional house cleaners.
Prepare your cleaning supplies and tools
Different customers have varying cleaning needs, so you have to be prepared for anything. Stock up on various cleaning supplies and tools that let you tackle any kind of house cleaning problem. Some important cleaning supplies and tools include:
Microfiber mops and pads.
Brooms and dustpans.
Granite cleaners.
Vacuum cleaners.
Steam cleaners.
Scrub brushes.
Disinfectants to remove bacteria and germs.
Define cleaning routines
Whether you're a one-person cleaner or employ a team of house cleaners, organizing your routine is key. Write down the tasks you need to do and cross them off as you go through the house. Once you've gone through the entire checklist, go around the house once again to double-check that you didn't miss anything.
Consider offering extra services
Going the extra step is memorable to your customer. Consider offering additional services, such as:
Porch sweeping.
Garbage can pickup.
Replacing smoke alarm batteries.
Happy customers are more likely to refer your business to their friends, bringing you even more clients. Combined with online ads, providing great service ensures you'll get a lot of bookings in no time!
Advantages of using a house cleaning checklist
You may be asking yourself: Why spend time making a checklist when you can just start cleaning the entire house right away? Well when you don't have a game plan, staying organized is tough. Here are five reasons why checklists improve your house cleaning services.
Service is consistent
Even if you perform regular cleaning of the same house, there's still a chance that you missed something. Checklists ensure you clean everything that needs to be cleaned every single time.
Customers stay satisfied
Customers love it when they get consistently good service. If they think you provide great house cleaning services, you're much more likely to get called back to clean for them again.
Look professional
Having a checklist helps you look professional in the customer's eyes. When the customer sees a checklist in your hand, they'll immediately think that you're prepared to clean their home.
Stay organized
Making a house cleaning checklist that flows through the customer's home keeps your team organized. Instead of jumping from room to room and cleaning whatever's in view, following a checklist lets you tackle each room thoroughly before moving on to the next one.
Improve accountability
Many customers need reassurance that you've cleaned everything they asked you to clean. Having a checklist shows your customers which parts of the house you've worked on.
A checklist also ensures that your cleaners are always honest since you can always look at the checklist to see whether they've cleaned a certain part of the house.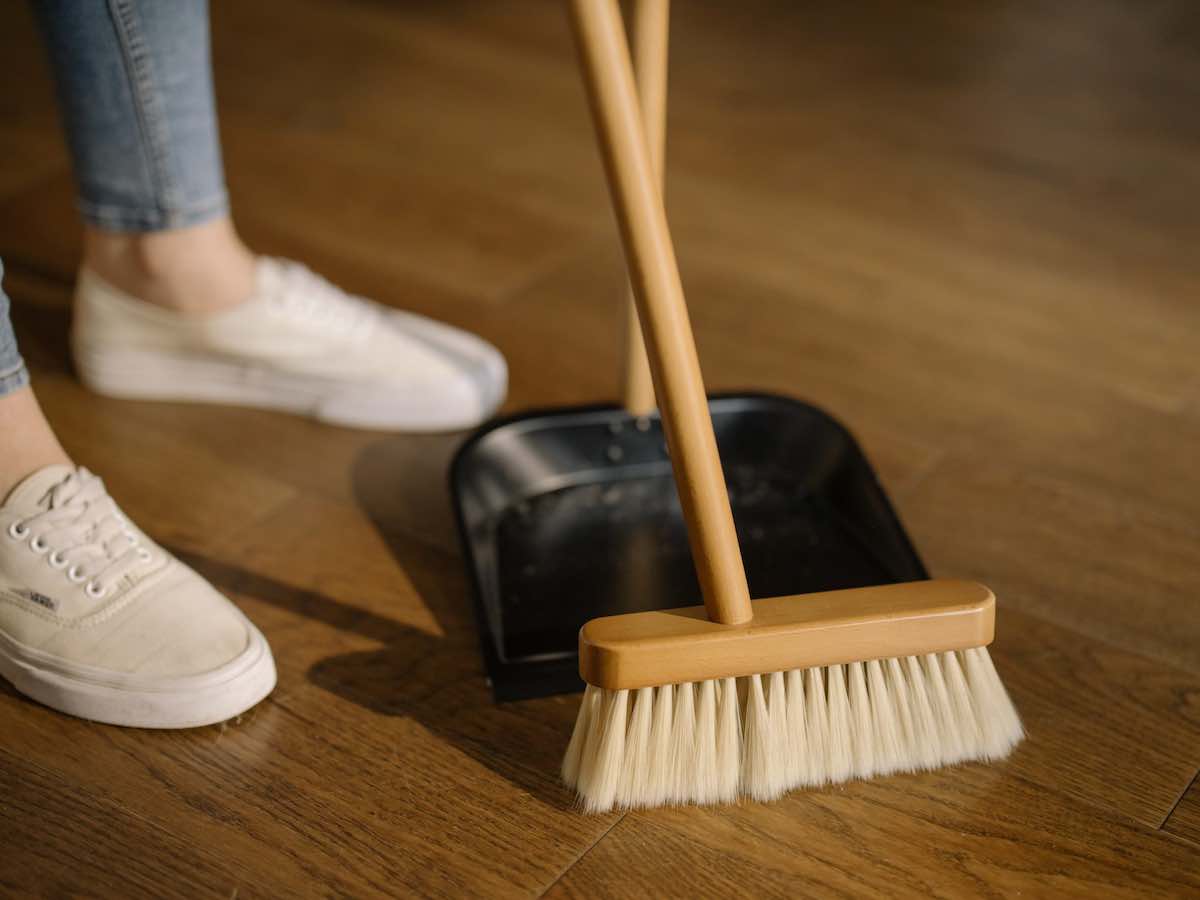 Image credit: Cottonbro via Pexels
House cleaning checklist examples to use
Struggling to build your own house cleaning checklist? We've got you covered. Here are several house cleaning checklist examples you can use for your business right away!
Regular house cleaning checklist
Here's a quick rundown of all the things you need to do on everyday cleaning jobs:
Dust
Shelves, furniture, and decorations.
Window ledges.
Window blinds.
Lamps and lighting fixtures.
Baseboards.
Sweep, mop, and wipe
Doors.
Door frames.
Dining room table.
Cobwebs.
Hard and tile floors.
Glass surfaces and objects.
Vacuum
Floors.
Carpets.
Rugs.
Large upholstered furniture.
Other to-do items
Tidy and organize shoe closets.
Make the bed.
Empty trash basket.
Checklist for deep cleaning
Use this deep cleaning checklist for more intensive cleanup jobs.
Clean:
The oven.
The stove.
The hood fan.
The refrigerator's interior.
The dishwasher's interior.
The washing machine.
Walls behind appliances.
Ceiling fans.
Gutters.
Cabinets and drawers.
Window sills.
Things to polish:
Metal appliances.
Shower tiles.
Wash:
Bedsheets.
The inside of windows.
Carpets.
Shower curtains.
Rugs.
Kitchen cleaning checklist
This cleaning checklist ensures your kitchen cleaning goes flawlessly.
Wipe:
Tops of cabinets.
Tops of appliances.
Countertops and kitchen cabinets.
Stovetop.
Cupboard fronts, tables, and chairs.
Clean appliances:
Microwave.
Dishwasher.
All appliance surfaces.
Steel appliances (polish to a shine).
Stove drip pans.
Stove burner grates.
Stove control knobs.
Kitchen sink (clean soap scum and disinfect).
Coffee maker.
Other cleaning tasks:
Sweep kitchen floor to clear out bits of food.
Clear spoiled food from the refrigerator.
Replace rugs in the kitchen.
Empty trash cans.
Checklist for bathroom cleaning
Here is a handy checklist for cleaning customer bathrooms.
Clean:
Wipe down glass shower doors.
Clean bathtub and sink.
Disinfect the entire toilet.
Clean all reflective surfaces.
Wipe down cabinet fronts, fixtures, medicine cabinets, and countertops.
Wash dirty hand towels and washcloths.
Remove and replace:
Clear out hair from bathtub and shower drains.
Replace bathroom rugs.
Replace the shower curtain.
Other cleaning tasks:
Dust surfaces, including high ones like light fixtures and decor.
Vacuum floors.
Mop floors after vacuuming.
Empty trash can.
Refill soap dispenser.
Insert new paper towels into the dispenser.
Dispose of spent toilet paper rolls.
Checklist for cleaning bedrooms
Follow this checklist for spotless bedrooms.
Vacuum:
Move furniture before vacuuming.
Vacuum floors.
Clean and dust:
Dust all furniture.
Wipe window sills.
Wipe window coverings.
Clean mirrors and reflective surfaces with a mirror cleaner.
Wipe vanity counter mirror.
Post-cleaning:
Return furniture to where they were.
Clean up the bed.
Checklist for cleaning living areas
Living room layouts tend to be different. However, this list helps you clean any kind of living area thoroughly.
Clean and dust:
Dust the entire room with a microfiber cloth.
Wipe down frames.
Clean windows.
Wipe down light fixtures.
Clear dust from TV screens.
Remove dust bunnies from under coffee tables.
Clean ash from the fireplace.
Clean and polish hardwood floors.
Other cleaning tasks:
Remove lint from all furniture with a lint roller.
Vacuum upholstered furniture like sofas.
Vacuum carpets.
Sweep floors.
Checklist for cleaning windows
Last but not least, here's a checklist for cleaning windows.
Clean and scrub:
Scrub frames with a sponge.
Clean window tracks with baking soda and vinegar.
Wipe down external window frames.
Remove and scrub window screens.
Remove drapes and wash them.
Wipe down and dust blinds.
Other cleaning tasks:
Vacuum window frames to clear dust mites and debris.
Dry window frames with a microfiber towel.
Creating a house cleaning checklist for mobile devices
Your team can't carry computers to clients' homes, and a paper checklist can get damaged or lost.
To simplify the process, consider creating digital checklists with business software. This way, staff can quickly make reports after every cleaning job, so both you and the customer stay updated.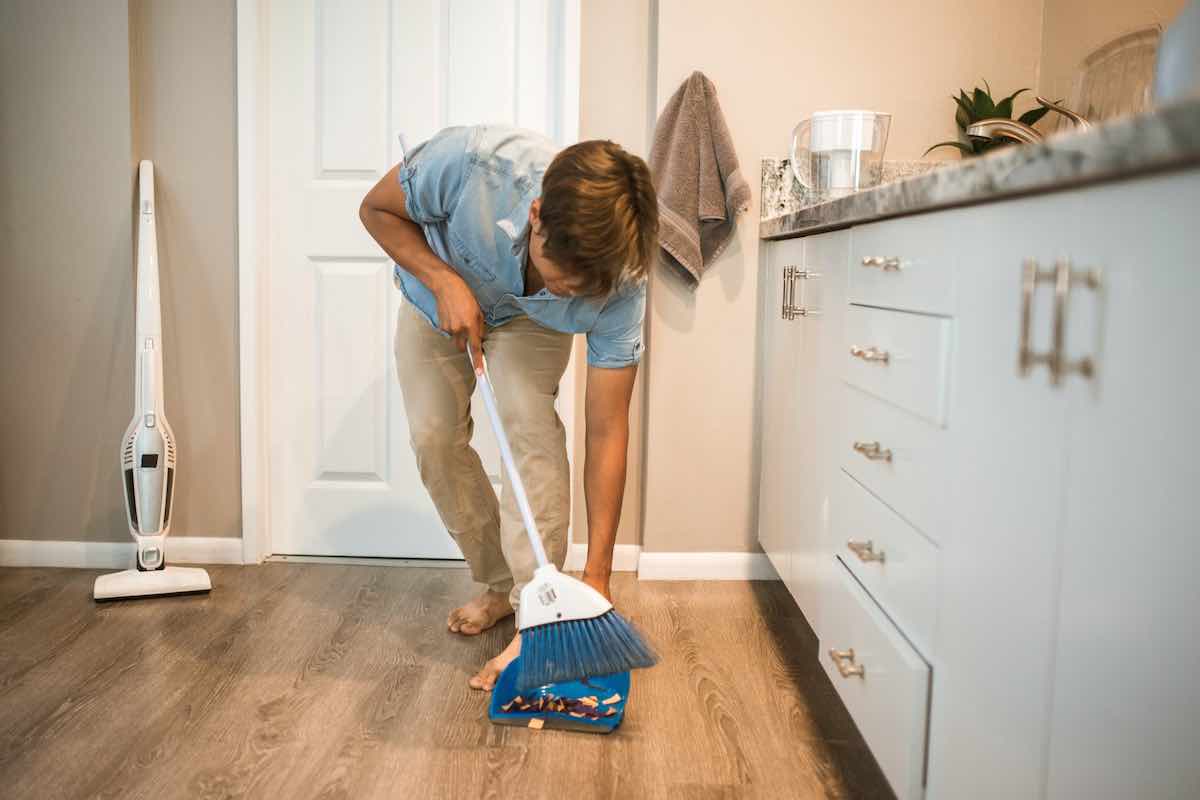 Image credit: RODNAE Productions via Pexels
Cleaning checklists FAQs
Creating and maintaining checklists and daily cleaning tasks is more challenging than it seems. Here are common questions about cleaning checklists, answered!
What should a cleaning checklist include?
A good cleaning checklist should be as detailed as possible to ensure that your team does a thorough job. For example, a house cleaning checklist should list rooms and the objects in those rooms. However, your list should also be flexible because different homes have different layouts and objects.
How do I clean my whole house using a checklist?
If you already have a checklist for your house, then maintaining a daily cleaning routine is your easiest option. Divide your checklist items based on rooms, and make sure you clear each room before moving on to the next one. Once you've finished with every room, run through the checklist again to ensure you didn't miss any household chores.
House cleaning checklist: Key takeaways
Having a house cleaning checklist makes life easier as a cleaner. In addition to guiding your team through the cleaning process, it also reassures customers that they're getting their money's worth. If you're just starting out in the house cleaning industry, be sure to create a house cleaning checklist as a first step!
Automate your house cleaning checklists with Method:Field Services!
Image credit: Nathan Cowley via Pexels