Completing a construction project is no easy feat, and the biggest obstacle is usually scheduling. Many construction managers spend hours in their workweek constantly monitoring and fixing construction schedules.
The process causes a lot of headaches and wastes valuable time that could go toward growing your construction company.
Using construction scheduling software:
Saves you time.
Enhances construction project coordination.
Facilitates effective project management until completion.
But finding the best construction scheduling software requires you to consider which tools your business needs to succeed.
What is construction scheduling?
Construction scheduling involves planning a project and is the blueprint for making sure a job gets completed on time and within budget. In a construction schedule, you'll find the individual tasks required to finish the project and a timeline to bring each task to completion.
This process simplifies task assignment and monitoring as it considers multiple aspects of your projects such as:
Resource management.
Specialty contractor and employee availability.
Budgeting and time tracking.
Area restrictions and building laws.
Client requests and time restraints.
What is construction scheduling software?
Construction scheduling software is a digital tool designed specifically for the construction industry. It assists project managers, contractors, and engineering teams in planning, coordinating, and tracking various tasks throughout a construction project.
By providing a centralized platform, this software enhances communication among project stakeholders and ensures:
Project activity alignment.
Milestones are met.
Efficient use of resources.
Timely project completion.
Reduced overhead costs.
How does construction scheduling software work?
Construction scheduling software allows users to enter various project details, from task progresss to resource allocation. Overall, it streamlines project scheduling.
For example, you can enter the project's start and end dates, define key milestones and prioritize tasks. Then, you can break the project down to individual tasks or jobs, assign them to team members and set deadlines.
Most scheduling software offers a Gantt chart view to provide a visual representation of the project timeline, dependencies, and progress. Construction scheduling software also optimizes resource allocation, including:
Labor.
Machinery and equipment.
Materials.
As the project progresses, team members can update task statuses for real-time tracking. Some platform also automate reminders to ensure no task goes overlooked and any bottlenecks are addresses timely.
Plus, many construction scheduling software integrates with other construction management systems, such as budgeting tools or CRMs for a holistic view of the project.
What are the benefits of construction scheduler software?
Construction scheduling software is more than just a digital calendar for your projects. For instance, it:
Enables efficient resource utilization.
Facilitates effective risk management.
Enables collaborative project planning.
Provides data-driven insights for decision-making.
Supports accurate project forecasting.
Let's go deeperinto its standout benefits.
Better manage your construction budget
One of the primary advantages of construction schedulers are the enhanced control it offers over your budget. Scheduling software lets you:
Analyze expenses as they occur, so you don't overspend.
Predict future costs based on current spending trends.
Coordinate resources to avoid unnecessary rental or overtime costs.
Generate detailed reports that show where the money is going, highlighting areas for potential savings.
Avoid bottlenecks from bureaucracy
Bureaucratic delays area hindrance in construction projects that digital workflows help with.
As it pertains to document management, software helps you:
Access permits, drawings, licenses, and other essential papers.
Assign project tasks and set deadlines.
Automate the steps in your approval process.
Improved collaboration
A construction project involves multiple stakeholders, from architects to subcontractors. As such, it helps if all team members communicate in one platform. Real-time feedback reduces misunderstanding and ensures everyone is on the same page.
The shared calendar scheduling software offers allows teams to:
View project timelines.
Understand job roles.
See how tasks fit into the big picture.
Another way that construction scheduling software improves collaboration is through sharing essential documents, like blueprints or designs, with the parties that need the information.
Types of construction scheduling software
Scheduling is paramount for every construction business, big or small. With so many tasks, stakeholders, and resources to juggle, having the right software can make all the difference.
While the term "construction scheduling software" might seem singular, there are actually several types, each catering to specific needs within the industry.
Let's explore these types in more detail.
Construction management software
Construction management software focuses on the entire lifecycle of a construction project, from initial planning to the final handover.
This software integrates functions like:
Budgeting.
Resource allocation.
Timeline tracking.
It's particularly useful for larger projects where there's a need to monitor multiple job aspects simultaneously. With features tailored to construction, such as site logistics and safety compliance, it ensures that projects are executed seamlessly.
Project management software
While construction management software is tailored for the construction industry, project management software emphasizes:
Task organization.
Collaboration.
Milestone tracking.
Effective communication.
Labor management.
Job management software
Job management software zeroes in on specific jobs within a project. It's ideal for contractors that focus on tasks, such as:
Plumbing.
Electrical work.
Masonry.
This software helps in scheduling jobs, tracking progress, and ensuring that resources are available when needed. It's less about the overarching project and more about the nitty-gritty details of individual tasks.
For subcontractors or specialized construction teams, job management software ensures that their specific responsibilities are executed efficiently and on time.
Who uses a construction scheduling app?
Scheduling software for construction crews is essential for construction managers and their teams to keep track of each task.
Project managers need an efficient and accurate construction scheduling app to break down the project into smaller tasks and make sure that they deliver the final project within their client's budget and timeline.
It also helps construction managers bid estimates that make sense for their customers and that are profitable.
Key features of best construction scheduling software
Easy crew scheduling
Scheduling your team is not as easy as sending employees and contractors to a construction site. Construction project managers have to consider their crews vacation days, possible sick days, and other time-off requests.
When hiring contractors, their specific skillset needs to be taken into consideration as more than one contractor might be required to complete the job.
Construction schedule software lets you schedule your crew easily.
The best solutions offer automation tools to schedule your crew automatically, with all availability and specialties already considered. This save you hours of scheduling, and reduces the likelihood of mistakes or misscheduling crew.
Accurate progress tracking
It's essential to always check your construction project scheduling software for accuracy and to see the progress of the project. A construction scheduling app increases accuracy and reduces entry errors.
Fewer mistakes mean that you'll have fewer issues built up over time and won't overwhelm the whole project plan.
Project management
A good construction schedule software has tools that let you personalize your process to fit how you operate your business. Project management tools help you:
Visualize project timelines with drag-and-drop capabilities.
View hours worked on individual tasks with time tracking tools.
Never miss materials and tools by monitoring.
Avoid double data entry by integrating with your accounting software.
Financial tools
Use construction scheduling software to help you keep track of payments and billing throughout your projects with ease. Some key financial tools found in construction scheduling apps include:
Employee hours log.
Payment processing.
Invoicing, estimates, and work orders.
Budgeting tools.
Protip: When looking for the best construction scheduling software, choose one that integrates with accounting apps that sync your data across both apps so you don't spend hours on double data entry.
Customer management
Managing your customers is an important part of your project scheduling process. It's important to ensure that your customers are happy and in the know for the entire project.
A construction schedule software gives you access to customer details and past job history anywhere and anytime.
Your customers can also use customer portals to stay updated on project changes and have a professional channel to communicate with your customers.
How much does the best construction scheduling software cost?
The price of construction project scheduling software varies depending on the amount of users using the software and what features your business needs to operate efficiently.
There are other costs to consider. For example, in general, the more features a solution offers, the more expensive it is.
Best construction scheduling software 2024
Starting off with a construction schedule software that covers all the key features you need to deliver projects successfully, Method:Field Services is an all-in-one solution for project managers.
Communication between managers, crew, and speciality contractors has never been easier with Method's mobile app for Android and iOS users. Easily update tasks and timelines on the job site so that you're always a step ahead when it comes to staying on track with your project.
What's more, never worry about inaccuracies when paying suppliers, staff, and others as Method integrates with accounting software like QuickBooks. Company information flows safely from your construction scheduling software to integrated apps and enables real-time project tracking.
Some other features that Method:Field Services offers include:
Connecting your entire team. Give your team access to time tracking, route plans, job updates, and any other project details on the go with the Method:Field Services mobile project management app.
Route optimization. Save time on travel with automatic routes and a built-in mapping system.
Flexible pricing. Choose from flexible pricing plans that grow with you starting at $15 per month.
Customizability. Method's no-code platform lets you personalize your construction scheduling software.
Customer relationship management. Have access to customer details, project history, and leads to follow up with.
Customer portals. Keep your customers up-to-date on projects through an online portal.
Stellar customer support. Support is available to help you create a personalized scheduling system for your unique construction company
Method:Field Services offers a free no-commitment trial, that includes:
A free hour of customization services.
Unlimited support resources.
Access to all features and the Method mobile app.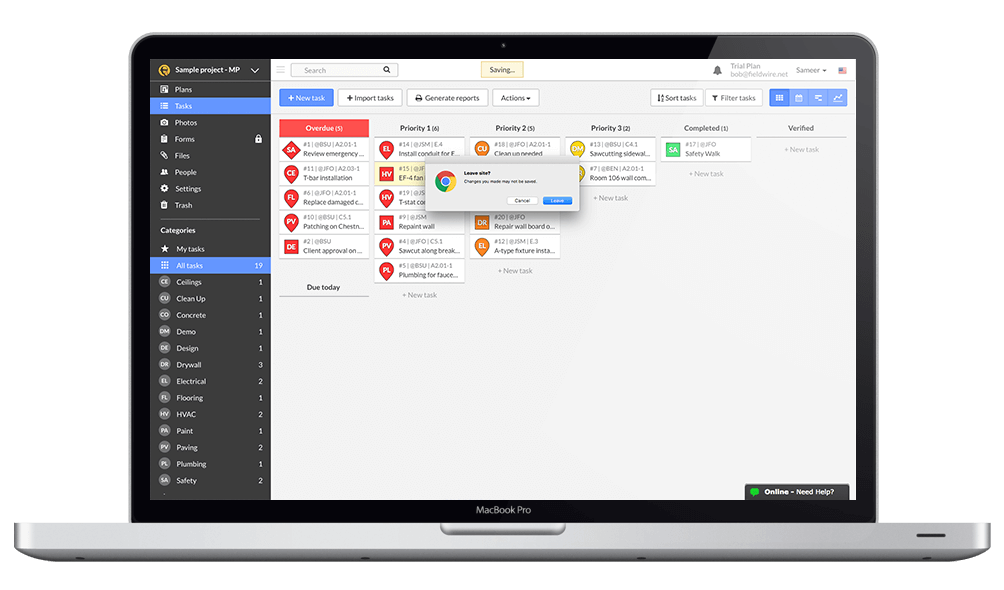 Image credit: Fieldwire
Fieldwire gives construction managers time back and focuses on not wasting valuable time finding loose information on projects.
This construction scheduling software makes it easy to organize tasks and leaves little room for miscommunications. Their tools allow for information to flow from managers to crew in an instant so everyone is always in the loop.
Some of the key features and benefits that Fieldwire offers are:
Scheduling tools for projects several weeks in advance.
Free help centre with videos, how-to's, and other guides to get you started.
The ability to seamlessly add data like 360 degree photos to tasks in progress.
Real-time progress reporting to keep you and your team updated.
Fieldwire's has four pricing plans to choose from including a $0 Basic plan. Their other three pricing plans are billed annually and priced per user. The Pro plan costs $29 per month, the Business plan costs $49 per month, and their Premier plan costs $89 per month.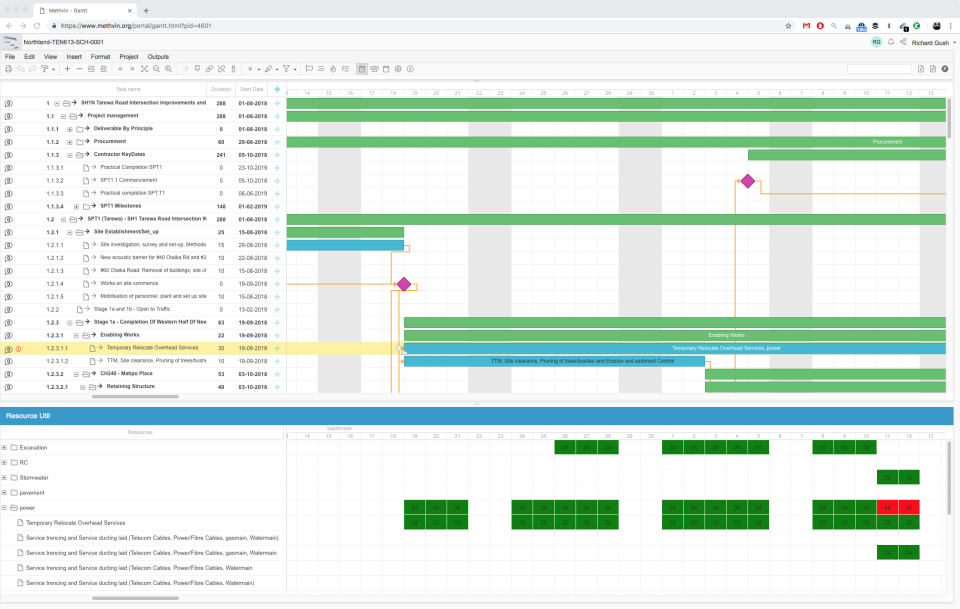 Image credit: Capterra
Methvin is a simple solution for project managers looking for a construction scheduling app that offers the basic tools to deliver projects from start to finish successfully.
Their platform connects teams and gives you total control overprojects. All apps are native within Methvin, which gives you a complete project record that is all in one place.
Methvin offers several of the standard features needed from a construction scheduling software, some of which include:
Secure storage of documents including contracts, payment details, and other confidential information.
Schedule tasks easily by organizing them to a timeline and inviting others to view projects.
Manage projects from anywhere and anytime through virtual team management tools.
Collaborate in real-time and view jobsite processes with an easy-to-use mobile app.
Methvin offers three pricing plans starting with their Free plan which doesn't cost anything, their Business plan costing $27 per month, and their Enterprise plan costing $179 per month.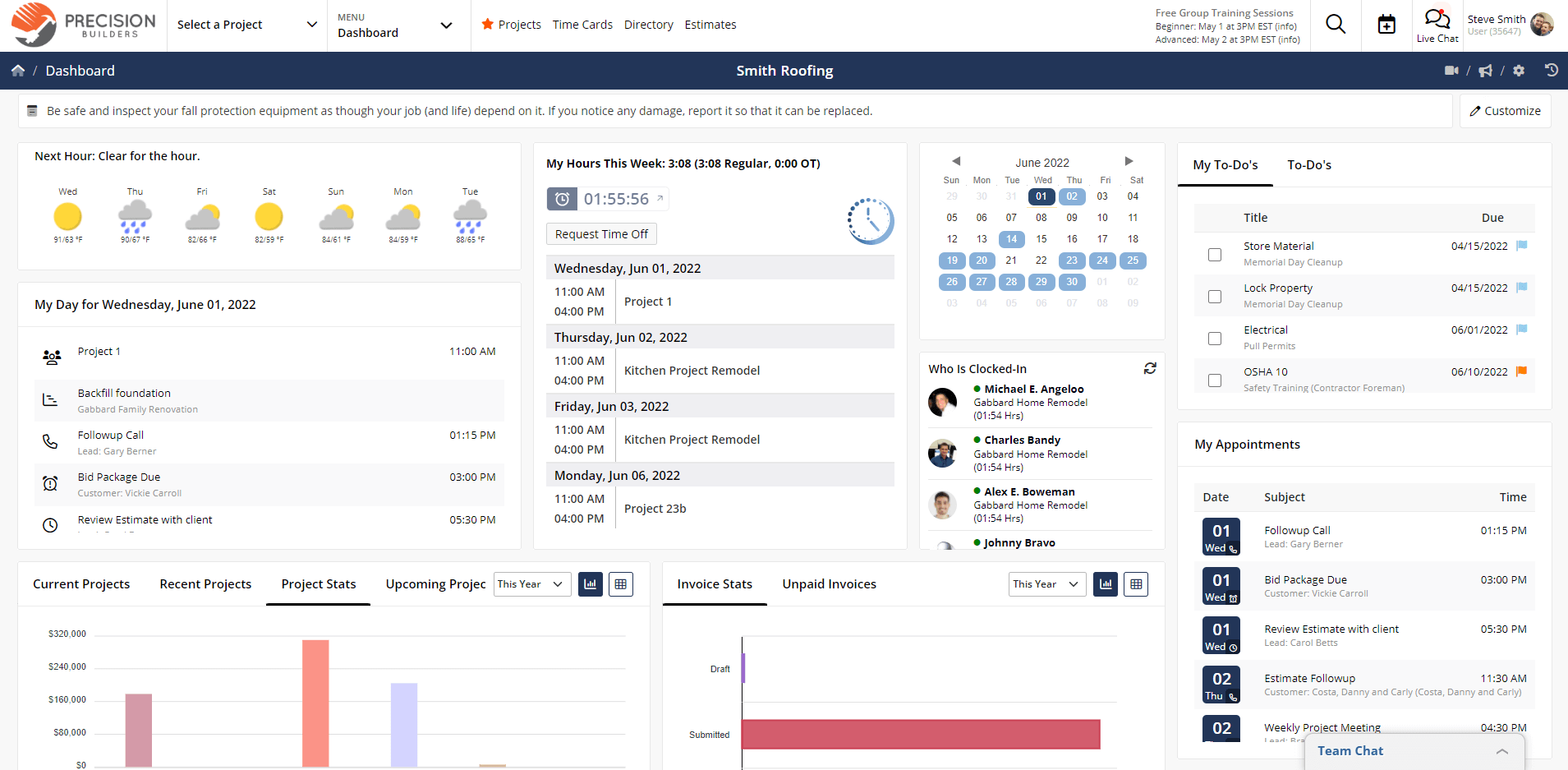 Image credit: Capterra
Contractor Foreman is an all-in-one construction management software that works across channels, including tablets, phones, and computers.
Their construction schedule software manages your projects and makes the process as simple as possible. Whether you're a newer company or have been in the industry for a long time, they offer the features you need to successfully deliver your construction projects.
Contractor Foreman's features can streamline your scheduling process. Some of their other features include:
Easy estimates, invoicing, and online payments.
Time tracking tools for tracking crew hours.
Call or email customers, crew, and contractors directly from the app.
Custom form creation.
Their plans start at $49 per month for their Standard plan, $87 per month for their Plus plan, $123 per month for their Pro plan, and $148 per month for their Unlimited plan. All of their plans are billed annually.
How much does construction scheduling software cost?
The cost of construction scheduling software varies widely. The price is influenced by the:
Software's features.
Number of users.
Level of customization.
Type of licensing model.
Basic versions are available for as low as $10 per user per month, while more comprehensive solutions are thousands of dollars monthly.
Some software providers offer tiered pricing, allowing construction companies to choose a package that best fits their needs and budget. Additionally, while some platforms might have a one-time purchase fee, others operate on a subscription model, incurring monthly or annual charges.
When considering the cost, factor in the return on investment, as the right software:
Improves construction project efficiency.
Reduces scheduling conflicts.
Minimizes project delays.
Leads to cost savings in the long run.
Recap: Why you need construction project management software
When choosing a construction schedule software, make sure you consider all the must-have features you need to get your projects to the finish line.
Look for scheduling software that:
Supports agile project scheduling and crew time tracking.
Automates schedule updates with notifications.
Offers a built-in mapping system for scheduling and routing.
Increases project transparency through custom forms and schedules.
Helps meet project deadlines while saving costs.
FAQs
How do you manage a construction schedule?
Managing a construction schedule involves meticulous planning, continuous monitoring, and timely adjustments.
Start by defining the project's scope and breaking it down into individual tasks. Assign durations to each task, identify dependencies, and use scheduling tools, like Gantt charts, to visualize the timeline and allocate resources efficiently.
As the project progresses, monitor the schedule regularly, comparing planned progress with actual achievements. If discrepancies arise, optimize the schedule or allocate additional resources to stay on track.
Regular communication with field workers is also crucial to ensure issues are addressed promptly.
How do I improve communication in construction estimating?
Improving communication in construction estimating is pivotal for accurate project assessments.
Start by ensuring that all stakeholders, from architects to subcontractors, have a clear understanding of the project's scope and requirements.
Regularly hold meetings to discuss estimates, ensuring that any assumptions made are clarified. It's also beneficial to have a standardized format for presenting bids, so office and field staff know what to expect and where to find specific information.
Lastly, encourage feedback after project completion to understand any communication gaps and make improvements for future projects.
What are some common project scheduling techniques?
The Critical Path Method (CPM) identifies the longest sequence of tasks in a project, helping managers pinpoint critical tasks that could delay the project if not completed on time.
Gantt charts provide a visual representation of the project timeline, showcasing when each task starts, its duration, and when it ends.
The Program Evaluation and Review Technique (PERT) is a statistical tool that uses three time estimates for each task (optimistic, most likely, and pessimistic) to determine the project's expected completion time.
Lastly, the Last Planner System (LPS) is a collaborative approach where those executing the work are involved in planning for a realistic schedule.
Each technique has its strengths, and the choice often depends on the project's complexity and the manager's preference.
Get started with the best construction scheduling software today with a Method:Field Services trial.
Image credit: JU.STOCKER via Adobe Stock