Maintaining spotless windows requires the right tools, and you're going to need more than a cloth and squeegee. If cleaning windows is part of your service offerings, investing in the right cleaning products can go a long way for your business.
In this guide, you'll go through the best window washing tools for your cleaning business and how to pick the right ones.
What you'll learn in this guide
Here is a quick overview of what you'll learn in this guide:
The 10 best window cleaning tools
If you want to start a profitable window cleaning business, you need these tools in your arsenal: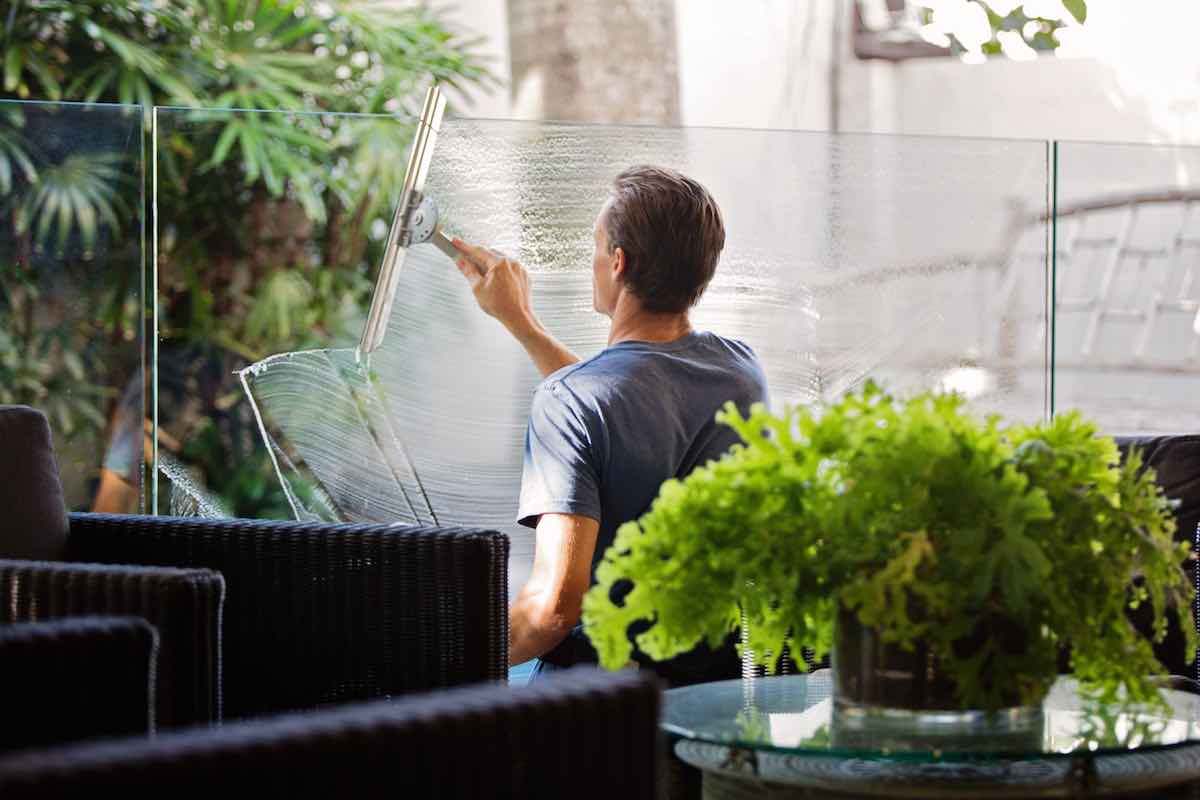 Image credit: Nathan Cowley via Pexels
1. Squeegee
A window squeegee is a must for any cleaning business. This tool eliminates streaks and leaving windows spotless and comes in many different sizes for different-sized windows. It's also a good idea to consider a squeegee with interchangeable blades.
2. T-bar and mop
With the right kind of mop and t-bar, you can keep surfaces shiny and dry throughout the day. Tackle any cleaning job with the right type of bristles and fibers.
3. Bucket
With a bucket, you can easily wash your squeegee blade or apply more water to your windows when necessary. Pick a large enough bucket to hold a lot of water but small enough to keep it portable. Consider purchasing two separate buckets for clean, cool water and one for soapy water.
Pro-tip: Buckets with ergonomic handles will be easier to carry around.
4. Sponge
Sponges are a must-have for any cleaning kit, as they help remove loose dirt trapped in hard-to-reach corners and gaps between windows. Pick one that can hold a lot of excess water at once without ripping.
5. Lint-free cloths
Using a high-quality microfiber cloth or cotton cloth is best for drying a surface without leaving streaks.. Alternatively, purchase a glass cleaning cloth or plastic drop cloth that absorbs more water and smooths out prints.
6. Extension poles
While a ladder or window stool can be a helpful tool when working on properties with multiple floors or high-up windows, having a 5-12 foot extension pole can save you from climbing hard-to-reach places. Ensure that your extension poles or extension handles lock tight so they don't slide down when you clean.
7. Scrapers
Sometimes known as window razors, window scrapers do an excellent job of removing dirt, paint, tape, dead insects, and other construction debris from windows. Depending on your needs, you can pick a scraper that is adjustable or retractable.
8. Toolbelt
A cleaning tool holster allows you to organize the accessories you use most. Tool belts are an ideal option for keeping your spray bottle, green cloth, and handheld window cleaner within reach.
9. Window cleaning estimating and billing software
If you cater to many clients, having automated billing software removes the headache of manually creating invoices per project. This software teaches you how much to charge, keep track of upcoming payments, and notify clients regarding unsettled bills.
10. Water purification systems
Pure water cleaning systems are an underrated window cleaning tool. They help prevent damage from natural elements like rust and dirty water. Using a water purification system significantly increases the lifespan of your customer's windows.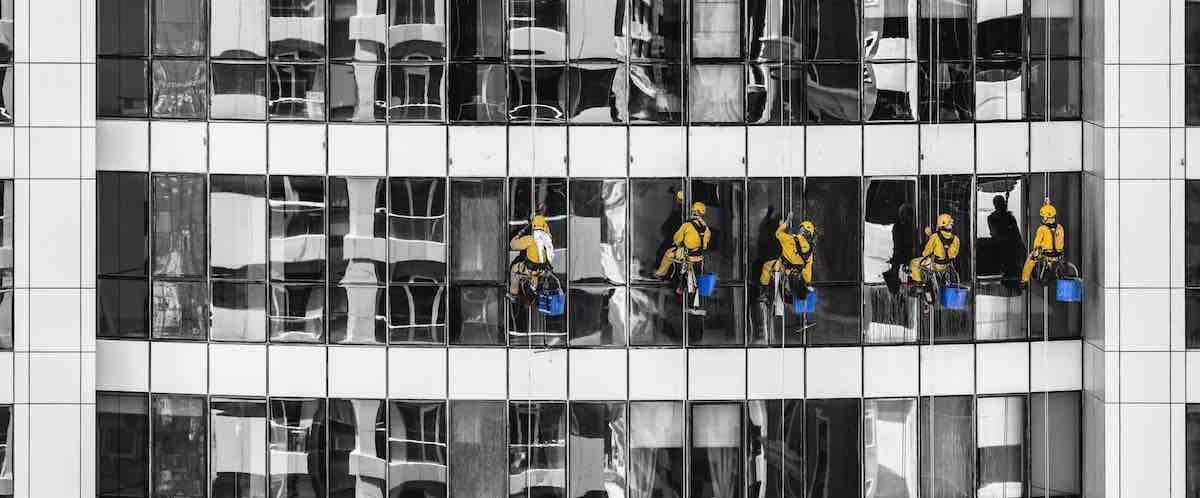 Image credit: Aleksandar Pasaric via Pexels
Window cleaning tools buying guide
When shopping for the right window washing tools, consider the following:
Design: An ergonomically designed window washing tool can help you get the job done without tiring too quickly. Pick something light, portable, and easy to use.
Battery: If using a battery-operated cleaning tool, consider the benefits of a wireless device versus one that requires an outlet. Having both options expands your customer reach.
Noise: When working in a residential area, noise might be an irritating distraction that you'll want to consider when purchasing tools.
Window washing tools FAQs
What are the best tools to clean windows?
All the tools mentioned above make an ideal toolkit for a professional window cleaner. If you have a limited budget, consider purchasing multipurpose tools.
What is the best thing to wash outside windows with?
Because outdoor windows are more prone to developing stains, use a heavy-duty window cleaning solution and scraper.
How do you clean high outside windows?
There are different techniques cleaners use for high to reach areas. A telescopic pole makes it easier for you to clean high outside windows.
Closing thoughts
Whether you offer residential or commercial services, this window cleaning supplies starter kit kick-starts your business.
If you're looking for a better way to manage your customers, keep track of jobs and new leads with Method:Field Services. This CRM software helps you stay on top of daily business operations so you can focus on getting your cleaning jobs done successfully.
Focus more time on growing your cleaning business with Method:Field Services!
Image credit: Khaligo via Pixabay