QuickBooks Online electronic signature capture is a popular feature request from users, and it makes sense why.
The common ask to add digital signature to QuickBooks Online would allow you to:
Work smarter rather than harder.
Close sales faster.
Sign contracts seamlessly.
Build trust with your customers.
So, is a QuickBooks Online signature capture feature available yet? After putting it to the test, the answer is not yet. 
However, with the help of tools like Method:CRM implementing e-signature capture is possible!
Keep reading to learn why a QuickBooks Online electronic signature process is necessary for your business and how to implement one.
What is e-signature capture?
Let's start things off simply with a review of what e-signature capture is.
Whether a signature is paper-based or electronic, its purpose remains the same.
As per our expertise, electronic or digital signatures are legally binding ways of getting individuals' approval on electronic documents.
Can I set up a QuickBooks Online electronic signature?
Digital signage is crucial to your business operations, but our findings show that it's not currently a QuickBooks Online (QBO) feature. However, that does not mean that all is lost.
Apps that already exist in the QuickBooks Online ecosystem, like Method, make implementing e-signature capture seamless.
With hundreds of QuickBooks app integrations to choose from, you can improve your payroll, project management, human resources, expense tracking, and so much more.
Benefits of integrating e-signature software with QuickBooks
Shorten your cash flow cycle
Cash flow cycles refer to how money moves in and out of your business.
Based on our firsthand experience, having documents approved by e-signature helps you invoice work sooner and collect payments faster.
Research by TechTarget shows that e-signature shortens the sales cycles from eight days to three hours.
"E-signatures shorten the sales cycle from eight days to three hours."

— TechTarget.
Better yet, you don't have to follow up with customers when you close deals this quickly.
Another plus is that your cash flow remains consistent (versus having a big spike when you remember to collect outstanding payments).
Close deals faster
You don't want potential leads to develop deal fatigue waiting for documents to flow between parties.
With QuickBooks Online electronic signature capture, you can get important documents signed and delivered in minutes, not days. This ensures every deal in your sales workflow is handled as efficiently and timely as possible.
Automate your approval workflow
QuickBooks Online signature capture optimizes your signage approvals for speed and efficiency. Here's how.
Instead of having to print out and mail out your documents, knowing how to add digital signature to QuickBooks Online makes the delivery and approval of your documents immediate.
Plus, automation is a great way to keep your approval process moving as things don't get stuck when someone is on vacation or working on other tasks.
Improve customer experience
Did you know that signatures are completed 21 times faster with e-signatures? The reason for this is they're just that easy to use!
"E-signatures are completed 21 times faster than physical ones."

— TechTarget.
Plus, as indicated by our tests, an electronic signature is faster and more secure than a manual signature. This makes knowing how to add digital signature to QuickBooks Online imperative.
Electronic signature QuickBooks Online: Apps to be weary of
While apps like DocuSign E-Signature Connector and Adobe Acrobat integrate with QuickBooks — they also limit the number of documents you can sign.
Drawing from our experience, this makes it challenging to handle the growing number of signage requests that arise as you pick up more clients and agreement actions. 
Thankfully, you have a better alternative.
The best way to add digital signature to QuickBooks Online — Method
Made for QuickBooks Online and Desktop users, you can complete unlimited e-signatures with Method.
Simply reach out to your Customer Success Manager to get the below functionality added to your account.
Not already a Method user? Get started with your free trial today!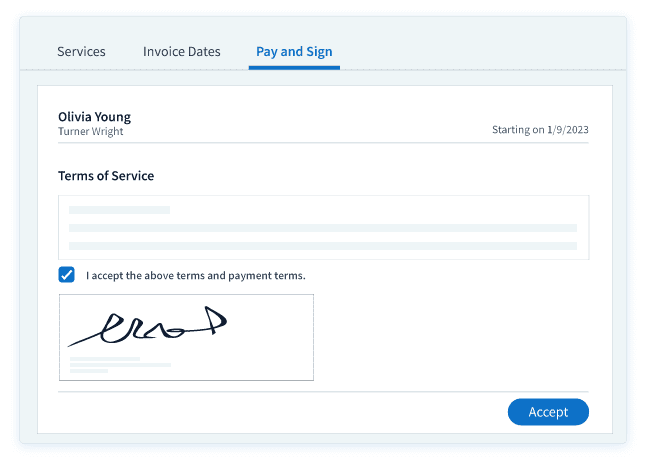 With Method's QuickBooks Online signature capture, you get effective invoice approval workflows and turn more quotes into cash.
Plus, you combine your QuickBooks data with information such as sales activities and service history to better understand your customer base with Method.
Here's a quick snippet of how Method helps your business grow.
Your way forward: Method and QuickBooks Online signature capture
As mentioned above, Method doesn't limit the number of documents you can sign electronically.
But this isn't the only feature that makes it a winning QuickBooks Online electronic signature solution.
With Method, you don't just invest in a document signage tool.
Instead, you get a powerful automation solution that optimizes every process, from approvals to QuickBooks Online signature capture and more!
Start your free trial of Method today. No credit card is required!