Wondering how to enable an approval workflow in QuickBooks Online? Then you've come to the right place!
As per our expertise, approval workflows are a great way to ensure estimates, invoices, or purchase orders are approved by the correct people before transactions happen.
In this blog post, you will learn how to enable a QuickBooks invoice approval workflow. You'll also go over the benefits and limitations of using a QuickBooks approval workflow.
Finally, you'll learn how you can complement those with an integration like Method.
Let's get started!
Get started: Workflow types
QuickBooks Online approval workflows are one of the most popular workflows among users of the software.
However, we have found from using this product that the workflows feature is only available to QuickBooks Online Advanced users.
This leaves QuickBooks Online and Desktop users out of luck when it comes to establishing a QuickBooks approval workflow process.
And as indicated by our tests, even if you are a QuickBooks Online Advanced user, not every approval workflow is up for automation.
When it comes to preset QuickBooks approval workflows, you are limited to invoicing and payments.
It is possible to create some custom workflows in QuickBooks Online Advanced, but these automations are limited to sending reminders to your customers or team.
So, even if you know how to enable an approval workflow in QuickBooks Online Advanced, your automation options are minimal.
Next, let's review what you can achieve with QuickBooks Online Advanced approvals before jumping into alternative solutions.
Workflows for your team
For this type of workflow, our research indicates that you must be a user of QuickBooks Online Advanced. As such, you will have access to the Workflows feature, which has several approval templates.
Follow these steps to enable a QuickBooks invoice approval workflow for your team.
1. Find the "Invoice approval" template and click "Create".
You will be able to give the workflow a custom name or go with the default "Invoice approval" template.
Pro-tip: Editing the workflow name is useful if you wish to create multiple conditional invoice approvals.
2. Choose the conditions that will trigger the workflow.
Next, you can set up a single condition or more to trigger the workflow. These can be a specific invoice amount, customer, or invoice location.
Next, you will need to enter the condition that will trigger the need for approval. If you choose an invoice amount condition, for instance, you'll have to specify the amount.
3. Create an action to send the approval notification.
Now, you need to choose what happens when the conditions are met.
If you want to send an invoice approval notification, you also need to pick the team member who will approve the invoice and send it to the customer.
You can also choose what happens if an invoice is not approved within a specific time.
Those who you have marked to be notified will receive the default templated message. You can also manually personalize it.
Make sure to click "Save and enable". Drawing from our experience, keep in mind that all invoices created by an administrator of your QuickBooks Online Advanced account will be automatically approved.
Your team will still be able to fill out and save invoices. But in order to send to the customer, they will need to submit the invoice for approval.
4. Approve invoices
To approve an invoice, the chosen team member for approval will have to visit the "Tasks" tab. The assigned invoice approval should display similar to this:
After clicking the task, they will be able to either approve or deny the invoice.
It is also possible to open the invoice and approve it on that screen.
Workflows for your customers
Our team discovered through using this product that customer approval workflows are outside the scope of what you can do with QuickBooks. All you can do is set up triggered notifications for invoice updates.
If you need a customer-facing invoice approval workflow, you'll be better off with a powerful QuickBooks app instead like Method.
QuickBooks approval workflow: The current state
Now that you know how to enable an approval workflow in QuickBooks Online, let's look at its main limitations.
Lacks customization and flexibility
QuickBooks' approval workflows are a good way to manage your invoices. However, our investigation demonstrated that you can't customize the templated workflow beyond the pre-set actions and conditions.
Another limitation is that it's not possible to set up customer approvals with QuickBooks.
If you want an approval workflow that's better tailored to your business processes or offers customer approvals, you need to look into other options.
Can be time-consuming
Another downside is that after using QuickBooks' approval workflow, we found it to be quite time-consuming.
This is because you have to set specific conditions for an invoice approval to be assigned. Then, each team member has to approve each invoice before it can be processed.
If you have a large team or a lot of invoices to process, this will take a lot of time.
Instead, you may want to consider an alternative that can fully automate the approval process.
Limited to QuickBooks invoice approval workflow
By far, the biggest QuickBooks approval workflow limitation is that it is limited to invoicing.
Our findings show that if you need to manage different approval processes such as estimate or purchase order approvals, you will need to look into more customizable options.
Luckily, the next section will explain how to enable an approval workflow in QuickBooks Online without the limitations!
Going beyond the QuickBooks invoice approval workflow
If you need more flexibility than QuickBooks' approval workflows offer, you want to use a CRM solution like Method.
Method is fully customizable, so you can change it to fit your needs. And because it constantly syncs with QuickBooks, your accounting data is automatically updated.
You also have more flexibility with how the approval process works, so you can adapt it to your business process.
So whether you need an approval workflow for invoicing, estimates, or purchase orders, Method can deliver the customized solution you need.
How to enable an approval workflow in QuickBooks Online for estimates
Through our practical knowledge, if you need to automate your estimate processes, then QuickBooks' approval workflow is off the table.
See how you can automate approvals for invoices or estimates online with electronic signature capture in Method.
With Method, you will be able to create a personalized estimate approval workflow. You will have total control over the order and which roles each person plays in the approval process.
After setting up an account, talk to your Customer Success Manager (CSM) about implementing the digital signature feature for your estimate approval workflow.
Then, simply work with your CSM to bring the estimate approval workflow to life according to your business specifications.
How to set up a purchase order approval in Quickbooks Online
Just like estimates, you are also able to set up a purchase order approval workflow with Method.
Despite QuickBooks' approval workflow not allowing for purchase orders, there is a way to automate this process and have the data synced to your account.
Reach out to your Customer Success Manager (CSM) so they can add the electronic signature feature to your Method account. It will look similar to the below product shot: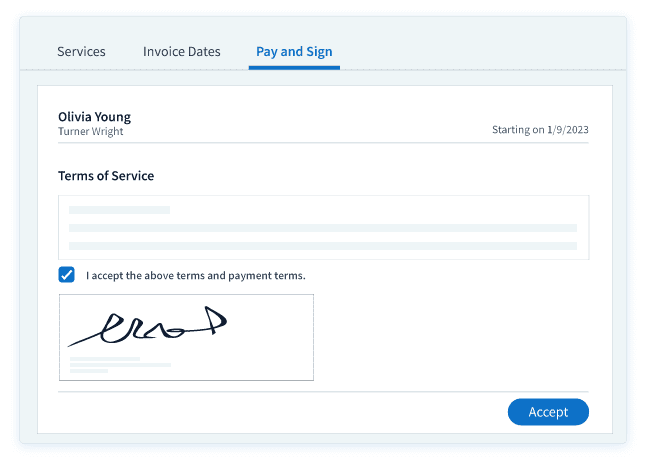 Then, explain what you need for your purchase order approval process, and your CSM will help you set it up!
Recap: How to enable an approval workflow in QuickBooks Online
If you need more customization or flexibility than what QuickBooks' approval workflows can offer, you need a CRM like Method. Here is a preview of what's possible with Method:CRM.
Sign up for your free trial today!
Image credit: Mikhail Nilov via Pexels