A DocuSign QuickBooks integration lets you and your customers sign invoices and estimates directly from QuickBooks Online Advanced.
At its core, a QuickBooks and DocuSign app integration keeps your business moving forward and your customers happy.
However, it's important to ask if a DocuSign QuickBooks integration is what your business needs — and if another solution is better suited for you.
Keep reading to learn:
What form of DocuSign and QuickBooks integration (if any) is right for your business.
Why Method beats out other QuickBooks digital signature options.
The value of e-signature capture
Believe it or not, electronic signatures have a direct impact on your business outcomes. Our research indicates that documents get signed 21 times faster with e-signatures. Which means you get paid sooner and with less hassle!
"E-signatures are completed 21 times faster than paper signatures." 

— Forrester, 2017
E-signatures are secure, reliable, and open up more opportunities for repeat business in the following ways.
1. Higher efficiency
Improve manual data entry with an e-signature solution. Signing multiple documents with an e-signature is as simple as clicking a button.
Downloading your e-signature into your QuickBooks account is a single-time activity, so once it's done, it stays there. You just need to drop in the same signature. As a result, you reduce repetitive tasks and decrease turnaround when getting signatures.
This faster signing process saves you valuable time so you can review agreements sooner. It's an easy win for driving customer satisfaction. Improve business processes for your whole organization with an e-signature solution.
2. Enhanced security
Because you cannot copy digital signatures, they are much more secure than traditional signatures.
This ensures your customers that their documents are safe and creates a more positive customer experience. That's peace of mind for both you and your customers.
3. Improved organization
Every small to medium-sized business knows the importance of staying organized.
Signing all your documents online eliminates the possibility of misplacing hard copies or mishandling client information.
4. Faster turnaround
Quicker document turnaround means you enjoy a shorter quote-to-cash cycle!
With a DocuSign and QuickBooks Online Advanced integration, you get paid faster and sign documents from anywhere to increase your cash flow.
5. Cost-effective
Maintain a paperless office and save money in the process. Use digital signatures to save money on ink, paper, storage space, and more.
6. User-friendly
Forcing a customer to scan their documents and manually send every file leads to a negative experience, as this is a time-consuming and difficult process. Avoid errors and improve customer satisfaction with the user-friendly interface of an e-signature solution.
7. Better tracking
Seamless integration with your accounting software gives you a single channel to:
Check reports.
Manage business expenses.
Simplify business operations.
Stay organized and keep your customer details, performance history, and billing in the same place.
Benefits of integrating e-signature software with QuickBooks
As mentioned, e-signature capture has many benefits for your business. However, there are still questions to answer about using e-signatures, QuickBooks and DocuSign, such as:
Why integrate e-signature software with your QuickBooks account?
Do you need a third-party app integration for e-signature?
Is QuickBooks and DocuSign your best option?
So let's dive in.
For starters, you cannot currently implement e-signature capture in QuickBooks without using third-party e-signature software.
This is a significant pain because your financial documents cannot be validated or approved by customers with QuickBooks alone.
Benefits of integrating third-party e-signature software with your QuickBooks account include:
Better data integrity.
Transparency with team members and clients.
Faster estimate and invoicing processes.
Next, let's look at what the DocuSign and QuickBooks integration offers you.
What is DocuSign QuickBooks integration?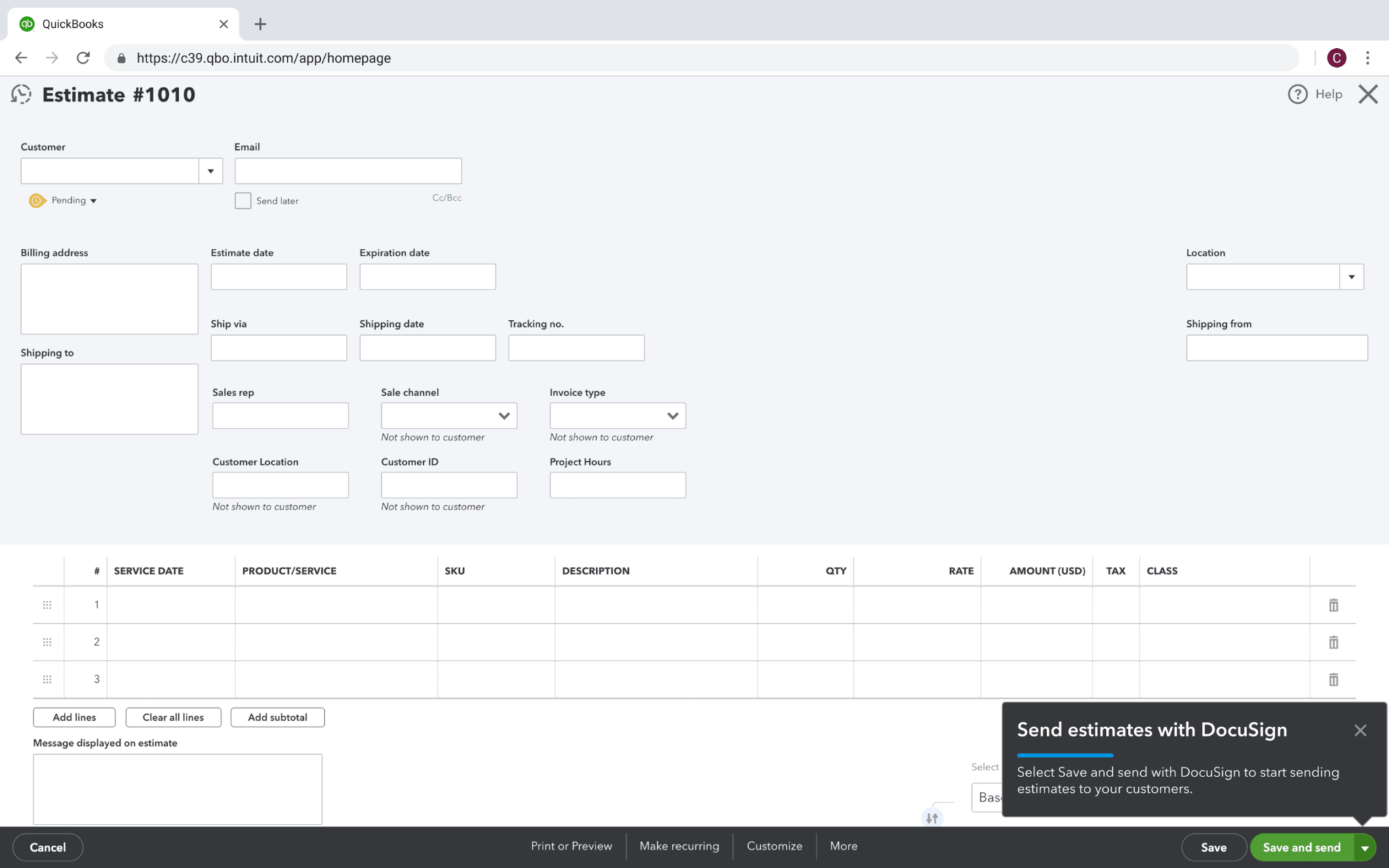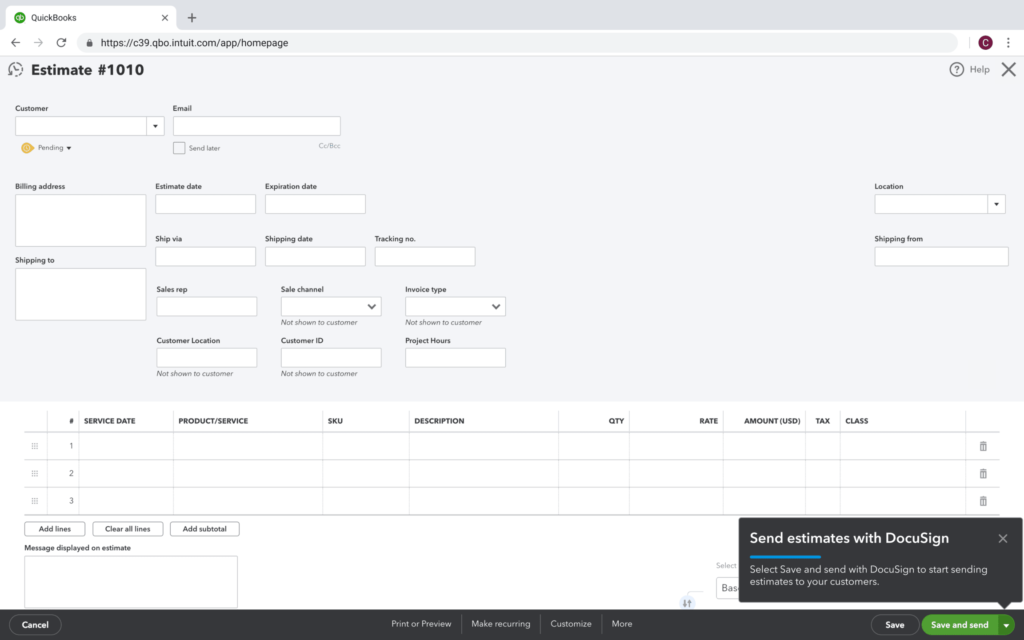 Image credit: Intuit
A DocuSign QuickBooks integration lets you connect e-signature functionality with QuickBooks Online Advanced to easily get authorized digital signatures on estimates and invoices.
How does the QuickBooks and DocuSign integration work?
A DocuSign QuickBooks integration tool lets you get customer signatures directly in QuickBooks. This means your customers can sign invoices from their own devices on their own time.
Key features
With DocuSign's e-signature integration tool, you get:
Unlimited templates.
Basic fields.
Text tags for field creation.
Role-based or free-form signature invites.
Use DocuSign and QuickBooks Online Advanced together to:
Send transaction documents to your customers.
Associate a digital payment tag with e-signatures.
Outline signers and the signing order.
However, this integration isn't always a one-size-fits-all solution. More on this below.
Limitations
While the DocuSign QuickBooks E-signature Connector offers fantastic features, it has some deal-breaking limitations.
For one, the integration is currently only for QuickBooks Online Advanced users. So, not only do you have to implement a paid app integration. You also have to upgrade your QuickBooks account to QuickBooks Online Advanced to use it.
Also, depending on your plan, you may have a limited number of documents you can apply e-signatures to. Signature limits hinder your growth because you have to pay more as you take on new customers or share more documents.
Finally, DocuSign plans are expensive. For example, the Intermediate plan is $300 monthly and only includes 100 documents.
With these limitations in mind, looking at QuickBooks and DocuSign alternatives is a good call.
The better QuickBooks and DocuSign alternative — Method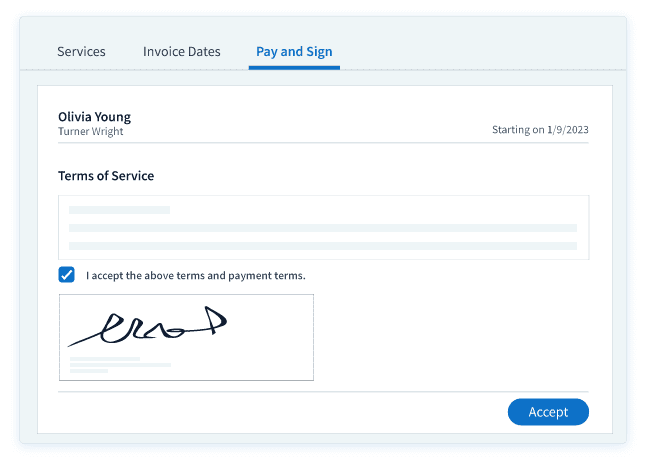 Do you realize that the DocuSign and QuickBooks integration might not be the best fit for your business?
Discover how Method can boost your productivity, automate your estimate process and get you paid sooner with its two-way native sync with QuickBooks!
The best part is that there are no limits on the number of records you need to be signed with Method.
This app is great for
Method is the top automation tool for QuickBooks users.
No other QuickBooks app integration provides you with up-to-date information and handles your unique workflows like Method can! Here's an example of what Method can do for you.
Key features
An unlimited number of document signatures each month.
Your all-in-one financial and business hub.
Custom document templates.
Two-way QuickBooks integration for real-time insights.
Send out and accept customer signatures with personalized workflows.
Available for all versions of QuickBooks, including QuickBooks Desktop, QuickBooks Online, and QuickBooks Online Advanced.
Cost-effective.
How Method works with QuickBooks
​​Not only do you get customized e-signature software when you integrate Method with QuickBooks, but you also get a whole customer relationship management system!
Method works with QuickBooks to create a seamless signage experience for you and your customers with a guided installation process from your dedicated customer success manager (CSM).
To unlock Method's e-signature capabilities, simply start your free trial and email your CSM for this feature.
Recap: How to automate e-signature with Method
E-signatures are the way to go when it comes to document approval. What's more, Method seems like the superior option to a QuickBooks DocuSign integration with more functionality at a lower cost.
Here's a quick refresher on how to get started with Method:
Start your free trial. No credit card or contract required.
Connect your QuickBooks account.
Request e-signature capture for your account at no additional cost.
Get rid of that costly DocuSign subscription!
No matter what you're working on, Method is designed to make it easier.
DocuSign QuickBooks alternative FAQs
Is DocuSign a free service?
No, DocuSign is not free. DocuSign E-signature Connector starts at $15 for an annual plan if you are the only user. If you need to provide DocuSign for a team, it will run you $25 a month per user for an annual subscription. The cost increases from there depending on your requirements.
How do you connect DocuSign and QuickBooks Online?
If you are a QuickBooks Online Advanced customer, you can install DocuSign E-Signature Connector from the QuickBooks app store.
You will then be able to collect signatures on estimates by selecting "Save and send with DocuSign."
Does DocuSign integrate with QuickBooks Desktop?
No, DocuSign does not integrate with QuickBooks Desktop. A DocuSign QuickBooks integration is only possible with QuickBooks Online Advanced.
However, with Method's integration tool, you can add digital signatures to QuickBooks Desktop. Method connects with any version of QuickBooks accounting software to provide digital signatures on estimates and invoices.
Start your free trial of Method:CRM today!
Image credit: sodawhiskey via Adobe