Wondering how to add signature in QuickBooks Online? Well, you're not alone.
Once you learn more about QuickBooks Online signature capture, you can use this knowledge to better your approval process.
In this article, you'll answer the following questions: 
How do I add a signature to QuickBooks Online?
How can digital signatures help my business?
Keep reading for answers to these questions and to learn how Method simplifies your process.
How do I add a signature to QuickBooks Online?
As per our expertise, QuickBooks Online is popular because of its ease of use and ability to manage multiple companies from a single location.
With it, you can:
Track sales orders.
Issue invoices.
Pay bills.
QuickBooks Online also allows you to create reports, generate financial statements, and perform other functions that would otherwise require additional software or services.
Our team discovered through using this product that despite being a cloud-based program, QuickBooks Online does have some limitations.
One of them is that it cannot accept electronic signature capture without a supported third-party app. This means that you won't be able to sign checks or documents using the program on its own.
So, how do I add a signature to QuickBooks Online?
To overcome this limitation, use QuickBooks integrations that offer QuickBooks Online signature, like Method.
How to add signature in QuickBooks Online with Method
Method can add electronic signature capture to your documents. This is possible through its seamless two-way sync with QuickBooks Online and Desktop.
To get started with QuickBooks Online signature capture via Method, sign up here if you don't have an account yet.
Then, reach out to your Customer Success Manager (CSM) for the QuickBooks Online signature feature.
Once that's done, you'll see the below signature capture feature in your account.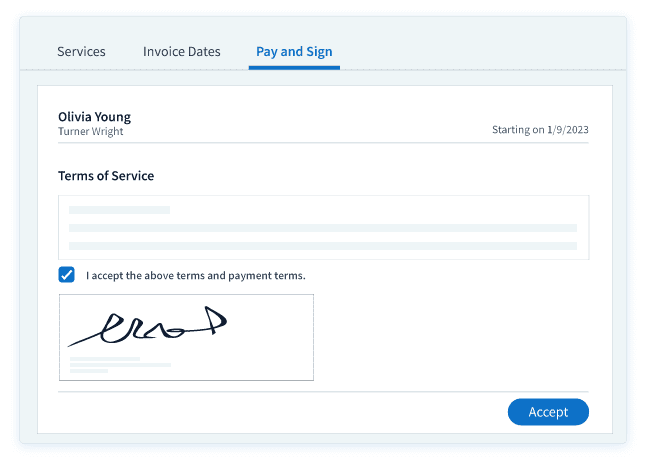 Unlike other QuickBooks digital signature solutions, there is no limit to how many and what type of documents you can sign with Method. Invoices, estimates, and work orders are only a few examples.
And the best part is that there is no extra charge for implementing this feature.
Now that you know how to add signature in QuickBooks Online, let's go over some of its benefits.
How e-signature grows your business
Signatures are an important part of most business transactions, but they can be time-consuming and labor-intensive.
Based on our firsthand experience, with e-signatures, you can quickly and easily verify a person's identity without the grunt work. Below are the full benefits of e-signature capture. 
Get paid sooner
Digital signatures make it possible for you to access and sign documents anywhere, anytime. As indicated by our tests, not only does this increase your productivity, but it also speeds up your processes.
The virtual nature of digital signatures supports remote workers, digital nomads, and those on the go.
When you're able to sign documents from anywhere, you're empowered to close deals quickly.
You no longer have to wait on documents being physically delivered to clients. Instead, they can approve contracts within a matter of seconds from their inbox by using a QuickBooks Online signature.
Based on our observations, a quick turnover helps you sharpen your quote-to-cash workflow and build a positive reputation for your business.
Automate your admin work to increase efficiency
Through our practical knowledge, digital signatures enable faster approvals from clients and suppliers. They eliminate the tedious back-and-forth mailing of hard-copy documents needed when relying on handwritten signatures.
As most business documents are drafted online, concluding agreements virtually allows you to seamlessly search, sign and send documents.
All of this without having to print, manually sign, scan, and send them out to relevant parties.
Can I set up an electronic signature on QuickBooks Online?
After using QuickBooks, we have found that it doesn't offer e-signature capture at this time. 
However, it's possible to implement an e-signature capture feature with an integration.
But then the question shifts to "How do I add a signature to QuickBooks Online with an integration?".
With Method:CRM, you can add signature capture to any document that needs it. Watch the video below to see what other awesome features Method users love.
Next step: Get the best digital signature integration for Quickbooks Online
Good news: You no longer have to wonder how to add signature in QuickBooks Online. Now you know that's possible with Method!
All you have to do is connect with your Customer Success Manager (CSM) and request the feature anytime after setting up your account.
Our team will take over from there so you can focus entirely on growing your business.
Sign up for your free trial and start capturing digital signatures today!
Image credit: LinkedIn Sales Navigator via Pexels