QuickBooks electronic signature capture is crucial when providing approvals for estimates, invoices, and other financial documents.
There are several ways to sign documents electronically using QuickBooks. But all of these require an external integration.
In this blog, you will learn the benefits of how to capture signatures in QuickBooks Online using a third-party application like Method:CRM!
Does QuickBooks have electronic signature capture?
QuickBooks has become a very popular accounting software program. Its popularity has grown tremendously over the last decade.
It offers a wide variety of features, such as:
Payroll management.
Inventory tracking.
Sales reporting.
Customer relationship management.
However, QuickBooks does not have an electronic signature capture option. It does allow you to add a custom field for a physical signature to invoices, but that's it.
The only way to achieve QuickBooks signature capture is using a third-party integration such as Method:CRM.
How to capture signatures using the QuickBooks app ecosystem
Using applications in the QuickBooks ecosystem, you can implement many features, including e-signature capture for your digital documents.
Apps in the QuickBooks ecosystem include any tool listed in the QuickBooks app store.
Plus, you don't experience the full advantage of QuickBooks until you've experienced its integrations. With integrations, you can extend the power of QuickBooks to include capabilities like digital signature capture, email marketing, inventory management, and more.
Benefits of integrating e-signature software with QuickBooks
The ability to sign a document anywhere, anytime, is only one of the many benefits of integrating a Quickbooks electronic signature solution.
Below are some of the other ways you can benefit from a QuickBooks signature capture integration:
Save time: Since you don't waste time scanning or sending documents, you can focus on other essential tasks. In addition, you won't have to wait for documents to arrive or be returned before you work on them.

Reduce costs: Since you don't pay for printing costs, you can save money on ink cartridges, toner, and paper. You can also reduce shipping costs since you won't have to mail physical copies of documents.

Improve organization: If you use e-signing, you can store all your signed documents online. This makes it much easier to manage all of the documents — anywhere, anytime.

Get paid faster: On average, e-signatures shorten your sales cycle from eight days to three hours. All of which means you get paid sooner.
How QuickBooks e-signature capture helps your business
Keep your cash flow healthy
Most small to midsized business owners have experienced the pain point of outstanding customer payments.
In using e-signature capture, you can shorten sales cycles from days to only a few hours. Digital signatures allow for a faster, smoother, and simplified experience.
Making it easier for customers to pay you keeps your cash flow healthy!
Automate your contract workflow to increase efficiency
Save time on manual tasks like hard-copy signage and delivery with QuickBooks digital signature capture. When you implement e-signature capture into your workflows, your clients get contracts signed and sent to you faster. As a result, your employees can get straight to work and generate more revenue for your business.
This automation saves precious time that your team can now dedicate to your customers.
Improved security
E-signature capture is more secure than hard copy manual signage because it's more difficult to replicate.
Moreover, you can ease any worries about using QuickBooks digital signature solutions on apps.com as Intuit regularly audits these tools for security.
For example, Method hosts its services through Amazon web services and uses insured standard encryption and security practices to keep your client data safe.
Easier document organization
Digital documents are much harder to misplace than paper copies because you can store these in a drive.
Keeping all of your digitally-signed documents online reduces the risk of confusing information between clients or misplacing signed agreements.
Better customer experience
The expectation from your customers is that they should be able to perform business interactions with you online.
So, it's important to deliver a digital, self-serve experience to your customers — especially for signature capture and approvals.
Plus, your customers will enjoy a more positive customer experience as digital signature capture is easier and stress-free.
With a QuickBooks electronic signature, your customers can sign and review documents from virtually anywhere.
Achieve QuickBooks signature capture with Method
With Method:CRM, you can add signature capture to any document that could use it. Here's a peak at what QuickBooks signature capture looks like in Method: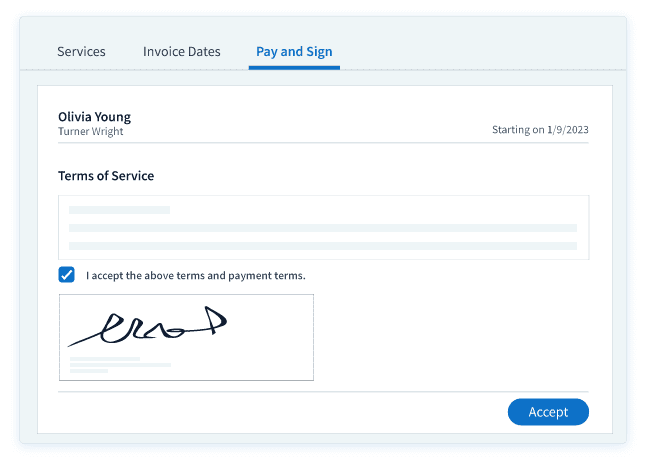 Because of its seamless two-way sync with QuickBooks Online and Desktop, Method ensures an optimal QuickBooks digital signature capture. Any signature captured through Method's integration will automatically register in your accounting software.
Better yet, adding the e-signature feature to your Method account comes at no extra cost. This feature also has no signature limits (unlike other QuickBooks digital signature solutions).
All you need to do is reach out to your Customer Success Manager (CSM), and they'll add the QuickBooks electronic signature feature to your account.
If you're not yet a Method user, you can sign up here.
QuickBooks signature capture: Get started with Method
The benefits of using QuickBooks with Method are abundant. Watch the video below to see why QuickBooks users love using Method.
Aside from helping you capture signatures in your QuickBooks documents, you can also:
Manage your sales pipeline.
Create personalized templates for invoices, estimates, and other financial documents.
Offer your clients a self-serve customer payment portal.
Build detailed analytics reports using automation.
Get started with Method with a free trial. No credit card required!
Image credit: Mikhail Nilov via Pexels