A CRM and accounting software integration is a modern solution for managing your business. CRM apps offer many advantages, from giving customers access to 24/7 web support to making sure your marketing campaigns give you the bang for your buck.
Implementing a CRM and accounting integration lets you go beyond what simple spreadsheets can do, as it:
Connects your platforms.
Automates repetitive tasks.
Combines your data to give you a 360-view of your company.
Continue reading this blog to understand how a CRM and accounting integration:
Centralizes data from both accounting and other platforms for data-driven decision-making.
Automates repetitive tasks to save time and reduce the risk of error.
Enhances the functionality of your accounting software.
Manages the combined data from multiple platforms to optimize your cash flow.
What is CRM software?
CRM (customer relationship management) software is a powerful tool that organizes contact information and interactions with potential and existing customers. The best CRM software streamlines business processes with automated workflows. It also provides a user-friendly dashboard to:
Consolidate your data.
Unify information between teams.
Give you a complete view of your operations.
CRM software lets you pass information along automatically to improve internal communication. With these tools at your fingertips, you can make informed decisions on marketing strategies and reduce the time spent on everyday tasks.
What is accounting software?
The role of accounting software is to manage your financial operations and transactions. This can include things like:
Invoicing.
Billing.
Reporting.
inventory management.
Reliable accounting products give you a detailed analysis of your financial data. Examples of popular accounting systems used by accounting professionals are QuickBooks and Xero.
Why integrate your CRM with accounting tools
Saving time on administrative tasks
A CRM and accounting software integration helps automate routine tasks. You save time on manual data entry by syncing sales information in your CRM with your accounting software. An accounting CRM system facilitates a seamless integration process where relevant customer information updates in real time across your platforms.
Accurate recording of revenue sources
A CRM app does research for you based on your customer data. It reports valuable insights for your marketing campaigns to align your sales and finances. This information gives you a clear view of where your revenue is coming from to maximize your profits. CRM software merges data between the accounting software it connects with for unified data management.
For example, by integrating with all the sources of contact with your customers, you can manage valuable insights for marketing campaigns to align your sales and finances. These reports can be used to send targeted email marketing campaigns, fewer missed opportunities, and better client relationships for your business.
Eliminating chances for error: Enhancing data accuracy
Entering data manually between systems increases the risk of human error. A CRM and accounting software integration synchronizes real-time financial data automatically, so nothing gets missed. This reduces the time spent entering data and enhances the accuracy of your records for a better bottom line.
Your CRM and accounting software integration can work in conjunction with other platforms you're using, which complements the features of these tools or automates their processes. CRM software supports synchronization with everyday platforms such as QuickBooks and Microsoft Outlook to automate time-consuming tasks and centralize data. The less time spent entering data yourself, the fewer errors you'll encounter and the more time you'll have for other priorities in your business.
Benefits of process efficiency and audit trail accountability
Streamlining processes for increased productivity
Companies use CRM and accounting software integration to streamline workflows. With a defined automated system in place, your team can efficiently convert leads to paying clients.
CRM software also shares crucial business information with your clients so everyone is on the same page. The best part is that an automated system facilitates real-time data sharing with your team to coordinate information instantly. This improves productivity across the whole company.
Ensuring accountability with a robust audit trail
A CRM app offers a traceable audit trail of all your actions and transactions. It centralizes data from your different platforms to give you full visibility and control over your operations. For teams with several users, you can track each point of the sales process at an individual level to promote accountability. The ability to oversee interdepartmental workflows helps you make informed business decisions.
Top best CRM accounting integrations
If you're using QuickBooks or Xero for your accounting, then Method is your top CRM choice. Method is integrated with your accounting software for seamless real-time synchronization, so you don't need to wait or worry about data loss.
Best of all, the platform has no-code customization options, so you don't need to hire a developer to personalize it to your needs. And you get a free hour of customization with Method's professional services team with your subscription, so you can work with an expert right from the start.
This software alsoscales with business growth, making it a reliable choice for most companies.
See if Method is the right fit for your business with your 14-day free trial.
Pros
Two-way instant data sync with QuickBooks and Xero.
Drag-and-drop no-code customization.
Online portals with 24/7 customer self-service options.
Integrates with third-party integrations like Zapier, Outlook, and Google Workspace.
Reusable templates where you can add branding like your company logo.
Mobile app for on-the-go access from your phone.
Cons
Only available in English.
Limited to QuickBooks and Xero users.
Pricing
Contact Management: $25 per user a month.
CRM Pro: $44 per user a month.
CRM Enterprise: $74 per user a month.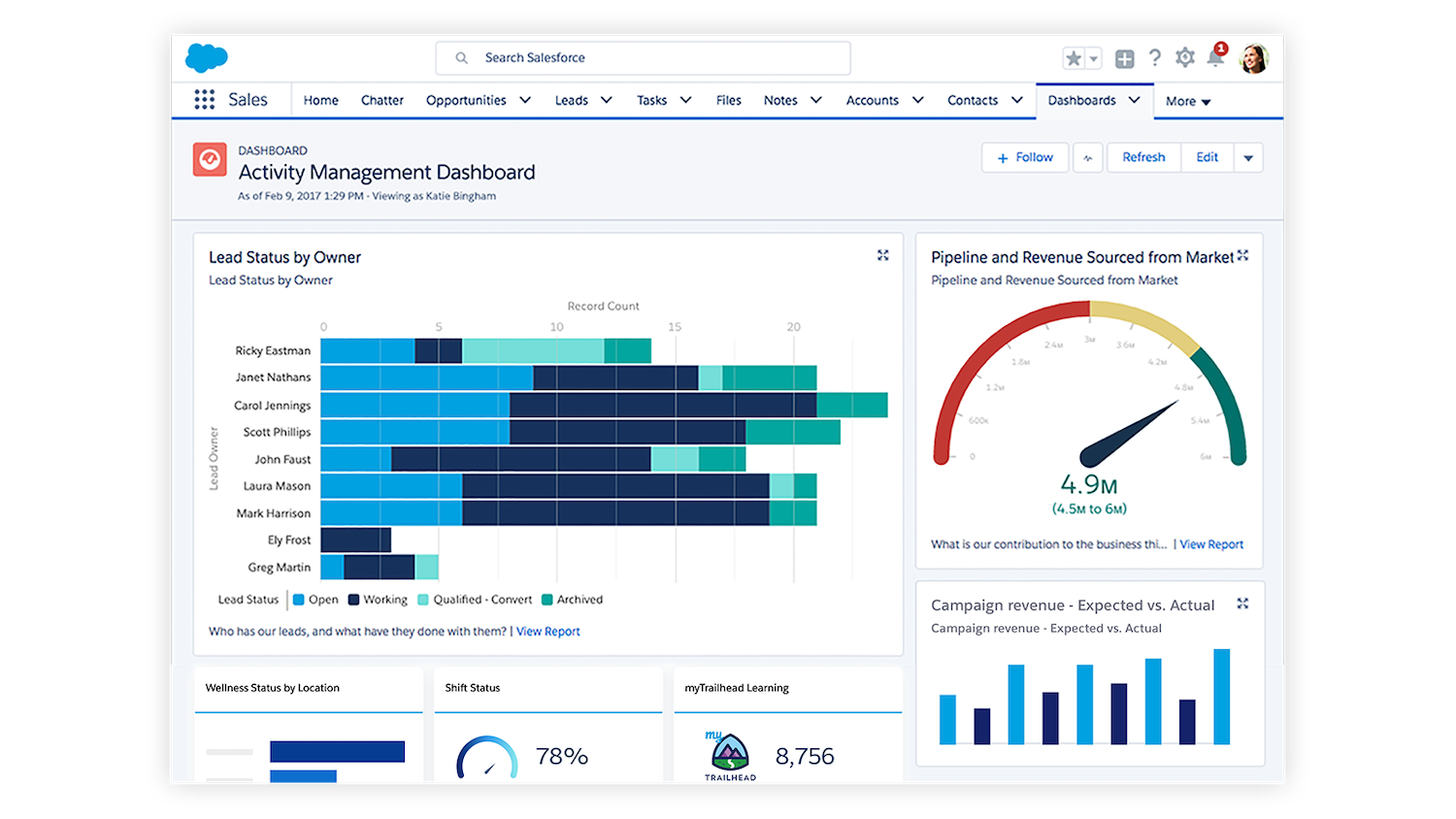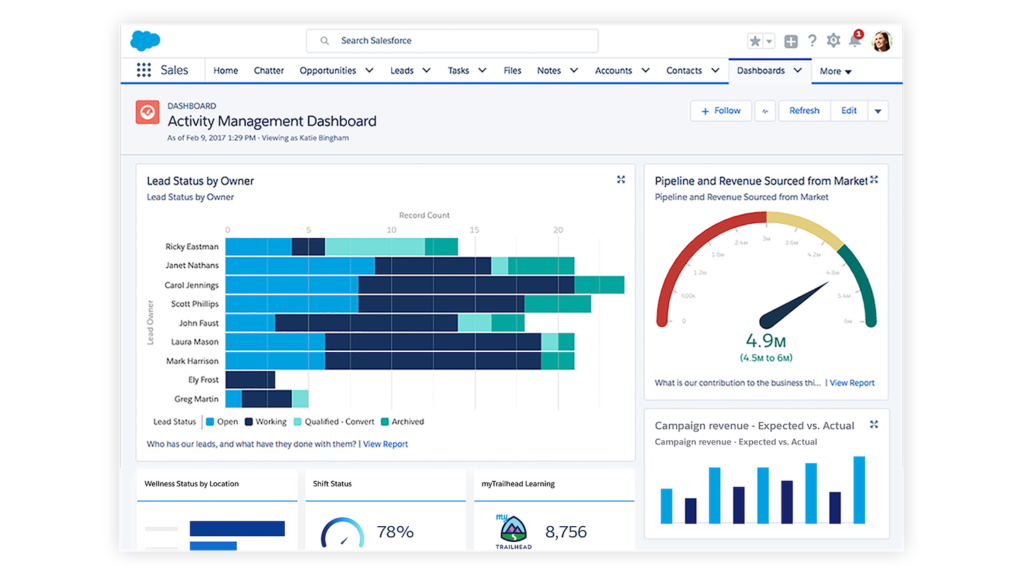 Image credit: Salesforce
As one of the first cloud-based CRMs to hit the market, Salesforce has carved out a name for itself as a leading product. It has numerous benefits that make it popular among businesses of all sizes and industries.
However, it does lack some key features such as a two-way sync with your accounting software. While it's designed for companies of every size, smaller businesses may not use the wide range of advanced features included in their plan and may find it difficult to get a hold of Salesforce's customer support.
Pros
Powerful automated lead generation and tracking tools.
Big global community with online support forums.
Customizable apps.
Range of benefits for business reporting.
Cons
A Salesforce consultant is needed for customization.
No self-service, online portals for customers.
Difficult to get in touch with a real customer service rep.
Pricing
Starter: $25 per user a month.
Professional: $80 per user a month.
Enterprise: $165 per user a month.
Unlimited: $330 per user a month.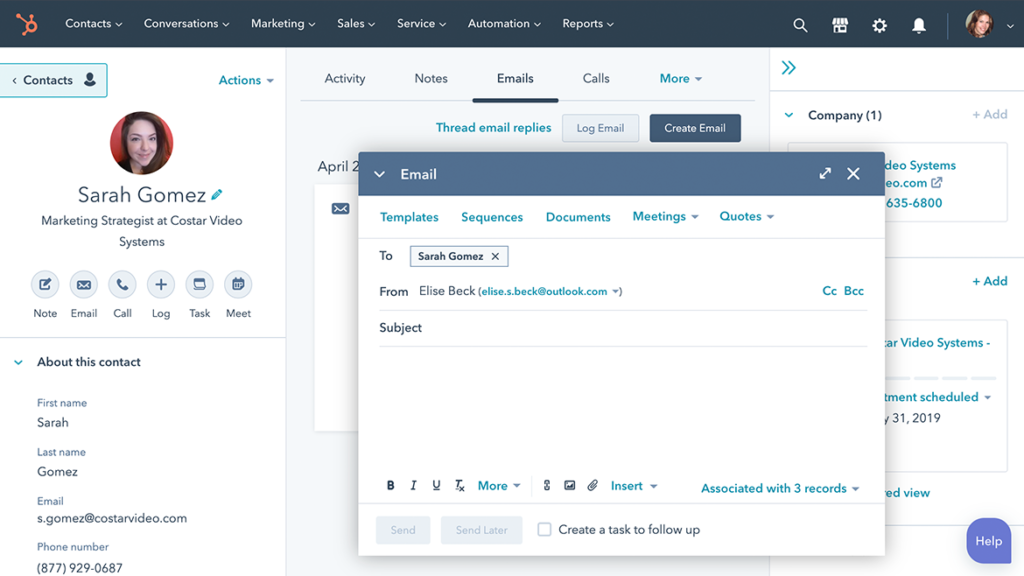 Image credit: HubSpot
HubSpot is another popular CRM that unifies operations of cross-functional departments. Their team inbox feature reduces meeting scheduling, and the platform has a large third-party marketplace for additional third-party tools. Plus, their education program, HubSpot Academy, offers further education for its users.
That said, some businesses find limitations in HubSpot's analytics and reporting and the restrictions on custom fields. It boasts a huge range of key benefits that some companies appreciate, while others find it overwhelming.
Pros
Intuitive dashboard for a better customer experience.
Selective pricing plan that lets you pay only for key features that you'll use.
Courses available through HubSpot Academy.
AI chatbots for automated, 24/7 customer support.
Cons
Strict limit of 1,000 custom fields.
Limited customization for different industries.
Analytics reports could use more detail.
Costly compared to competing CRM apps.
Pricing
Free: No cost, but limited features for these accounts.
Starter: Starts at $18 per user a month.
Professional: Starts at $800 per user a month.
Enterprise: Starts at $3,600 per user a month.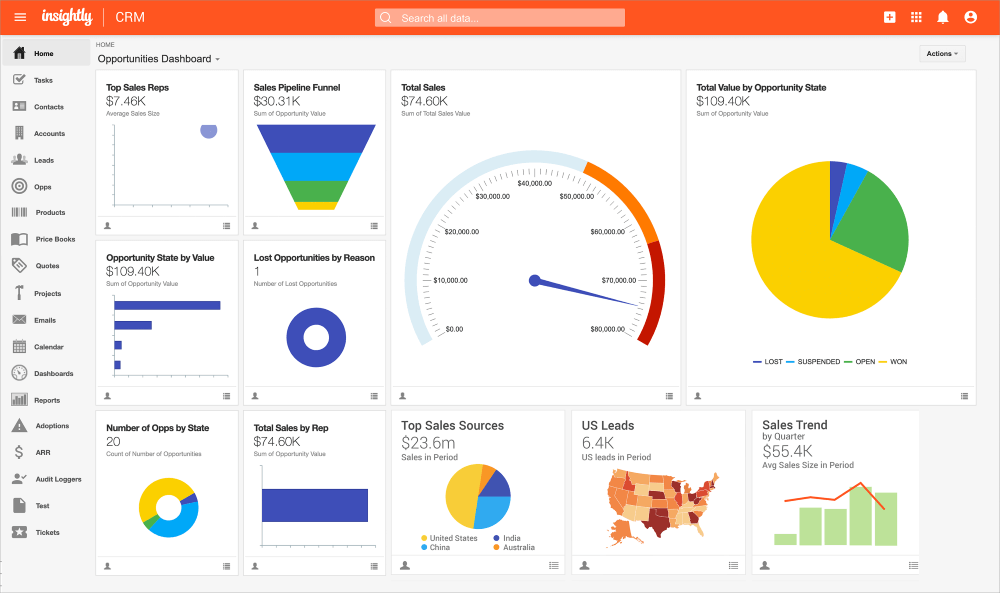 Image credit: Capterra
This user-friendly CRM is designed to scale with your business as it grows. It has strong lead management abilities and visualizes your data with graphs for clarity.
While users love its adaptability, Insightly's reports are not as detailed as other CRMs.
Insightly offers a 14-day free trial and a low-pressure, free-forever option where users can test the waters.
Pros
Provides a streamlined interface for easy usability.
Advanced lead management features.
Good support for email integration options.
Cons
No-code integration locked behind higher-priced plans.
More expensive than CRMs with similar features.
Live support costs extra.
Pricing
Free: No cost, but only allows two users and has limited features.
Plus: $29 per user a month.
Professional: $49 per user a month.
Enterprise: $99 per user a month.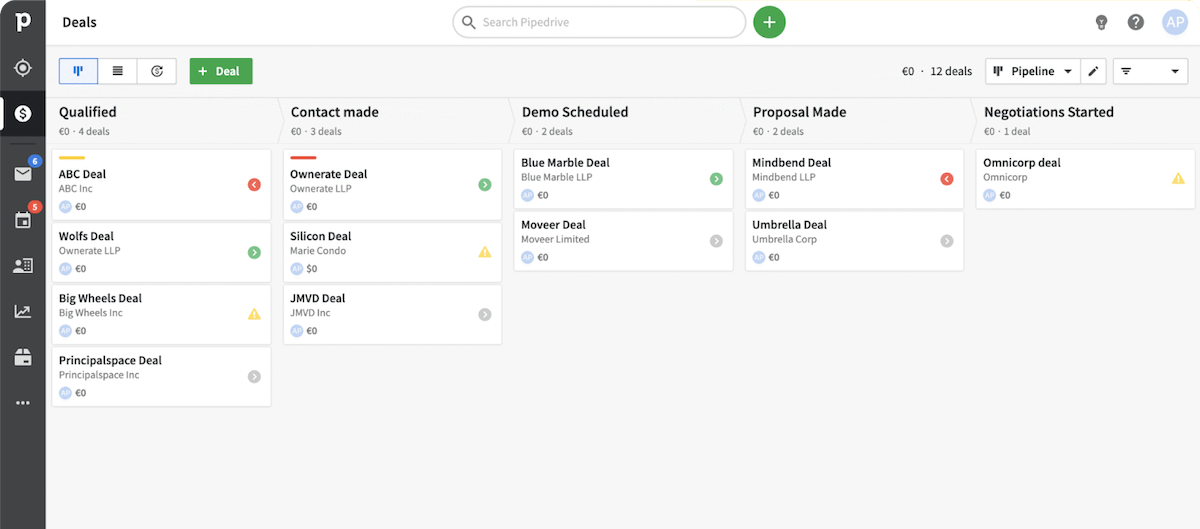 Image credit: Pipedrive
This cost-effective CRM is designed for entrepreneurs and small businesses. With its easy-to-navigate interface and small suite of essential features, this no-fuss solution is a great choice for many business owners starting with their first CRM.
With that in mind, Pipedrive has a limited capacity to grow with your business. This means that you may need to transfer your customer data to a different CRM app down the road.
Pros
Easy to pick up and use daily.
Low-cost plans.
Customizable, drag-and-drop interface.
Chatbots that automate customer service for web users.
Mobile app for anywhere access.
Cons
Limited capacity to handle rapid business growth.
Customization options are not comparable to other CRMs at a similar price point.
Doesn't separate leads from contacts, making it difficult to tell the difference between potential and qualified customers.
Pricing
Essential: $14.90 per user a month.
Advanced: $27.90 per user a month.
Professional: $64.90 per user a month.
Enterprise: $99 per user a month.
Key considerations when integrating CRM and accounting coftware
The significance of employee training for software integration
Merely implementing a CRM and accounting software integration is not enough to improve your business. You also need to train your team to use the software. Like any tool, everyone needs to know how to use it for your business to benefit. Training your employees is a necessary part of CRM and accounting software integration.
This is why finding a CRM app with strong support services is crucial. Good customer support ensures your CRM meetw your unique business needs and help you troubleshoot issues quickly. The less downtime, the more your business can stay productive.
Understanding the importance of data security in integration
A CRM and accounting software integration improves data security by keeping your data in the cloud and letting you monitor individual user actions.
While anyone with access to your computer can open an Excel spreadsheet, CRM software requires a password with the option to add two-factor authentication.
Key takeaways
Our research indicates that 92% of respondents deploy or plan to deploy business intelligence at their organization. Adopting it as part of your daily workflow ensures you can stay ahead of the competition.
A CRM and accounting software integration has many advantages for businesses of all sizes and industries. First and foremost, an integrated CRM helps in coordinating tasks between the accounting platform it is implemented alongside.
CRM software:
Optimizes data flow between the platforms it connects with for unified data management.
Facilitates real-time data sharing with different applications.
Improves business operations with streamlined workflows.
Are you ready to make the jump into CRM and accounting software integration? Your next step is to start a free trial to see if CRM can work for your small business.
FAQs
What are the challenges in integrating CRM and accounting software?
The three main challenges you might face when integrating with CRM software are:
Adequately training your staff to use the new tools.
Remember that a person who doesn't know how to use a tool won't be able to use it effectively. CRM and accounting software integration is an investment into your business. So, you should spend a little extra time to ensure it's working the way you need it to . If you have a small team that you want to train quickly, look for a CRM app with a user-friendly interface and shallow learning curve.
Choosing a CRM that meets all your needs.
Some CRM apps will not be able to handle all your workflows, while others are bloated with features you'll never use (but still pay for). Consider the flexibility of a CRM with customization options to avoid this problem.
Data migration and compatibility issues.
It's important when shopping for a CRM to choose one that works seamlessly with your current platforms. This is a real concern, as vital pieces of information can go missing without you noticing.
How does CRM integration impact the workflow of an accounting department?
By centralizing your company's data from every source, your accounting team maintains access to a more comprehensive collection of expenses and financial statements. CRMs make it easy to view your:
Invoices.
Payments.
List of costs and expenses.
Best of all, this information is more accurate and up-to-date than with a manual process.
A CRM and accounting software integration is beneficial for the whole company — not just your marketing department or sales team.
What should businesses prioritize when choosing CRM and accounting software for integration?
When choosing CRM and accounting software for integration, ask yourself the following questions:
Is your company growing? Choose a scalable CRM to match your future growth.
Do you have a small team that you don't want to spend too much time onboarding? Choose a CRM that is user-friendly, like one that targets small businesses. Review what people say about the CRM's customer support in case you need to troubleshoot.
Are you planning to access this information when you're not at the office? Find a CRM that offers a cloud service and mobile app so you can connect from anywhere.
How much downtime are you willing to accept? A CRM with excellent customer service will get back to your questions in a timely manner.
How many features will you be using? More features generally means a higher price point. Choose a CRM that isn't bloated with features you'll never use, and consider one that offers customization for flexibility.
Get your hands on a top CRM system with your free trial of Method!
Image credit: Tima Miroshnichenko via Pexels.