When it comes to evaluating sales metrics, there's no better way to do it than with software integrations. Sales managers use these tools to measure sales activities across multiple platforms and drive actionable insights.
The best part about sales software is that it generates reports that are accessible to everyone in your company — from sales reps to management.
Read on to learn how sales software:
Helps predict trends and forecast future sales.
Improves ecommerce revenue.
Consolidates sales data into detailed analytics.
Boosts web traffic.
Let's jump in!
What is sales reporting software?
At its core, sales reporting software generates comprehensive reports on your sales performance.
Using key performance indicators (KPIs), it gives you detailed insights into your sales pipeline so you can monitor and optimize sales processes. With this information, you can simplify your sales pipeline and better understand your customers.
Sales reporting software aggregates data from multiple sources to:
Present detailed sales reports.
Improve marketing campaign performance.
Convert leads to cash.
Align sales goals with financial resources.
How does sales reporting software work?
Sales reporting software tracks sales performance by integrating with your business platforms. It pulls data from your:
Accounting software (such as QuickBooks or Xero).
Communication channels including emails.
Customer database and sales history.
Sales reporting software analyzes sales data from these platforms so businesses can make informed financial decisions.
Different types of sales reporting software
Cloud-based solutions for sales reporting
Cloud-based software gives you the flexibility to work from anywhere with an internet connection. Whether you're working from your home office or at a job site, sales reporting software provides real-time updates you can access from anywhere at any time.
You can also use many cloud-based solutions on your mobile device, so the most up-to-date information is always at your fingertips.
On-premise solutions for sales reporting
Some companies only allow access to their sales data from a specific physical location, such as their office address. This is typically done for sensitive data. By ensuring that your sales software is only reachable from a secure company server, you can monitor access more effectively.
Drawing from our experience, entrepreneurs and small-to-midsize business owners generally prefer cloud-based software as it provides better flexibility and is still secure with password protection and two-factor authentication. When you compare it to using basic Excel spreadsheets, a cloud-based sales software is much more secure.
On the other hand, larger companies and enterprises that are more susceptible to data leaks may prefer an on-premise sales reporting solution that they can lock behind key cards.
Understanding the benefits of using sales reporting software
Generating comprehensive reports with your software
Of course, the most important of this software's key features is its ability to generate detailed reports. Sales reporting software synthesizes data for easy understanding and reduces the time spent gathering it. It can track everything from your sales trends to accounting information.
Cloud-based sales reporting software updates reports in real time to give teams the most up-to-date information. Real-time reporting is a powerful tool for managers leading a marketing or sales team, as it keeps everyone on the same page.
Organizing automated data with your software
Sales reporting software automates report generation to interpret sales metrics for you. It then lets you order this information however you like for you to filter and understand it.
Also, sales reporting software allows for drill-down into specific data to make it easy to evaluate sales numbers and fine-tune your strategy.
Integrating with your sales dashboard
A reliable sales software integrates seamlessly with your other platforms so you aren't jumping between dashboards. This integration ensures you're displaying KPIs accurately and in real time.
Some sales reporting software offers customizable dashboards that are designed around your specific business needs. Consider a no-code customization option if you don't want to hire a developer to personalize your system.
Assessing the features of a good sales reporting solution
Comprehensive reports and dashboard integration: A must-have
Sales reporting software streamlines data management by organizing all your sales information in one dashboard. Without this, your information would be scattered across multiple platforms and you'd have to track it manually. With enough to manage in your business already, why not let sales software take care of reporting for you?
You can help your sales teams recognize their performance by making detailed reports easily accessible from a central dashboard. The best part is that sales reporting software compares current and past performance so you can optimize your marketing efforts and target the right customers.
Real-time data and actionable insights
The best sales software features real-time data sync. This helps your teams move quickly by updating customer data in real time across your platforms.
With this data, sales reporting software presents actionable insights to help your team make informed decisions throughout the sales process.
Automated reports and alerts
Sales reporting software monitors sales trends and automates reports around them, so you can guide marketing efforts with current best practices in mind. This keeps your attention on priorities, instead of spending time manually compiling reports.
Additionally, combined with real-time updates, sales reporting software provides automated alerts so teams can react to changes as they happen. This way, you ensure nothing slips through the cracks.
Factors to consider when selecting a sales reporting solution
The importance of user interface and usability
A user-friendly interface simplifies the learning curve for your team. This reduces onboarding time and helps you figure issues out without needing to contact support. Finding a sales software with an intuitive interface is crucial for companies that don't want to spend time and resources on training.
Evaluating pricing model options
Some sales software won't fully meet your needs, while others are bloated with features you'll never use (but still pay for). Consider software that's cost-effective and gives you the flexibility to customize your features. That way, you know you're getting value for the pricetag.
Integration with existing systems and tools: A crucial factor
Make a list of the critical software you're already using at your company. Consider your accounting software and email system. A good sales reporting software integrates with other business tools, so choose one that works well with software you already use for a smooth transition.
Ensuring robust security features
Data security is a huge issue in modern-day business. Companies of any size are at risk, so it's important to consider how sales software keeps your information safe. When choosing one, ensure that it has security protections like two-factor authentication.
Checking for scalability and flexibility
Do you want your company to grow in the next few years? Some sales software restrict growth due to limitations on contact list size or custom fields. This is restrictive to many companies when it comes to converting prospects and closing deals. So, make sure to go with a software solution that scales alongside you.
Top sales reporting software to consider in 2024
If you use QuickBooks or Xero for your accounting, then Method is your top choice.
Method integrates with your accounting software for seamless, real-time synchronization — so you don't need to wait or worry about data loss.
Best of all, the platform has no-code customization options, so you don't need to hire a developer to personalize your system. A free hour of customization with Method's professional services team is included with your subscription, so you can work with an expert right from the start at no extra charge.
Method scales with business growth, making it a reliable choice for companies of any size. See if Method is the right fit for your business with its 14-day free trial.
Pros
Two-way, instant data sync with QuickBooks and Xero.
Drag-and-drop, no-code customization.
Offers several third-party integrations like Zapier, Outlook, MailChimp, and Google.
Has a mobile app for on-the-go access from your phone.
Cons
Only available in English.
Limited to QuickBooks and Xero users.
Pricing
Contact Management: $25 per user a month.
Pro: $44 per user a month.
Enterprise: $74 per user a month.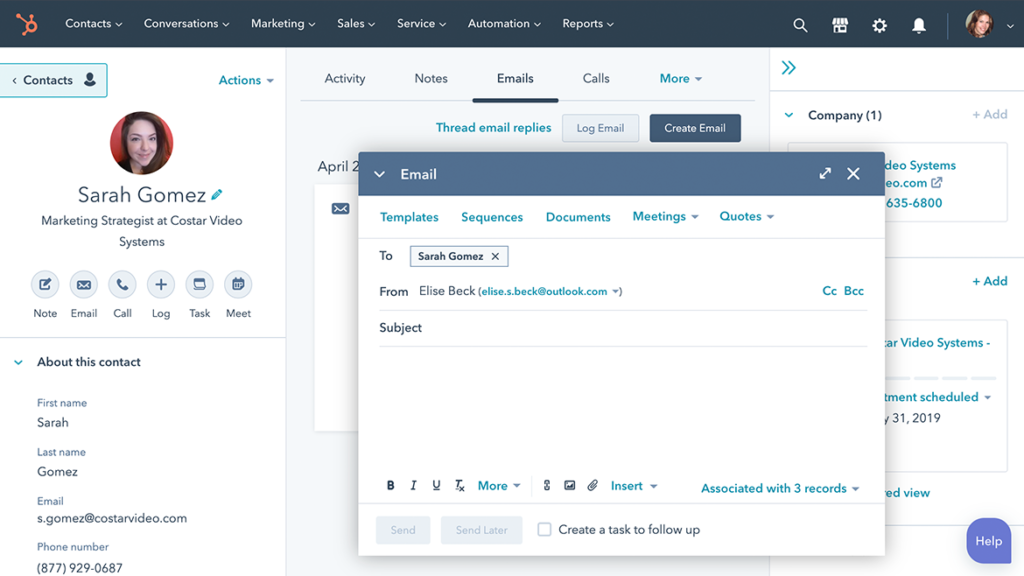 Image credit: Hubspot
HubSpot is a popular option with several sales reporting features. It offers pre-made templates for high-level reporting and detailed dashboards.
However, some businesses find limitations in HubSpot's restrictions around analytics and custom fields. The platform has a huge range of features that some companies will appreciate, while others might find it overwhelming.
Pros
Intuitive dashboard.
Selective pricing plan lets you pay only for the features you'll use.
Courses available through HubSpot Academy.
Cons
Strict limit of 1,000 custom fields.
Limited customization for different industries.
Analytics are not as detailed as competitors.
Costly compared to competitors.
Pricing
Free: No cost, but comes with very limited features.
Starter: Starts at $18 per user a month.
Professional: Starts at $800 per user a month.
Enterprise: Starts at $3,600 per user a month.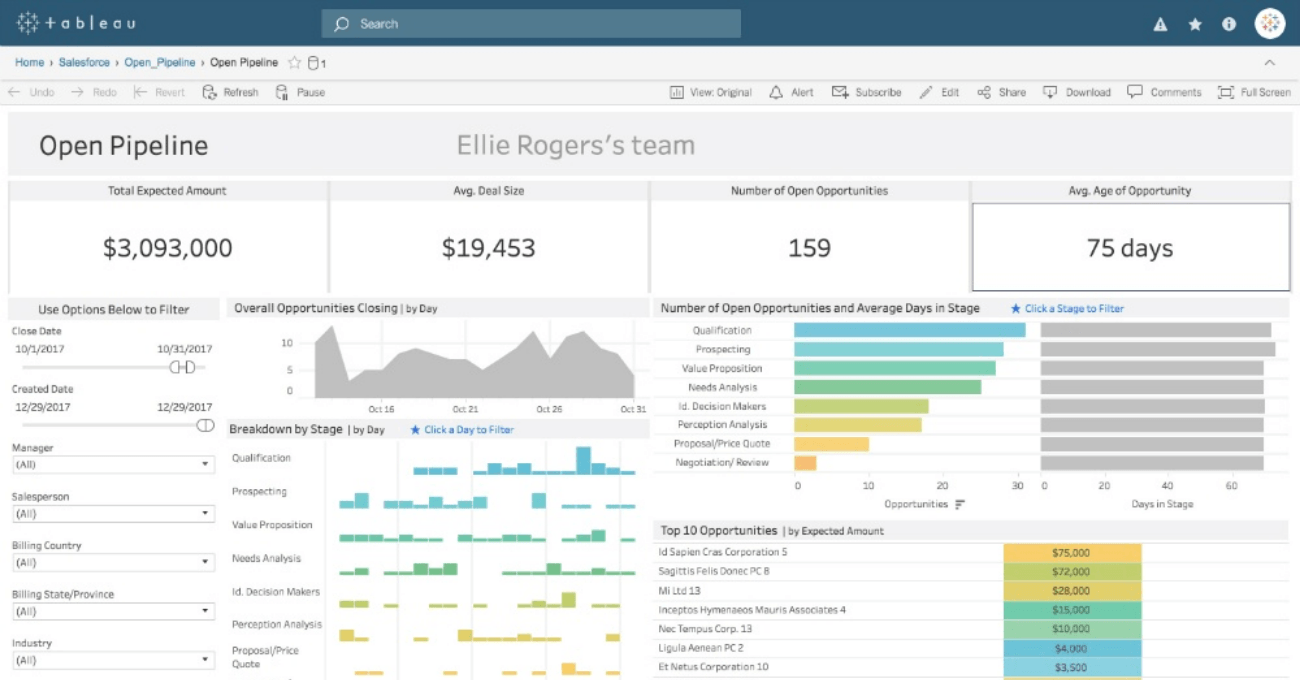 Image credit: Tableau
Salesforce offers this product, which focuses specifically on data reporting. Tableau's sales reporting software facilitates sales forecasting using AI to recommend strategies and predict answers to business questions. It can scale with your business and offers detailed charts to visualize performance.
However, users have experienced difficulty getting help from support, experiencing long wait times and unhelpful answers.
Pros
Detailed reports.
Easy to create graphs and charts.
User-friendly interface.
Cons
No two-way QuickBooks or Xero sync.
Difficult to speak with a real customer service rep.
Costly pricing plans.
Pricing
Tableau Viewer: $180 per user a year.
Tableau Explorer: $504 per user a year.
Tableau Creator: $900 per user a year.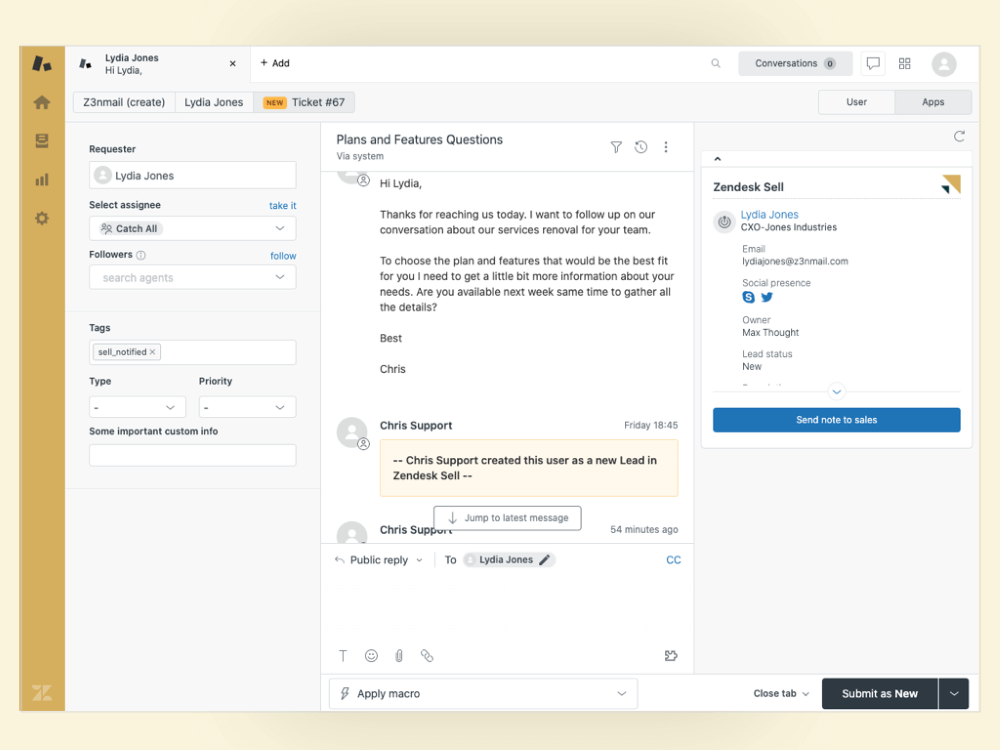 Image credit: Mopinion
Zendesk's sales reporting software highlights potential sales opportunities with advanced analytics and reporting tools. It automates workflows and filters your contacts to improve productivity.
Some companies enjoy its large suite of features, while others don't need everything it has to offer and find the platform overwhelming.
Pros
Custom lists with the ability to filter data.
Powerful automation for improved workflows.
Ability to send bulk emails and reminder emails.
Cons
User interface is not intuitive.
Reports of email integration problems.
Task automation and custom reports are only available through higher-tier plans.
Pricing
Sell Team: $19 per user a month.
Sell Growth: $55 per user a month.
Sell Professional: $115 per user a month.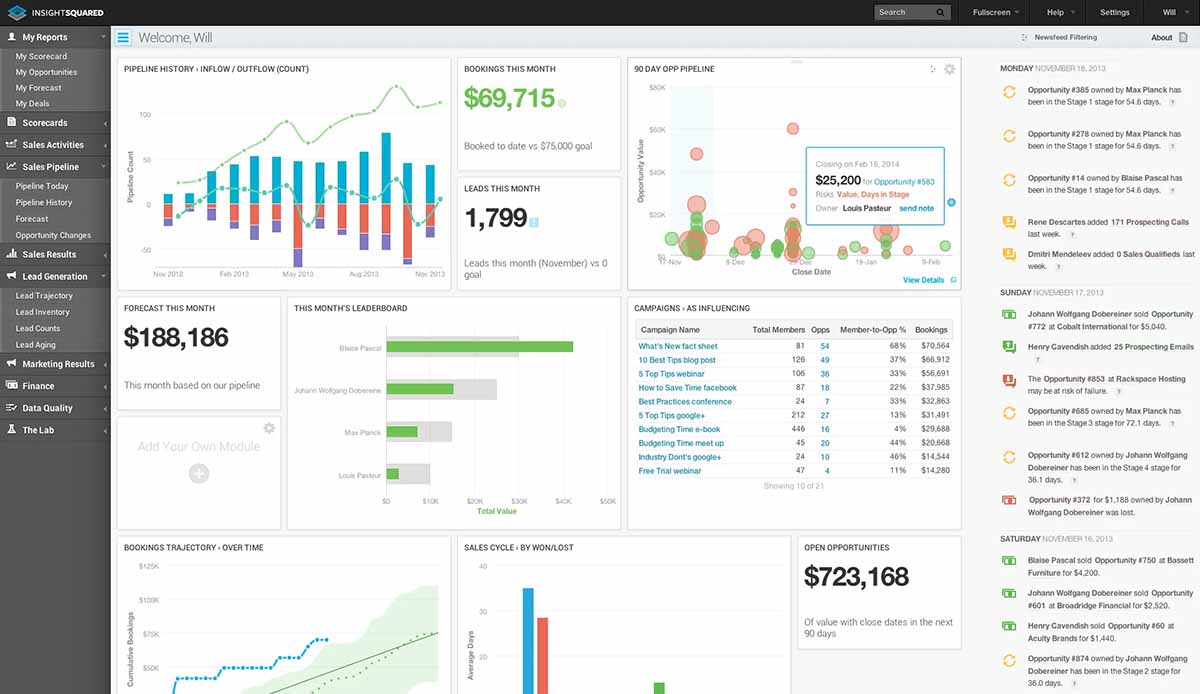 Image credit: SaaSworthy
InsightSquared sales reporting software highlights potential sales opportunities in real time. Examples of its unique features include recording calls to help you guide your team and a coaching virtual assistant with machine learning capabilities. The reports it generates are detailed and provide good oversight of financial activities.
That said, users find limitations on how far they can customize the dashboard, which leads to issues with collaboration and communication.
Pros
Great visualization of data through graphs and charts.
Good representation of data at a macro and micro level.
Accurate reports with helpful insights.
Cons
Limitations on how many platforms it can integrate with.
Pricey for smaller organizations.
Requires longer training and setup to get started.
Dashboard is not user-friendly.
Pricing
InsightSquared does not list pricing on their website. Costs are dependent on the specific features you request, so you'll have to speak with their reps to get an exact price.
How to choose the right sales reporting platform for your needs
Inside or outside sales reporting: Making the right choice
Do you sell your products and services online or with phone calls? If so, a sales software that specializes in inside sales is a better fit for your company.
On the other hand, if you regularly hire a contractor or travel somewhere such as a construction site, customer's home, or other external address, then you'll want software that offers outside sales reporting features.
Software with features for outside sales considers things that come up when a rep makes an in-person visit, like:
Vehicle mileage.
Automated routes.
Visit history.
These are all additional financial factors that you need to account for.
Some sales software offer features for both inside and outside sales reporting.
Identifying the type of sales data to report on
Sales reporting software measures key sales metrics on:
Team performance.
Email campaigns.
Ecommerce sales.
Accounts receivable and accounts payable.
Sales reporting software simplifies data visualization and can compile these numbers for easy analysis. Your job is to identify what metrics your business will need to measure when choosing your sales software.
Tracking multi-channel sales activity: A key requirement
What channels do you represent your company on? Think about the different areas you need your sales software to track, such as:
Ecommerce sites.
Social media platforms.
Web traffic.
Email marketing.
Accounting software.
Make a list of these channels for you to cross-compare with the sales software that you're considering to find the best fit. Sales reporting software assists in strategic decision making, so the more channels your reporting software integrates with, the better.
Assessing the ease of building reports
Sales reporting software exports data for further analysis, but not all your choices will be easy to use. Or, they may have so many features that getting the reports you need requires jumping through hoops.
The point is to make your job easier — not more time-consuming. Consider the size of your company and what features you need when evaluating a software. Also, look at the:
User-friendliness of the interface.
Capacity to present data visually, like as a graph.
Details included in the software's automatic reports.
Determining the level of customization available
Customization gives you the greatest flexibility when it comes to finding sales software that meets your needs. As every business is unique, not every software will work for you right out of the box. A no-code platform lets you customize without hiring a developer.
Considering the need for activity-level reporting
Sales reporting software filters data based on specified criteria. You can filter information to highlight individual tasks, calls, or emails for a closer look into individual activities.
Checking the software's field usability
If you need to access vital information on the go, then sales software with mobile capabilities is a must. This way, your sales reps can receive updates and respond promptly, even if they're out in the field. Look for sales software that offers a phone app for the best mobile functionality.
Evaluating automated notification features
Stay in the action with software that automatically notifies you of changes in real time. The best way that sales reporting software optimizes sales processes is by letting you respond to changes as they're happening. This improves the efficiency of your team and overall workflow.
Figuring out which sales reporting tool is right for your business
Your sales software should be able to meet most, if not all, your requirements — or provide customization to fill in the blanks. Think carefully about what you need in a software before making any commitments. Also, reviews from other users and free trial periods will further progress your decision.
When choosing your sales software, you must consider:
The size of your company.
Your potential for future growth.
Where you interact with your customers (online or in-person).
What platforms you're currently using.
What metrics you want to measure.
Key takeaways
Sales reporting software promotes operational efficiency and boosts cashflow through automation and high-level analytics. The best sales software includes these features:
Real-time data sync and automation.
Integration with multiple platforms.
Accurate sales forecasting.
No-code customization.
The ability to visualize your data through graphs and charts.
With this in mind, you're fully equipped to make the best decision for your business.
Sales reporting software FAQs
How crucial is ease of use in sales reporting software?
An intuitive interface is crucial as it ensures you can harness the full potential of the software. This is critical if you don't want to spend a lot of time training teams on the software before you can start using it.
How does sales reporting software boost business productivity?
Sales reporting software evaluates sales team performance to fix bottlenecks and areas in need of improvement. It boosts team productivity by automating repetitive tasks and reducing the risk of human error.
How can customization enhance my experience with sales reporting software?
Finding a sales software that ticks every box can be challenging. Software that lets you customize your features ensures you can get the best fit possible for your business.
Look for a solution that offers a no-code solution such as Method, which also includes a free hour of customization with their professional team.
Get your hands on a top CRM system with your free trial of Method:CRM!
Image credit: Mikhail Nilov via Pexels