Small business owners have a lot on their plates, so the idea of adopting new software can be daunting. That's why it's important to consider whether the new software will ultimately make your life easier. In the case of estimating software that integrates with QuickBooks, the answer is a resounding "YES".
Keep reading to learn how you can streamline your sales process with a QuickBooks-integrated estimating system like Method:CRM.
1. It prevents confusion by allowing you to create estimates and manage leads outside of QuickBooks
Since QuickBooks does not let you create estimates for leads, businesses are often forced to manage business opportunities in outdated spreadsheets, which may not be shared between employees. However, this can create confusion about the status of a deal, especially when a company has a longer sales cycle. QuickBooks-integrated estimating software eliminates any confusion by providing a cloud-based solution to create estimates for leads and track the stages of business opportunities.
Method:CRM users: Control when the estimates created in your Method:CRM account sync to your QuickBooks file by checking the "Wait for approval before syncing" box on your estimate screen. This prevents the estimate from syncing to QuickBooks until a user un-checks this option.
2. It gives your team autonomy to drive sales without needing full access to QuickBooks
As a small business owner, it's smart to limit how many people have access to your QuickBooks file. But, this doesn't mean all quoting responsibilities have to fall on you! When you use integrated estimating software for QuickBooks, your team members can prepare estimates for customers outside of your accounting software, and you can rest easy knowing certain financial data remains confidential.
Method:CRM has a deep, two-way QuickBooks sync, so your employees can create and send estimates in Method without needing direct access to QuickBooks. Plus, these estimates will automatically sync to QuickBooks in real time with no double data entry.
Method:CRM users: Managing user app permissions lets you decide which employees can perform certain tasks in your Method:CRM account. To allow a user to create estimates in Method, make sure you have given them access to the "Sales Transaction" pack and the "Estimates" app.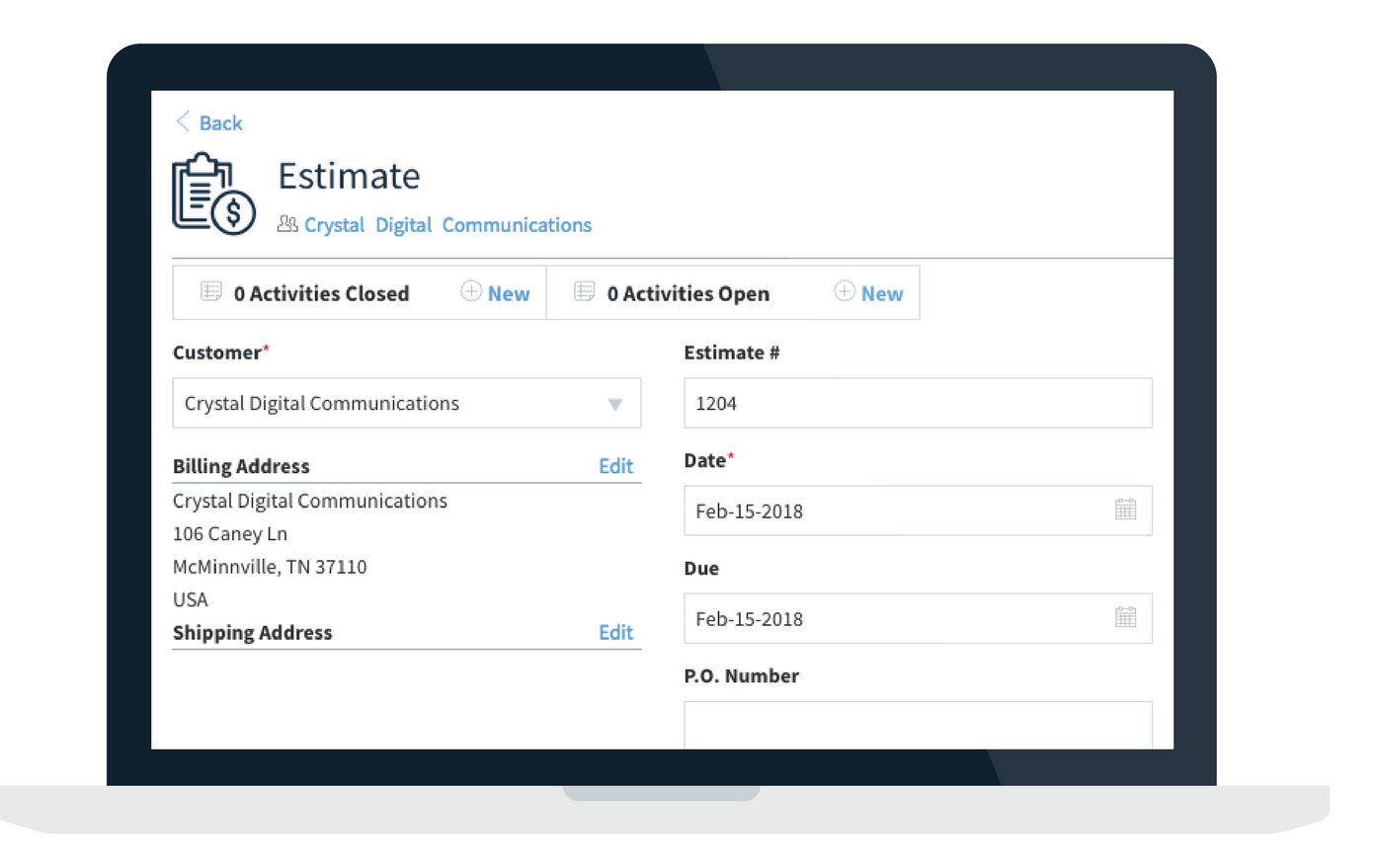 3. It ensures accurate estimating with a complete view of every lead and customer
An estimate is just one part of your business relationship with a lead or customer. Being able to refer to notes and order history while preparing a new estimate gives you greater context about the customer's needs and ensures important details aren't missed. Your best bet is to use QuickBooks-integrated estimating software that also offers customer management features so you can view detailed customer info alongside QuickBooks transaction history.
Method:CRM provides a single powerful view of each lead or customer's history. View previous transactions, conversation records, and associated contacts, plus create new transactions, right from the customer's profile.
Method:CRM users: After sending an estimate to a lead or existing customer, create a follow-up activity to remind yourself to check in with the customer later.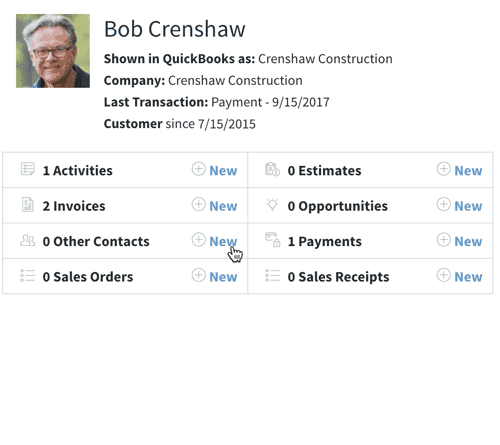 4. It speeds up the sales process by allowing your team to create estimates on the go
In many industries, you're more likely to be on the move than sitting in an office. To work effectively, you need your data with you, but for businesses that use QuickBooks Desktop, essential accounting data remains stuck in the office. Luckily, estimating software that integrates with QuickBooks can bridge this gap by bringing your accounting data into the cloud.
No matter which edition of QuickBooks your company uses, we've got you covered. Method:CRM integrates seamlessly with Pro, Premier, Enterprise and Online editions. The mobile app lets you bring your customer and accounting data with you so you can send estimates even when you're on the road.
Method:CRM users: When you get the go-ahead from your customer, convert an estimate to a sales order by clicking the "Create Sales Order" button at the bottom of your estimate screen. You can make changes as necessary or automatically copy the estimate data to the new sales order.
5. It enables you to close deals sooner by allowing leads to accept estimates online
When you send out estimates you want to make it easy for customers to approve them so you can start working. And in today's technology-driven world, that means allowing your customers to quickly accept estimates online. Although QuickBooks doesn't allow customers to accept estimates online, integrated estimating software for QuickBooks gives you access to new features such as online approval. Not only will you close deals faster, but the improved customer experience will invite repeat business.
Method:CRM can be fully customized to meet your business needs. Allow customers to view estimates in an online portal and accept them by clicking a button or checking a box. Plus, get notified as soon as an estimate has been approved. Learn how customizing Method helped a small business streamline their estimate process by enabling online approvals.
"The process of putting together a contract went from 45 minutes to less than 15 minutes. With everything together in one screen I just have to select what I need and email it out to the customer. It's automated everything for me. It's dummy proofed it for me". — Bryan Dutton, Allegro Design Co.
Method:CRM users: Your free trial of Method:CRM includes a free 1-hour of customization with one of Method's customization experts. If you haven't taken advantage yet, make sure you sign up!