Running a cleaning business is no easy feat. There is a lot to keep up with, from managing online bookings to dispatching your cleaning crew. The good news is that industry-leading cleaning service software makes your job easier and increases your profits.
If you're in the market for cleaning scheduling software, this guide lists the best ones and takes you through how they benefit your business.
What you'll learn in this guide
Before getting down to business, here is what you can expect to learn in this article:
What is cleaning business scheduling?
Cleaning scheduling involves keeping track of your day-to-day operations. Besides making a cleaning appointment with a client, business scheduling involves planning equipment maintenance, invoicing, and billing.
Without the right software, your schedule is susceptible to human error and can negatively impact your bottom line. Investing in these intuitive tools provides useful functions like sending automatic payment reminders, extensive customer history tracking, and more.
What is cleaning job management?
While scheduling is an essential component of job management, it involves overseeing tasks, creating optimal routes for your fleet, keeping track of your client database and job details, and more. Beyond this, knowing how much to charge for your services is key to cleaning job management.
Nowadays, scheduling typically comes with a larger, all-inclusive CRM package.
What are the benefits of cleaning business software?
Using cleaning scheduling software helps you delegate resources, reduce availability conflicts, and optimize schedules. The benefits of which include:
Increased efficiency.
Business compliance.
Lower labor costs.
How does cleaning business software work?
Cleaning business software is great at gathering client feedback and providing you with a house cleaning checklist for each job. At its core, affordable cleaning booking software performs the following tasks:
Automatically schedule appointments and send confirmation reminders.
Provide employees with an overview of their weekly workload.
Create and sort invoices with notifications.
Send payment-past-due automated follow-up messages.
Determine which jobs are active or require closing and billing.
Top picks for the best cleaning business software
Here is a list of the top six best cleaning business software on the market.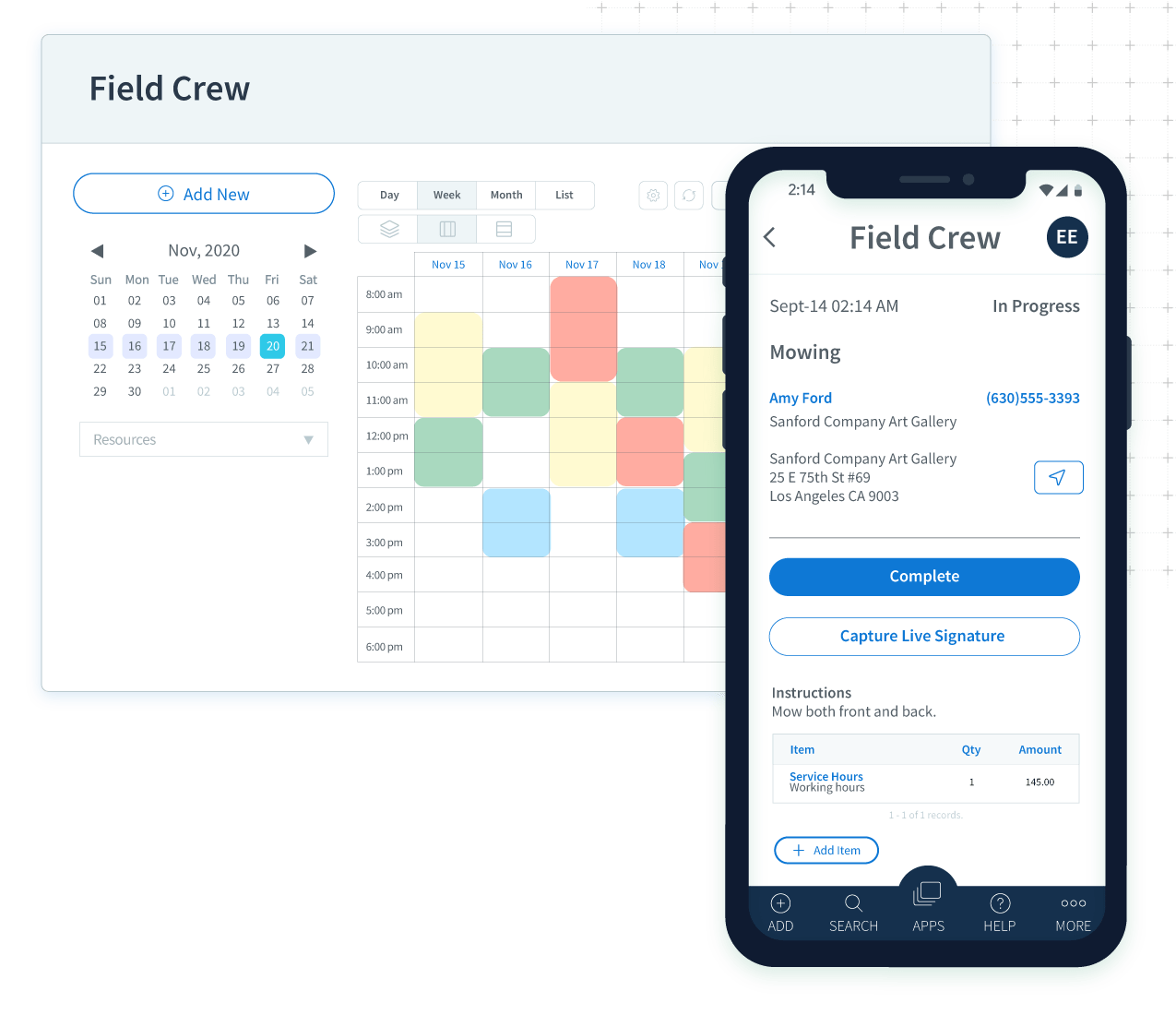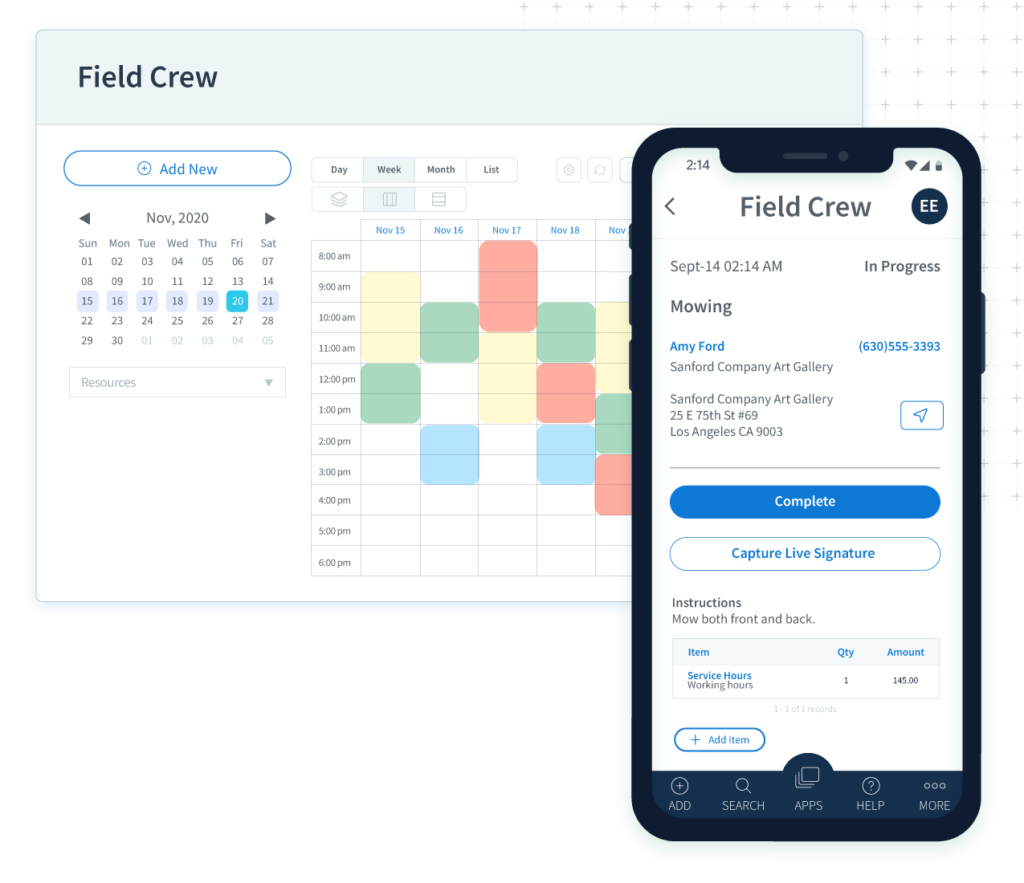 Method:Field Services is an all-in-one field service software that automates appointment-setting and invoicing for your entire team. Thanks to Google Maps and Waze integrations, you can plan optimal routes to maximize your schedule efficiency and put time back in your day!
Method Field Services offers a deep sync with QuickBooks, allowing users to view accounting information in real-time.
Pricing
Method:Field Services starts at $15/ per month per user and comes with a free trial.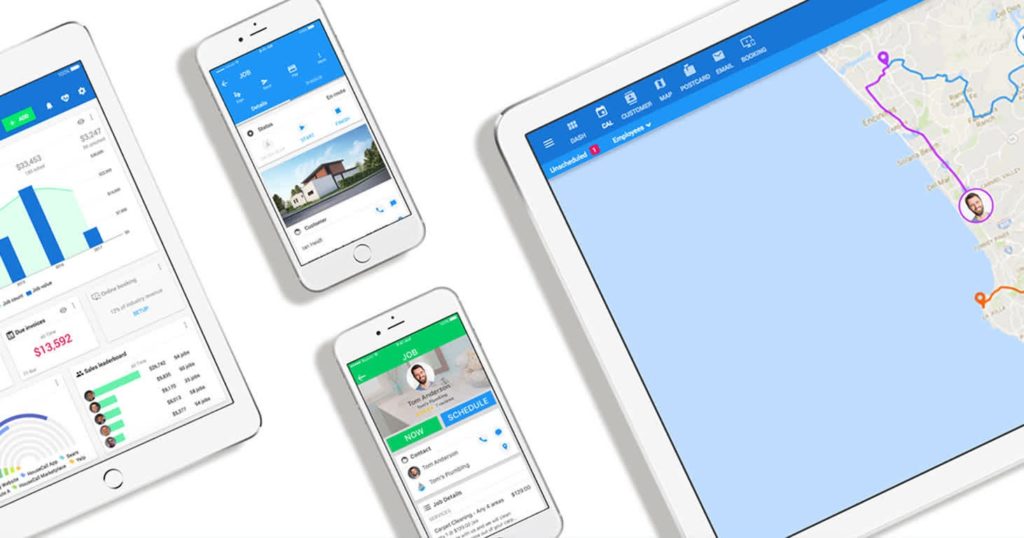 Image credit: Housecall Pro
If you're looking for a comprehensive cleaning service management software, Housecall Pro boasts core features like fleet dispatching, job scheduling, payment processing, check-in and check-out times, and more. It also has a two-way QuickBooks sync, centralizing all your accounting needs and information.
Pricing
The Basic plan costs $49 per month for one user, while an Essentials plan for five users costs $129 per month. At the top of the pricing range is the Max plan for eight users at $279 per month.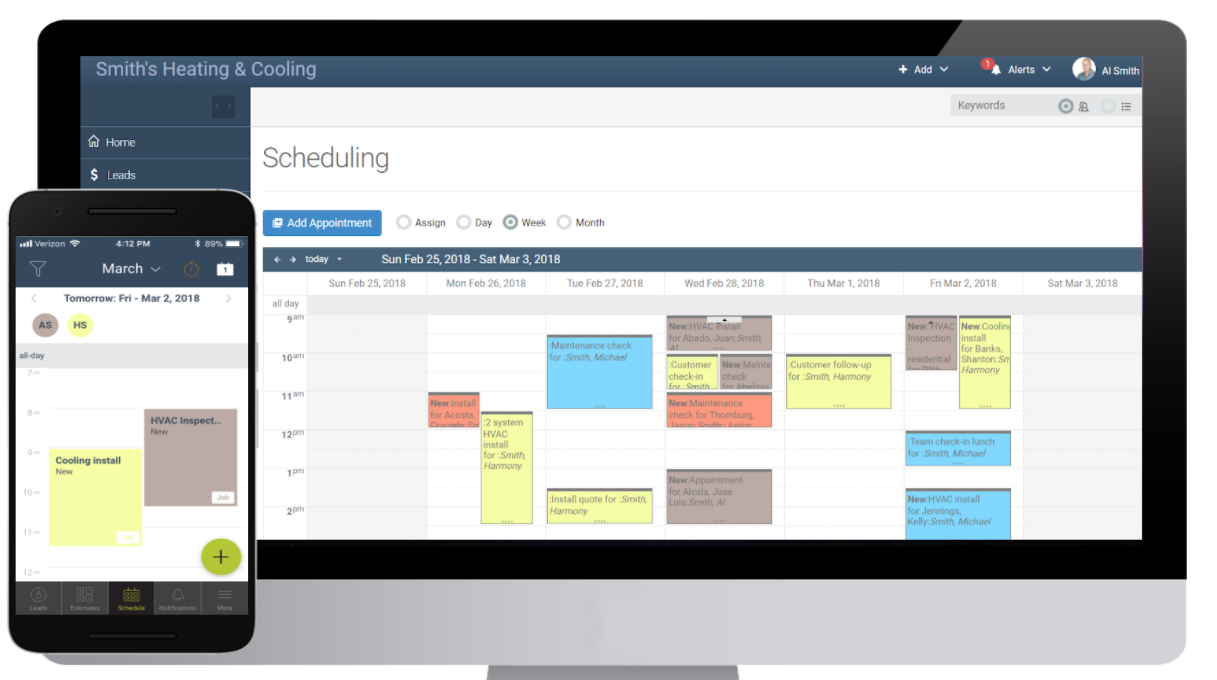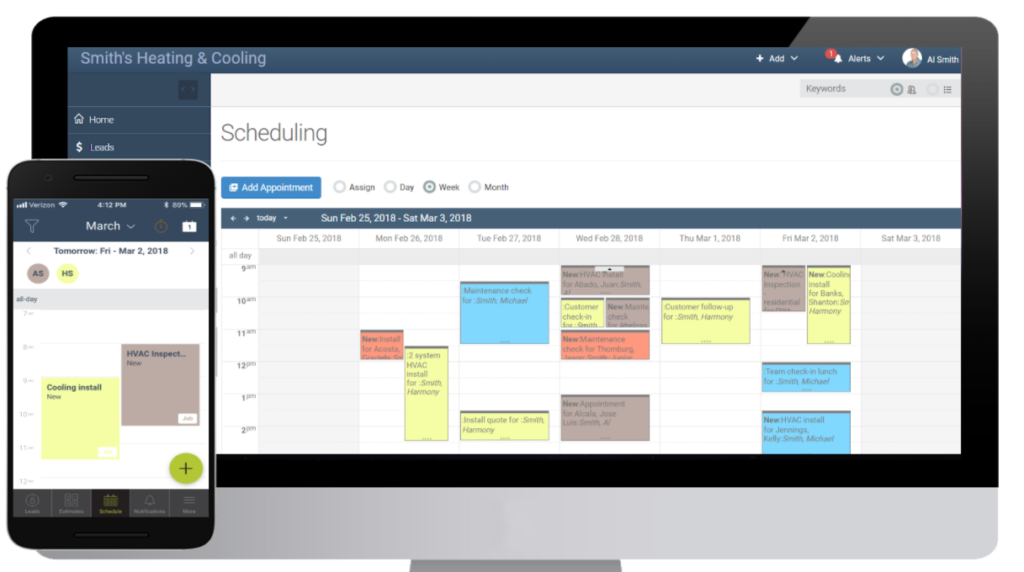 Image credit: SoftwareAdvice
mHelpDesk is ideal for optimizing workflows through an easy-to-use scheduling calendar for small to medium-sized cleaning businesses. You can even appoint window cleaning jobs with a map view to plan your monthly cleaning schedule.
Pricing
mHelpDesk costs $169 per month per user.
Image credit: Jobber
Supporting over 50 industries, Jobber is a go-to solution for real-time scheduling and dispatching. You can use it to quickly and automatically update information such as completed cleaning tasks and employee locations. Superior staff scheduling features allow you to track who can accommodate new jobs.
Pricing
A Core plan with Jobber costs $29 per month per user, while a Connect plan for seven users costs $99 per month. For bigger teams, the Grow plan includes up to 30 users at $199 per month.
Image credit: HomeStratosphere
Built by thousands of service business professionals, Kickserv allows you to manage bids and tasks through an online shared calendar. Its two-way QuickBooks integration prevents double entries, organizes your cash flow, and presents tasks at a glance.
Pricing
Kickserv has a free plan for up to three users. Beyond that, its Lite plan costs $31 per month for three users and the Starter plan for ten users is priced at $79 per month. The Business plan for unlimited users costs $159 per month while a Premium plan costs $239 per month.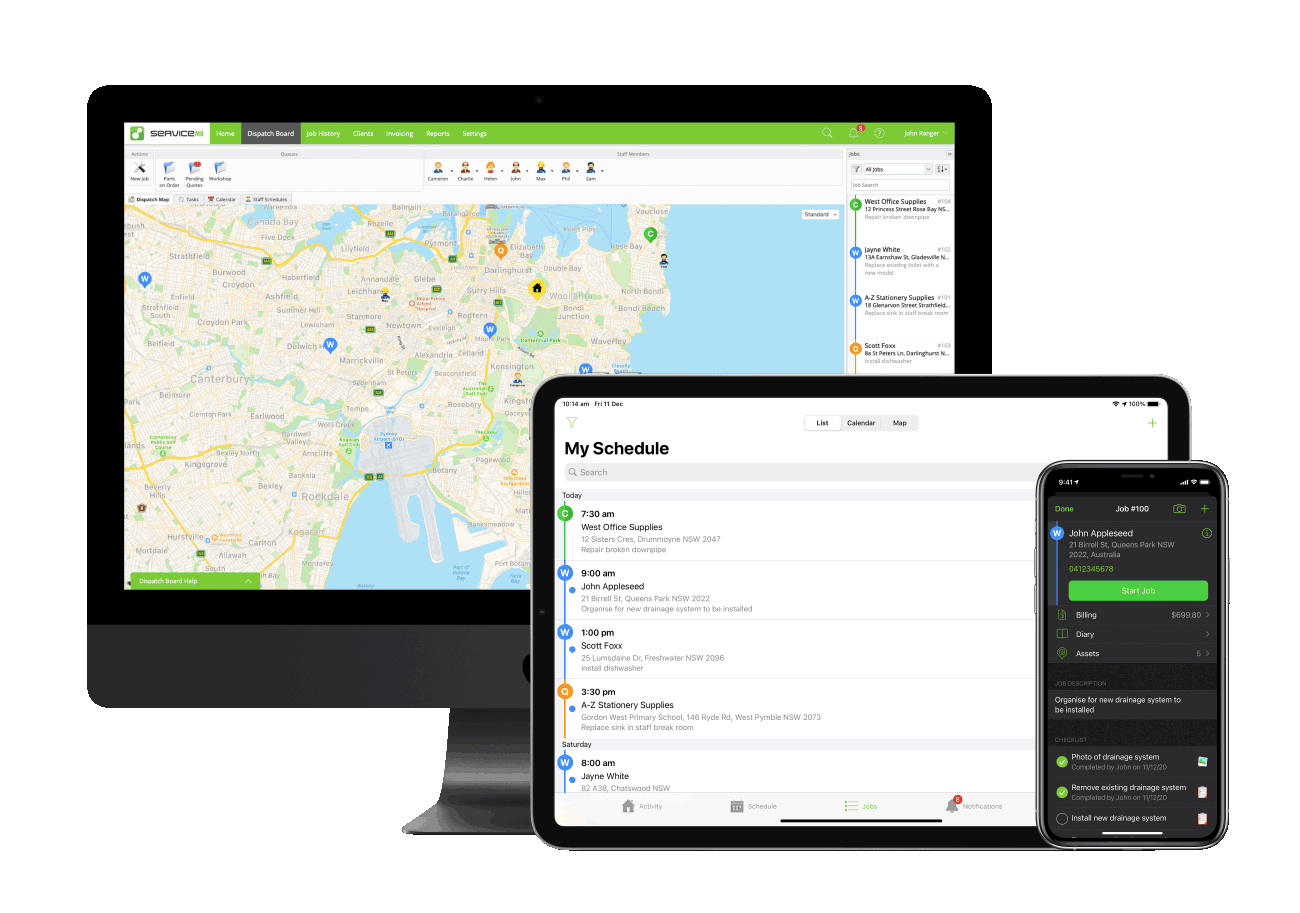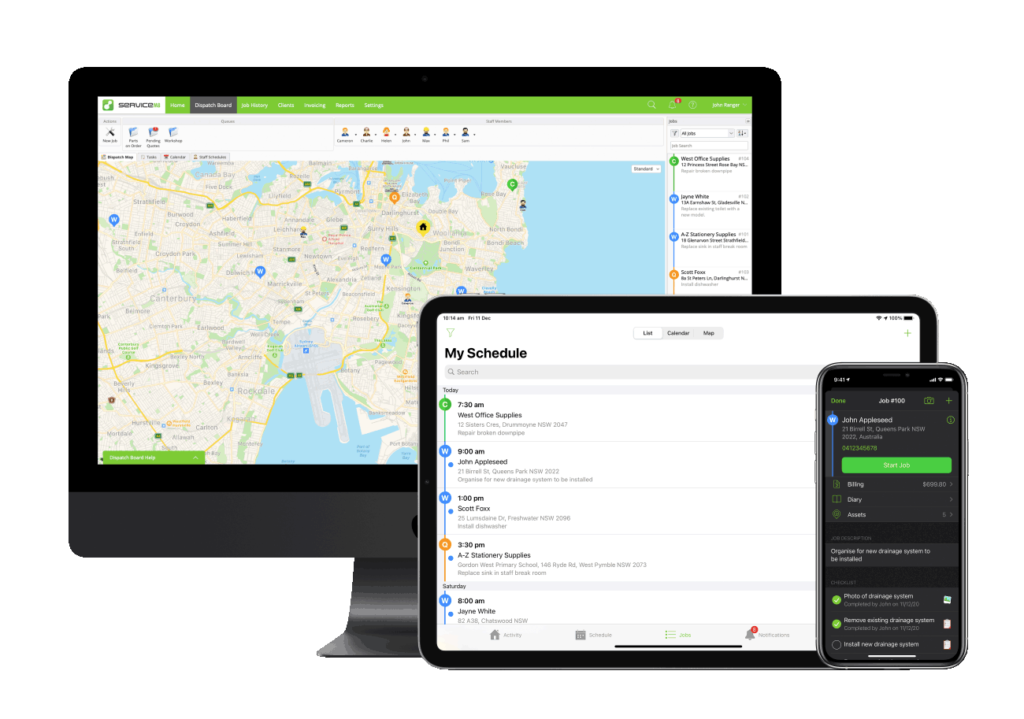 Image credit: ServiceM8
Made specifically for contractors and service businesses, ServiceM8 helps you eliminate paperwork by digitizing schedules, contact information, invoicing, and payments. Without a strong focus on cleaning scheduling, this solution remains at the bottom of this list.
Pricing
A Lite plan costs $9 per month, while a Starter plan costs $29 per month. The Growing plan is $79 per month and a Premium plan costs $149 per month.
Cleaning scheduling software FAQs
Does cleaning business software have a mobile app?
How do you organize a cleaning schedule?
How do you schedule housework?
Does cleaning business software have a mobile app?
Yes, most cleaning business software boast cross-device compatibility with a mobile app to equip users with real-time field worker communication and customer contact.
How do you organize a cleaning schedule?
Cleaning scheduling software automatically organizes tasks according to your availability or other filters. You can use it to determine staff availability and learn how to better delegate tasks via real-time insights.
How do you schedule housework?
Housework may be easier to schedule than commercial cleaning, as residential spaces are smaller. You can schedule residential clients for regular cleaning or specialized services.
Final thoughts on cleaning scheduling
If you're looking for a way to streamline your scheduling process, these industry-leading cleaning service software are the way to go. These solutions are great for those that want to organize cleaning tasks and simplify company operations for the entire team.
Image credit: Friends Stock via Adobe Stock