Whether you're an independent or specialty contractor, if you subcontract your jobs, you need an efficient system to keep track of your subcontractors.
For peak productivity, that system should include a CRM.
In this article, you'll learn:
What is a subcontractor CRM.
How to enhance QuickBooks for subcontractors.
Why you need a QuickBooks subcontractor CRM.
What's more, you'll discover your choices for the best CRM for subcontractors to strengthen your business and boost your success.
What is a subcontractor CRM?
CRM stands for customer relationship management. A CRM is a tool to track your customers and improve your relationships with them.
As a result, you gain better customer satisfaction.
Using software allows for strong CRM habits by providing features that take the work out of customer relationship management.
A subcontractor CRM, in particular, is made for the nuances of subcontractor jobs.
Let's take a look at why every subcontractor needs a CRM.
Why use subcontractor CRM software for your construction business
There are various ways a CRM transforms how you run your subcontracting business, from simplifying payments to improving QuickBooks for subcontractors.
Here are some of the top benefits you can look forward to with a CRM for subcontractors.
Stay on top of jobs
As a subcontractor, you often find yourself balancing several different jobs. So keeping track of your different projects becomes a job in itself.
The good news is that a CRM allows you to keep track of more than just your customer relationships. The right CRM also simplifies the way you keep track of jobs.
When you no longer have to spend time tracking jobs, you free up time to focus on building your customer relationships.
Collaborate from anywhere
A subcontractor CRM keeps all your information in one place, making it easy to manage and even easier for your workers to pull up the information they need when they need it.
For example, subcontractor software with a sales cloud empowers your sales team to pull up customer information in a flash so that they never miss a beat.
A CRM may improve QuickBooks for subcontractors by ensuring your accounting information is always up-to-date, regardless of where you access it.
Take the convenience one step further by choosing subcontractor software with a mobile app. A mobile app puts your entire business in your hands, so you never miss a beat.
Track business performance
For optimal business growth, you must keep tabs on how your business is doing at all times. The best way to do that is through regular reporting.
CRM software with reporting features can pull relevant customer data and present them clearly and concisely.
These reports:
Show you trends within your customer base and business.
Inform new sales strategies to promote business growth.
It's a bonus if your CRM allows specifically for QuickBooks subcontractor reporting so that you can use your most important data.
Get paid faster
One of the top benefits of a contractor CRM is that it can streamline your invoicing.
With your invoice contacts already in your software, sending prompt invoices can be as simple as pushing a button.
Processing payment can be just as simple.
Better yet, some subcontractor CRMS integrate with popular accounting software, such as QuickBooks. This allows you to create a system to ensure that all of your important information is up to date.
Let's take a closer look at how contractors can leverage QuickBooks and their CRM.
QuickBooks for subcontractors: Useful CRM features
As far as accounting software goes, many agree that QuickBooks is best for construction projects. The same goes for contractors.
While contractors commonly use QuickBooks for their accounting, QuickBooks alone can only bring your business so far. For optimal efficiency, it's best to use QuickBooks and a CRM together to operate your business.
Here are the features with which a CRM can improve your QuickBooks workflow:
Sync your information between your CRM and QuickBooks.
Additional native integration to create a full system.
A place to store your leads outside of QuickBooks to keep your accounting clean.
Scheduling features for improved project management.
The ability to customize QuickBooks to tailor it to your business.
With all this new information on subcontractor CRMs, it's time to choose the best solution for your business.
Best contractor and subcontractor CRM comparison
When choosing a CRM for your subcontracting business, be sure to consider the following:
The needs of your contracting business.
Your current workflows and processes.
The software you already use.
Each of these elements contributes to the type of CRM that best fits your subcontracting business.
To help you out, below are our 5 CRM solutions for subcontractors.
While all these sync with QuickBooks, some integrate with the popular accounting software better than others.
Method:CRM is not only one of the best subcontractor CRMs. It is the best way to improve QuickBooks for subcontractors.
Thanks to Method's two-way QuickBooks sync, when you update QuickBooks, it will automatically show in Method and vice versa.
Whether you use QuickBooks Online for contractors or stick to QuickBooks Desktop, Method's two-way sync ensures that data flows where and when it needs to.
Beyond that, Method's customization capabilities and native integrations allow you to turn your QuickBooks contractor CRM into an all-in-one system for your business. And if you're debating between Xero vs QuickBooks for contractor needs, don't worry! Enjoy all of Method's features on either accounting software.
Key features
Lead management so only paying customers show in QuickBooks.
Add custom fields to personalized forms.
Convert estimates to invoices in a few clicks.
Customize reports for accurate data analytics.
Mobile app for real-time updates.
Pros
QuickBooks integration for up-to-date data flow.
Empower your customers with a self-service portal.
Unlimited customization to create your perfect solution.
Native integrations with Google Calendar, Outlook, Zapier, and more.
Cons
You must be a QuickBooks or Xero user to use Method. What's more, the solution is only available in English.
Pricing
Method's pricing starts at $25 per month per user. You can also sign up for a free trial.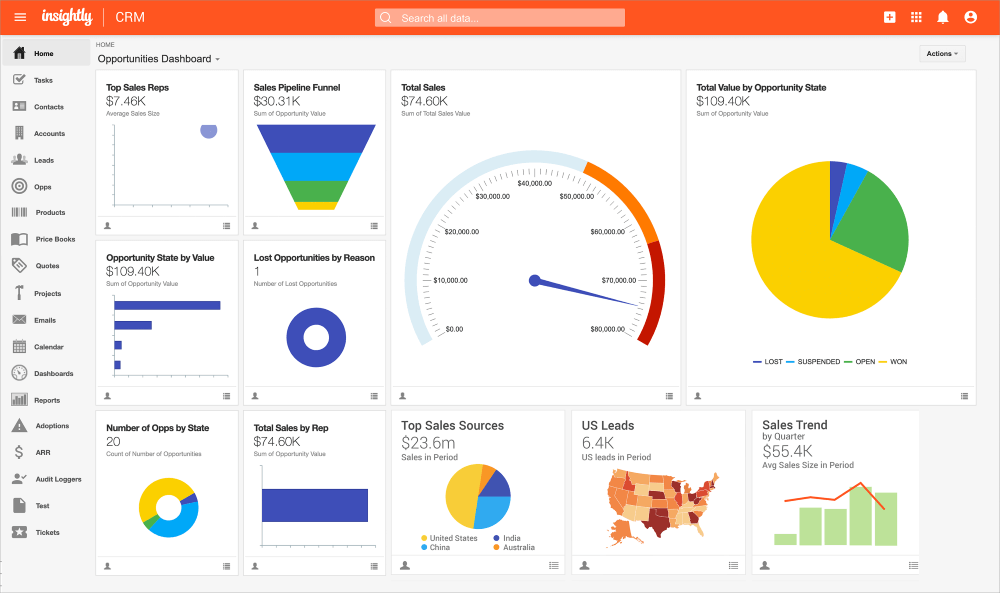 Insightly is a CRM with simple features, perfect if you're not looking for bells and whistles.
Popular amongst Google and Office 365 users, Insightly gives you one place to manage your customers, sales, and data.
With an assortment of project management capabilities, Insightly is a good choice as a first CRM for subcontractors.
Key features
Integrated project management tools.
Lead routing to allow prospects to follow up promptly.
The ability to build custom apps.
Over 250 app integrations.
Pros
Convert won opportunities into projects.
Advanced lead management tools.
Schedule reports to be regularly emailed to your team.
Cons
Insightly's customization capabilities are limited when it comes to dashboards and reporting.
Pricing
Insightly's pricing starts at $29 per user per month.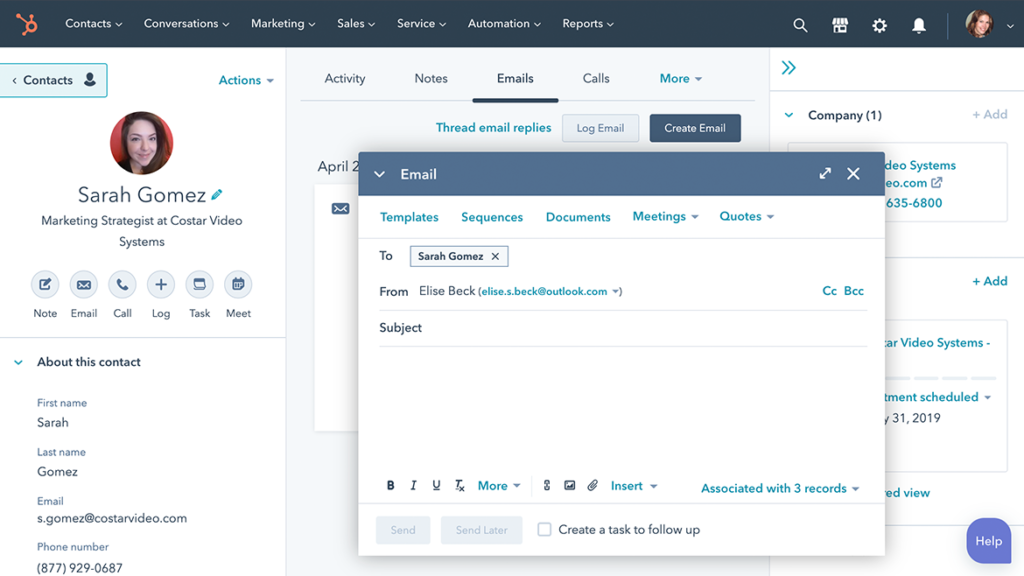 Next on the list of the best subcontractor CRMs is HubSpot, which offers basic CRM functions to boost your everyday processes.
This software solution is separated into different "hubs" to address variousaspects of your business, including:
Marketing.
Sales.
Service.
Operations.
You can mix and match these hubs, but marketing, sales, and service are often bundled together for a comprehensive business solution.
Key features
Segment your contacts to stay organized.
Live chats and chatbots for support services.
Dashboard with a simple user interface.
Pros
HubSpot Academy with educational resources.
HubSpot has a large marketplace with integration options.
A team inbox for easy collaboration.
Cons
While HubSpot has a free limited version, you may soon outgrow it. HubSpot is more expensive than other CRM options.
Pricing
After the free version, HubSpot's next plan starts at $45 per user per month, billed annually.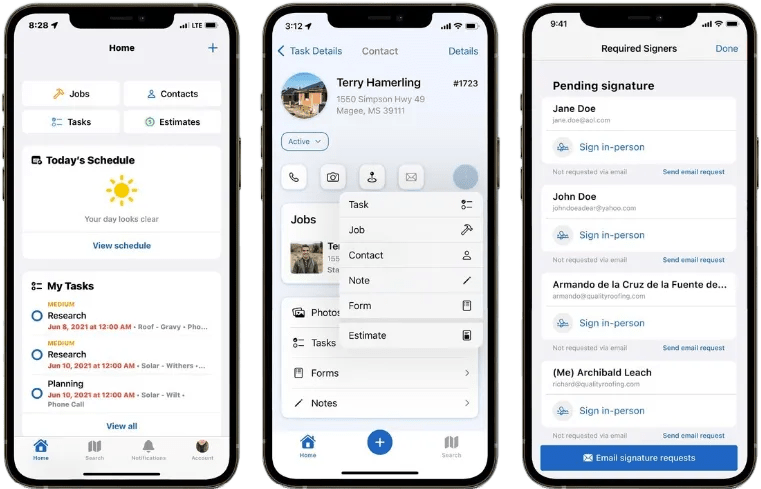 JobNimbus is a CRM specially built for contractors. This software takes your subcontracting business to the next level by organizing, automating, and tracking your work.
With features that simplify all aspects of your business, from estimates to billing, you can trust that all your information is all one place to access when you need it the most.
Key features
Mobile app to access your business anywhere you go.
Construction estimate template for less paperwork.
The ability oy create digital invoices.
Pros
Caters to several industries, from roofing to concrete.
Accept payments and collect customer signatures from the app.
Automation features such as task assignment and payment reminders.
Cons
JobNimbus has a steep learning curve, and the resources to help with that curve are limited.
Pricing
JobNimbus does not have pricing on its website. You must request a quote.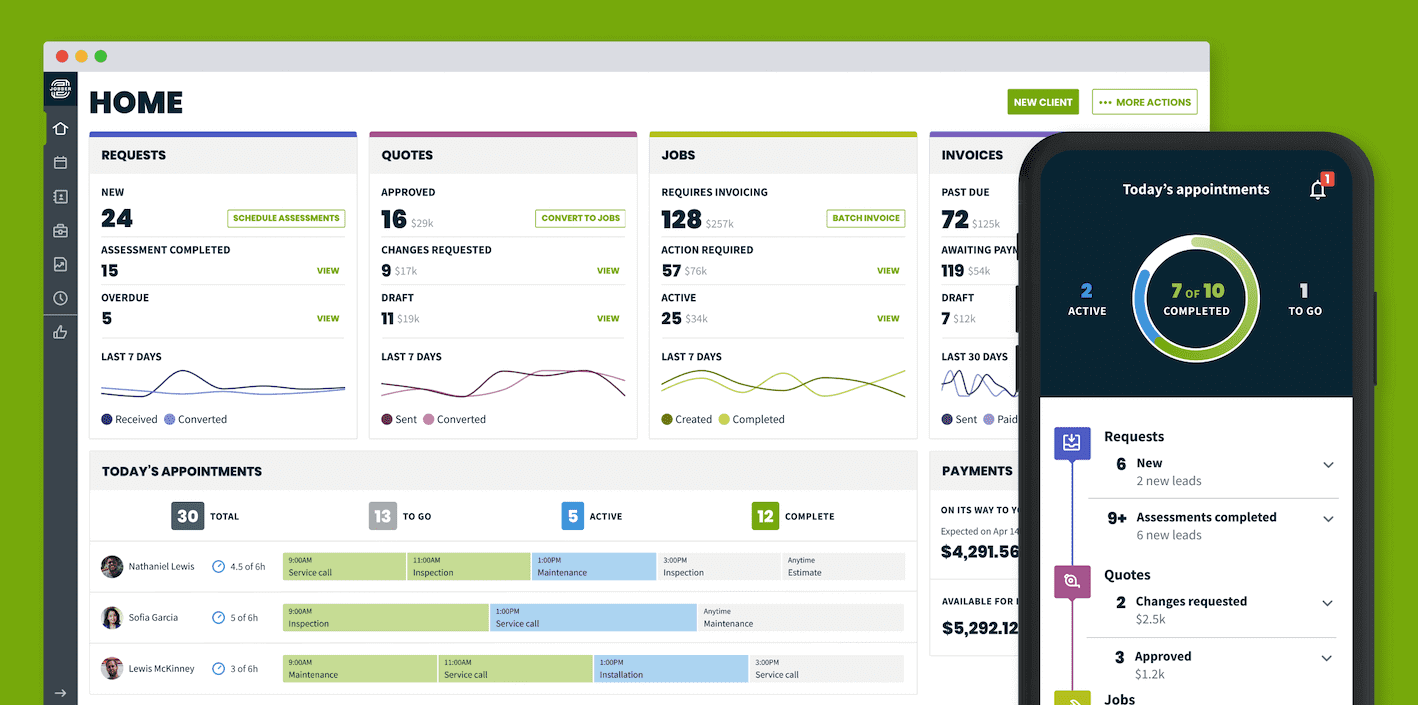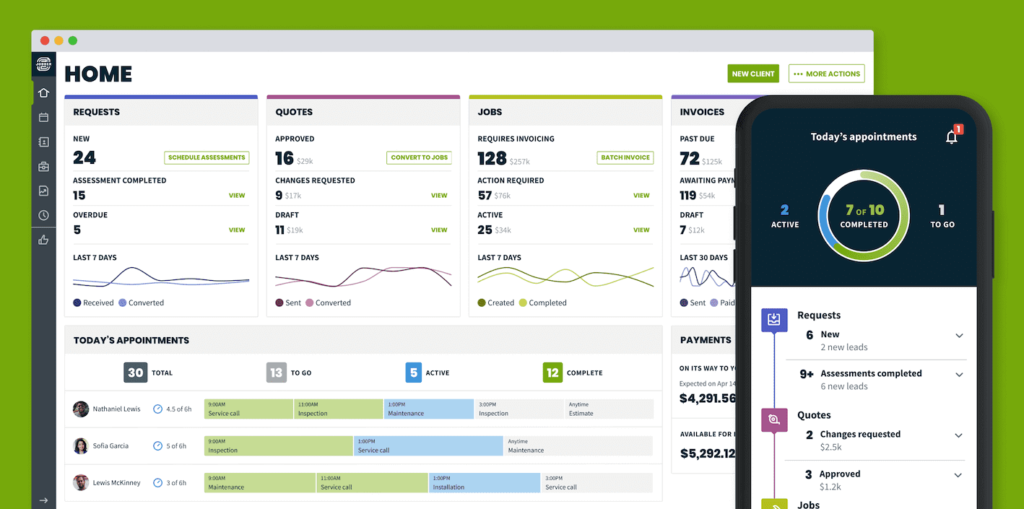 Jobber is a solution that caters to those in the field service industry, which makes it an optimal choice for contractors of all kinds.
Jobber connects your people on the field to the office team, so everyone's always on the same page.
Key features
Real-time scheduling and dispatching
Invoice creation and billing.
Automatic reminders for customers.
Pros
Easy user interface.
Mobile app for access to schedules, notes, and other information.
Hands-off approach with a self-service client hub.
Cons
Jobber may not be the best QuickBooks subcontractor CRM as some users express frustration with the sync.
"Jobber doubles the same customer's info, making it difficult to adjust, edit, or change the description of a product/service from Jobber."

— ImproveCleaning Business via QuickBooks.
Pricing
Jobber has three pricing plans:
Core: $49 per month up to 1 user.
Connect: $149 per month up to 7 users.
Grow: $299 per month up to 30 users.
Bottom line: Why you need a subcontractor CRM
Having a CRM for your subcontracting business improves all aspects of your operations.
Moreover, a CRM that works with accounting software such as QuickBooks allows you to enhance QuickBooks' features and bring all of your workflows together. Whether you're looking for a way to improve QuickBooks for construction contractors or want a way to manage your customers better, a CRM is your solution.
Subcontractor CRM FAQs
What is a subcontractor CRM?
A subcontractor CRM simplifies how you manage your customers, sales, and overall business. They do this with features such as job scheduling, quick invoicing, payment processing, and integrations with other popular subcontractor tools such as QuickBooks.
What are the benefits of a subcontractor CRM?
The benefits of a contractor CRM depend on your business needs and the type of software you choose. However, you can expect general benefits such as better control over your business processes, saving time by automating repetitive tasks, and improved collaboration between your team members.
How should subcontractors be set up in QuickBooks?
To set up subcontractors in QuickBooks, you must set them up as a vendor through a series of steps. However, setting up your subcontractors in this way can lead to errors. You're better off opting for CRM software either made with QuickBooks for subcontractors in mind or that you can personalize to fit your business processes.
Take your subcontracting business to the next level with a free trial of Method:CRM!
Image credit: Life of Pix via Pexels