Navigating the world of inventory management is daunting, especially as your business grows. QuickBooks has made strides in providing basic inventory management features, but sometimes, you need more. That's where software integrations come in.
In this blog, you'll discover the top five QuickBooks inventory management software integrations that:
Give you more control over your inventory.
Keep you better organized.
Boost efficiency and productivity.
Let's jump in!
What's the difference between inventory management and supply chain management?
Inventory management and supply chain management are two crucial aspects of a successful business, but they serve different functions.
Inventory management focuses on tracking and controlling the products within your company. On the other hand, supply chain management encompasses the entire journey of a product, from raw materials to the final delivery to your customer.
When inventory management becomes complex
As your business grows, so does the complexity of your inventory management. Managing multiple products, suppliers, and warehouses becomes near-impossible on your own.
The more complex your inventory management, the more prone your business is to:
Human errors.
Inefficiencies in your process.
Lost sales opportunities.
However, with the right strategies and QuickBooks inventory management software add-ons, you can keep things under control and overcome those growing pains with ease.
Does QuickBooks have inventory management?
Yes, QuickBooks does offer inventory management features, but it isn't a dedicated tool. Using QuickBooks for inventory management tracks your:
Inventory levels.
Sales and orders.
Deliveries.
That said, the depth of features varies depending on the version of QuickBooks you're using but, at the end of the day, it's primary focus is on your accounting.
If you use QuickBooks Online or QuickBooks Desktop Enterprise, you can manage inventory from the "Products and Services" tab in the "Sales" section.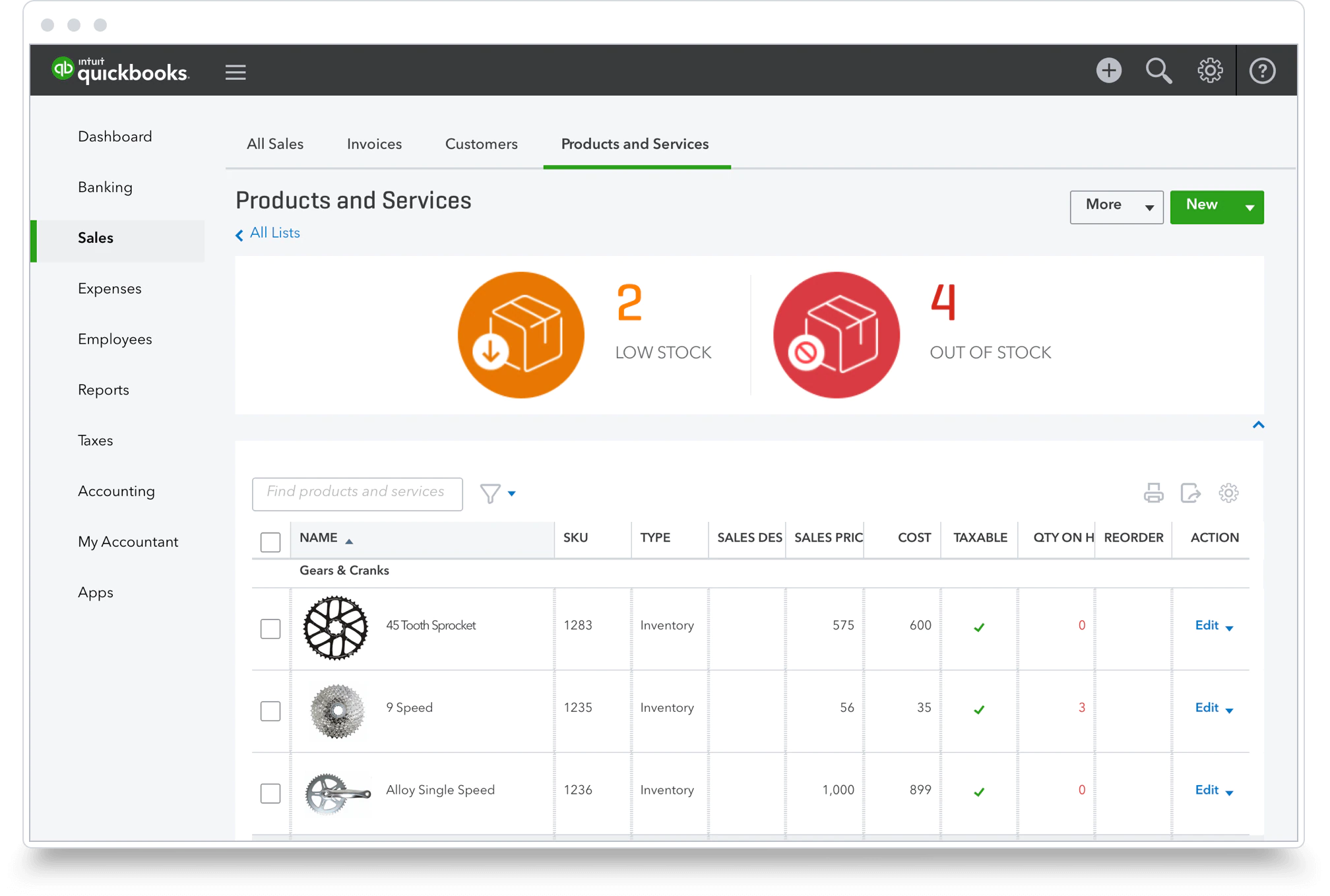 Image credit: QuickBooks
However, you need to add each item manually, which is tedious and especially difficult if your business handles many products. Also, QuickBooks' inventory reporting capabilities are quite limited with only a handful of templates to choose from.
So, if you want to use QuickBooks for inventory management, you should also implement third-party QuickBooks inventory management software to make your processes easier and less time-consuming.
How to choose the best inventory software integration
Finding the right QuickBooks inventory management software will make you realize just how much you've been missing. But how do you evaluate one system over another?
When choosing your QuickBooks inventory management software integrations, consider factors like:
Ease of use.
Scalability.
Real-time tracking and updates.
Automation features.
Compatibility with your existing systems.
Additionally, look for software that offers robust customer support and has positive reviews from other people in your industry.
What are the benefits of integrating inventory software with QuickBooks?
The primary benefits of integrating QuickBooks inventory management software are that you can:
Get more advanced inventory management features.
Automate time-consuming tasks.
Generate comprehensive and accurate financial reports.
Reduce your risk of errors.
Ultimately, implementing QuickBooks inventory integrations leads to improved operational efficiency and better decision-making.
Top 5 inventory management QuickBooks integrations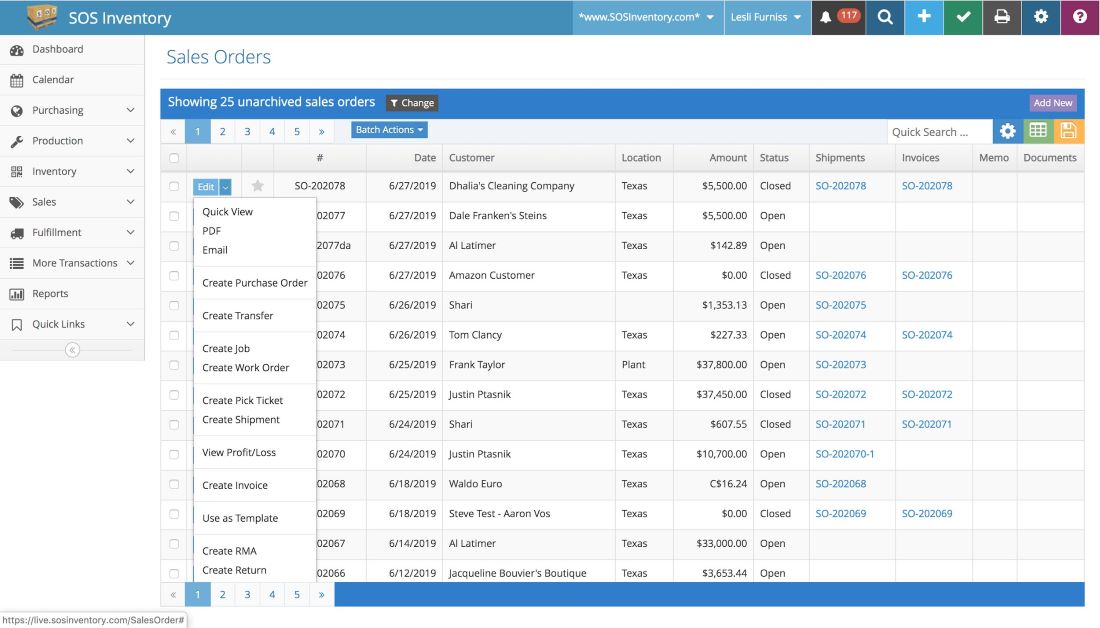 Image credit: Intuitive Accountant
First up is SOS Inventory, a comprehensive inventory management solution designed to integrate seamlessly with QuickBooks Online. It's particularly well-suited for small to medium-sized businesses looking for advanced inventory control and order management.
Key features
Real-time inventory tracking.
Multi-location and serialized inventory.
Order management and fulfillment.
Limitations
Steep learning curve for non-tech savvy users.
Limited customization options.
Doesn't integrate with desktop versions of QuickBooks.
Pricing
SOS Inventory offers the following three pricing plans:
Companion: $59.95 per month with 2 users included.
Plus: $119.95 per month with 3 users included.
Pro: $169.95 per month with 5 users included.
For all plans, you can buy additional users for an extra $20 each. Each plan also offers an annual discount and a 14-day free trial.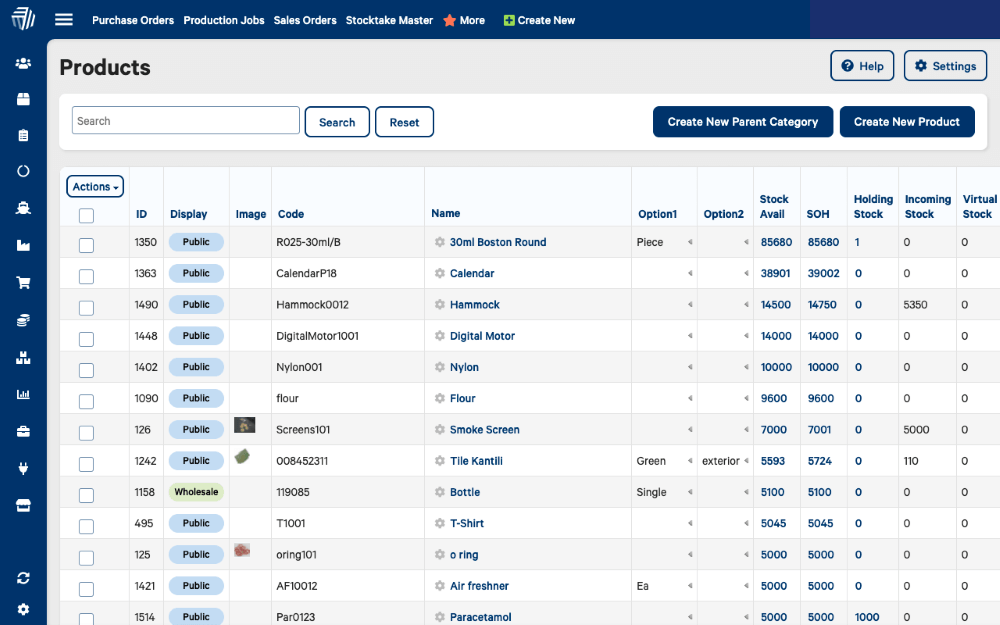 Image credit: Neil Patel
The next solution is Cin7, a robust inventory management platform known for its wide range of features, including POS, a B2B portal, and warehouse management. It's designed to simplify operations and maintain accurate inventory records.
Key features
Inventory management.
B2B eCommerce portals.
Order management and fulfillment.
Integrated POS system.
Advanced reporting and forecasting.
Limitations
Can be overwhelming for small businesses.
Customer support is reportedly slow at times.
QuickBooks integration has occasional issues with syncing data and incorrect calculations of sales margins.
Pricing
Cin7 offer four pricing plans:
Standard: $325 per month with 5 users included.
Retailing:$550 per month with 8 users included.
Manufacturing: $650 per month with 8 users included.
Omni: Contact Cin7 for a quote. This plan has no user limit.
Cin7 offers a 14-day free trial to new users.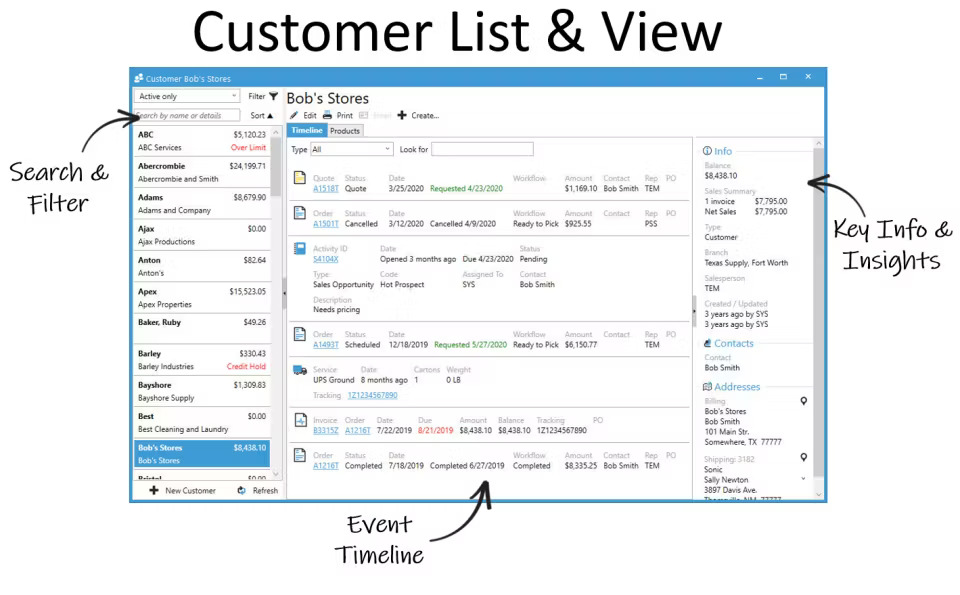 Image credit: Capterra
Acctivate is next on our list. It's a powerful inventory management tool that integrates well with QuickBooks to improve your organization and efficiency.
Key features
Batch processing and barcoding.
Customer management and CRM.
Multi-channel order fulfillment.
Limitations
The user interface may seem outdated.
Initial setup is time-consuming.
Pricey for smaller businesses with tight budgets.
Pricing
Acctivate offers three pricing plans that use a one-time fee model:
Starter: $7,496 with 1 user included.
Professional: $13,496 with 5 users included.
Enterprise: $21,746 with 15 users included.
Additional users are available for each plan at an additional $750 each. Acctivate also offers "Baker's Dozen" financing, where you can pay in monthly installments. Plus, they offer a 14-day free trial.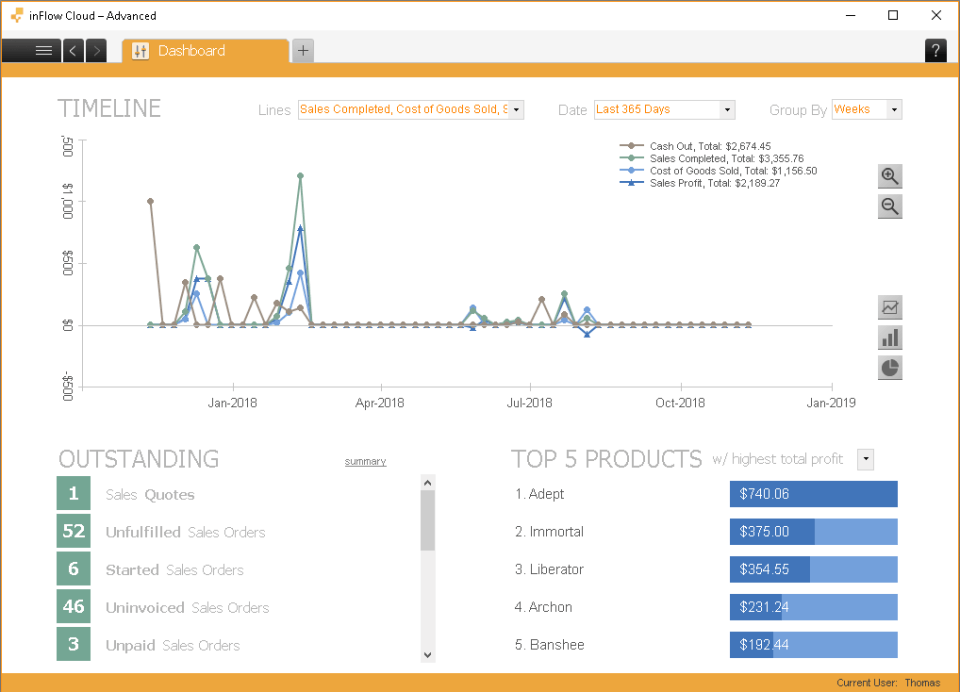 Image credit: The Ecomm Manager
The next top QuickBooks inventory management software is inFlow, a versatile inventory solution that caters to businesses of all sizes. It's popular for its range of features, from sales and purchase orders to inventory tracking and reporting.
Key features
Comprehensive inventory management and tracking.
Sales and invoicing.
Barcode generator.
B2B portal.
Reporting and analytics.
Limitations
Users have reported a lack of in-depth customization for reports.
Limited third-party integrations.
The interface is not very friendly on desktop or mobile.
Pricing
inFlow offers four pricing plans:
Entrepreneur: $110 per month with 2 users.
Small Business: $279 per month with 5 users.
Mid-Size: $549 per month with 10 users.
Enterprise: $1,319 per month with 25 users.
inFlow offers a 20% discount on annual subscriptions and a 14-day free trial. Custom plans are also available upon request.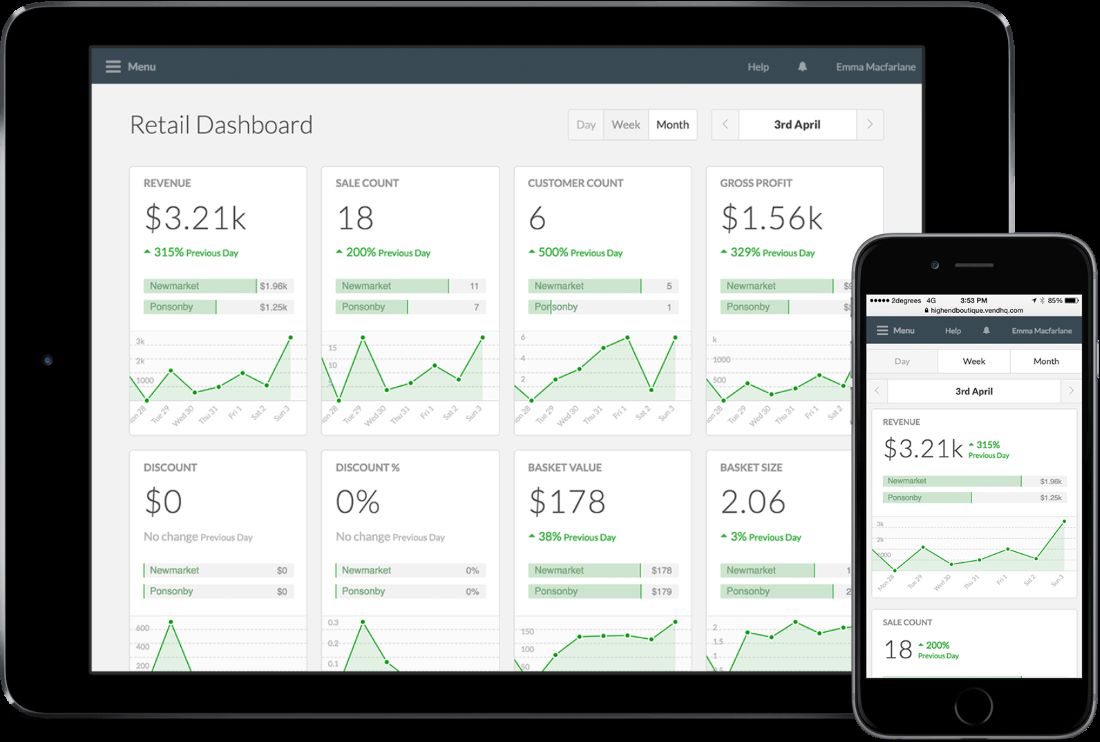 Image credit: Vend
The final QuickBooks inventory management software integration to have on your radar is Vend. It's a cloud-based solution designed to help retailers manage their business with ease.
Key features
Integrated POS system.
Real-time inventory management.
Customer loyalty program.
Limitations
Limited features for advanced inventory needs.
Some users report occasional system slowdowns.
Pricing
Vend offers four pricing plans:
Lean: $89 per month.
Standard: $149 per month.
Advanced: $269 per month.
Enterprise: Contact Vend for a quote.
Vend offers a sizable discount on annual subscriptions and a 14-day free trial. You can also add additional users to all the above plans for an extra $59 each.
QuickBooks inventory gets you started, Method helps you grow
Method is the #1 process automation tool for QuickBooks users. It takes care of the work you can do but don't want to by automating key workflows such as:
Invoicing and estimates.
Payment collection.
Customer support.
Follow-ups and reminder emails.
Whether it's contact management, estimate approvals, or collecting payments, Method automates your quote to cash cycle to strengthen your customer experience and internal operations — all while integrating in real-time with QuickBooks.
Key takeaways
It's important to acknowledge the complexities that arise with inventory management as your business grows, and how QuickBooks integrations help you address those challenges.
Effective inventory management is crucial for business success, and leveraging the right tools gives you a leg up over the competition. Using QuickBooks for inventory management on its own is nothing compared to the robust inventory management system you're able to build with integrations.
Equipped with this list of the top five QuickBooks inventory management software integrations, you can begin simplifying your inventory processes right away and make life a whole lot easier for everyone.
See why inventory-based businesses on QuickBooks love of Method.
Image credit: DC Studio via Adobe Stock