A reliable accounting software is a must for any successful business. Two popular options are NetSuite and QuickBooks. Both are great solutions, but let's break down the differences between NetSuite vs. QuickBooks.
Overview of QuickBooks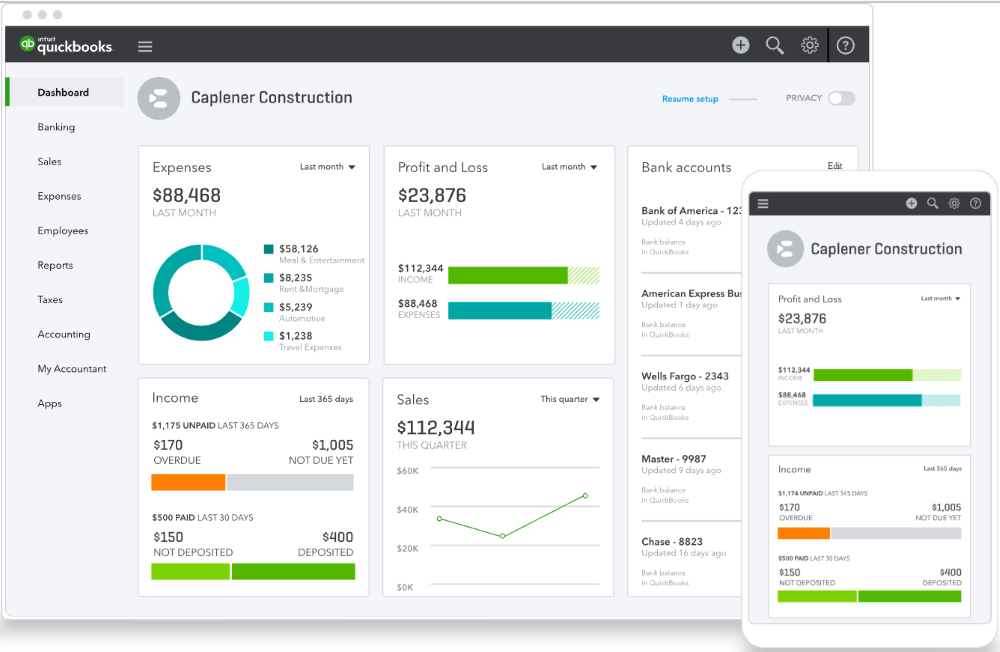 Image credit: QuickBooks
QuickBooks, developed by Intuit, is an accounting software used to manage day-to-day financial transactions, accounts receivable, accounts payable, as well as other financial functions. QuickBooks is directed at core accounting and bookkeeping tasks for small to medium-sized businesses. Here are some pros about QuickBooks:
A user-friendly design that focuses on your business' financial activities.
Integrates with third-party apps that can offer a wider selection of customization to specific business requirements.
QuickBooks Online
While the desktop version of QuickBooks can only be accessed from your office computer, QuickBooks Online is a cloud-based option that gives you the freedom to connect remotely from anywhere with an internet connection. This gives you the freedom to manage your business finances on the go — whether you're checking in on the train or working from the airport.
QuickBooks Enterprise
QuickBooks Enterprise offers more sophisticated features for payroll, pricing flexibility, advanced inventory tracking, and a greater number of simultaneous users. It is tailored to larger businesses with more complex operations like manufacturers and wholesalers.
Overview of NetSuite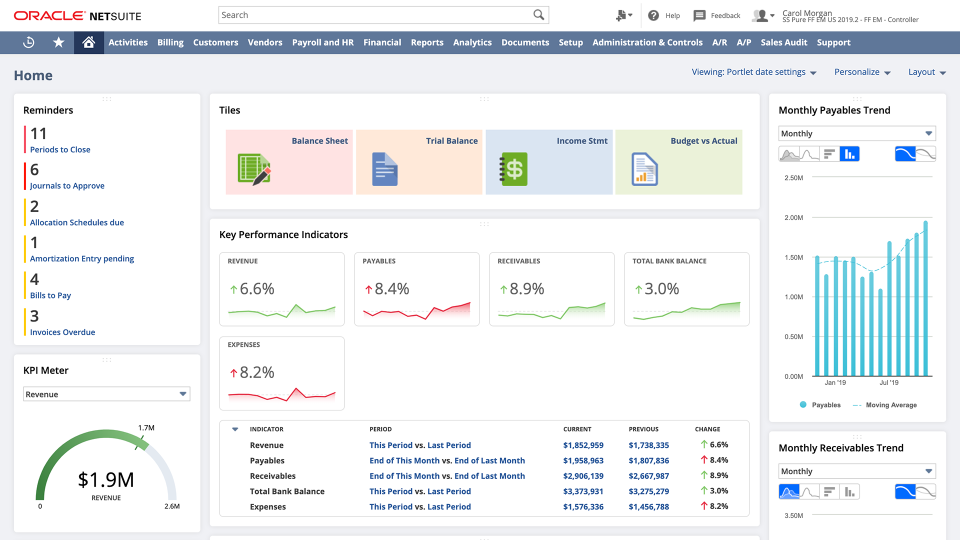 Image credit: NetSuite
NetSuite, developed by Oracle, is an enterprise resource planning (ERP) software. It offers many of the same features included in accounting software like QuickBooks. Additionally, NetSuite automates a broader scope of financial objectives that benefit larger companies.
Here's what NetSuite is known for:
Accounting, ERP, customer relationship management (CRM), e-commerce solutions, and customizable features.
Ability to automate work processes.
All-in-one solution for most mid to large-sized companies.
QuickBooks vs. NetSuite: Feature comparison
The main difference between NetSuite and QuickBooks is the size of business the software serves best. QuickBooks is focused on core accounting tasks, making it ideal for small to medium-sized businesses.
However, the powerful ecosystem of apps that QuickBooks offers on apps.com does support larger businesses by extending the power of QuickBooks to compare to an ERP like NetSuite.
NetSuite offers the same accounting functions as QuickBooks in addition to a wider range of workflow options.
Now, let's look deeper into the capabilities of each tool.
Accounting and financial management
Both NetSuite and QuickBooks offer quality accounting capabilities. NetSuite provides broader financial management options with a 360-degree look at customer data, while QuickBooks offers all primary accounting functions without the bloat of an ERP.
Customer relationship management (CRM)
NetSuite provides its own integrated CRM platform to help you manage your customer relationships, sales pipeline, and operations. QuickBooks does not offer its own CRM platform, however it does allow users to integrate with third-party CRM software to automate their customer workflows.
Enter Method:CRM
Method is the #1 CRM for growing businesses that use QuickBooks Online and Desktop. Thanks to its real-time, two-way QuickBooks sync, Method builds upon the strong foundation that QuickBooks offers businesses when they first start out.
It extends the power of QuickBooks by automating your entire lead-to-cash cycle. Whether that's by instantly turning your website visitors into leads or obtaining customer approval on a quote with an e-signature, Method lets you grow your business, not your stress.
To start building your business, instead of just running it, start your free trial of Method.
Enterprise resource planning (ERP)
While the standard QuickBooks platform has limited ERP capabilities, QuickBooks Enterprise offers a flexible solution that:
Tracks payments, inventory, and payroll.
Includes e-commerce solutions.
Improves your bottom line.
NetSuite offers these same capabilities but can account for a higher transaction volume and scalability for larger operations. It ensures everything from supply chains to warehouse management run seamlessly.
Advantages and disadvantages of QuickBooks vs. NetSuite
Let's dive into the pros and cons of NetSuite vs. QuickBooks so you can decide which best fits your business needs.
Primary benefits
User-friendly and intuitive interface makes it easy to use.
Low cost makes it extremely affordable.
Comprehensive integrations with third-party apps to enhance functionality.
Limitations
One to five billable users.
Limited advanced features.
Not scalable for larger operations.
Pricing
Starting at $24 per month.
Primary benefits
An affordable option.
Up to twenty-five billable users.
Workflow automation like invoice reminders, customer payment notifications, and batch invoicing.
Limitations
The price is higher than QuickBooks Online, however it's an easy transition that will grow with your business while keeping you on the tools you already know and love.
Pricing
Primary benefits
Advanced inventory features compared to QuickBooks Online.
Offers similar features to ERPs.
Limitations
Requires an annual subscription unless purchasing the most expensive Diamond Cloud plan.
Pricing
Desktop version starts at $1,830 yearly.
Cloud version starts at $2,472 yearly.
Primary benefits
Comprehensive business solution with advanced features.
Scalable for large companies with complex systems.
All-in-one platform that includes CRM, ERP, and e-commerce capabilities.
Limitations
Does not offer a fixed pricing plan.
Complex interface and setup involves input from experts for proper implementation.
Paying for the huge variety of capabilities can be a detriment if you don't use them.
Pricing
Cost is dependent on selected configurations and your business requirements.
NetSuite vs. QuickBooks: Which is right for you?
Choosing an accounting platform is a big decision. After all, it's important to find a software that will scale with you as your business grows and allows you to stay focused on value-add tasks.
What's more? It can be costly and time-consuming to migrate data between platforms that don't properly address your workflows. So, it's important to select the right business system from the beginning.
Deciding factors to consider
Consider the following questions when deciding whether to choose NetSuite vs. QuickBooks:
What is the size and scale of your business?
QuickBooks is suitable for growing businesses while NetSuite is designed for more established, large-scale global operations.
However, don't forget that the extensive apps.com ecosystem extends the power of QuickBooks to support larger businesses as they scale.
Which software cost would fit the budget for your monthly expenses?
QuickBooks is affordable and budget-friendly while NetSuite has no fixed price. In many cases, this means that the sky is the limit when it comes to total investment, so be wary!
Does your business need to address complex workflows that require advanced solutions?
Most small to mid sized businesses will not require complex workflows or can address minor issues with an integrated app, making QuickBooks the ideal solution. For larger companies with sizable operations pairing QuickBooks with Method for advanced, customizable workflow automation is an excellent choice.
How much time do you want to spend training your staff (or yourself) on learning to use the platform?
Businesses that do not want to spend a lot of time onboarding staff will benefit from the user-friendly and intuitive interface offered by QuickBooks. There are also plenty of tutorials on how to use QuickBooks as well as ProAdvisors to help you.
When to use each
QuickBooks is the best solution if you are self-employed or a small to midsize business with standard accounting needs. At its affordable price point and ability to scale with third-party apps, it's an all-around tool that serves most, if not all, of your needs. Because it's easy to learn and jump into, you can quickly use its features without spending a lot of time on training.
If you're a larger business with complex workflows in manufacturing, wholesaling, or distribution, then Method is a great tool to enhance your QuickBooks account to offer similar features to NetSuite.
If you currently use QuickBooks but are considering NetSuite, first explore what apps like Method can do to add the functionality you need.
NetSuite is your best fit if you have sizable operations on a global scale that you need to keep track of. It requires professionals to implement, so make sure to consider that when budgeting and planning.
Recap: Choosing between NetSuite vs. QuickBooks
When it comes to choosing between NetSuite vs. QuickBooks, consider your:
Business size.
Workflow requirements.
Growth plans.
While both are reputable, they are designed to cater to different needs.
Consider where your business falls among these categories and make an informed decision based on which platform will help drive your business to success.
See how Method gives QuickBooks users ERP-level functionality.
Image credit: Tima Miroshnichenko via Pexels.