Choosing the best CRM software isn't just about buying a tool to organize your customer data. It's about investing in a solution that drives business growth. But with all the options available, choosing the best CRM software is daunting.
In this blog, you'll learn about the top six CRM products on the market. To equip you with the knowledge to pick the best CRM software for your business, you'll explore their:
Features.
Limitations.
Prices.
Let's get started!
What is CRM software?
CRM, or Customer Relationship Management, is a software system that helps you manage and analyze customer interactions throughout the customer lifecycle.
It centralizes customer information, so you always have all your data at your fingertips.
Whether you're a general contractor or an accounting firm, a CRM is integral in helping you drive sales growth and build lasting relationships to retain customers.
Benefits of using CRM software
There are various advantages to investing in a CRM software. The key benefits are that this software:
Facilitates efficient customer relationship management: The best CRM software simplifies contact management so that no lead or customer falls through the cracks.
Empowers effective sales and marketing strategies: With CRM software, your sales teams target their prospects better. Plus, you can tailor marketing campaigns to different customer segments.
Enhances customer data management and organization: Centralizing customer data ensures that your whole teams has the information to make informed decisions and collaborate effectively.
Enables seamless lead tracking and conversion: Track leads from the moment you capture them until you convert them to customers to stay organized and drive more deals.
Drives customer engagement and satisfaction: The best CRM software helps you understand customer needs and preferences so you can offer more personalized services.
Without further ado, let's look at the best CRM software solutions for your business.
6 best CRM software solutions
Method:CRM is the top CRM choice for QuickBooks and Xero users. It offers a completely customizable experience for operational efficiency.
With Method, you can track leads with ease. And its automatic two-way sync with QuickBooks and Xero means that once those leads become customers, you never have to worry about double-data entry.
What's more, this solution provides advanced automation tools that rival other platforms.
Features
Integrates with other systems for seamless data flow, including QuickBooks and Xero.
Automates repetitive tasks and workflows to strengthen sales performance.
Generates comprehensive reports and analytics for informed decision-making.
Provides a centralized platform for customer management so customer details and annotative things like notes are in one place.
Offers scalability to accommodate business growth as your number of employees and contacts increases.
Delivers an intuitive and user-friendly interface for ease-of-use.
Offers a mobile app for iOS and Android.

Limitations
Only available in English.
Limited to QuickBooks and Xero users.
Pricing
Contact Management: $25 per user per month.
CRM Pro: $44 per user per month.
CRM Enterprise: $74 per user per month.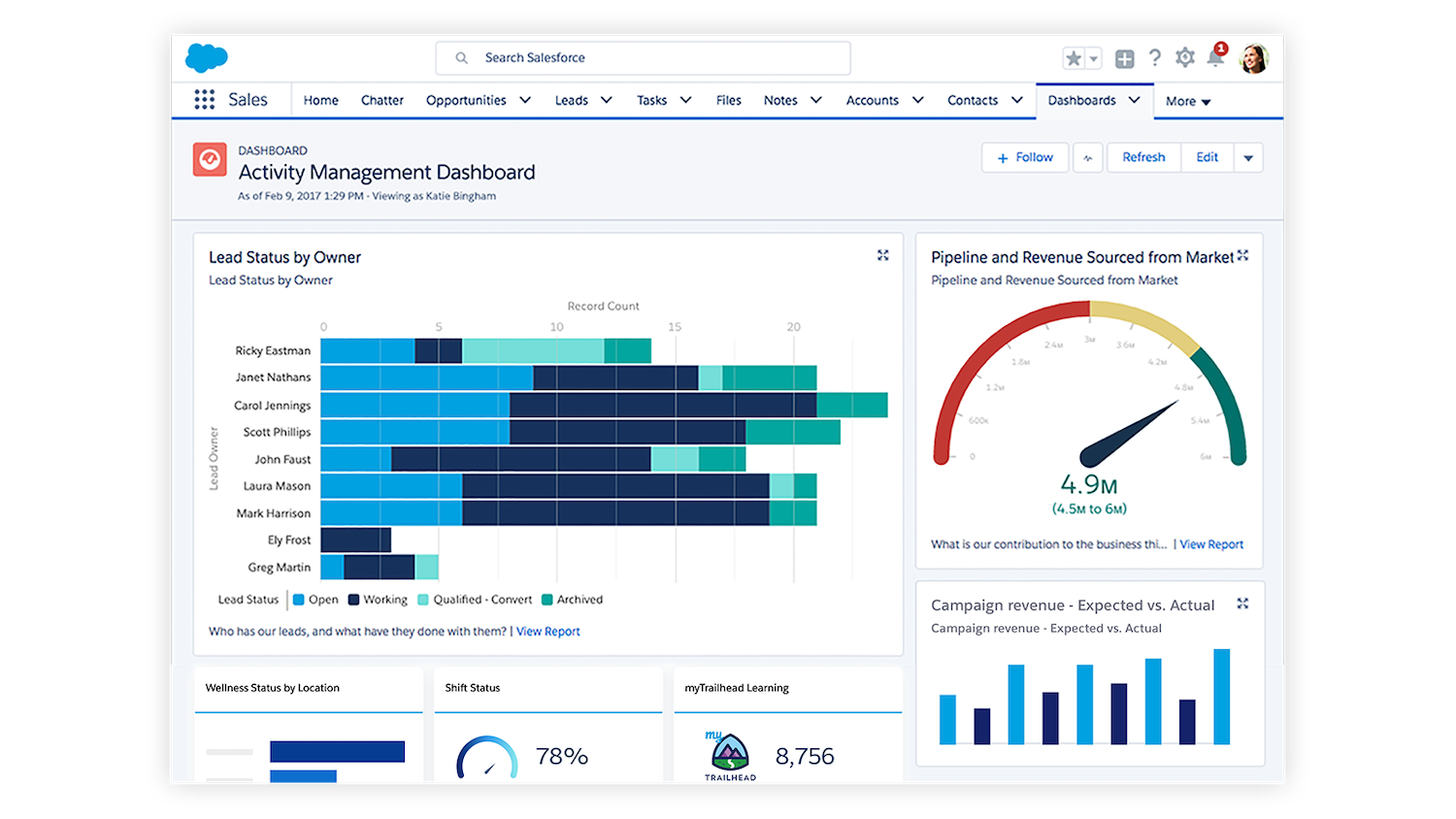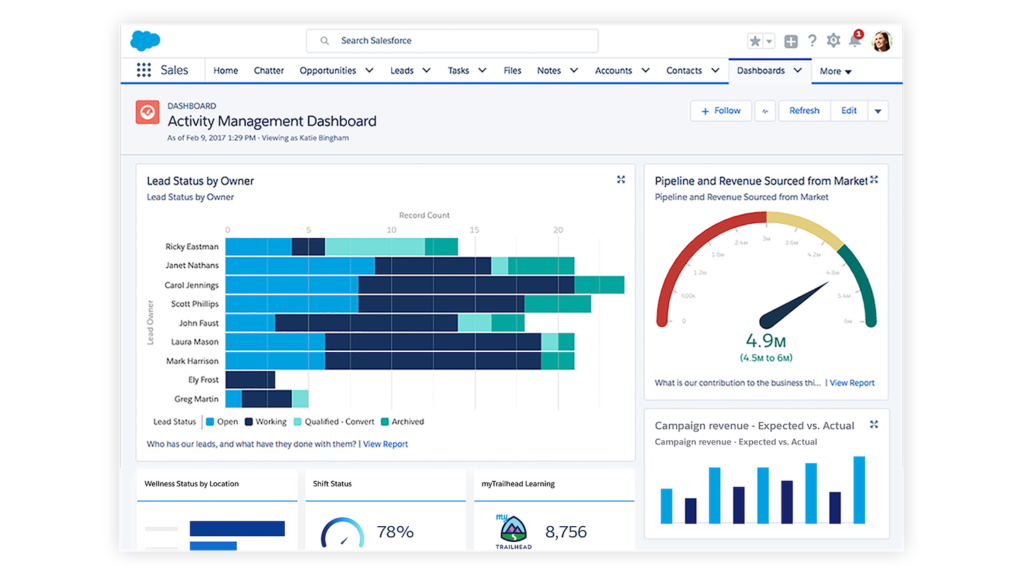 Image credit: Salesforce
Salesforce is a powerful platform that empowers customer engagement through advanced tools and analytics. It simplifies operations and fosters deep customer relationships, driving sustainable growth for you.
Features
AI capabilities for predictive sales analysis.
Mobile and web-based platform for sales teams on the go.
Integration with Gmail, Outlook, and other apps.
Limitations
Higher price point compared to other CRM software.
Complex interface that may not be suitable for all users.
Pricing
Starter: $25 per user per month.
Professional: $80 per user per month.
Enterprise: $165 per user per month.
Unlimited: $330 per user per month.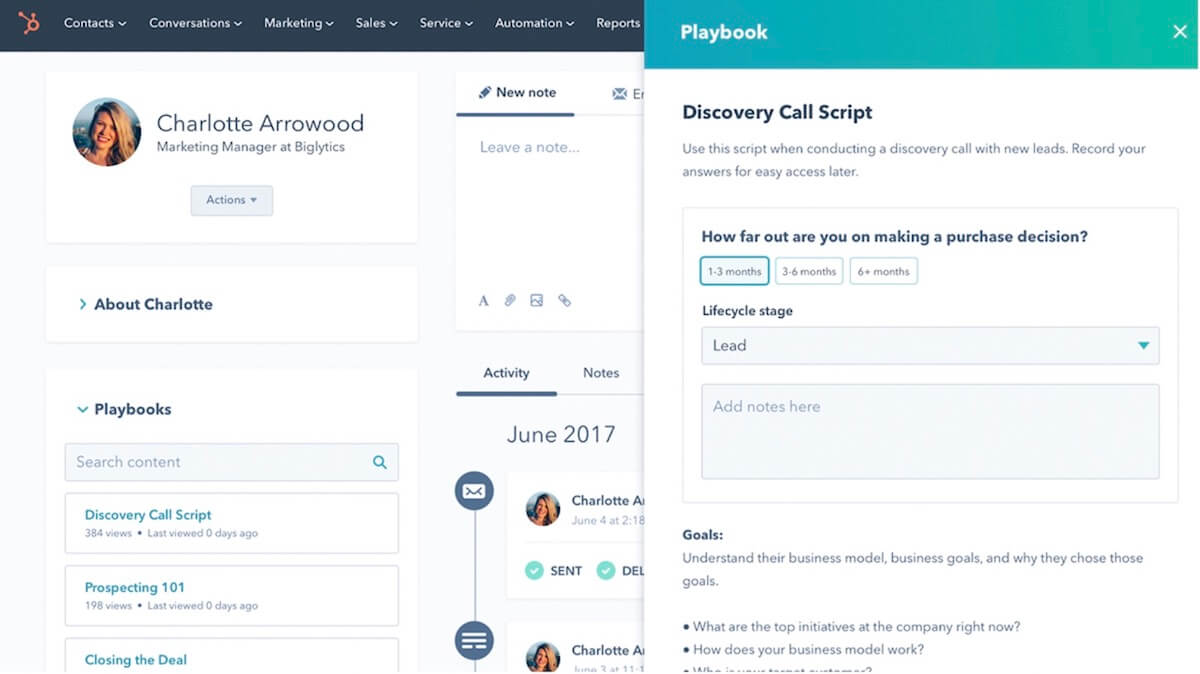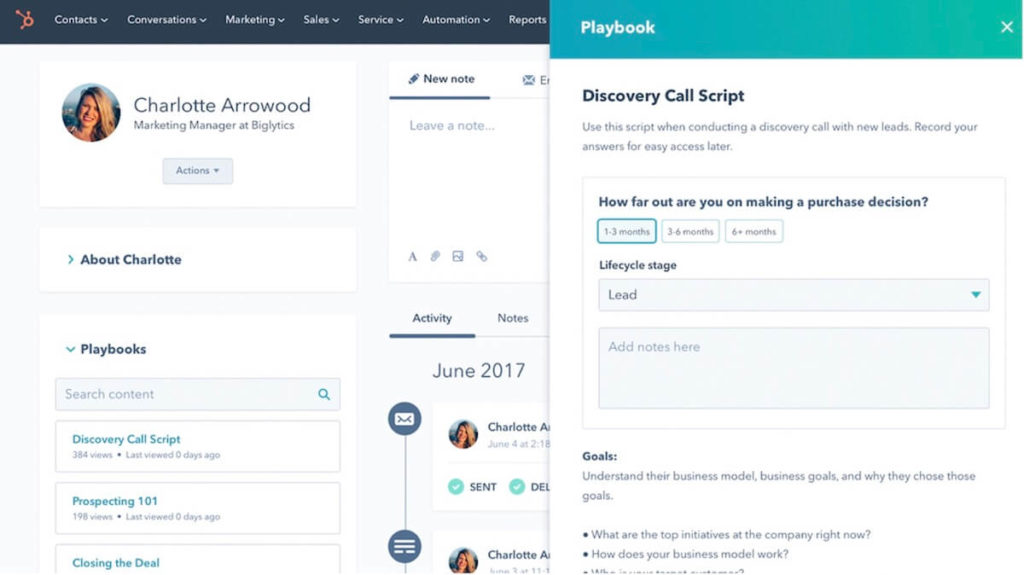 Image credit: HubSpot
Hubspot is one of the best CRM software for contact segmentation. It's broken down into different "hubs" that include marketing, sales, service, and more. You can pick and choose from these hubs to create a personalized business system.
Features
Powerful sales dashboard that optimizes sales and revenue generation.
Automated workflow that nurtures leads and fosters customer loyalty.
Contact deal and task management.
Email marketing features like tracking and scheduling tools and pre-made email templates.
Limitations
Costly compared to other CRM systems.
Reviews cite limited templates for certain marketing campaigns.
Advanced reporting features are available only in higher-tier plans.
Pricing
HubSpot sells its software by hub or in bundles. Pricing is dependent on how many hubs you require. There's no real trial, but HubSpot offers a free version of its CRM software.
The Starter CRM Suite costs $50 per month or a discounted $540 annually. This includes their marketing, sales, and service hubs with two paid users.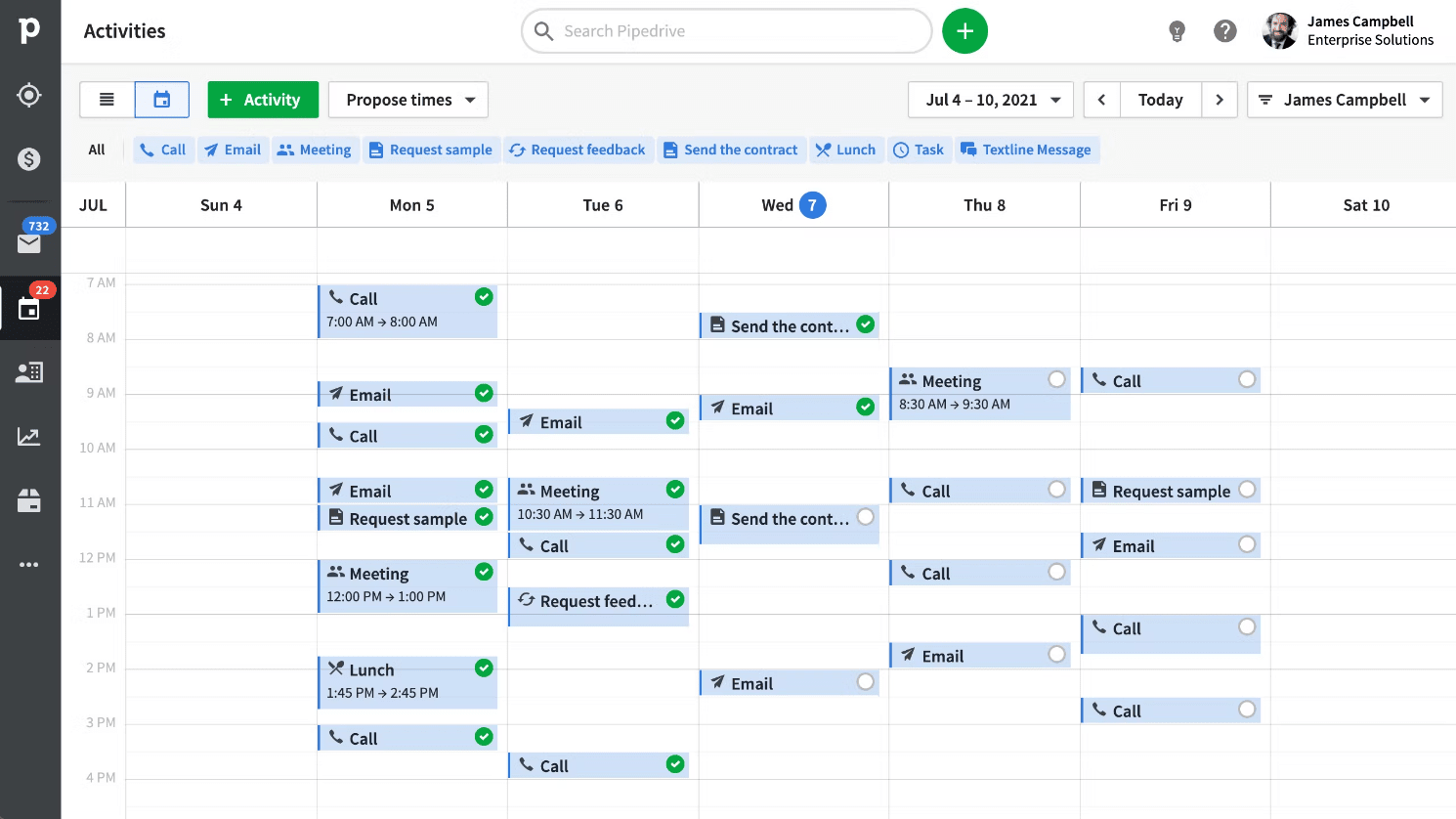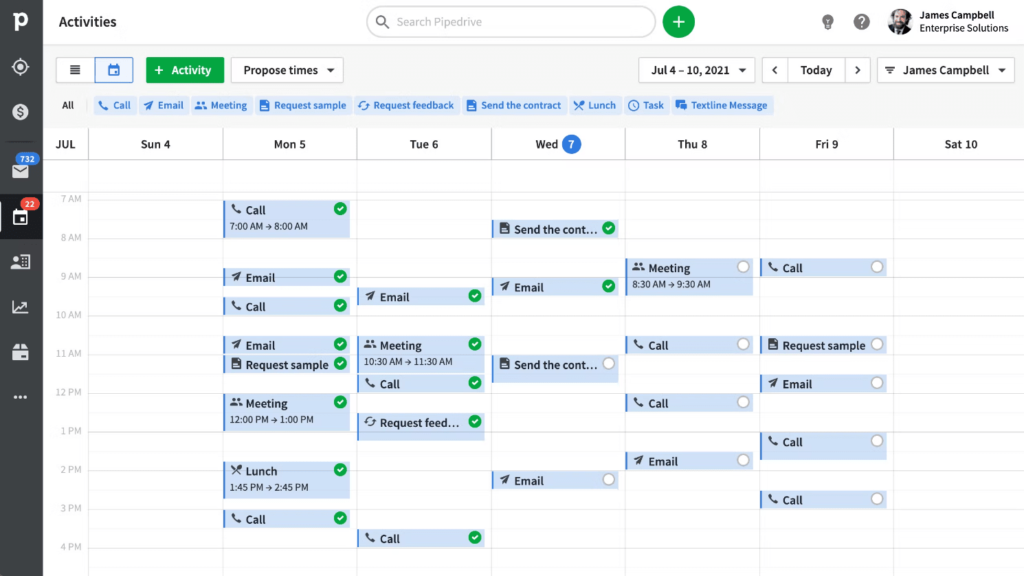 Image credit: Pipedrive
Pipedrive is a basic, client-friendly solution perfect for small businesses seeking their first CRM. The platform is sales-focused, monitoring each step in the sales funnel to serve your customers better.
Features
Drag-and-drop automated sales pipeline.
Live dashboard that measures and tracks key performance metrics.
Shared pipelines and chat functionality that streamlines collaboration and team communication.
Email segmentation to tailor messages to specific customers, including bulk emails.
Limitations
Limited capacity to handle rapid growth.
Advanced automation features are reserved for higher-tier plans.
Most plans have limited custom fields and sales reports.
Doesn't separate leads from contacts, making it difficult to distinguish between new and qualified leads in your sales funnel.
Pricing
Essential: $14.90 per user per month.
Advanced: $24.90 per user per month.
Professional: $49.90 per user per month.
Enterprise: $99.00 per user per month.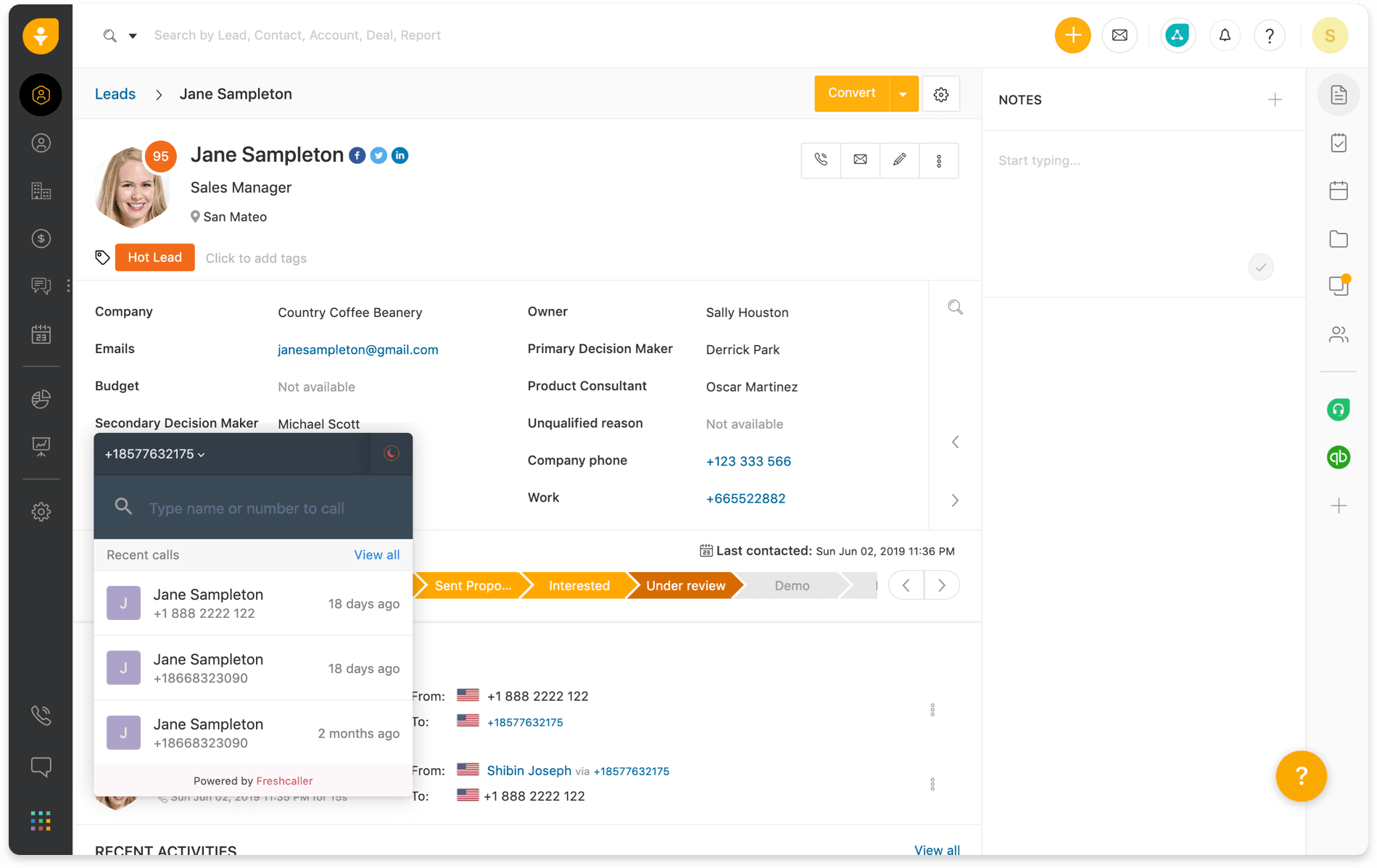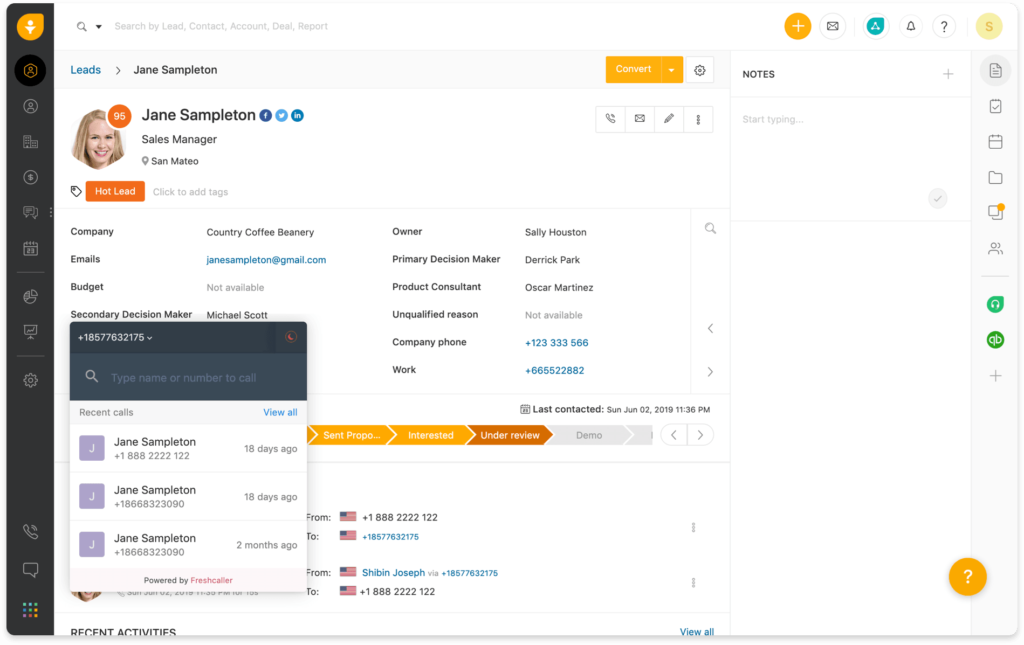 Image credit: Freshsales
Freshsales (formerly known as Freshworks) is another top CRM platform that focuses on sales growth. It helps your team generate more revenue through its workflow automation features.
Features
Email tracking and lead scoring tools, a combination that improves customer retention and relationship nurturing.
Unique sales funnel mapping with contact lifecycle stages.
Advanced analytics and reporting options for sales activity and sales performance.
Functionality that segments customer groups for targeted marketing campaigns.
Limitations
Weak customization options.
Lacks meaningful ways to engage with customers.
Limited reporting capabilities in the basic plan.
Hard limit of 1000 contacts for any marketing actions.
Pricing
Free: $0 per user per month.
Growth: $18 per user per month.
Pro: $47 per user per month.
Enterprise: $83 per user per month.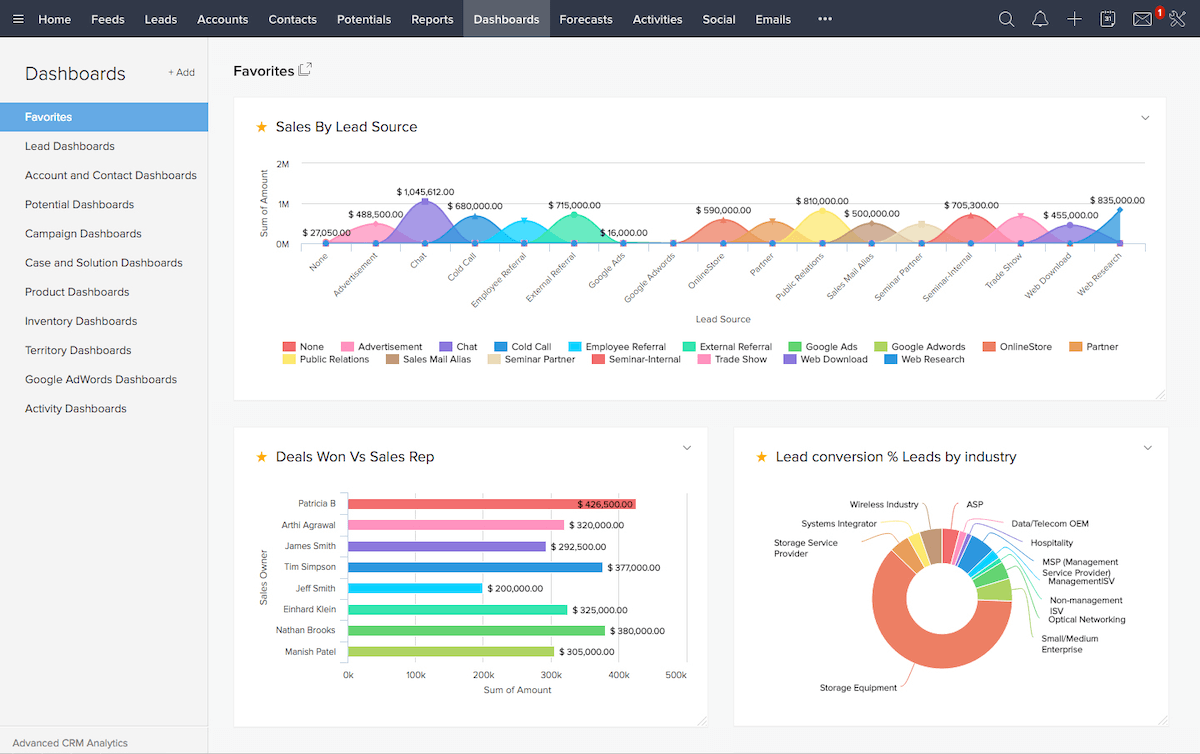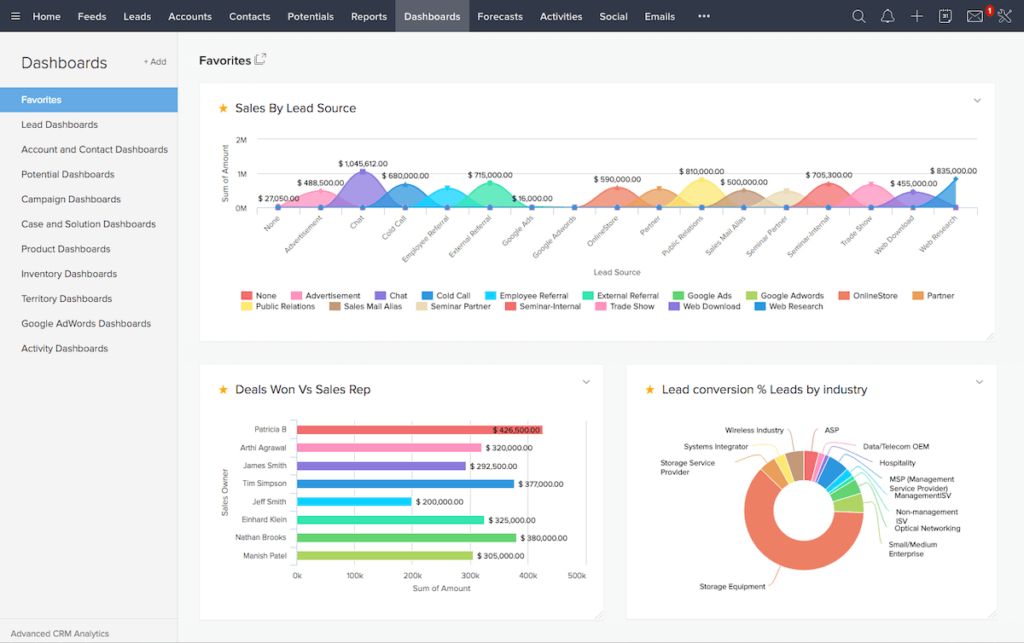 Image credit: G2
Zoho CRM is another great tool that emphasizes business workflow automation and efficiency. It integrates seamlessly with a suite of products, enhancing collaboration and ensuring consistent customer experiences.
Features
Canvas — a new customization tool.
Third-party integrations with Slack, Shopify, and more.
ZIA — an AI-powered sales assistant that personalizes customer experiences and interactions.
Robust security that ensures data security and privacy protection.
Provides reliable customer support and training resources, including a sizable list of instructional videos.
Limitations
No specific support for customization.
Limited custom fields in cheaper plans.
You need to purchase other Zoho tools for an all-in-one solution.
Pricing
Standard: $20 per user per month.
Professional: $35 per user per month.
Enterprise: $50 per user per month.
Ultimate: $65 per user per month.
Guiding principles for selecting the best CRM software
Considering user per month costs
It's important to consider the cost of each software per user per month to ensure you're getting value for your investment. CRMs offer plenty of features, but some options might be too pricey if you're a smaller team or startup.
The importance of mobile app availability
Having on-the-go access to your CRM is crucial. For example, a mobile app lets your team remotely:
Update records.
Track leads.
Communicate with customers.
The best part is that you can do all of this from anywhere, at any time. This way, you never miss an opportunity.
Evaluating limited features and functionality
Every CRM is different, so it's essential to evaluate the features and functionalities that each platform offers. Make sure your chosen CRM meets your business needs and isn't bloated with features that complicate your experience.
Harnessing artificial intelligence capabilities
Modern CRMs now integrate artificial intelligence (AI) tools to provide predictive analytics, lead scoring, and chatbots.
These capabilities enhance your sales process by:
Offering insights.
Automating repetitive tasks.
Improving customer interactions.
The utility of email tracking and workflow automation
Email tracking lets your sales team know when a prospect opens or otherwise engages with an email. This lets them gauge interest and follow up effectively.
On the other hand, workflow automation simplifies your processes by automating tasks like:
Lead assignment.
Follow-up reminders.
Data entry.
As a result, you stay better organized and save time and money.
Understanding sales process customization options
Every business has a unique sales process. A good CRM lets you customize it to reflect your company's sales stages. This way, your software complements — rather than complicates — your sales strategy.
Assessing customer interaction tools and contact management
Customer interaction tools like chat and email integrations enhance communication. Additionally, with powerful contact management, all your contact data, from basic contact details to interaction histories, stays organized and easily accessible.
Key takeaways: Identifying the ideal CRM software for your needs
All in all, the best CRM software:
Seamlessly integrates with your processes.
Enhances customer relationships.
Drives business growth.
Method stands out as the best CRM software when tailored to meet your needs. Here's why:
Powerful two-way sync with QuickBooks or Xero ensures data accuracy.
Customizable features to fit your business model for a simplified workflow.
Enhanced customer interaction tools to foster lasting relationships.
While Method is your best bet, the best CRM software for your business is ultimately one that effectively caters to your unique needs.
Frequently asked questions
Should I consider a free CRM?
Free CRMs, while cost-effective initially for small businesses or startup companies, can have hidden costs. This can come in the form of:
Limited functionality.
Lack of support.
Potential security risks.
Free CRMs only offer basic features to help you manage customer relationships. When it comes to software, you get what you pay for. As your business grows, you'll likely need to upgrade for more advanced features.
What are the 3 types of CRM?
The three types of CRM are:
Operational CRM: Focuses on streamlining and automating sales, marketing, and service processes.
Analytical CRM: Concentrates on data analysis and reporting to improve customer relationships.
Collaborative CRM: Enhances communication between teams and stakeholders to better serve customers.
Why is CRM data quality important?
Your CRM data quality is important because it directly impacts your:
Decision-making.
Customer interactions.
Overall business strategies.
Good quality CRM data helps you target the right customers and avoid costly mistakes. Clean and accurate data is also crucial for effective marketing and sales strategies.
On the other hand, poor data quality leads to missed opportunities and diminished customer trust.
Save hard costs and real time with a free trial of Method.
Image credit: nyul via Adobe Stock