Thanks to technological innovations, ERP has become more affordable for small and medium businesses (SMB). That's why more and more companies have embraced ERP software solutions.
However, an ERP system for small business isn't always your best bet. Read on to learn the benefits of ERP systems, when they make sense to use, and what alternatives to look for.
What is enterprise resource planning (ERP)?
Companies use enterprise resource planning software to manage their entire operations from accounting to financial management and customer relationship management. These software solutions merge your critical business functions and activities into one platform, so you don't have to switch applications to get an overview of your company.
History of ERP systems
ERP owes its existence to the economic order quantity (EOQ) model developed by Ford Whitman Harris in 1913.
In 1964, Black and Decker adapted the model for mainframe computer use and called it the material requirements planning (MRP) solution. In 1990, further developments in the MRP field led to the software solution we know as ERP today.
Only larger businesses used ERP in the past because it required high upfront costs and extra office space for infrastructure.
These days, ERP is more affordable thanks to cloud technology, which led to the rise of cloud-based small business ERP software.
Cloud-based ERP
Cloud-based ERP adopts the software-as-a-service (SaaS) model, where the vendor owns the infrastructure and simply connects customers to the software platform.
An affordable solution, cloud-based SMB ERP can also be updated multiple times a year, so you don't have to wait years for an on-site upgrade.
How Does ERP work?
Small business ERP systems work by merging all of your company's information into one database. By storing all data in one location, ERP systems for small businesses create a single source of truth that eliminates inconsistency and promotes collaboration between different divisions in your company.
Some ERP solutions for small businesses also offer automatic data entry and share required information with the business units that need it.
By automating these often time-consuming processes, you can lighten the administration workload and encourage your team to concentrate on the real money-making work.
Features of an ERP system
An ERP system is highly customizable according to the customer's needs. However, some features are always highly prized in small business ERP software, such as the following.
Company-wide integration
While some software solutions can integrate with other platforms, ERP is built from the ground up and brings various parts of your business together.
Your ERP software provides a fully integrated platform that combines key business functions in one dashboard to improve collaboration and data transparency.
Additionally, working from a single source of information eliminates data discrepancies that may cause costly issues.
Task automation
An ERP system for small companies comes with a wide range of task automations like payroll entry, accounting, invoicing, and data recording.
These essential features increase capacity to help your team focus on more important work.
Additionally, automation reduces human error, which is likely to happen when employees spend too much time on repetitive tasks.
Data analysis and reporting
Your ERP system can identify trends and patterns in the company's data, helping your team analyze them. This way, you can gauge the effectiveness of certain tasks or forecast future sales.
An ERP platform may also offer data reporting tools, so you can visualize business insights gleaned from raw data.
This is especially useful when showing analysis results and company performance to business managers and investors.
Individual business function modules
SMB ERP is highly customizable through individual business function modules. Depending on your business requirements, you can buy modules separately to build your perfect ERP platform.
Some common business function modules include:
Finance and accounting.
Business intelligence.
Human resources management.
Customer relationship management.
Warehouse and inventory management.
Supply chain management.
Invoicing and work order tracking.
Why is ERP software important for small businesses?
ERP is important for small businesses because it improves information flow and helps decision-making. Here are four reasons why ERP packages for small companies are mission-critical.
Empower fact-based decisions
ERP for SMEs (small and medium enterprises) gives business owners a consistent, frequently-updated data source to enhance decision-making.
Promote accountability
Without ERP, each team usually has its own source of data.
ERP for small businesses merges all your company's data in one place to make it accessible to those who need it.
Open data sharing promotes accountability and prevents mistakes because the different divisions can check and double-check all the information for discrepancies.
Improve interdivision communication
Communication issues sometimes lead to wrong decisions and costly mistakes.
ERP systems for small businesses provide a single source of information, so there's no miscommunication when an order or concern is passed from team to team.
Gain a competitive advantage
Small business ERP solutions are an all-in-one package to improve your business, from data entry automation to decision-making assistance.
Adopting an ERP means you'll have the edge over your peers in highly-competitive markets.
Benefits of ERP systems for small businesses
Some important benefits you get from ERP for small businesses include the following.
ERP provides real-time data
Manual, report delivery can be slow, and the data may be outdated when it reaches decision-makers.
ERP solutions for small businesses give you real-time data to make informed decisions based on the most recent information.
ERP enhances customer service
ERP CRM for small businesses creates a better customer experience by helping you understand your buyers..
An ERP CRM records customer behavior and trends, so you know what products or services are the most popular.
Additionally, your CRM gives your team a complete customer profile, empowering them to identify what they need to deliver an excellent customer service experience.
ERP reduces costs
ERP systems are a great way to identify inefficiencies and automate them. As a result, most small businesses see a positive return on investment from the tool from:
Lower labor costs.
Shorter production times.
Better inventory management.
ERP helps grow your business
As your company grows, you need to handle more complex data and transactions that you can't process with simple spreadsheets and basic financial management tools.
A small company ERP provides database apps and accounting software that handles complex transactions to assist in your company's growth.
ERP streamlines and simplifies business processes
An ERP automates data entry, so your employees don't have to do it manually. As a result, your team can concentrate on more important work.
Additionally, data entry automation prevents human error, ensuring the integrity of your information.
Disadvantages of ERP for small businesses
While there are many business benefits of an ERP, it also has some caveats you need to consider before implementation. Here are some possible disadvantages of ERP for small businesses.
Long integration process
ERP systems for manufacturing businesses usually involve every aspect of your company, so it may take some time for the platform to integrate everything.
In addition to integrating the software itself, you need to include the software in your team's daily workflow.
While both onboarding processes take some time and may impede employee productivity, you'll likely compensate for the lost time when the ERP integration finishes.
High cost of ownership
ERP is a major financial commitment, especially for small businesses. It's not just the cost of ERP implementation but you need to pay for employee training and support so you can use the new platform.
Business management solutions get even more expensive if you're adamant about customizing the platform to your business needs.
Analysts must examine and translate your needs into software requirements, and the vendor may charge more for detailed modifications to the software.
Fortunately, you have an alternative: a low-cost ERP CRM for small businesses that operate on the cloud.
We get into top contenders for this type of solution in a few sections, so keep reading or click here to jump ahead to this section.
Lengthy data migration
ERP platforms put all your data in one place, but the migration process takes time. Especially, if you have multiple databases filled with lots of information.
How much does ERP for small businesses cost?
The cost of ERP for small businesses varies between vendors. You can expect to spend between $25,000 and $100,000 for a low-end ERP platform.
Naturally, your costs get higher as you buy more modules and need more customization.
If you're hesitant about making a large financial commitment upfront, many online ERP CRM systems for small businesses work on a subscription basis.
These platforms usually charge a monthly per-user license for as low as $25 per month per user.
The best ERP software for your small business
You have dozens of options for a small business ERP, so it can be challenging to pick the right one. Here are some great cloud ERP software options for small and midsize companies.
If you're a small business hesitant to jump into a full-fledged ERP, Method is an excellent option for you.
Method is a powerful automation tool that integrates deeply with your QuickBooks or Xero account to connect your accounting and customer data.
It offers flexible workflows out of the box like:
Lead and customer relationship management.
Reporting.
Estimates and invoices.
Online portals.
Here's an overview of how the solution helps small businesses like yours.
Plus, Method is a cloud-based solution that integrates with over 3,000 popular apps like Gmail, Outlook and Mailchimp.
Key features
Mobile estimate creator: Method's mobile app helps field workers create job estimates anywhere.
Customer base activity tracking: Method's CRM tool lets your customer service team deliver the best service by recording details of all customer interactions.
SAP's software offers basic ERP functions like finance, HR, and project management paired with industry-specific modules for service, wholesale distribution, and manufacturing industries.
Key features
Marketing dashboard: SAP's marketing database takes information from customers to help you craft effective sales campaigns.
Human resources portal: SAP's self-service HR portal lets your employees manage work schedules and time off independently.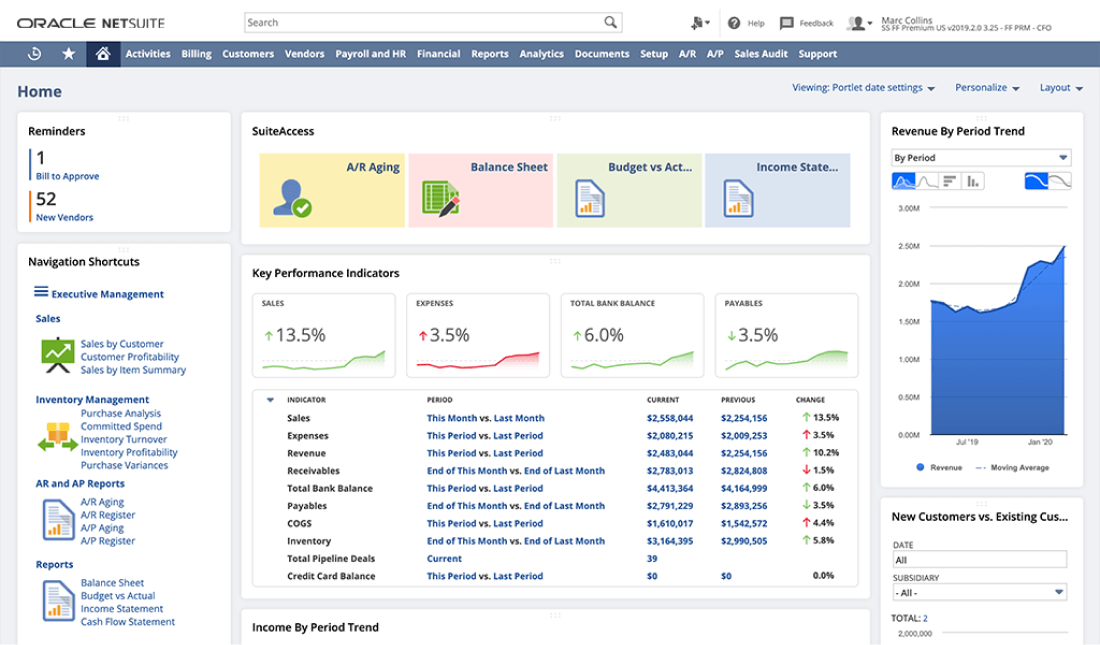 Oracle's ERP is an all-in-one platform containing CRM, e-commerce, and business management software.
This ERP platform from major cloud services provider NetSuite also boasts real-time data analytics to assist business leaders in decision-making.
Key features
Business strategy forecasting: NetSuite offers a forecasting tool that helps you make informed decisions with predictions based on existing data.
Unified company-wide database: Oracle merges databases across your company into a single source of information.
ERP system for small business FAQs
Is ERP appropriate for the typical small business?
For the typical small business, ERP isn't an appropriate choice due to its high price. Most small businesses can't invest $25,000 – $100,000 into software so this makes ERP out of reach for many.
Most cloud-based ERP systems offer lower costs where you can add extra modules as needs arise. The monthly subscription model also makes them better for cashflow.
The ideal choice for the typical small business is a tool that's in between an ERP and CRM like Method.
How much does an ERP system cost?
The average ERP system for small businesses costs between $25,000 and $100,000. However, Method offers a highly-affordable pricing plan at just $28 per month per user.
Should every business buy an ERP package?
Every business benefits from ERP software regardless of company size, but you should review your needs and budget to determine whether an ERP is the best option.
ERP systems small business: Key takeaways
ERP systems unify your critical business processes to ensure you get a complete picture of everything in your company.
Additionally, these business management solutions improve employee collaboration through equal data access.
While beneficial tools, ERP are out of budget for many. Luckily, there's a great alternative with similar functionality, at a lower price point called Method. More on this below!
How to get started with Method — The best ERP CRM solution for small businesses
Method is an ERP and CRM platform that acts as a hub for your entire business. With over 3,000 app integrations, work management tools, and CRM portals, it helps you secure more business and save time.
Method's subscription plans start at $28 per month per user. However, you can add to this basic plan by purchasing extra modules according to your needs.
Start your free trial of Method:CRM today!
Image credit: Karolina Grabowska via Pexels