The fusion of QuickBooks with field service management is a game-changer for businesses of all sizes, but it isn't always a straightforward process. With so many possibilities, how do you know the right platforms to integrate?
This blog goes deep into the nuances of a field service management software QuickBooks integration, revealing its power to automate, centralize, and enhance your business processes.
Let's get started!
What is field service management software?
Field service management software is a premier solution that streamlines work order tracking and scheduling. It lets service businesses, from HVAC contractors to enterprise companies, optimize their field service operations. 
This software ensures accurate and timely service documentation by providing a system that:
Coordinates activities between field technicians and office staff.
Facilitates seamless job dispatching.
Captures customer information for future reference.
Whether you use an Android, iPhone, or desktop web portal, you have the ability to access, monitor, and update job statuses in real time. The benefit of this anywhere, anytime access? An enhanced experience for technicians and customers.
The power of QuickBooks in field service management
Integrating QuickBooks with the impactful features of a field service management software makes you a powerhouse among your competitors.
A field service management software QuickBooks integration speeds up invoicing and payment collection. It also provides a centralized platform for streamlined communication between your office staff and each field technician.
With the ability to sync data between field service and accounting systems, you can manage your inventory, payroll, and reporting in one place.
The benefits of QuickBooks for field service management
With the right add-ons, QuickBooks becomes more than just your run-of-the-mill accounting software. There are several benefits when integrating with field service management software:
Automate your invoicing: Generate invoices directly from work orders or estimates for timely and accurate billing.
Real-time updates: Track and update job progress, payments, and customer interactions seamlessly.
Efficient scheduling: Coordinate activities between field technicians and office staff to facilitate seamless job dispatching.
Financial integration: Sync your field service data with QuickBooks to make accounting and payroll more efficient. For example, account reconciliation becomes much easier.
Detailed reporting: Software integrated with QuickBooks analyzes performance metrics for improved productivity and generates comprehensive reports on service operations.
Centralized communication: With chat and support desk tools, you can address questions and provide help to ensure a smooth experience for your clients.
The field service management software QuickBooks combination will optimize processes, control costs, and improve your service delivery.
Diving deep into QuickBooks Online
QuickBooks Online is a game-changer for businesses and employees seeking to simplify their accounting and financial processes. Here's why.
Overview of QuickBooks Online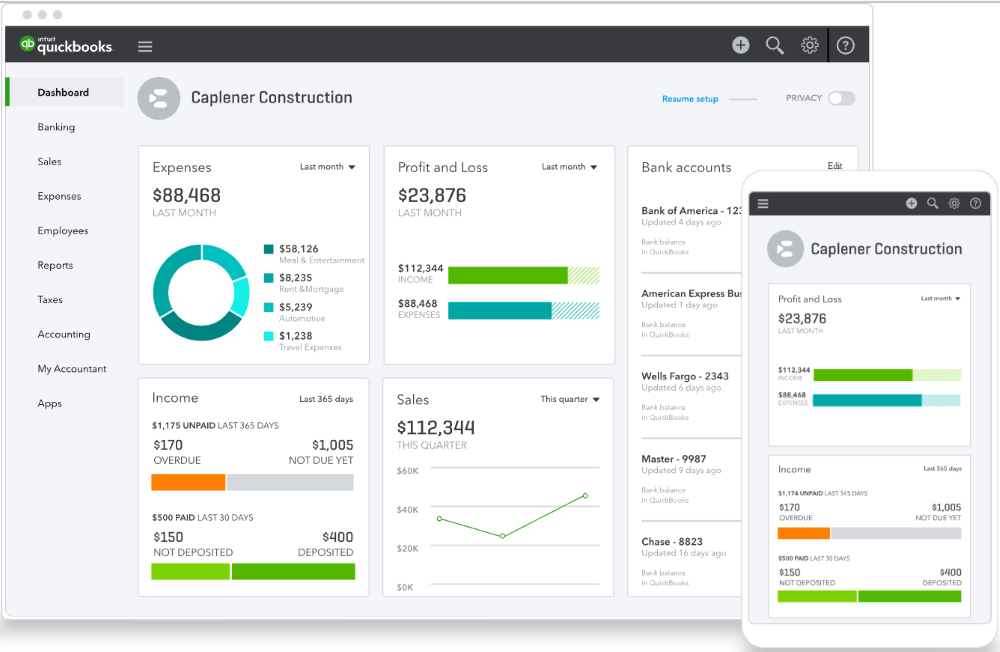 Image credit: QuickBooks
QuickBooks Online is a cloud-based accounting solution designed by Intuit. It caters to every accounting need you'll likely have. With its mobile app for Android and iOS, you can manage your finances on the go from any phone or tablet. Whether you're looking to simplify estimating and invoicing, record detailed financial information, or monitor real-time cash flow, QuickBooks Online has got you covered.
Examining features and functionality
QuickBooks Online offers countless features and functionality that make your life easier, such as:
360-degree visibility: QuickBooks Online keeps your financial information organized and accessible in a centralized dashboard. The benefit? You can assess business performance from one place.
Custom quotes and invoicing: Say goodbye to convoluted billing processes. QuickBooks Online strengthens your quote-to-cash cycle to ensure accuracy and timeliness.
Real-time monitoring: Keep an eye on business activities and cash flow, updating your finances as jobs progress.
Scheduling and time tracking: QuickBooks Time helps you coordinate activities between field technicians and office staff, making job dispatching seamless.
Detailed reporting: QuickBooks Online analyzes performance metrics, generating comprehensive reports that drive productivity.
Assessing integration with other systems
Integration is a vital part of any software, and QuickBooks Online shines here. QuickBooks users can integrate seamlessly with popular systems, such as manufacturing software, email marketing apps, and Google Maps for location tracking.
This synchronization ensures data flows smoothly between your field service and accounting systems. As a result, QuickBooks integration optimizes resource allocation for field service tasks and improves overall operational efficiency in field service management.
Reviewing pricing plans and options
QuickBooks Online offers a range of subscription plans tailored to different organizational needs. Whether you're a self-employed individual or a growing enterprise, there's a plan for you.
Each comes with unique features and tools, ensuring you get the best value for your investment. For a detailed feature list and product demo, you can explore their official website or consult articles in their knowledge base.
Support services available
Intuit understands the importance of offering support. With QuickBooks Online, you gain access to several support services, including the:
Knowledge base: Dive into help articles that answer common questions and provide detailed insights about the product.
Ticket system: Facing an issue? Raise a ticket, and their team will address it promptly.
Setup and maintenance: Get assistance with the initial setup and any subsequent maintenance needs.
With QuickBooks Online, you get a comprehensive solution that grows with your organization.
The magic of QuickBooks integration with field service management software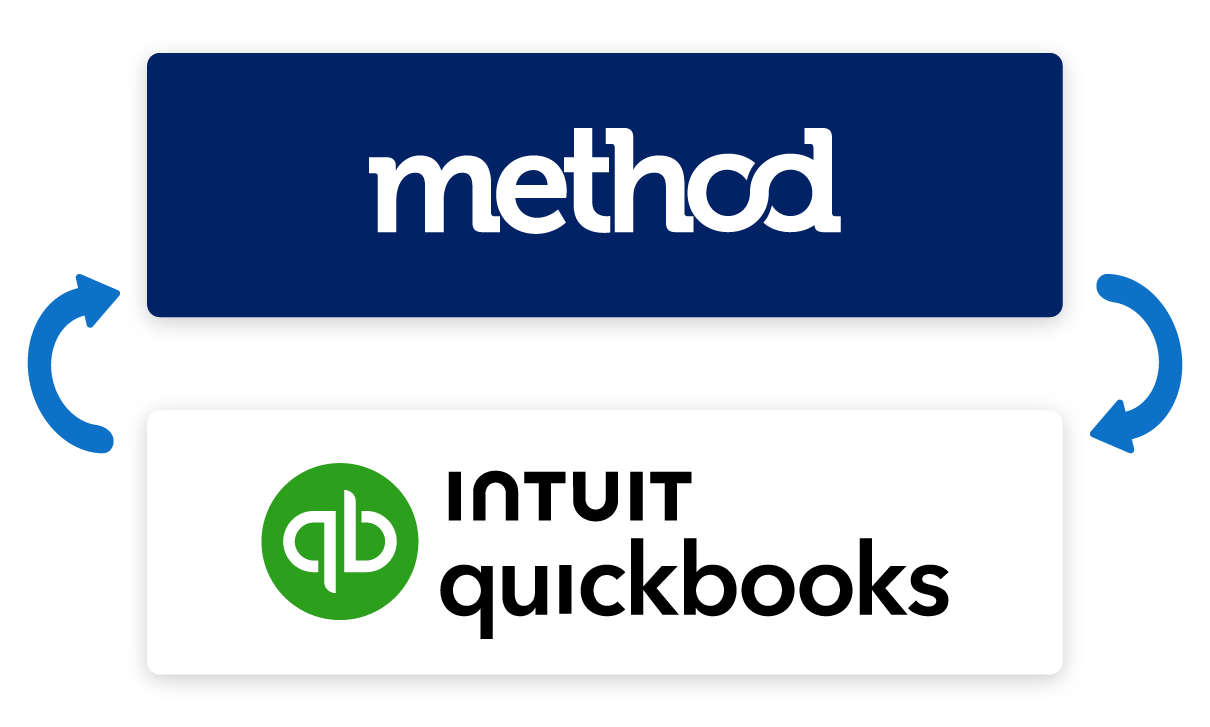 Marrying QuickBooks with robust field service management software creates a harmonious business system that automates most of your admin work. From real-time job updates to faster invoicing, a field service management software QuickBooks integration promises heightened efficiency and an elevated customer experience.
Below are just a few of the benefits.
Unveiling the advantages of QuickBooks integration
Effortless invoicing: Automatically generate an accurate invoice for every job without manual intervention.
Centralized operations: From capturing customer details to recording intricate service interactions, you create an all-in-one system that houses everything under one roof.
Real-time insights: You can integrate with software that monitors field service activities in real-time from various devices, ensuring you're always in the loop.
Seamless coordination: The right QuickBooks integration assigns tasks and jobs to the appropriate technicians for perfect team synchronization.
Improved customer experience: Integrating QuickBooks with other tools enhances customer satisfaction through efficient service delivery.
Accurate estimates: QuickBooks integration equips your team with a system that provides accurate cost estimation for projects to build trust and transparency.
How does QuickBooks integrate with field service management software?
QuickBooks integrates with hundreds of third-party software products, and field service management is one of the most popular choices. The beauty of this integration lies in:
Synchronization: Data between your field service software and QuickBooks synchronizes in real time, eliminating double data entry and ensuring financials are always up to date.
Job management: As technicians update job statuses from their devices, QB reflects these changes instantly, keeping everyone informed.
Automated financial processes: From invoicing to payments, you can automate nearly every business process to reduce errors and save time.
Seamless communication: A unified platform bridges the gap between office staff and field technicians, ensuring smooth job dispatching and scheduling.
Detailed reporting: More business means you need more comprehensive reporting to offer insights to improve processes as you scale.
The right field service management software QuickBooks integration is a transformative tool that ensures you:
Deliver top-notch services.
Maintain impeccable financial records.
The perfect pair — Method:Field Services and QuickBooks
Method:Field Services is the #1 field service management software for QuickBooks users. Its seamless two-way sync with your accounting software means you'll never have to worry about double data entry.
Everything you enter into Method instantly reflects in QuickBooks, and vice versa. As a result, your team always has access to up-to-date information.
With Method:Field Services, you can:
Simplify job creation, scheduling, and dispatching.
Track jobs anywhere, any time with a mobile cloud field service app.
Create estimates, work orders, and invoices at the click of a button.
Personalize customer service to drive retention.
The best part is that you can try it out for free to see how it helps your specific business needs. No credit card or contact required!
Key takeaways
A field service management software QuickBooks integration gives your customers a better experience, simplifies your operations, and improves financial processes.
The integration also:
Automates routine tasks.
Helps you estimate costs accurately.
Enhances reporting and generates actionable insights.
Updates job statuses and progress in real-time.
Strengthens internal communication.
When you use any field service management software that integrates with QuickBooks for seamless financial management, you improve efficiency and productivity.
Field service management software QuickBooks FAQs
How can QuickBooks improve field service management?
When integrated with field service management software, QuickBooks becomes a powerhouse for businesses of all sizes. It:
Automates your invoicing process.
Simplifies work order tracking.
Schedules tasks efficiently.
Assigns jobs to the right technicians.
Coordinates activities between your field crew and office staff.
As a result of integrating with QuickBooks, you improve operational efficiency and enhance customer satisfaction.
What other systems can QuickBooks integrate with?
While field service management software QuickBooks integrations are some of the most powerful, the accounting software integrates with many other systems. This ensures a centralized platform for communication and streamlined data flow.
For example, you can integrate with Method:CRM. This tool captures and records detailed service information and customer interactions. Your best option is to develop an all-in-one business system as it synchronizes data between field service and accounting systems, ensuring complete control and visibility.
Are there any downsides to integrating QuickBooks with field service management software?
Field service management software QuickBooks integration offers numerous benefits, but like any system, there are also challenges.
Some people face a learning curve when adapting to the integrated system. Additionally, ensuring both systems are always compatible with updates and changes requires attention.
That said, integrating this software automates invoicing and billing processes and enables efficient field service management. For most, these advantages outweigh the challenges.
QuickBooks and Method:Field Services are a match made in heaven. See for yourself.
Image credit: pressmaster via Adobe Stock