Whether you're a large or small manufacturer, having the right stock is crucial. Manufacturing inventory management software makes this much easier for you with real-time tracking and forecasting tools.
Keep reading for the best manufacturing inventory management software on the market, including each software's:
Key features.
Limitations.
Pricing.
Let's get started!
What does inventory management software do?
Manufacturing inventory management software keeps track of your stock and inventory. It automates repetitive tasks like:
Ordering.
Receiving.
Stocking items.
As a result, it reduces the human errors that lead to expensive mistakes and delays.
Manufacturing inventory software allows you to view what you have in stock to:
Avoid overstocking and excessive backlogs.
Reduce the major stockouts that lead to late shipments to customers.
Manufacturing inventory software also simplifies material sourcing by tracking purchasing trends and identifying ways to improve efficiency. This makes it easy to ensure you have your materials ready without spending money on unused stockpiles.
Overall, the best manufacturing inventory management software optimizes your supply chain and keeps you competitive.
Types of inventory management software
There are many types of manufacturing inventory management software, including:
Cloud-based systems: This manufacturing inventory software is accessible from any device with an internet connection. It offers real-time updates and data backup.
Radio frequency identification (RFID) systems: Uses radio waves to track inventory.
Barcode scanning systems: Uses barcodes to manage and track inventory items.
Perpetual software: This system updates inventory levels in real time as sales and purchases happen.
Periodic software: Updates inventory levels at specific intervals, such as weekly or monthly.
Point of sale (POS) systems: Integrates sales with inventory management, updating stock as your business makes sales.
Main features of manufacturing inventory software
Manufacturing inventory management software optimizes the manufacturing process. Here are some of its main features.
Warehouse management
The best manufacturing inventory management software helps you organize and manage products in a warehouse. It aids in:
Optimizing space.
Retrieving products easily.
Storing products under the right conditions.
Batch tracking
Batch tracking lets you track a group of products made together to ensure quality control. For example, manufacturing inventory software with this feature checks the entire batch to see if you have a defective product.
SKU management
Stock Keeping Unit (SKU) management tracks individual items or group items. It's essential for keeping track of product variations like size, color, and other attributes.
Shipment and tracking
This feature ensures you ship the right products at the right time. It helps you and your customers know the status of your orders through real-time tracking of shipments.
Order fulfillment
Order fulfillment is a critical part of your supply chain. It ensures that customers receive their products promptly. Order fulfillment covers everything from receiving an order to processing and shipping it to the customer.
How to choose the best inventory management software for your business
Choosing the best inventory management software is crucial for smooth operations. Here are some things to prioritize:
List down your specific requirements to narrow down your choices. Do you need batch tracking? Or software with powerful real-time analytics?
Ensure the software integrates seamlessly with your existing systems. This way, you reduce manual data entry.
Your budget. Compare features against price points. Test the software using a demo or trial period before making your choice.
Ease of use. The best manufacturing inventory management software is intuitive to reduce training and implementation timeframes.
Best small business inventory management software solutions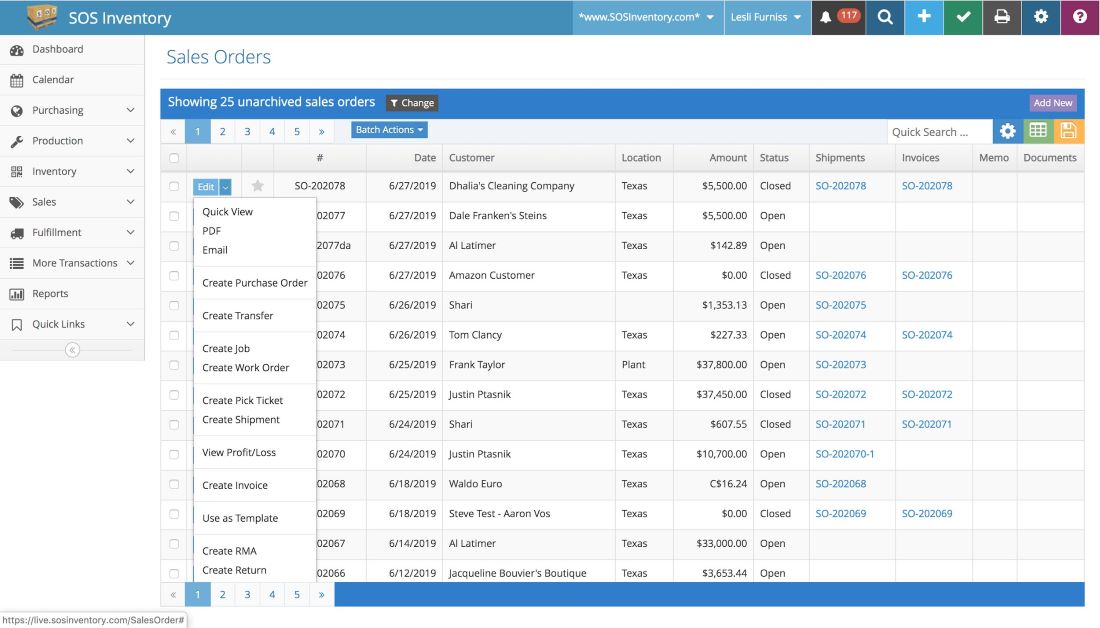 Image credit: Intuitive Accountant
SOS Inventory is another top system that simplifies operations for businesses of all sizes.
Key features
Build assemblies from component items and track multiple work-in-progress (WIP) stages.
Organize items by serial number and manage cost history for each specific item.
Integrates with major e-commerce shopping carts and shipping vendors such as Shopify and ShipStation.
Full support for multiple locations for your inventory needs.
Limitations
Some users found the user interface less intuitive than other inventory management systems.
Lacks advanced features and customization options for complex business needs.
Pricing
SOS Inventory offers the following pricing options:
Companion: $59.95 per month.
Plus: $119.95 per month.
Pro: $169 per month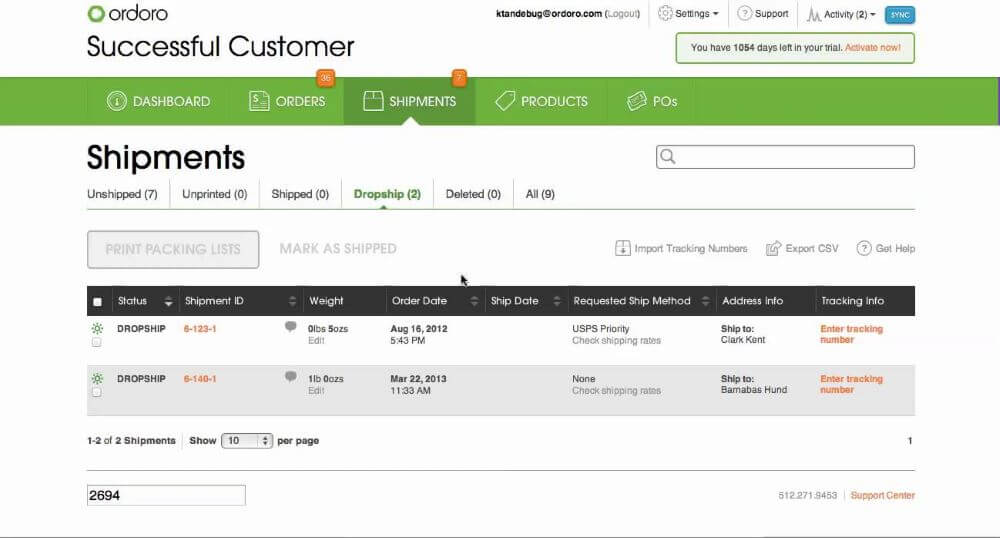 Image credit: Software Path
A centralized hub for all your e-commerce needs, Ordoro excels in optimizing shipping, inventory, and everything in between.
Key features
Advanced business rules, including printing shipping labels in bulk and automating tags.
Gather all orders in one dashboard and ship them out with a click.
Barcode scanning and order verification for shipping accuracy.
Limitations
Inventory features are unavailable on the introductory plan.
Doesn't include demand forecasting.
Lacks enterprise-level resources for larger companies.
Pricing
Ordoro offers the following pricing plans:
Essentials: Free.
Advanced: $59 per month.
Premium: $149 per month.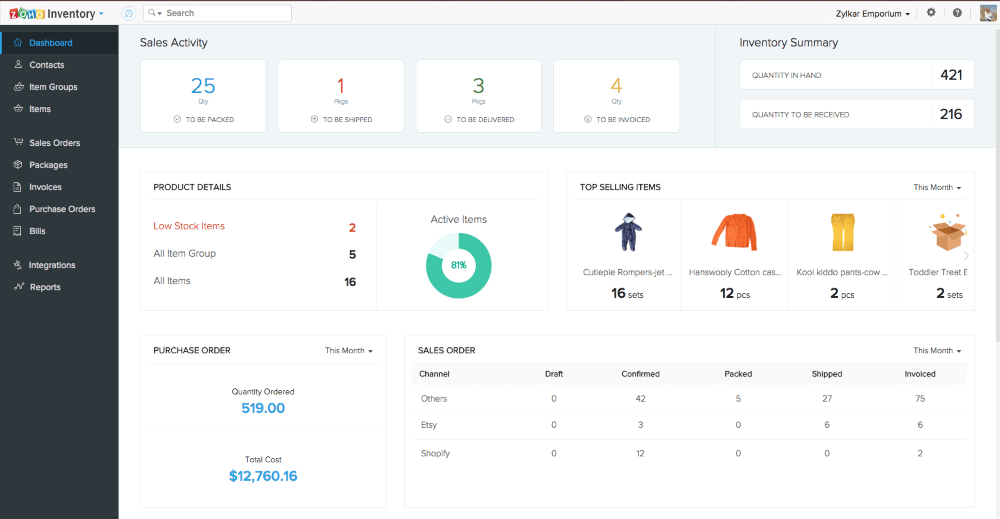 Image credit: Zoho
Zoho Inventory provides businesses with intuitive inventory and order management solutions. It integrates effortlessly with multiple online sales channels.
Key features
Item groups and product bundles to sort and manage your production line.
Accurate stock tracking with barcode and RFID system.
Warehouse management, including warehouse-specific reports.
Limitations
Some users feel that it lacks customization options.
Difficult to locate items when an order has multiple packages.
Reports are basic.
Pricing
Here are the subscription plans available from Zoho Inventory:
Free: $0.
Standard: $79 per month.
Professional: $129 per month.
Premium: $199 per month.
Elite: $299 per month.
Ultimate: $399 per month.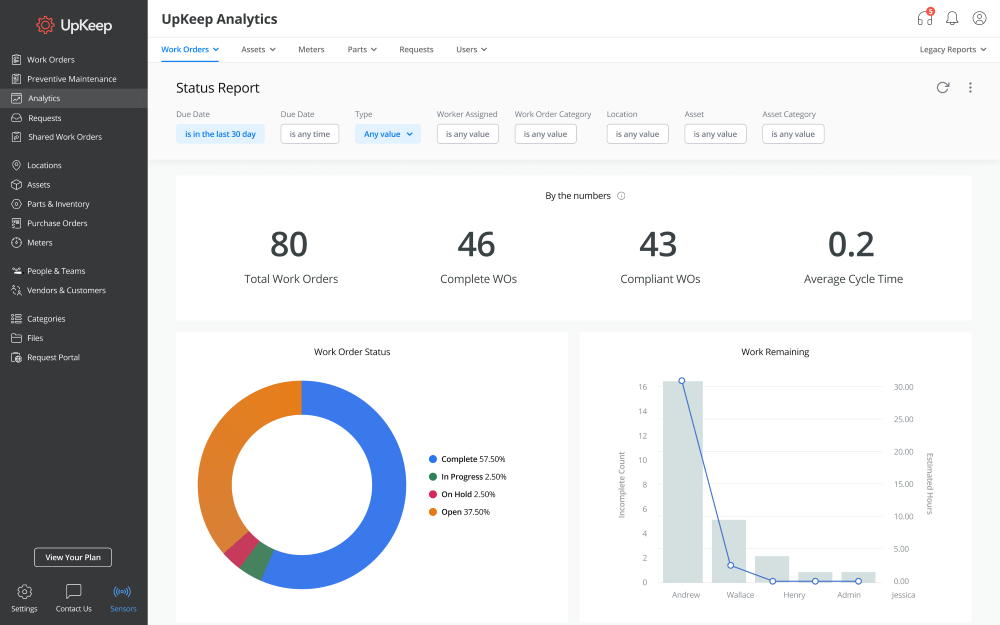 Image credit: UpKeep
UpKeep specializes in maintenance management. It helps businesses track assets, inventory, and work orders.
Key features
Work order management to prioritize and boost your asset's ROI.
Simplify your purchasing and parts consumption with mobile-friendly inventory management.
Quickly generate a maintenance report to check completion rates, inventory levels, and more.
Limitations
Users report a poor interface and difficulty using the software.
The permissions management feature needs work.
Lacks features such as reporting in the free version.
Pricing
UpKeep offers the following pricing options:
Starter: $45 per month.
Professional: $75 per month.
Business Plus: Contact UpKeep to request this pricing information.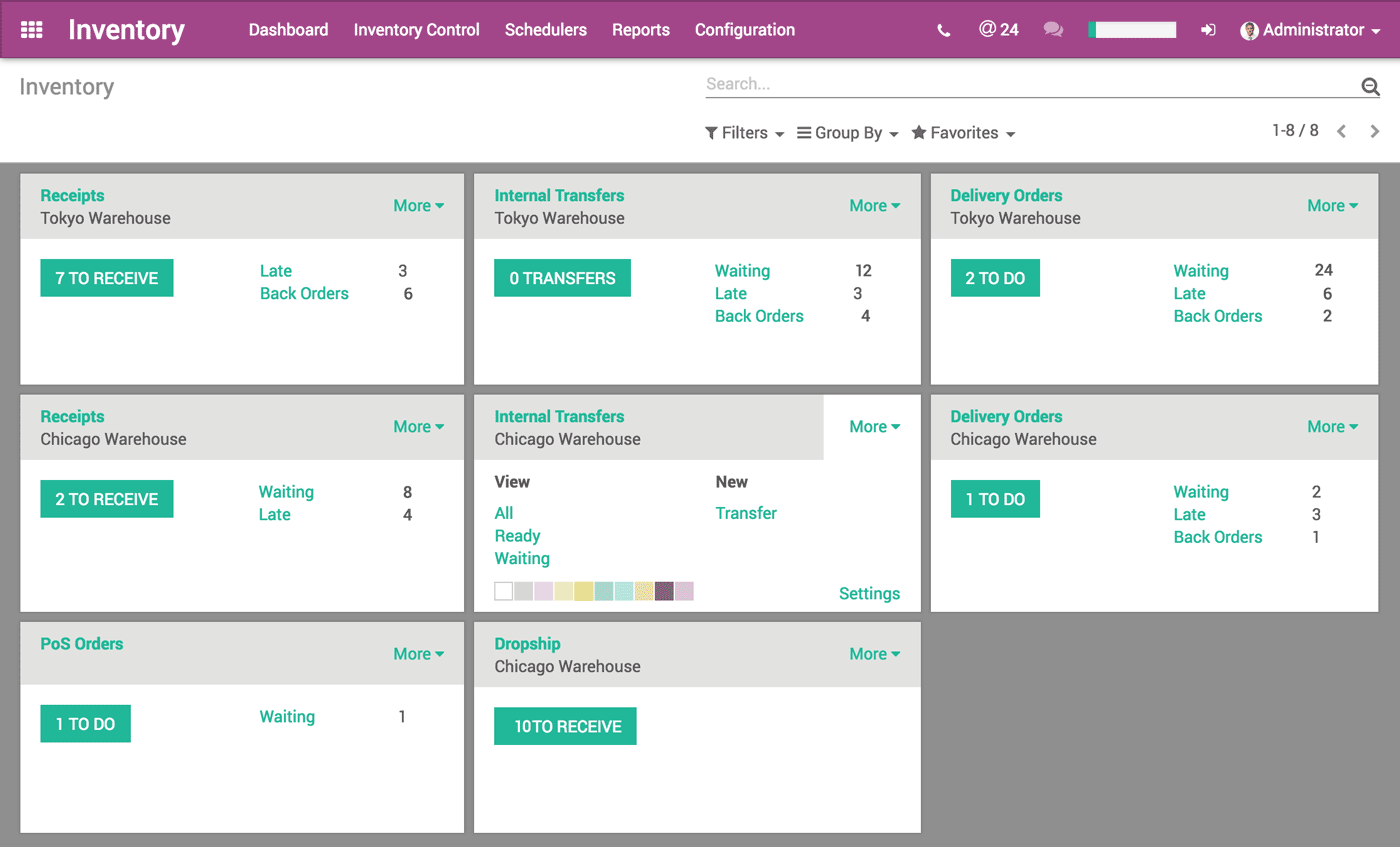 Image credit: Explore WMS
A robust open-source platform, Odoo offers a comprehensive suite of business applications, including a dynamic inventory management module.
Key features
Efficient traceability with a double-entry inventory system.
Real-time communication, including display worksheets and alerts for workers.
Advanced automation features, including drop-shipping and cross-docking, to manage warehouses.
Limitations
Users report performance issues when dealing with large volumes of data or when using multiple integrated modules.
Steep learning curve, especially for those unfamiliar with enterprise resource planning (ERP) systems.
The extensive and complex range of features leads to longer setup times.
Pricing
The following pricing plans are available from Odoo.
One app free: Free.
Standard:$31.10 per user per month.
Custom: $46.80 per user per month.
Bonus: Another must-have tool for manufacturers
Manufacturing inventory software is an important part of your tech stack, but it can't be the only tool you use to power your operations.
So, say hello to Method — the #1 lead to cash automation tool for manufacturers that use QuickBooks and Xero.
Method saves you from juggling multiple tools and tedious tasks. Here's how:
Seamlessly integrates with QuickBooks and Xero for real time accuracy.
Workflow automation for repetitive tasks like updating records.
In-depth reports and dashboards for insights on key metrics.
See why manufacturers love using Method.
Image credit: Lightfield Studios via Adobe Stock