As an electrician, you likely do multiple jobs per day. With electrical work being as busy as it is, administrative tasks like bookkeeping and invoicing are probably at the bottom of your list.
Fortunately, many electrical contractor business invoicing software options save you time and energy so you can focus on the real money-making work. Read on for the top electrical business invoicing software options.
Electrical contractor invoice terms and conditions: The basics
An electrical contractor invoice is a document you send to clients when collecting payment. Usually, invoices contain information such as:
A breakdown of services provided.
The materials used.
A payment deadline.
General electrical contractor invoice terms and conditions.
The total cost that your customer must pay.
Invoices are to notify the customer that they need to pay for your work and share details on how to pay you.
Invoices are also financial records. So you can quickly look up previous work with a customer, establish a profit and loss report, and, most importantly — make sure your business is profitable. Past invoices are an excellent way to track financial growth and help you prepare your tax forms.
Pro-tip: All of the above administrative tasks are simpler with the right electrical contractor business invoicing software.
How to factor in work by your subcontractors
Electricians sometimes need subcontractors like roofing and plumbing specialists. As a result, you need to factor this into your invoice, so your customer doesn't have to pay multiple people.
There are several types of electrical business invoices you can add subcontractor work into:
Standard electrical invoice: This is the most straightforward invoice type that details a single project and notifies the client of how much they owe.
Recurring electrical invoice: This invoice type is used for recurring jobs like regular electrical maintenance or long-term projects.
Prepaid electrical invoice: A prepaid electrical invoice allows you to collect a deposit before performing the requested electrical service.
Time-based electrical invoice: Slightly different from a standard invoice, a time-based electrical invoice is used if you charge an hourly rate.
Electrical contractor invoice terms and conditions
Electrical invoices contain several terms and conditions that both you and your customer must agree upon. The most common electrical contractor invoice terms and conditions include the following.
Tax terms
The government imposes taxes on many goods and services. Before coming up with your final invoice amount, multiply your service price by the applicable tax rates.
By shifting the burden of taxes to your client, you can take home a much larger cut of the profits.
Service terms
Service terms are typically dictated by the electricians themselves. In your electrical contractor invoice terms and conditions section, define the services included in the job and those that are not.
For instance, if your invoice states that your customer hired you to rewire the lights, your job scope is limited to that alone.
If they then ask you to install circuit breakers, you have the right to charge them for the extra work.
Schedule terms
As an electrician, you may work on multiple homes or buildings per day. As a result, your schedule is usually jam-packed.
To prevent any last-minute schedule shifts or cancellations, implement a schedule change deadline in your invoice.
If your customer decides to cancel or move their appointment after the deadline, you can impose a penalty on them as part of your electrical contractor invoice terms and conditions.
Changes terms
Sometimes, material and labor costs can suddenly change. To protect yourself from these sudden shifts, state in your electrical contractor invoice terms and conditions that you reserve the right to alter the billed amount.
Pro-tip: Electrical contractor business invoicing software incorporates your terms and conditions into your invoice template so you can set and forget this important detail.
How electrical contractor business invoicing software can help
Are you still on the fence about purchasing electrical contractor business software? Well, here are some benefits of electrical contractor business invoicing software.
Efficient scheduling
Many electrical invoicing software options offer scheduling and dispatching features that allow you to assign jobs and monitor their progress in real-time. This way, you don't have to bother with time-consuming phone check-ins or rely on post-job electrician reports. 
The less time you spend scheduling, routing, and making sure your electricians are assigned jobs, the more time you can spend on improving your services and customer satisfaction.
Accurate timesheets and payroll
Electrical contractor software offers robust accounting and payroll features that accurately track your team's work hours.
With the most up-to-date information on your team's performance, you can pay fair wages based on their work ethic and reliability.
Information ready to go
Electrical business invoicing software collects all the customer information you need to bill your customers.
So, instead of looking for the details needed to invoice, they are all at your fingertips. As a result, you can bill your customers in just a few clicks with electrical contractor business invoicing software.
When it comes to reporting, you can select the relevant information in your electrical contractor business invoicing software to create the report almost instantly.
The best electrical contractor software options
There are dozens of electrical contractor software options on the market today. Here is a list of the five best electrical contractor software you can implement ASAP.
Method:Field Services is an all-in-one software platform that merges all administrative tasks, from invoicing to job scheduling. It uses cloud technology to make desktop and mobile access possible to make connecting your entire team possible.
Method:Field Services boasts:
On-the-spot invoicing: Create invoices on the go through Method's mobile app.
Personalized transaction templates: Tailor your invoice format to your business, from its branding to the electrical contractor invoice terms and conditions you require.
Robust dispatching and navigation tools: Map out the best routes, so your field technicians get to job sites faster.
QuickBooks Online and Desktop integration: Eliminate double data entry and reduce admin work through Method's top-notch accounting software integrations.
Plans and pricing
Method:Field Services start at $15 per month for field technicians, and dispatchers are $45 monthly. Sign up for the no-commitment trial today.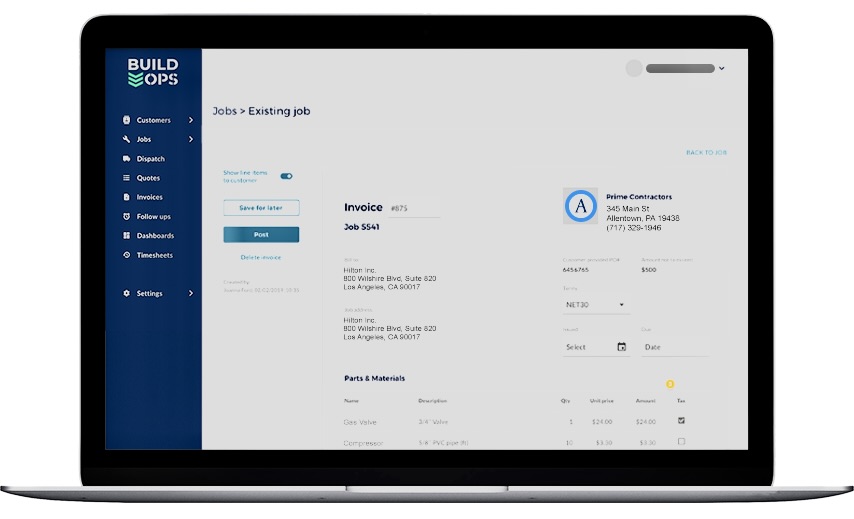 Buildops is a cloud-based electrical contractor business invoicing software. It boasts an intuitive technician mobile app, an invoicing tool with e-signature capture, and many more features, like:
Automatic scheduling tools: Avoid scheduling conflicts by automatically assigning available technicians to open jobs.
Service agreement tracking: Ensure recurring jobs are done on schedule to retain ongoing clients.
Real-time data reporting: Create reports for every part of the business in a flash.
Plans and pricing
Buildops does not publish pricing information on its website. Contact a sales representative to book a live demo and learn more.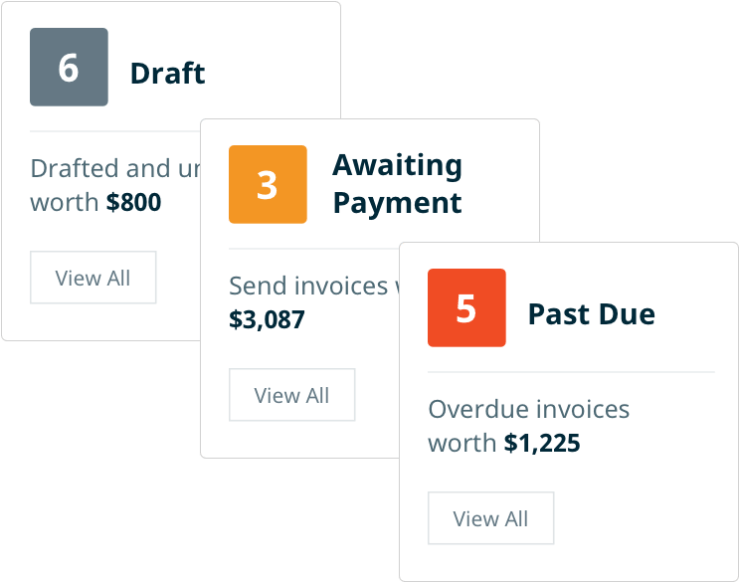 Jobber is a field service management software that prioritizes ease of use. Its free product training, unlimited customer service, and entrepreneur community ensure that anyone can use it to its maximum potential.
Jobber provides robust features like:
GPS-supported job tracking: Keep an eye on your team's job progress at any point through Jobber's work tracking tool.
Automatic quoting and invoicing: Create job quotes for customers to approve, then instantly convert them into invoices to get paid faster.
Mobile app: Communicate with clients and technicians from anywhere with Jobber's iOS and Android apps.
Plans and pricing
Jobber starts at $49 per month. It also offers a 14-day free trial.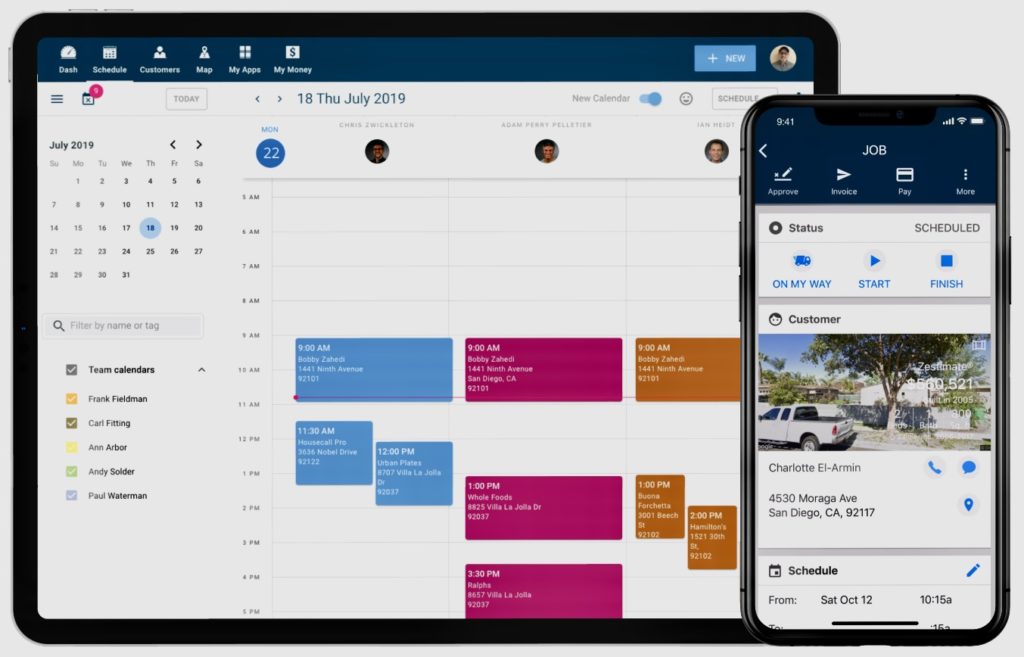 Field service management software Housecall Pro promises to grow your business by improving profitability and creating a scalable workforce to meet demand.
It does so with an automated marketing tool that lets you send special offers to potential customers without any extra work. Other notable features of this electrical contractor business invoicing software include:
Intuitive digital scheduling tool: Eliminate double booking by automatically assigning jobs to technicians.
Text-based job notifications: Send new jobs to technicians via text to minimize travel time to and from the office.
In-app team chat: Coordinate and communicate with workers on the fly through the app's chat feature.
Plans and pricing
Housecall Pro starts at $65 per month. It also offers a free trial.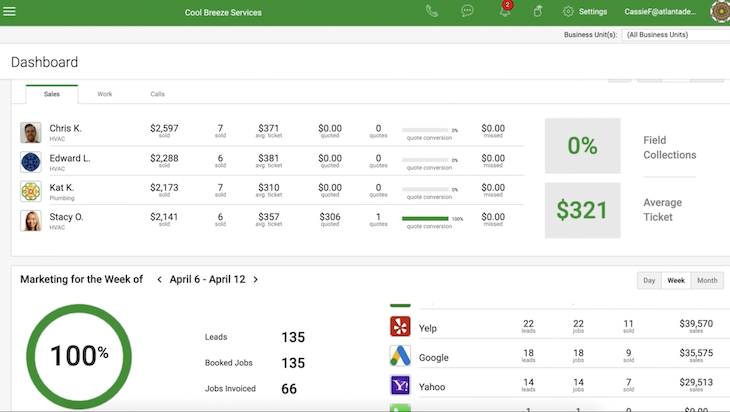 Field management software FieldEdge gives you a better look at your business by tracking the performance of all your technicians and office staff. It also makes coming up with financial decisions easier through quick reporting.
FieldEdge also offers features like:
Drag-and-drop scheduling: Assign technicians jobs within minutes and easily track work progress.
Customer relationship management dashboard: Keep your clients happy by providing reliable, high-quality service.
Mobile price books: Help customers understand what they're buying and how your technicians can help.
Plans and pricing
FieldEdge doesn't publish any pricing information on its site. Contact a sales rep to get a demo and personalized price plans.
Electrical contractor business invoicing software: Final thoughts
Electrical contractor business invoicing software allows you to automate administrative tasks so you can concentrate on money-making work. Additional features like CRM and service agreement trackers are key to look out for to keep clients happy and coming back for more.
The best way to find the right tool for your business is to try it before you buy it. So look for providers that offer free trials and don't require long-term contracts.
Get started with your free trial of Method:Field Services!
Image credit: Kelly L via Pexels