Having your daily operations automated is crucial for any growth-minded business. And that's where electrical invoice software comes in to help manage your business from estimates to scheduling to sending invoices to getting paid.
Invoice and contract software go hand-in-hand, so your business will benefit in more ways than just creating automated invoices. Bidding on jobs, creating contracts, and invoicing are all crucial parts of an electrical contractor's workflow.
So by implementing this kind of bid and invoice software, you and your employees can spend your time on the actual jobsite.
This blog will go through what electric invoice software is and the key features to look out for when choosing one. You will also get a look at your top options for when you're ready to choose a management software solution.
What is electrical contractor software?
Electrical invoice software is used by electricians to run every aspect of a business. It has features designed to make your life easier, like invoice and estimate programs that automate your process.
Some of the tools and features that electric invoice software offers are:
Customer management.
Staff schedules and dispatching.
Electronic invoices.
Inventory management.
Job reporting.
What are the benefits of electrician software?
Electrical invoice software goes beyond saving you time in your workday. There are additional benefits of electrical contracting service software that you might not have considered.
These complete service management solutions let you focus on scaling your business and expanding your reach.
Most electrical maintenance services software, for example, is not only capable of automating invoices. In fact, that's only the tip of the iceberg!
There are several more ways this software can make your business more efficient.
Here are the top reasons why you need an electric invoice software for your electrical business.
Provide estimates on the go
When you're on the job as an electrical contractor, you want to have your list of services ready and be able to create estimates on the spot for potential customers. With these materials in hand, you are more likely to drive sales and win jobs.
Having electrical invoice software that empowers you to create estimates for you on the go via a tablet or mobile device is crucial for turning leads into paying customers.
Track jobs from quote to invoice
Keep your customers happy by giving them clear records of the electrical work that has been done for them. With electrical invoice software, you can track the status of your estimates and invoices to ensure revenue comes into your business in a timely manner.
What's more, electric invoice software powers your sales and billing process with automation so that the ball doesn't get dropped and money isn't left on the table.
Beyond this, you can access estimates, work orders, and invoices anywhere and anytime with mobile-friendly electrical business software. That way, you stay on track and don't have to worry about ordering the wrong inventory, outstanding payments, or missing job details.
With electric invoice software, you can track time as well to know the hours worked for each job.
Boost sales and efficiency with electrician software
Get paid faster with electric invoice software that automatically sends invoices to your customers when jobs are finished. Solutions with online payments and automatic reminders make sure you get paid as soon as possible.
You can also easily turn your estimates into invoices and work orders which will save you a lot of manual effort and reduce the chances of mistakes.
Business management made easy
Using electric invoice software gives you an easy software platform to manage your entire electrical business. Get access to customer history and service information with just a few clicks. Automate your lead follow-ups and make it easy for electrical customers to book your business with online portals.
No need to worry about double data entry as a good electrical invoice software offers integrations with popular software like QuickBooks, Gmail, and Outlook.
Schedule jobs on the go
For electricians, scheduling needs to be efficient and accurate. A disorganized calendar will cause frustration for you and your customers and ultimately cost you profits.
Electrical scheduling software automates your scheduling process and sets up recurring jobs with a few clicks. This:
Simplifies your process.
Save you time.
Reduces scheduling mistakes.
A good electrical invoice software will have scheduling options to manage time tracking, routing, and other job details. It also allows your team members to access the schedule, whether on mobile or a computer, to make sure that everyone is always on the same page.
What role does electrical invoice software play?
Electrical businesses use a complete service management solution to automate tedious tasks like time tracking, inventory management, scheduling, and invoicing.
Many electrician software syncs with your everyday tools to remove the need to enter data twice whenever creating estimates, invoices, and work orders.
The benefits of electrical invoice software include:
Easy project management — create work orders, track inventory, and equipment, etc.
Fast communication — stay in contact with electrical technicians who are on the job and your customers.
Simple dispatching and scheduling — save on gas, mileage, and time with automated routes.
Improved customer service — have customer and job history at your fingertips anywhere and anytime.
Reliable lead tracking — increase sales through lead tracking and stay on top of possible sales.
Detailed reports and analytics — get insight into your business data and action customer feedback.
The best electric invoice software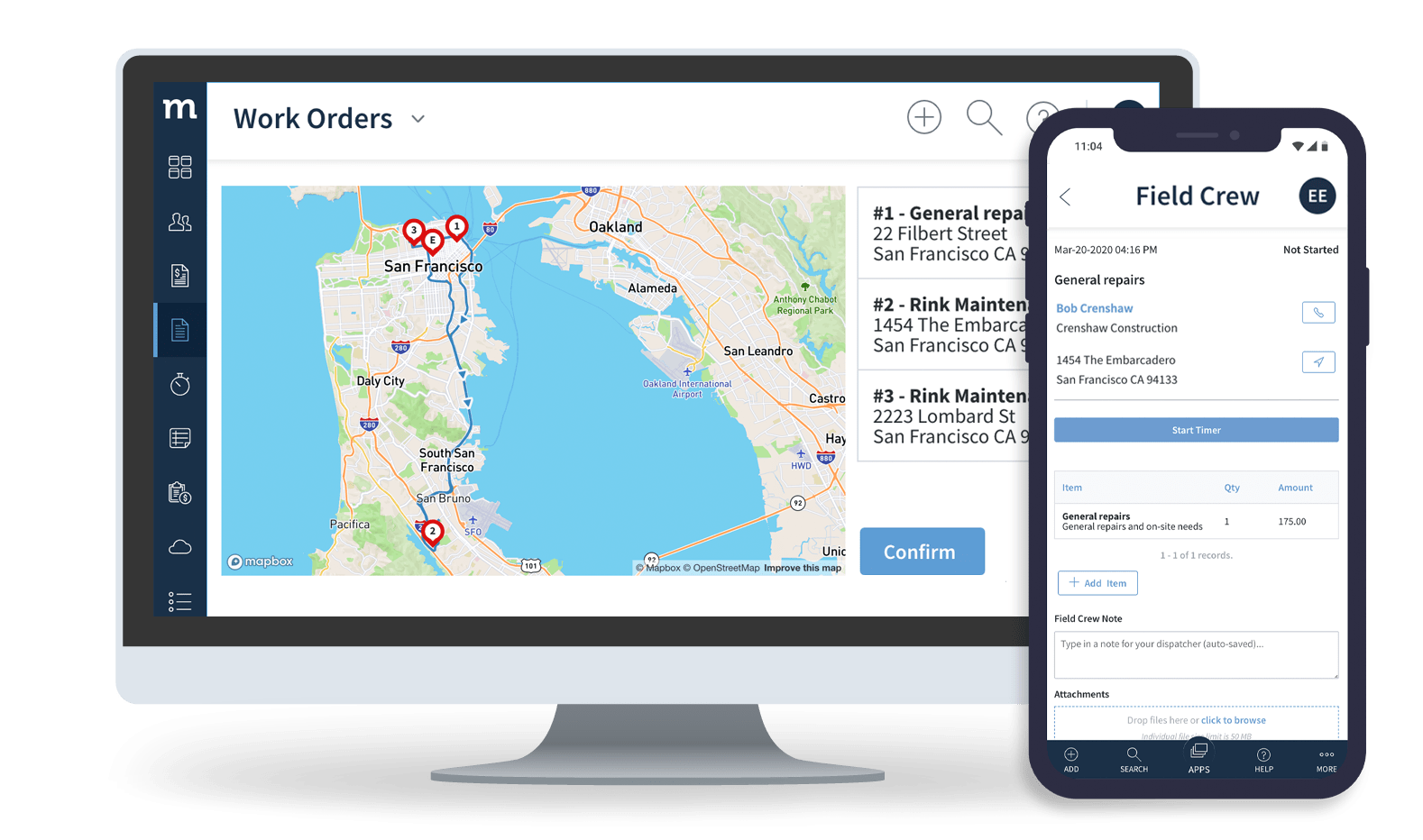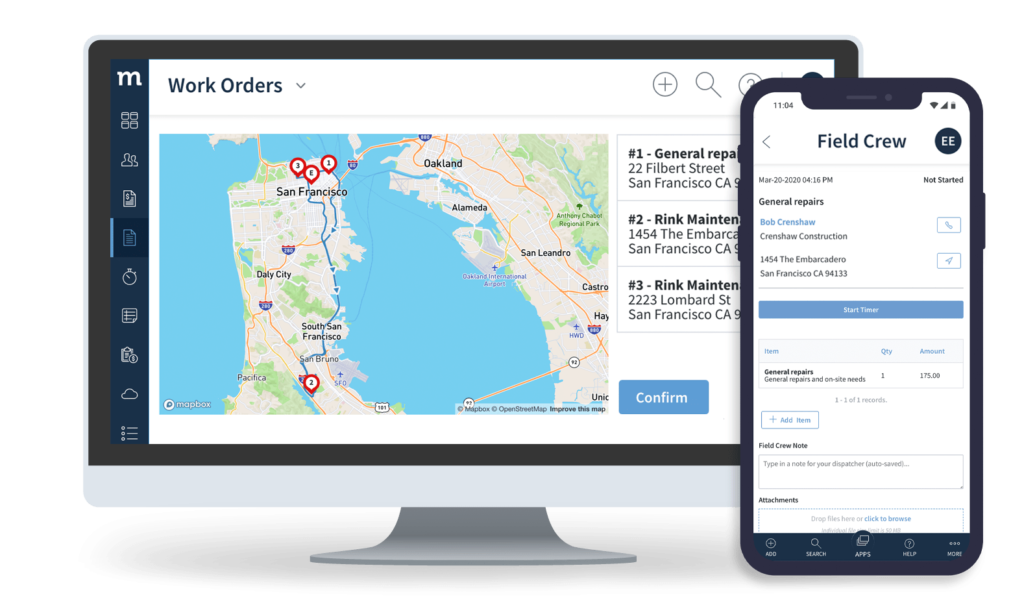 Method:Field Services takes your electrical contractor business to new heights. This powerful field service management software has the key features every electrician needs. This includes job scheduling, estimates and invoicing software, customer management, custom forms, and many more.
This tool goes beyond daily operations and focuses on maximizing your profit and productivity. They have payment plans that scale as your business does that start at $15/month.
Method:Field Services' primary features and benefits include:
QuickBooks sync. Electrician accounting is made easy with accurate and consistent data flowing from your electrical invoice software to your accounting software.
Reliable estimate and invoicing tool. Create customer estimates and convert them into invoices and work orders with a few mouse clicks.
Customer relationship management. See past interactions, upcoming meetings, purchase history, and more in one convenient location.
Route mapping and scheduling. Automatic routes will save you time, mileage, and gas thanks to Method's built-in mapping system.
Easy customizability. For tasks specific to electricians, Method is a customizable field service solution that can create custom forms and apps.
User-friendly mobile device app. Get mobile access to time tracking, set routes, invoicing, job updates, and more in Method's cloud-based, mobile software system.
Method:Field Services offers a free no-commitment trial, that includes:
A free hour of customization services.
Unlimited support resources.
Access to all features and the Method mobile app.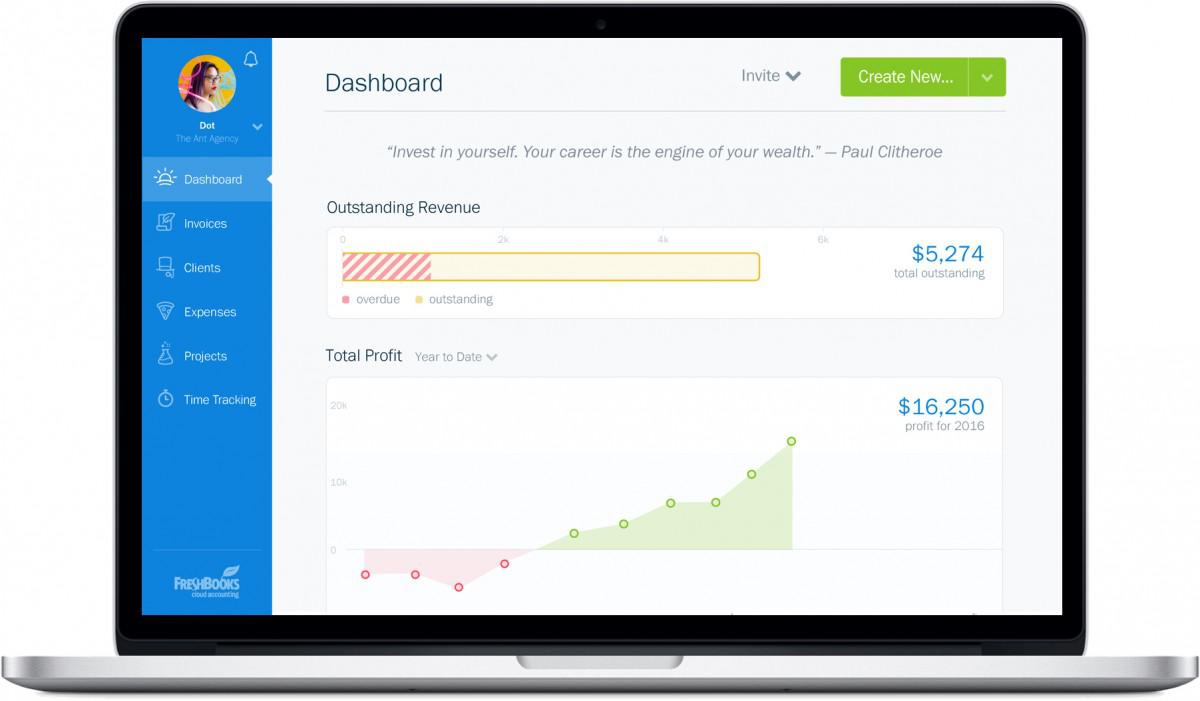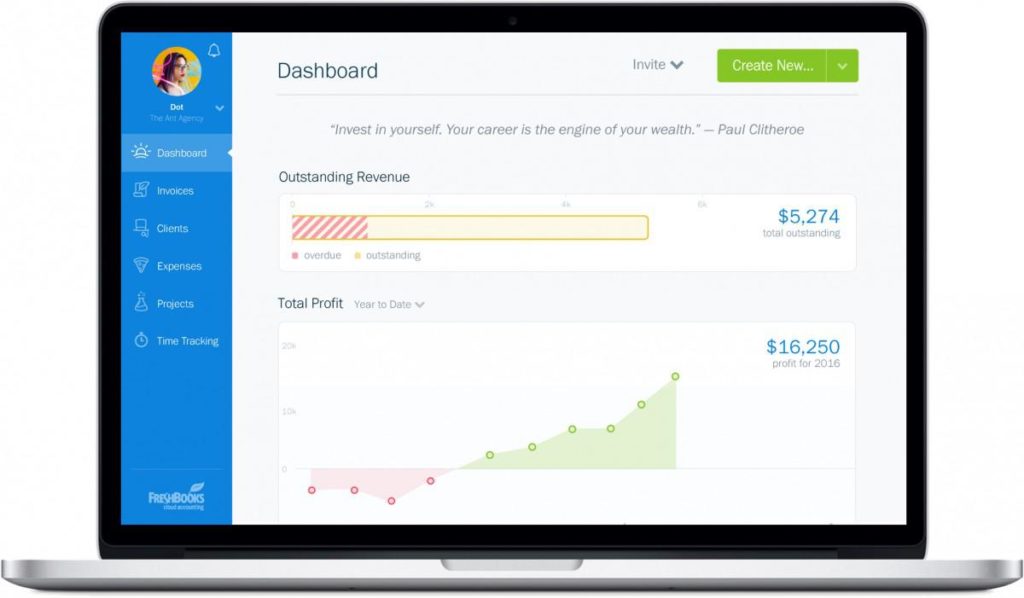 FreshBooks is an electrical invoice software that simplifies invoices, estimates, time tracking, and project management for small businesses.
What's impressive about FreshBooks is that they offer tailored tools depending on how you run your business. Whether you're a sole electrician or a small business with an office team, FreshBooks can meet your expectations.
Some of FreshBooks best features include:
Many payment options for customers.
Mobile app for mileage tracker.
Integrates with over 100 apps.
A big resource library to support you.
FreshBooks offers four monthly pricing packages which include their Lite plan ($19), Plus plan ($32), Premium plan ($60), and Select plan (contact them for a quote).
The most popular plan is the Plus plan. It offers most of the standard features that most electrical software offers.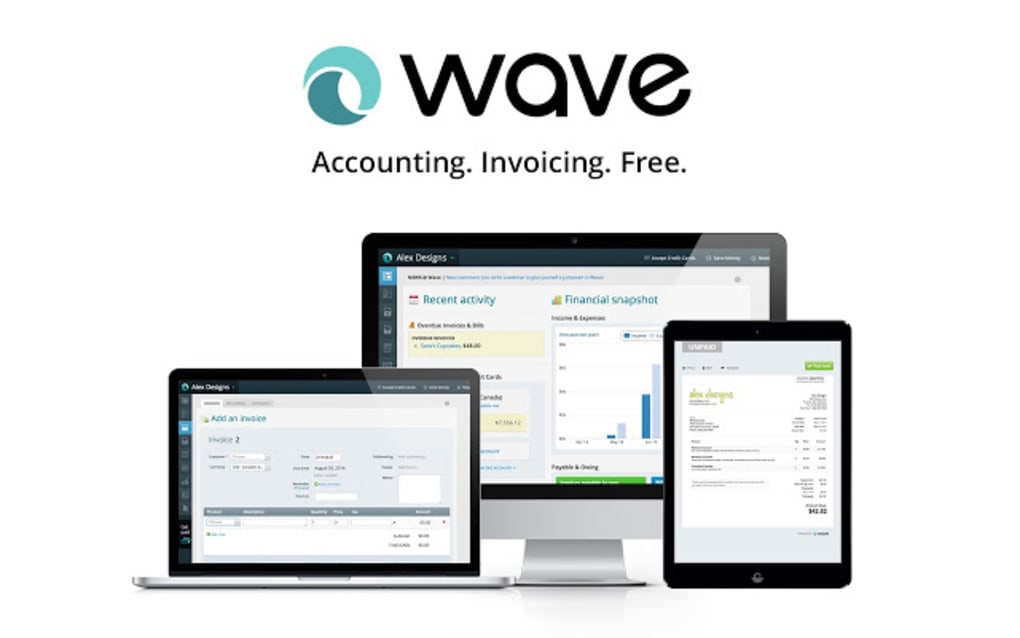 Wave offers simple bookkeeping and billing solutions for small businesses. They offer invoice creation and management tools that work for most small businesses.
With Wave, you can manage everything related to your business — including sales, marketing, customer service, finances, and operations. Wave's interface allows you to manage projects, tasks, contacts, invoices, and payments all in one place.
Some of Wave's best features include:
The easy integration with Google Calendar.
A imple to use interface.
A mobile app that's available for iOS and Android.
Anautomated payroll experience.
Wave offers a free version of their software, a pay-per-use package, and a monthly package ($20/month base fee). They recommend different payment packages depending on how you run your business.
While Wave offers many great accounting features, it does not integrate with accounting software solutions like QuickBooks or Xero. If QuickBooks for electrical contractors is already a big part of how you run your business, Wave is not the right option for you.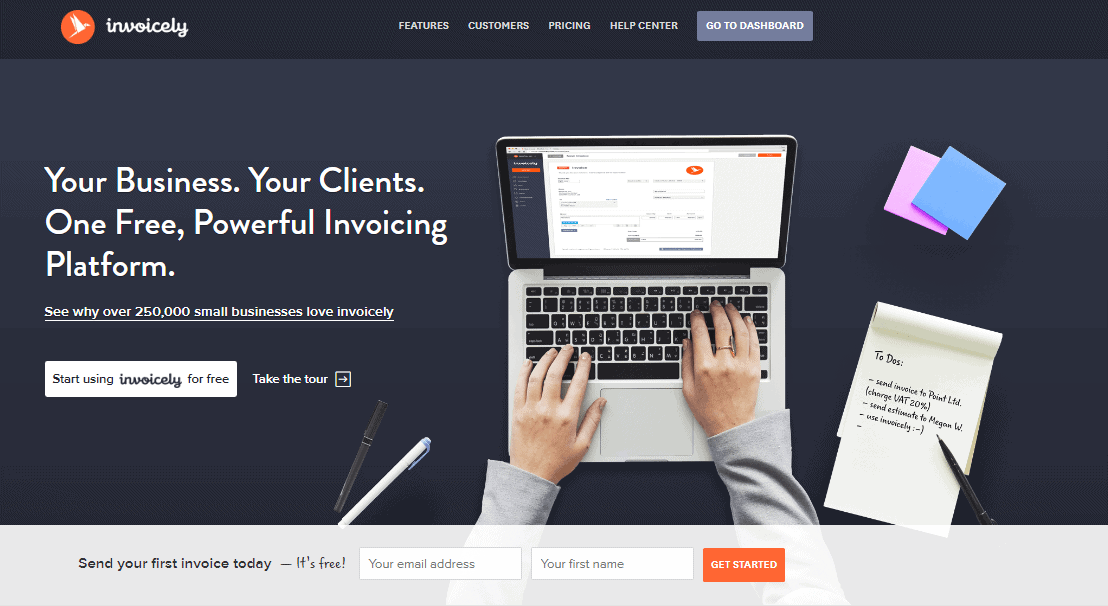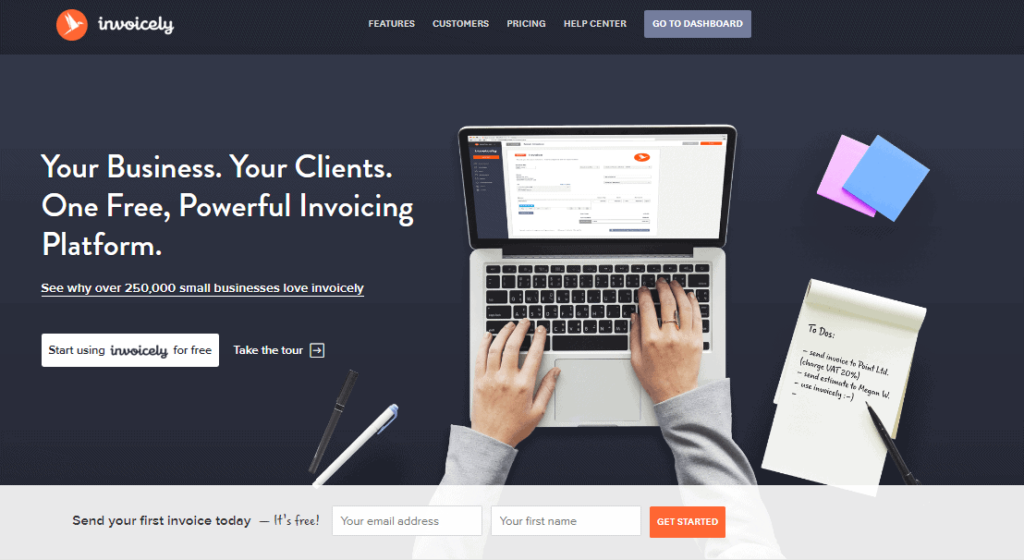 Invoicely is a free small business electric invoice software that has strong reporting tools and global currency support.
The free version of their software includes five free invoices a month. However, the paid options are more relevant to most electrical contractor businesses.
Some of Invoicely's best features include:
Useful reports and analytics.
The ability to bill in any currency.
Many payment options for customers.
Estimates and invoice creation.
Invoicely offers three monthly pricing packages which include the Basic plan ($9.99), Professional plan ($19.99), and Enterprise plan ($29.99).
Although Invoicely has a lot of excellent features, they don't offer a lot of customization. For some electrical contractor businesses, this isn't a big deal, but for those that are looking for an electric invoice software that can scale with them, it would be better to go with another solution.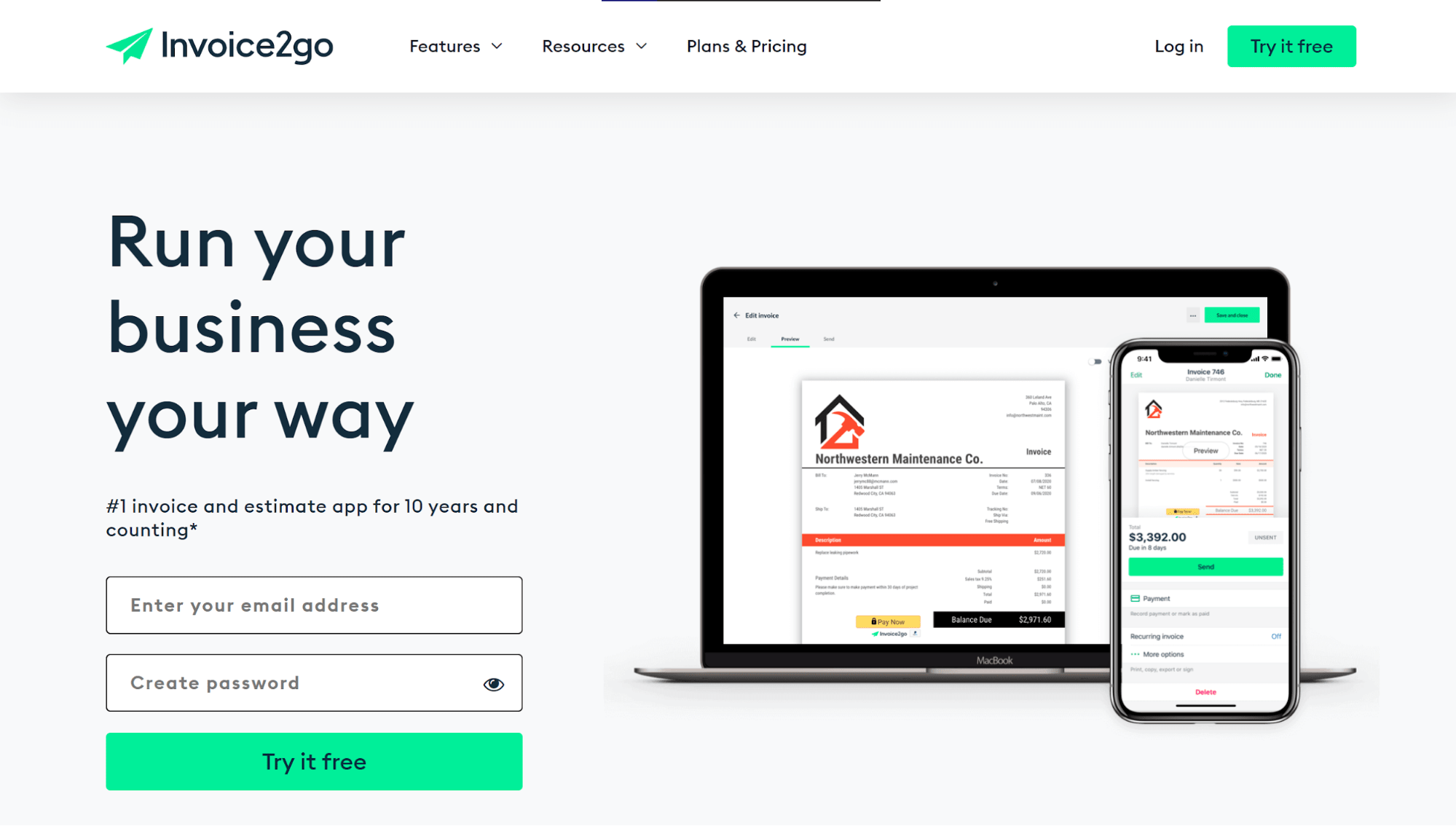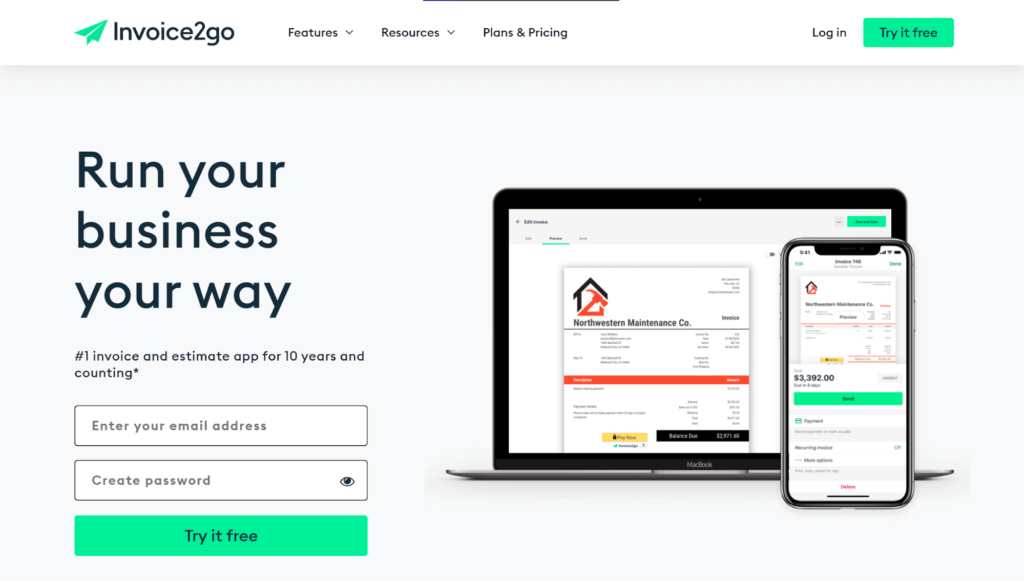 Invoice2go is an electrical invoice software that's best for small businesses rather than larger enterprises. Their tools allow you to manage customer relationships, send invoices, accept payments, and much more.
Some of Invoice2Go's best features include:
Professional, easy-to-create estimates and invoices.
Invoice tracking and automated reminders.
Multiple payment options for your customers.
Marketing and online presence tools.
Another great feature that Invoice2Go offers is that their platform can sync to accounting platforms like QuickBooks and Xero so you don't have to worry about double data entry.
They offer three annual pricing packages which include the Starter plan ($59.99), Professional plan ($99.99), and Premium plan ($399.99). Invoice2Go's best pricing plan is the Professional plan as it allows for integration with accounting software.
While Invoice2Go has the standard tools a good electric invoice software should have, it lacks customizability.
Recap: How to choose the right electrical invoice software
To choose the right electrical invoice software, you need to take a look at your electrical business and see what features will help you the most.
To recap, here are the key features you need to consider when choosing the electrical invoice software for your business.
Strong scheduling and dispatching tools.
Convertible estimates, invoices, and work orders.
Access to your data anywhere and anytime.
Simple integration with accounting software and other apps.
Kickstart your electrical invoice software journey with a free trial of Method:Field Services.
Image Credit: Bnenin via Adobe Stock